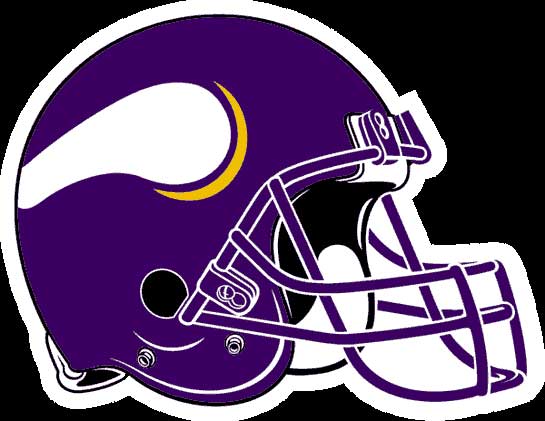 Bears @ Vikings 11/29/2009 Vikings 36 Bears 10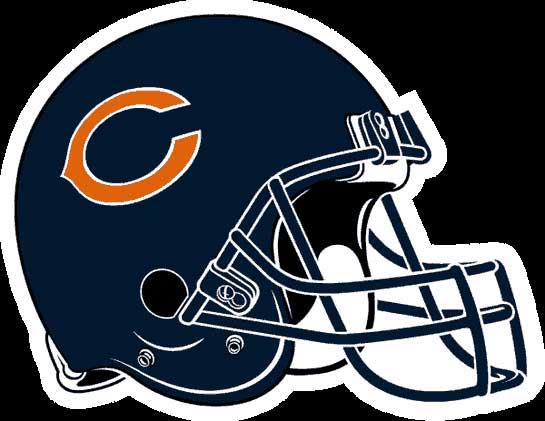 Another division game and win! Thanksgiving weekend and another Ring of Fame signing at Mall of America
this time with Scott Studwell. Weather was pretty good as well!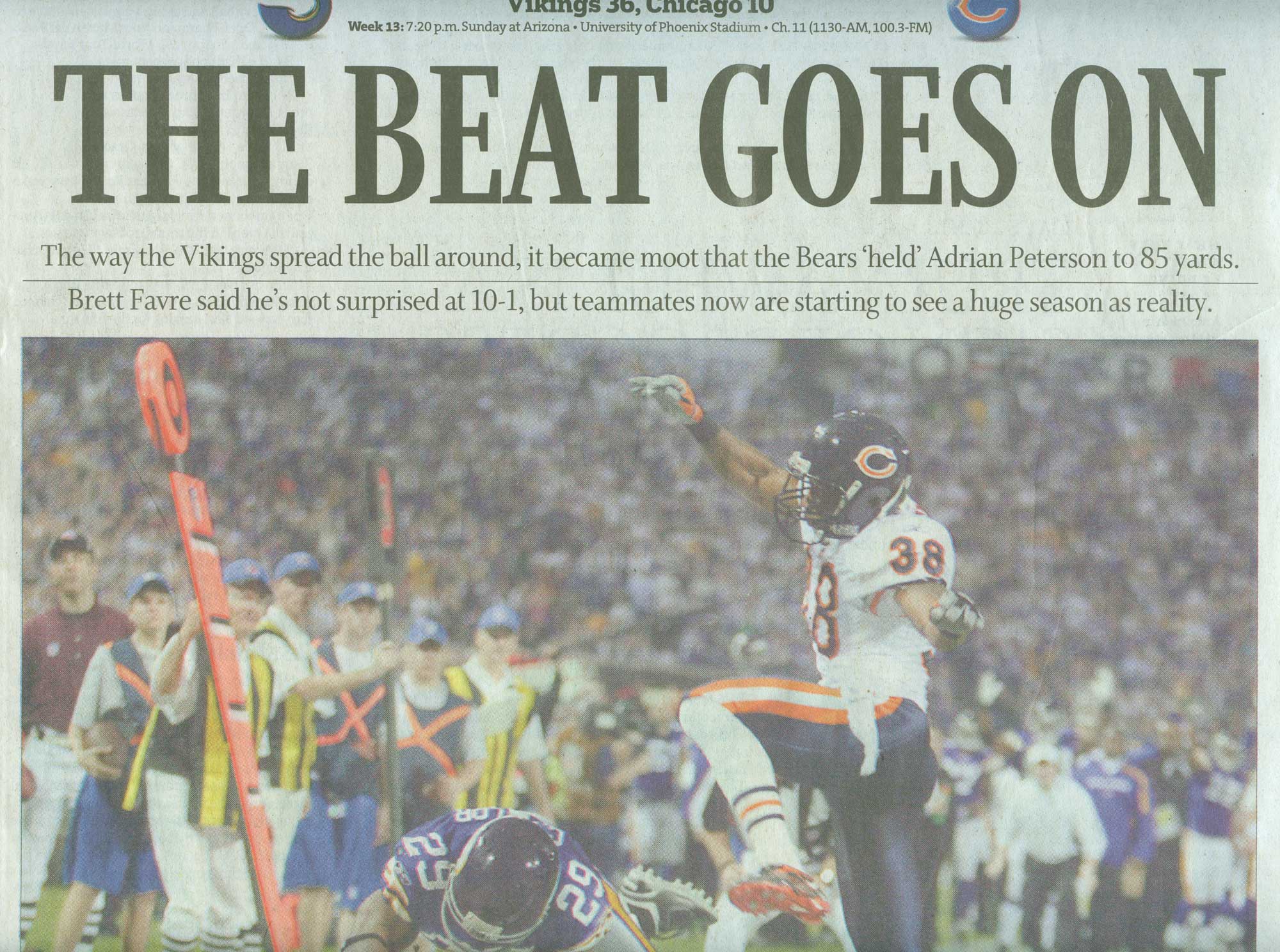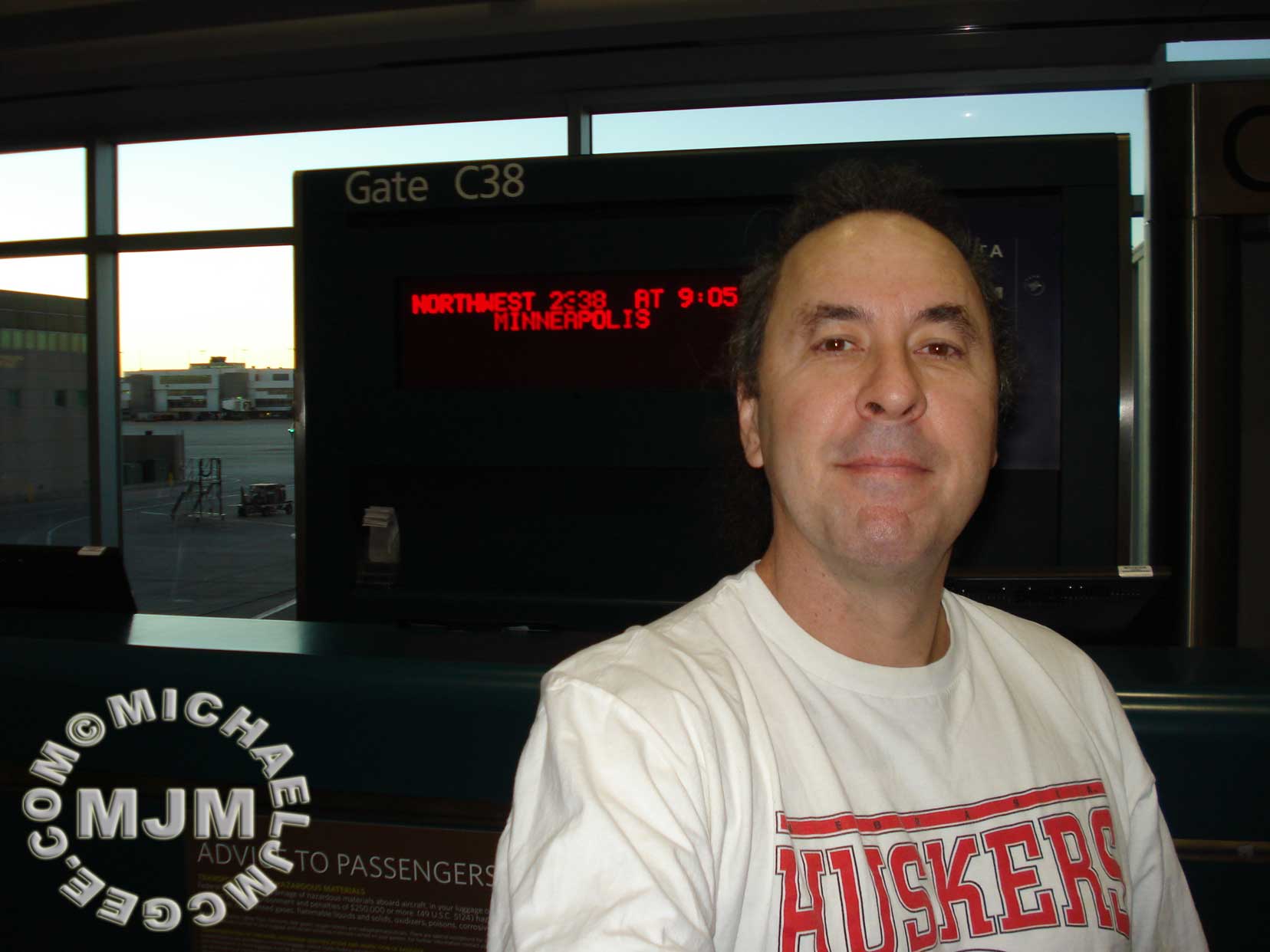 Hanging out in DIA waiting on the plane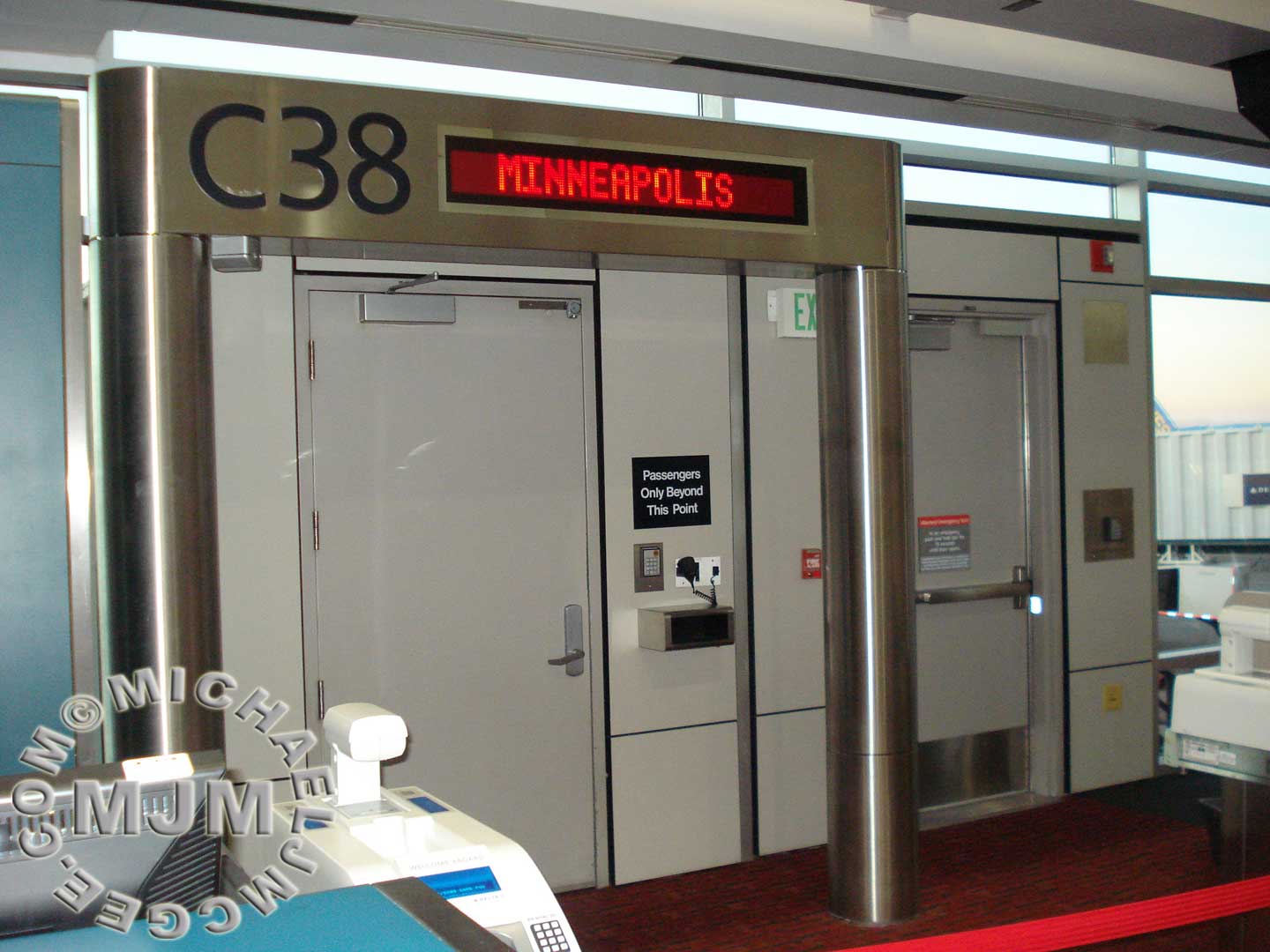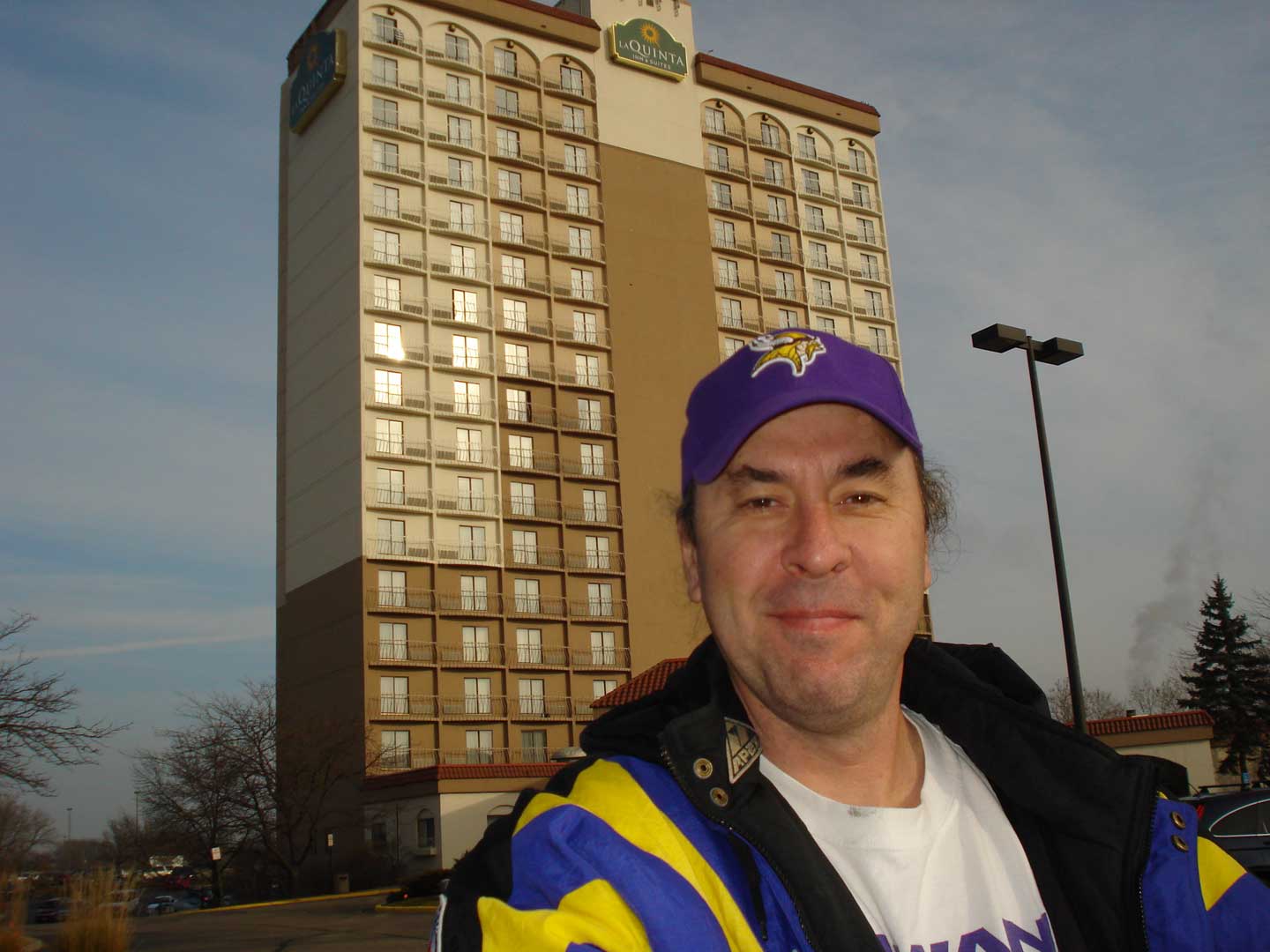 Arriving in the Great state of Minnesota!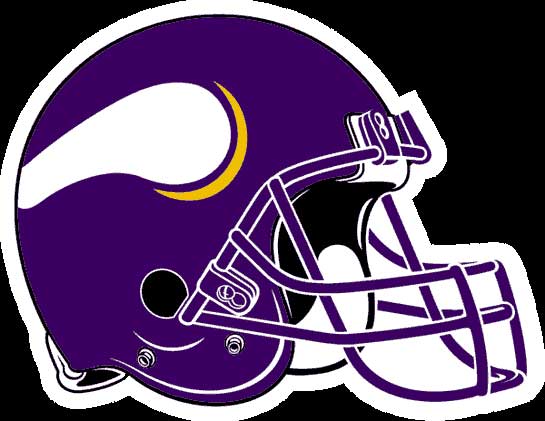 Mall of America Best Buy Rotunda on Saturday. Sweet!!
This is the second one that I have attended and had a great time. This event is sponsored by the Vikings organization.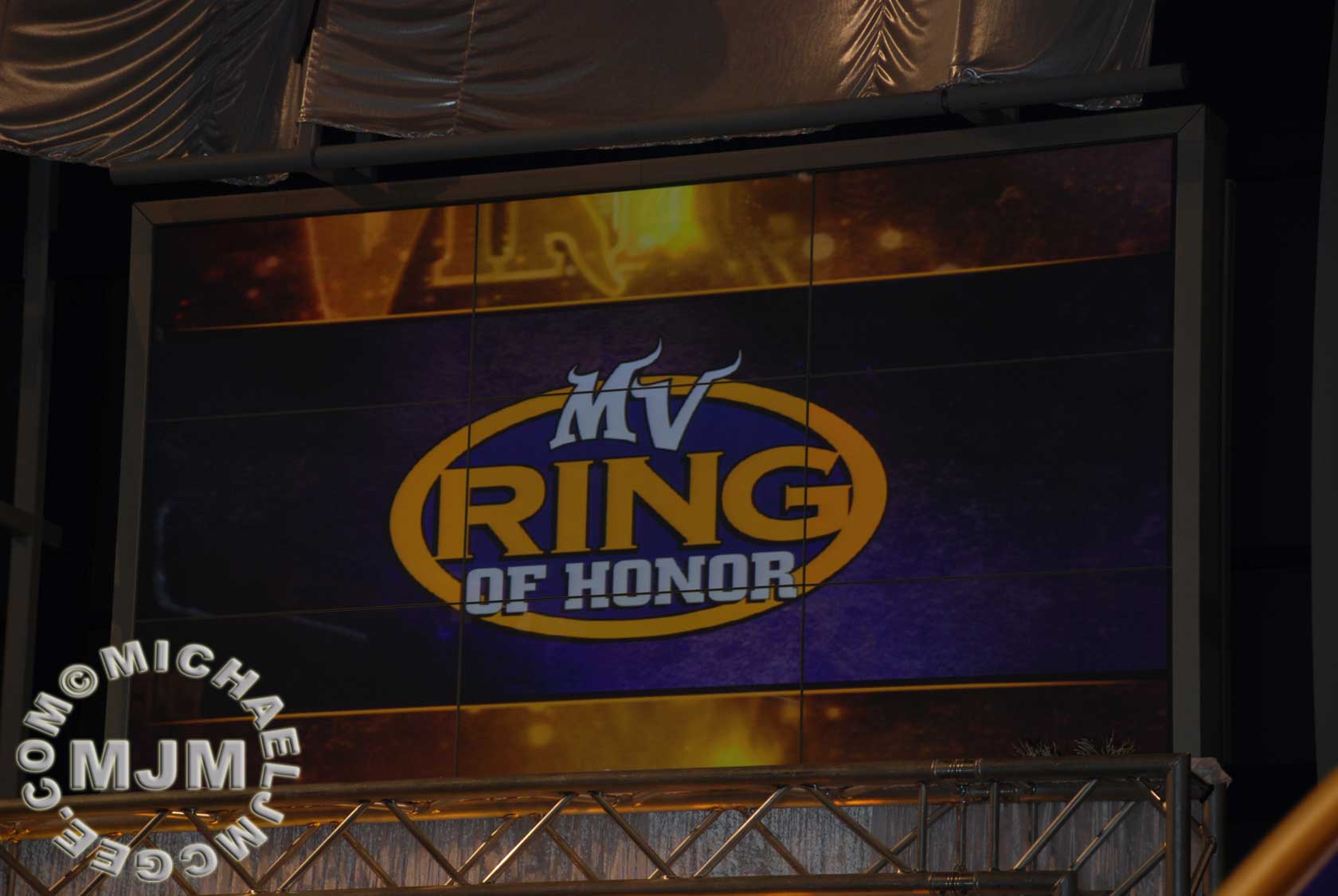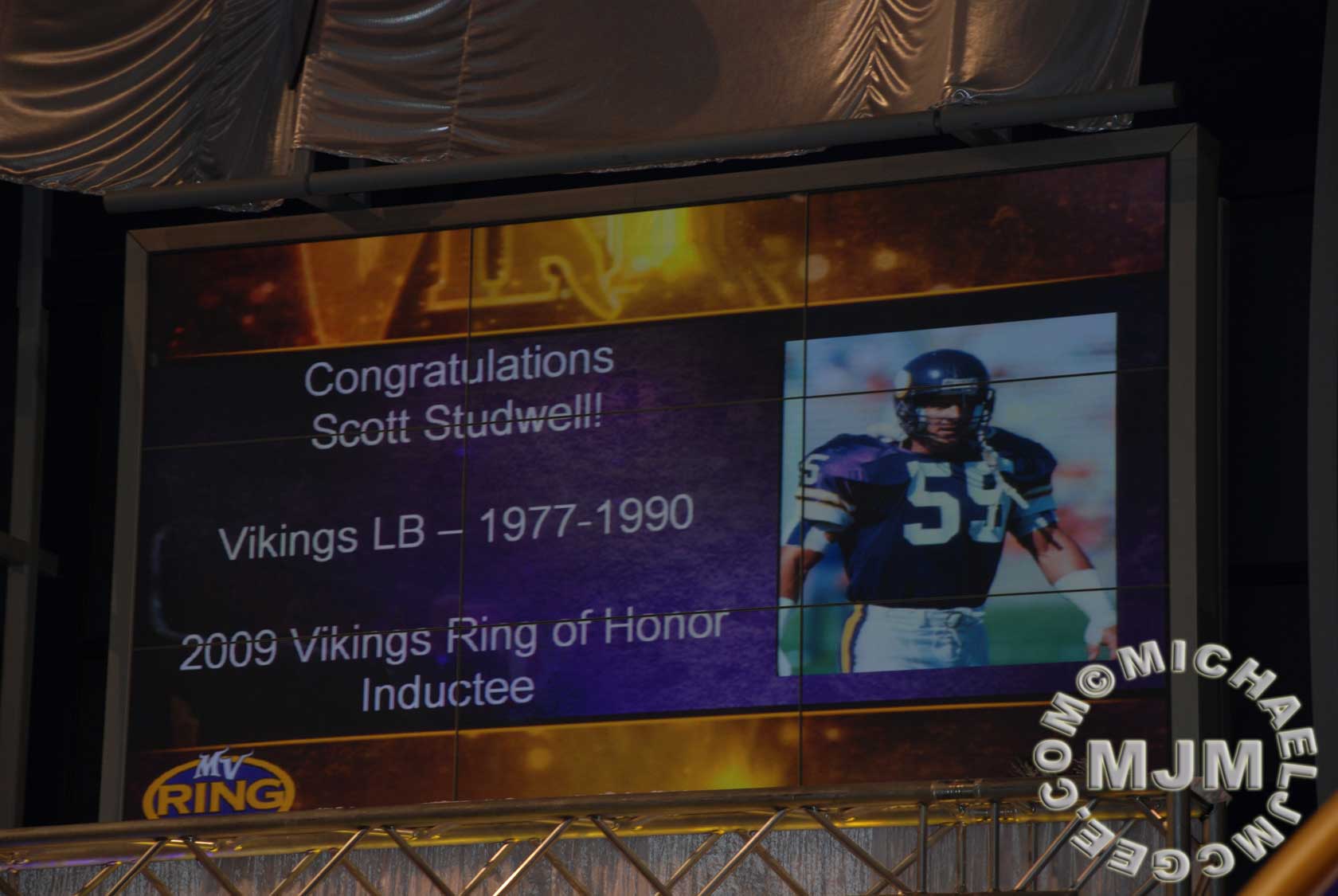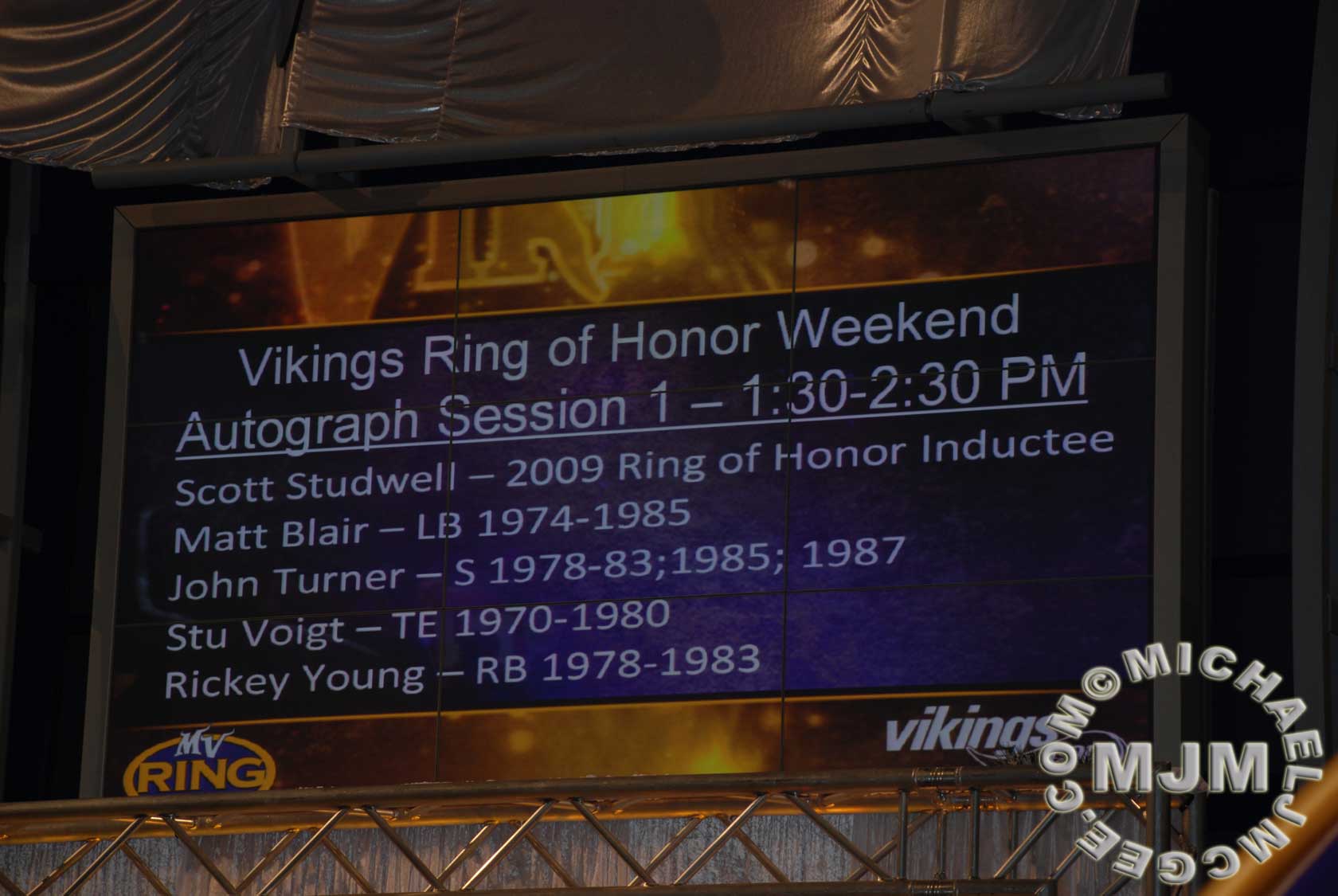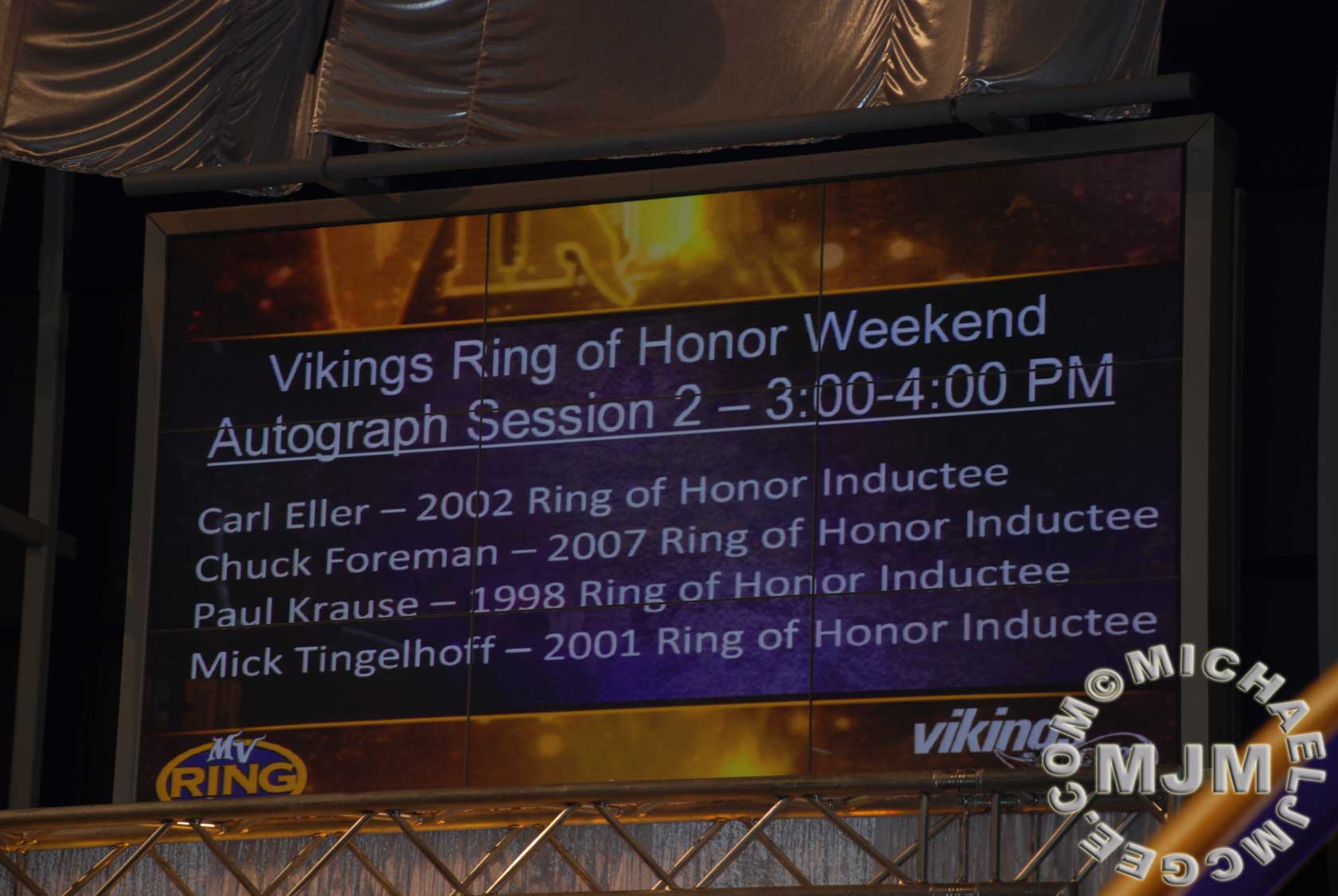 The crowds gather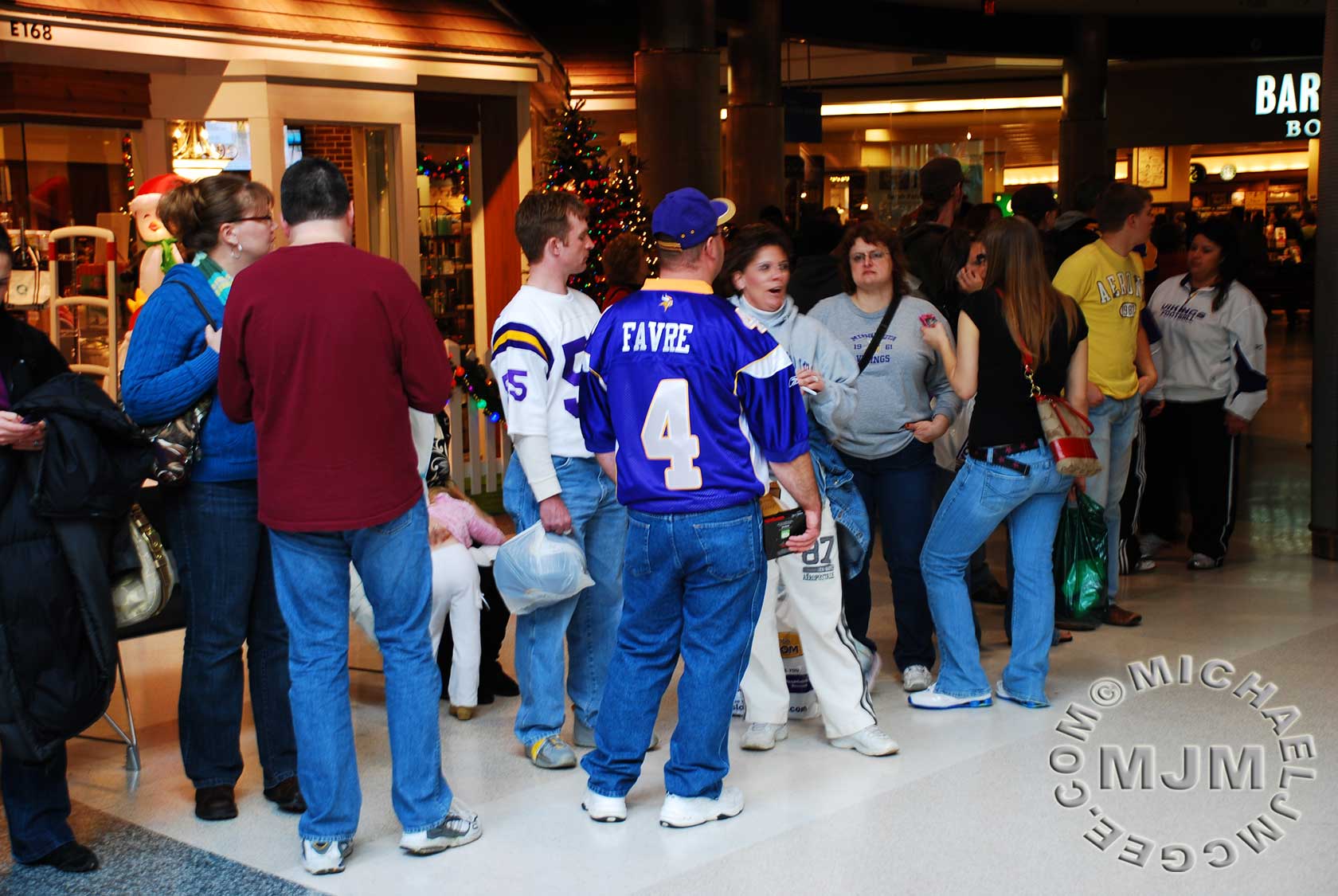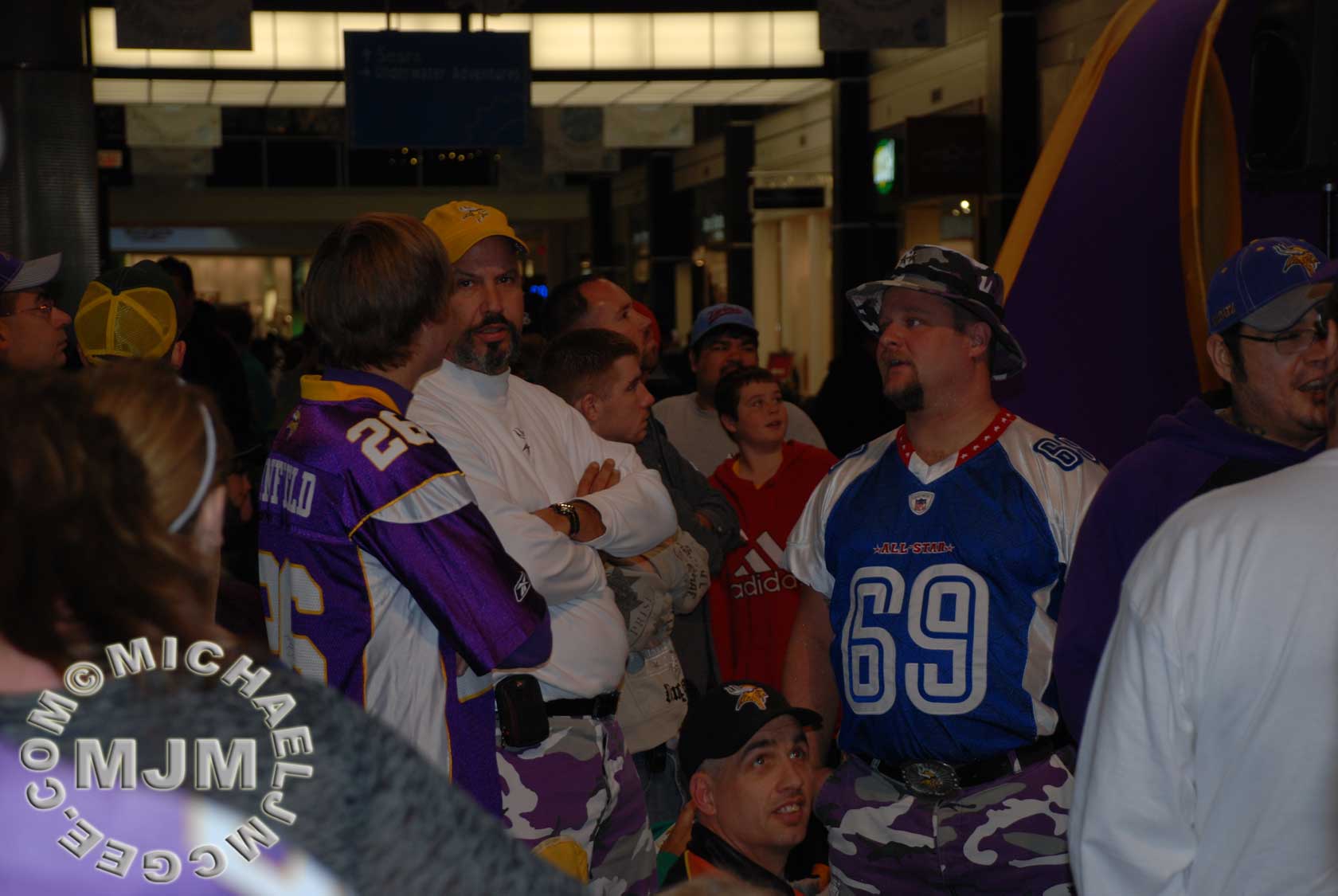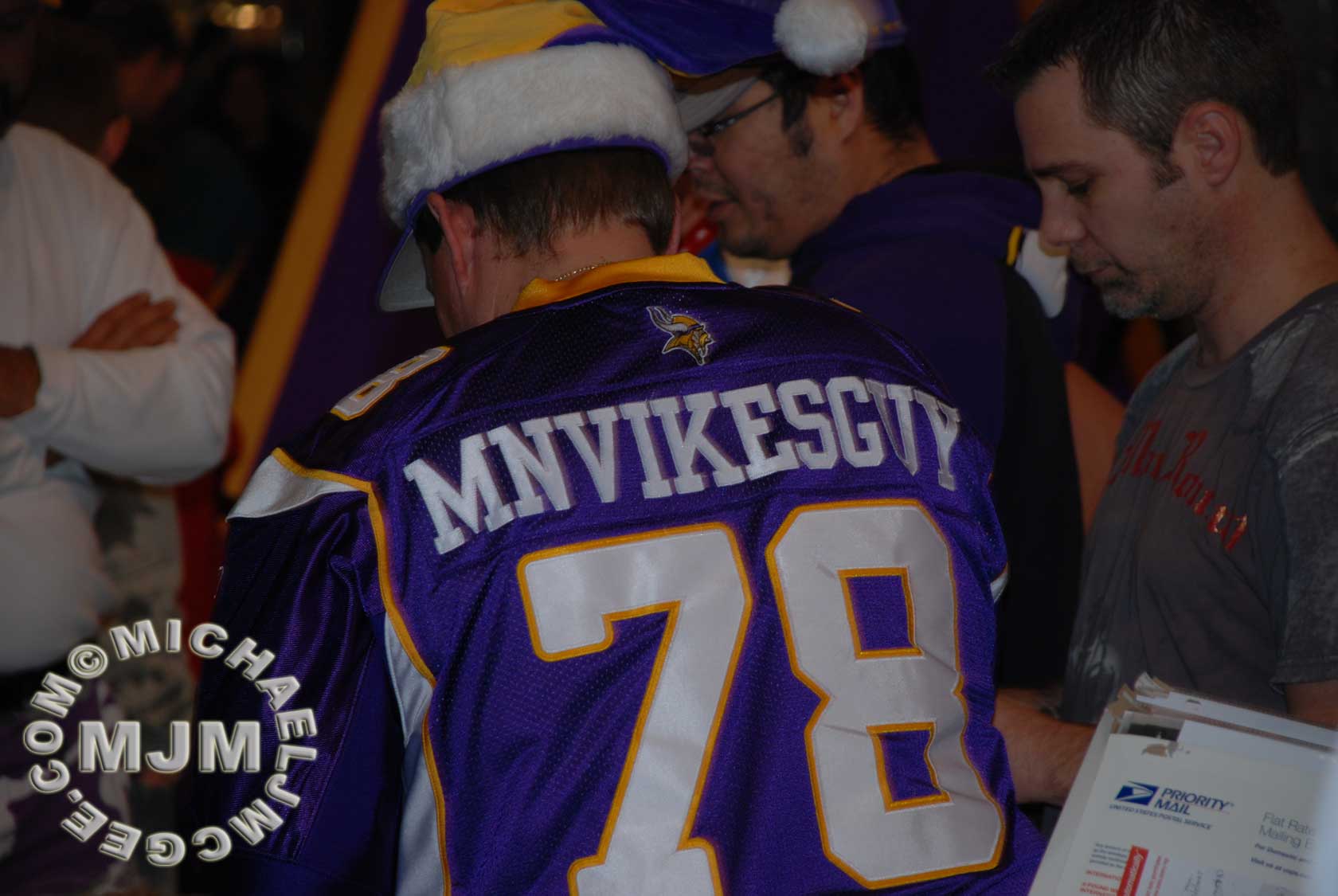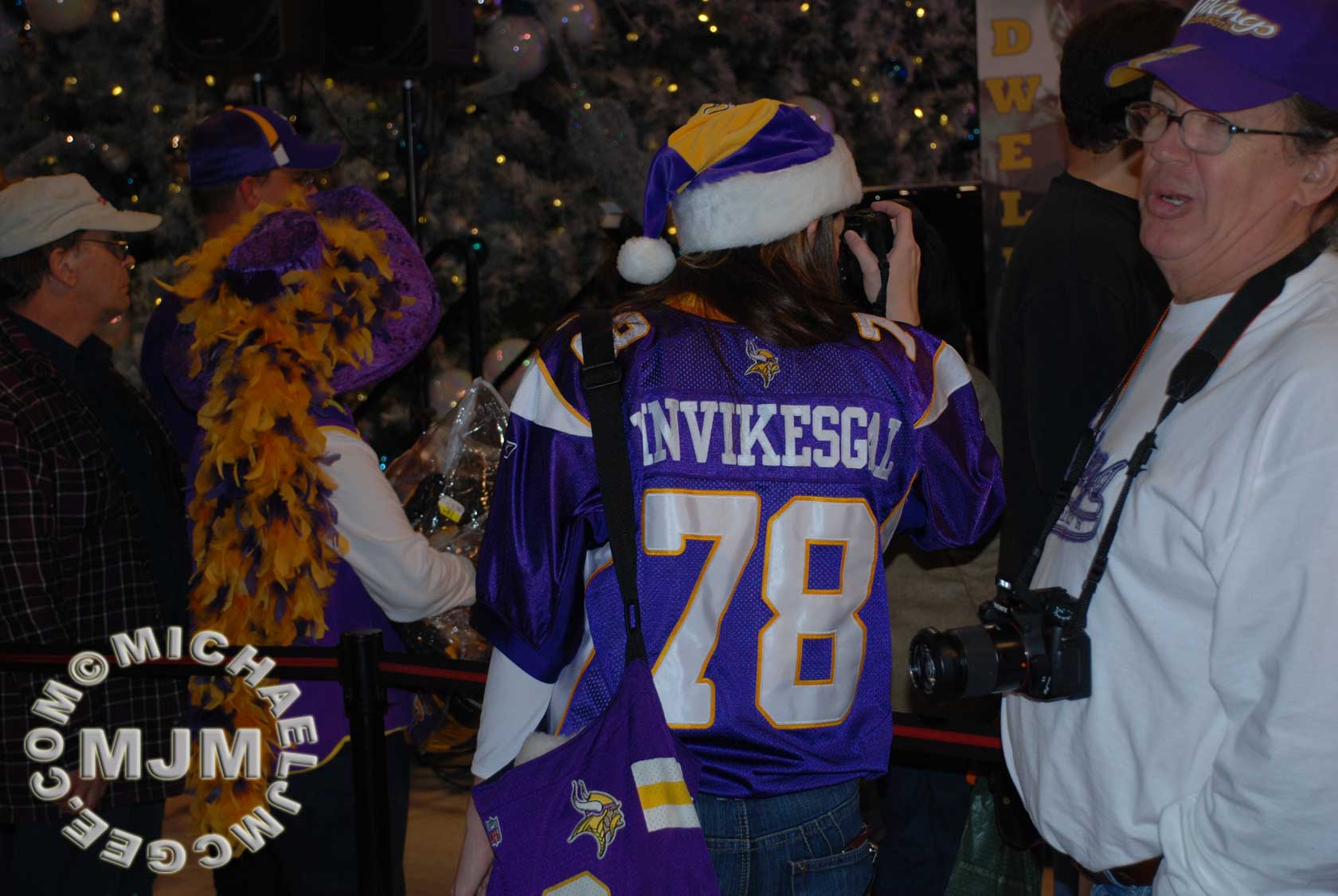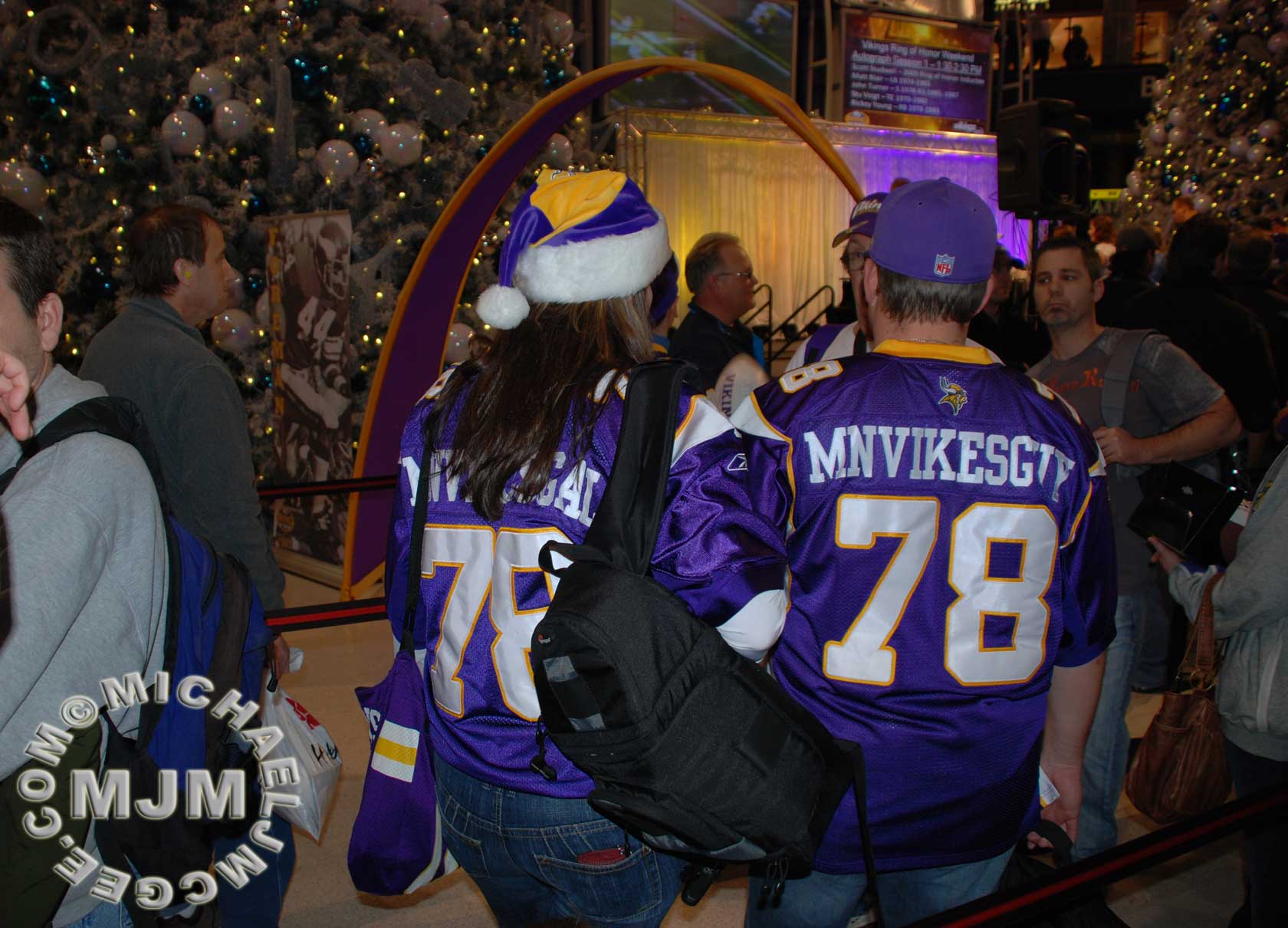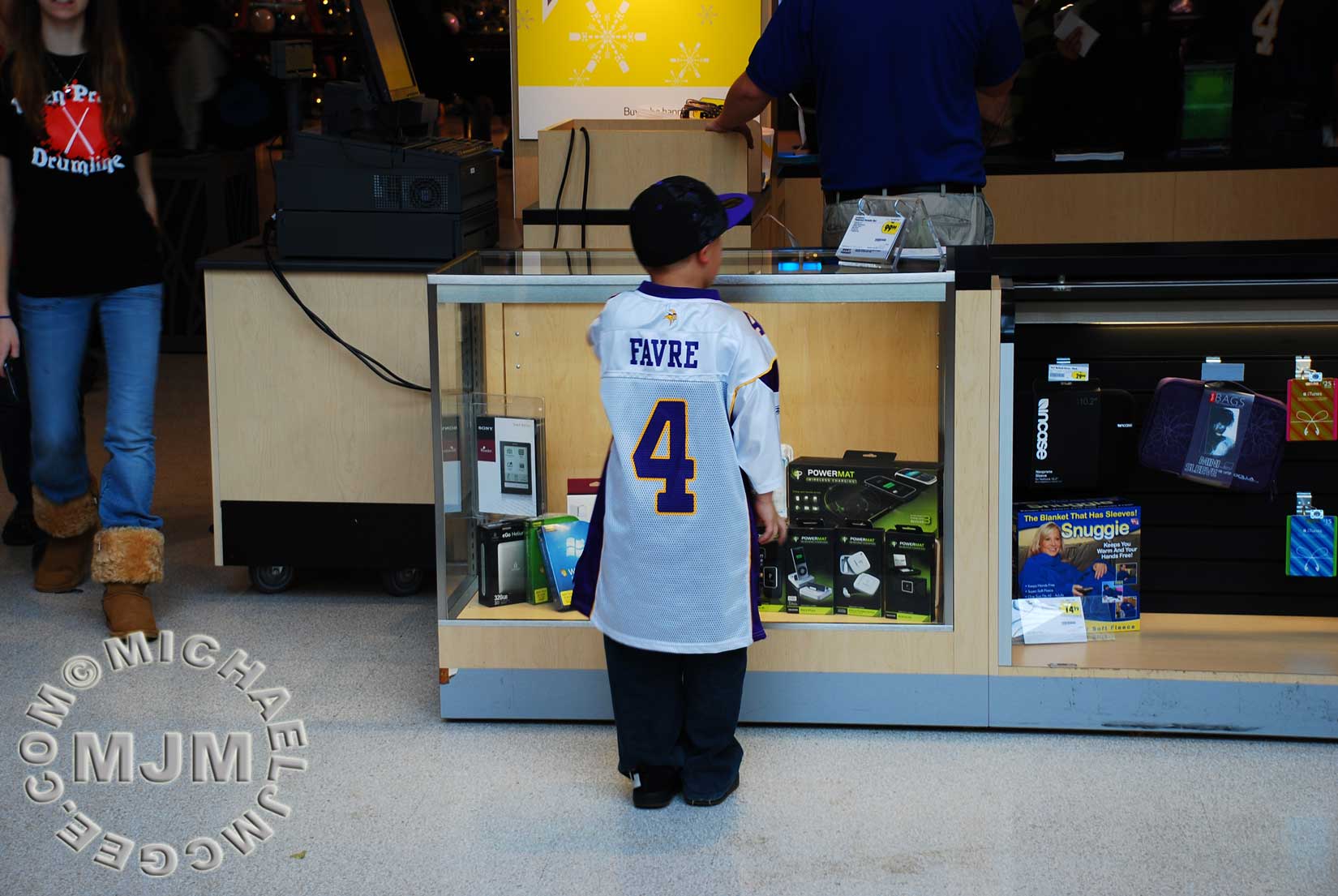 Young and ...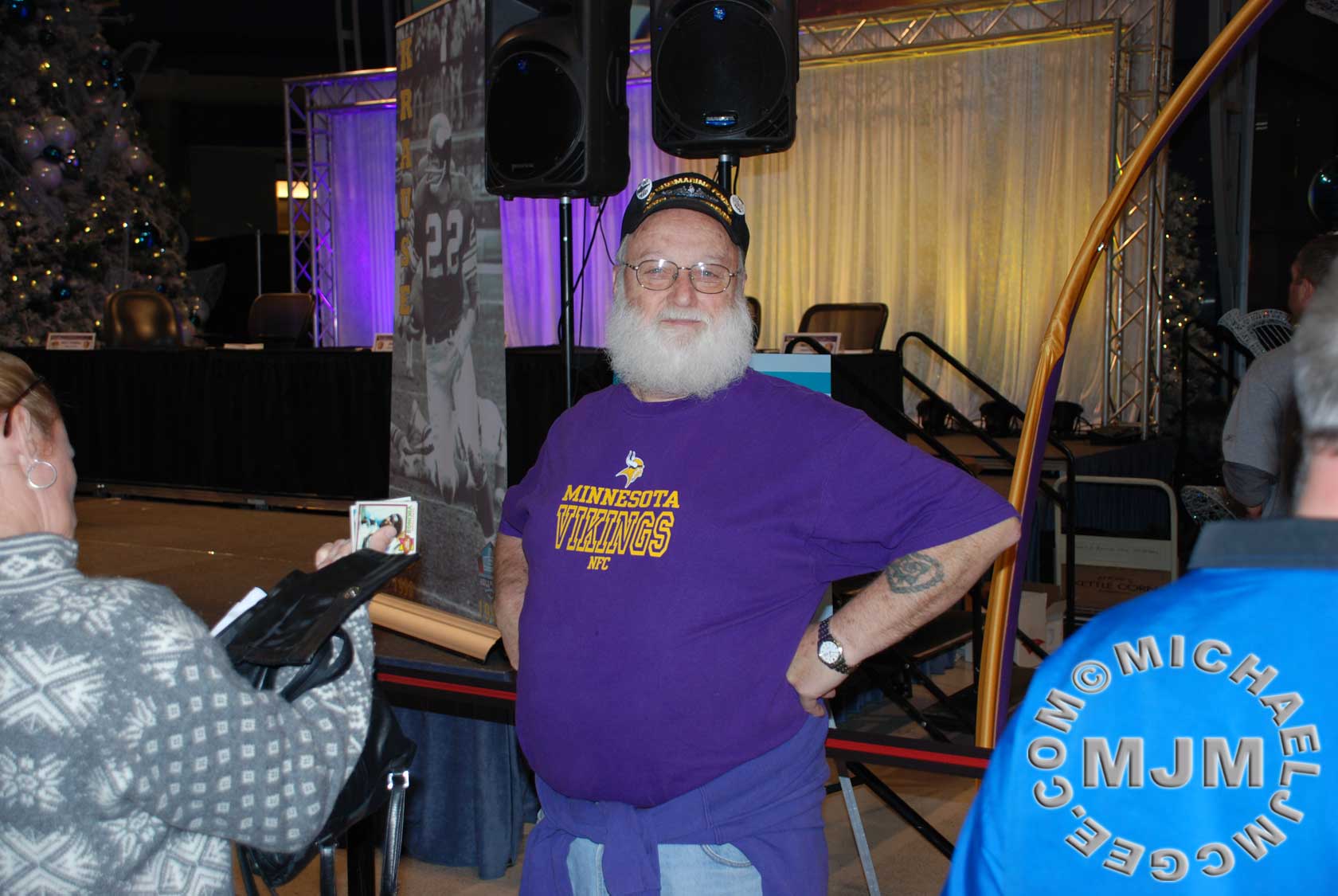 old all in attendance....nice!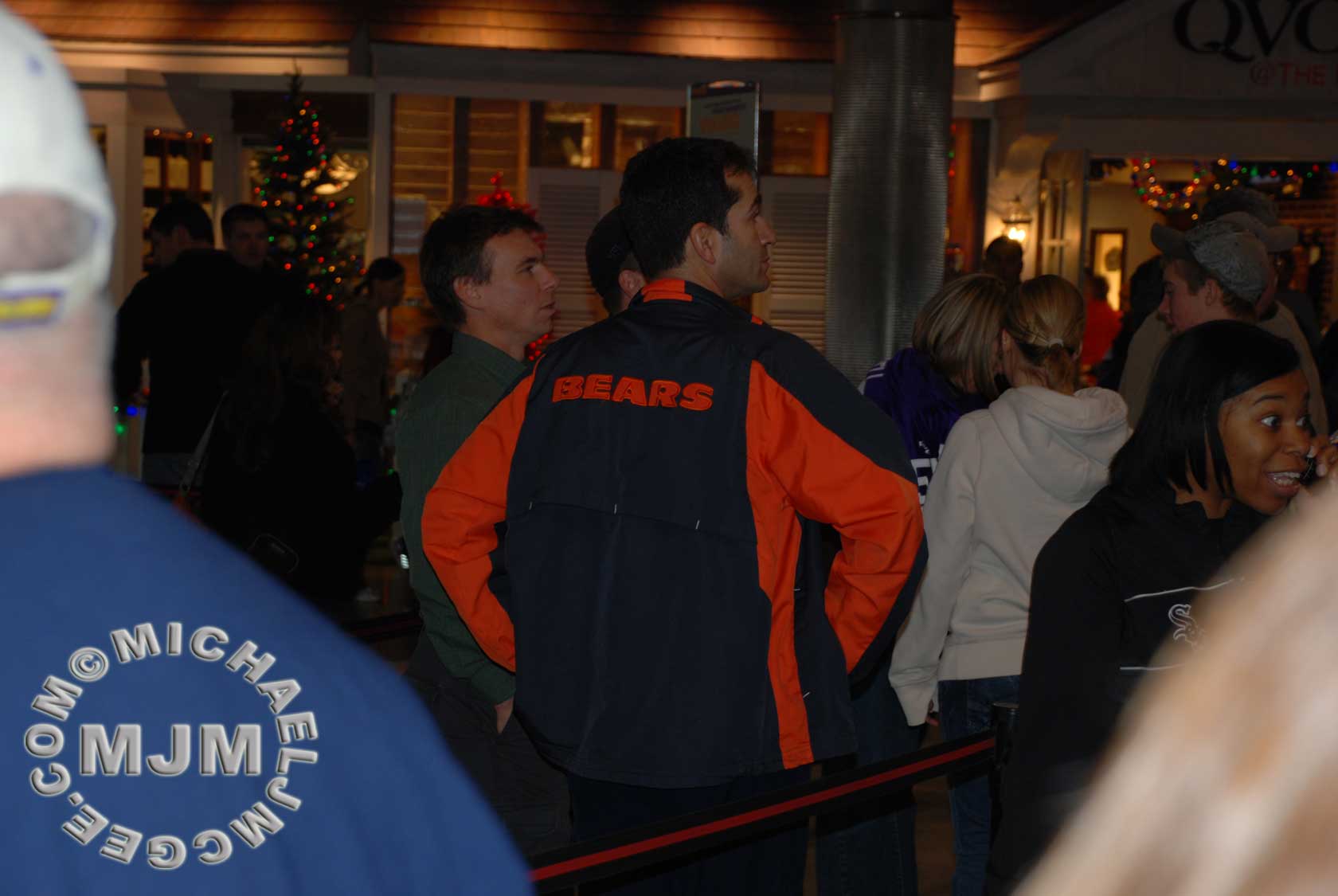 Yes, a Bears fan standing in line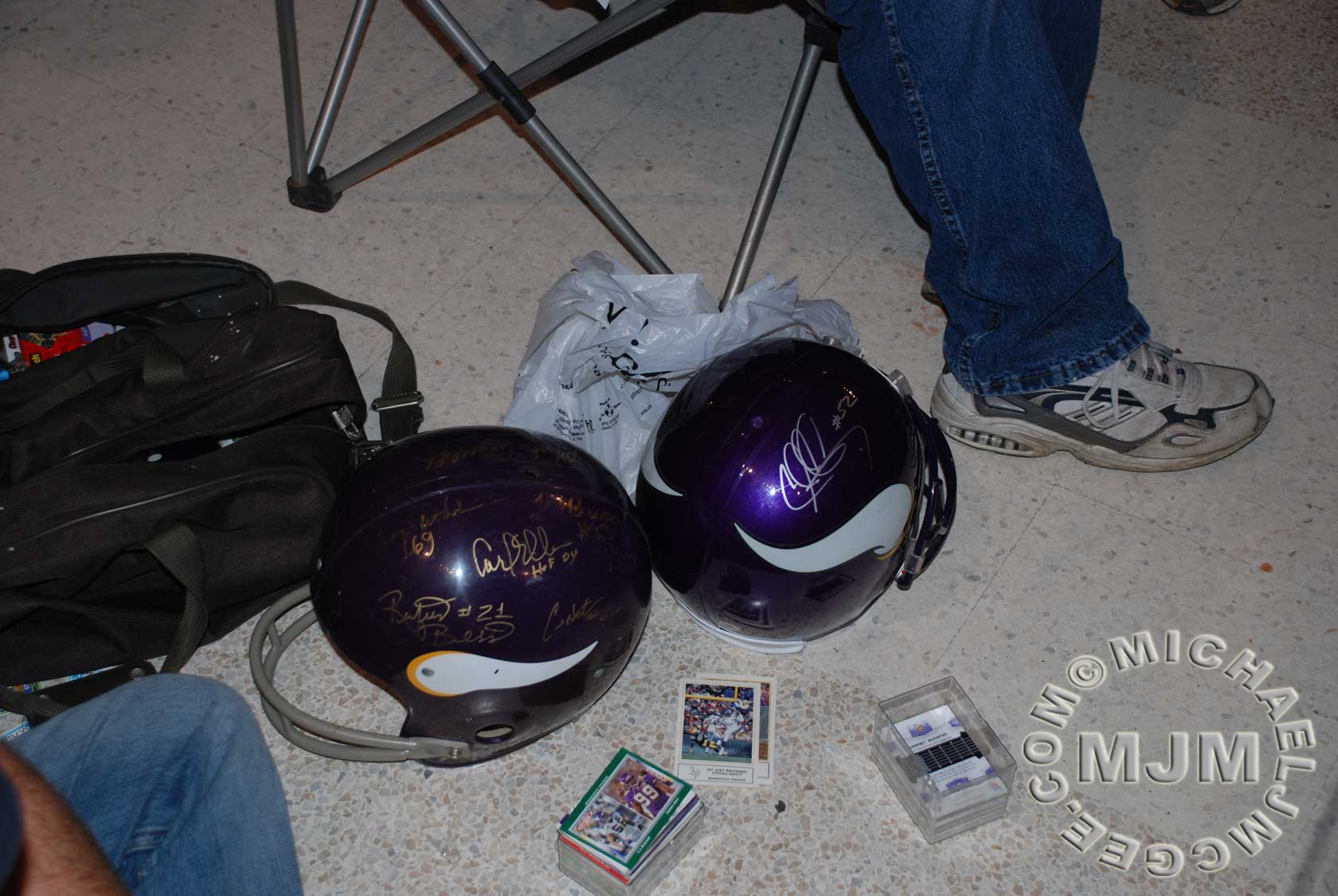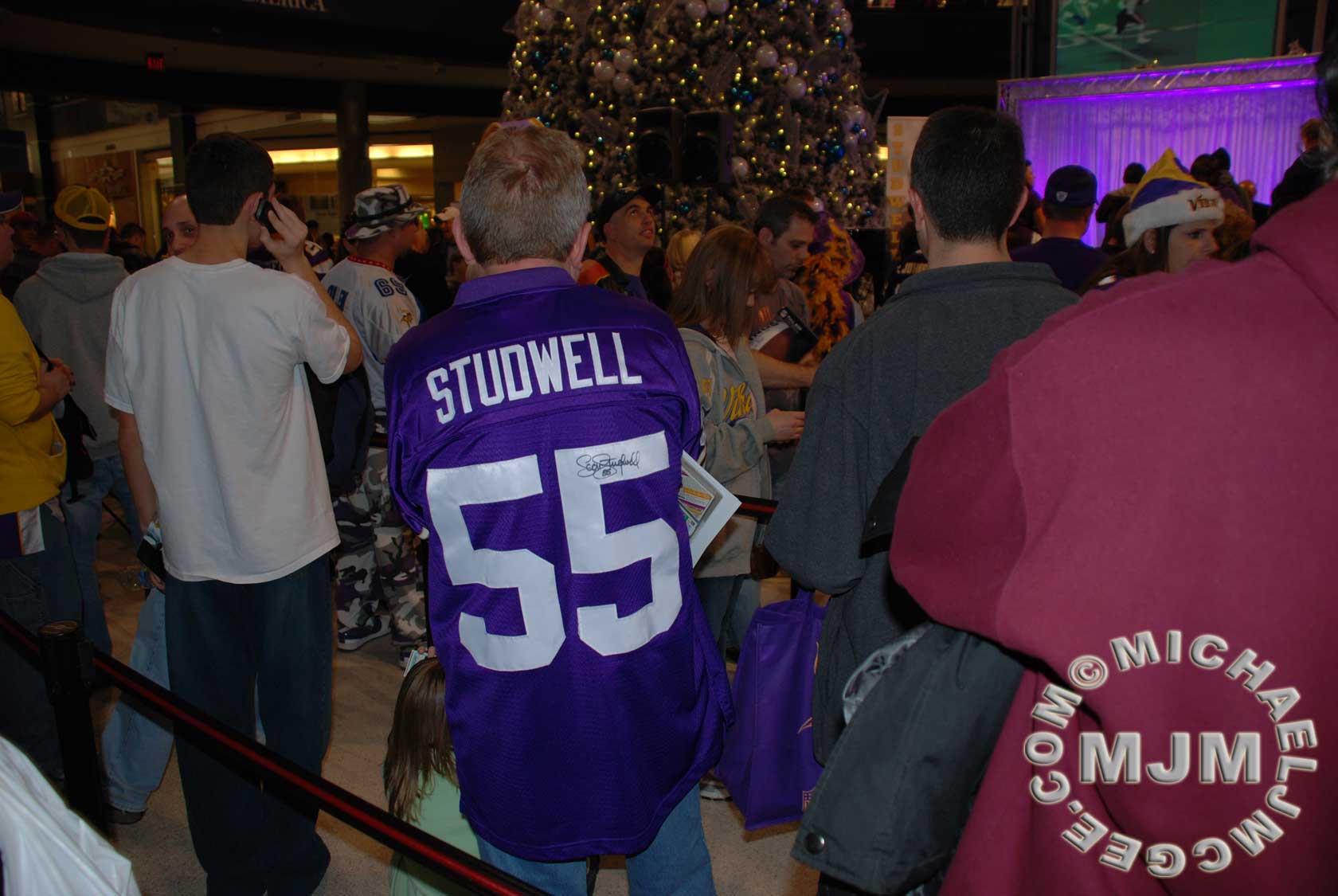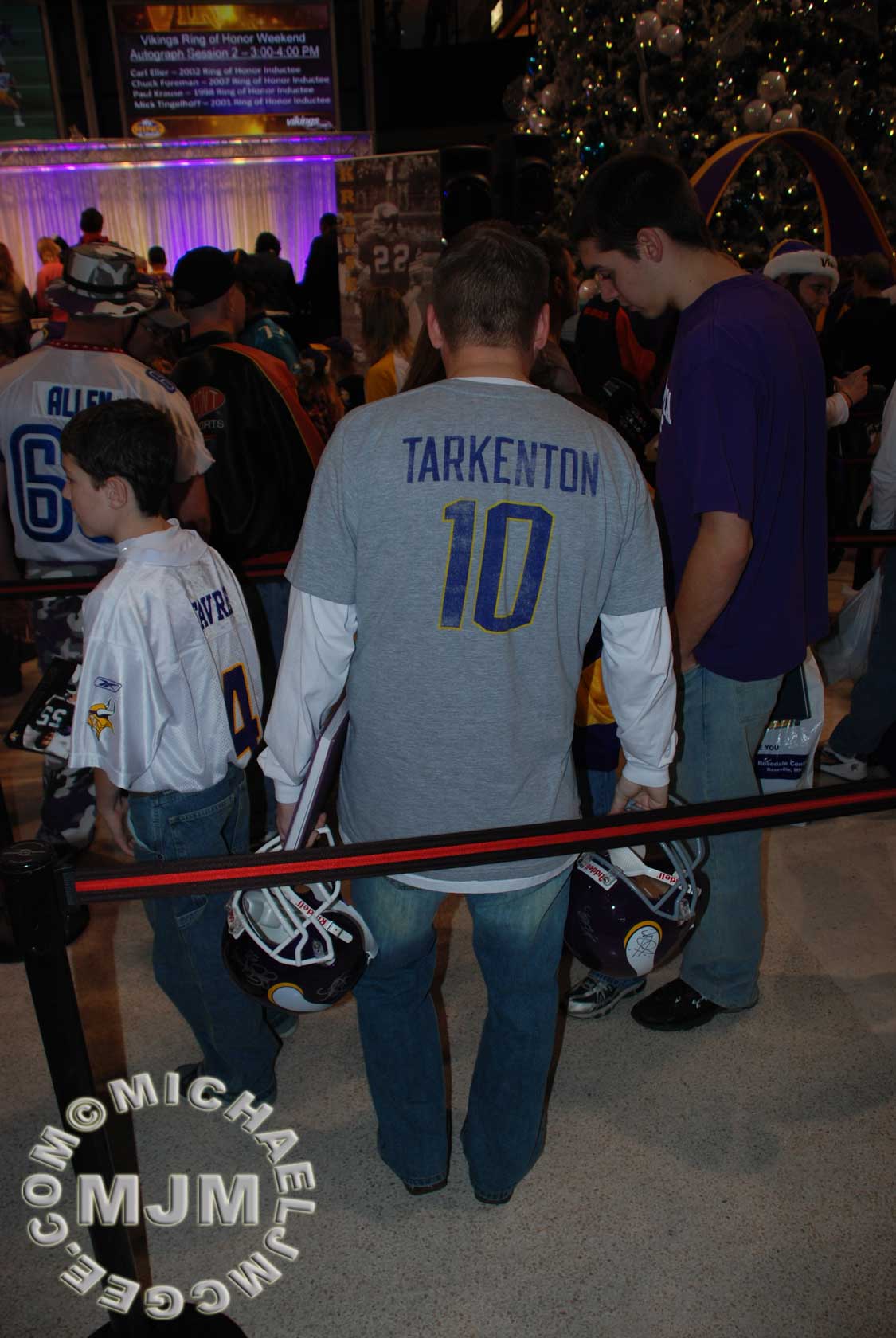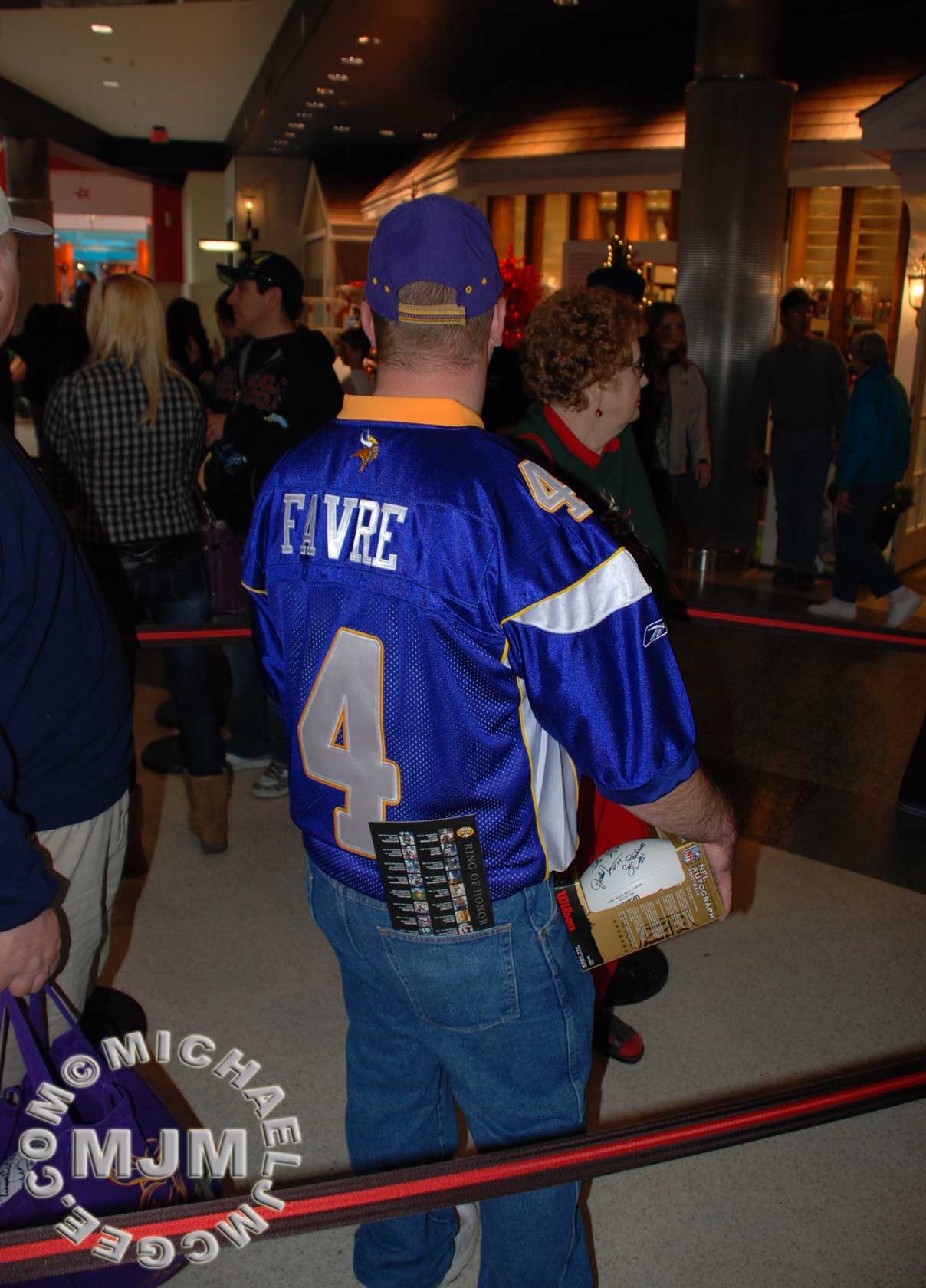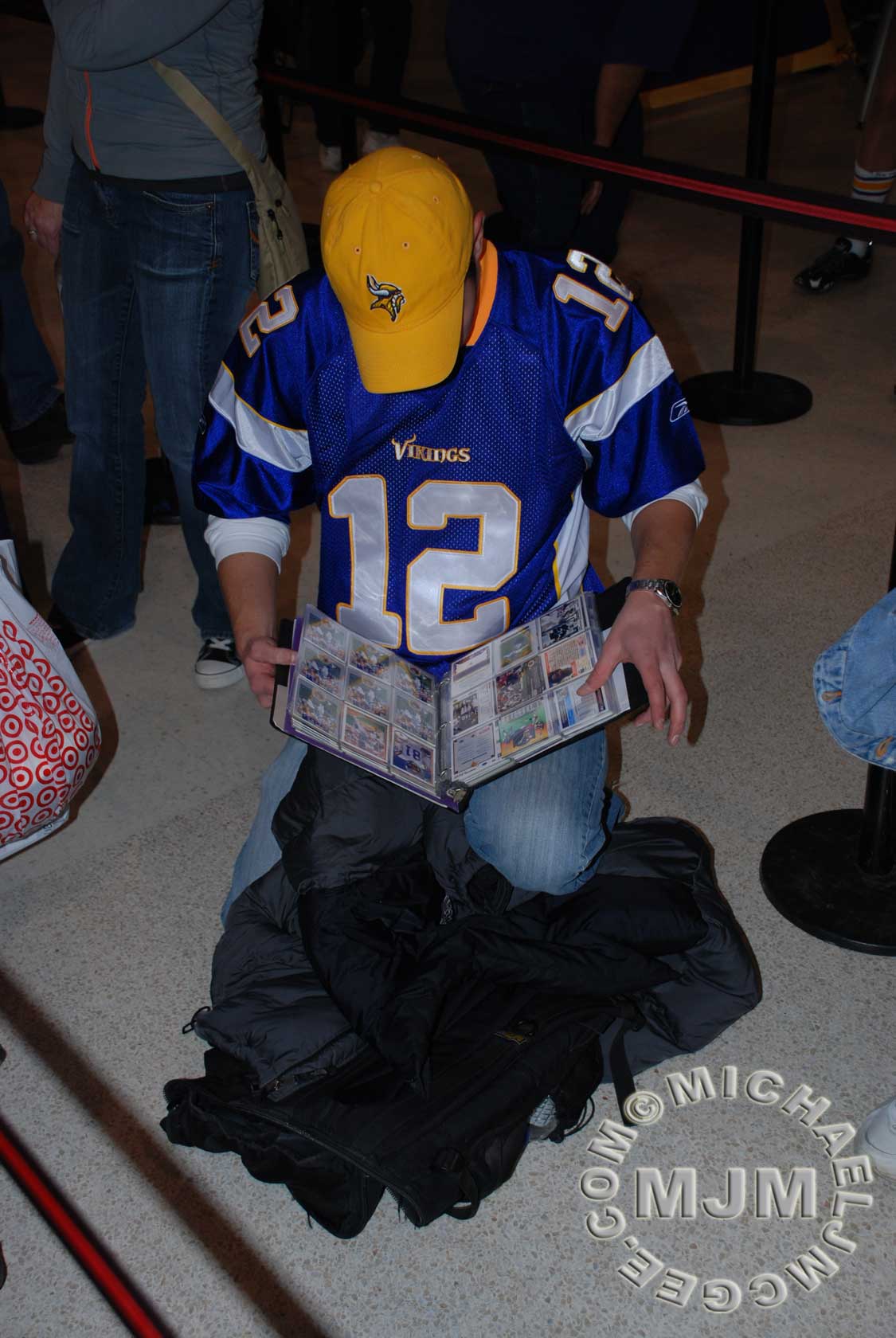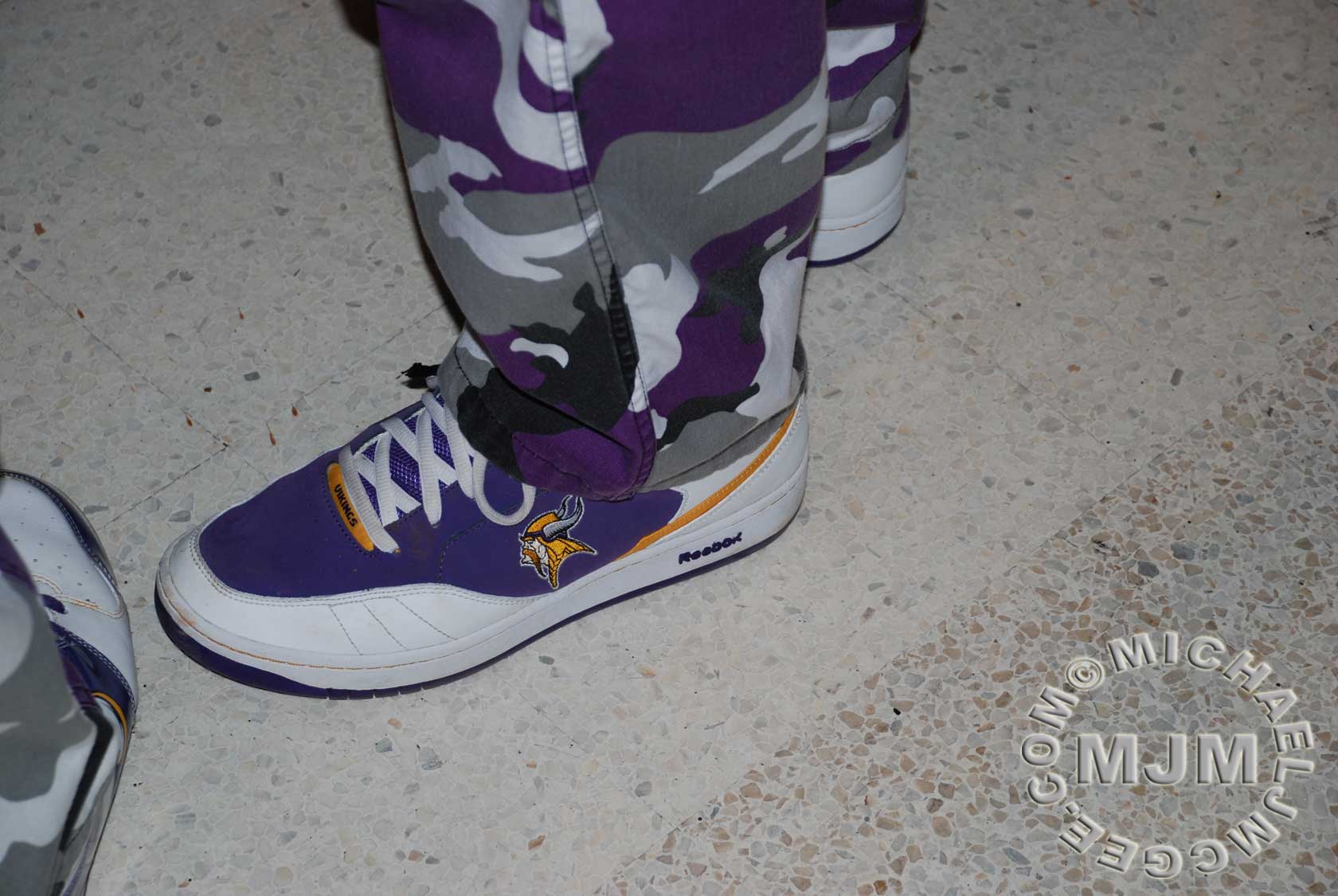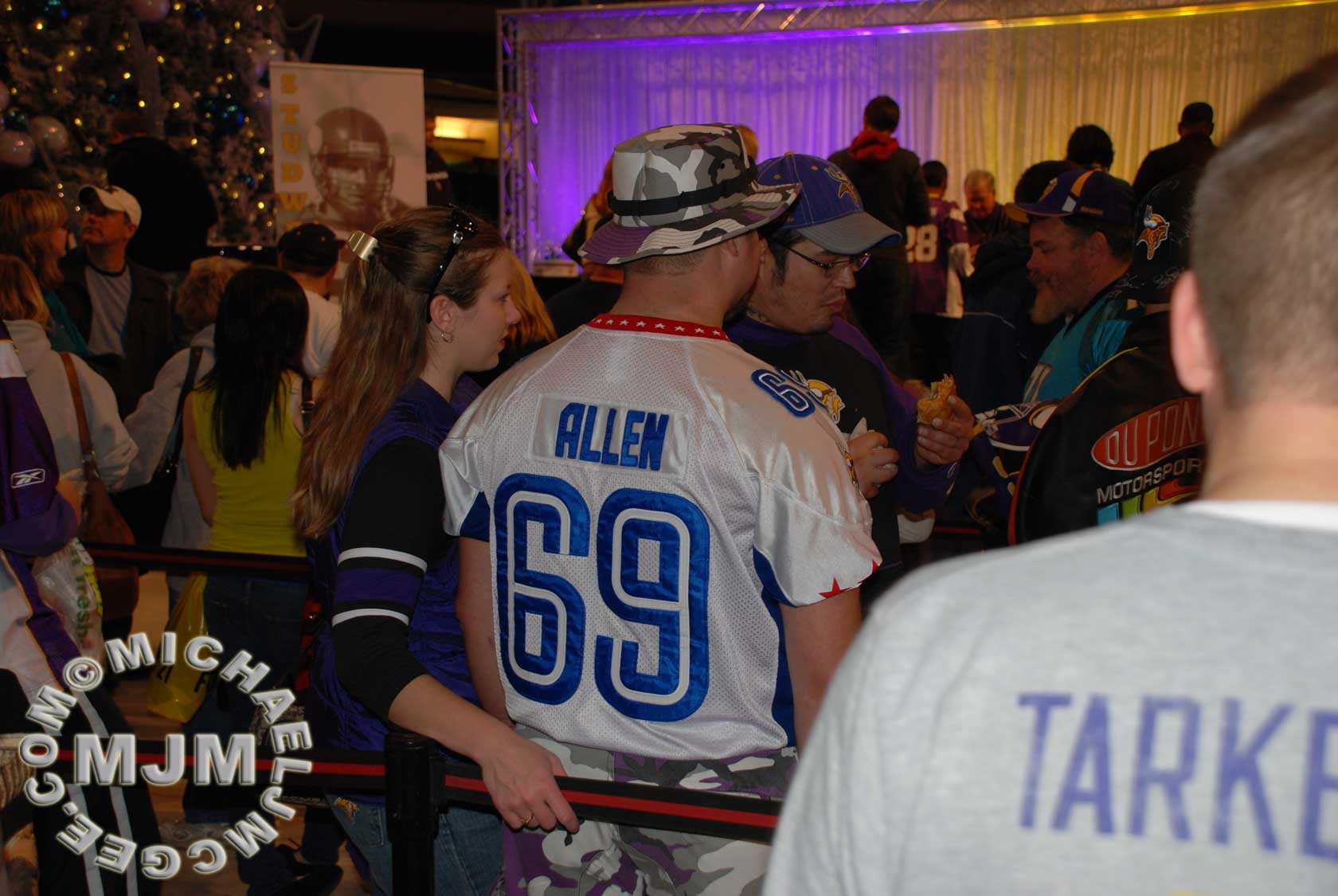 Let the signing begin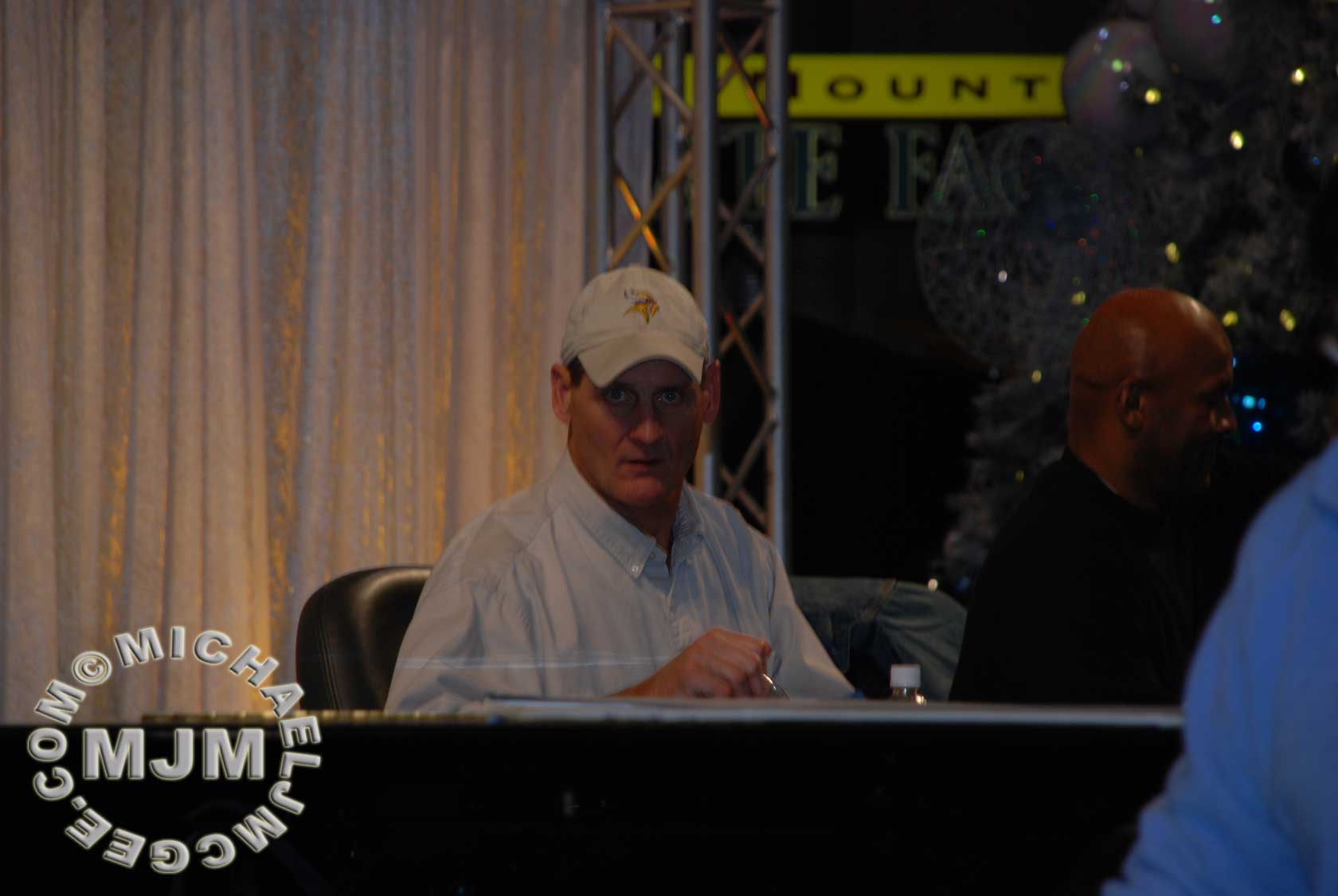 Scott looks over during the signing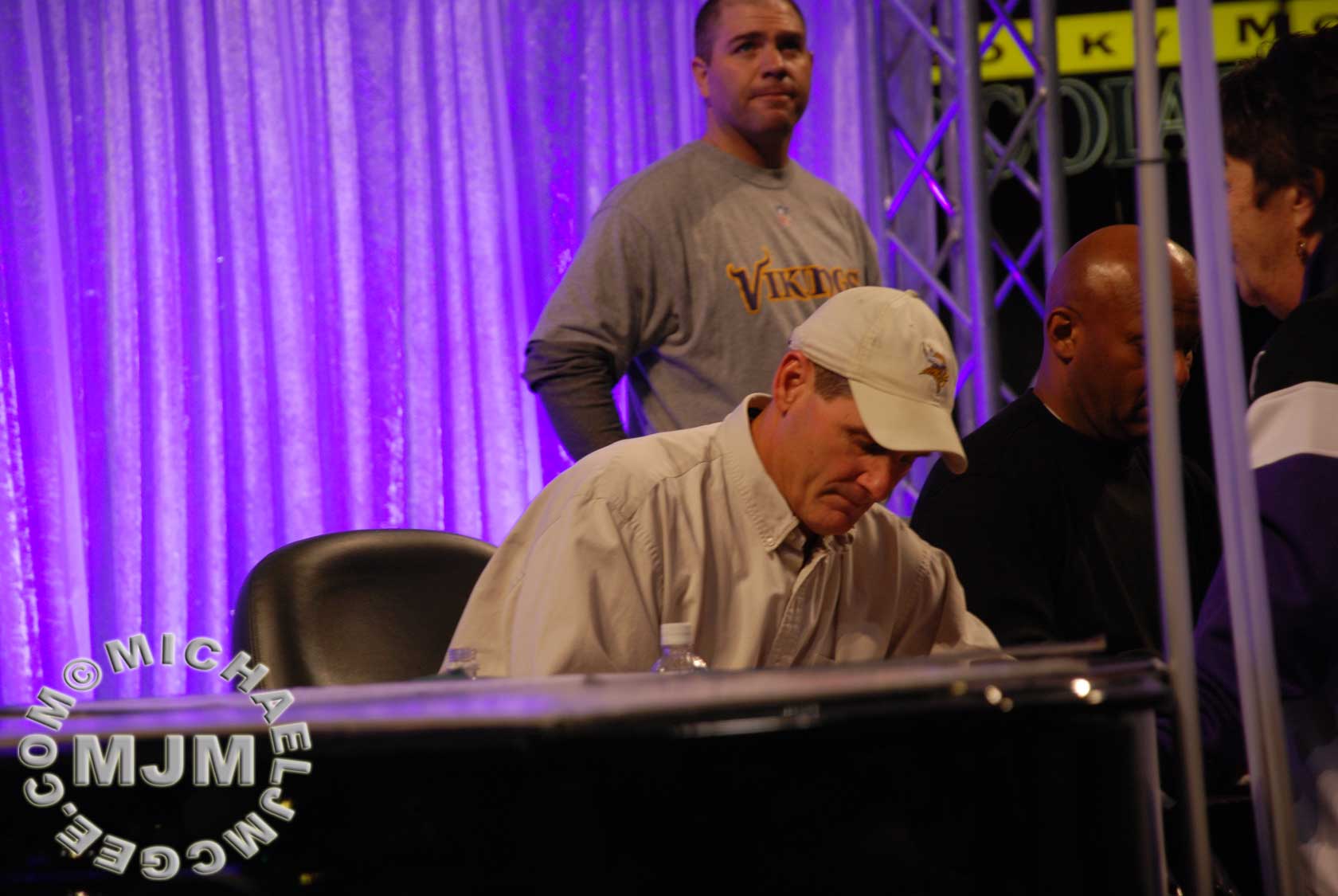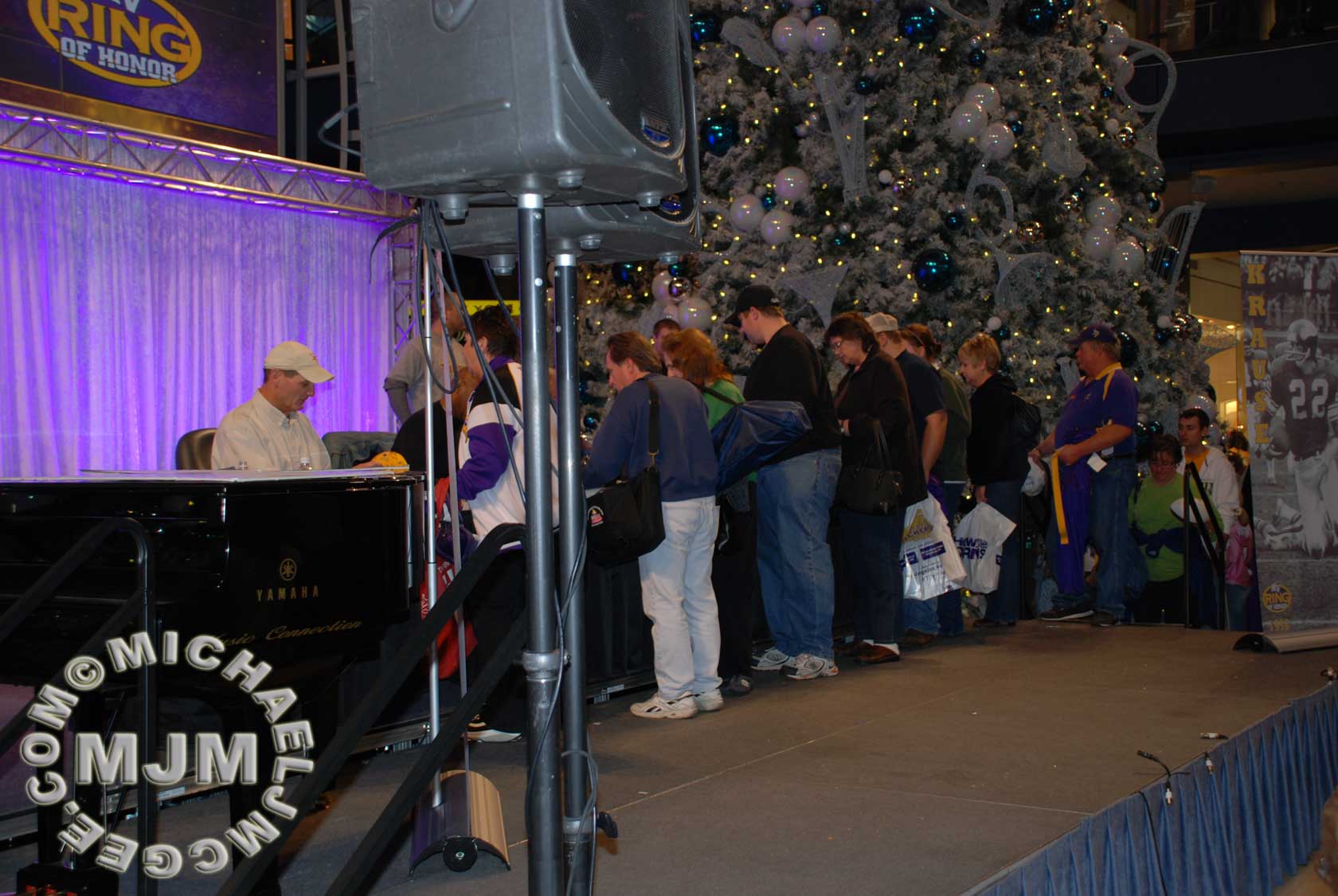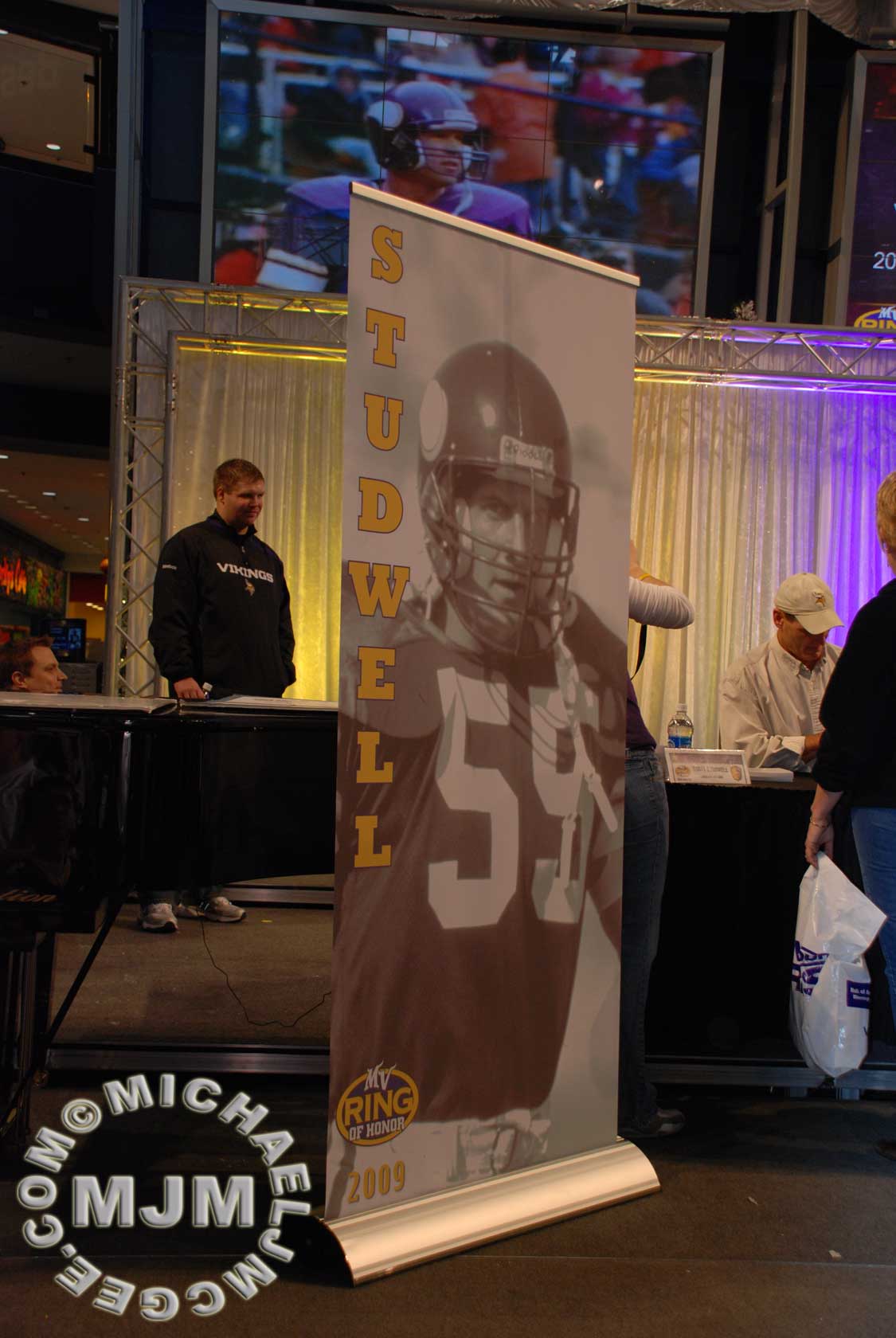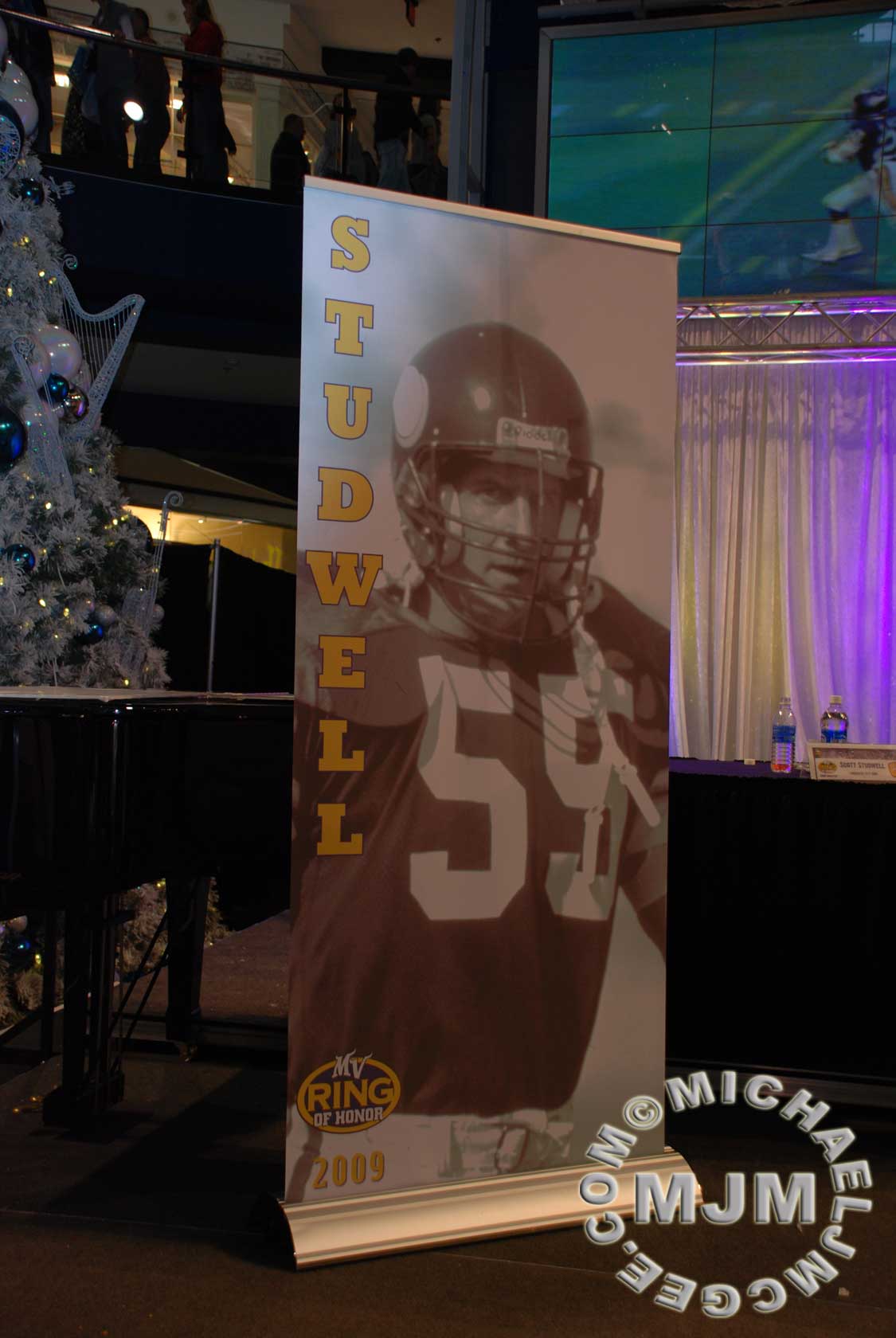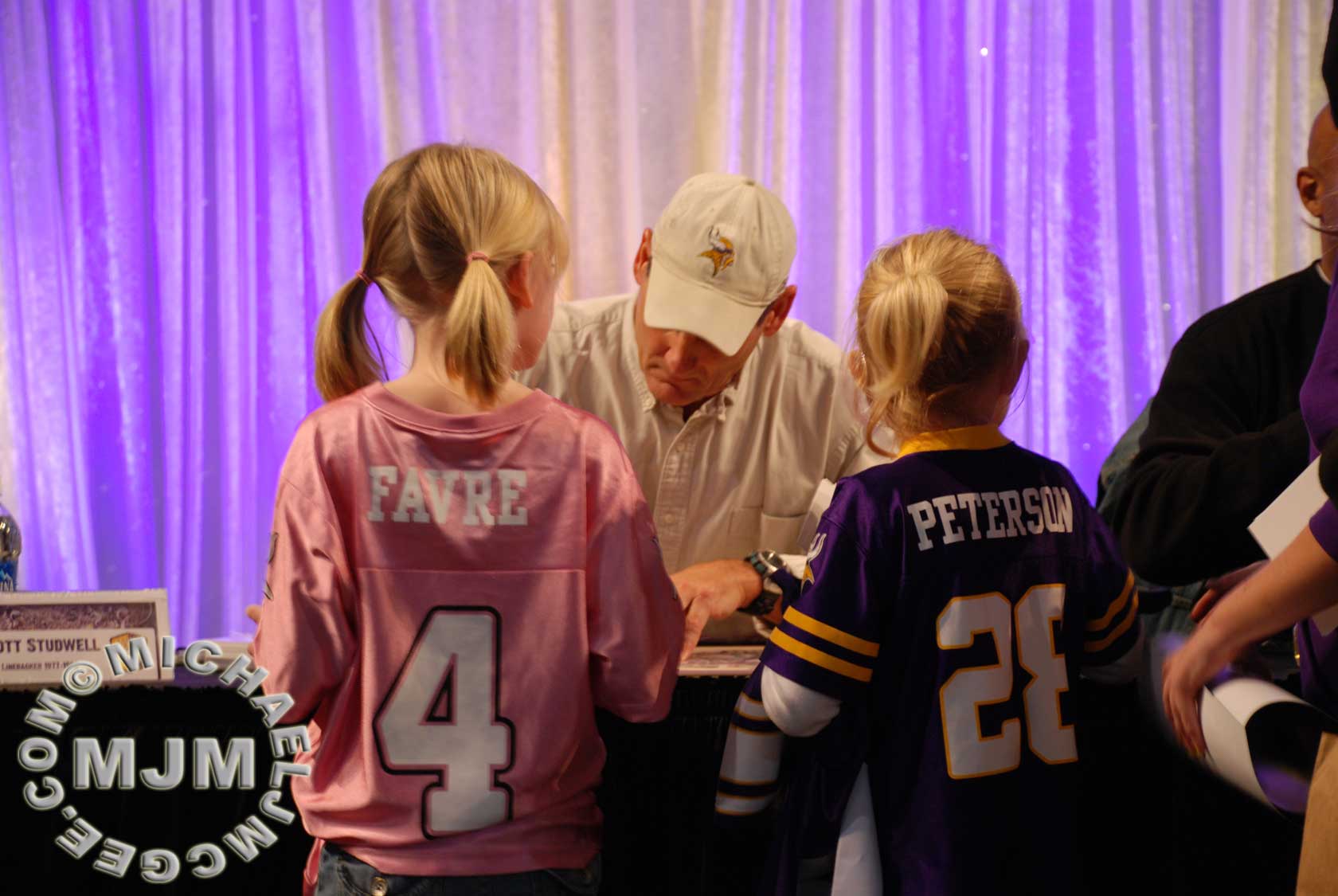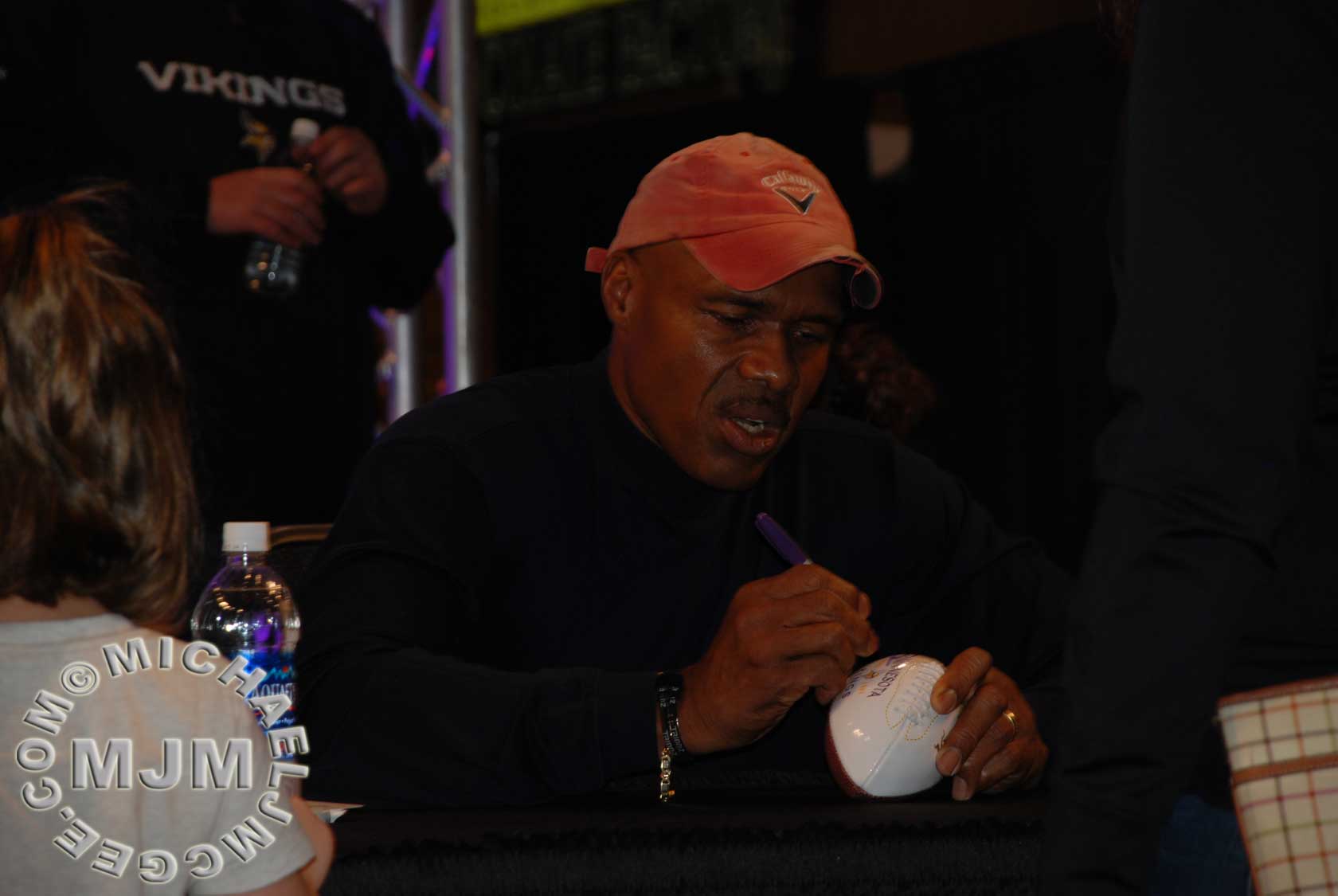 LB Matt Blair signs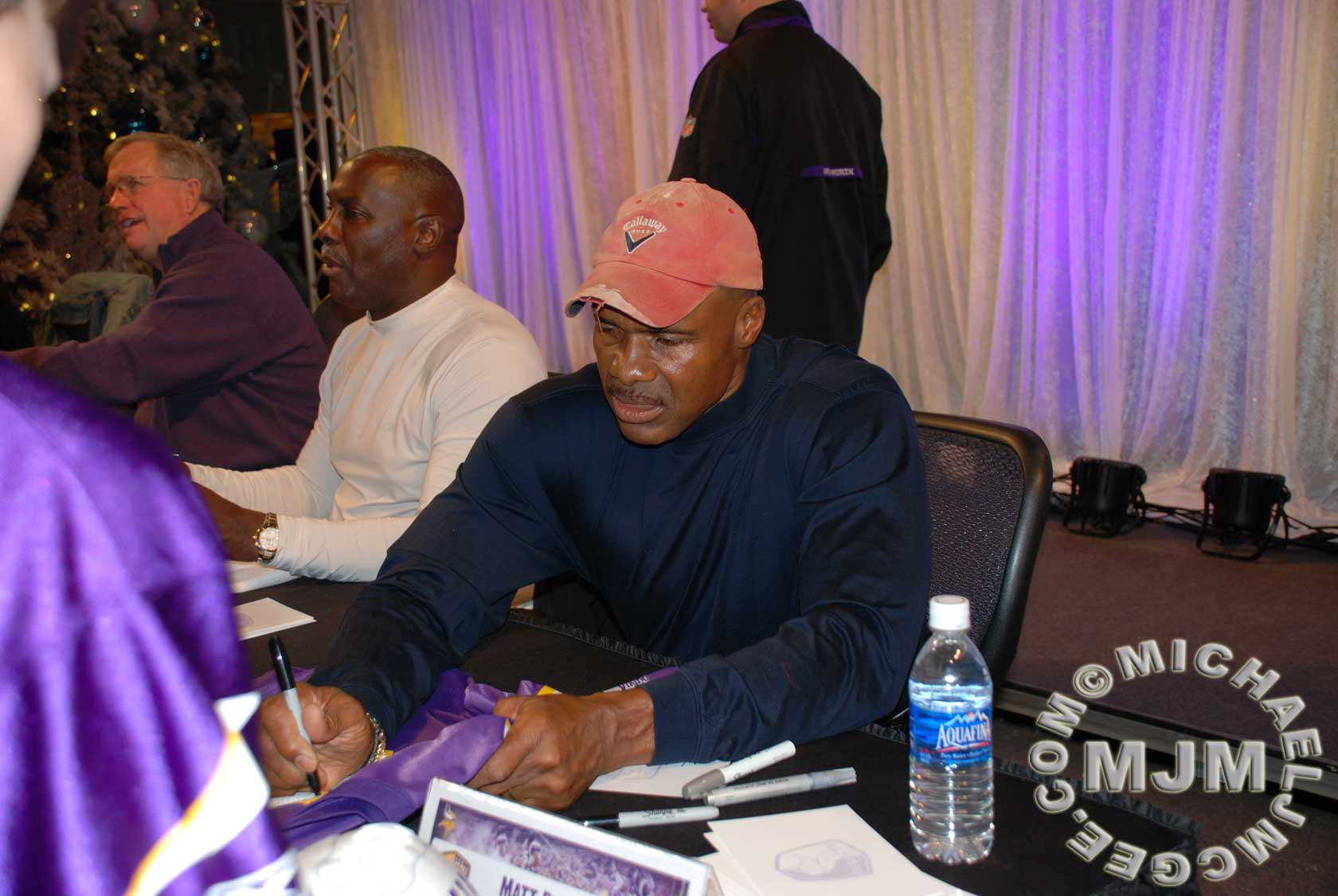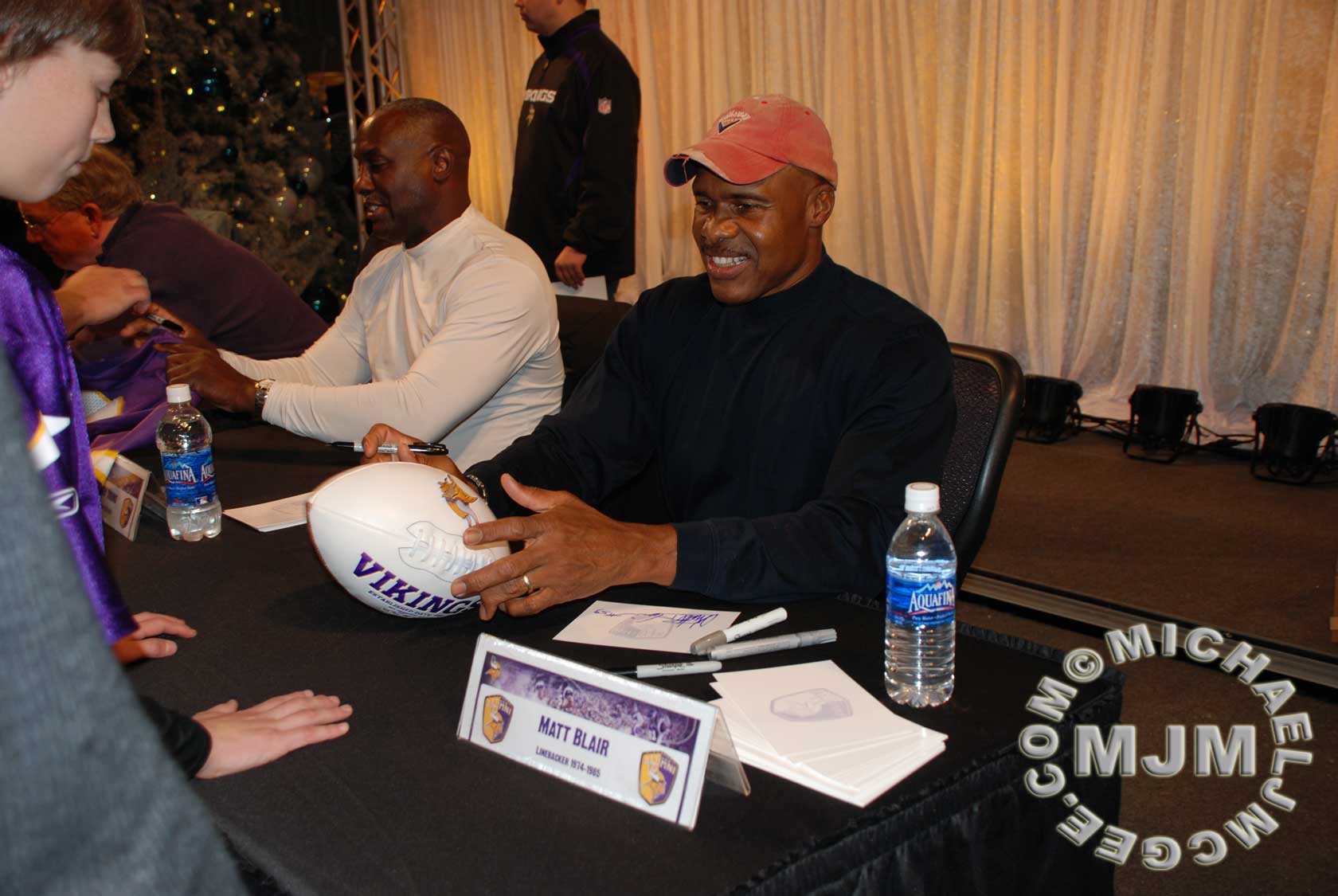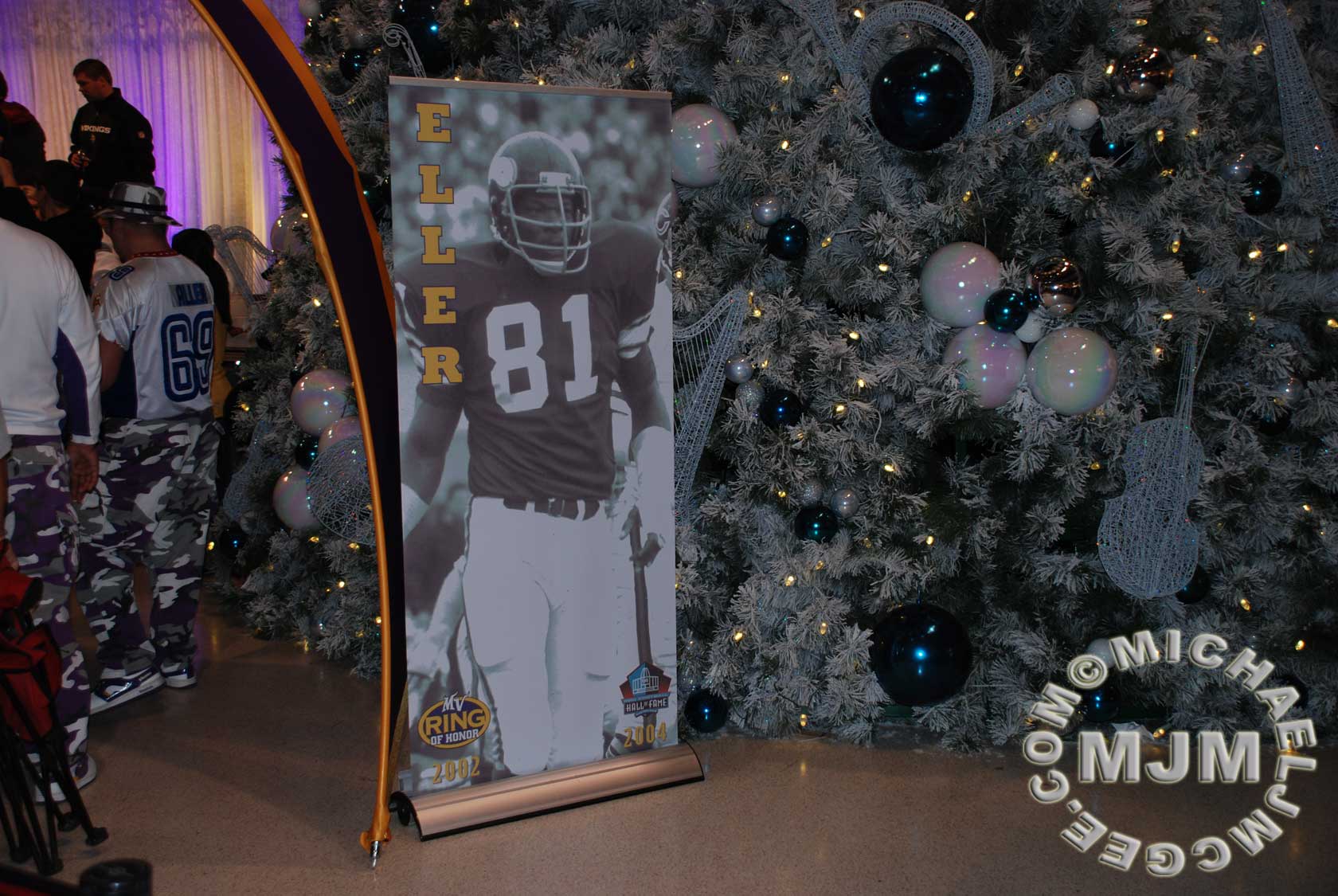 One of the Vikings best players! Hall of Famer DE Carl Eller.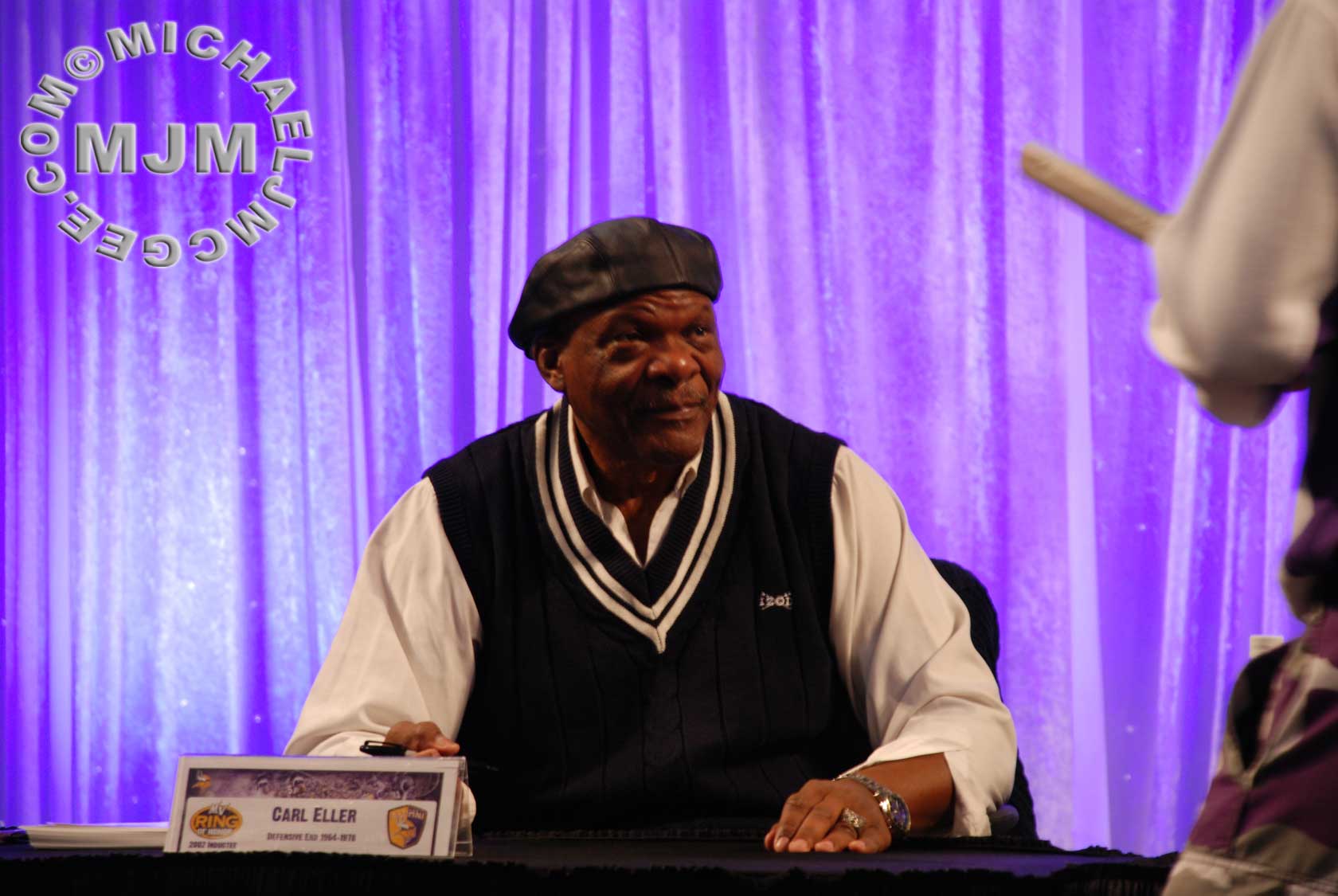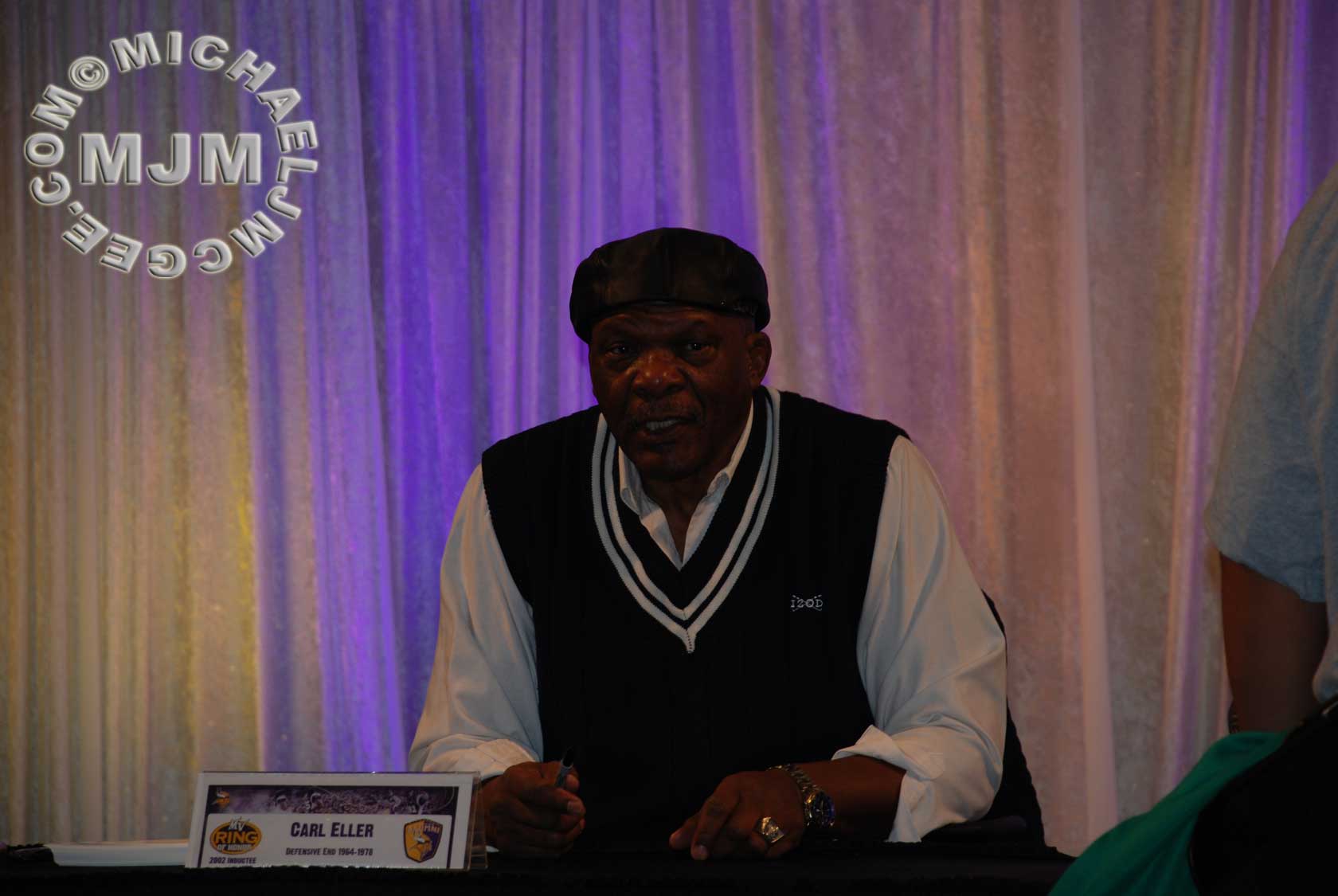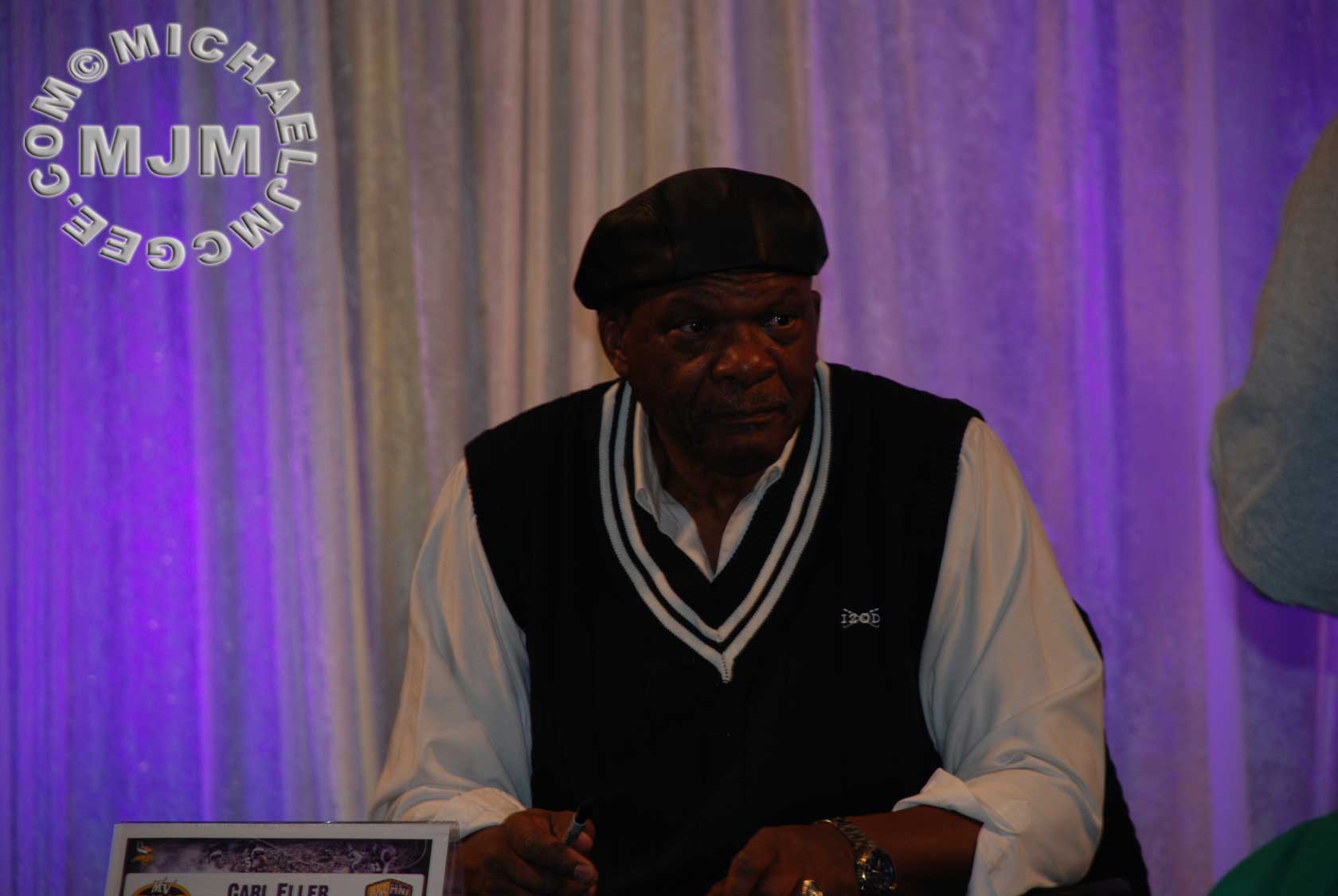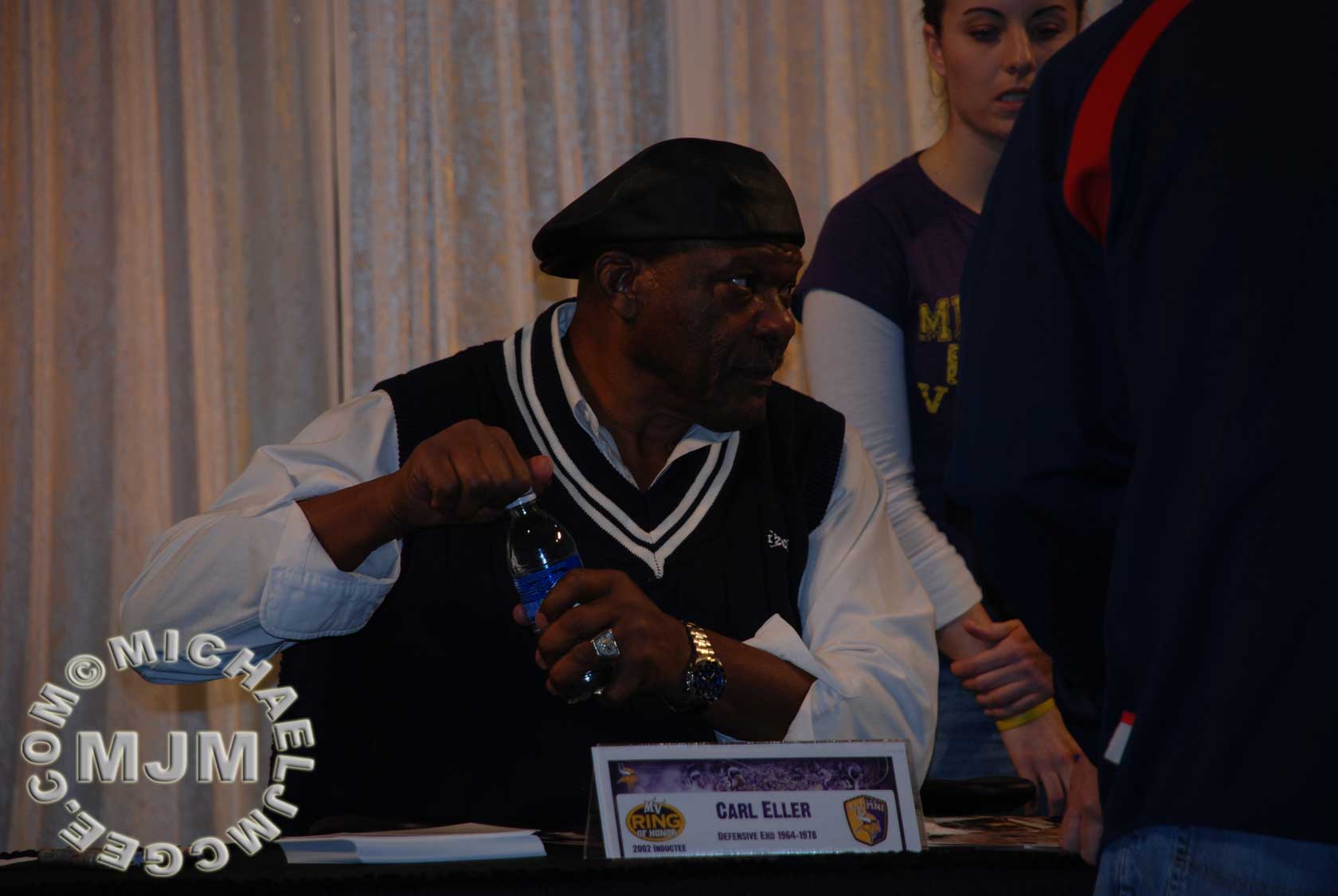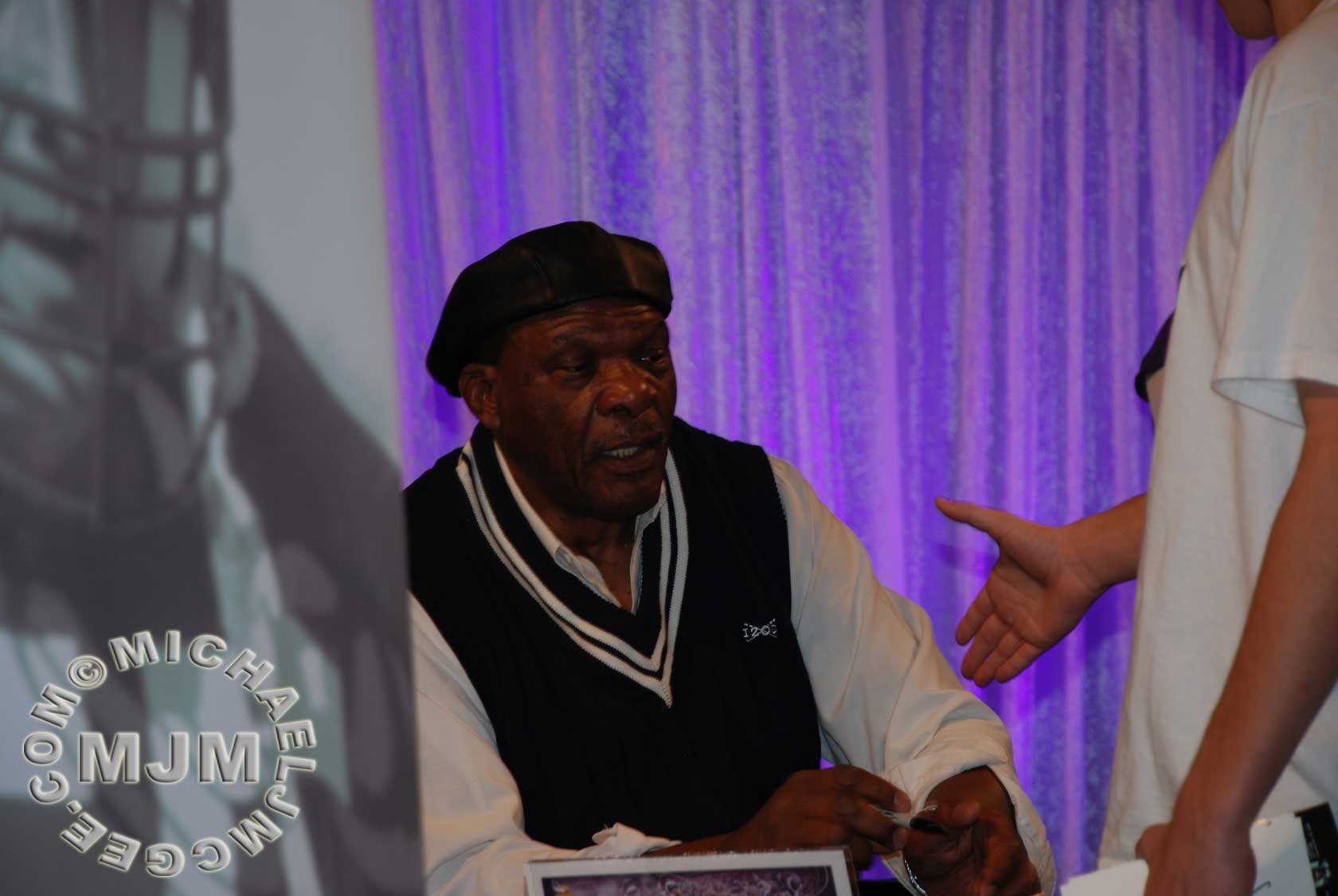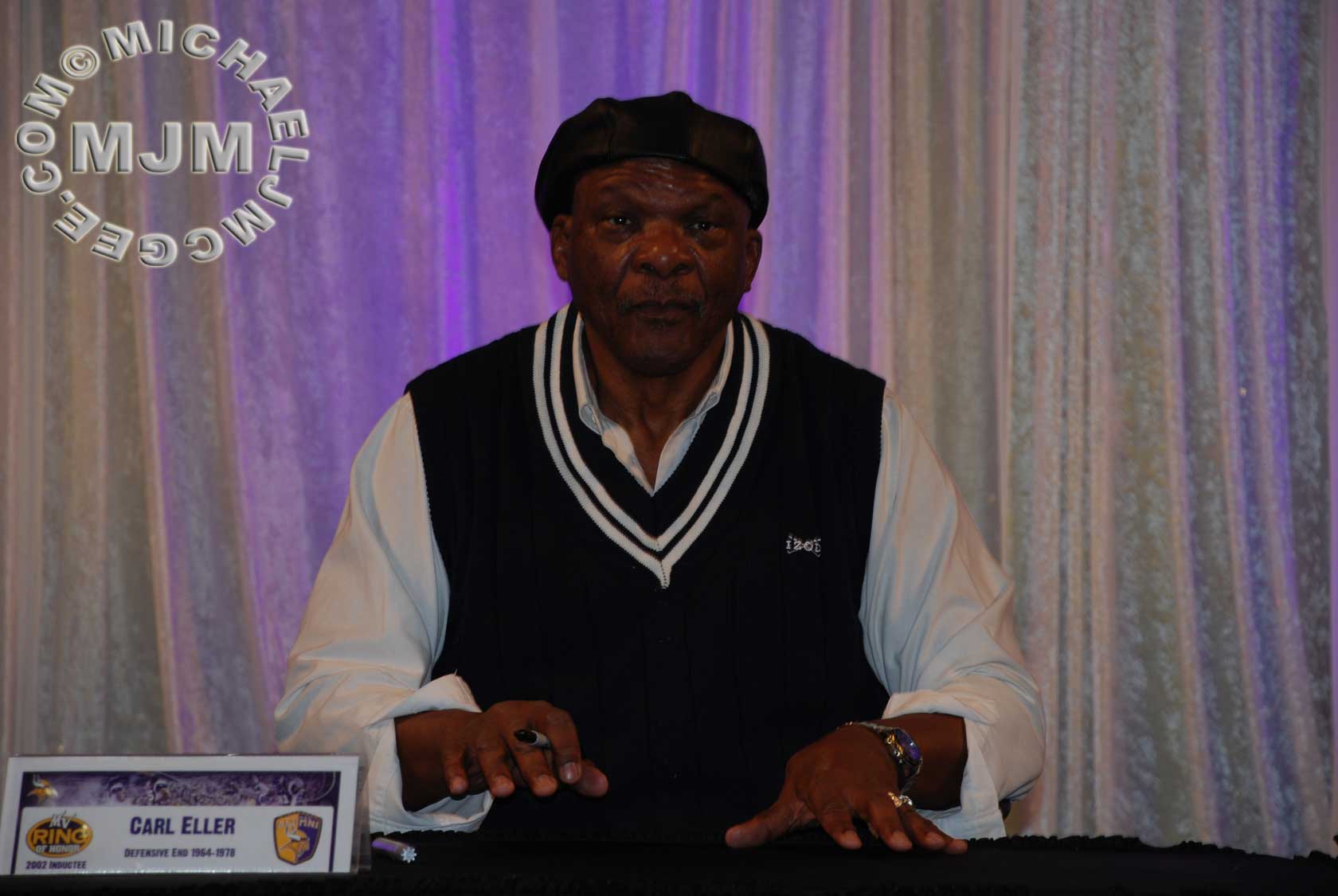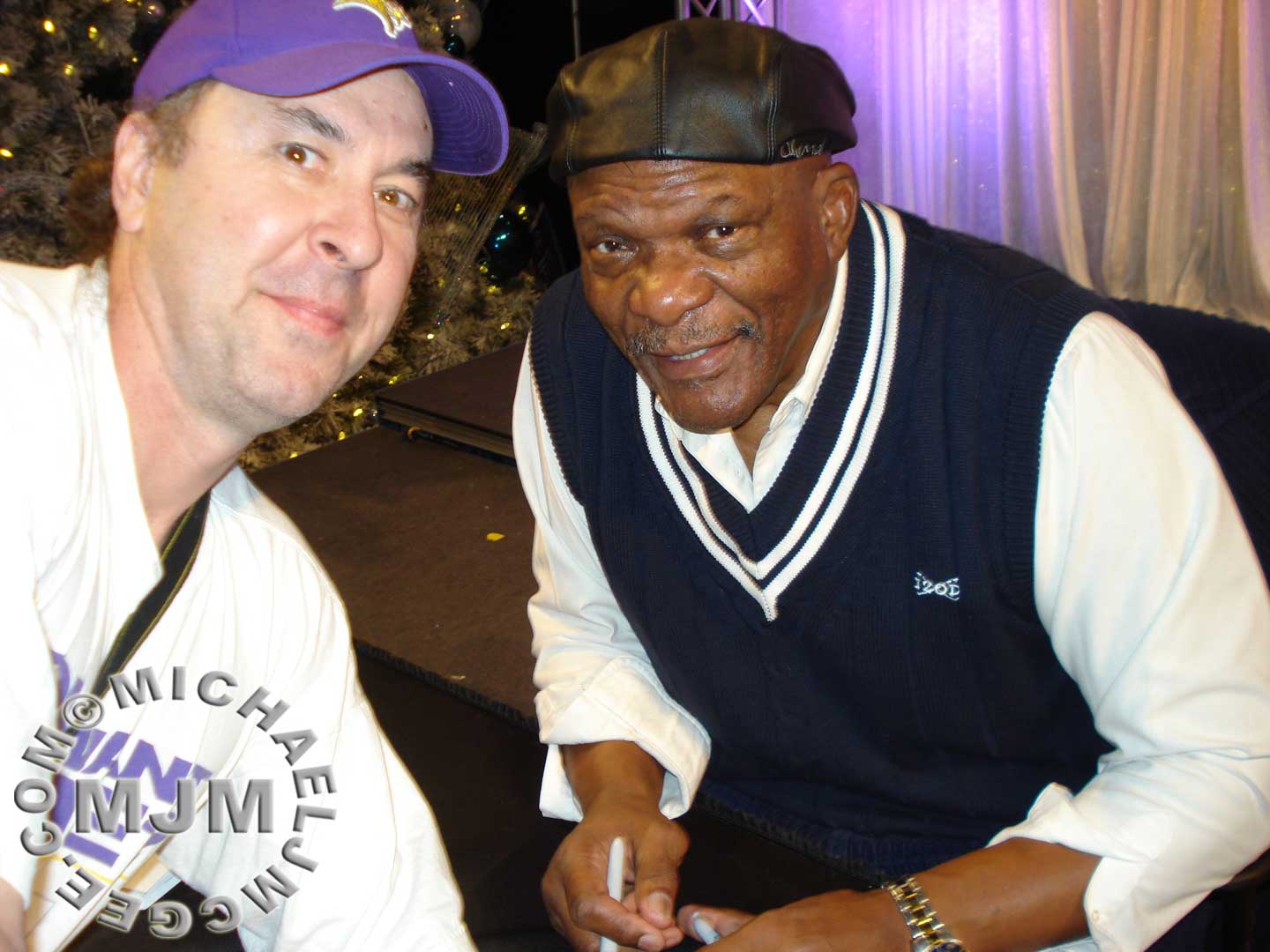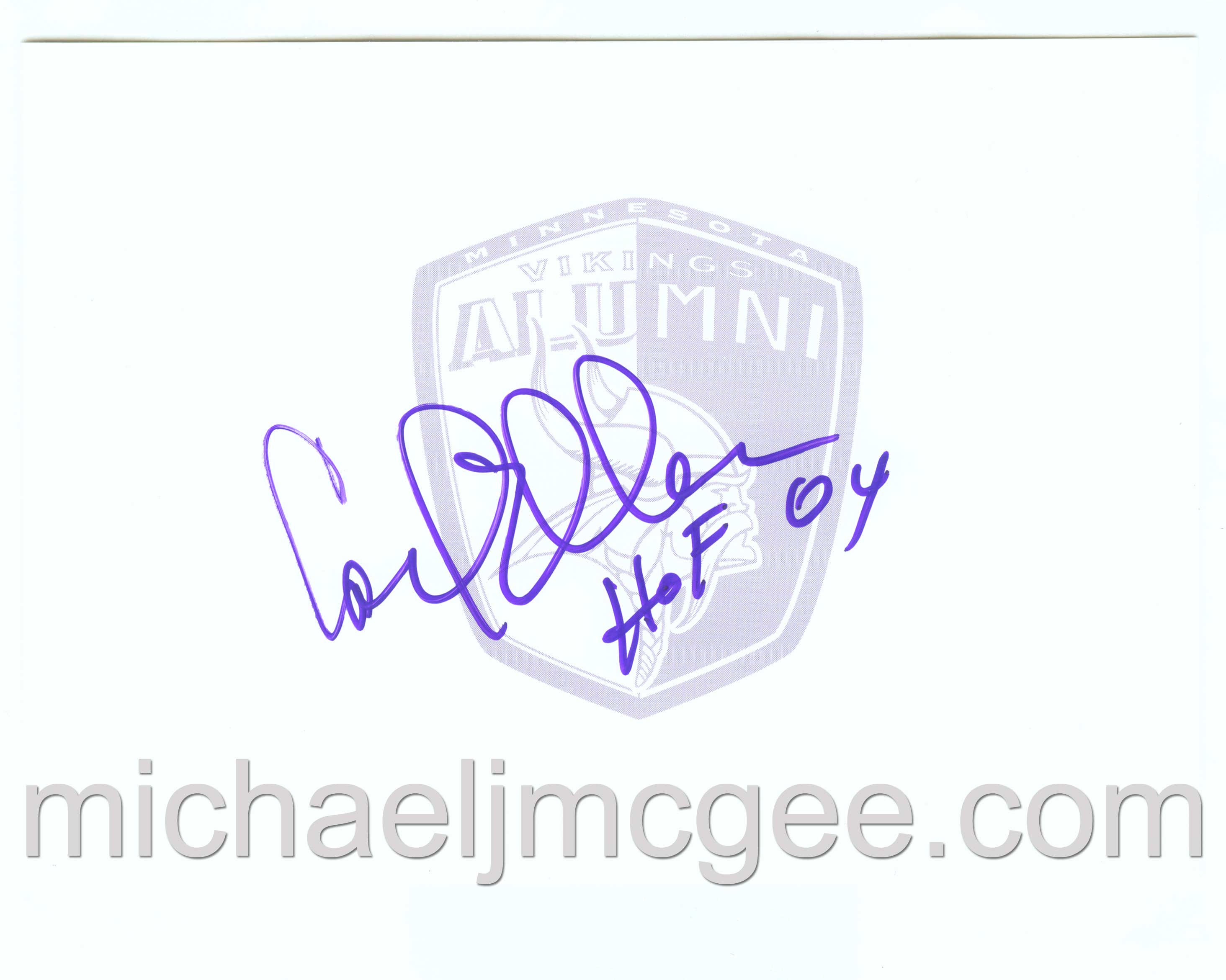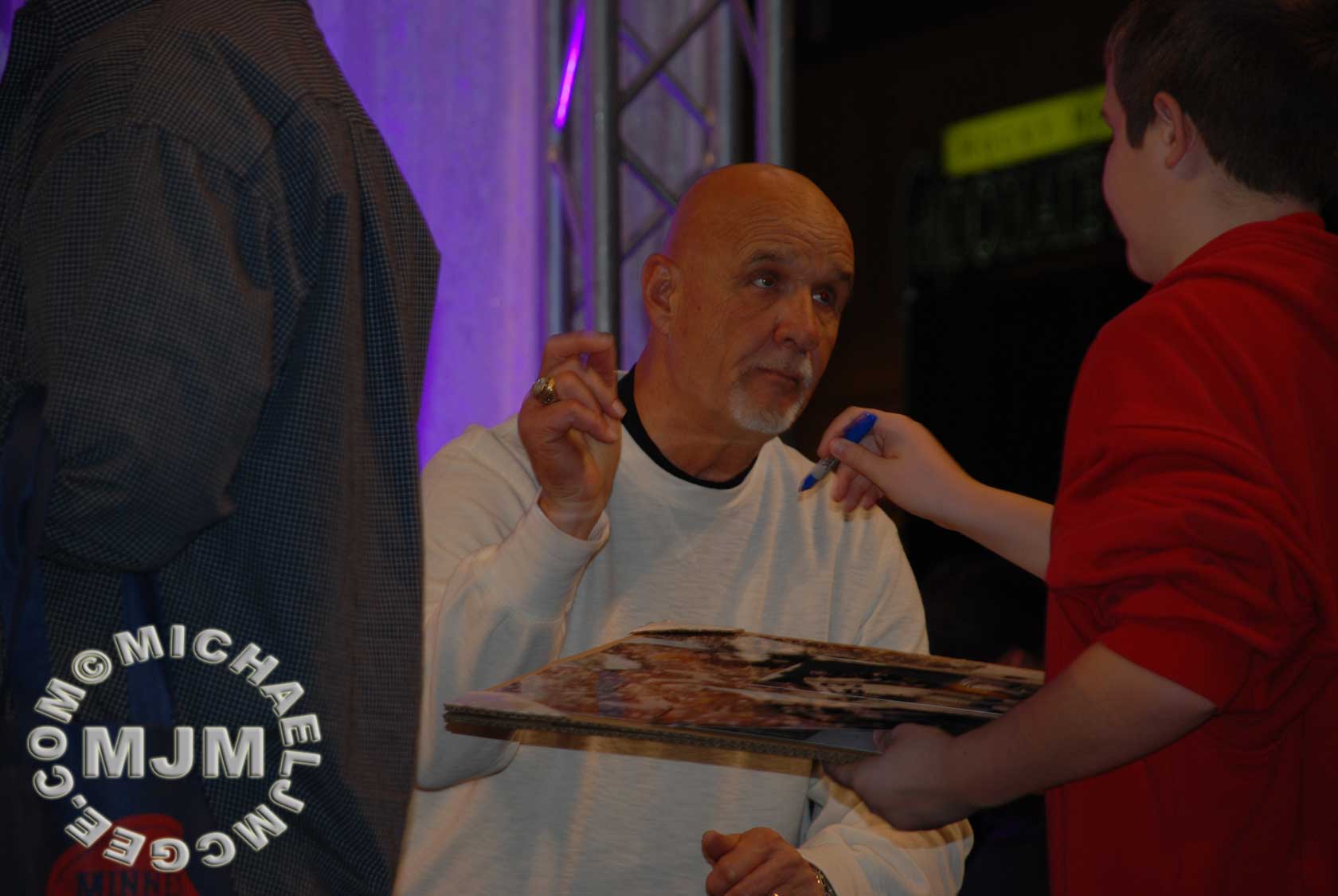 Another Vikings great. Hall of Famer Paul Krause. His interception record will probably never be broken!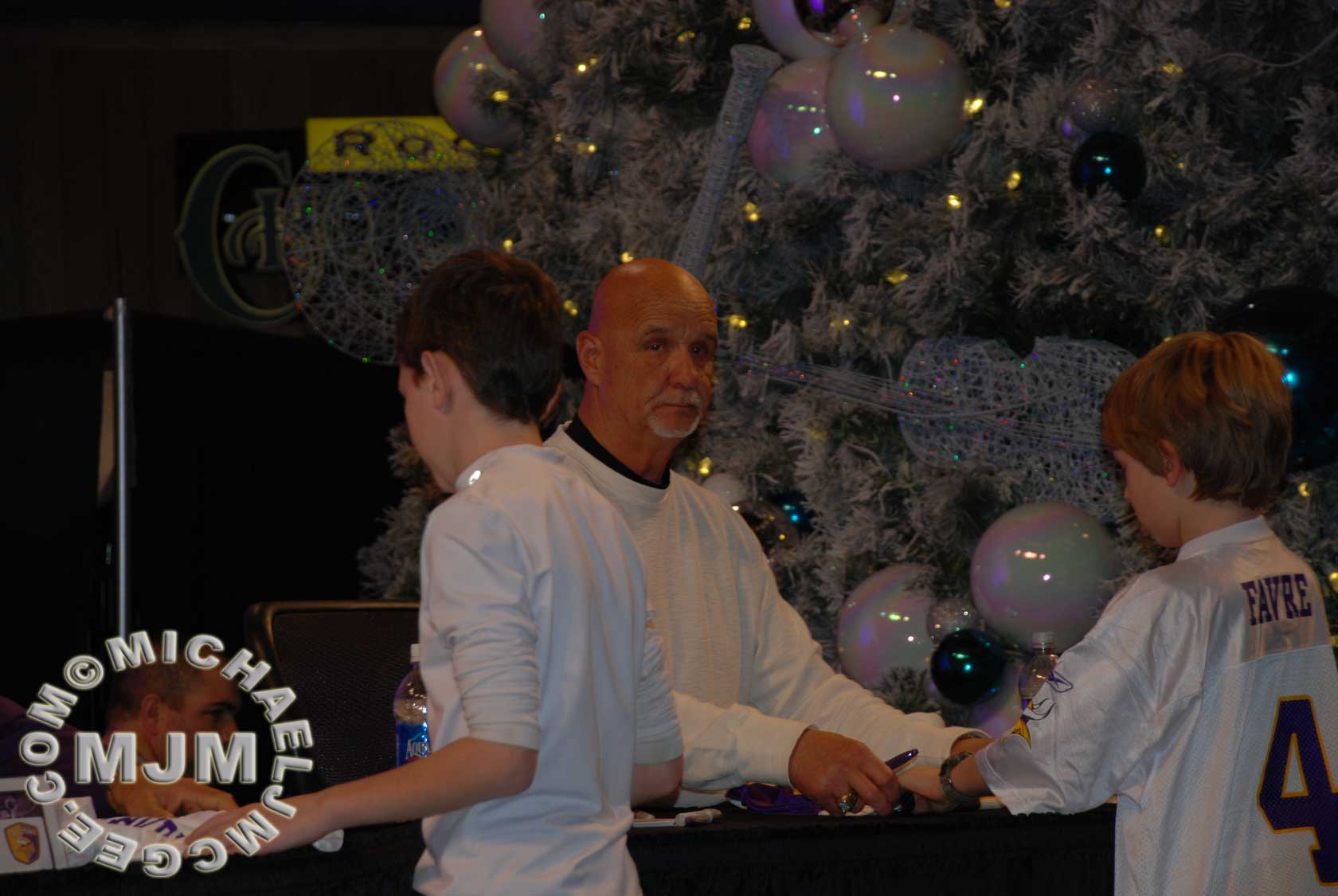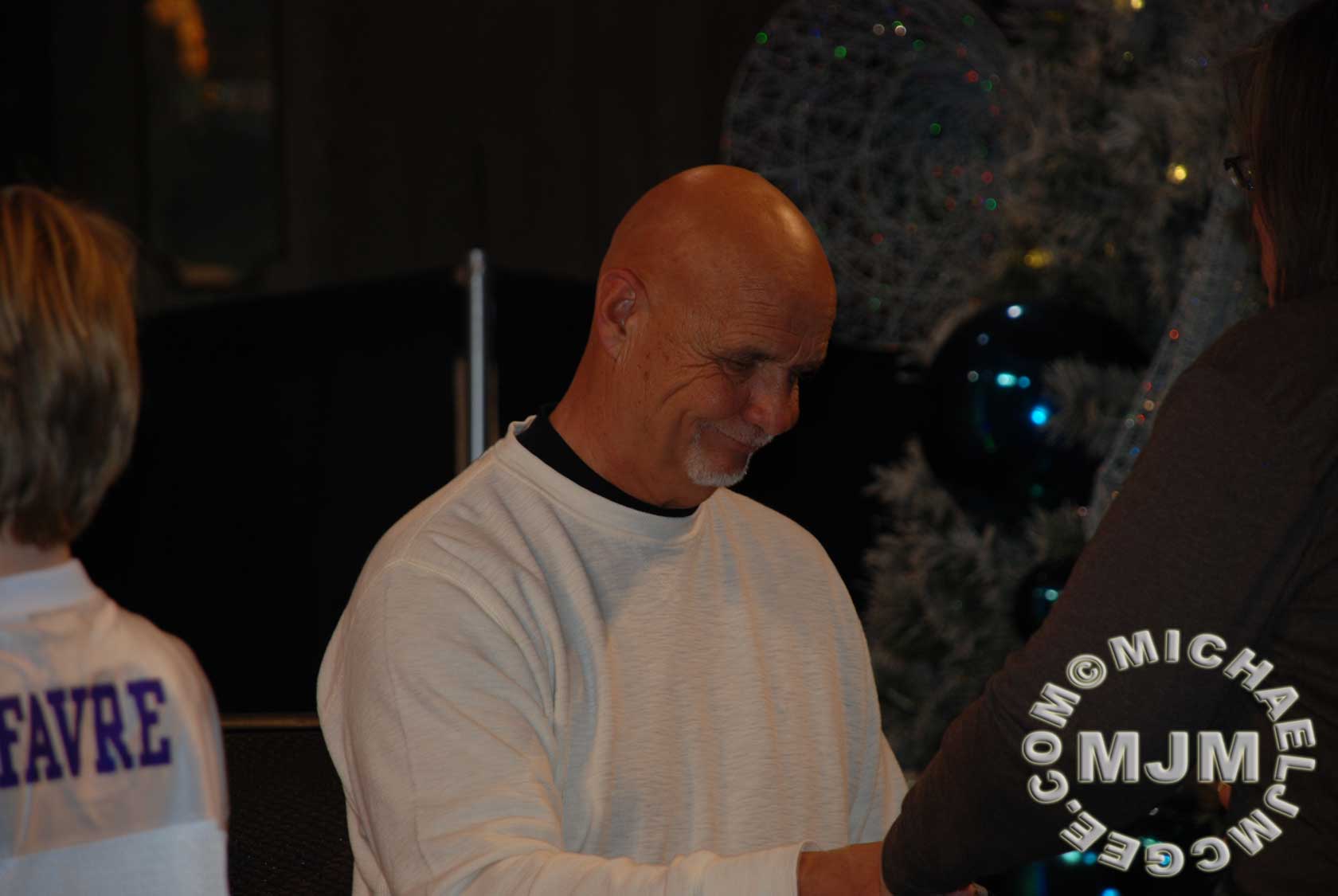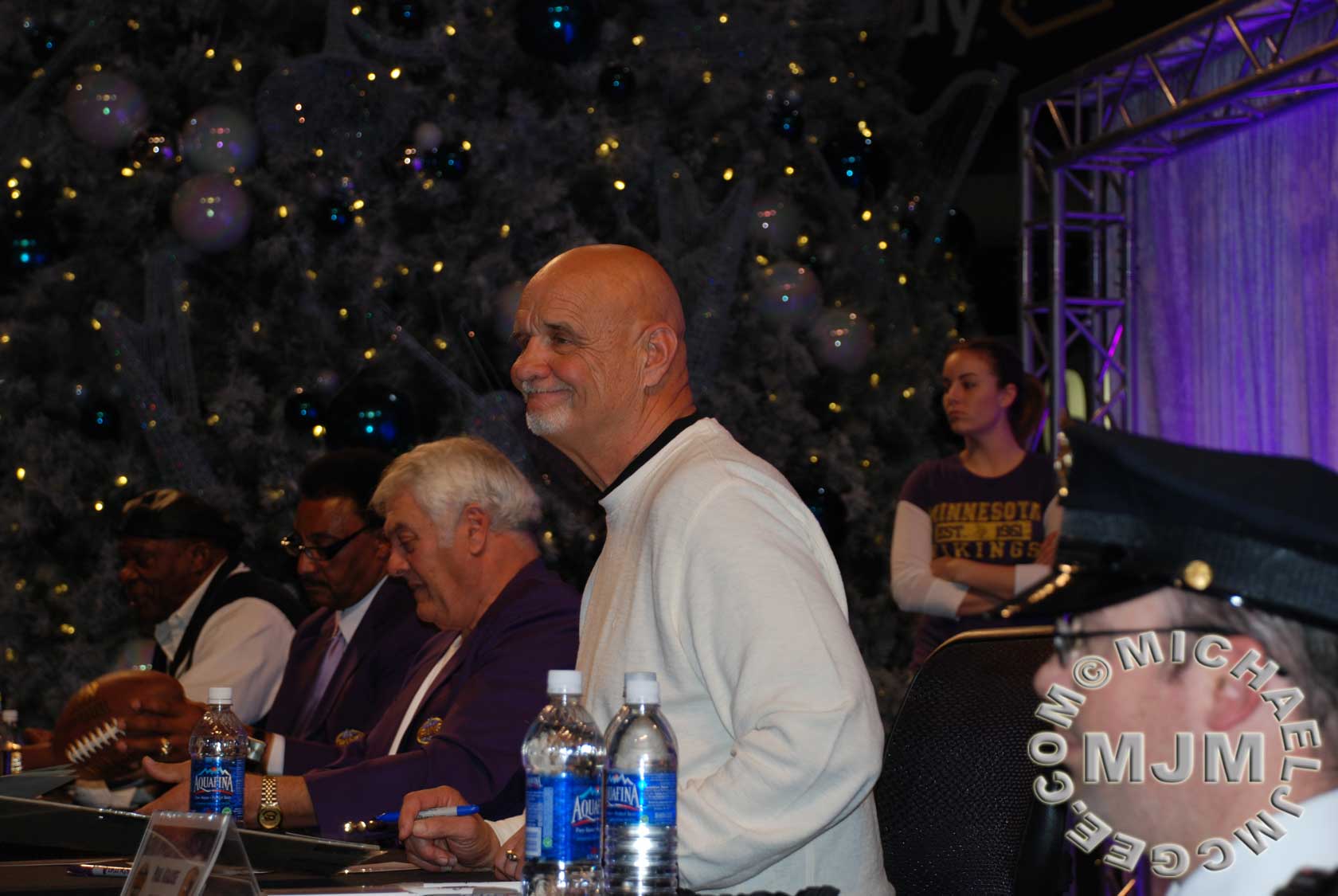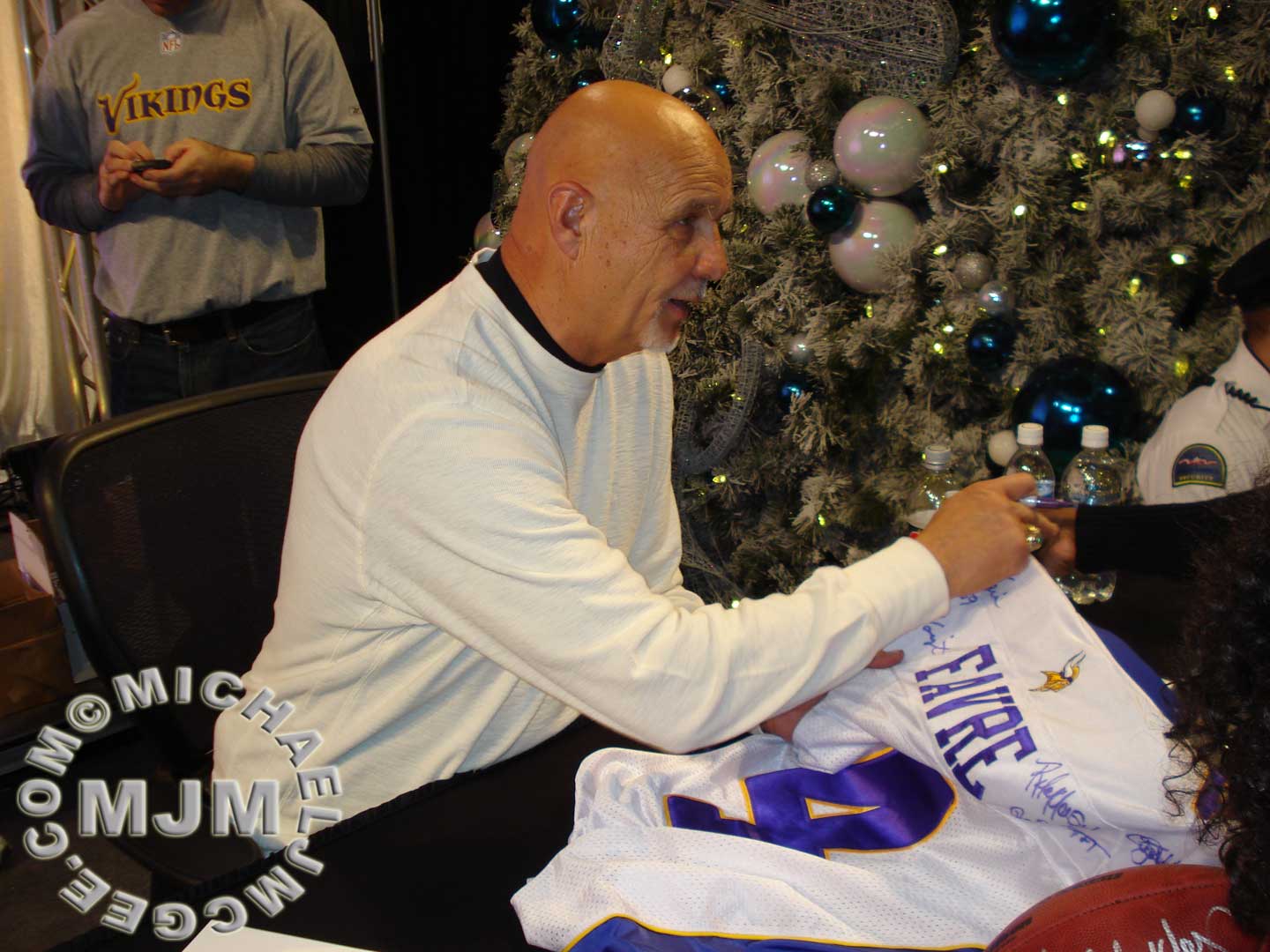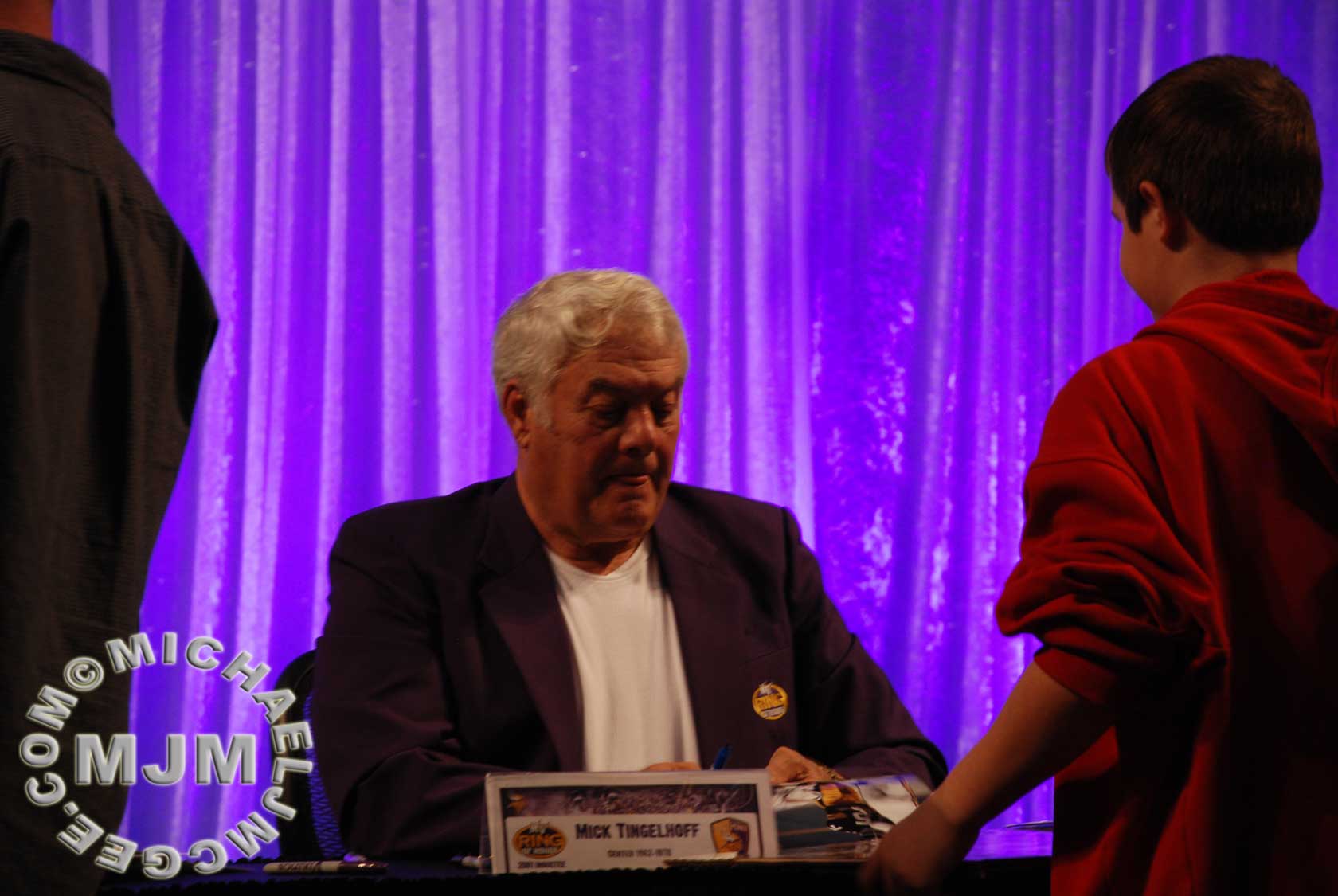 Yet another Vikings great C Mick Tingelhoff.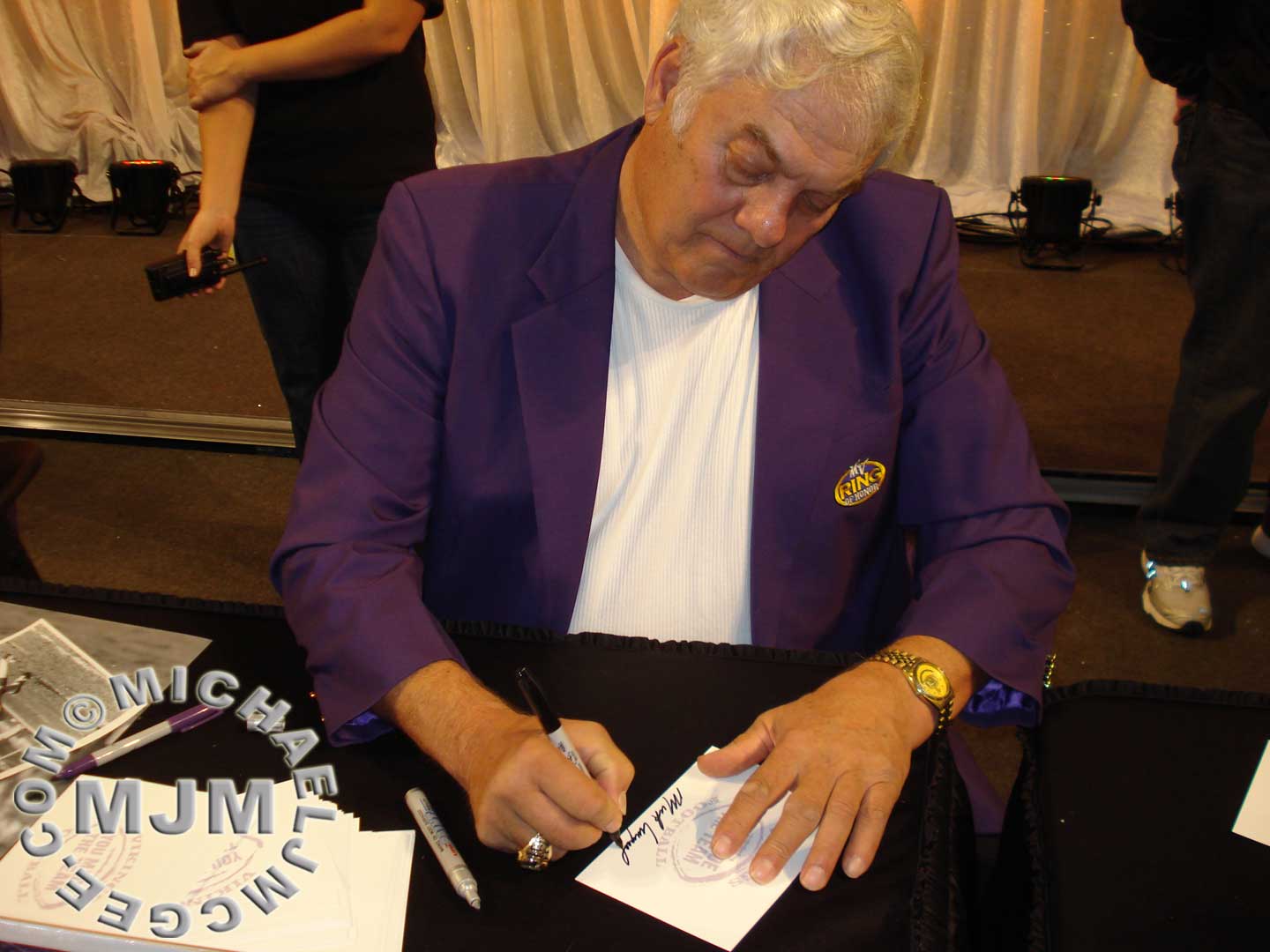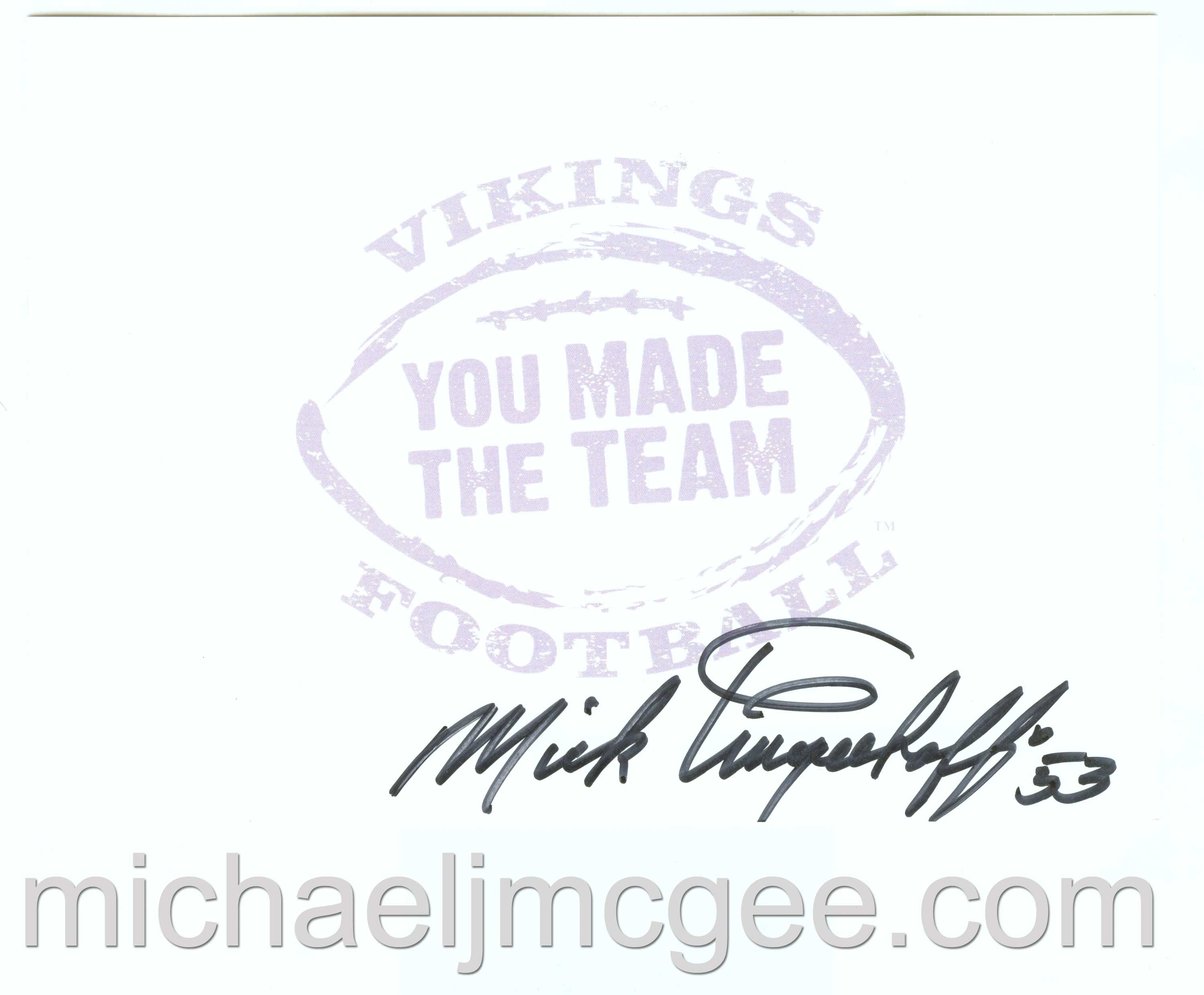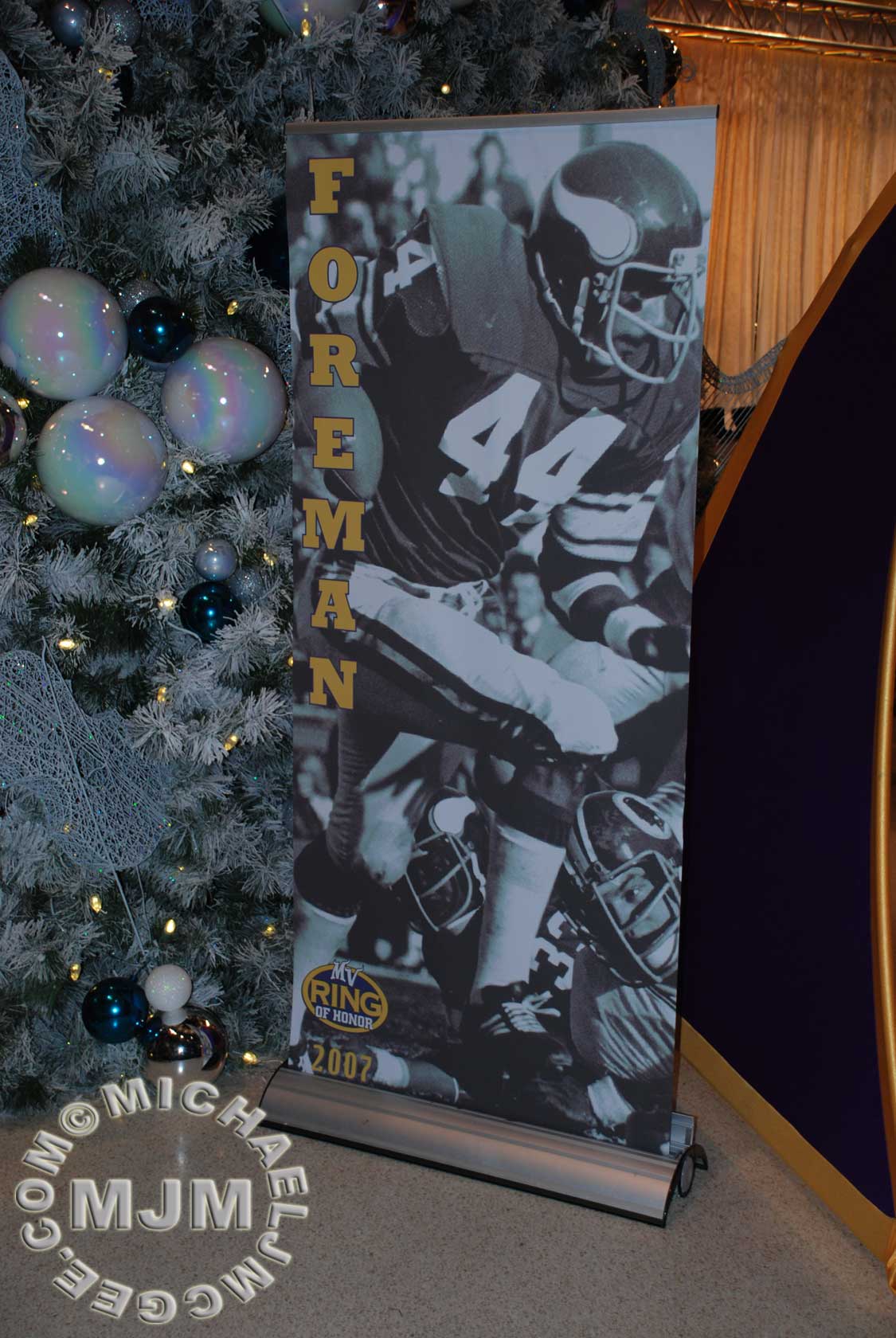 The great Vikings RB Chuck Foreman!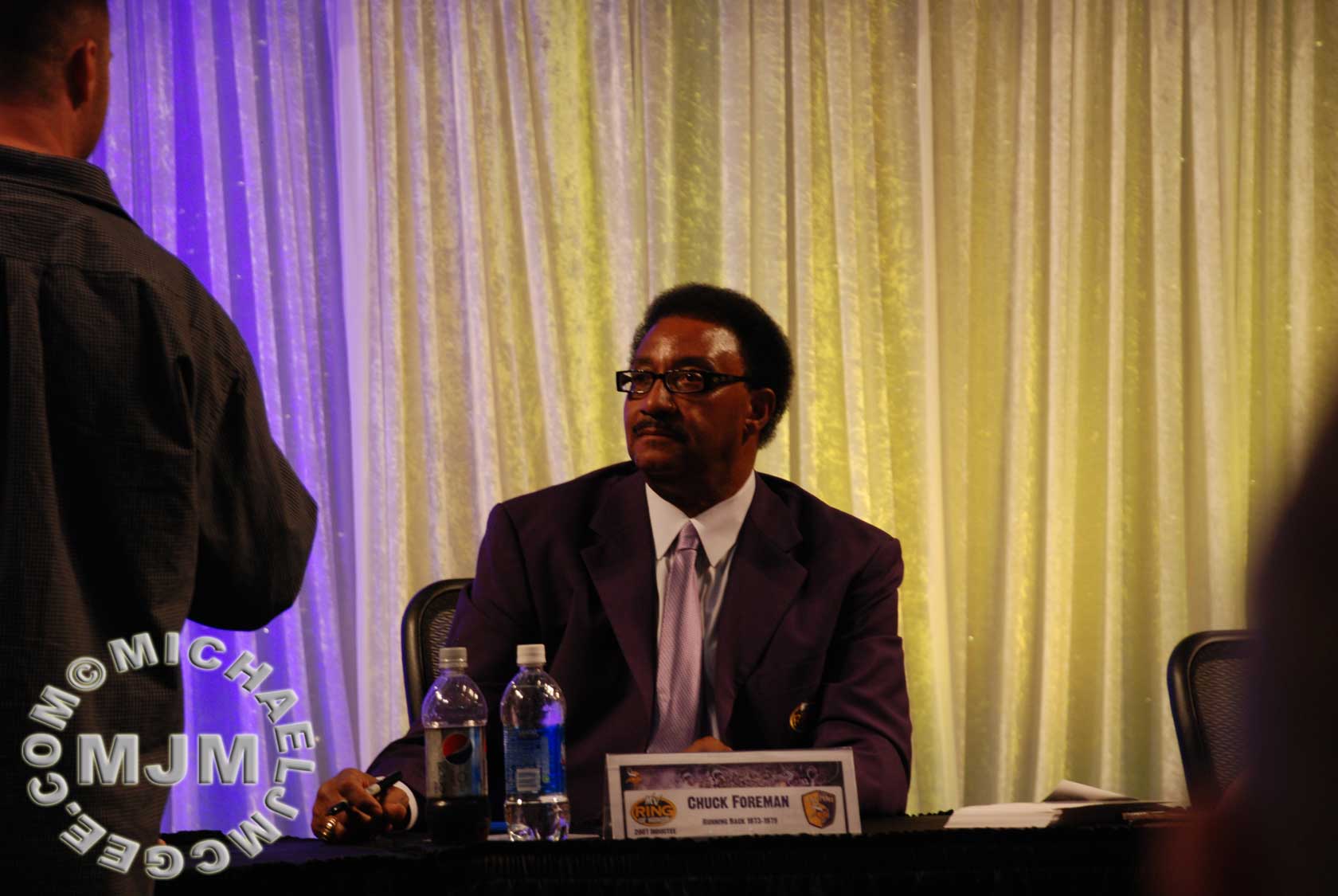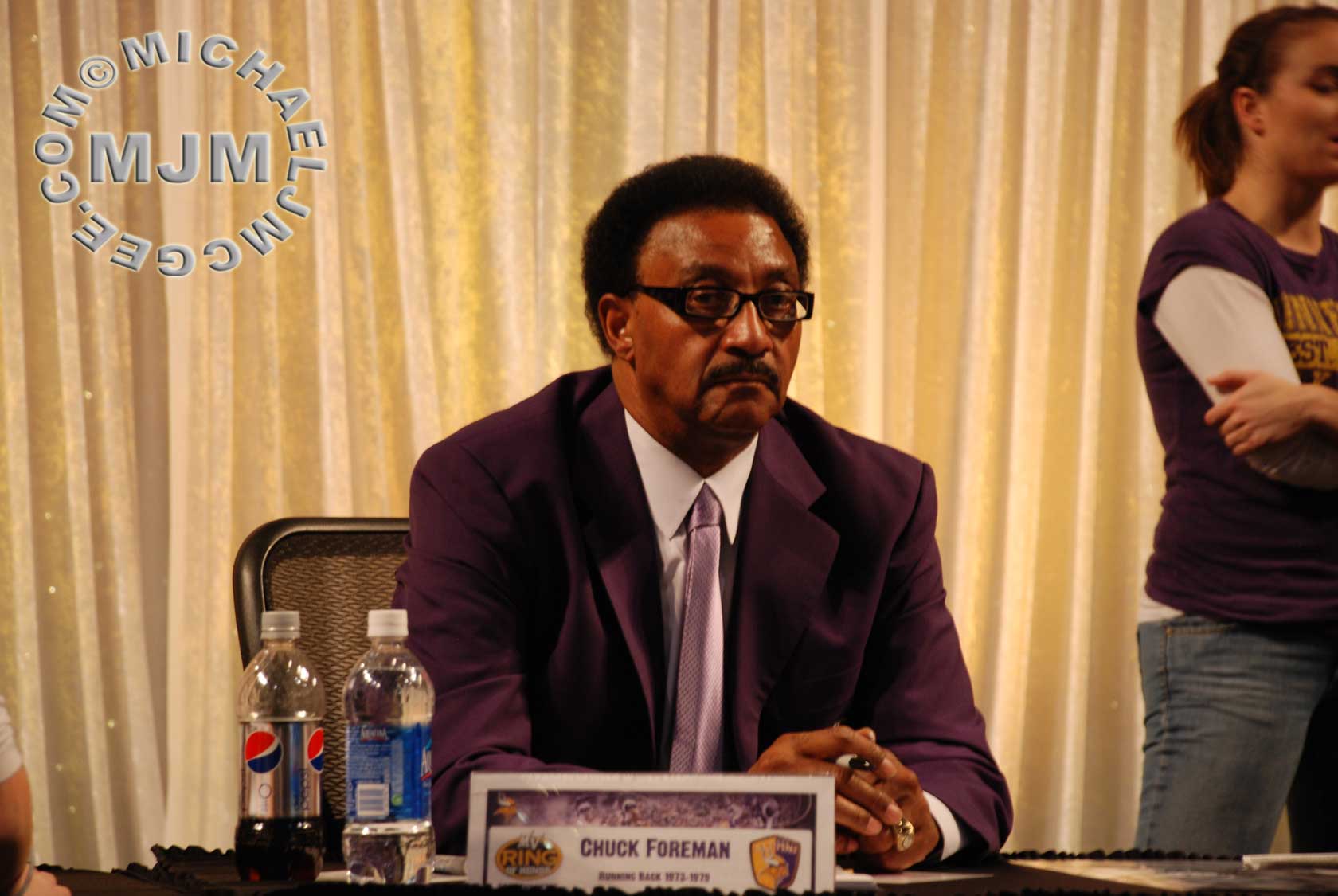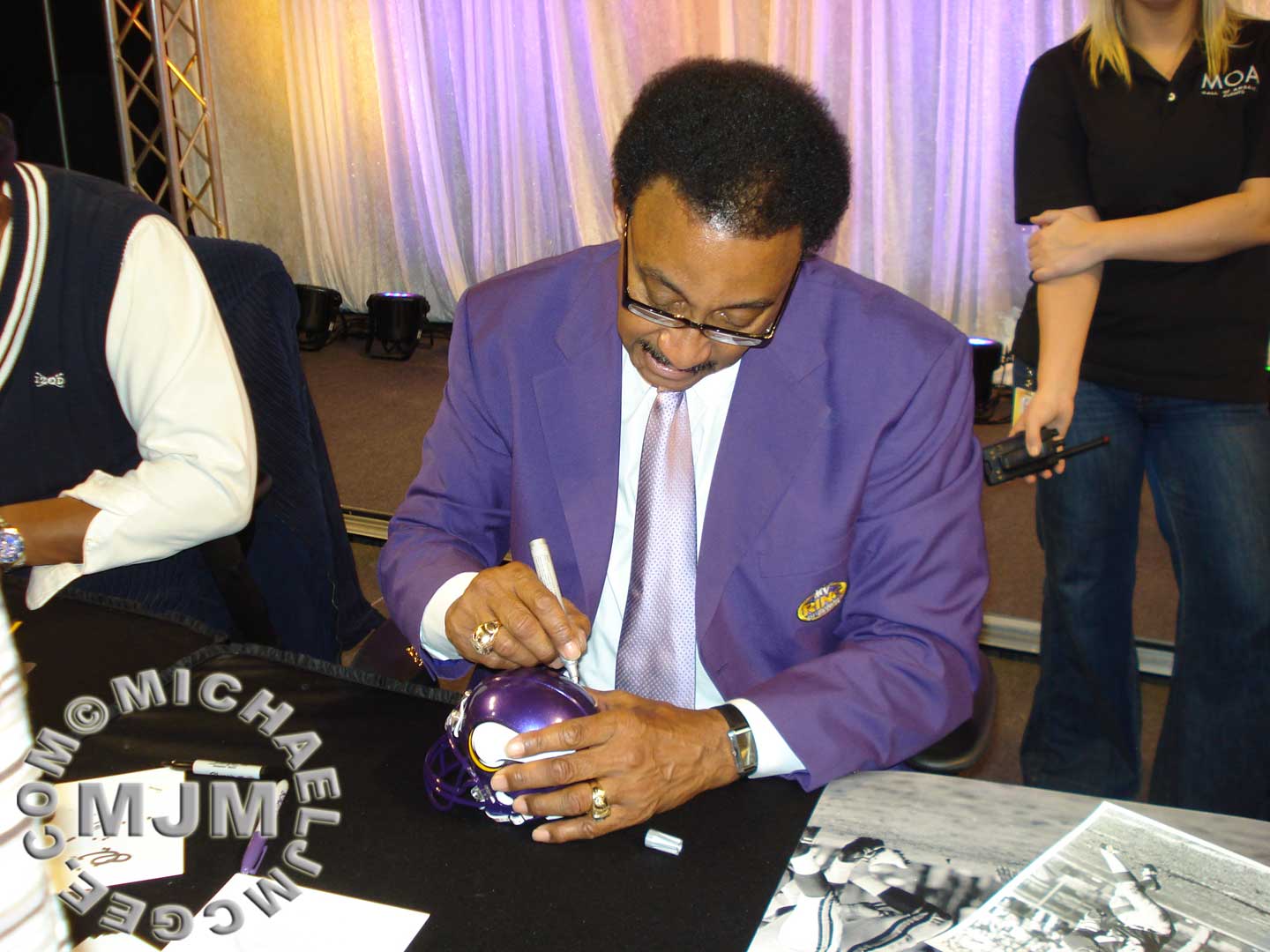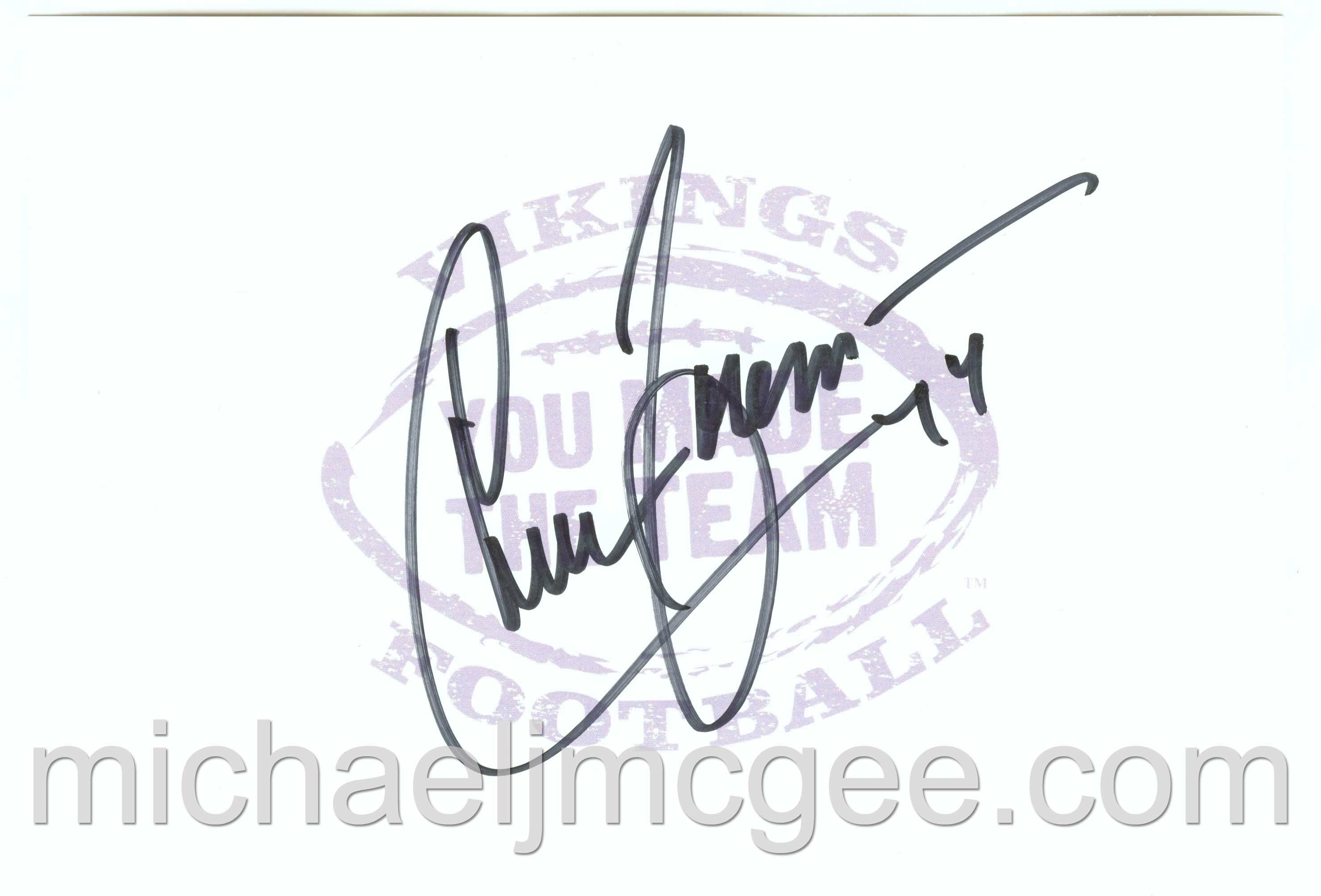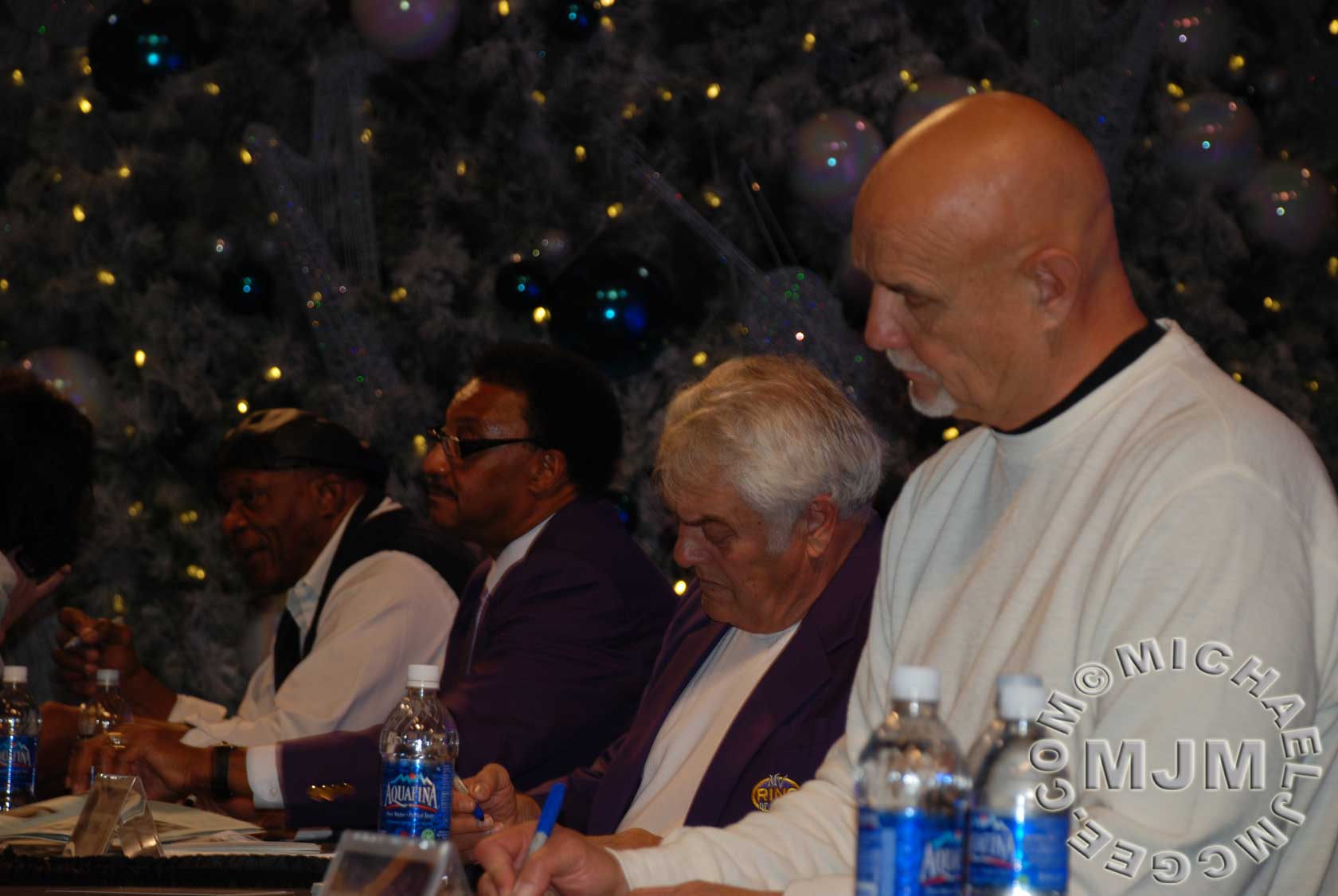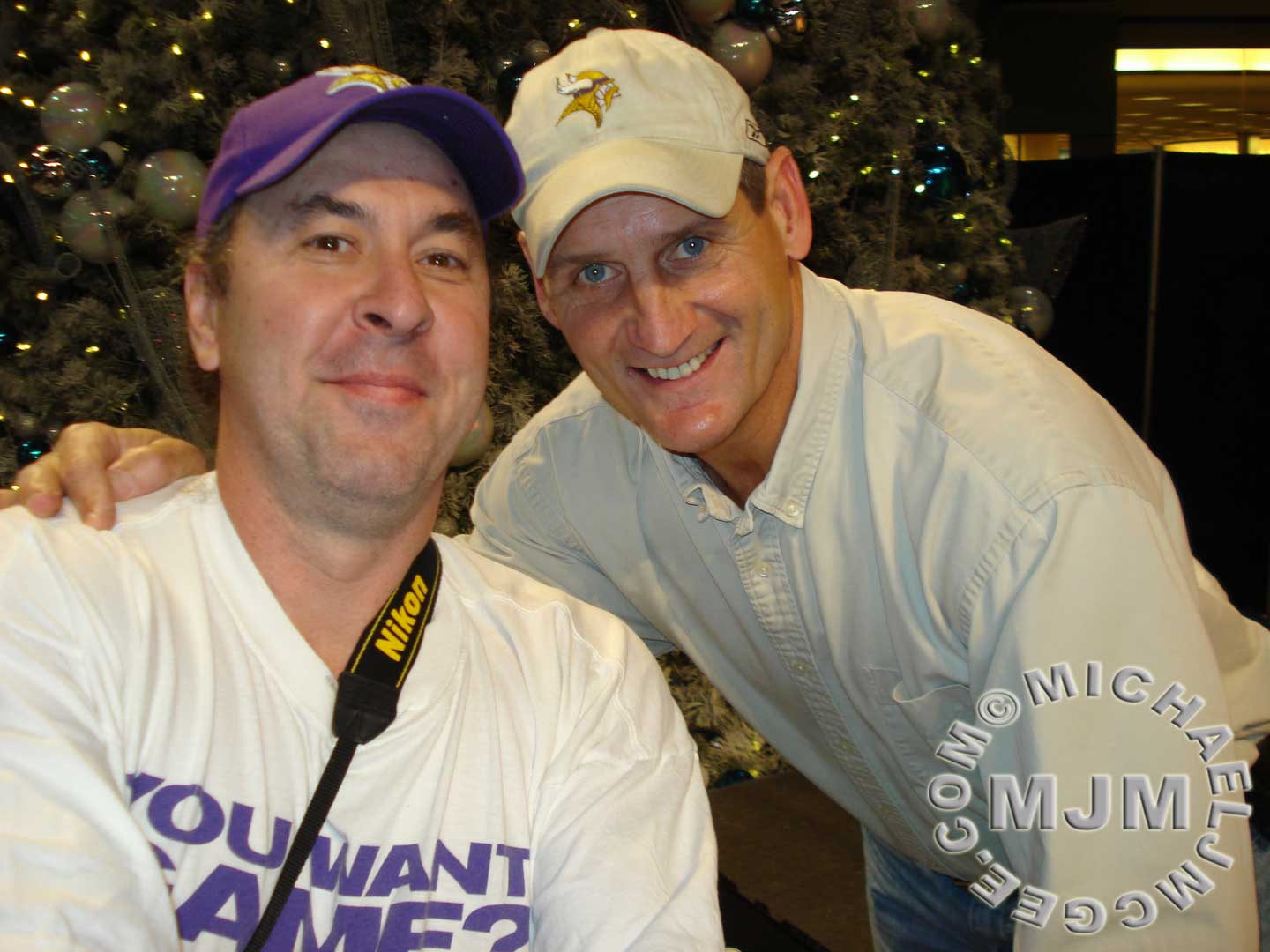 With Scott Studwell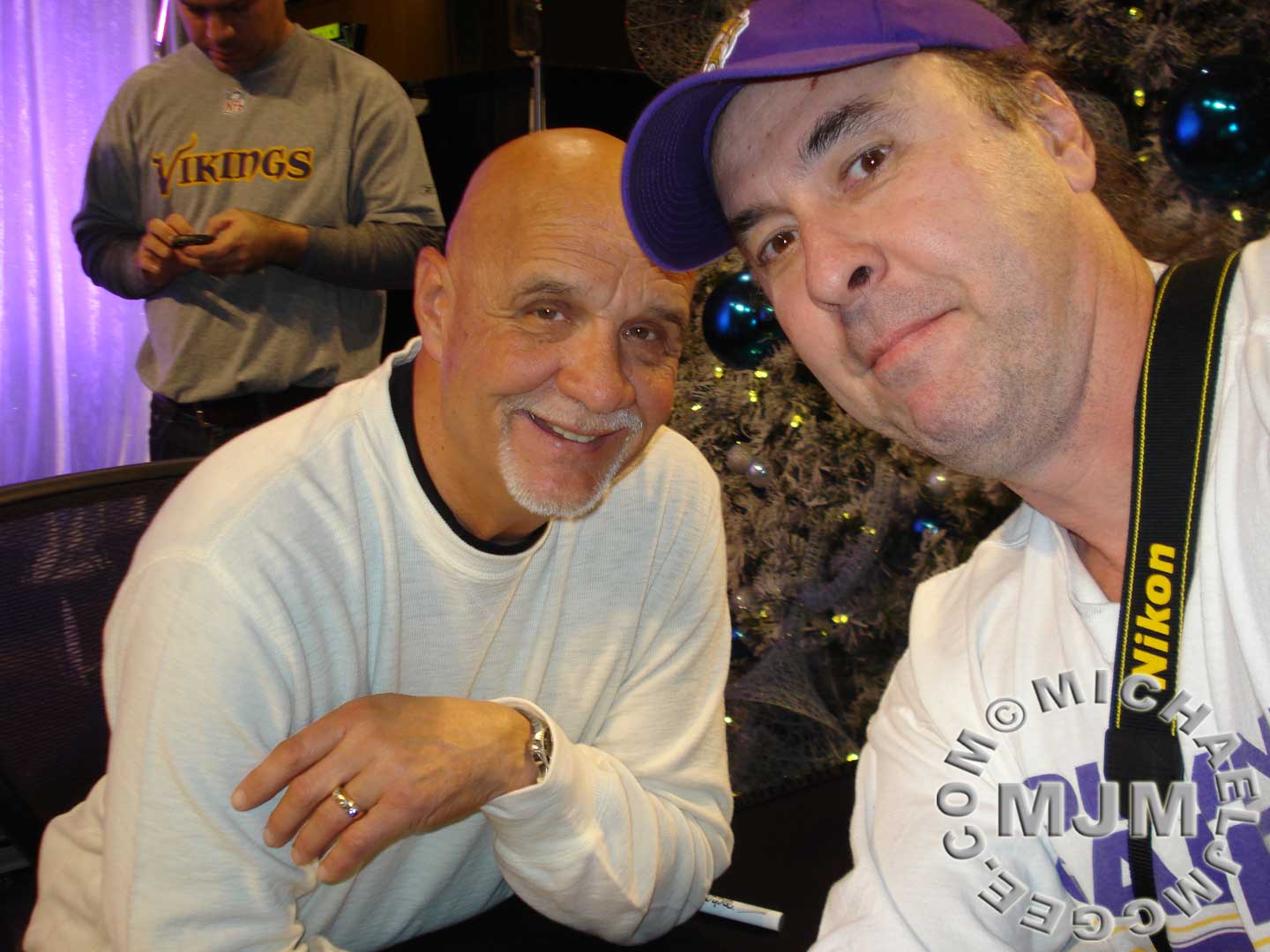 With Paul Krause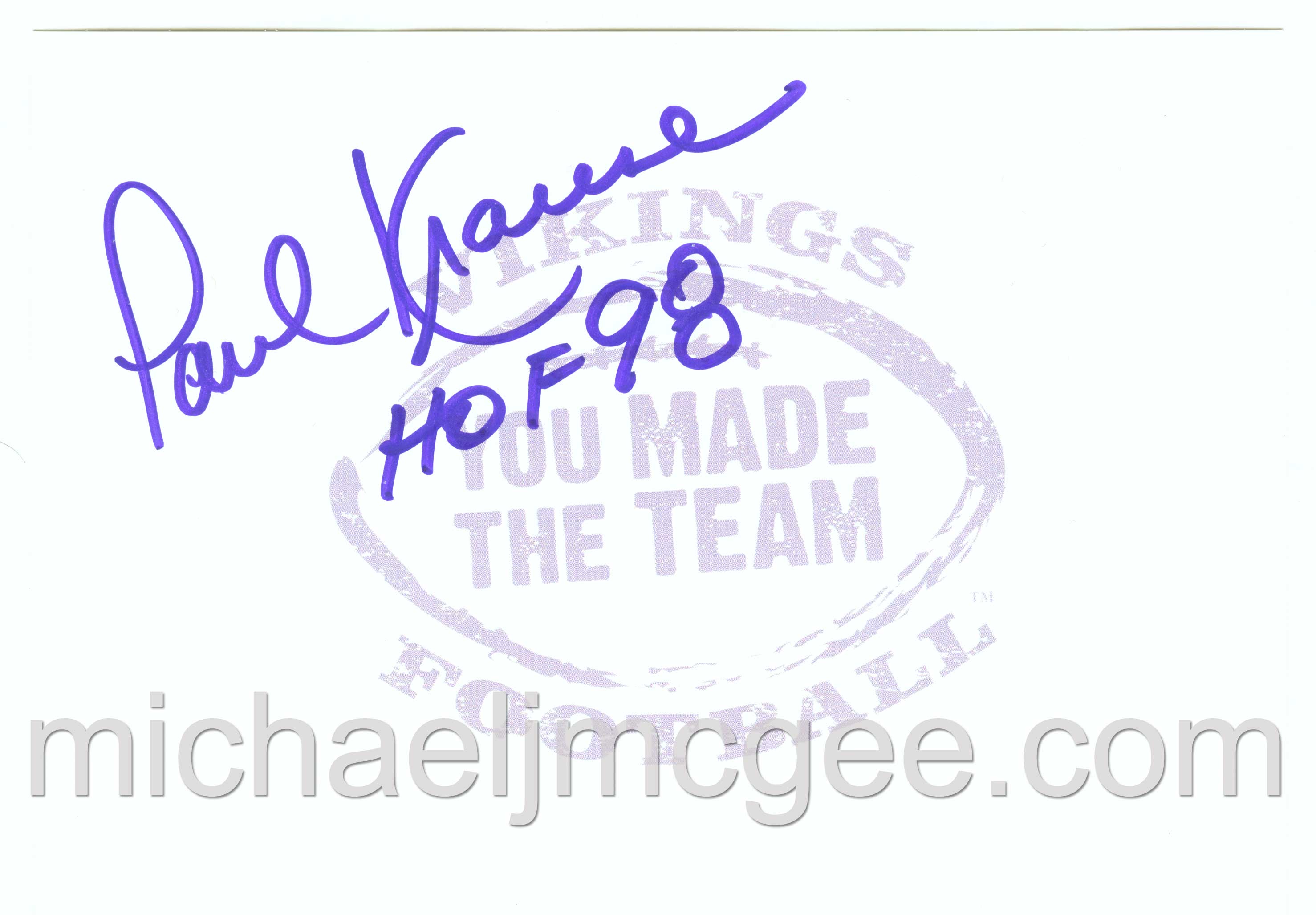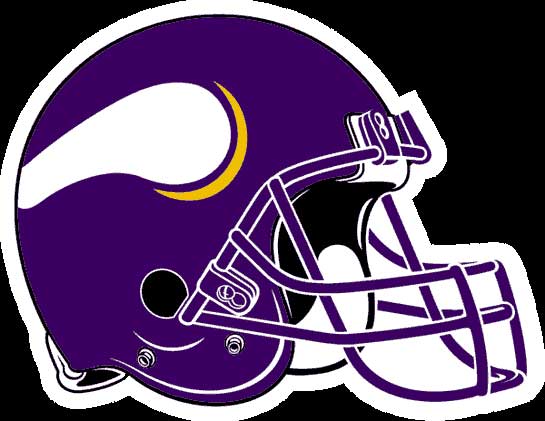 Downtown and Tailgating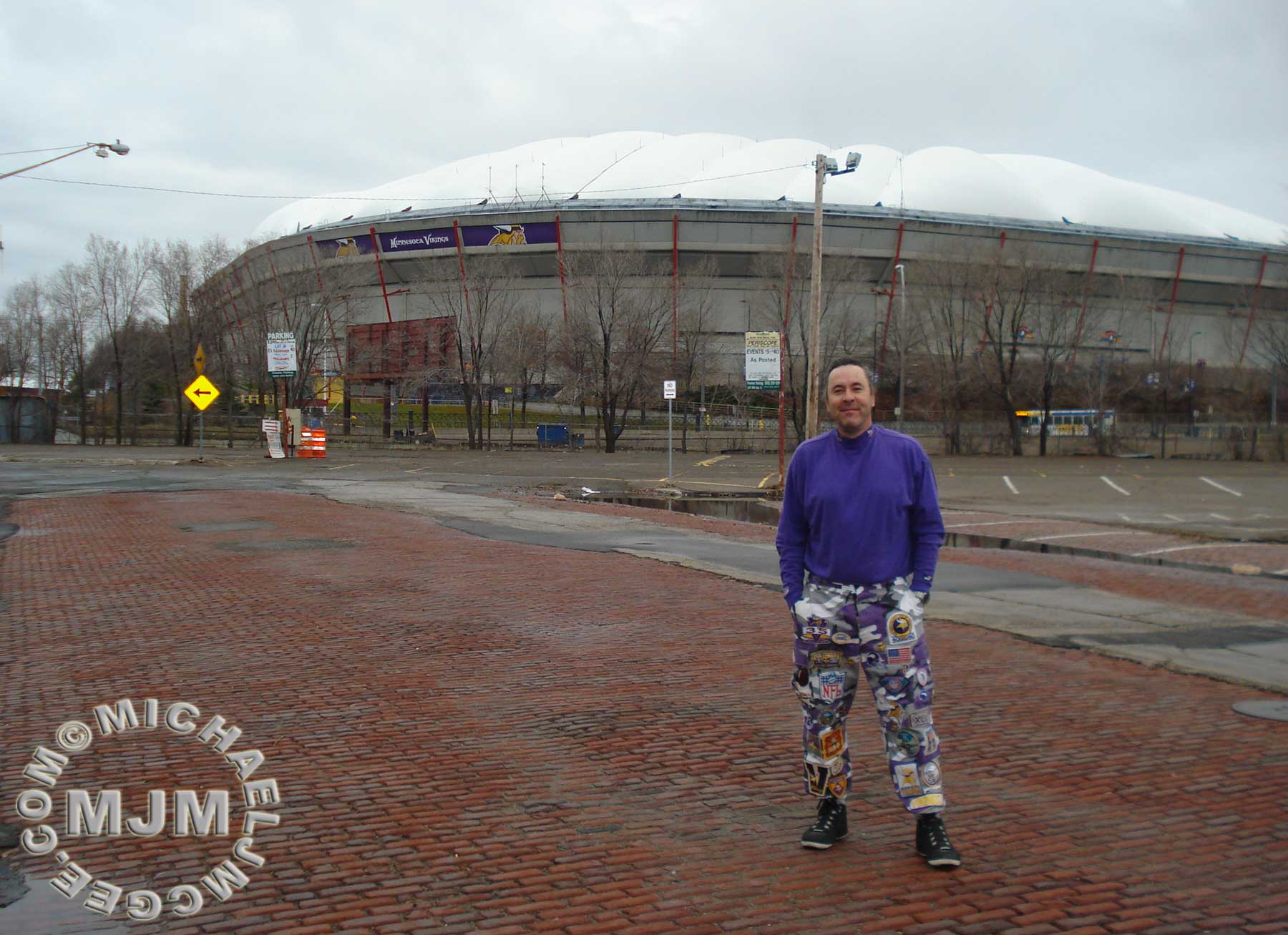 Early Bird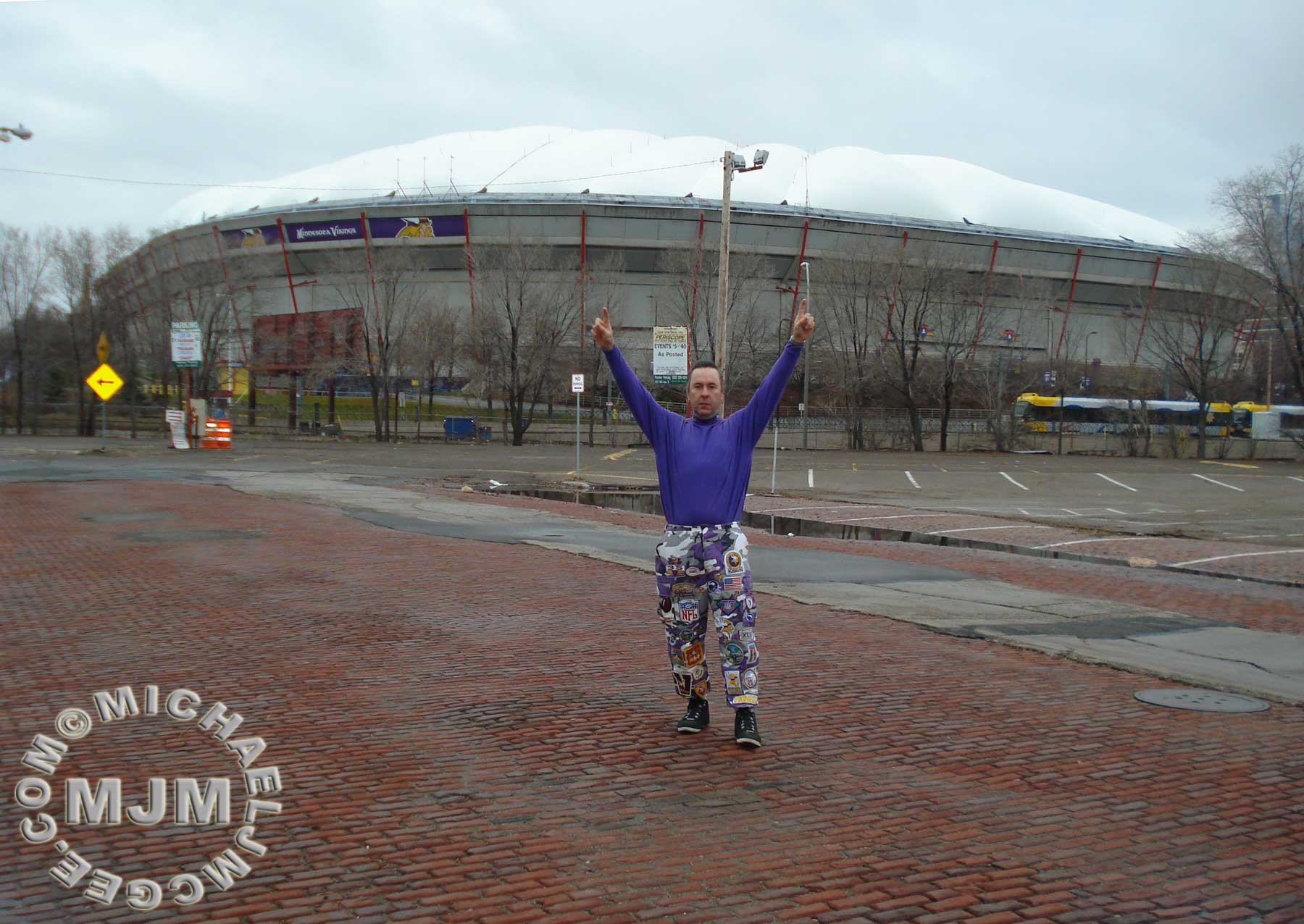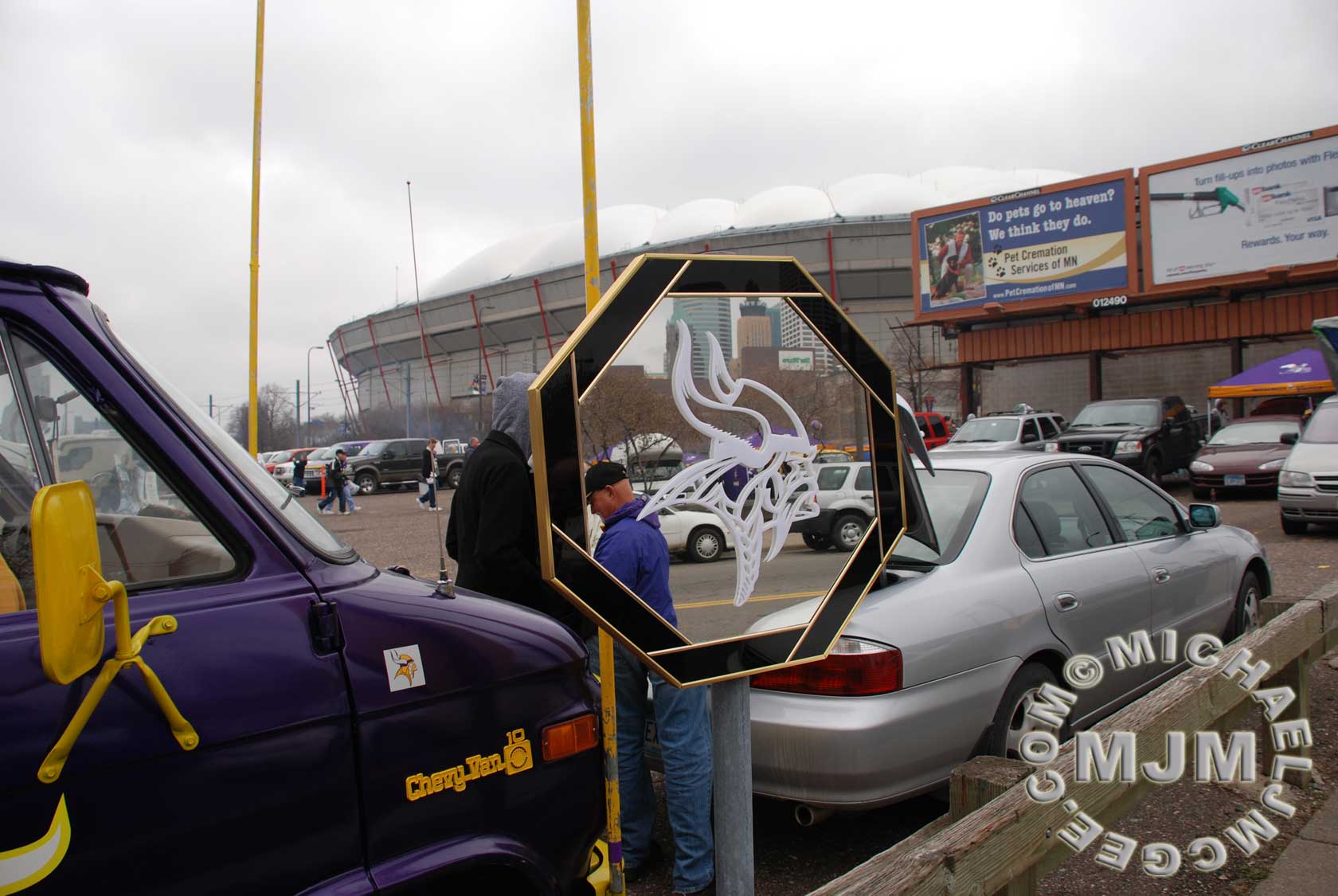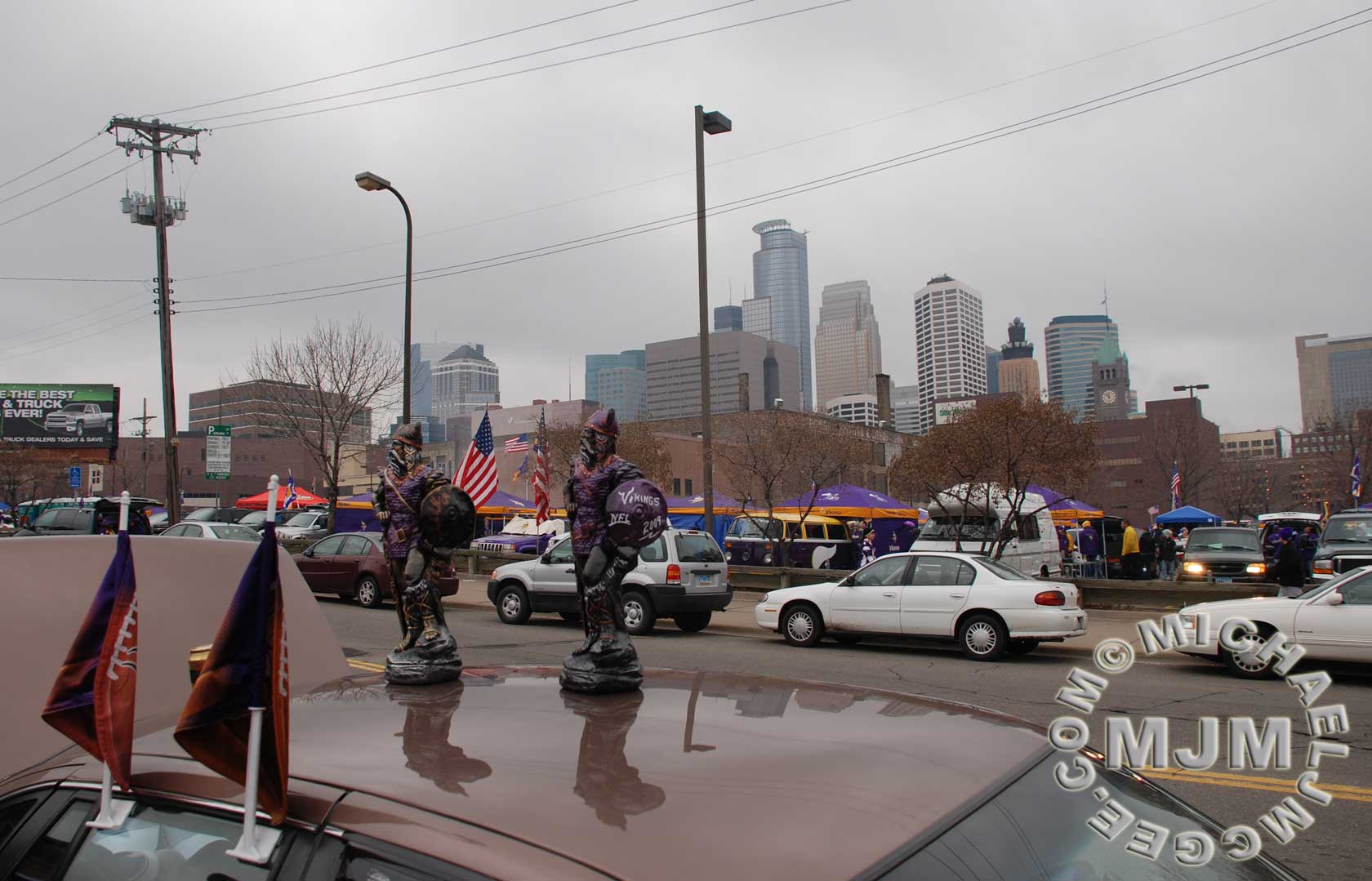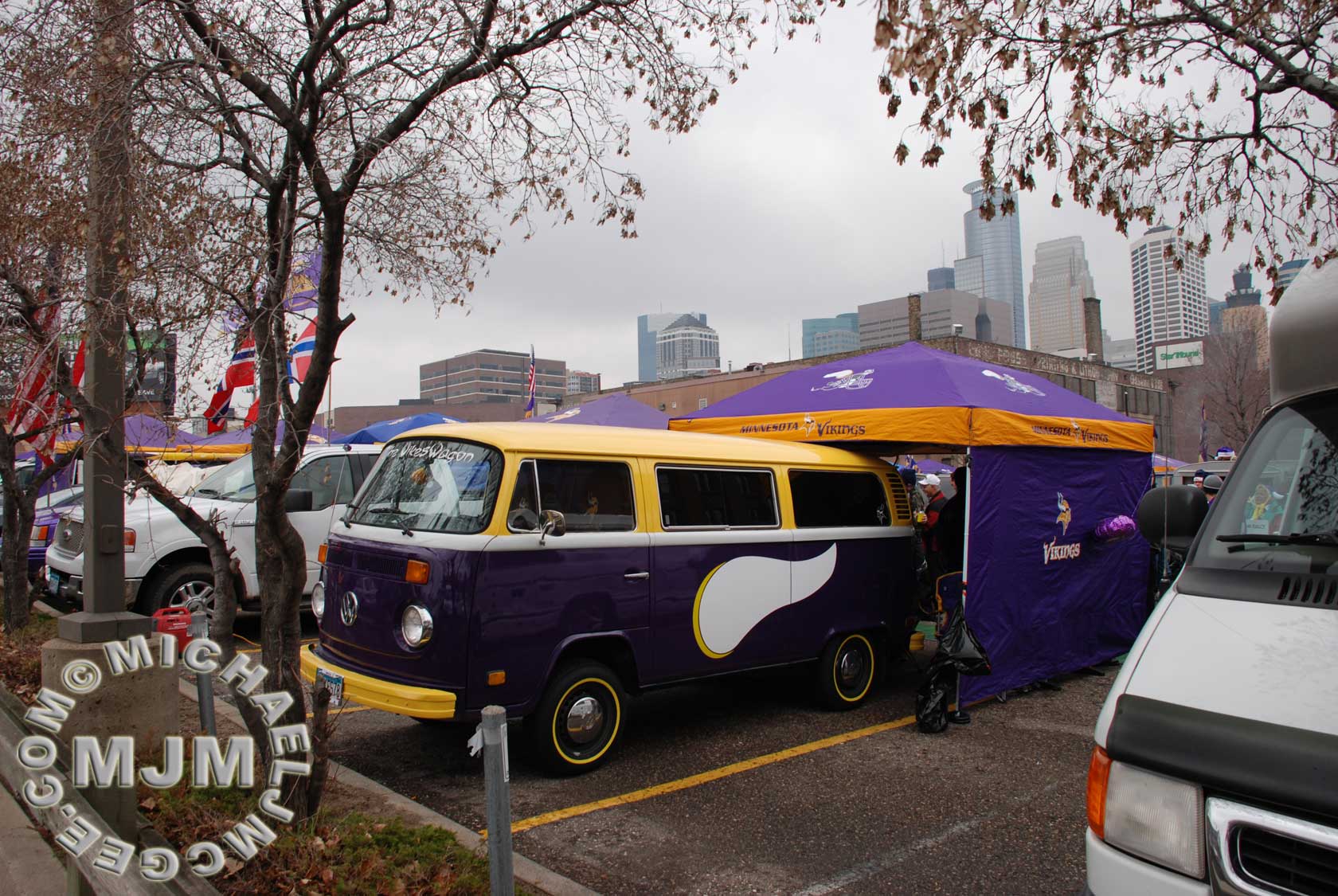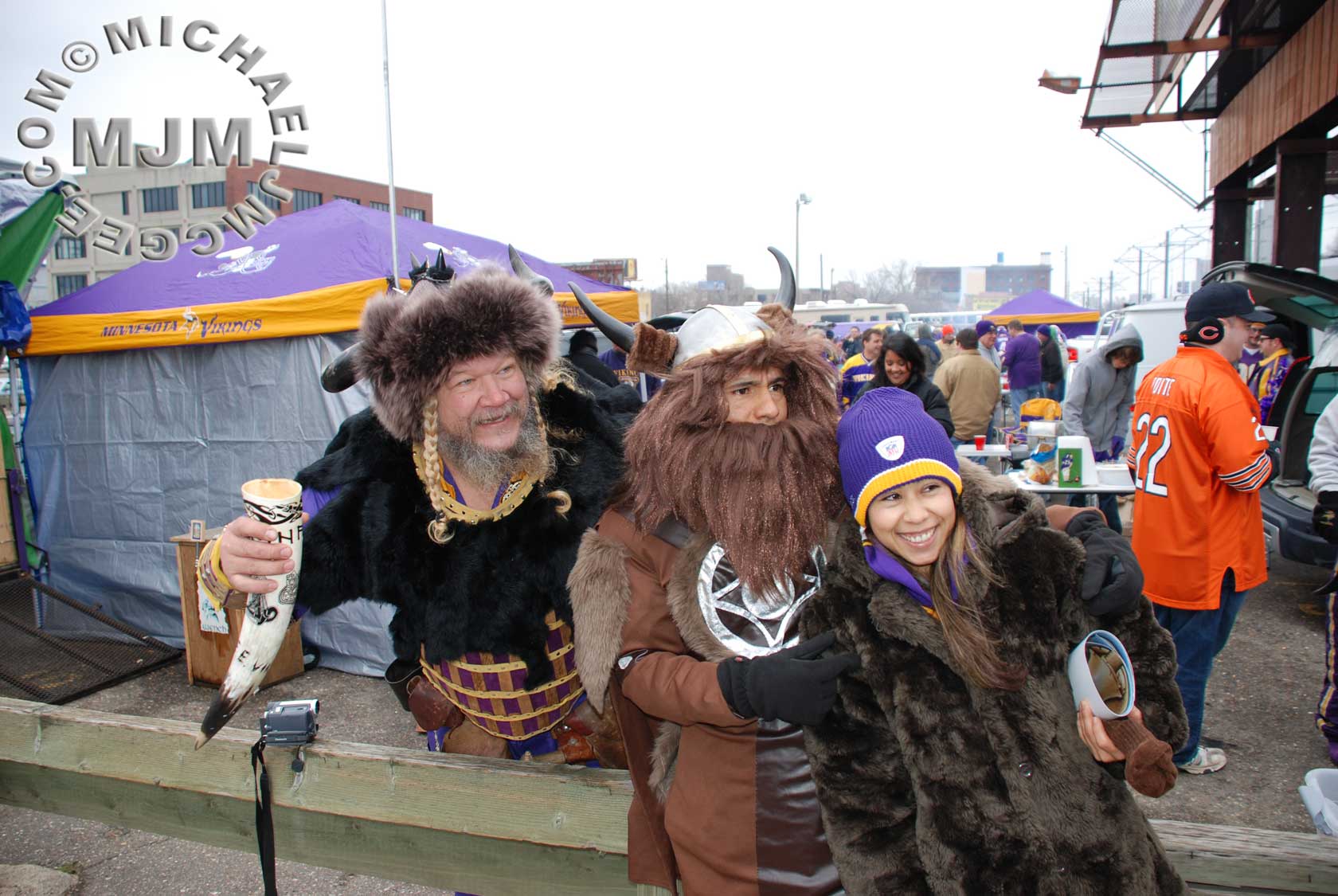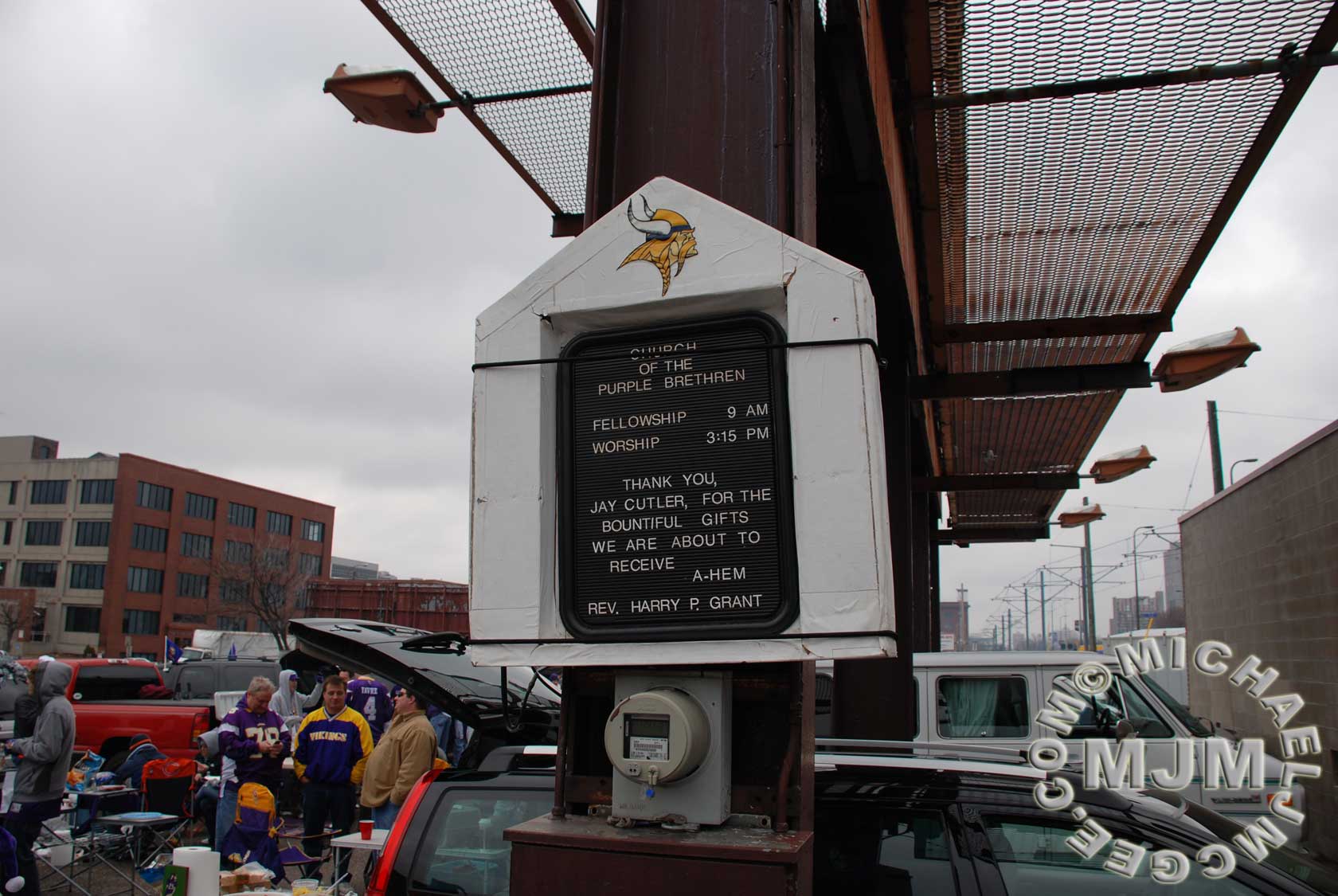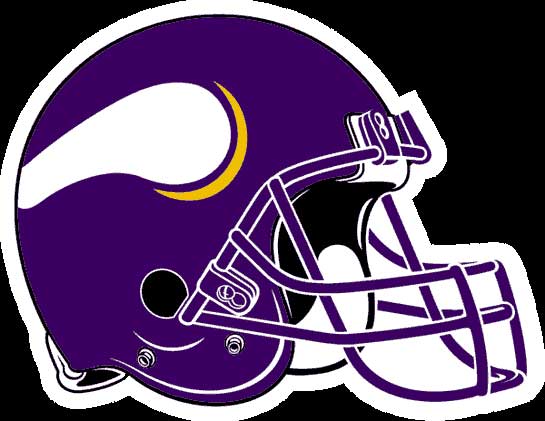 Metrodome plaza west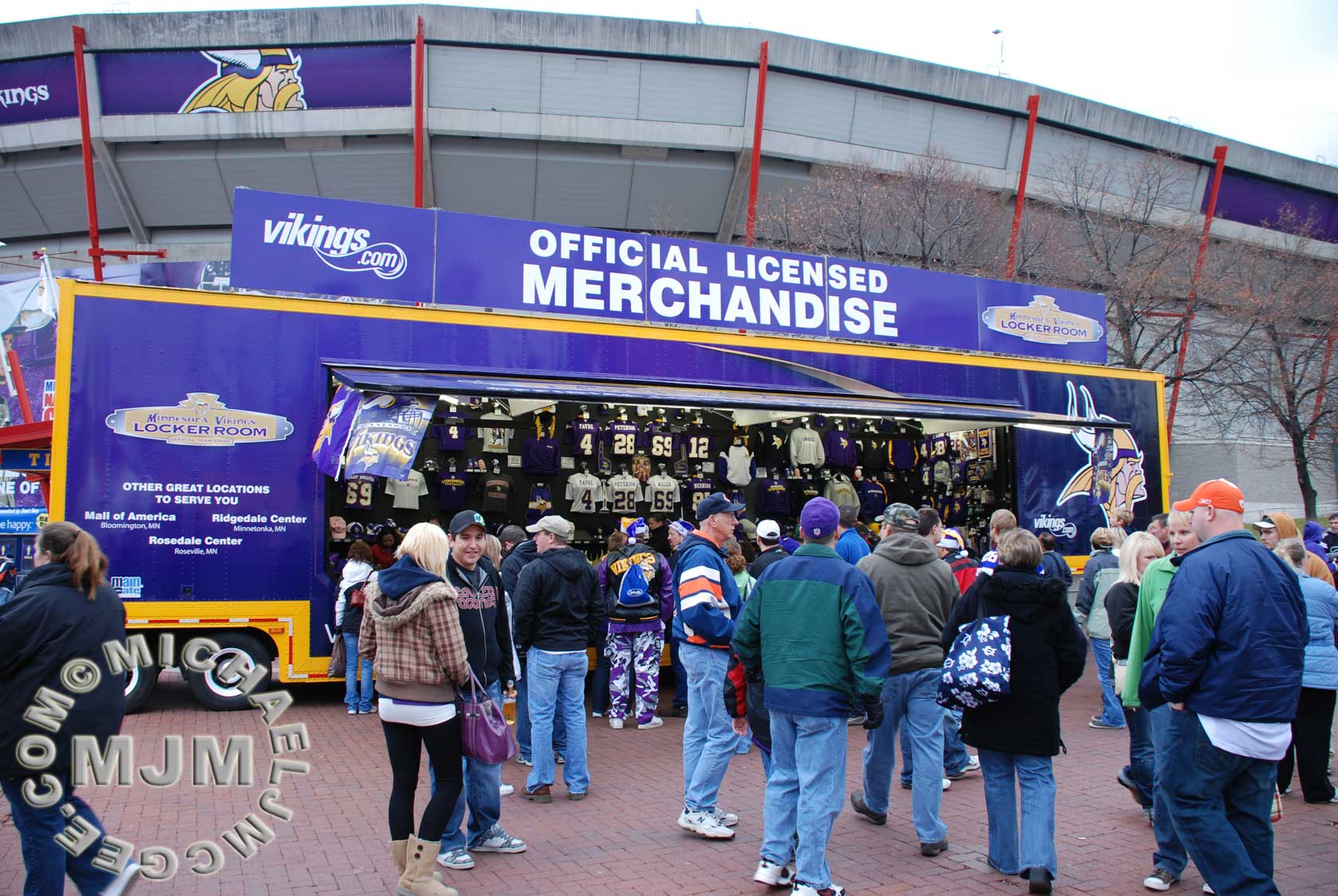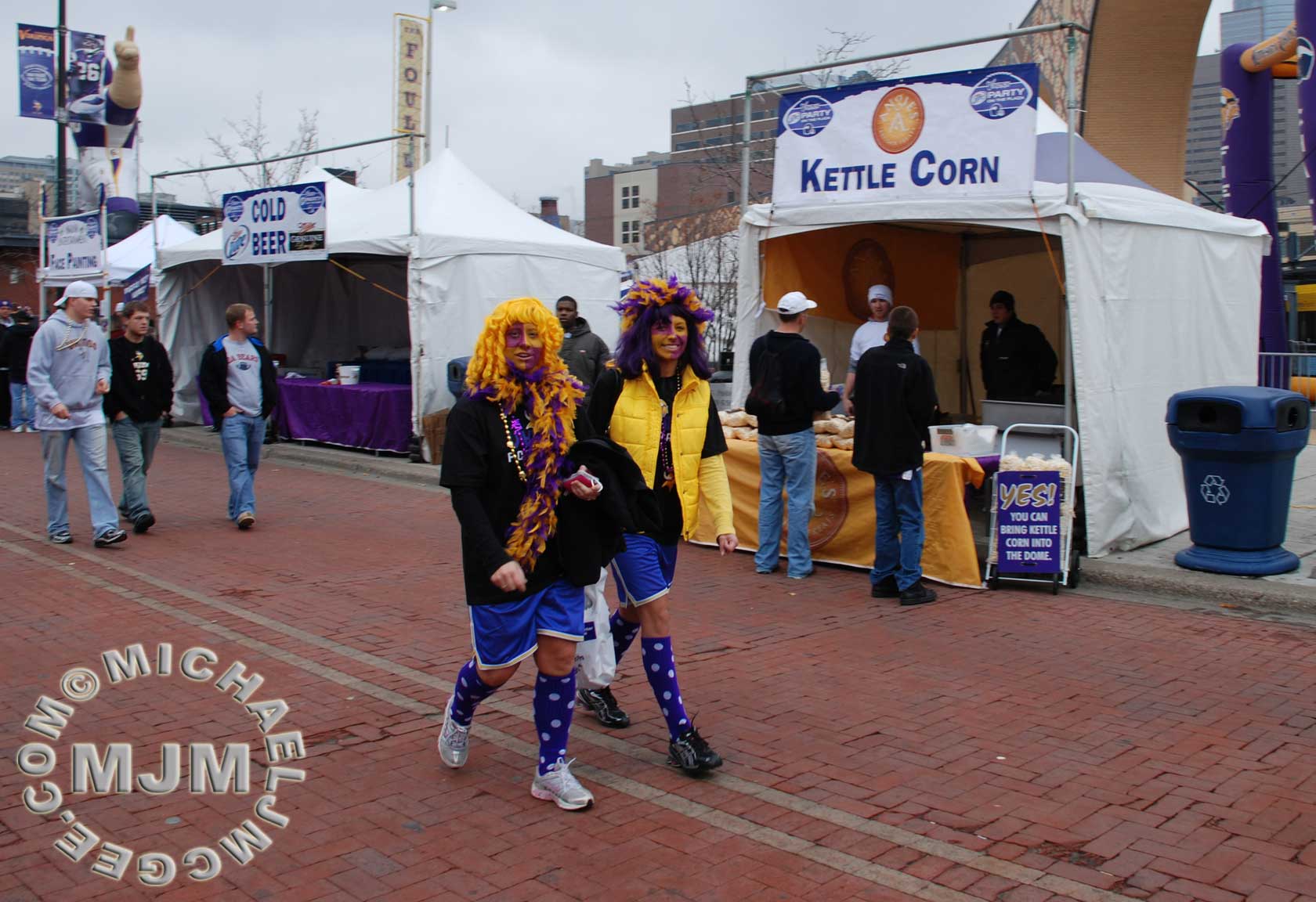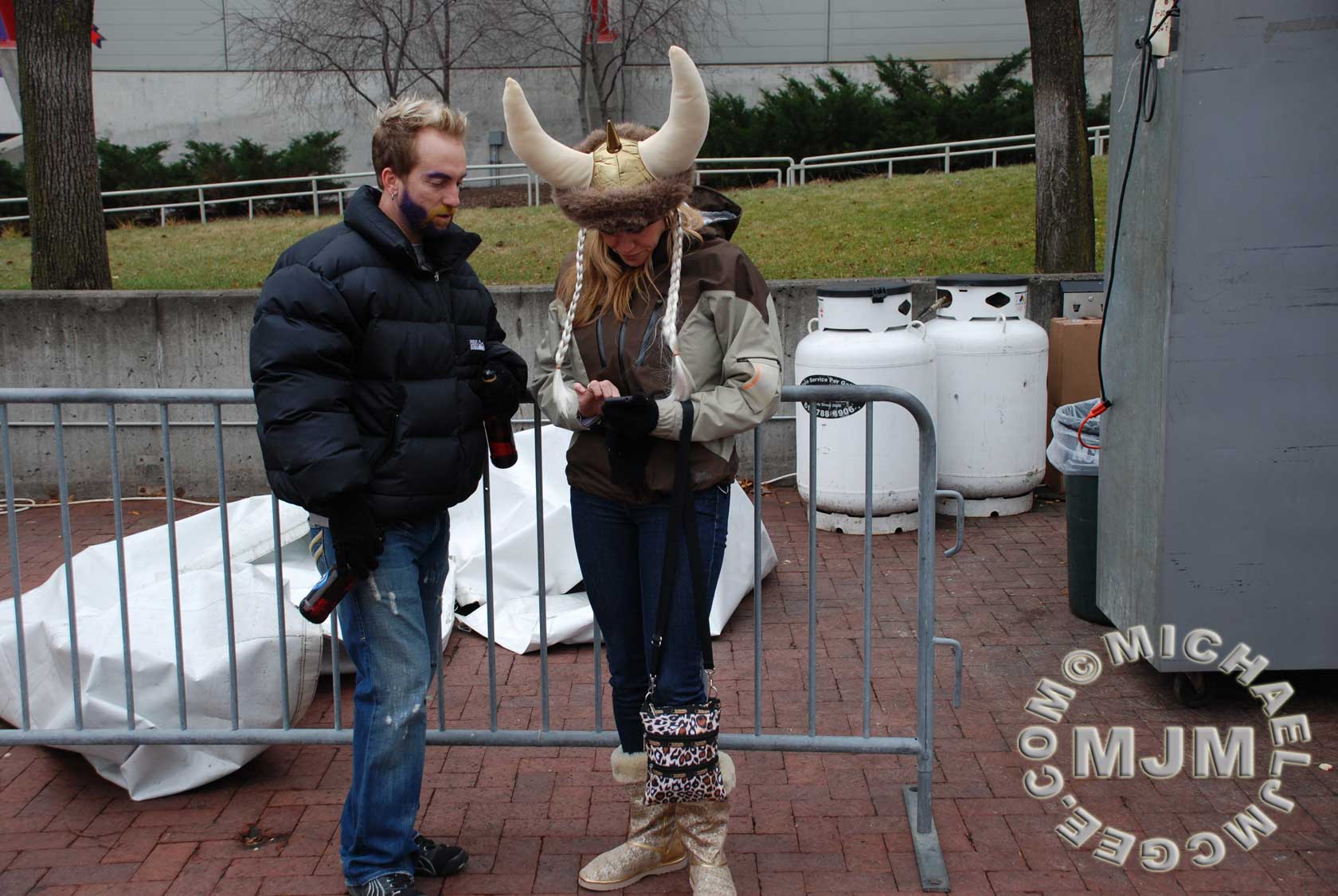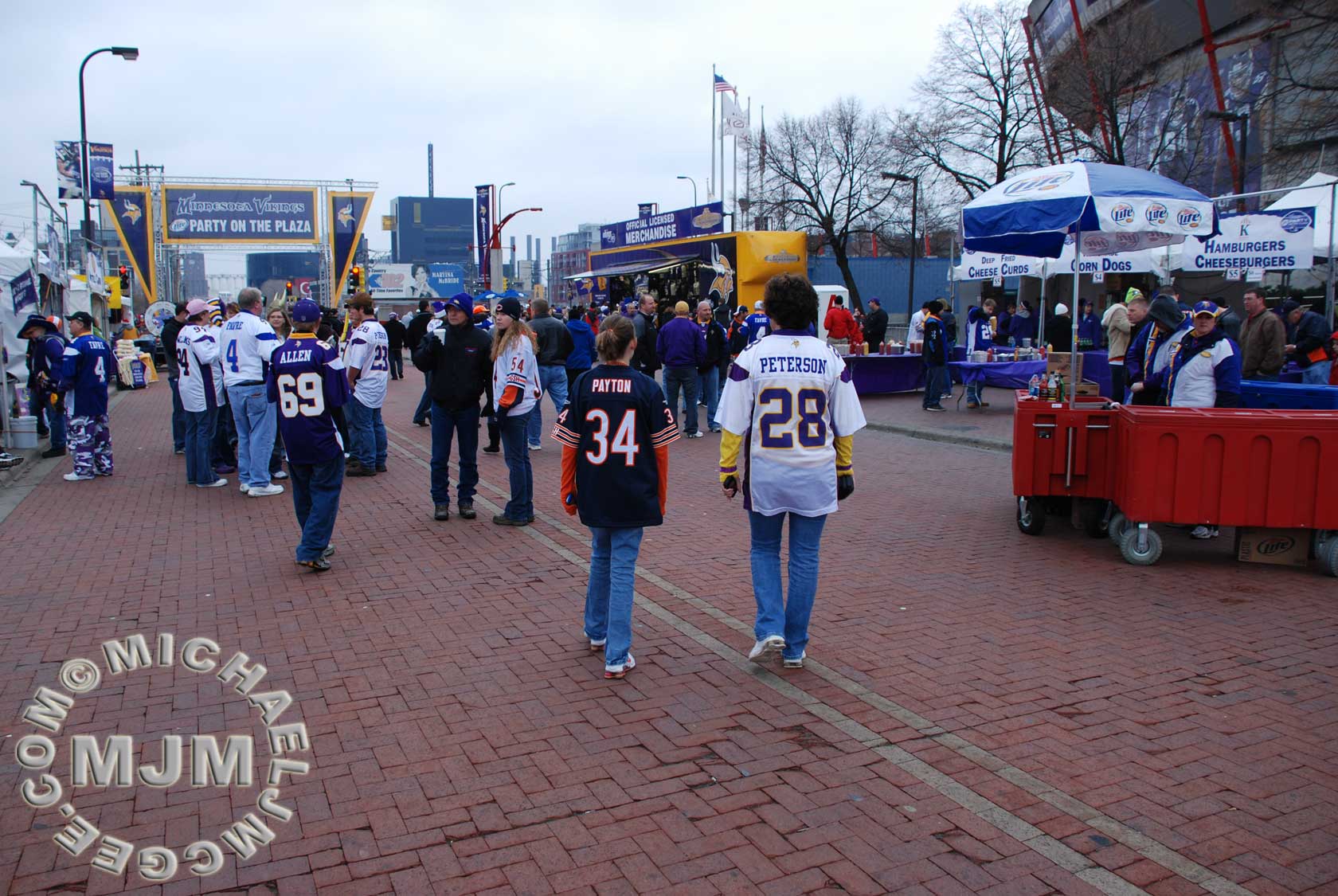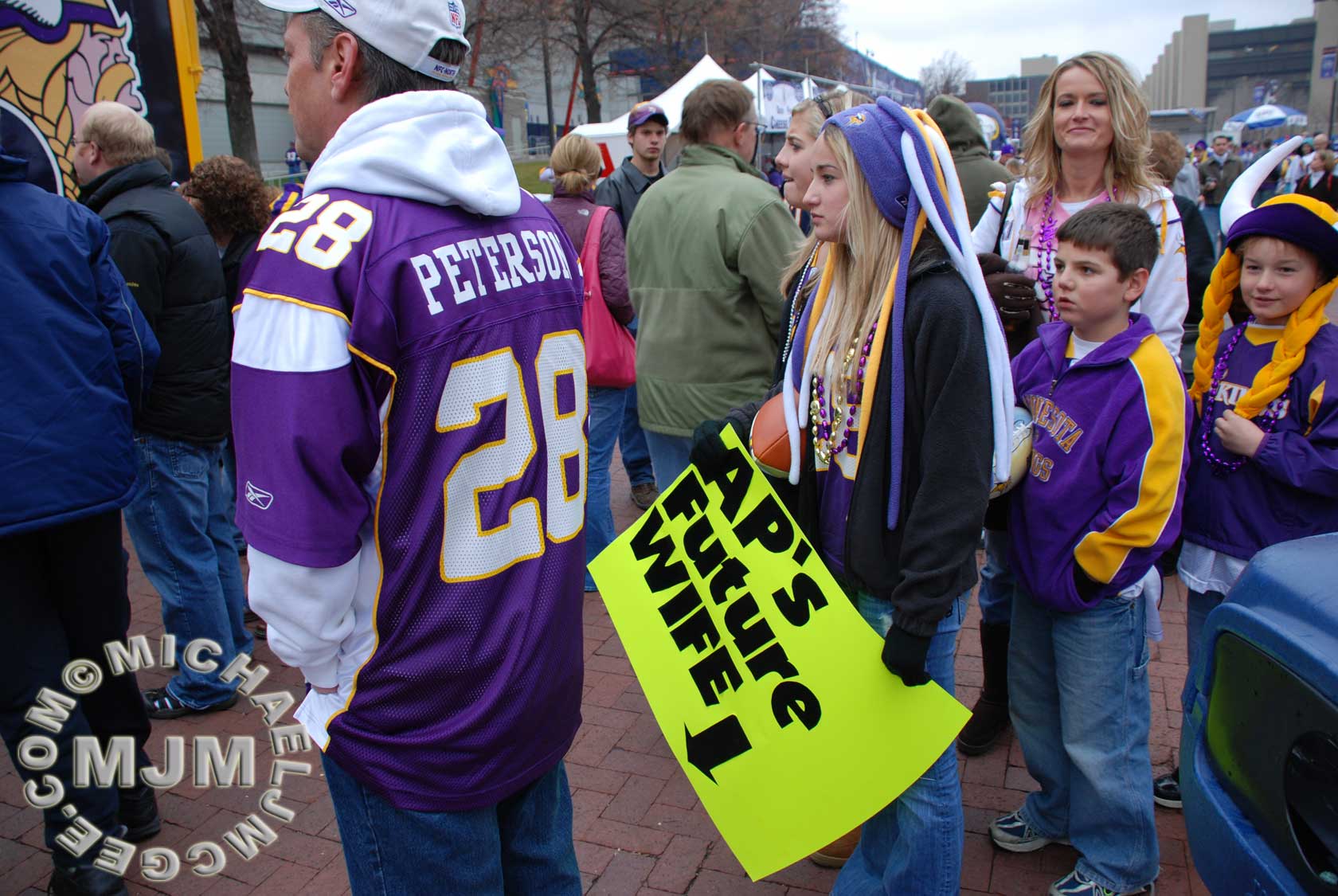 KFAN's Sunday football Broadcast Live! SWEET!!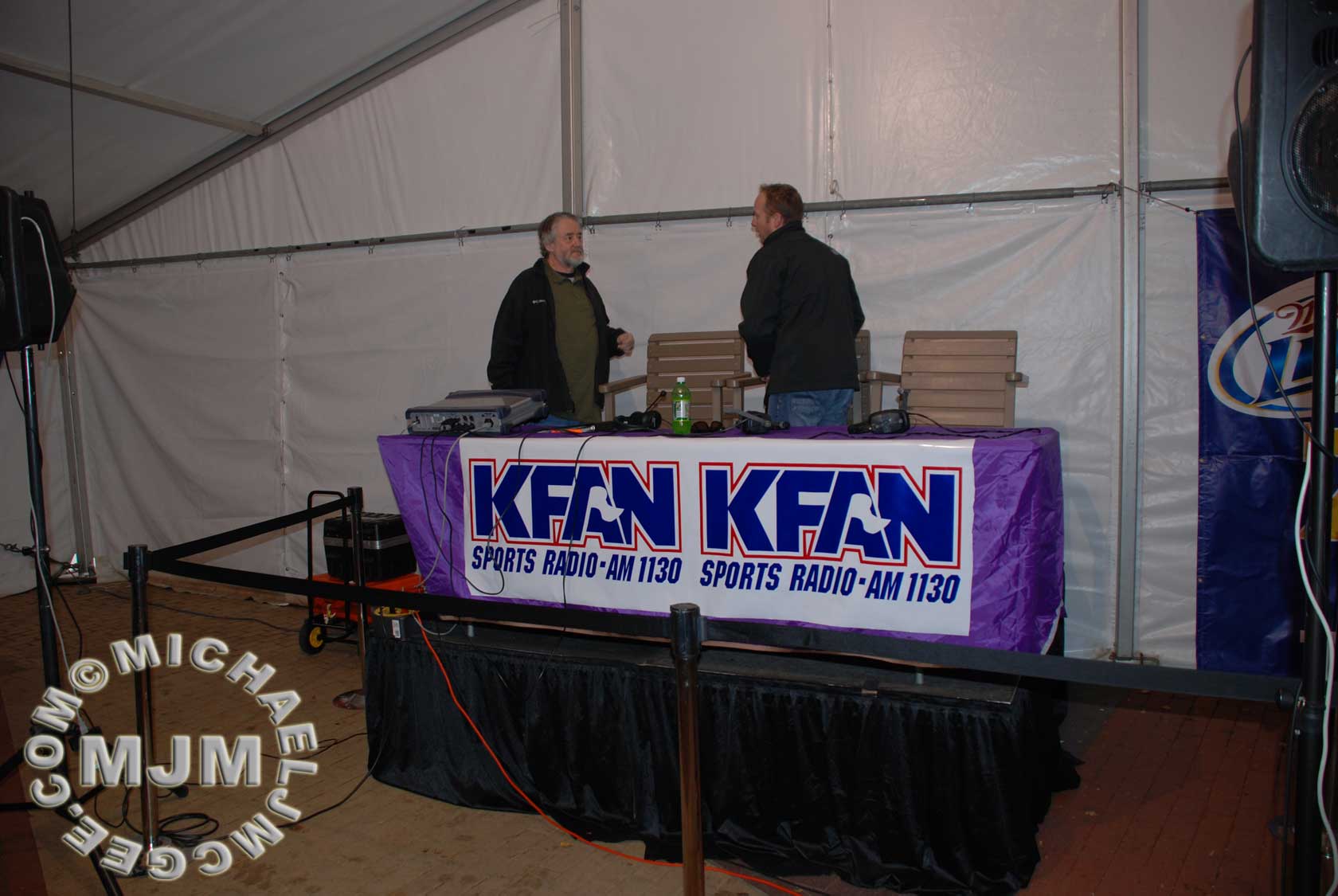 Host Mike Mussman (R) arrives and starts the show!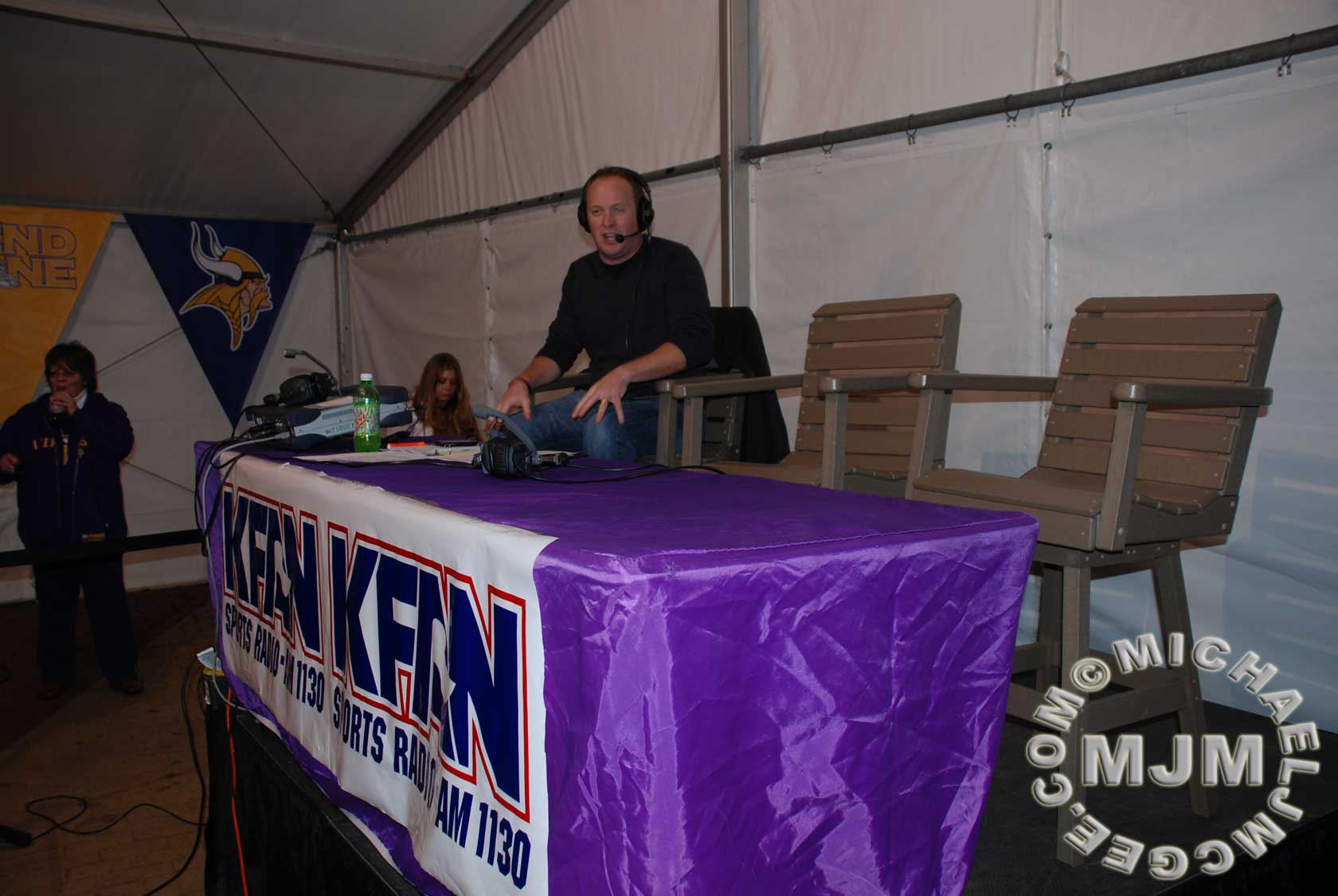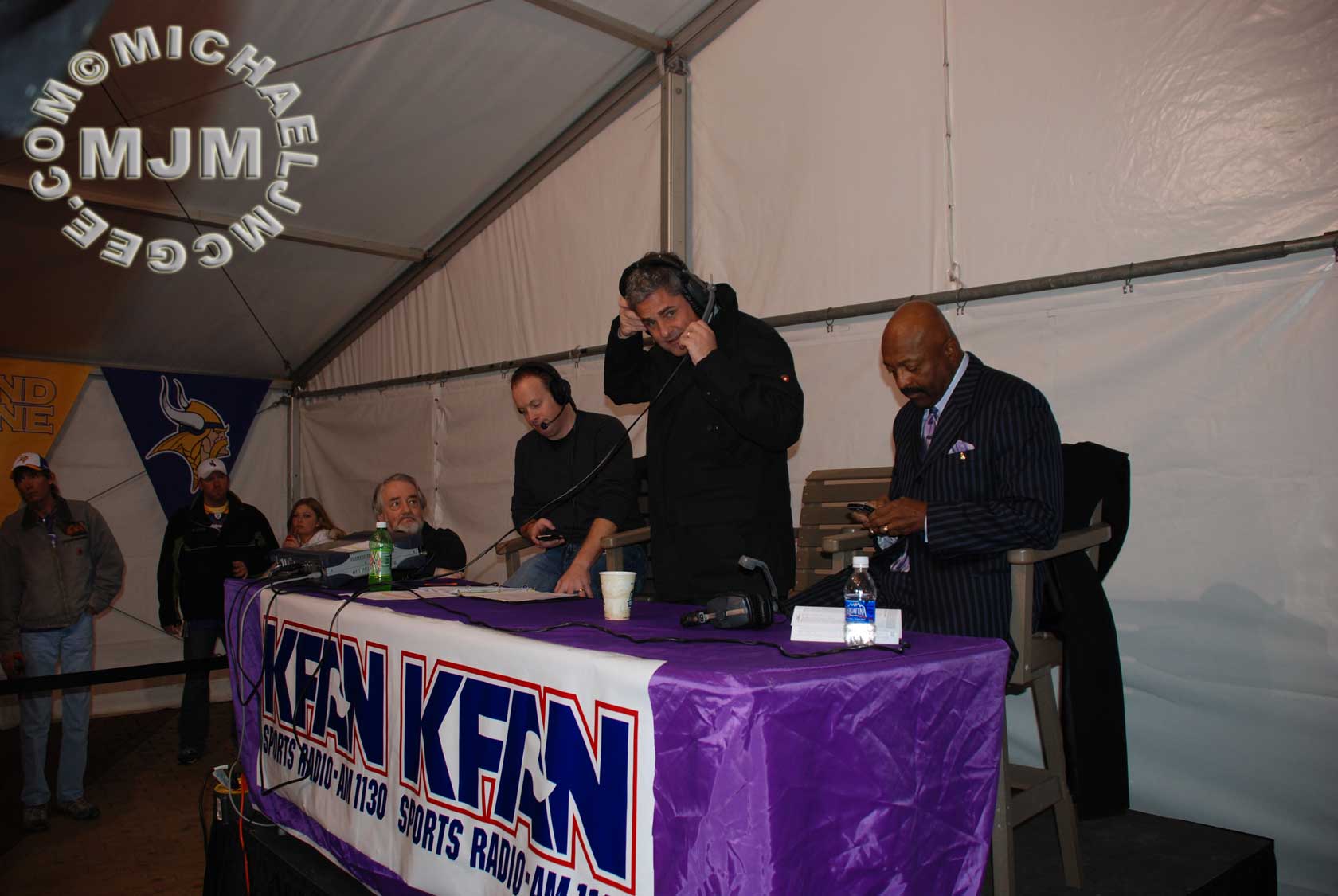 (L-R) Muss, PA & Coleman getting ready.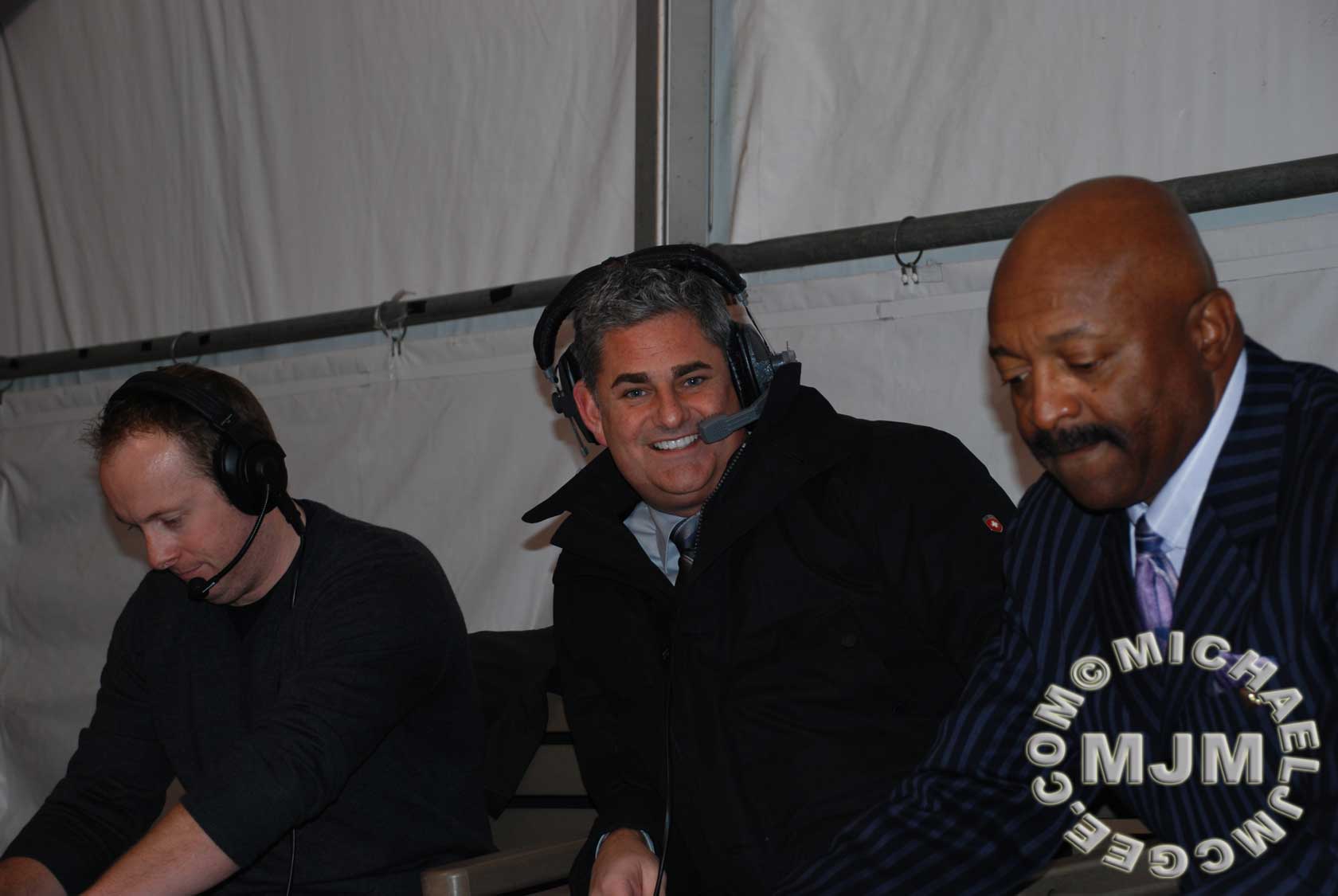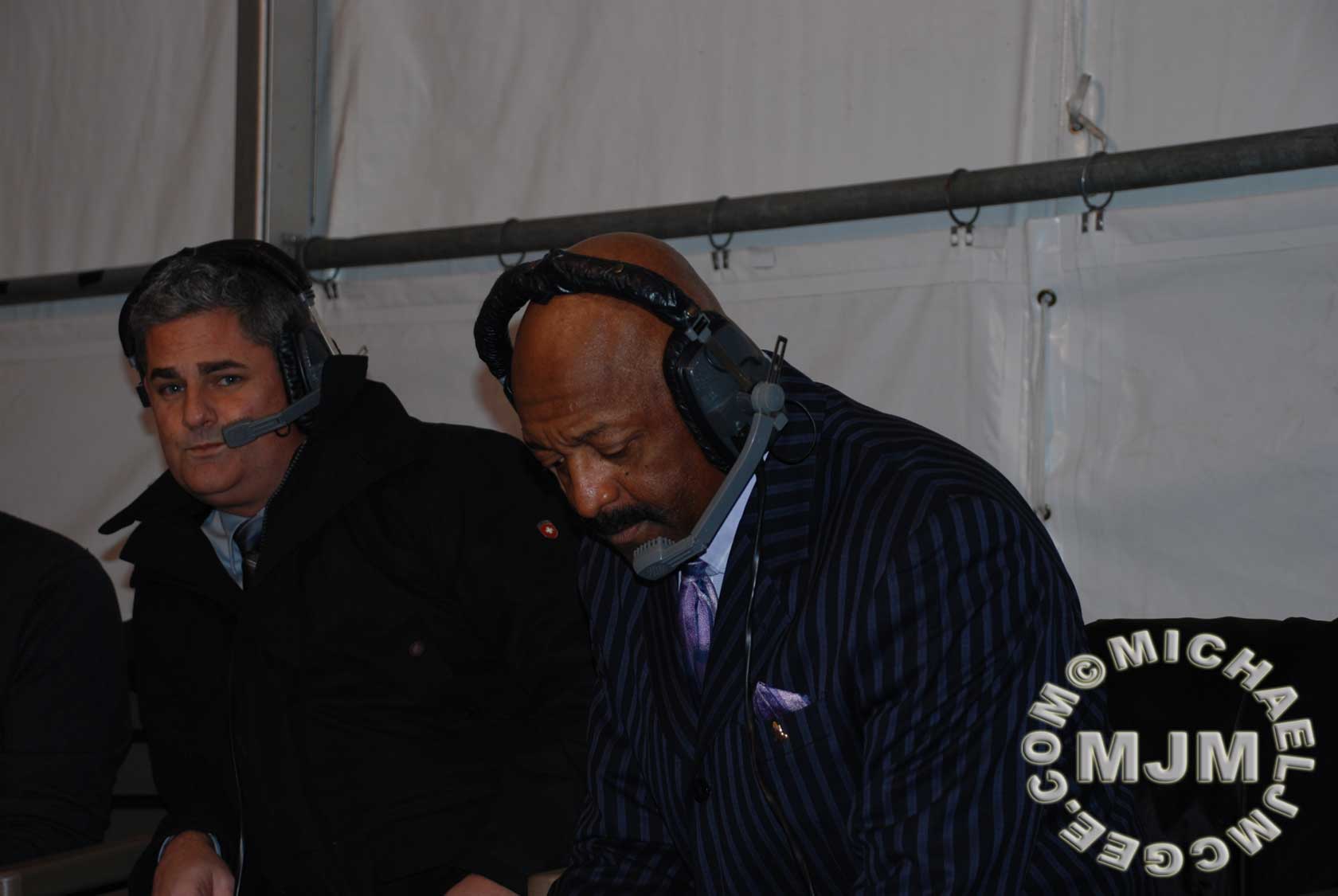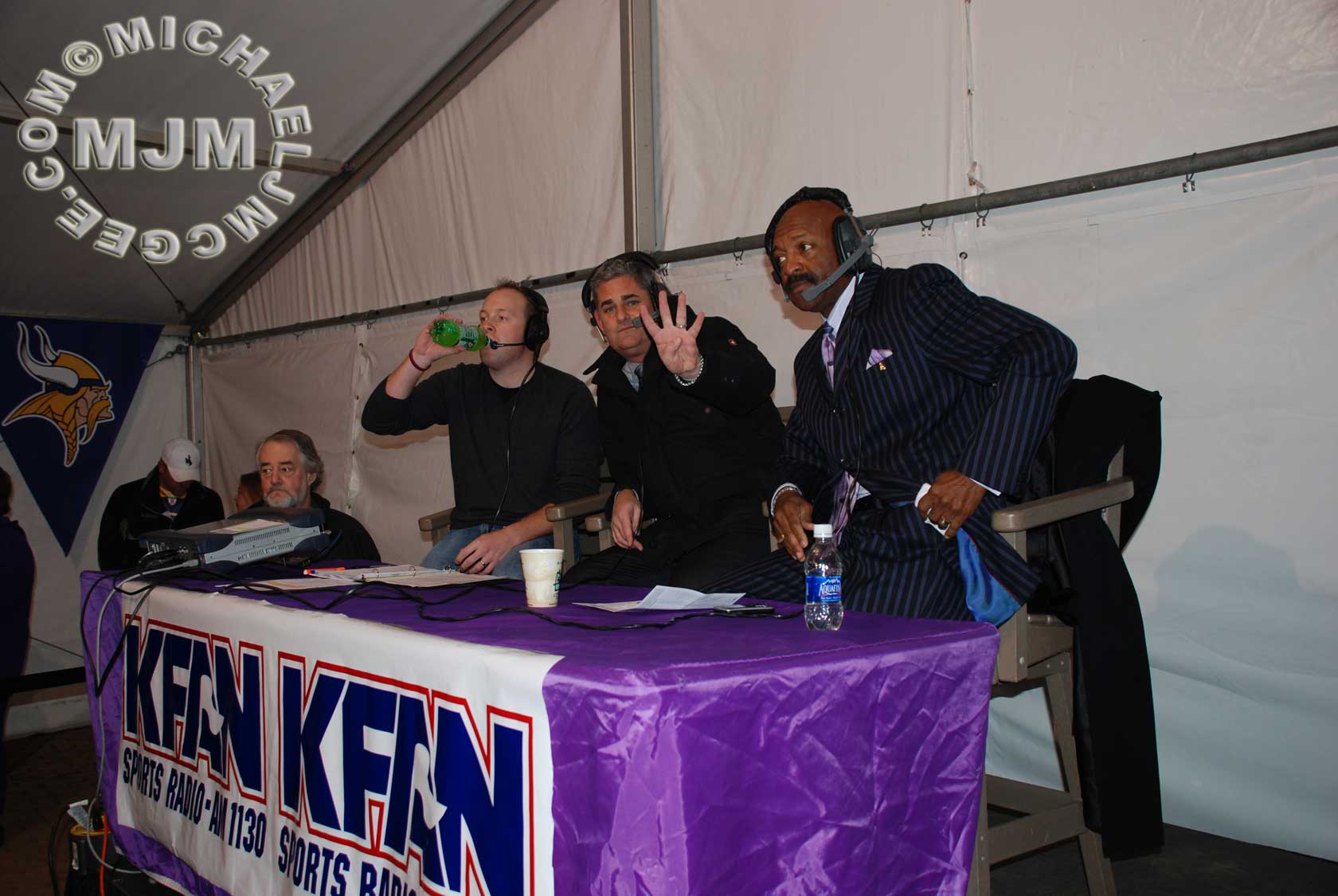 PA gives his Brett Favre sign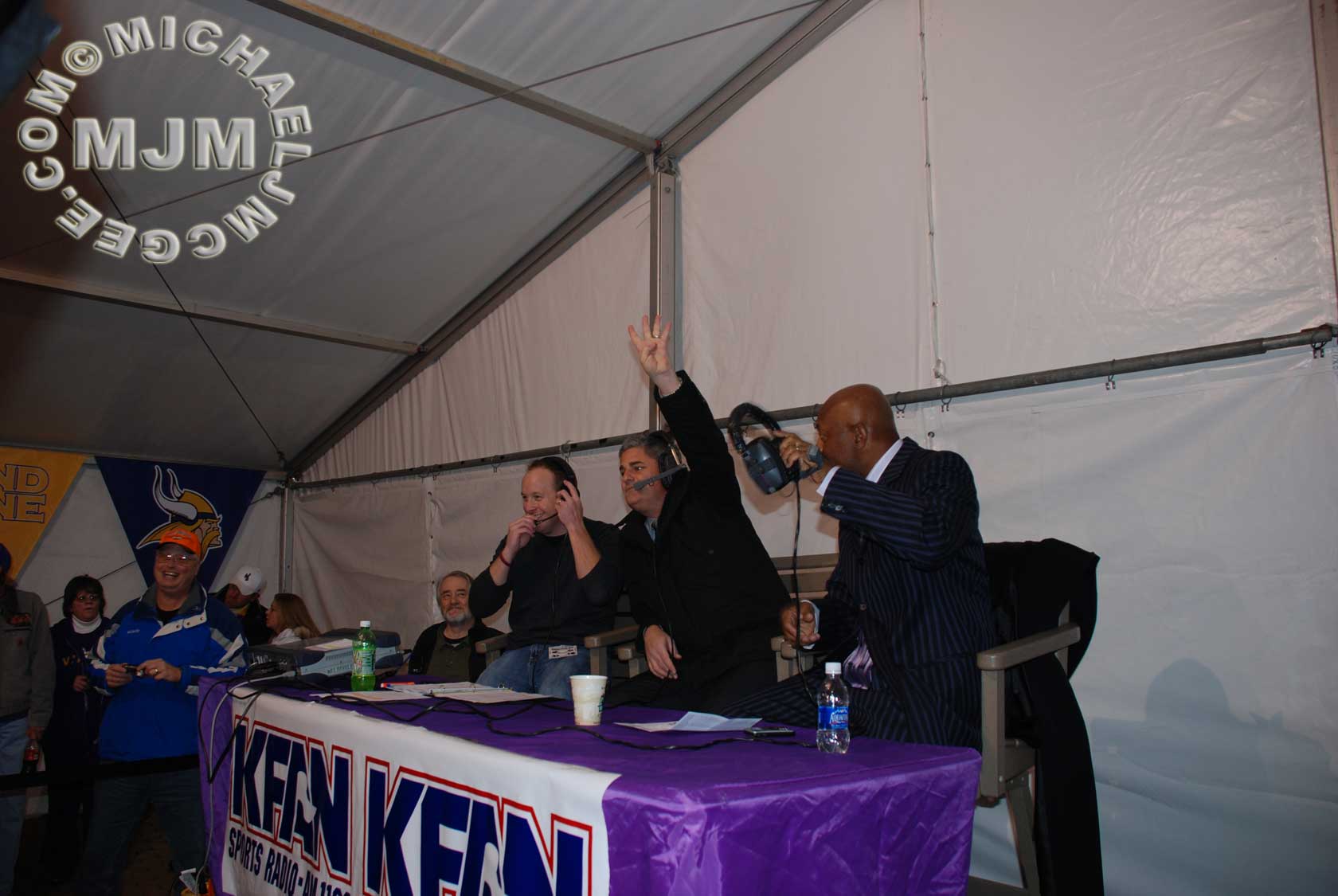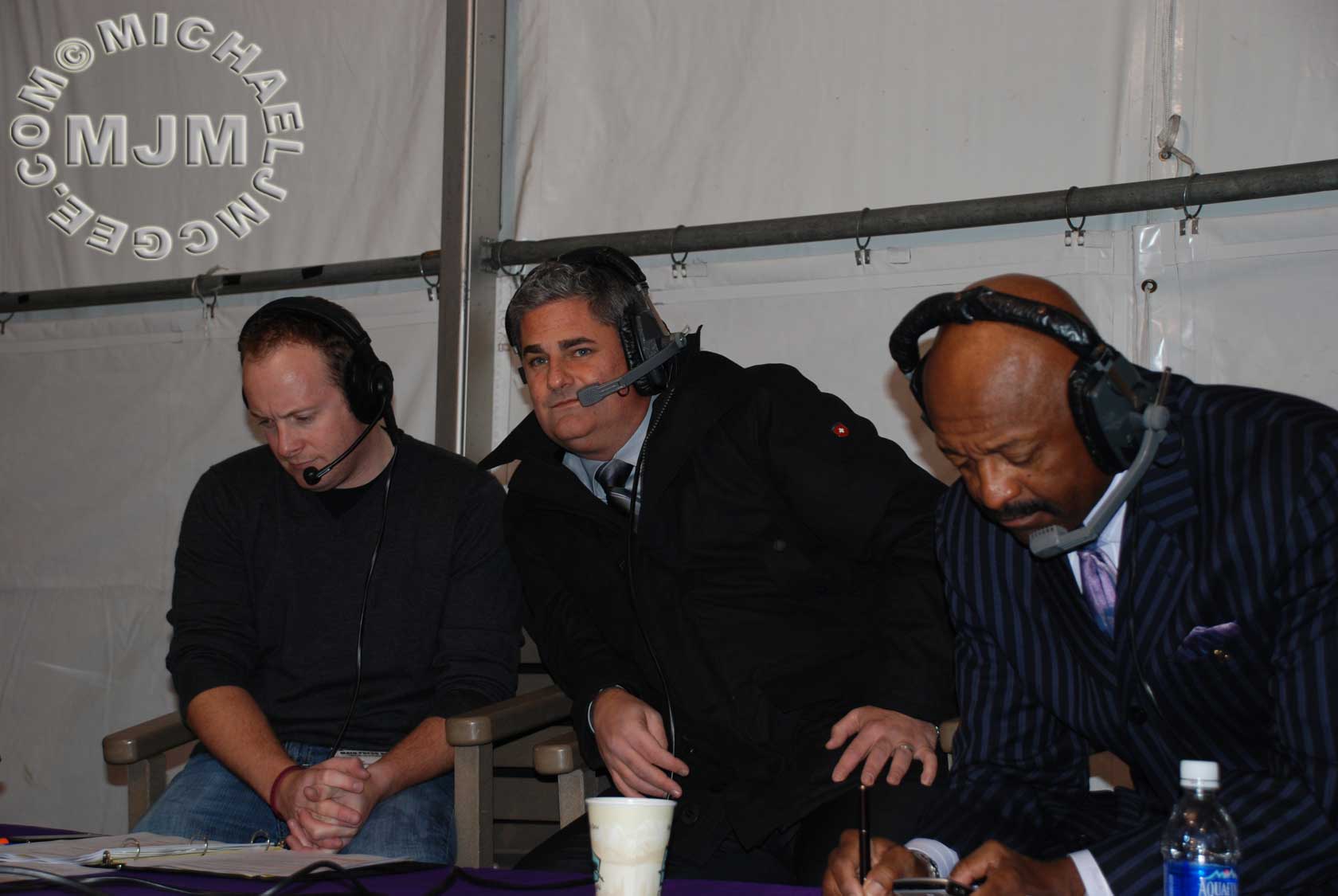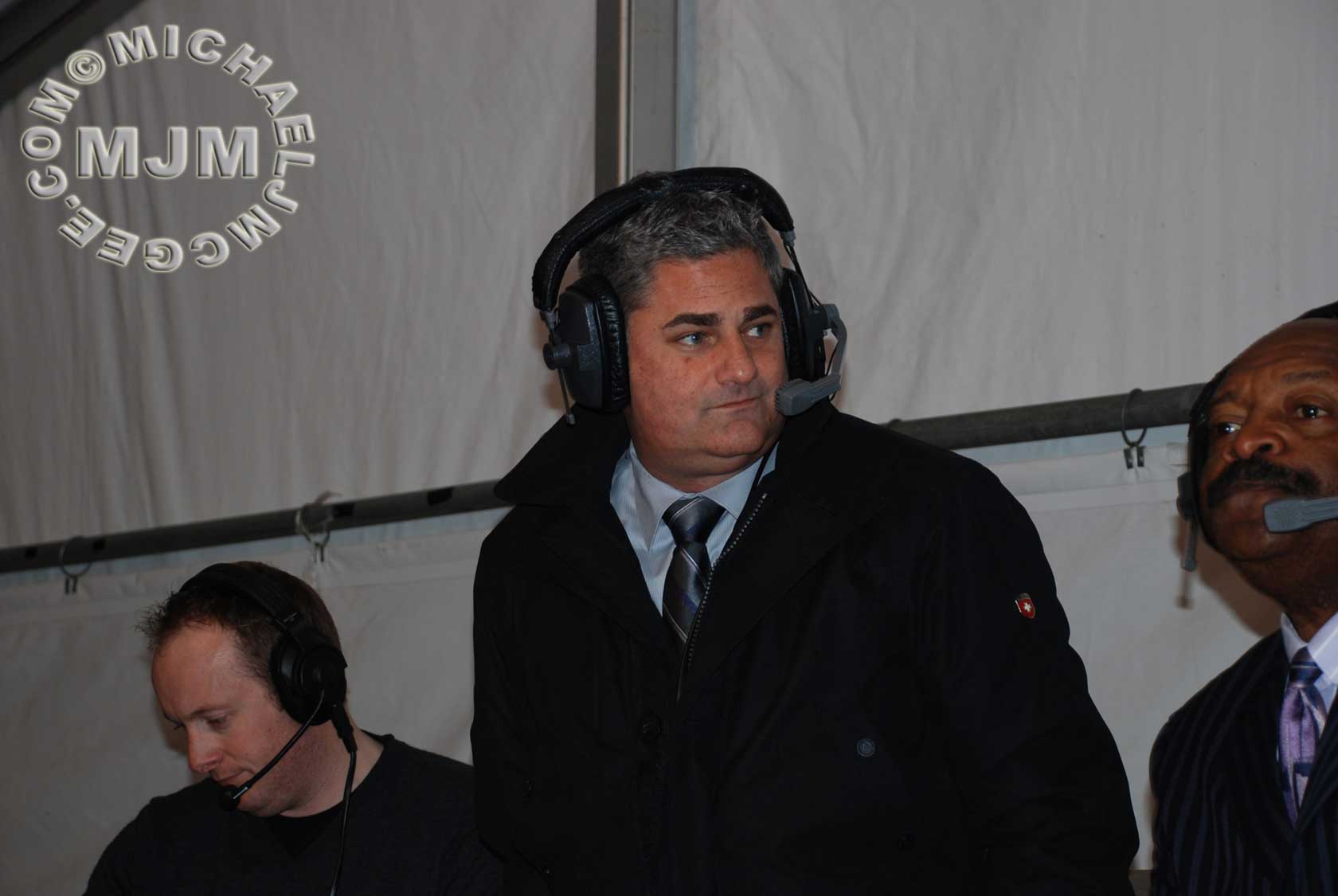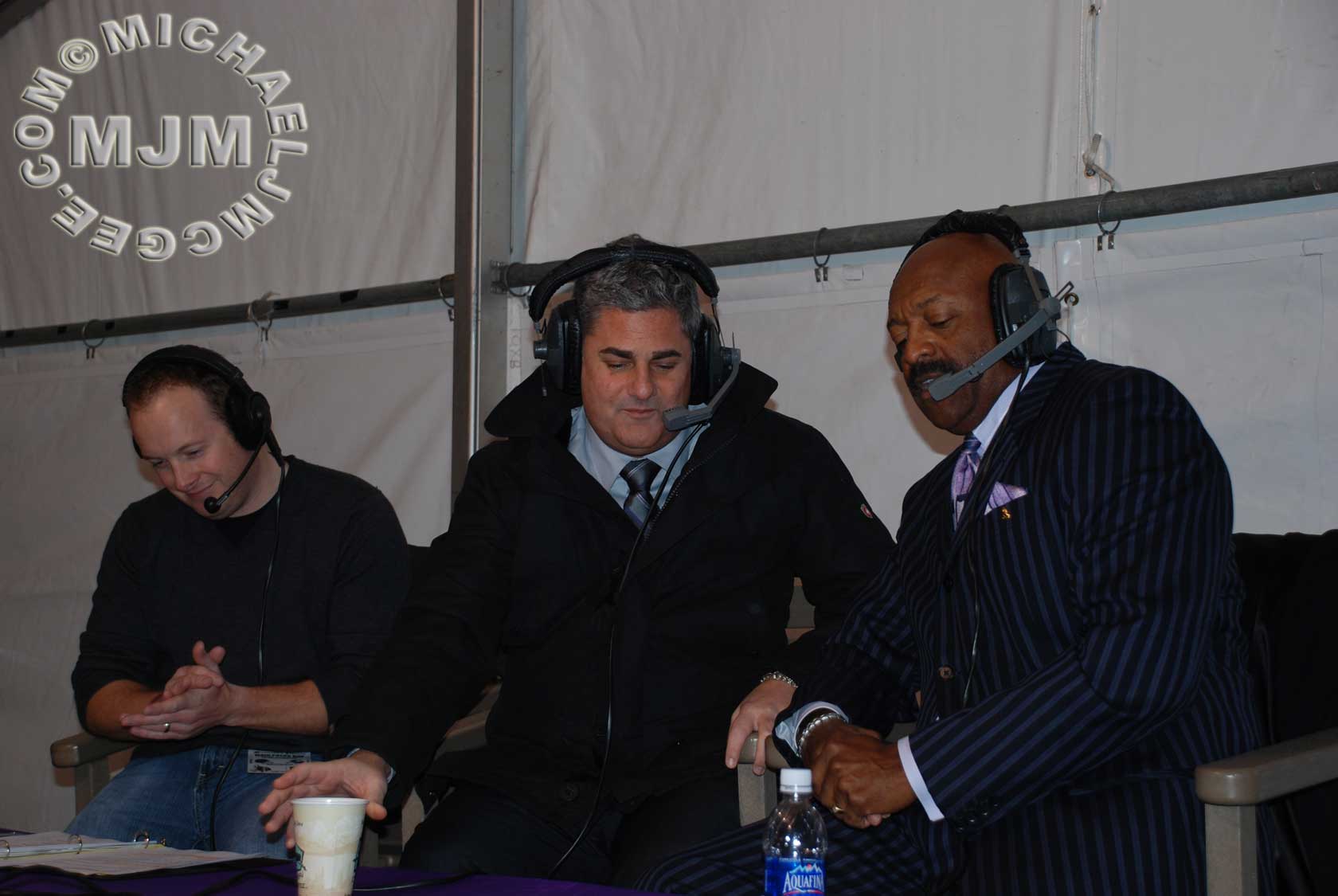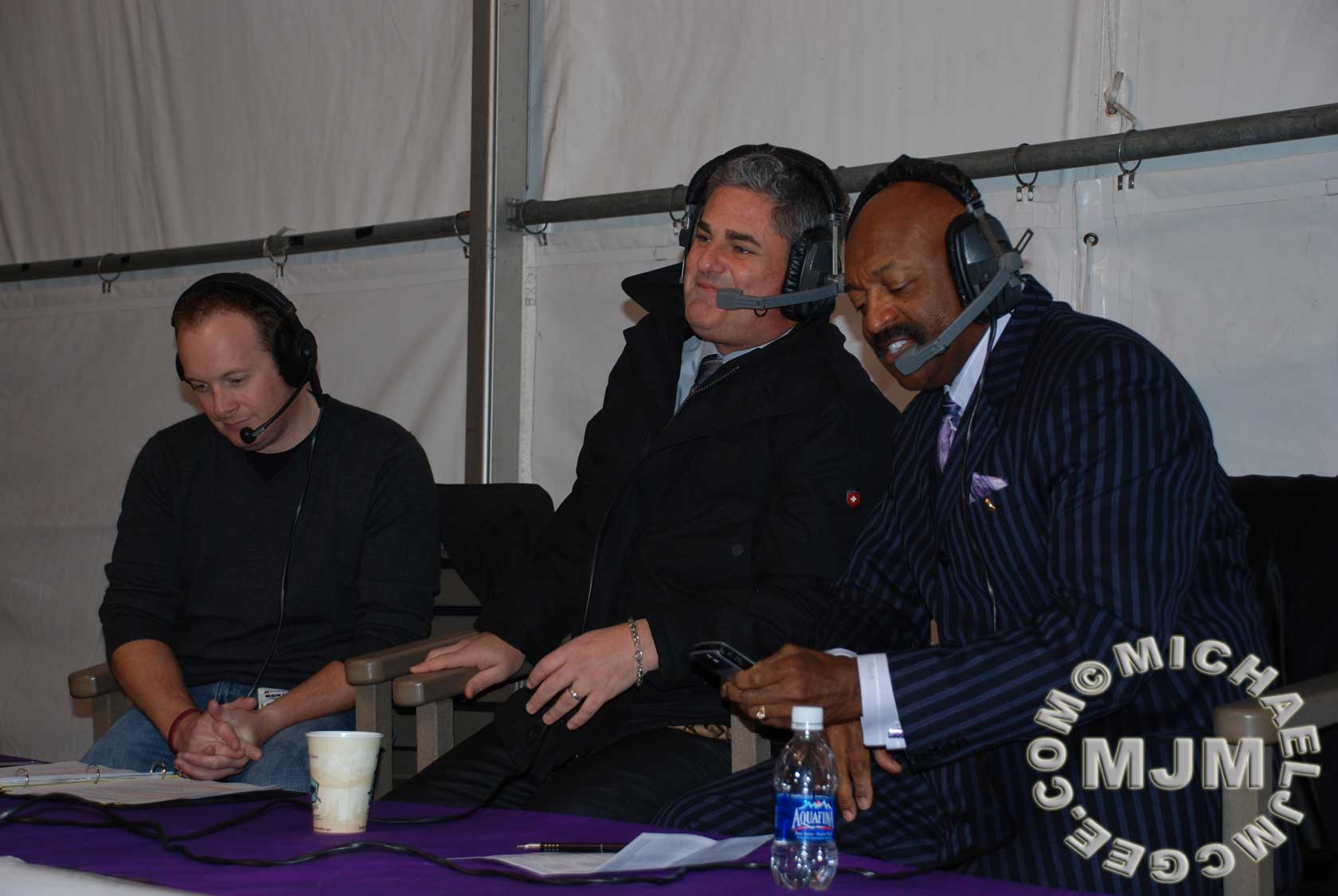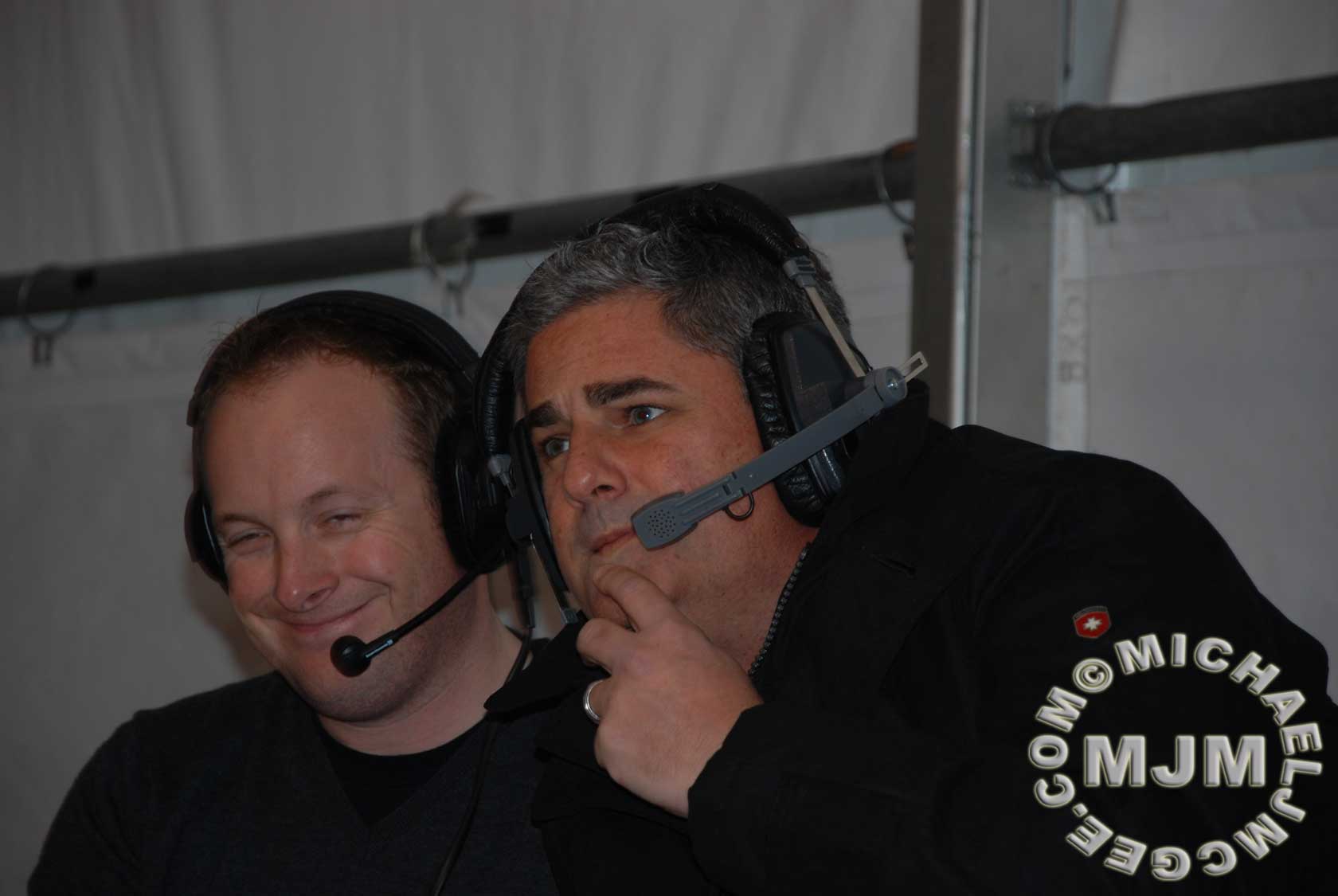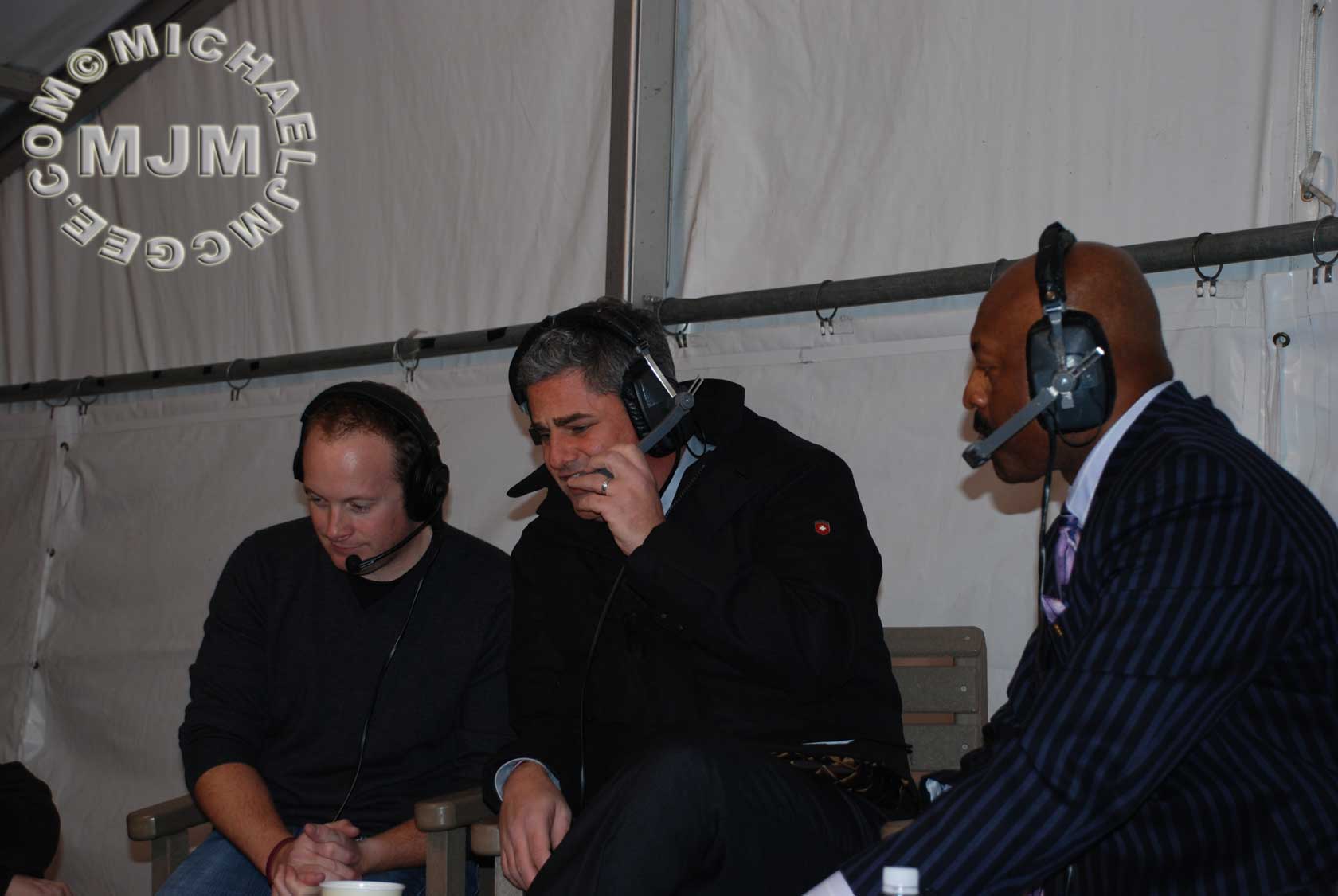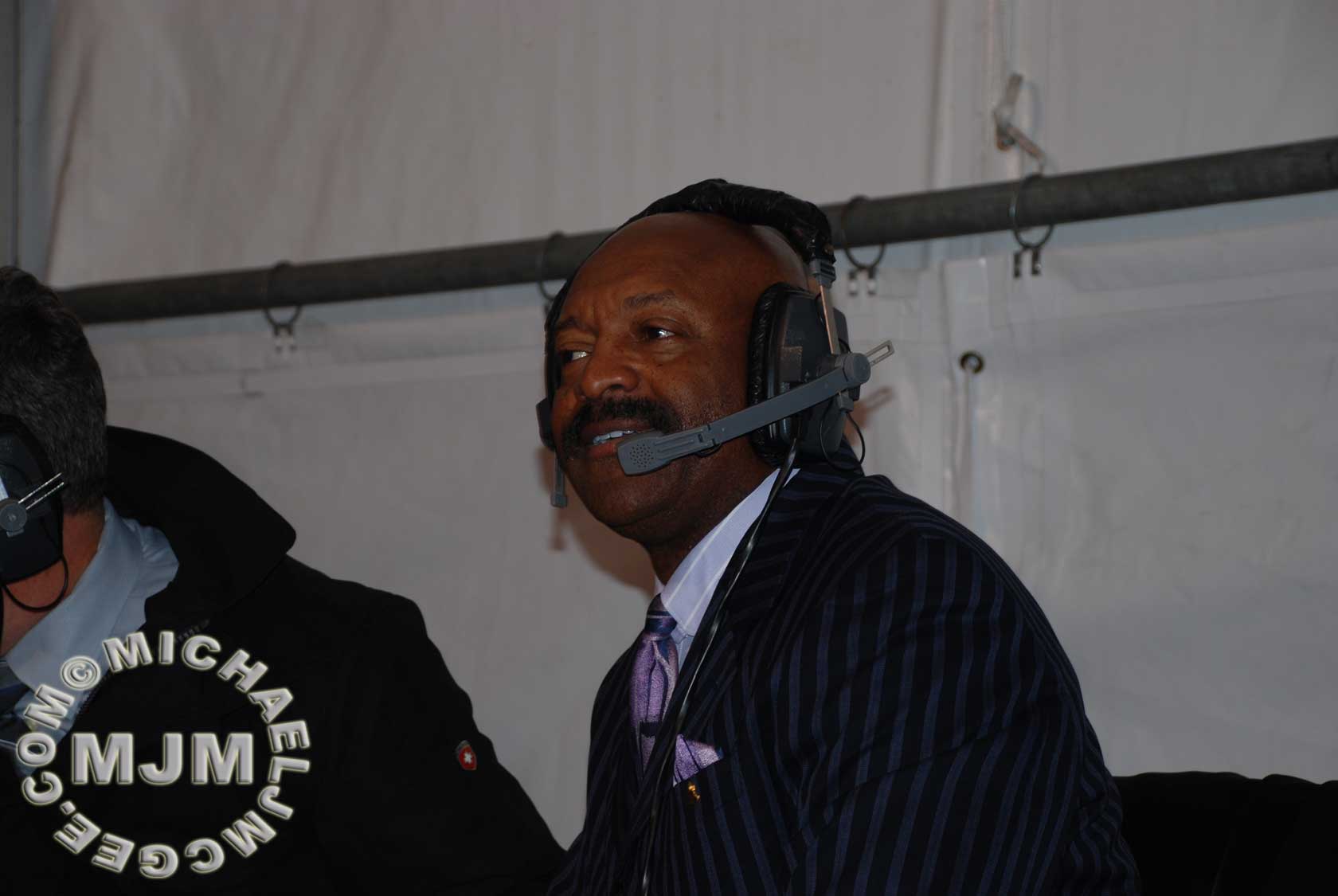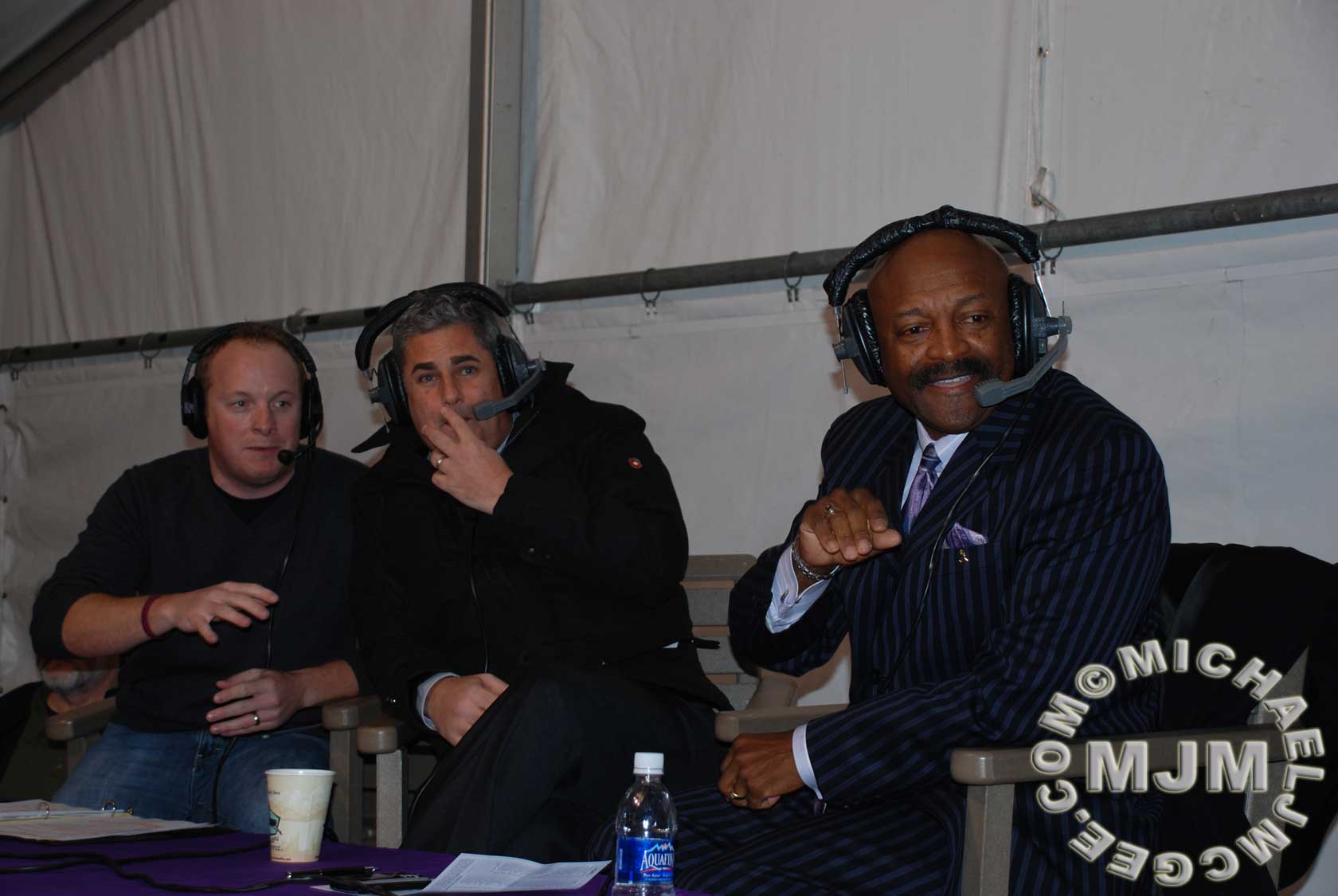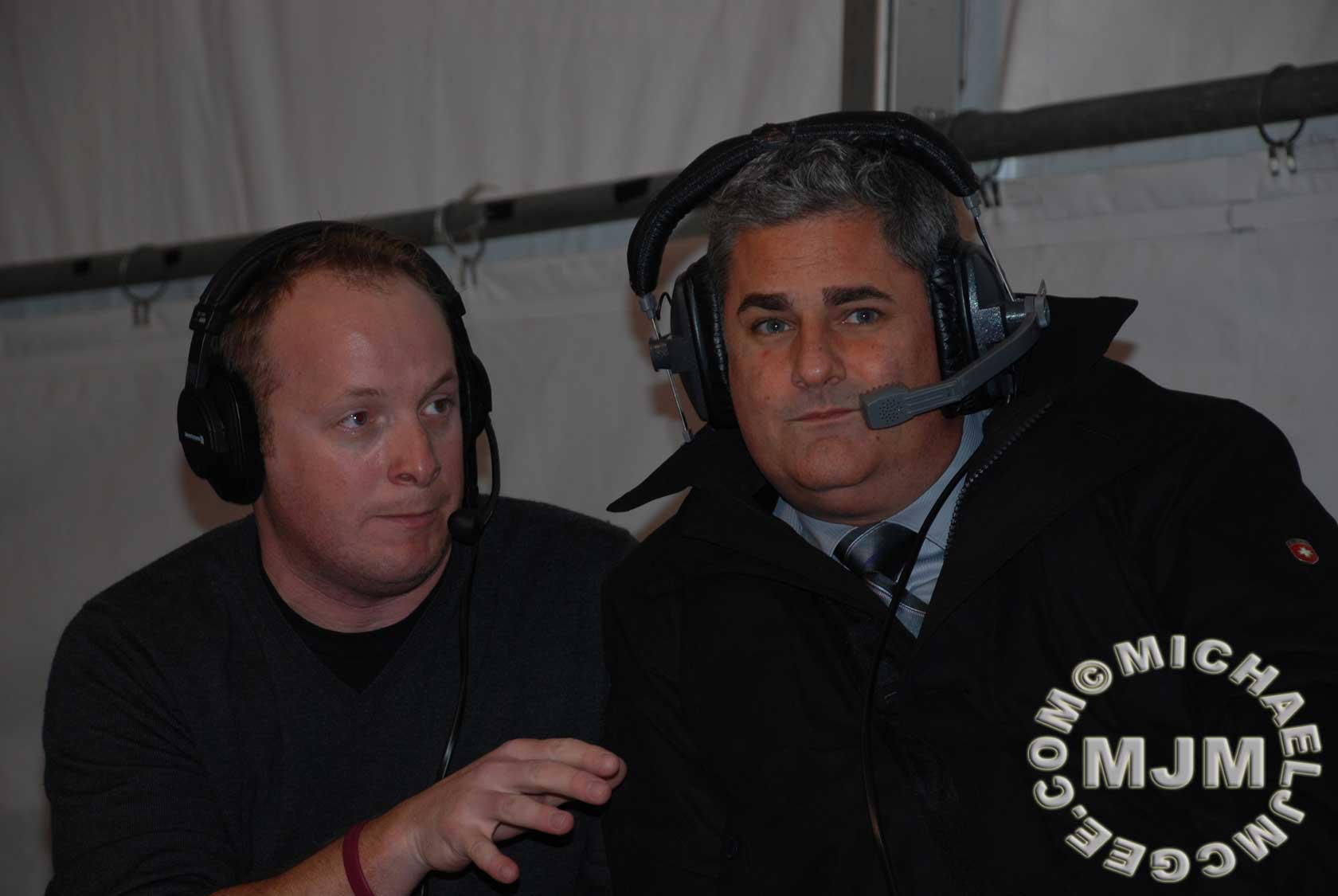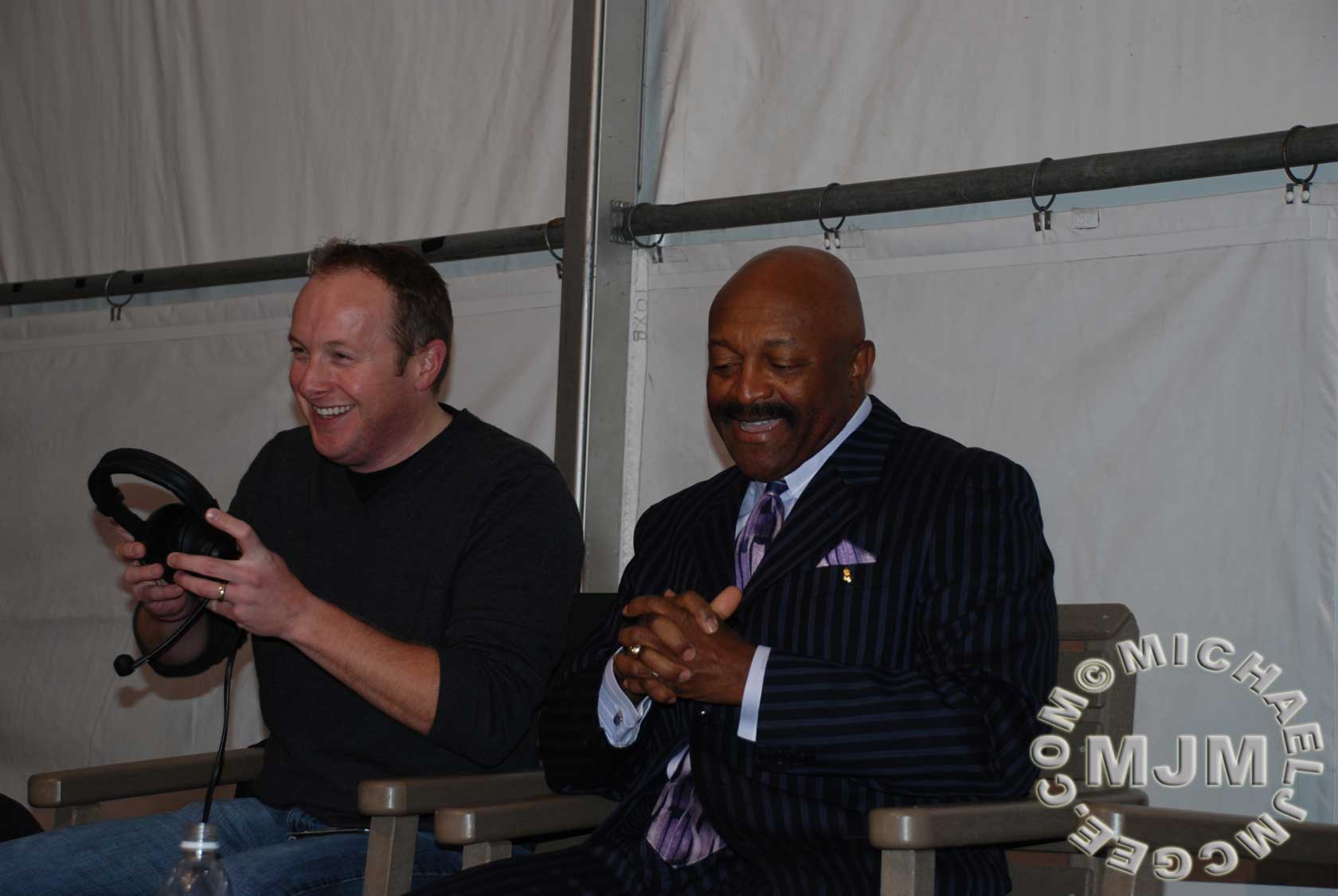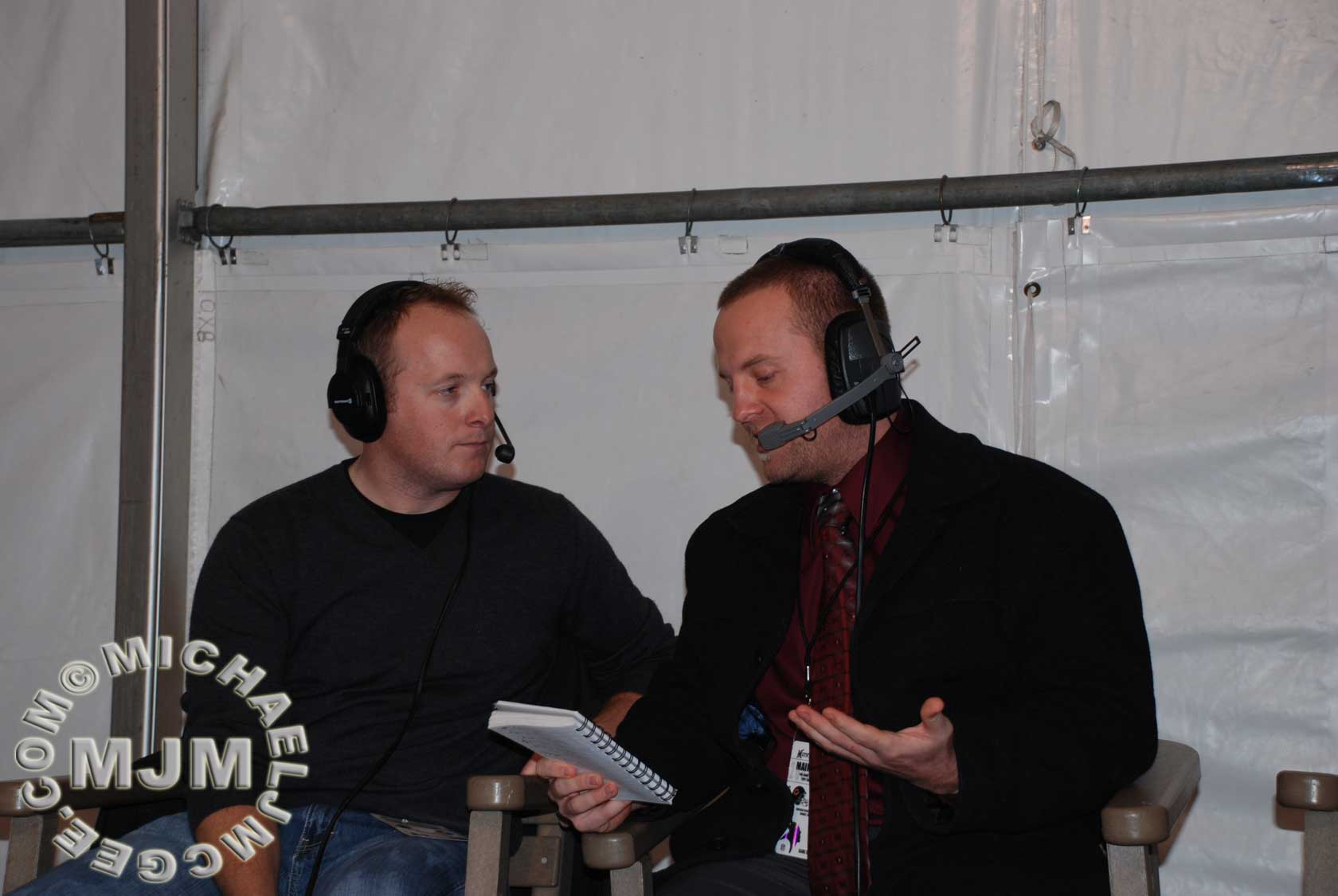 Phil Mackey joins Muss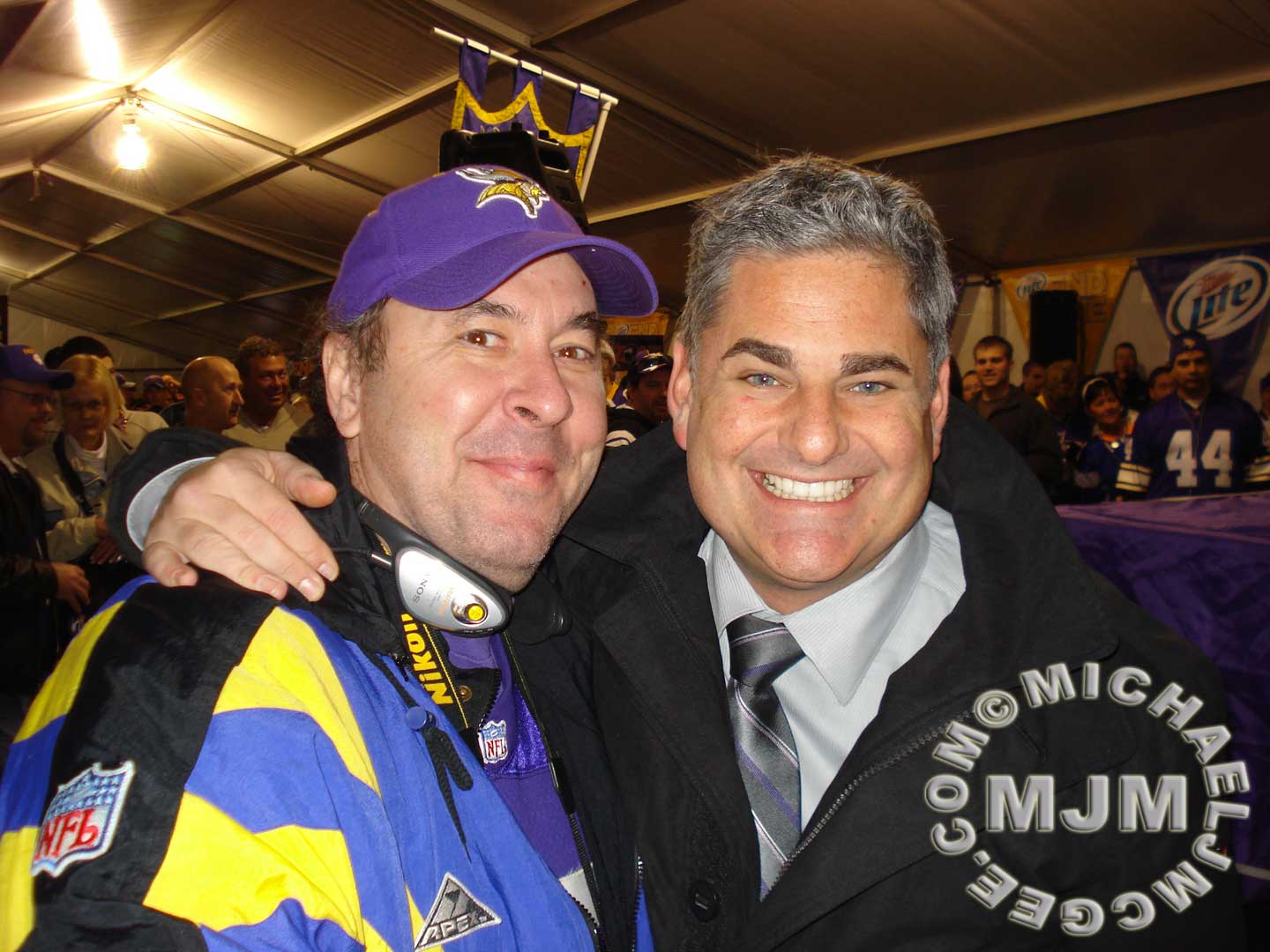 With PA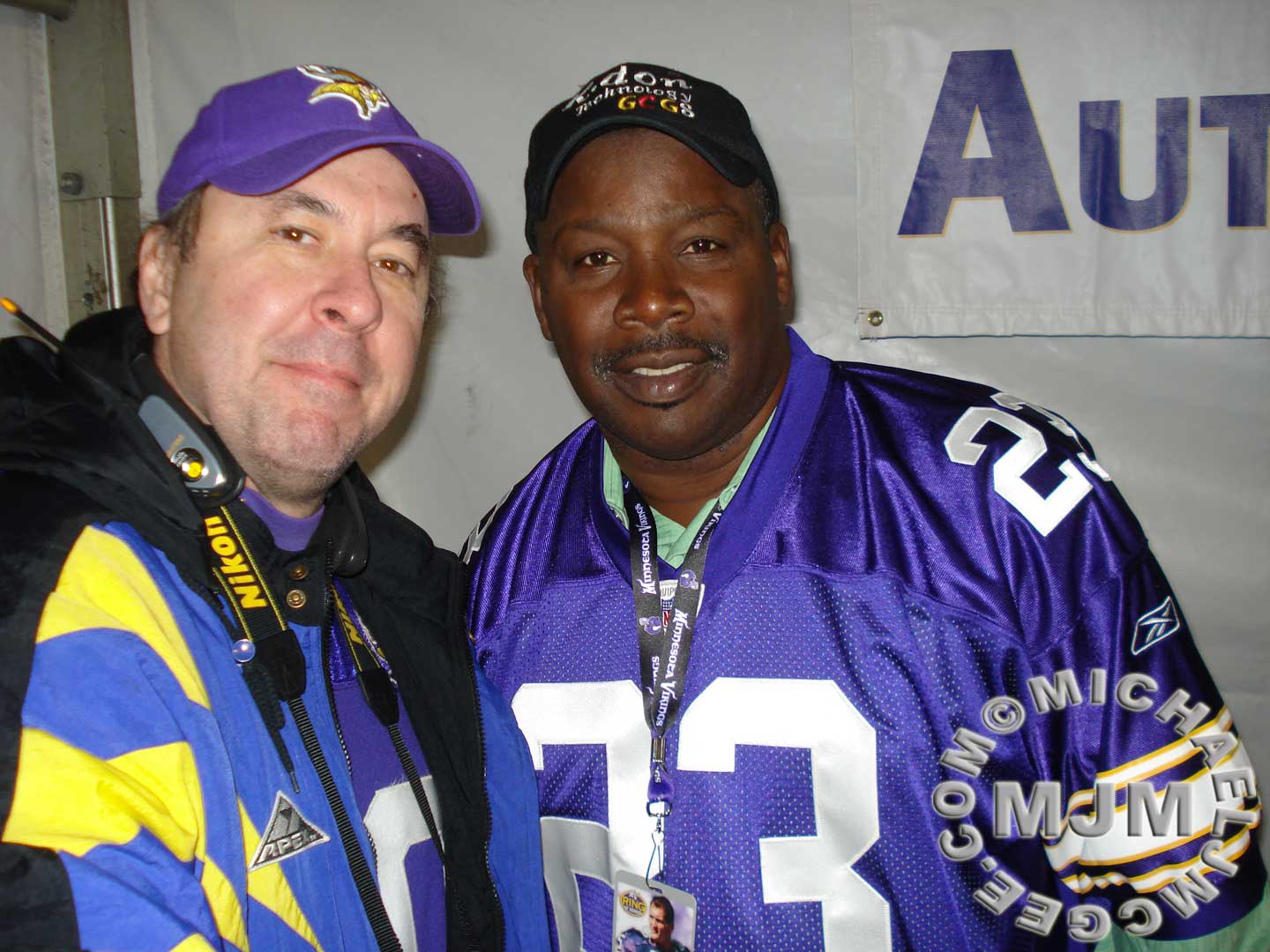 With former Vikings RB Ted Brown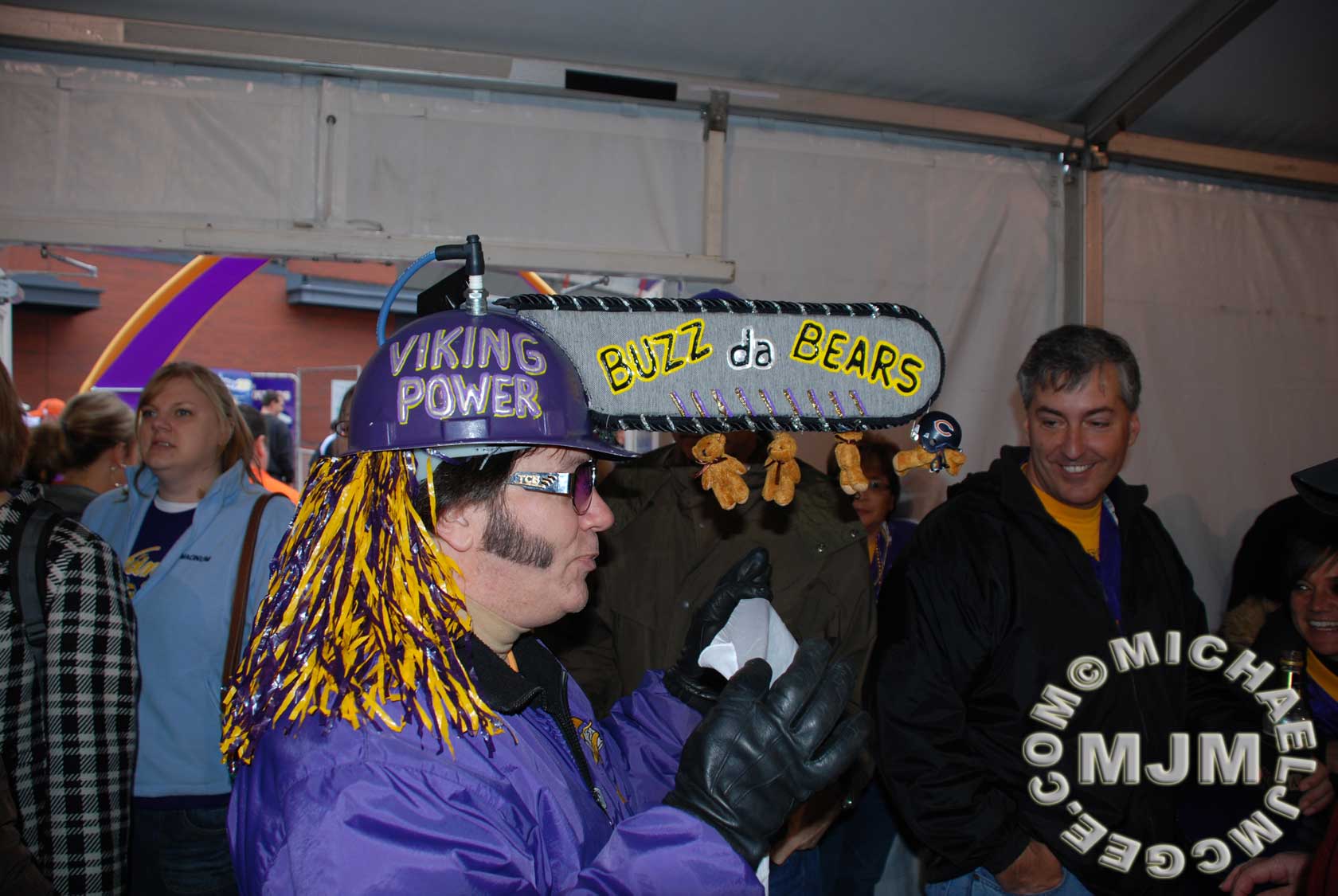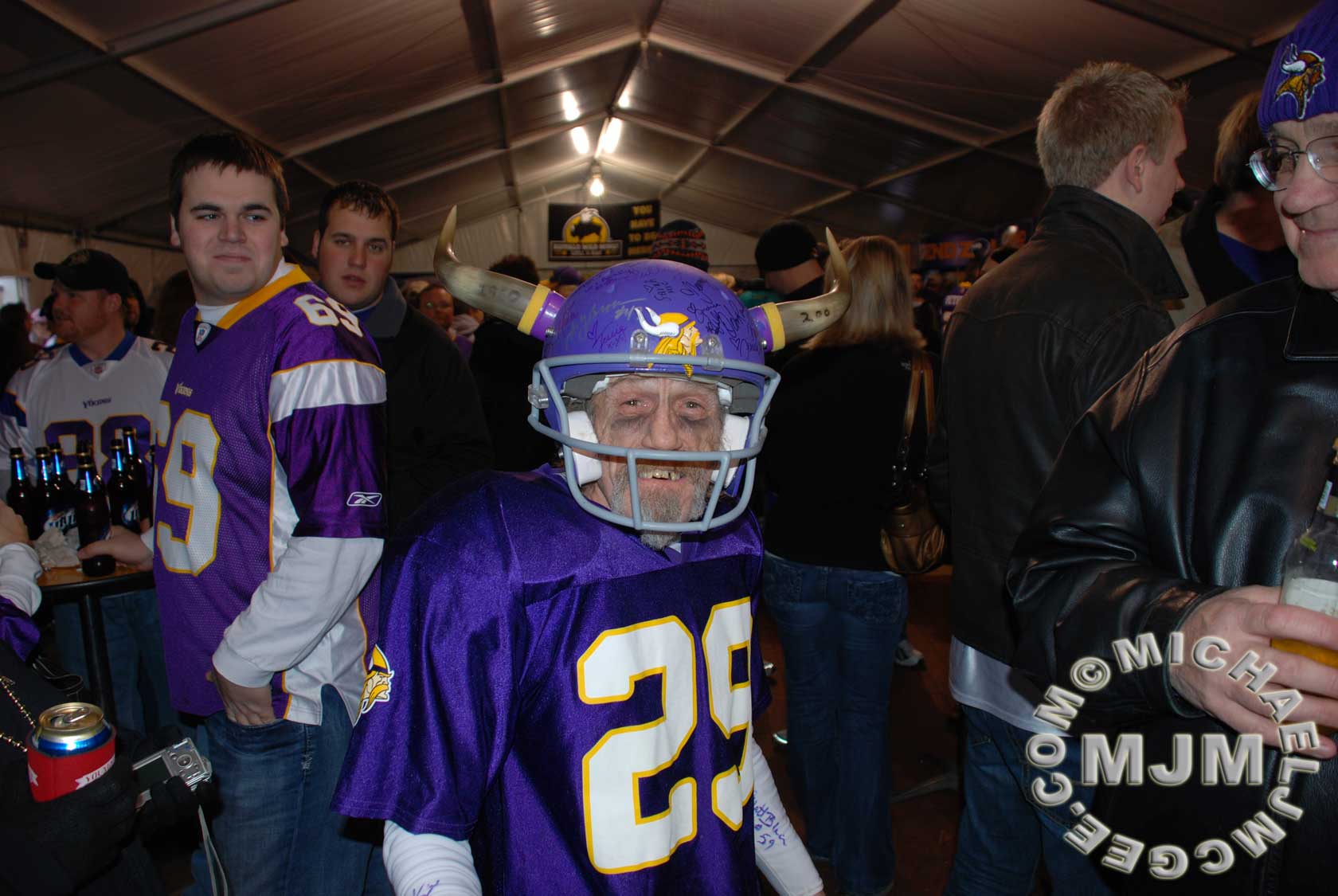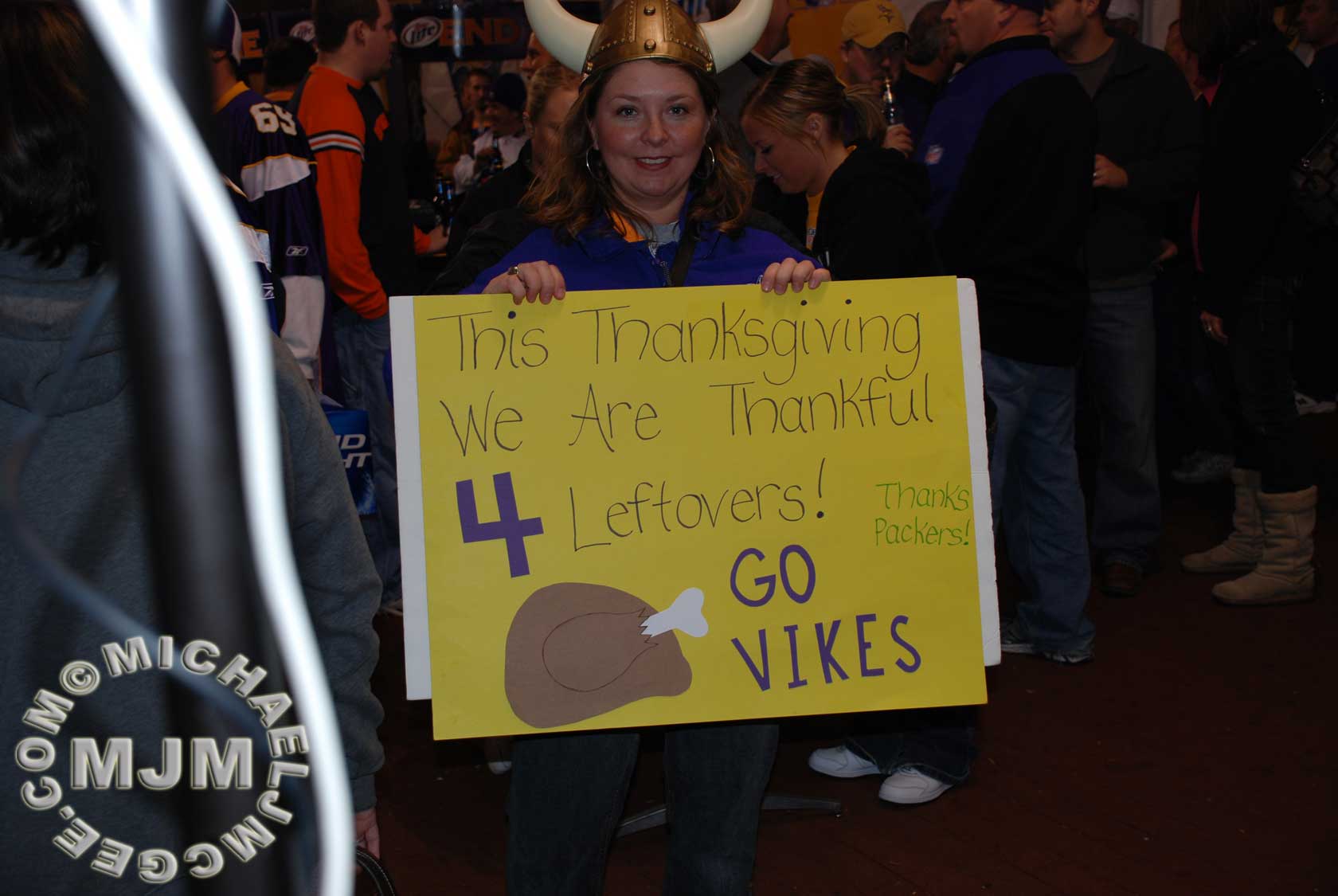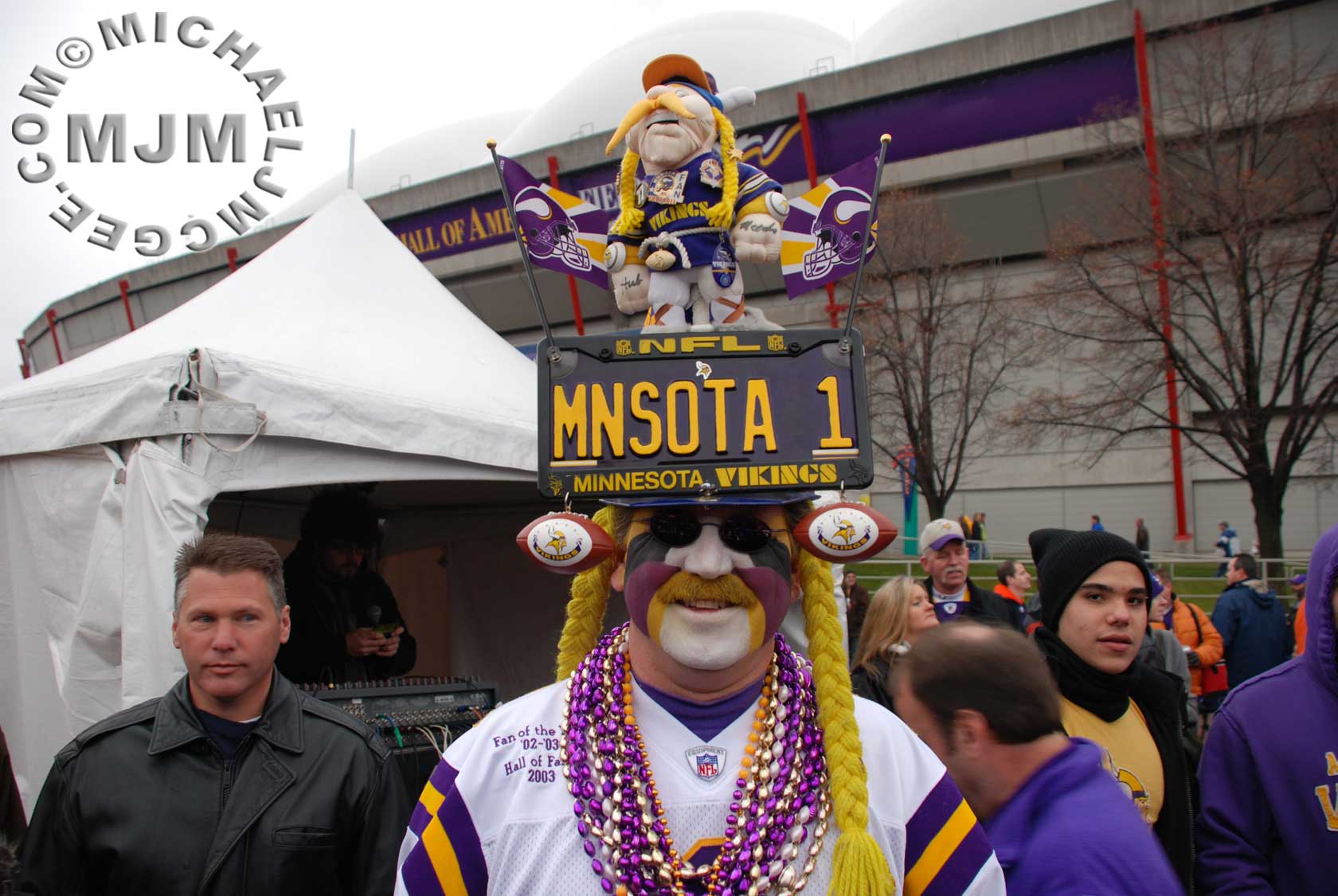 The Bears Rubes arrive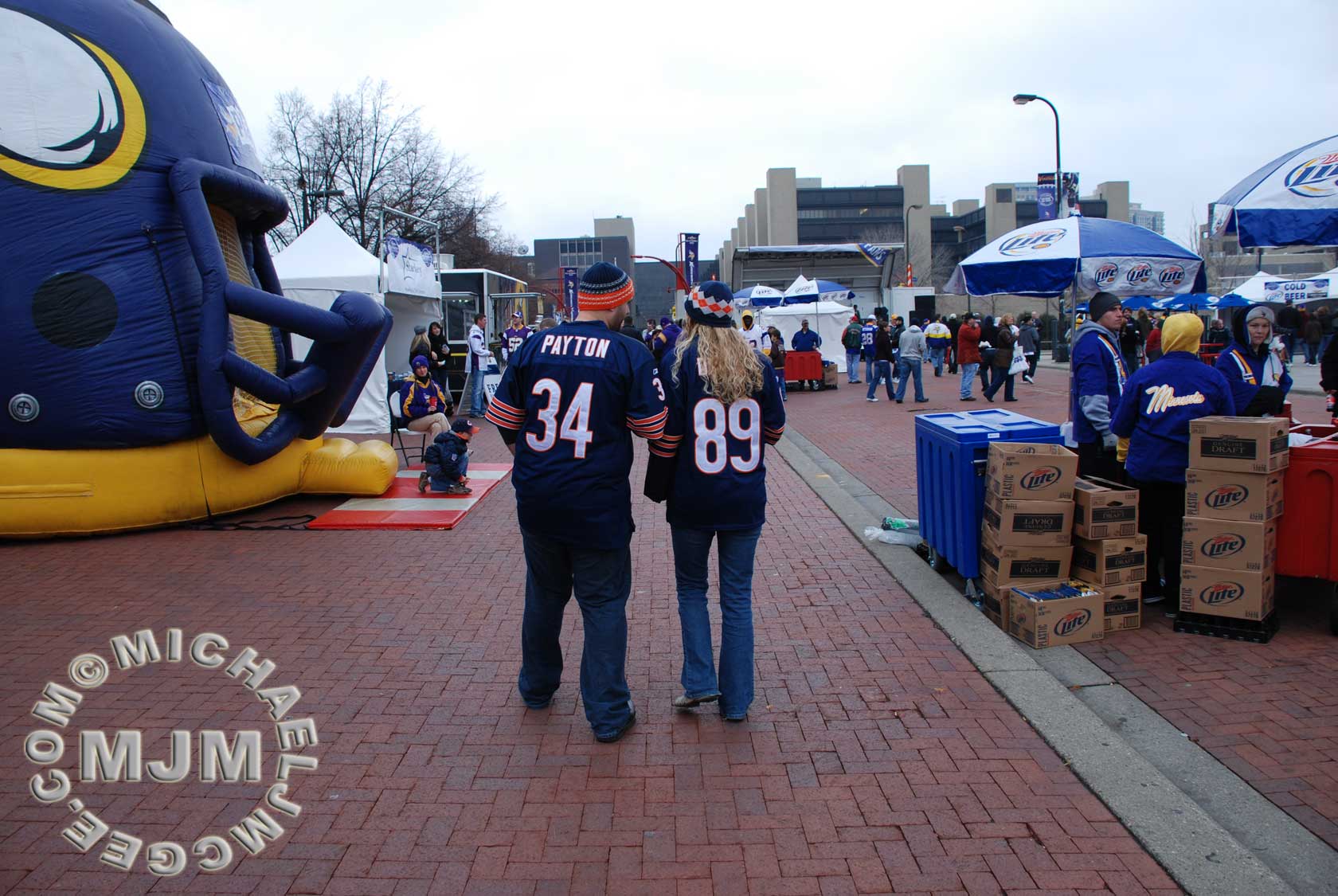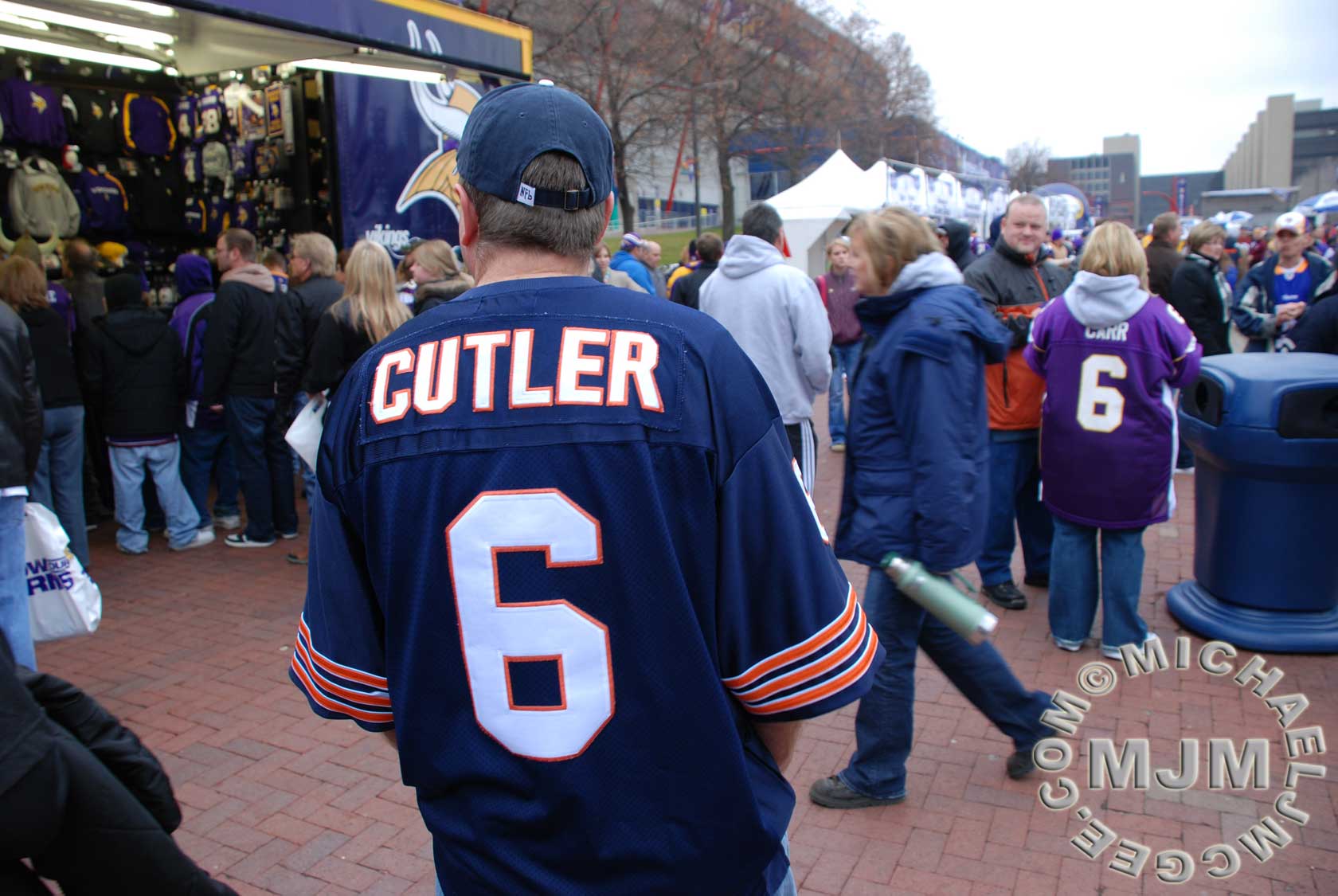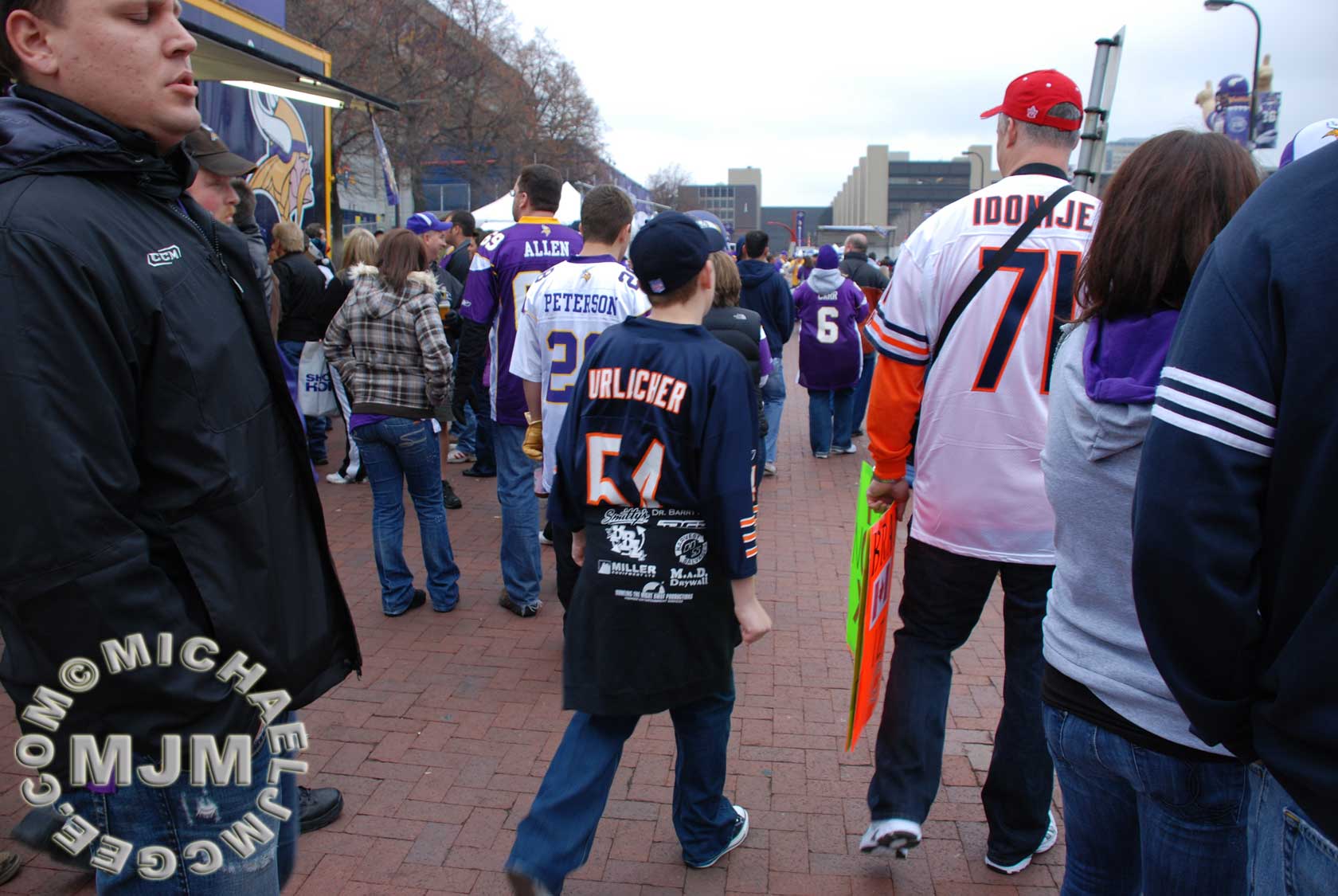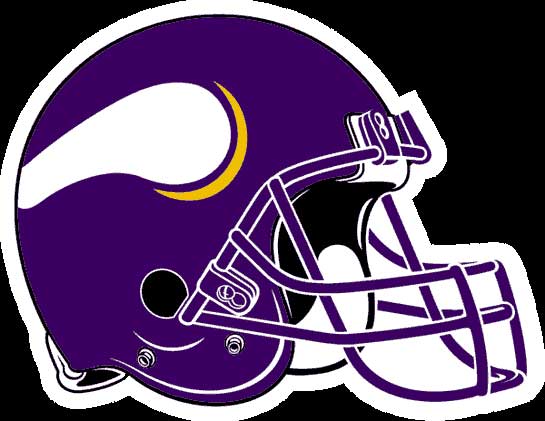 Inside the dome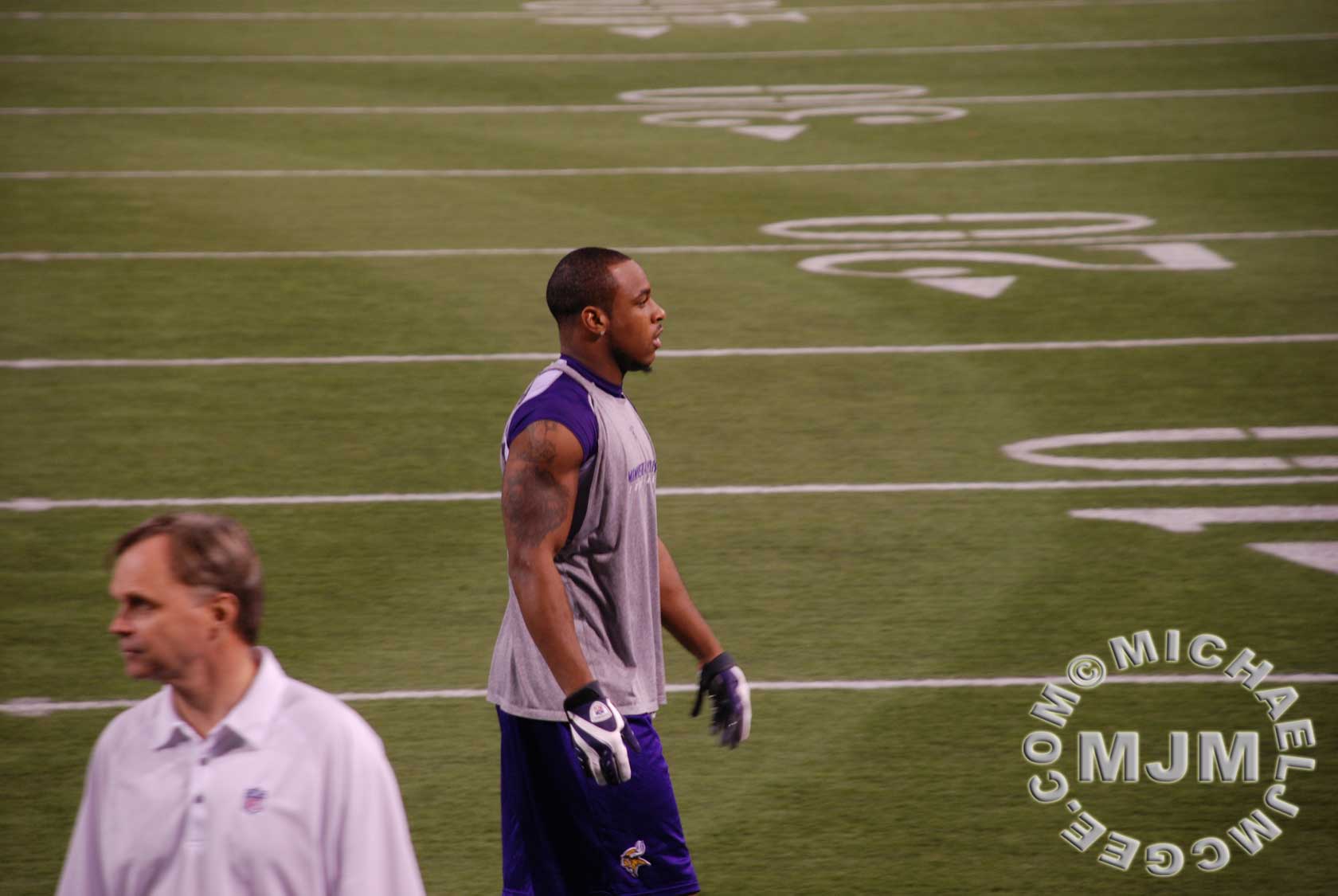 WR/KR Percy Harvin warms up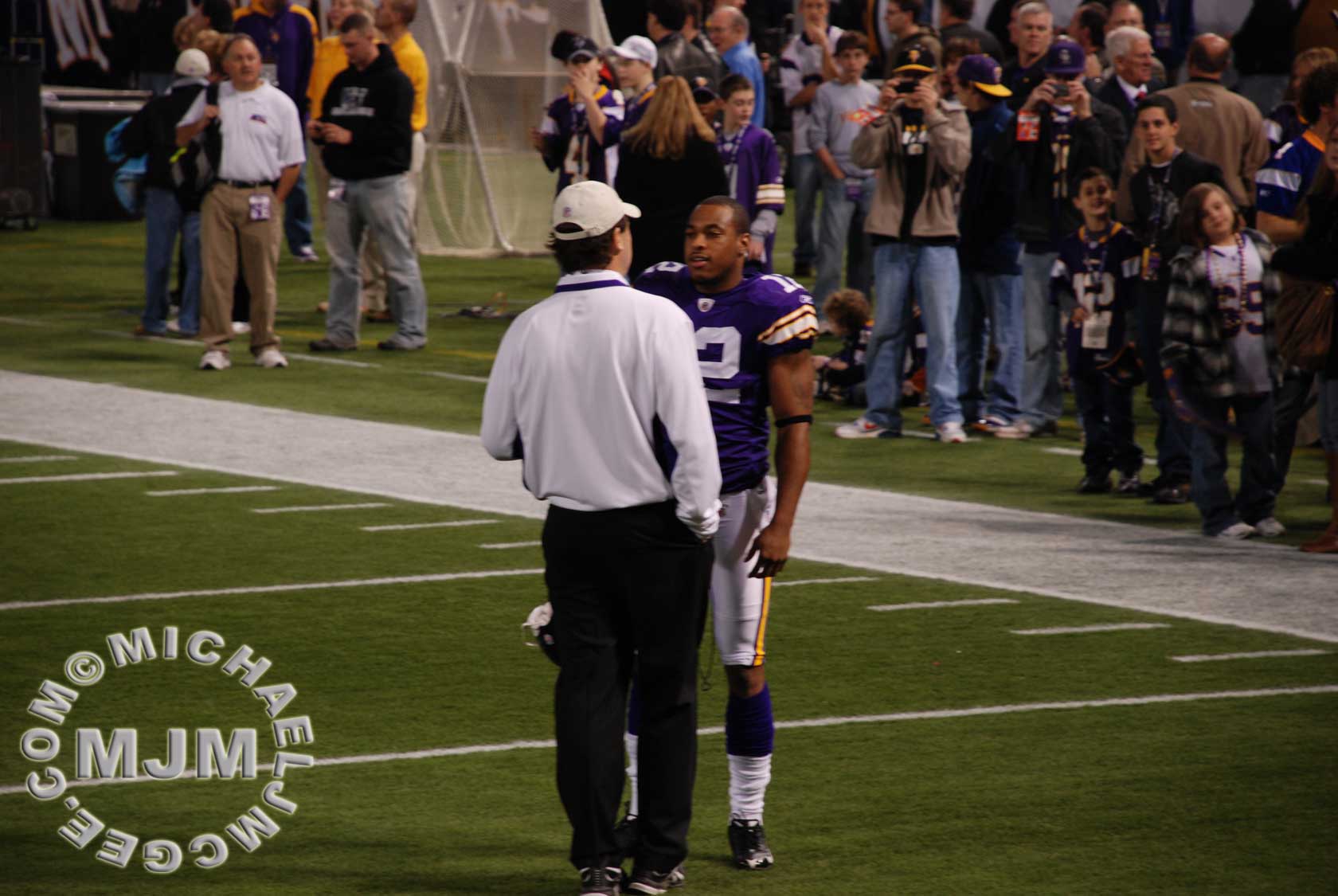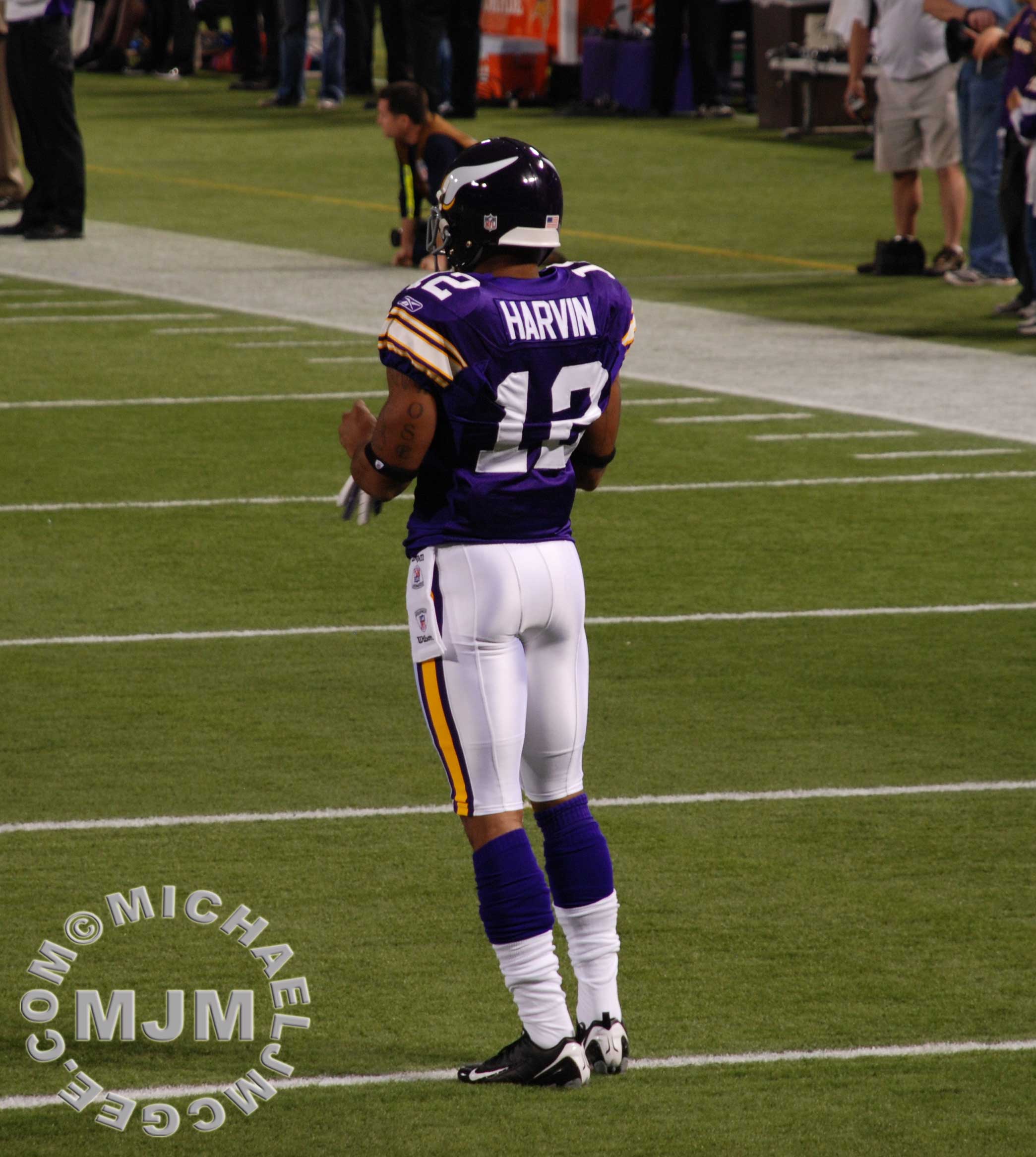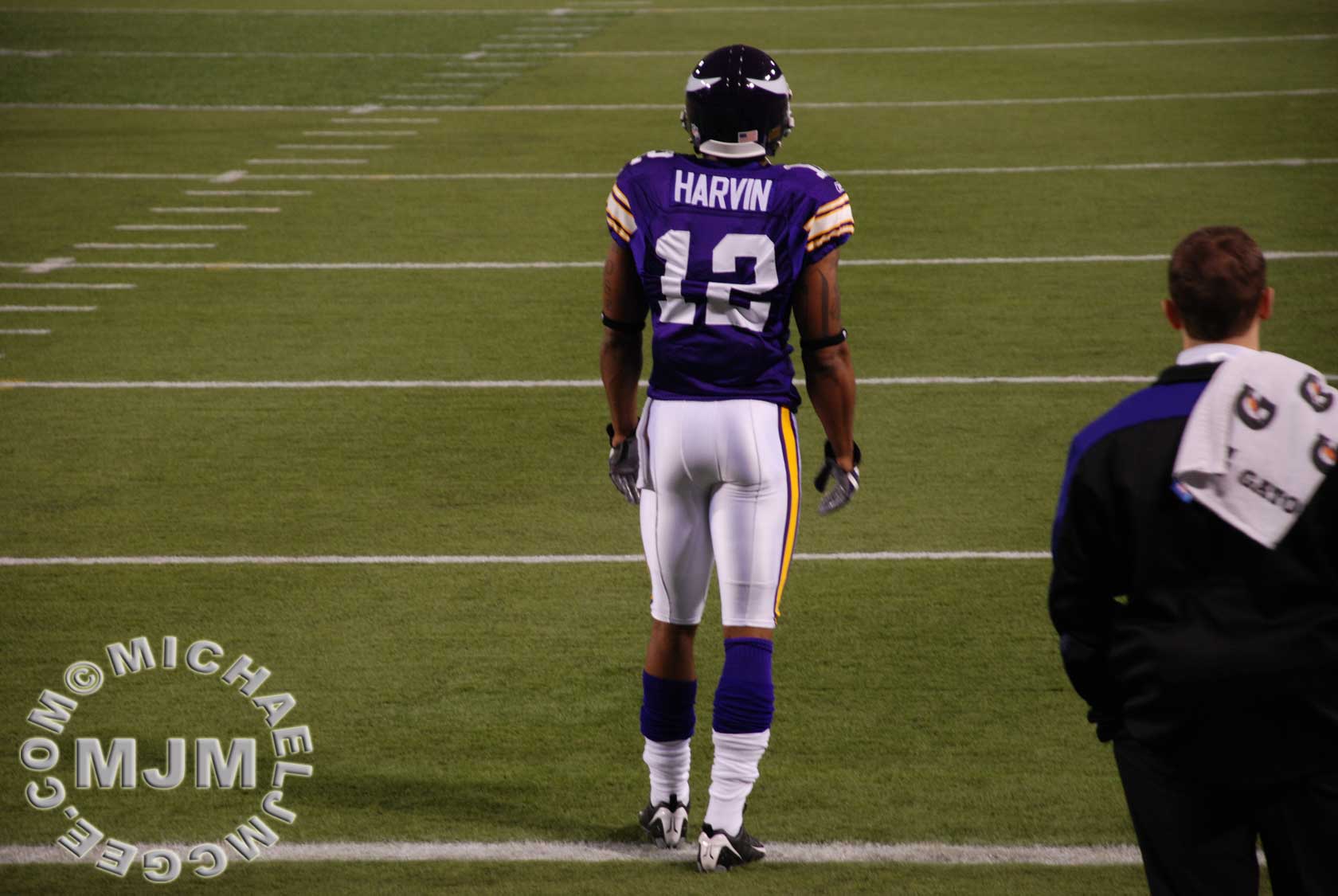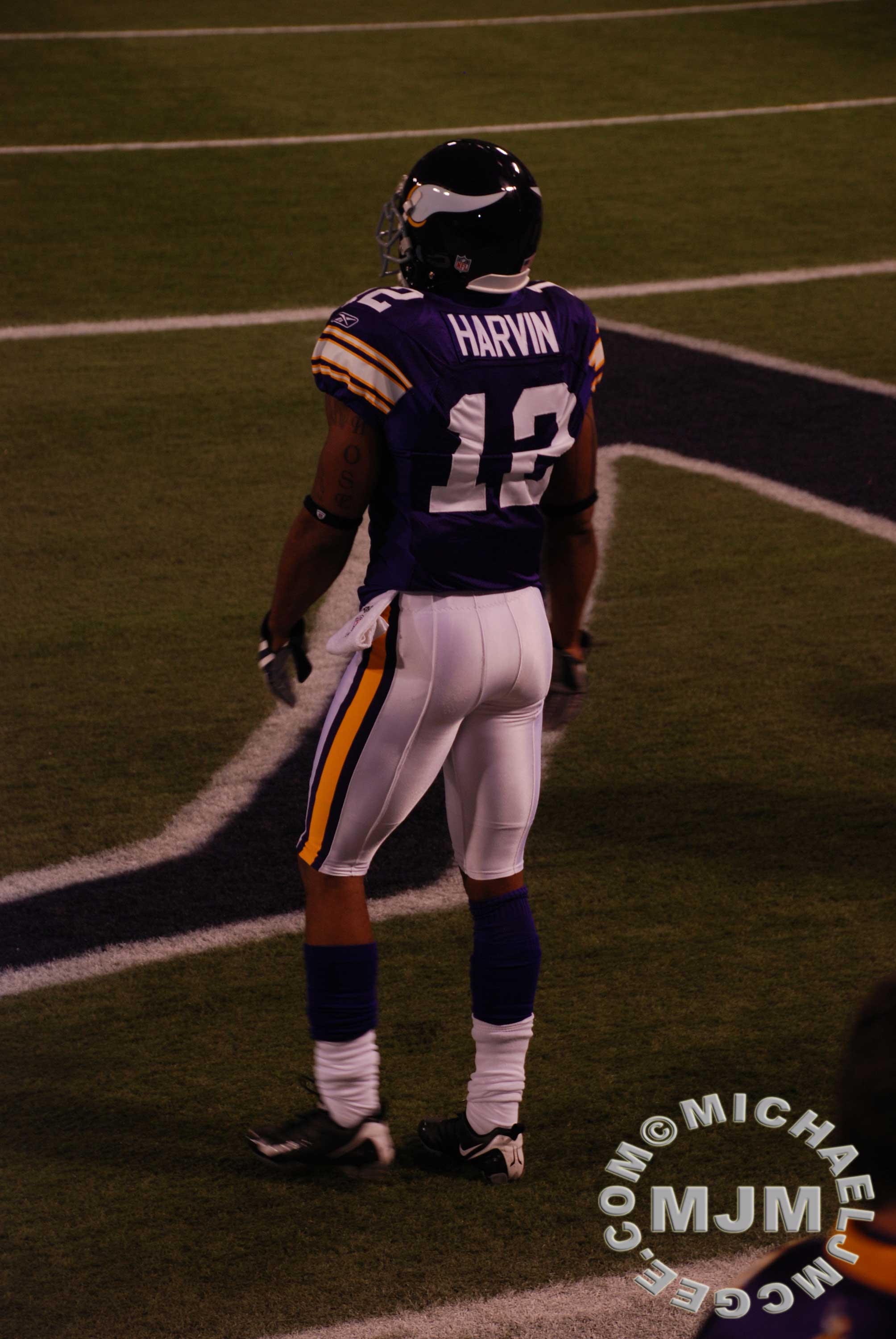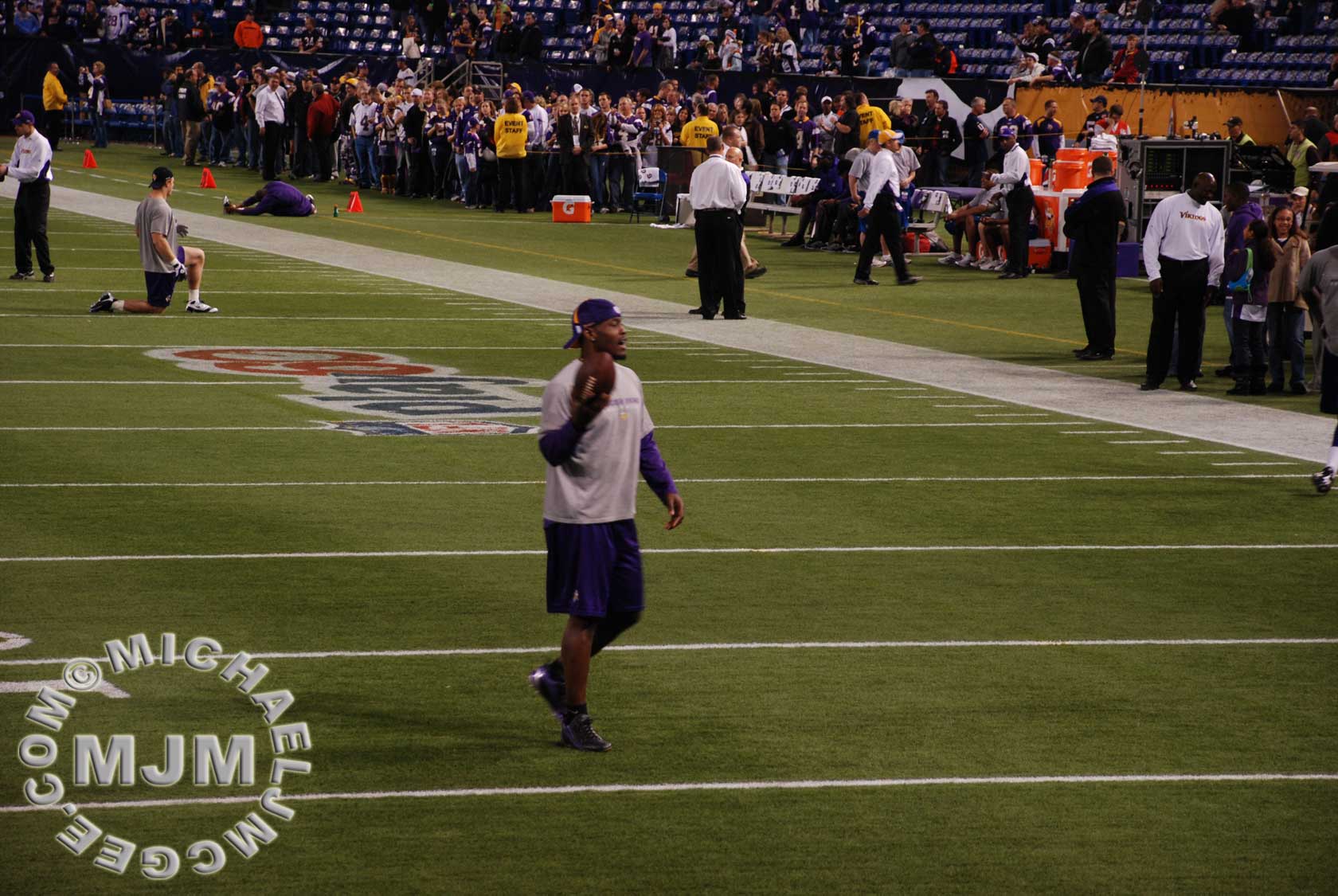 QB Travaris Jackson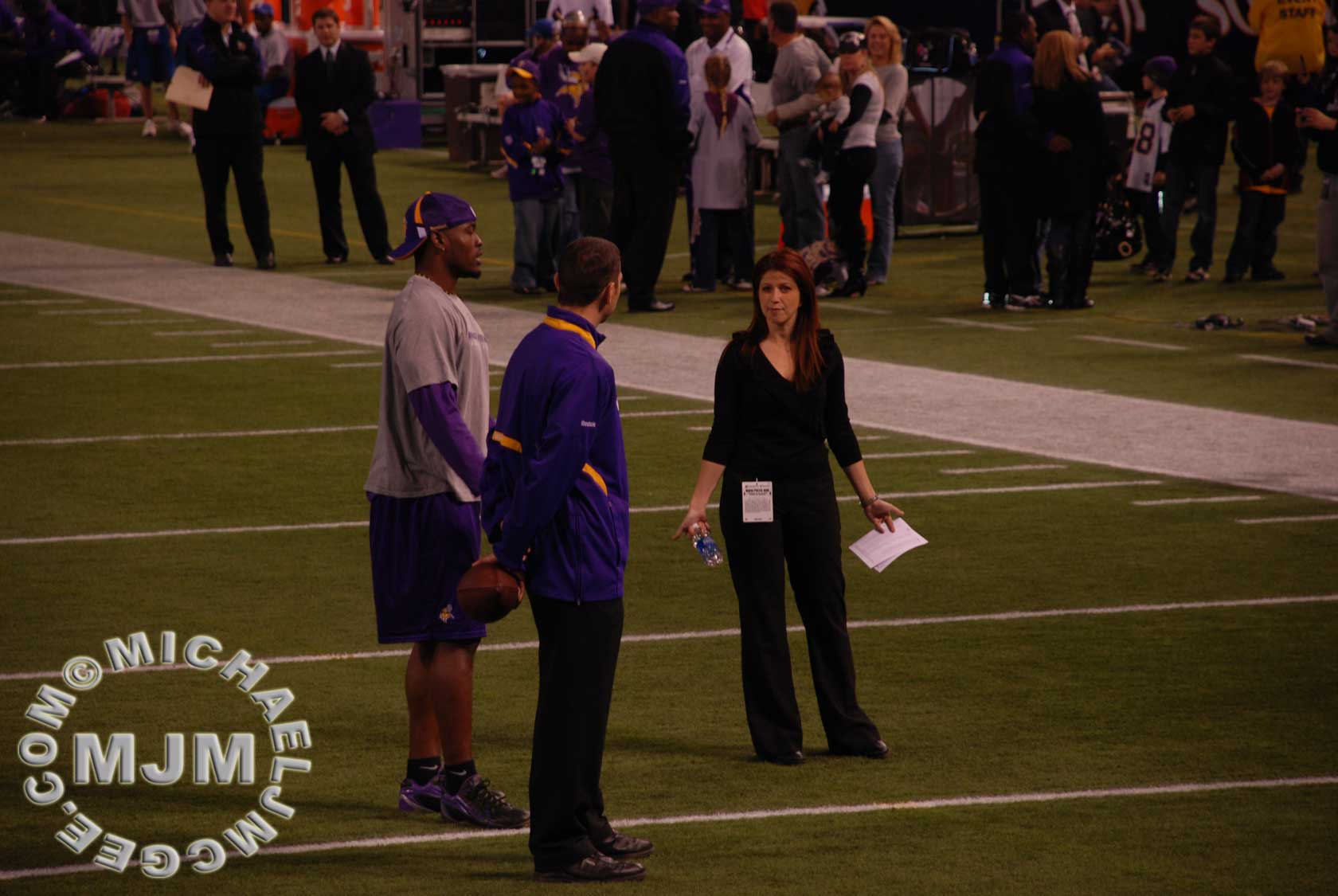 ESPN's Rachel Nichols chat T Jack and a Vikings staff member.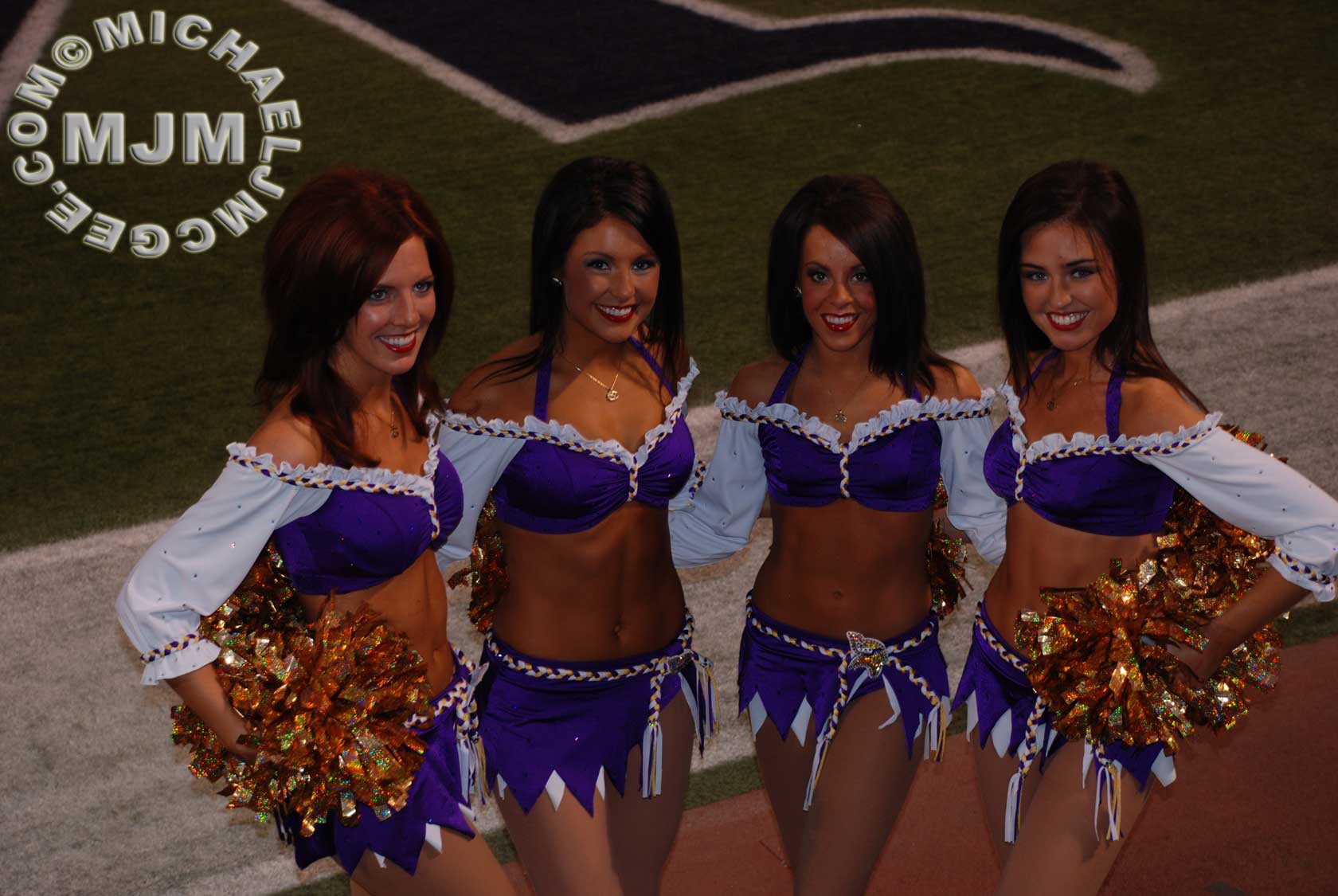 Hey Now!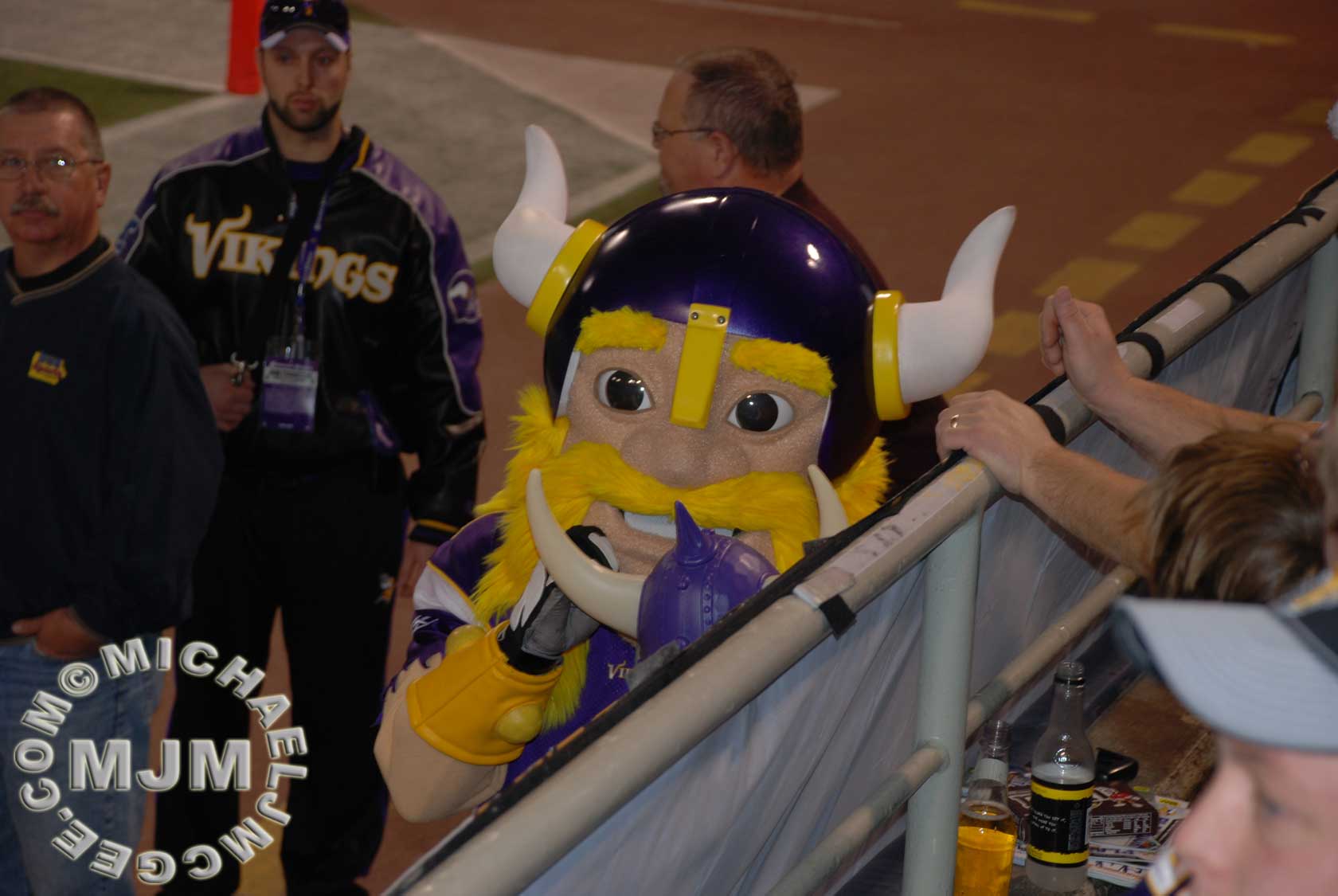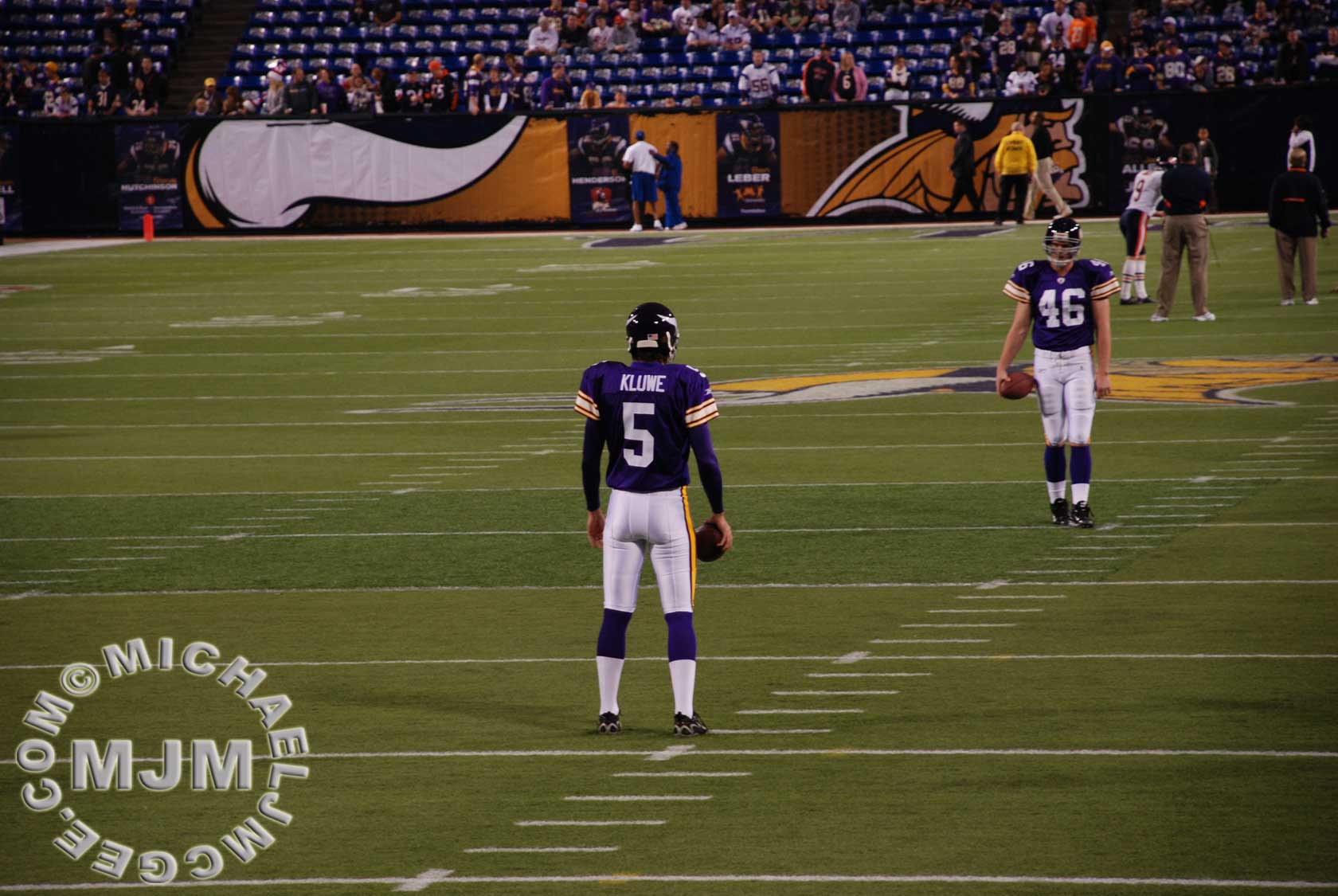 P Chris Kluwe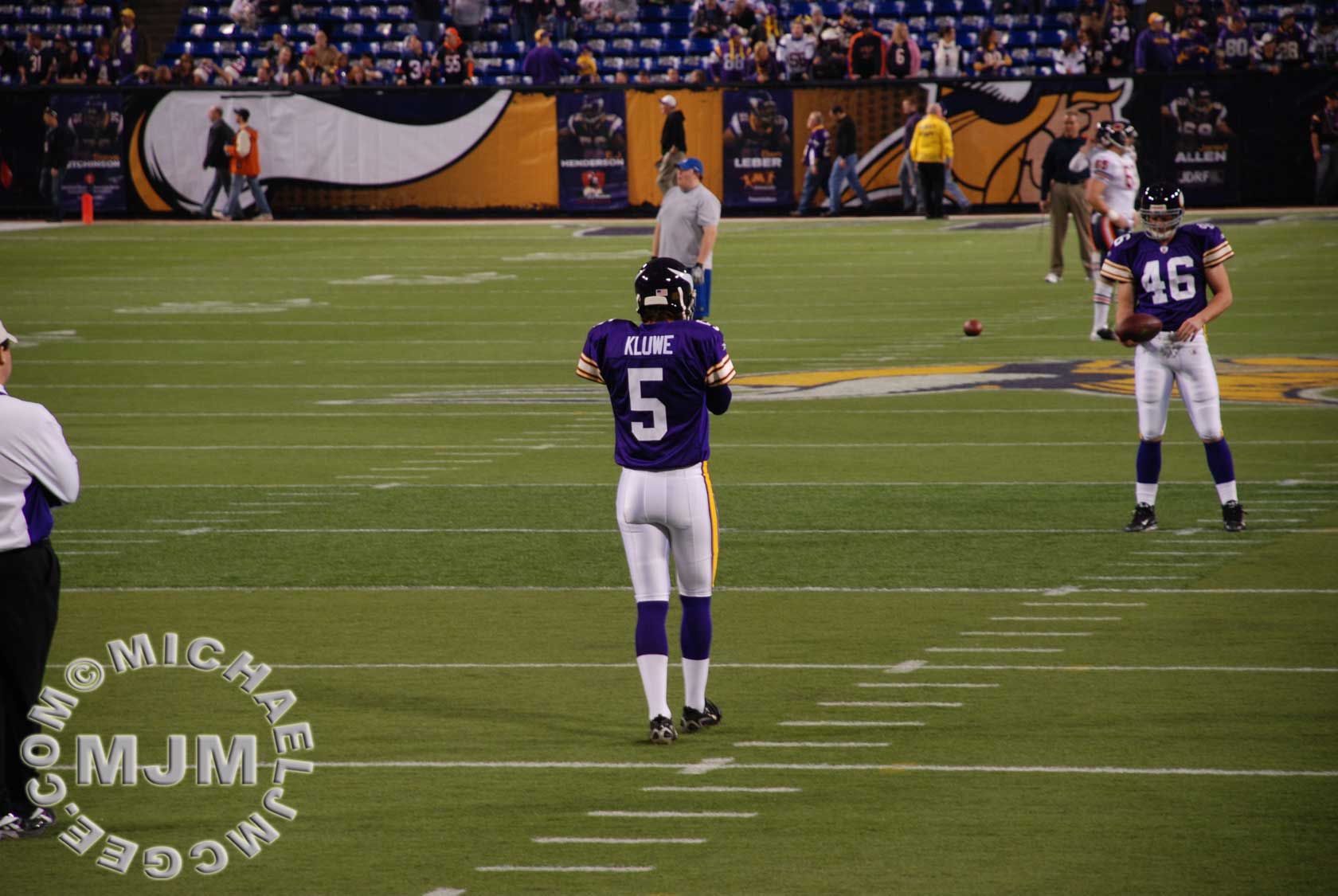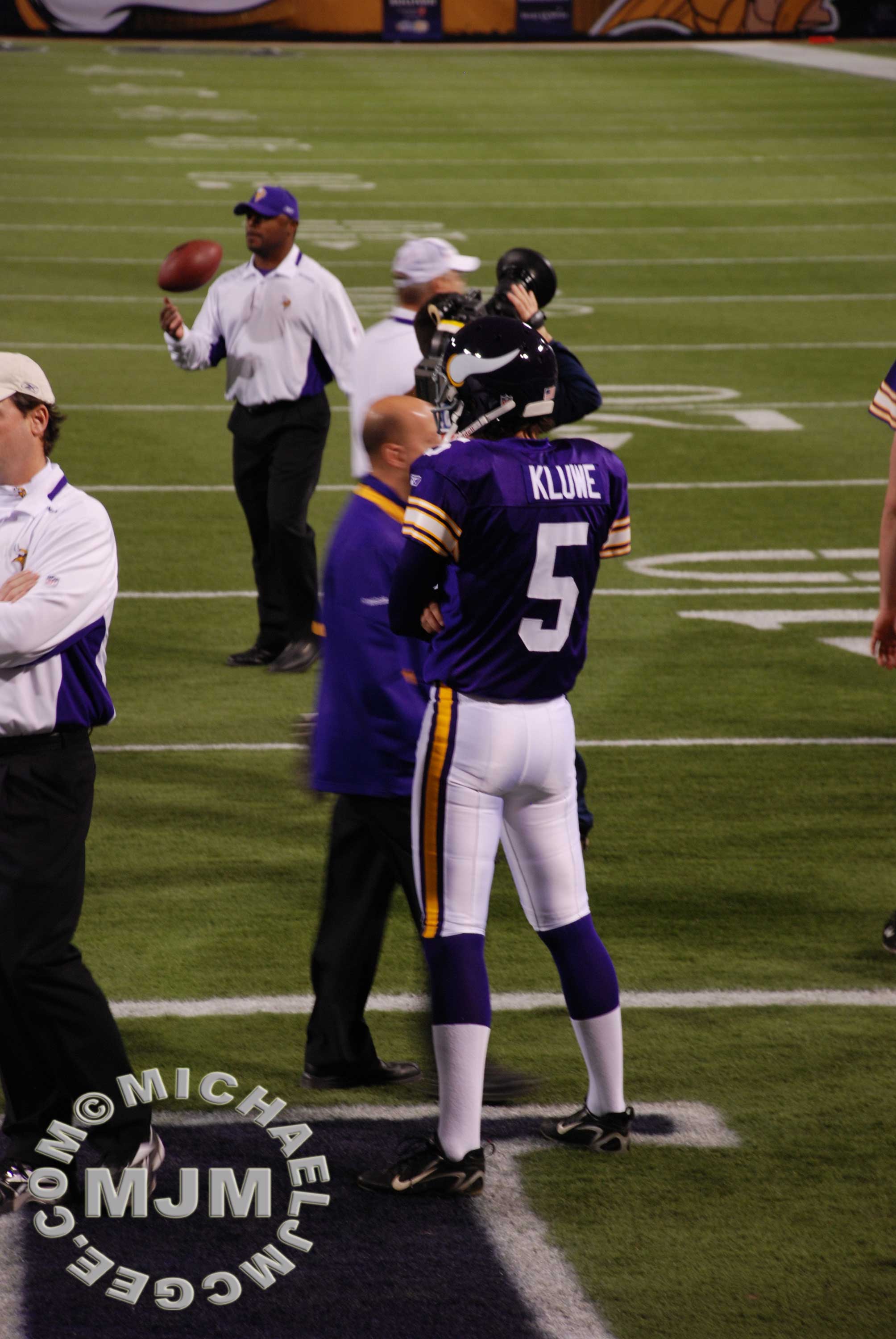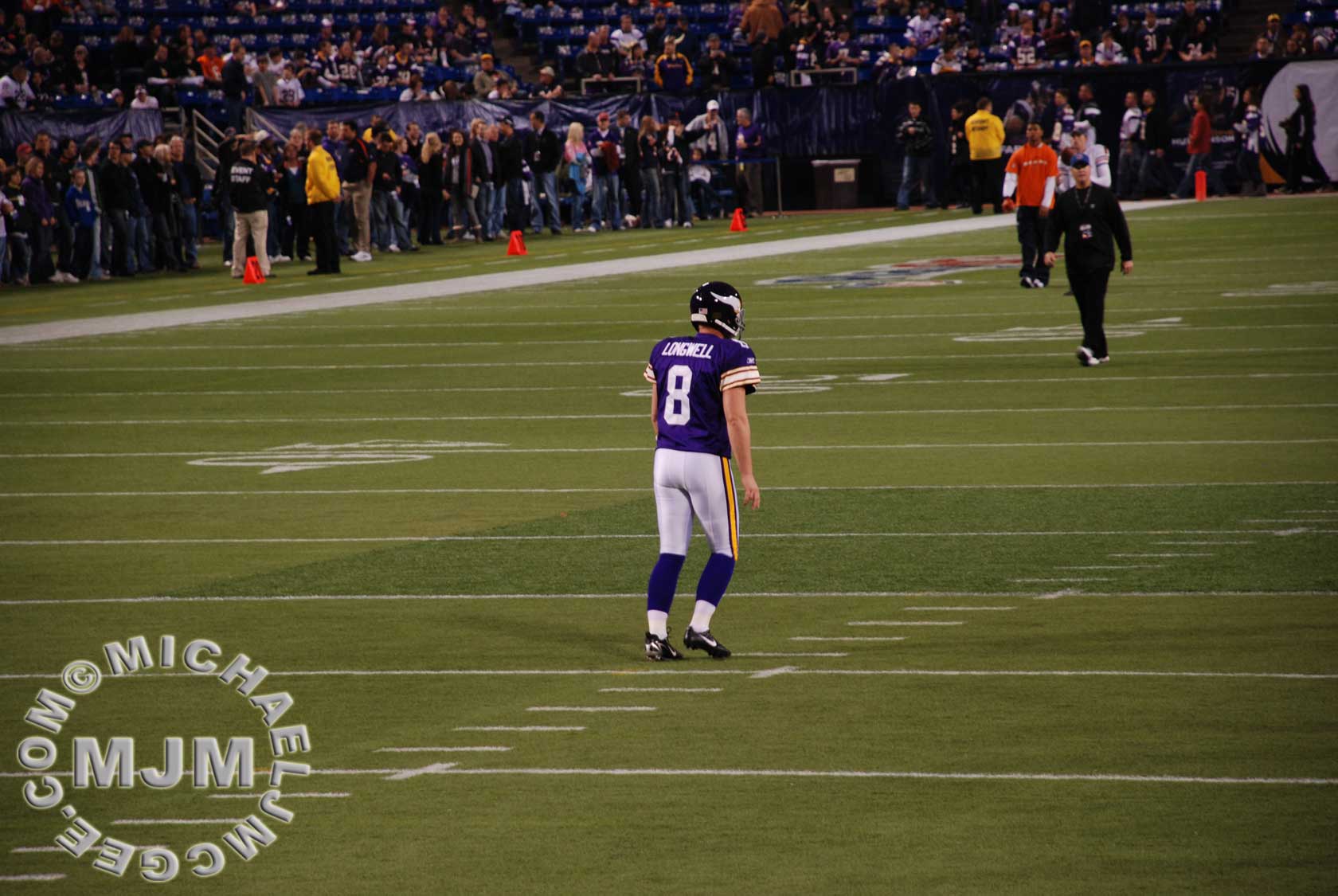 K Ryan Longwell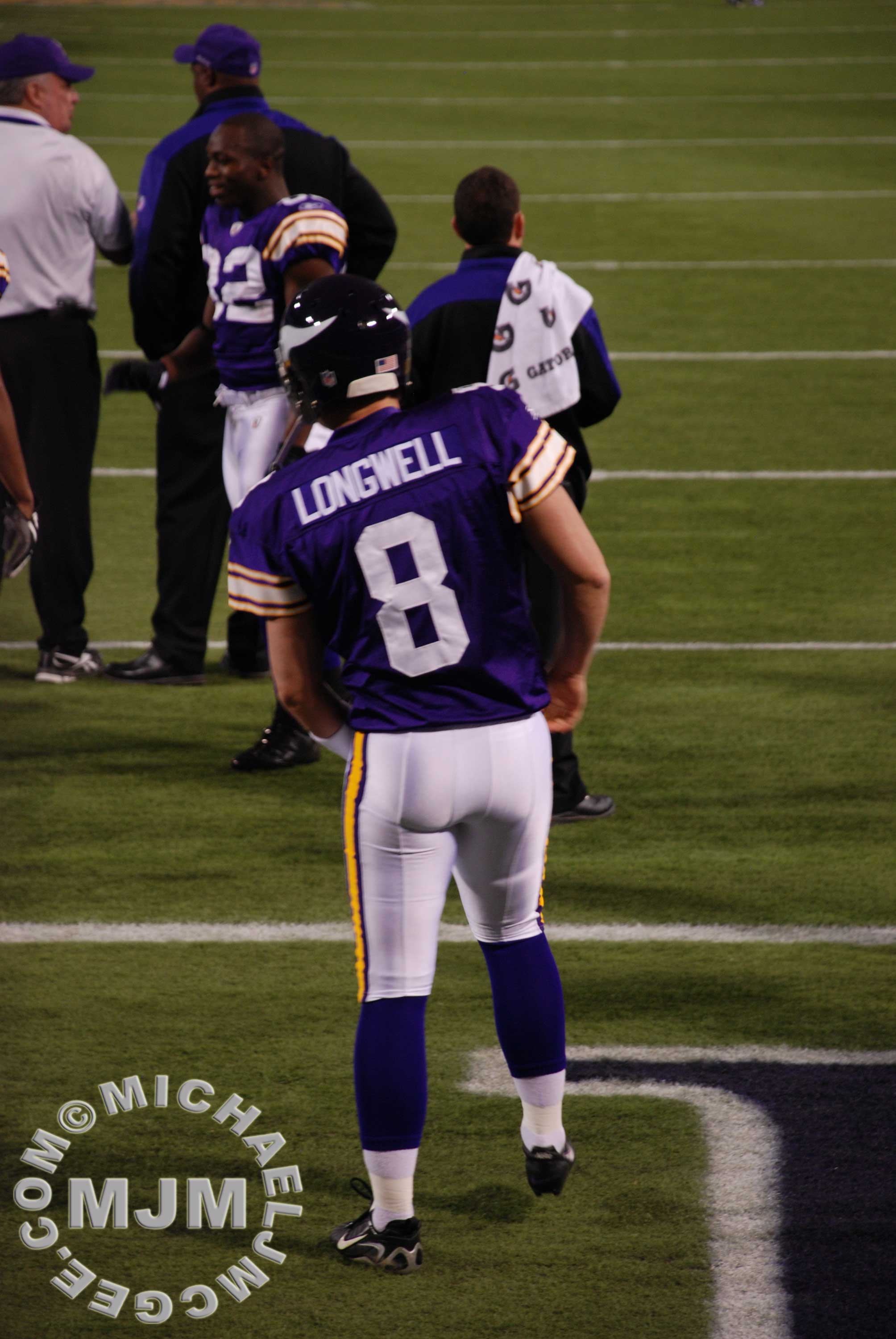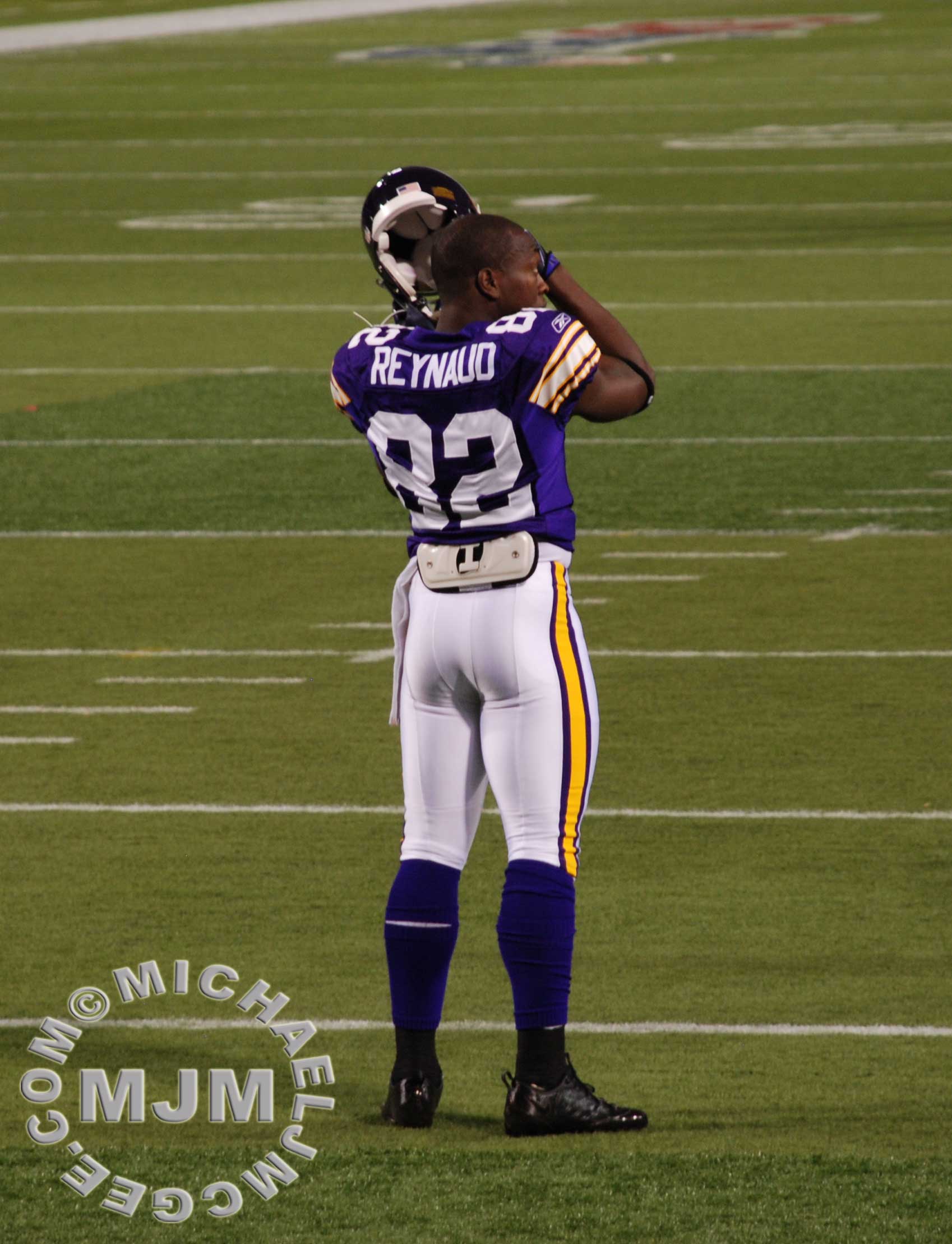 PR Darius Reynaud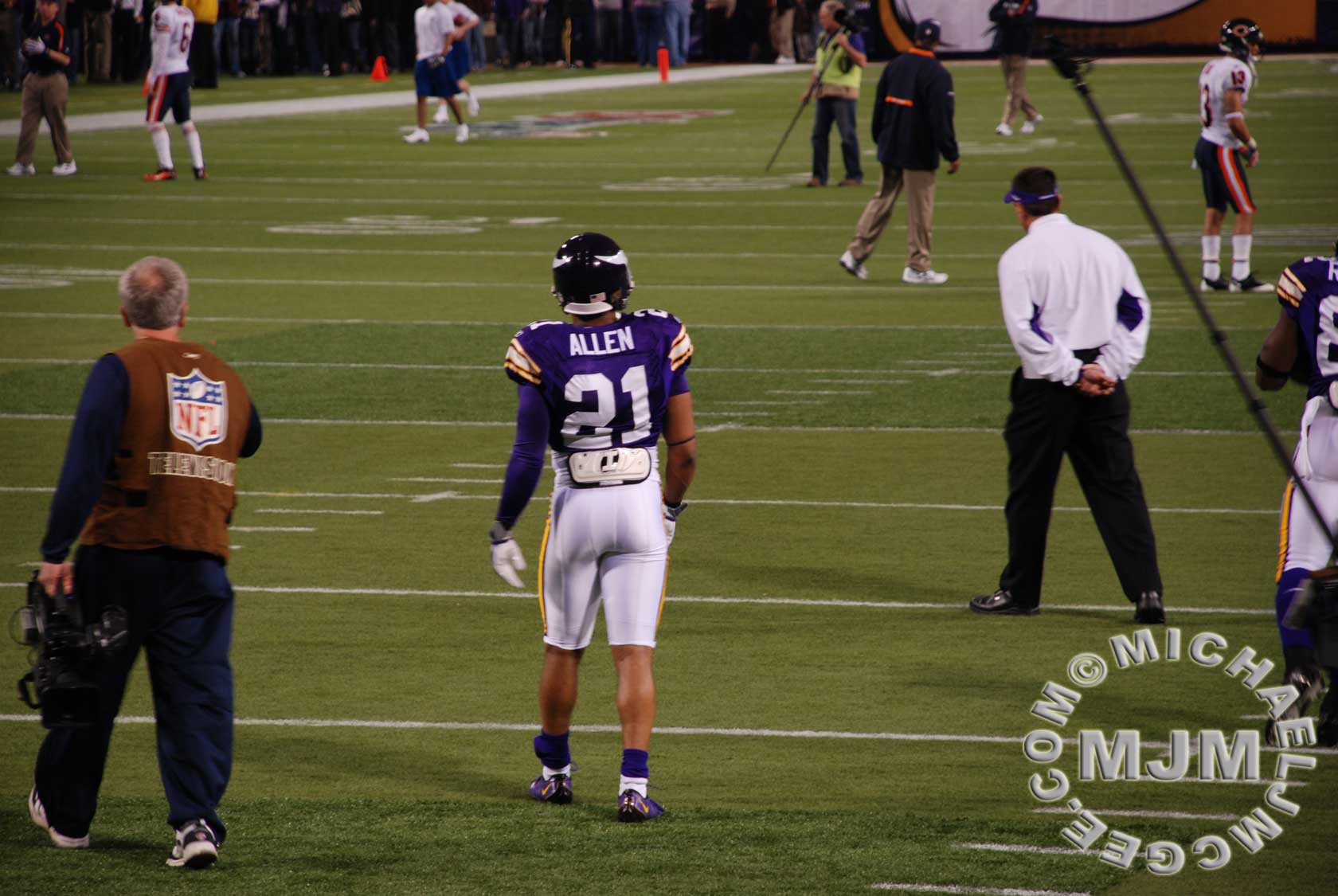 CB Asher Allen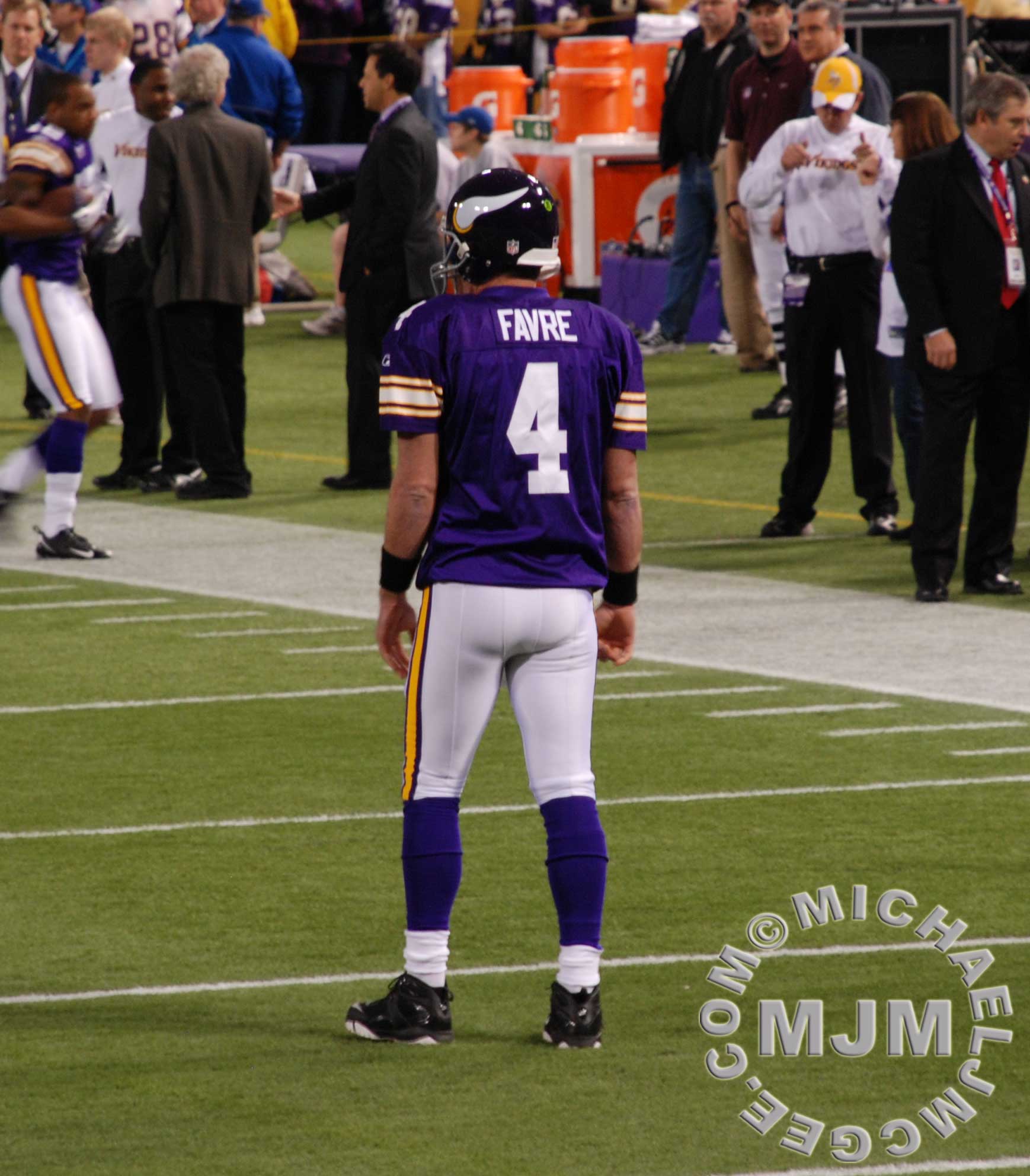 Still can't believe he is a Viking!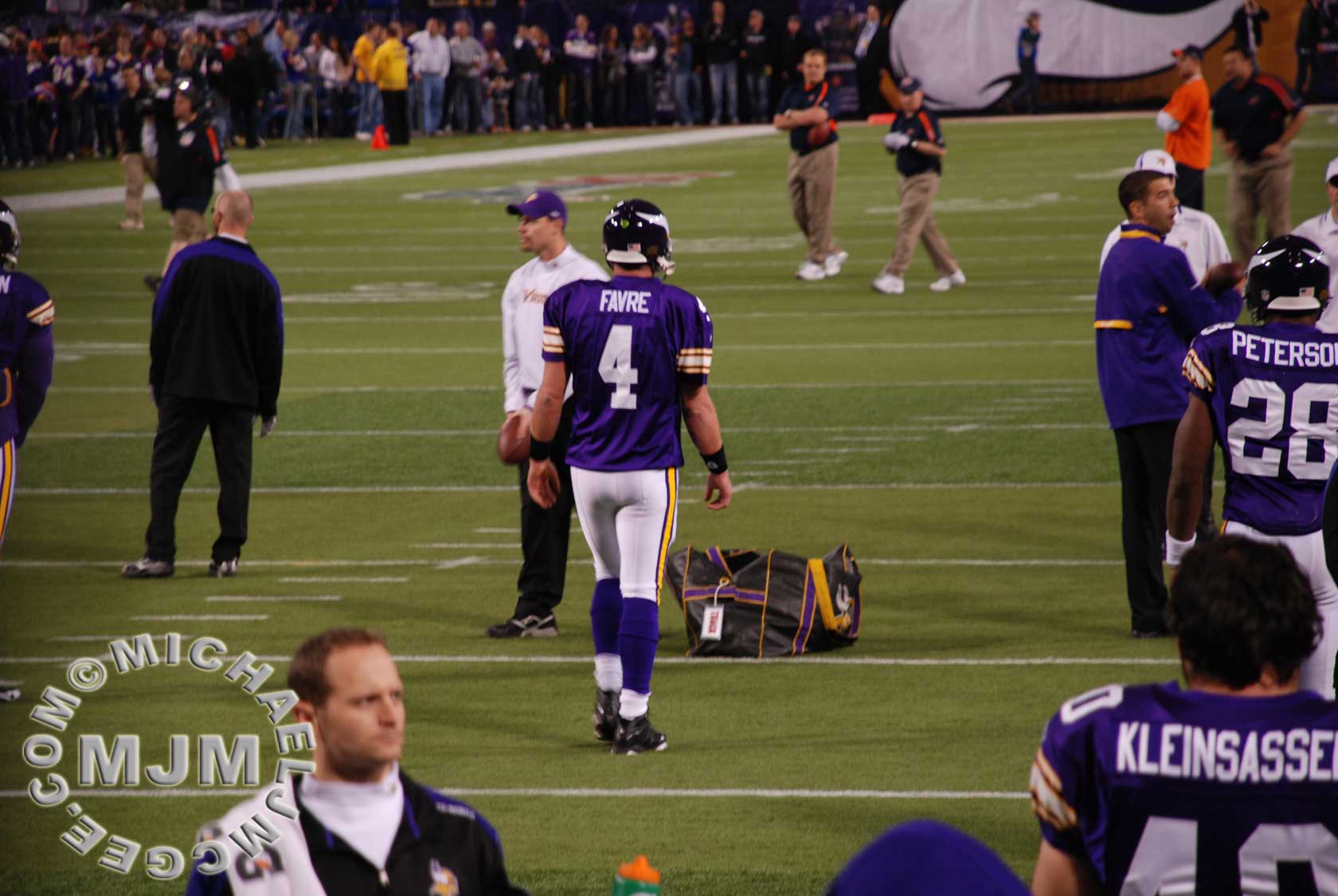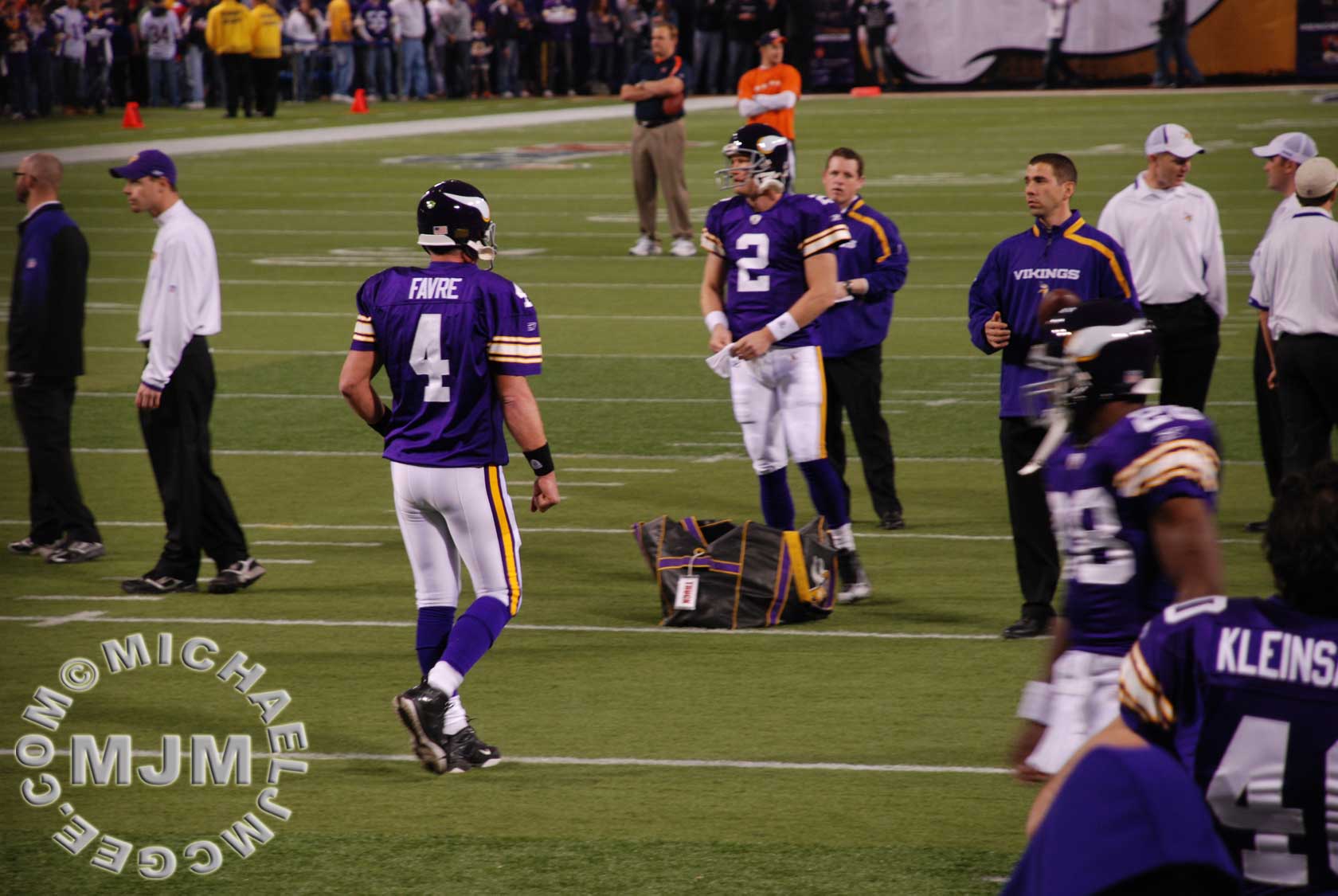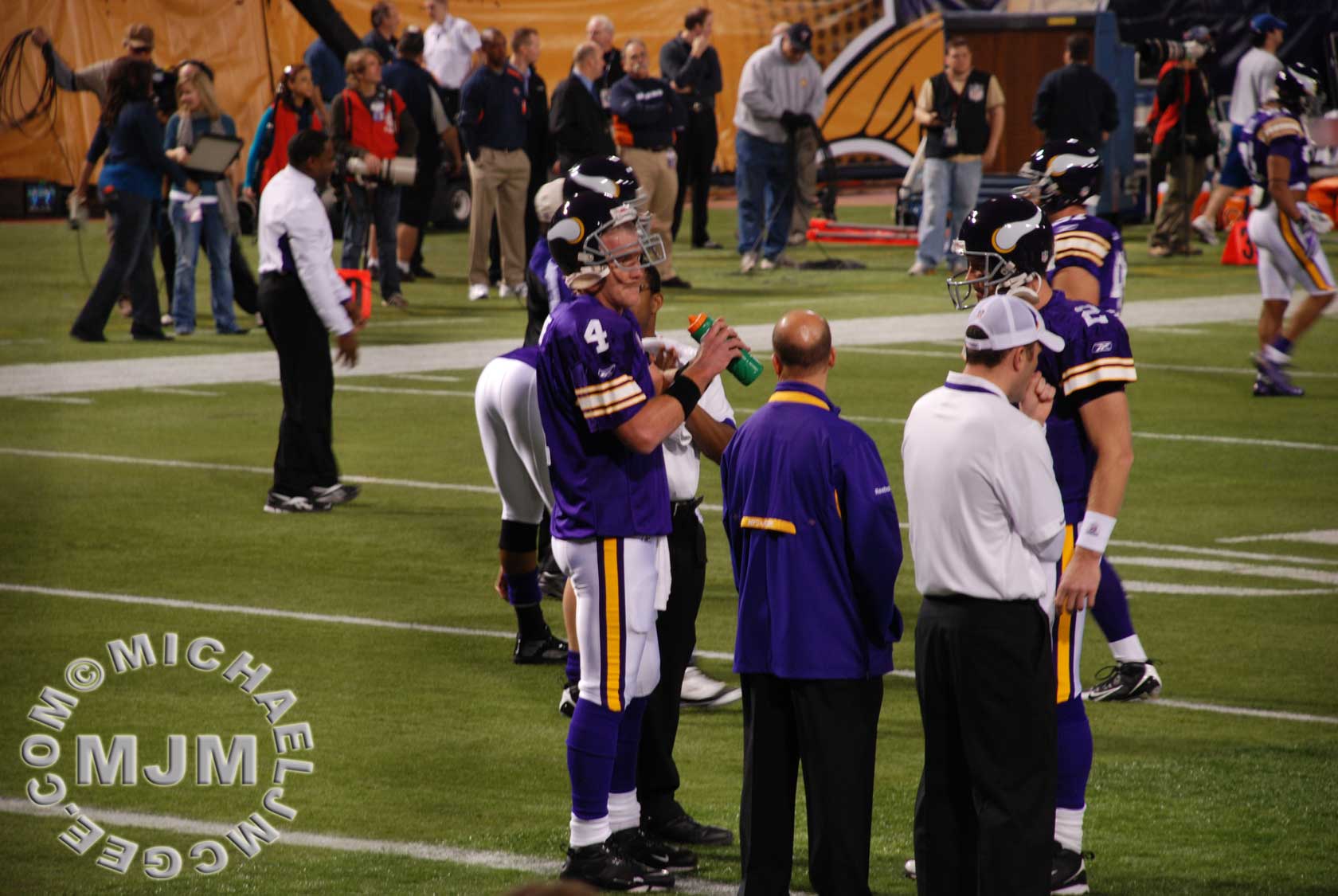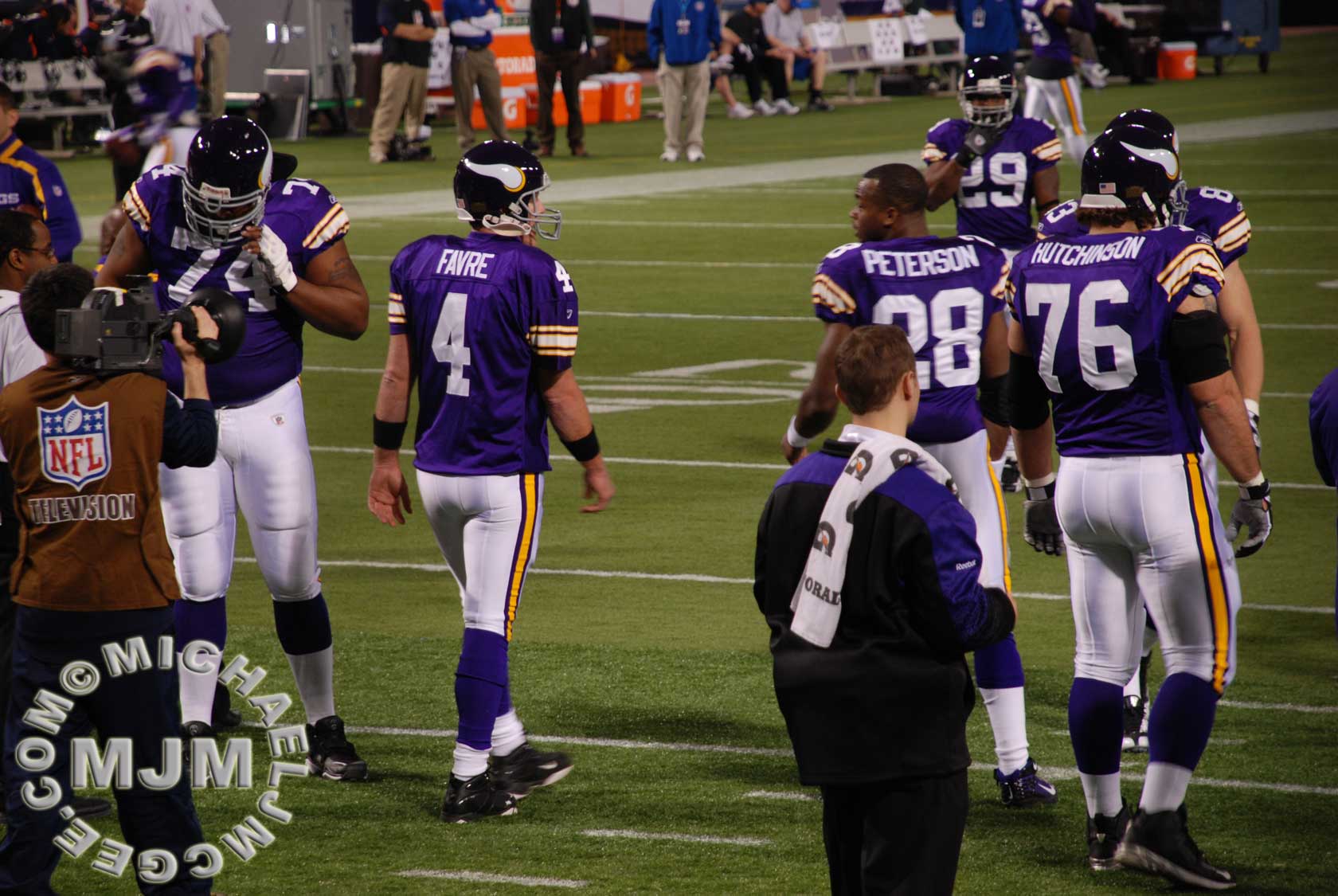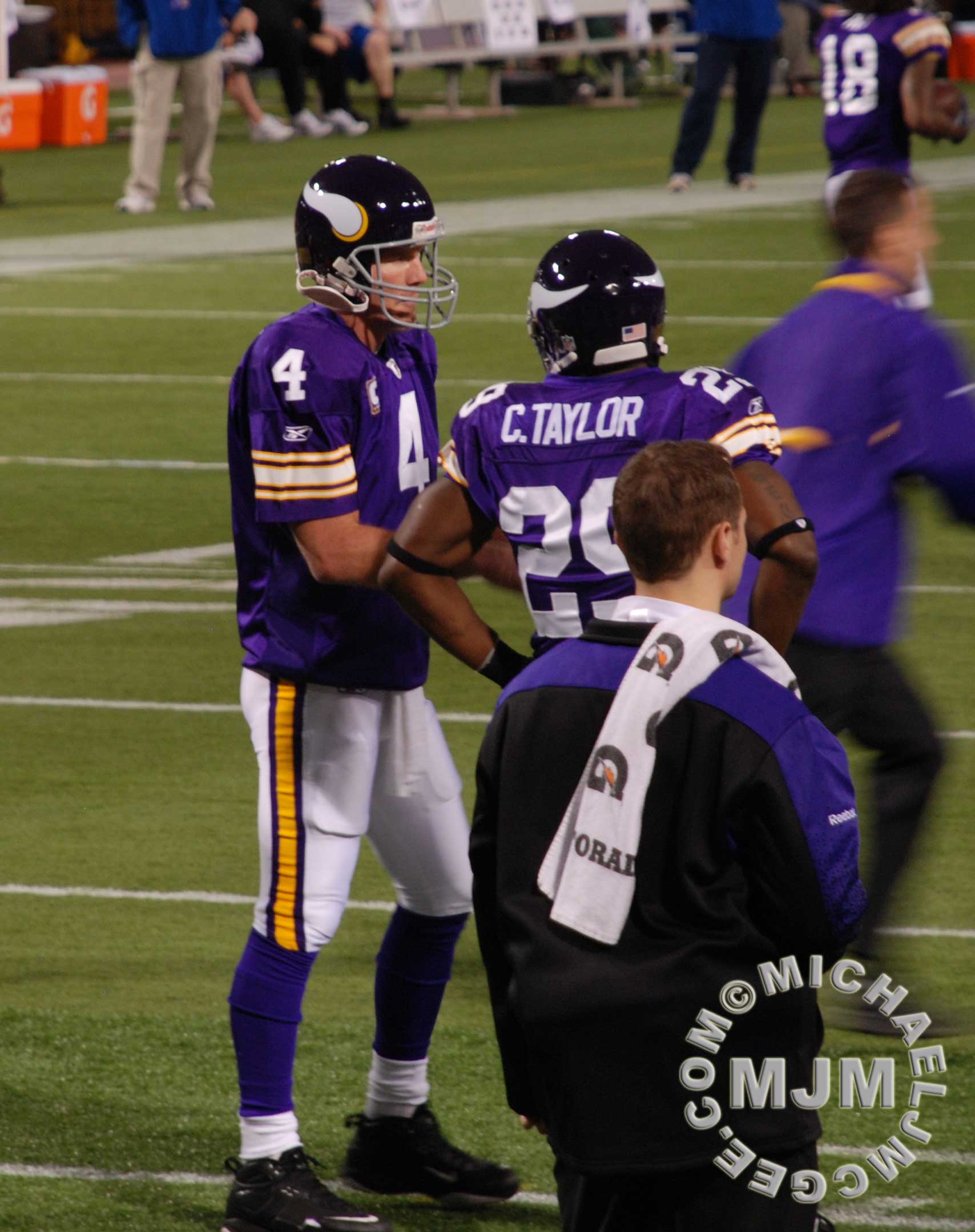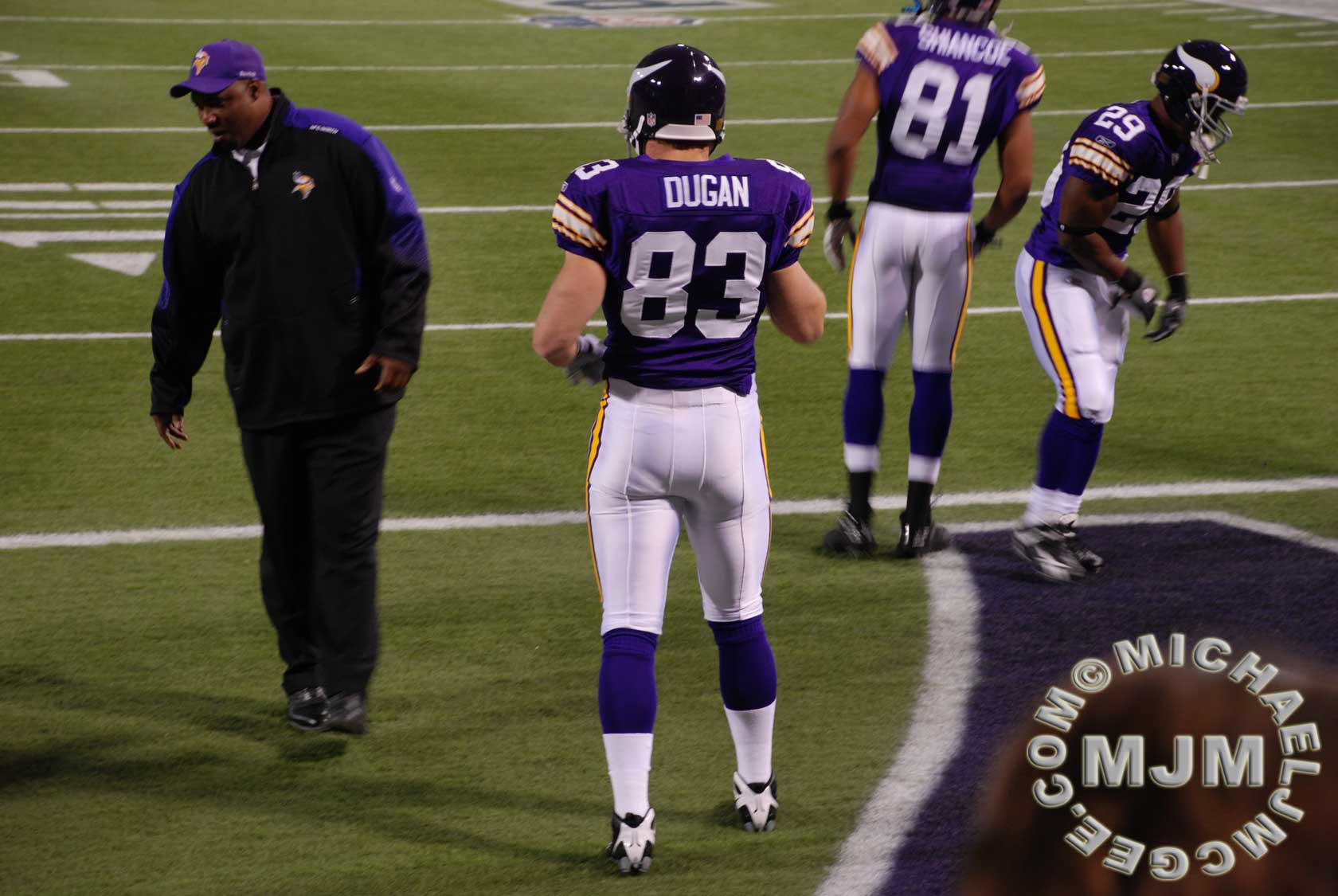 TE/FB Jeff Dugan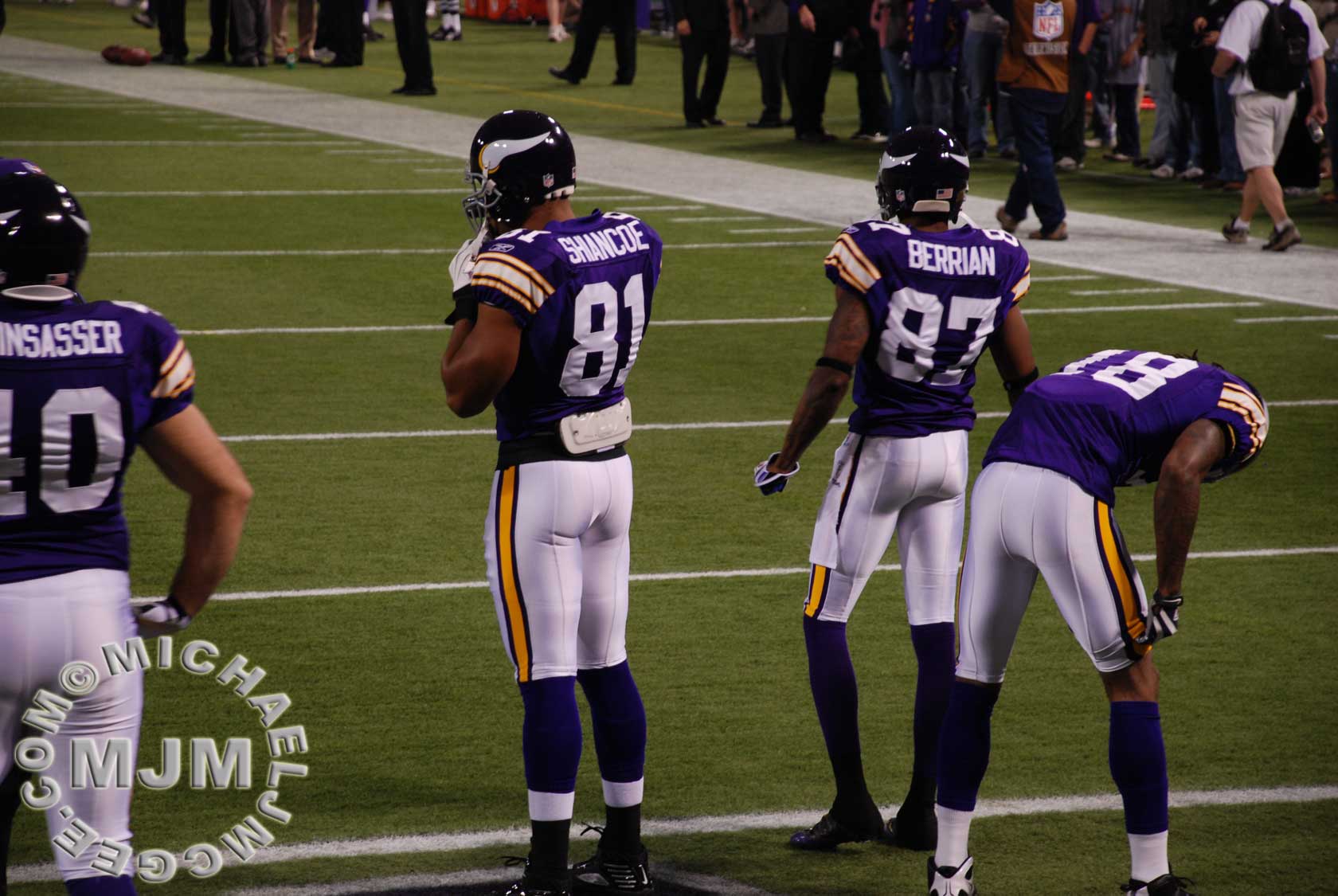 Receivers warm up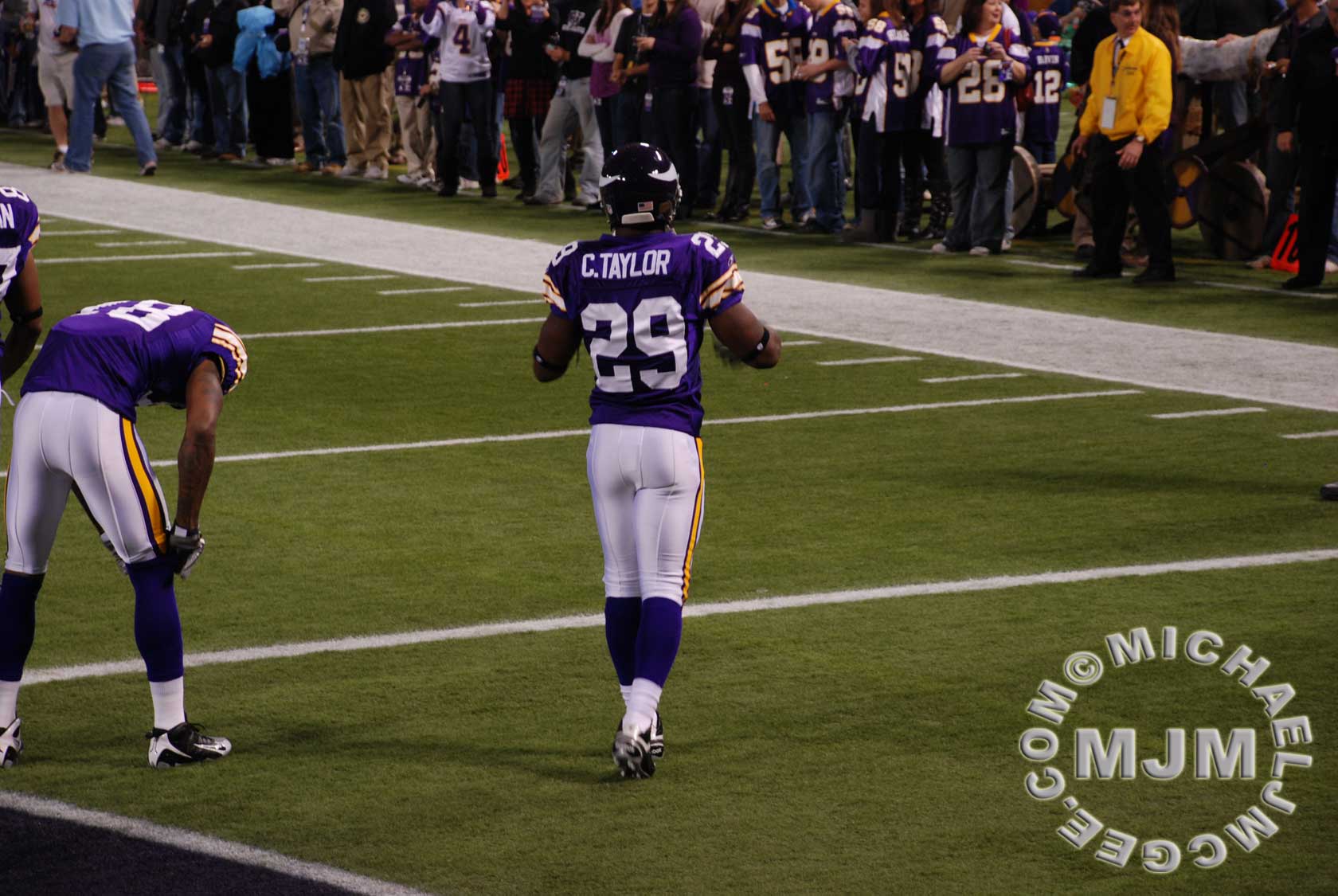 RB Chester Taylor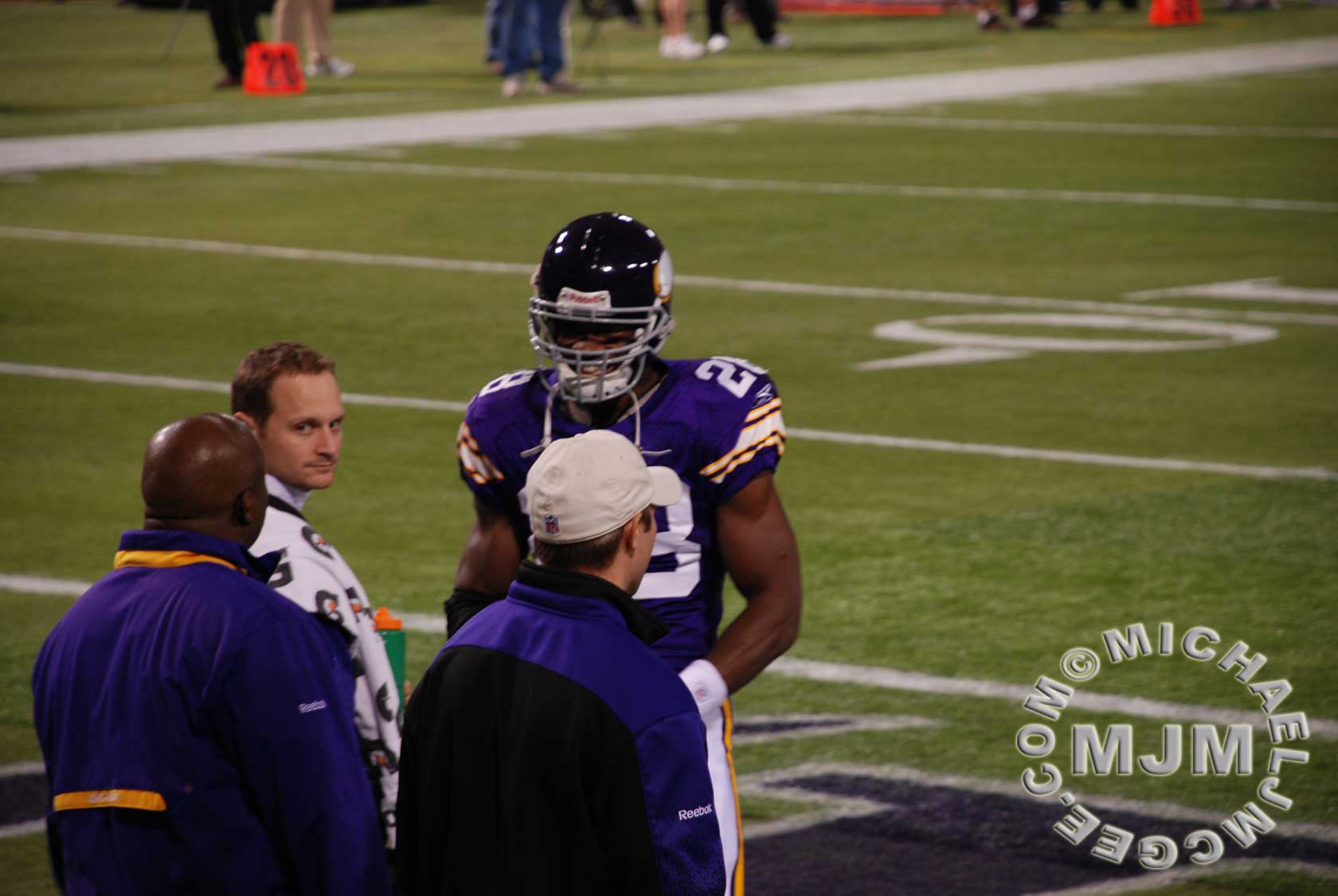 Star RB Adrian Peterson warms up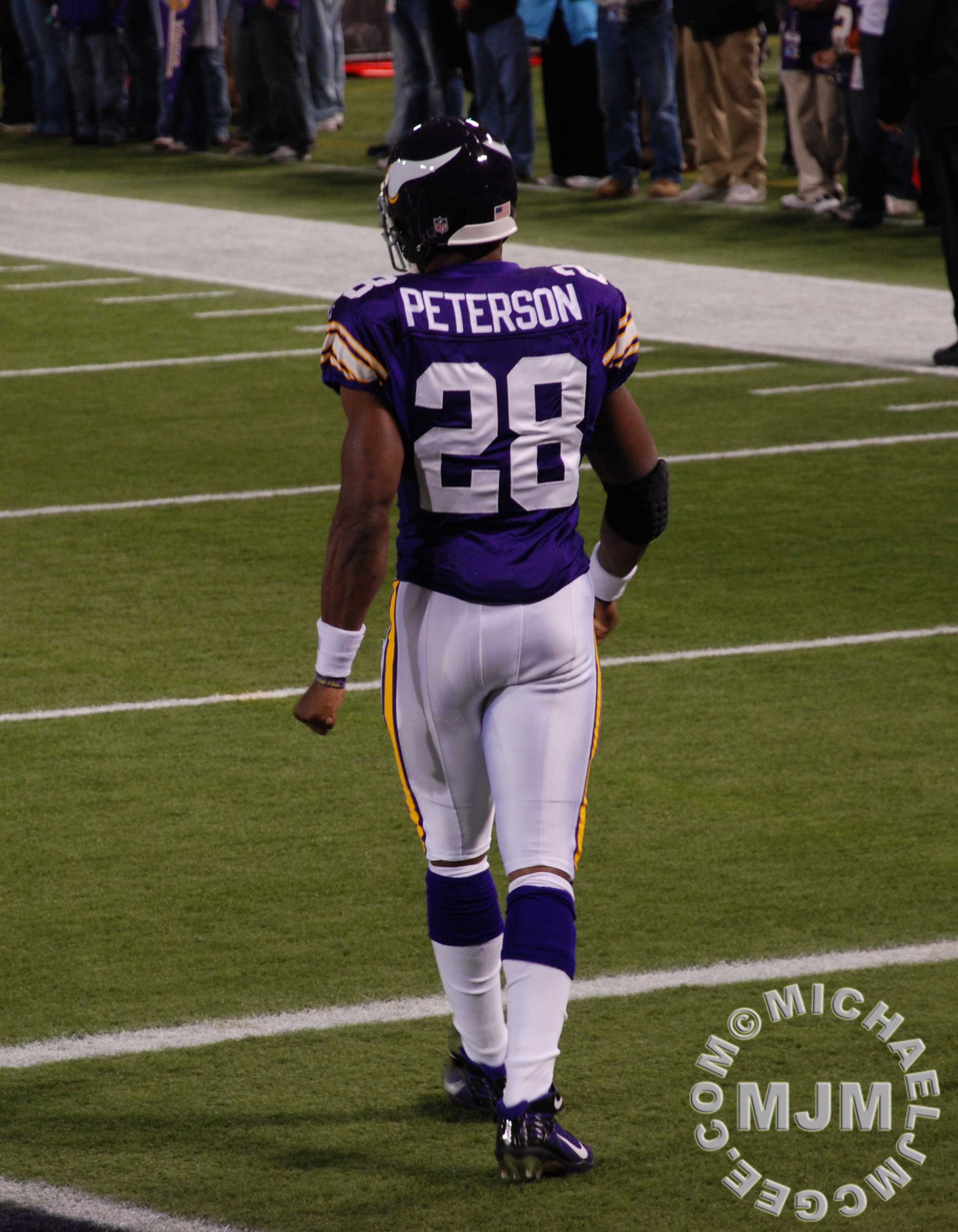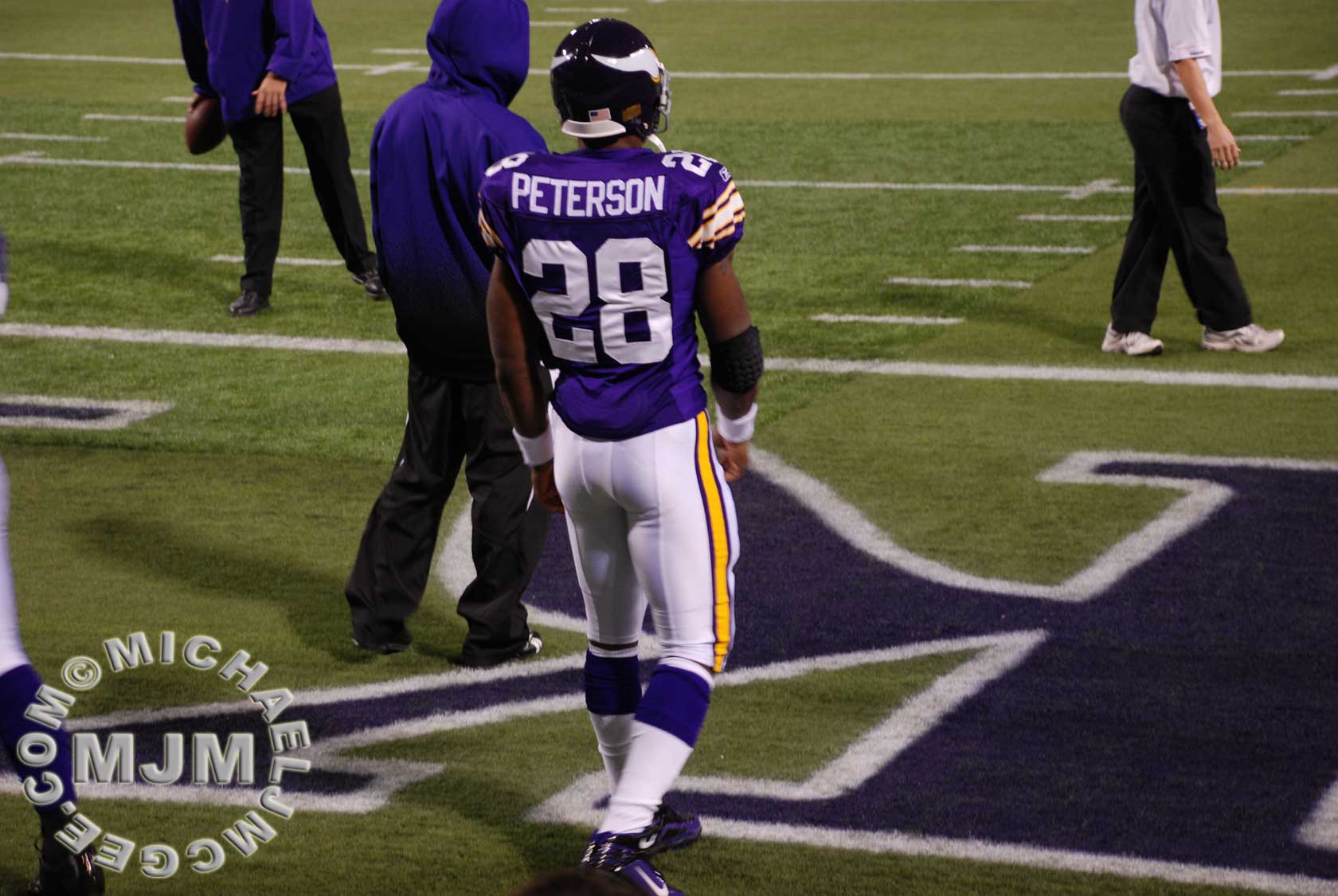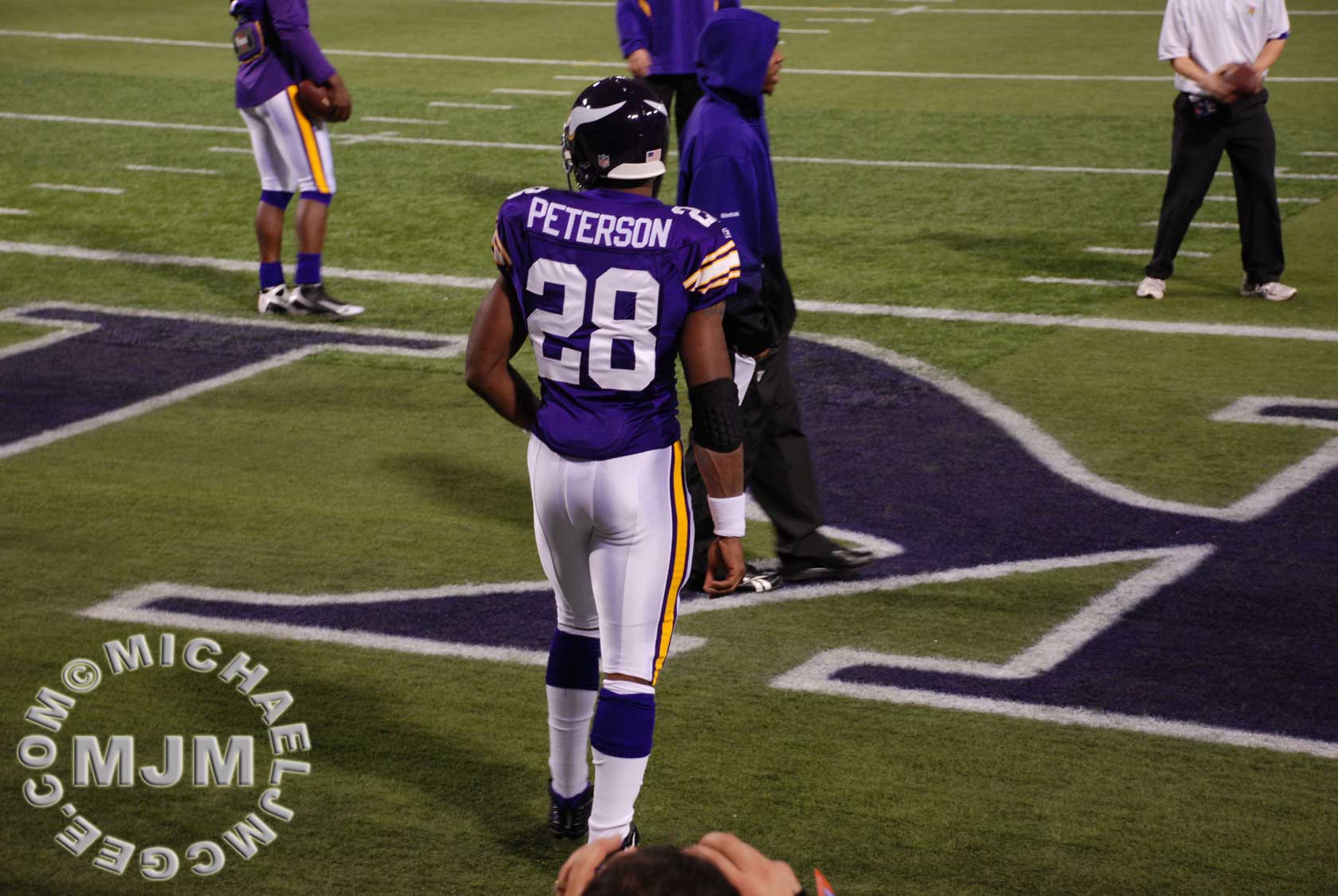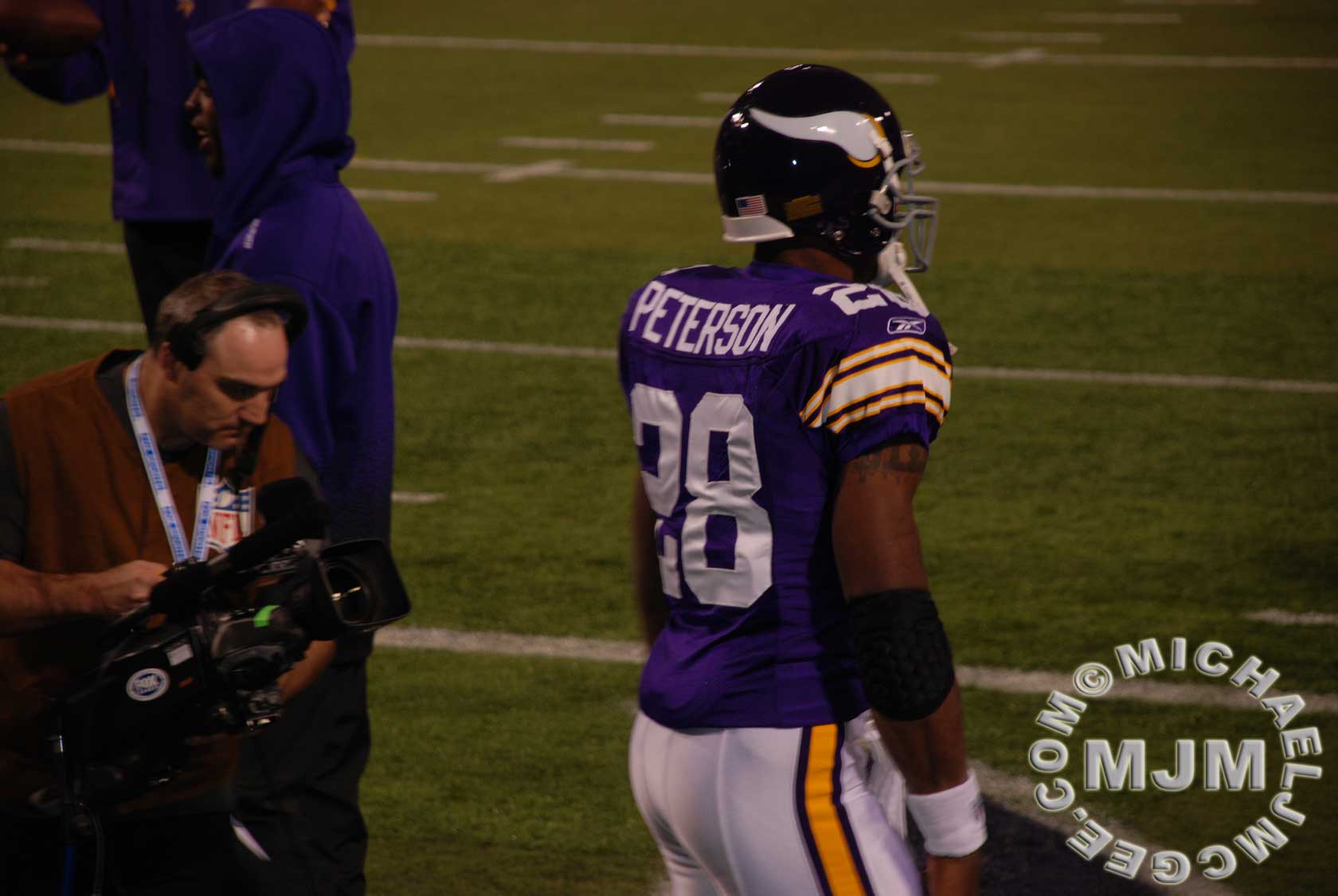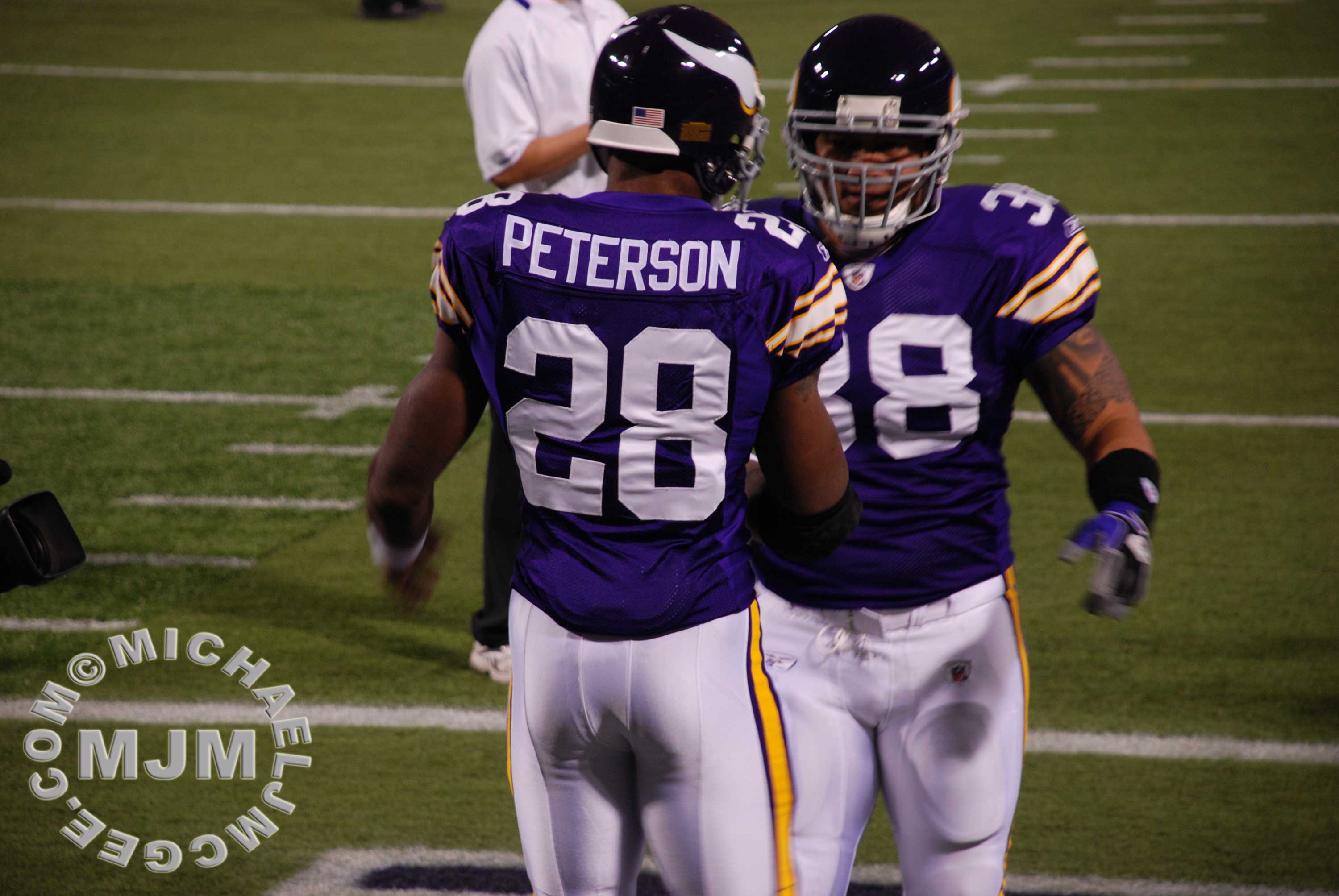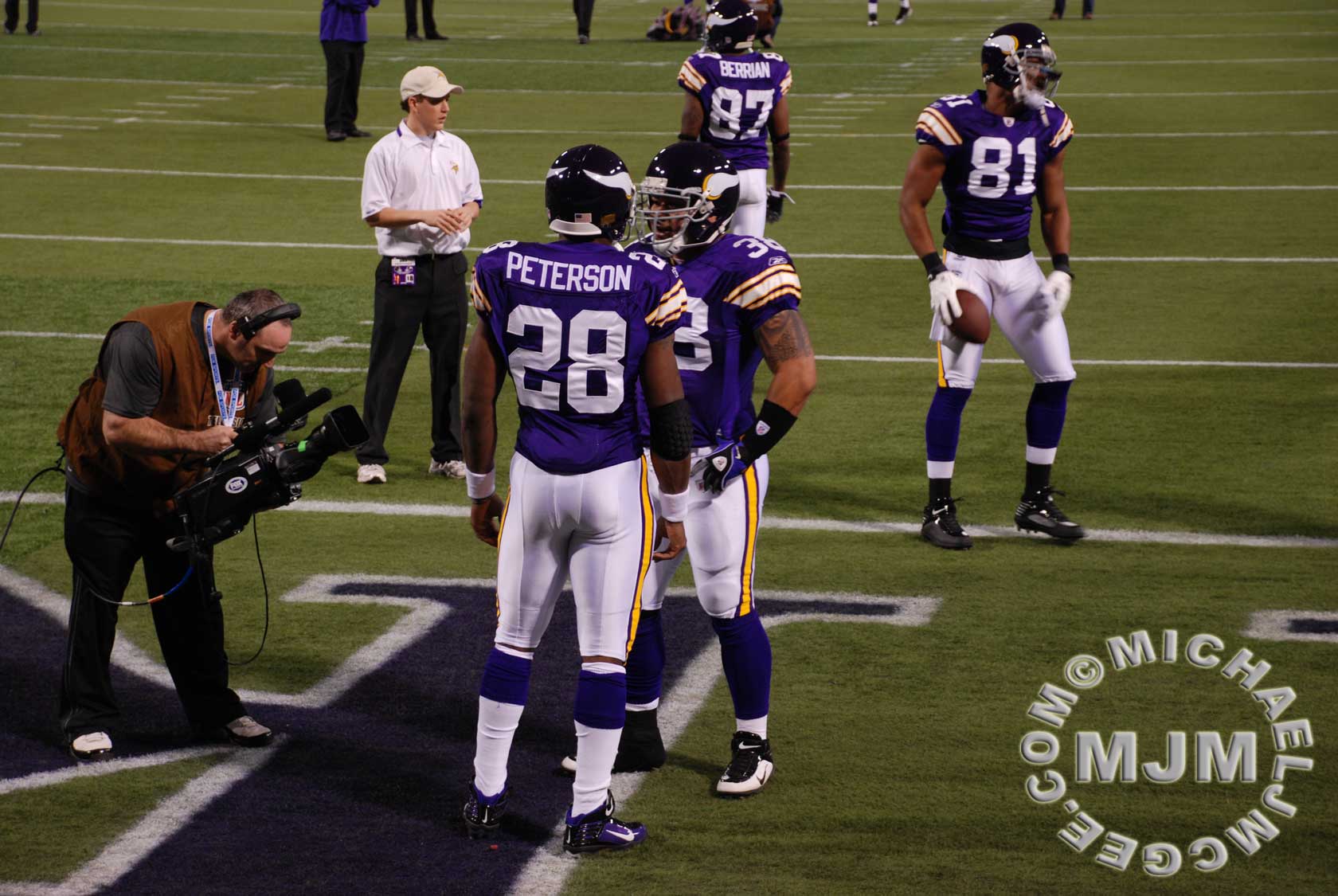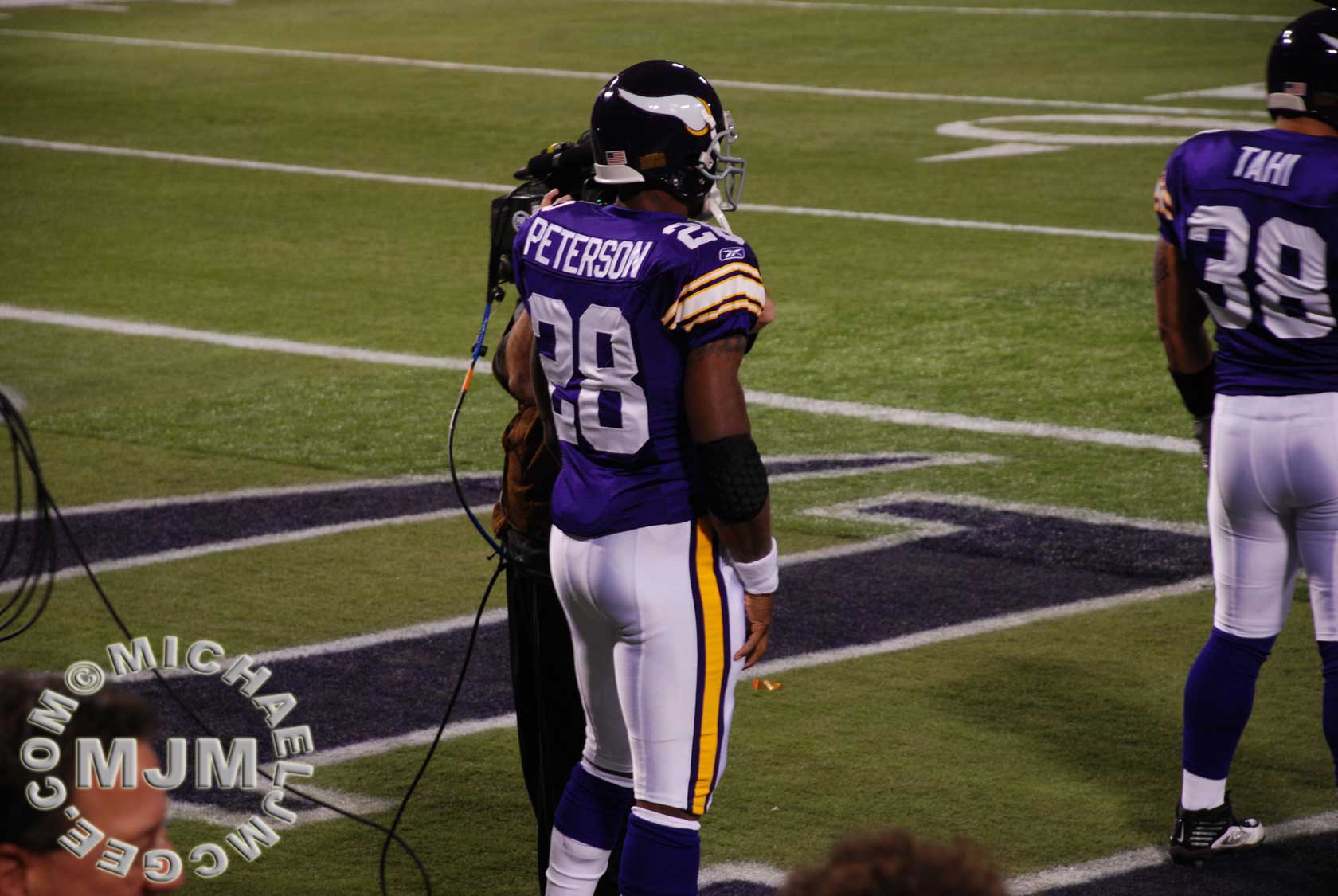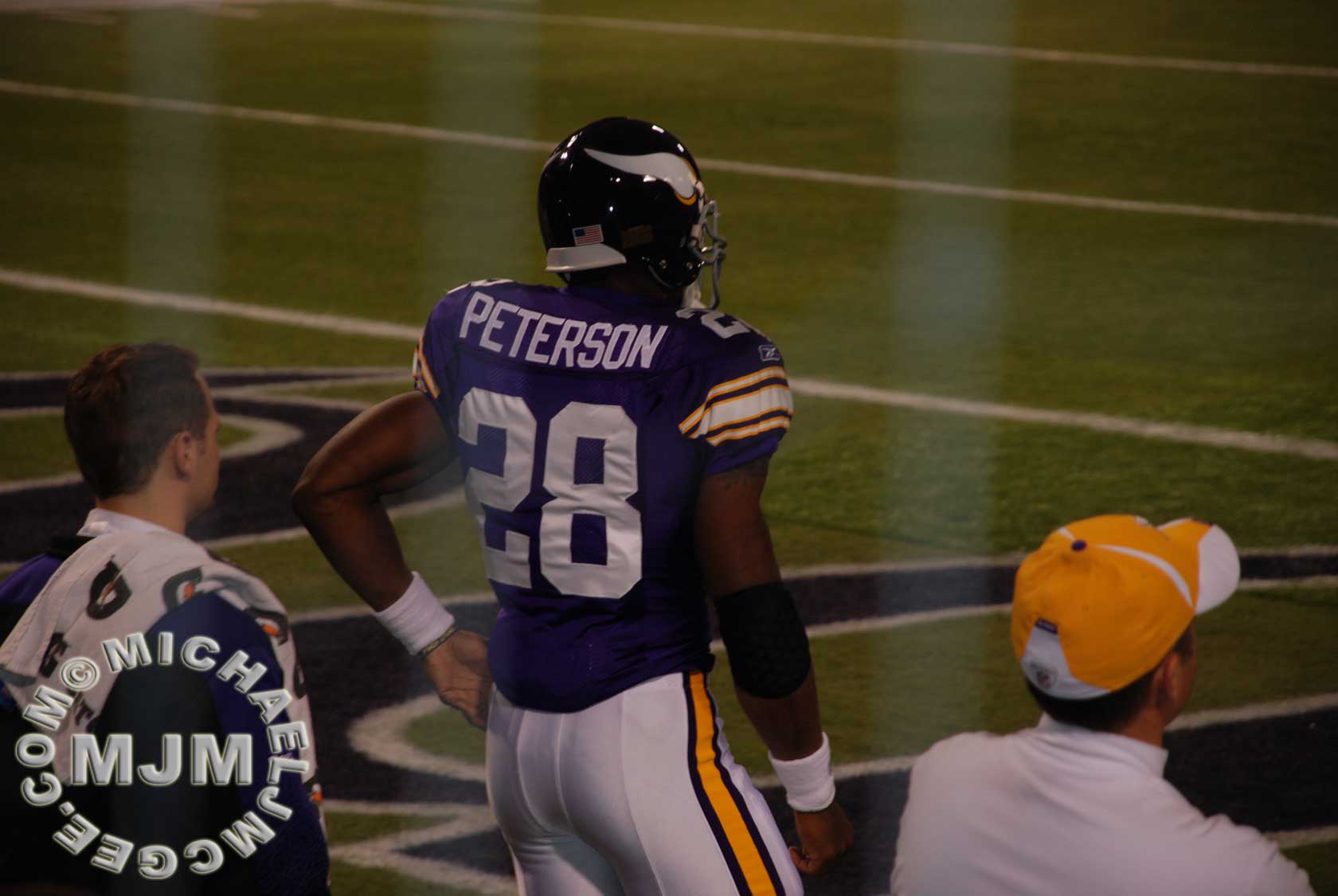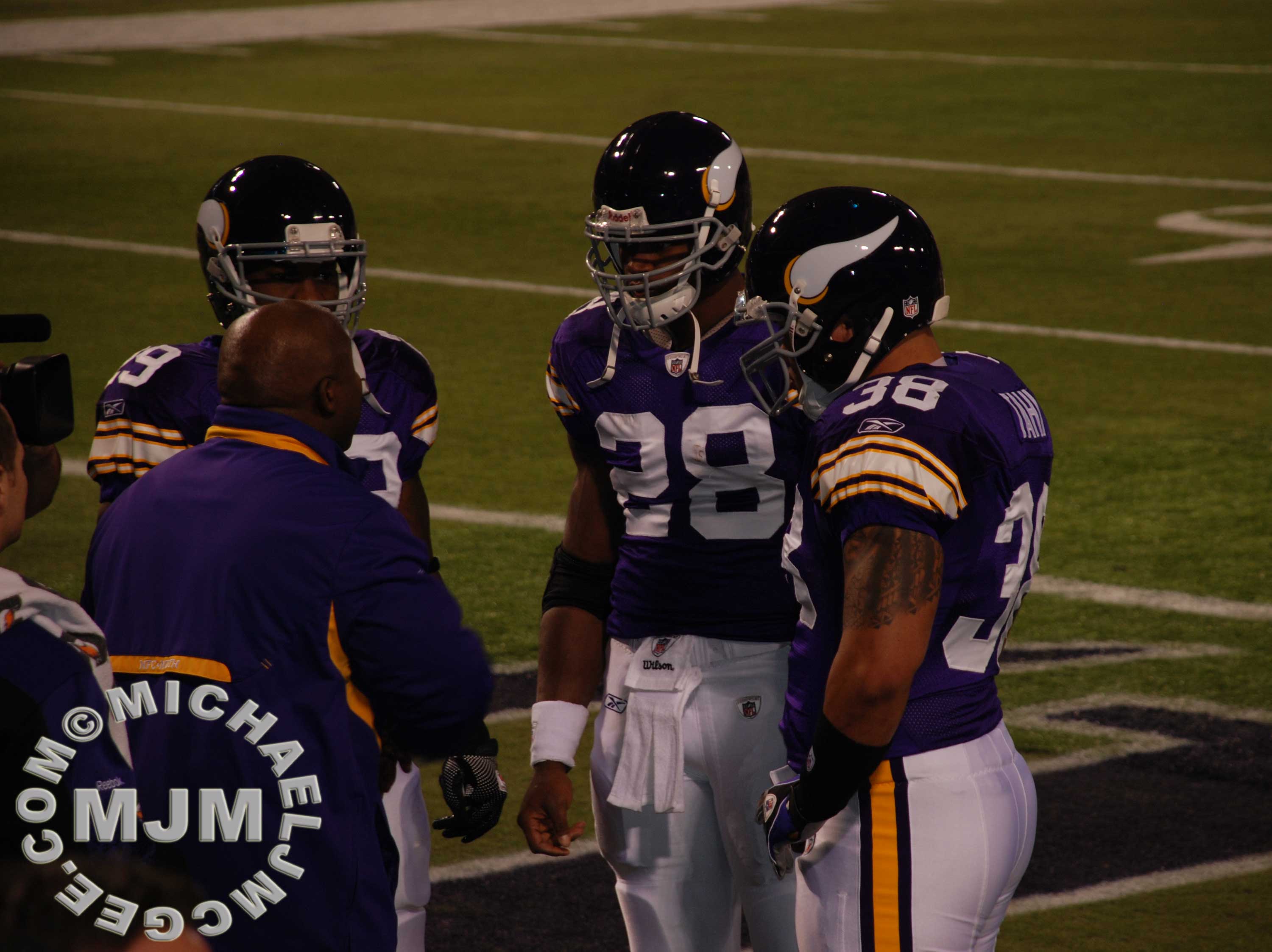 RB's Taylor, Peterson and Tahi with running backs coach Eric Bieniemy.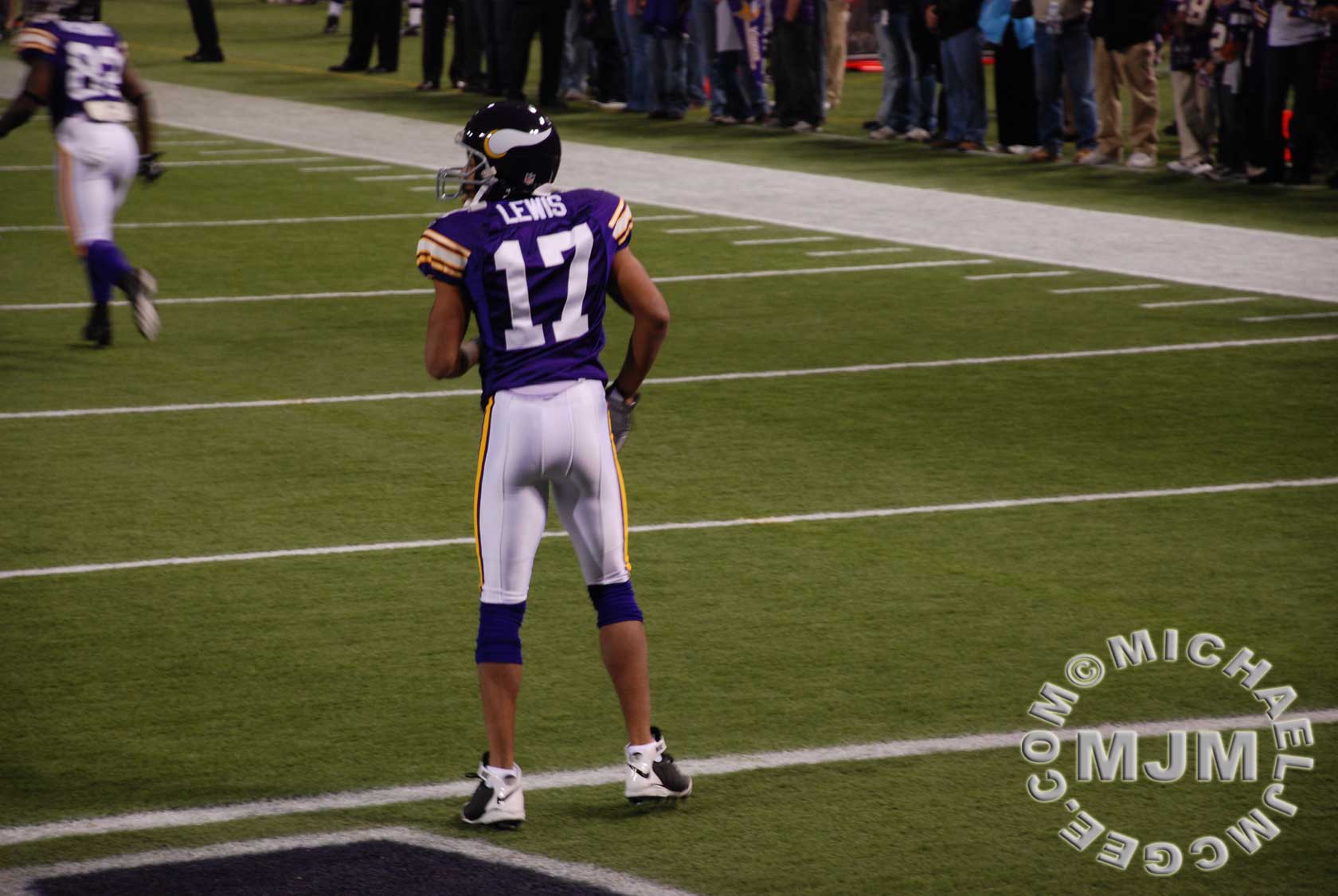 WR Greg Lewis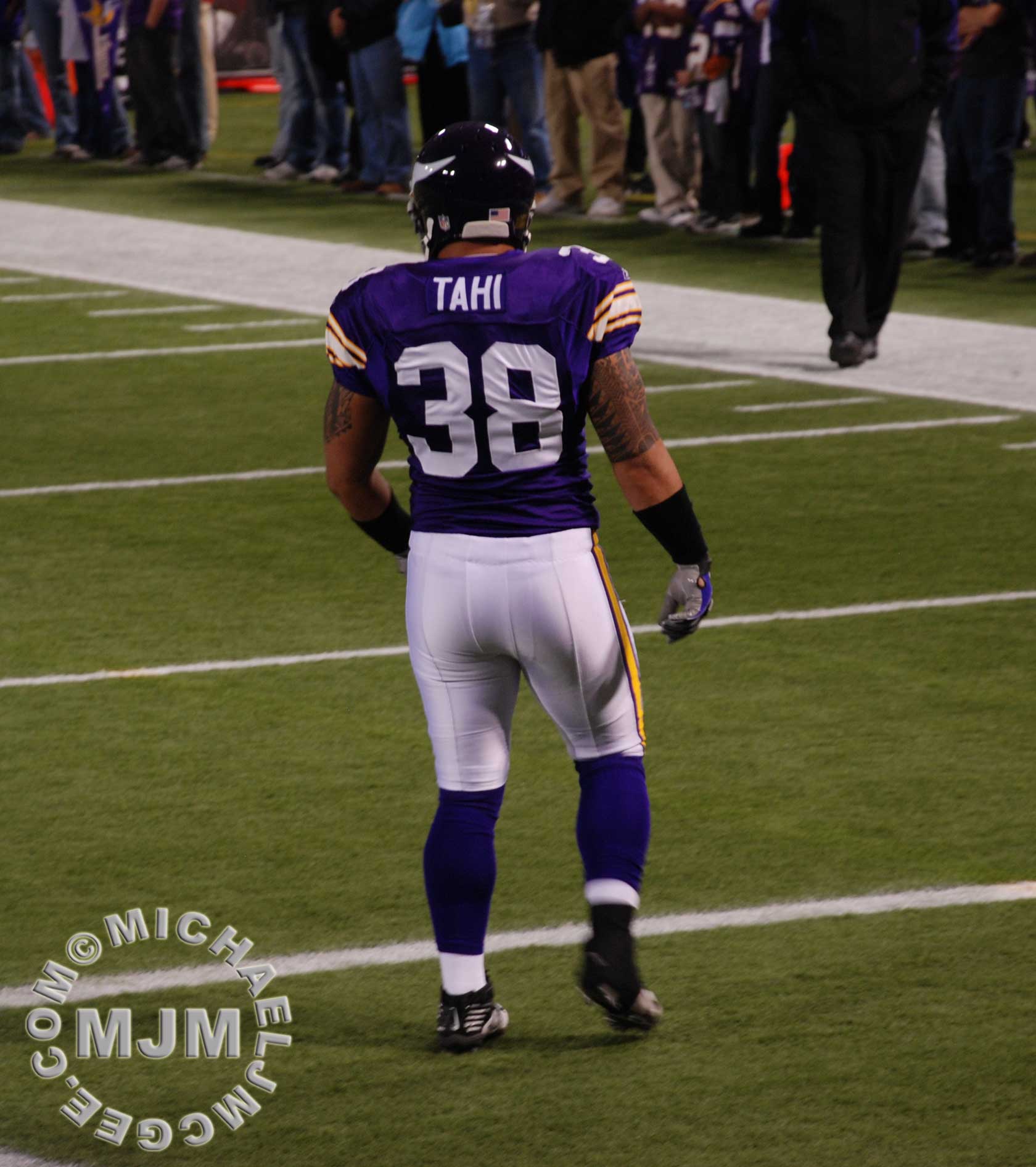 FB Naufahu Tahi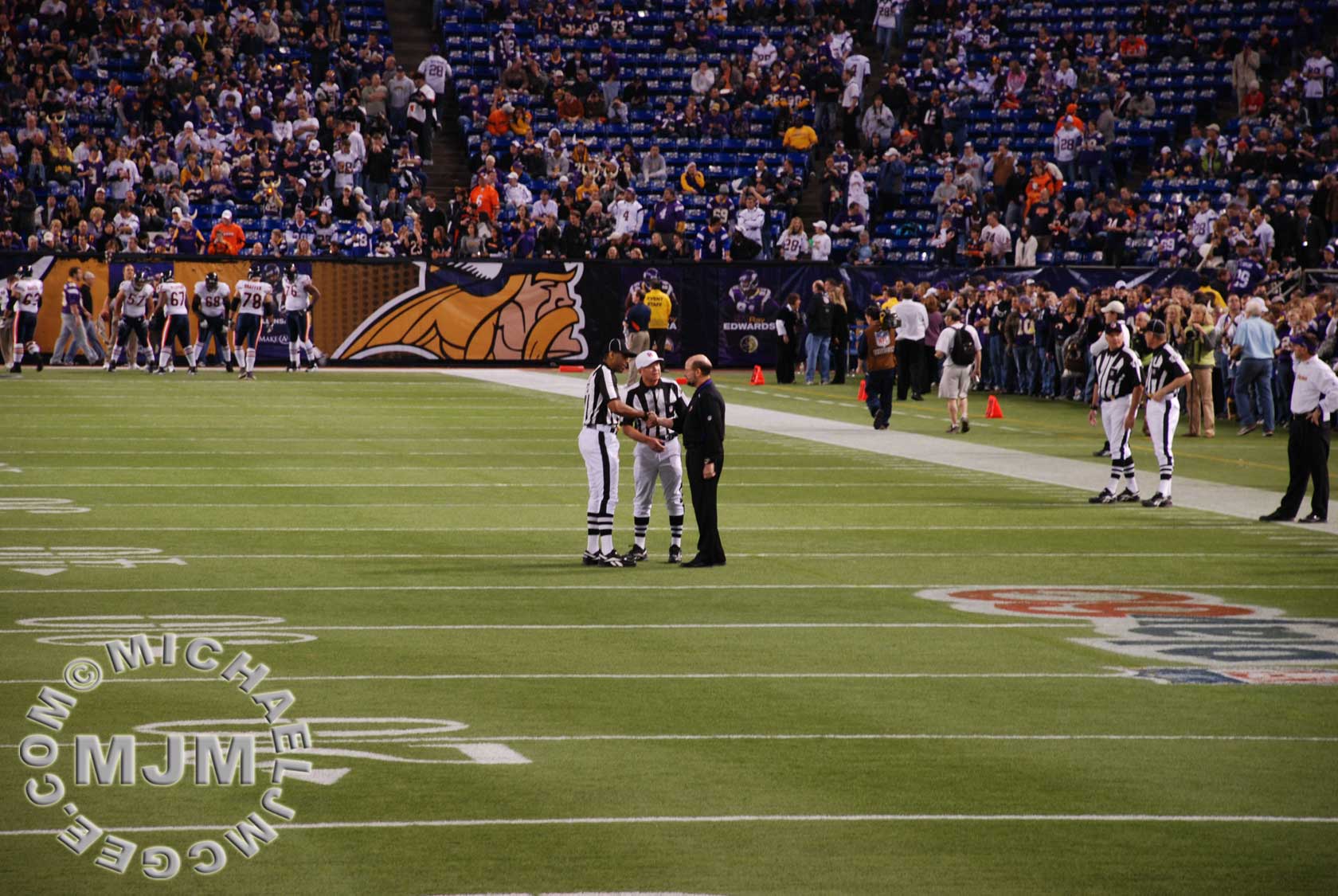 Vikings head coach Brad Childress talks with the Refs.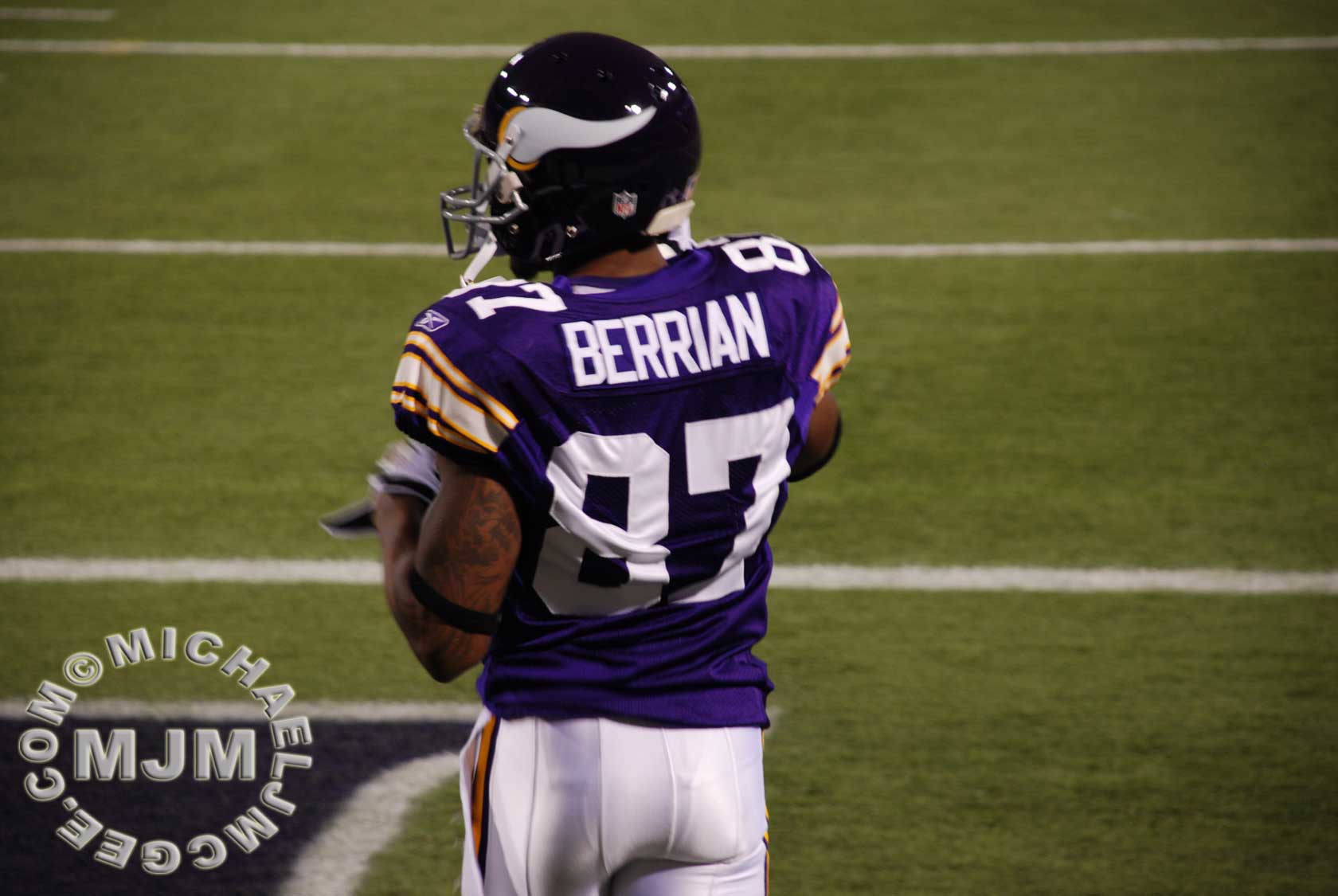 WR Bernard Berrian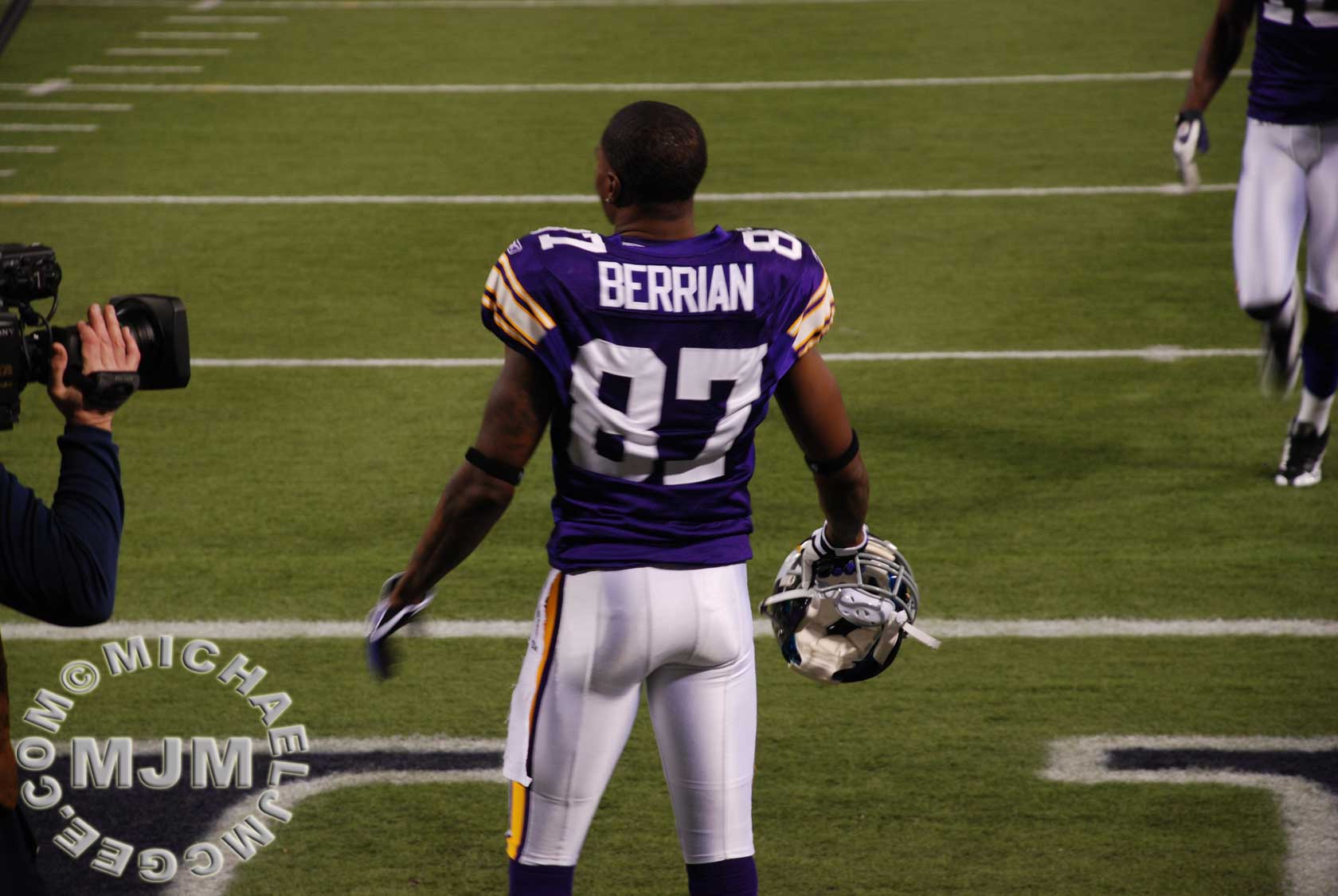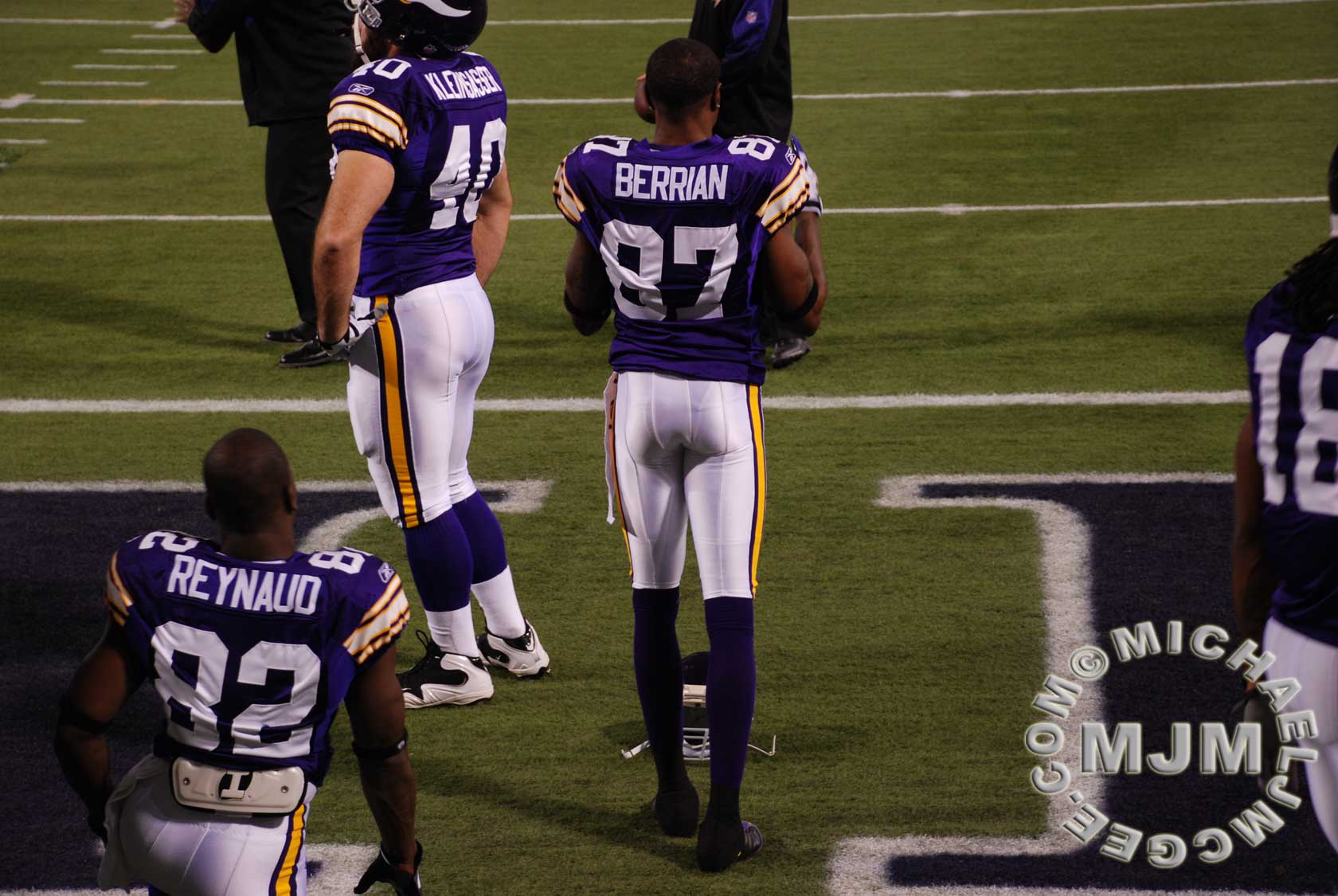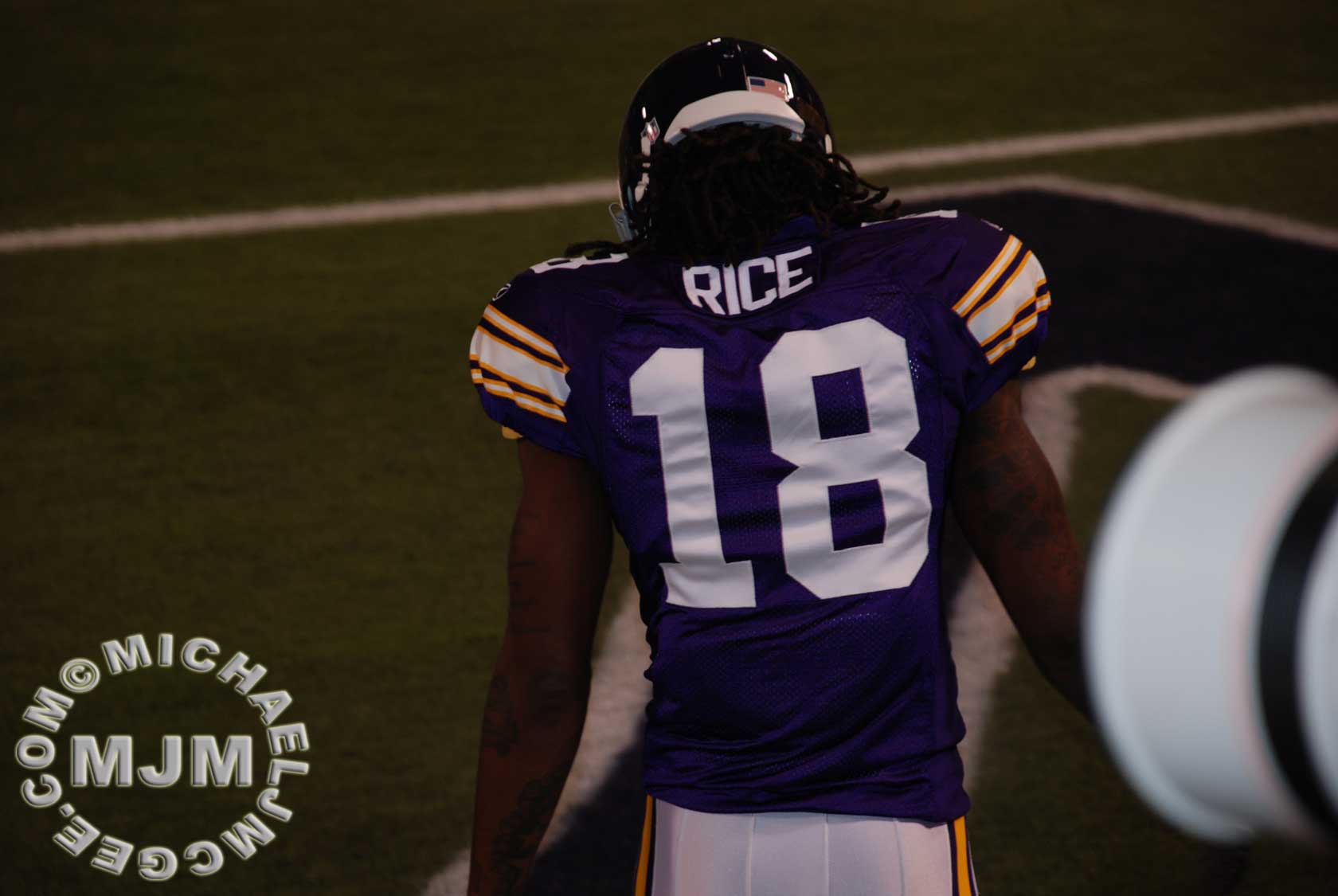 WR Sidney Rice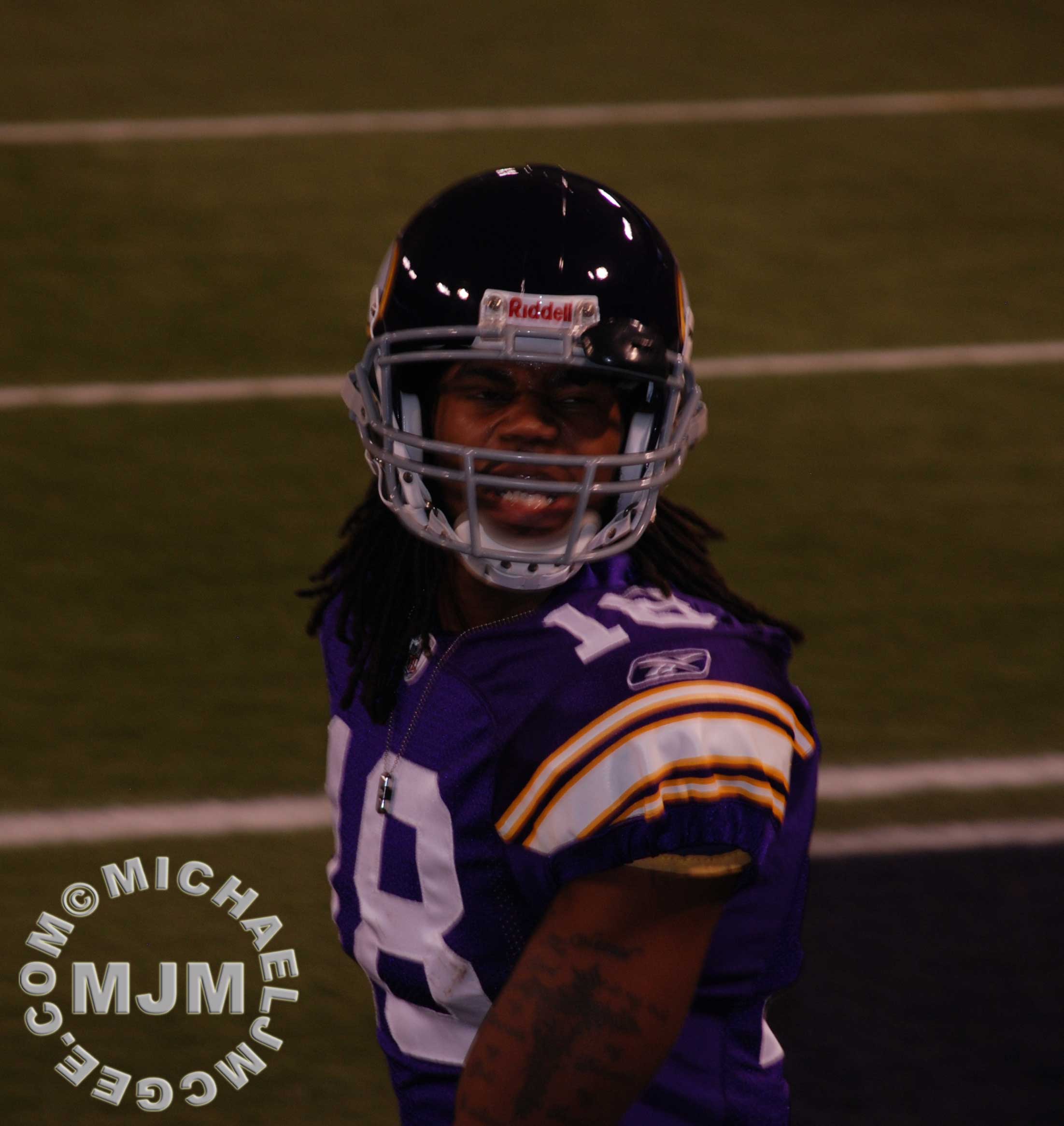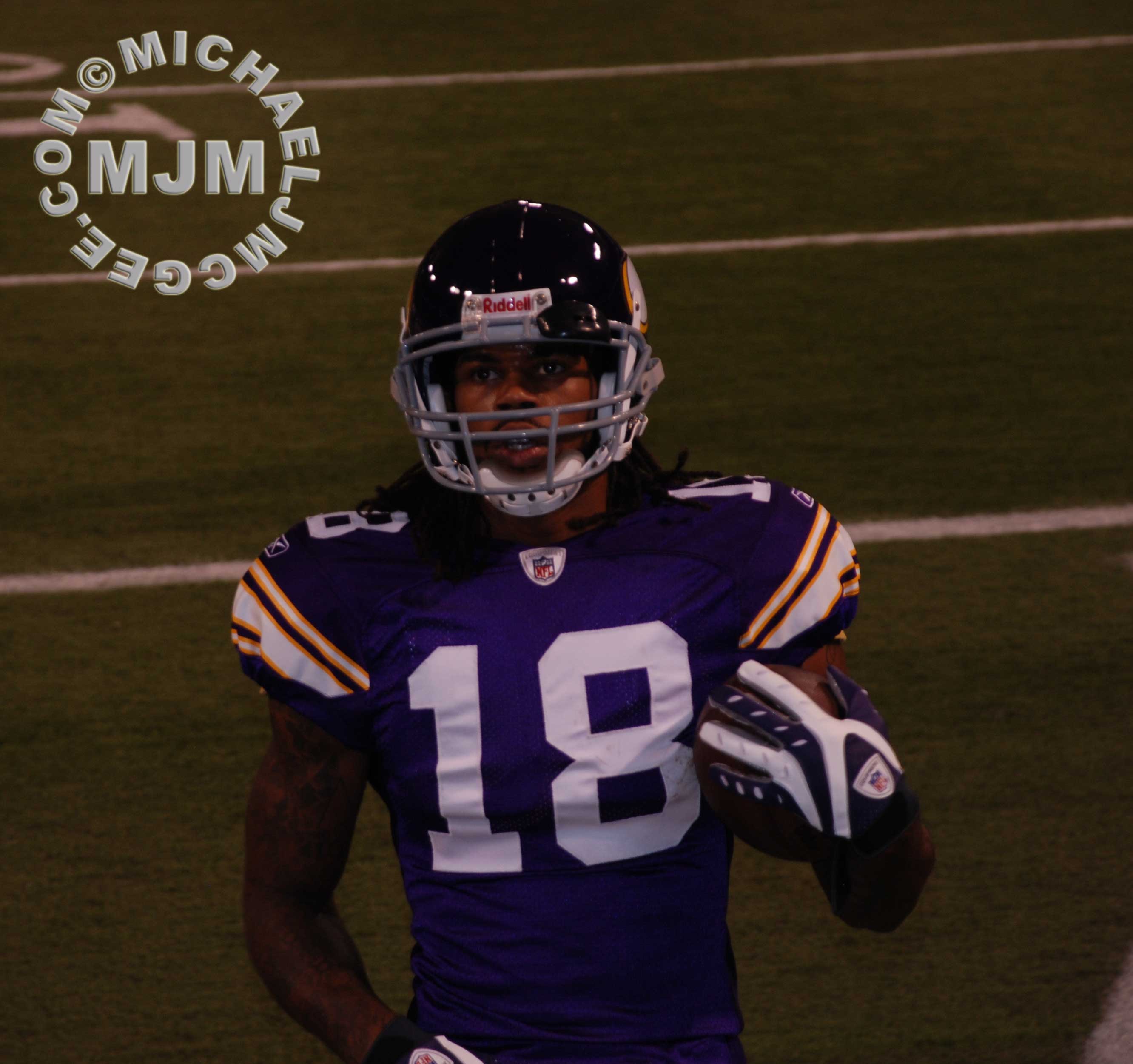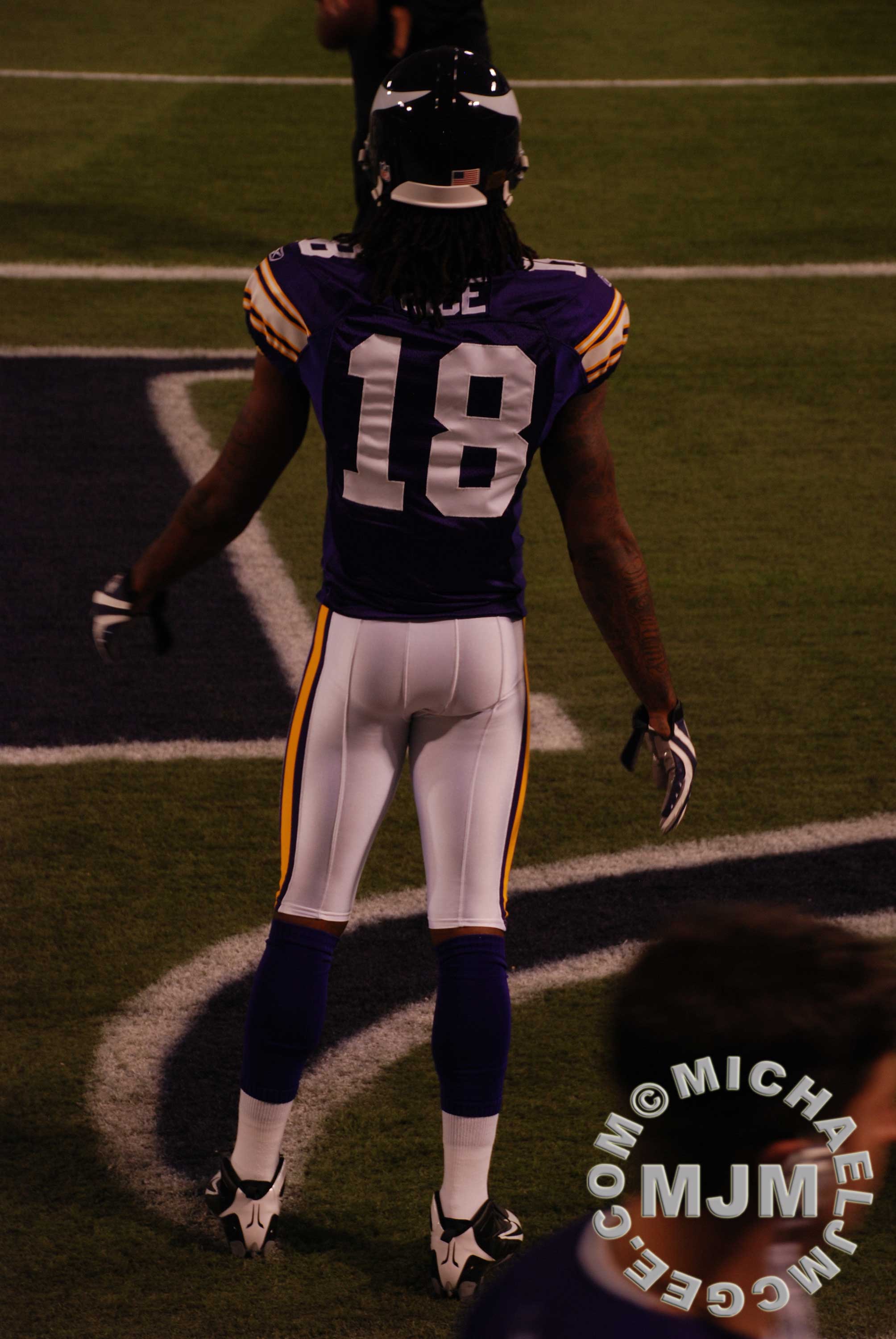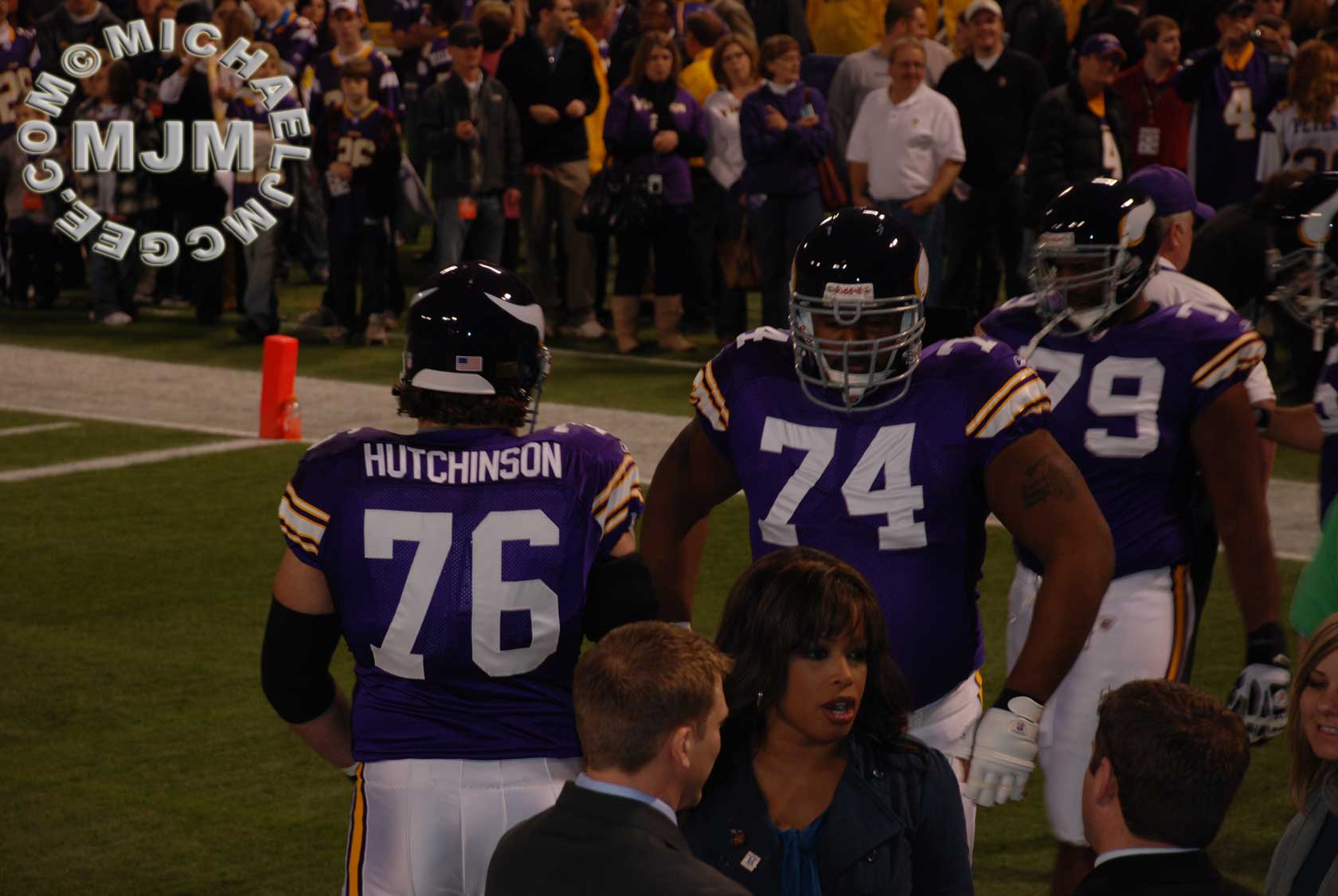 The OL warms up as FOXs' sideline reporter Pam Oliver (lower center) chats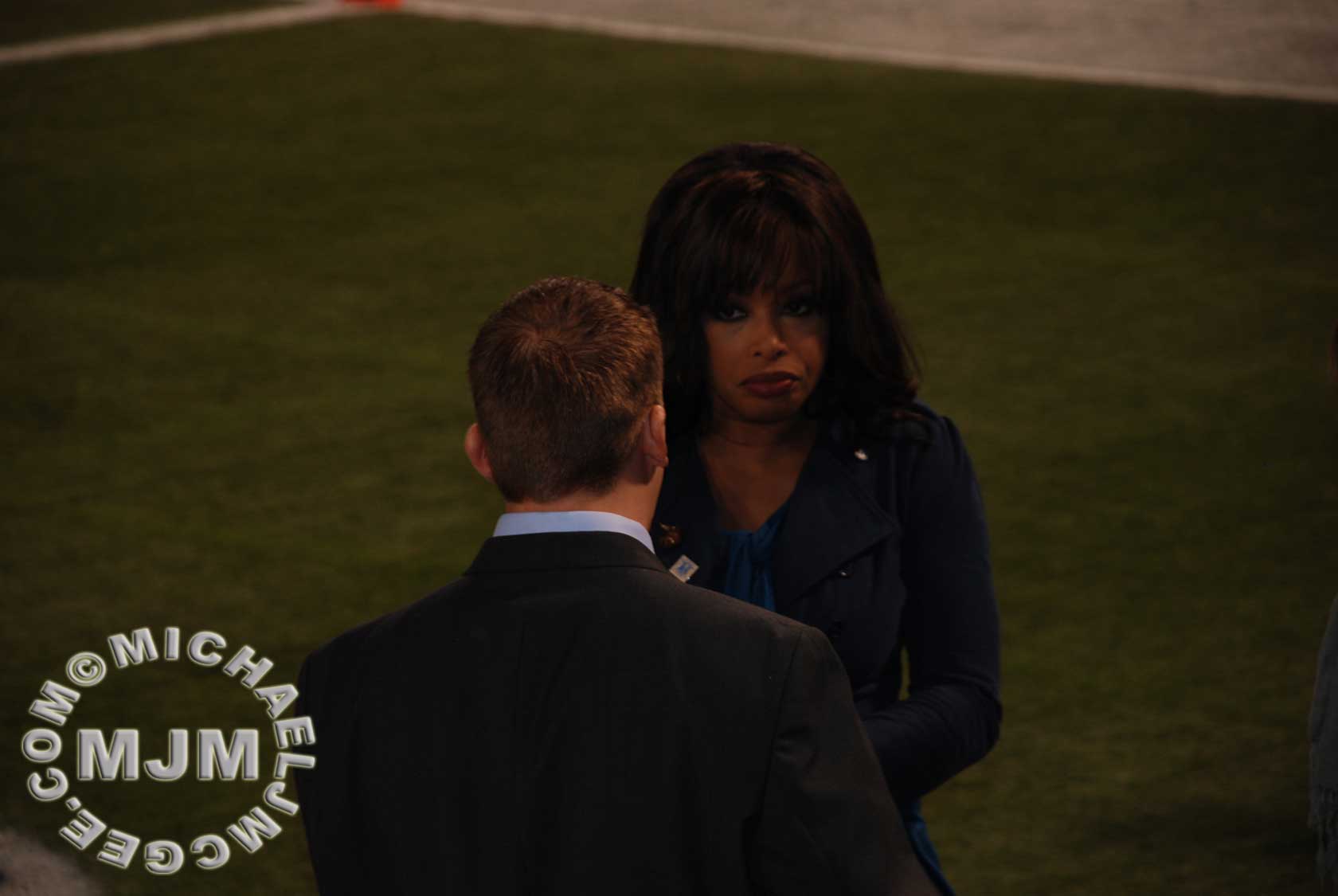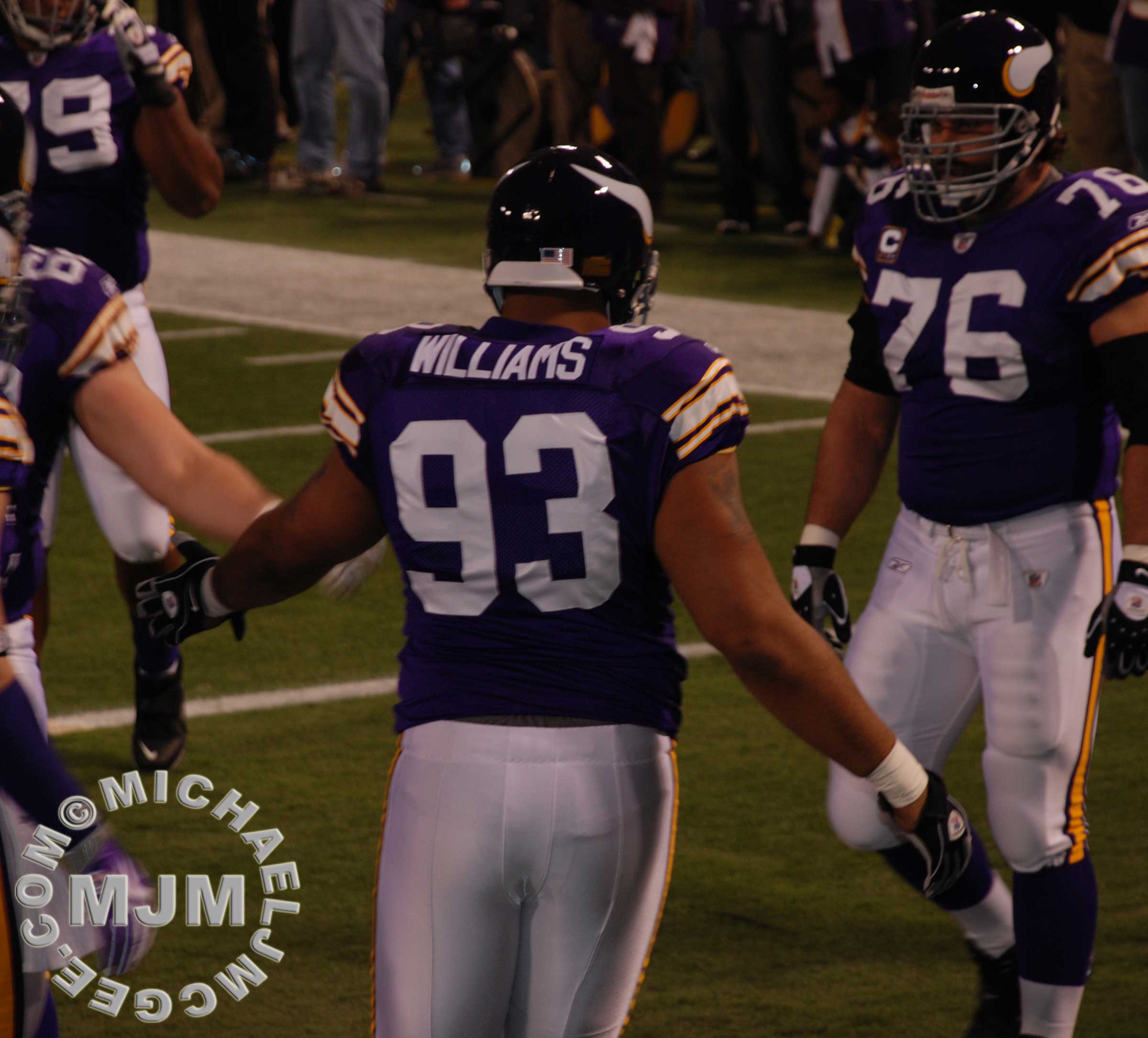 Kevin "Big Ticket" Williams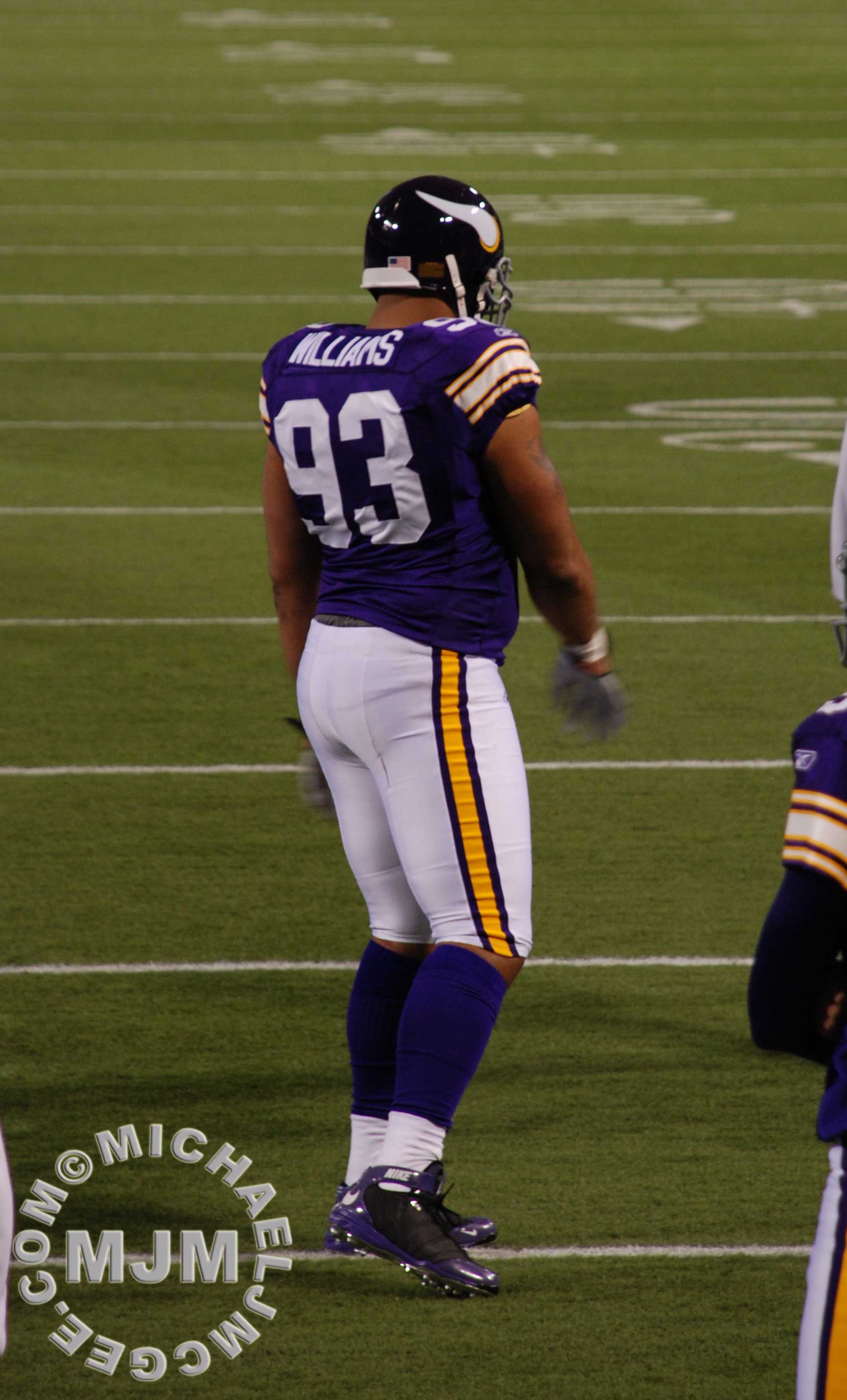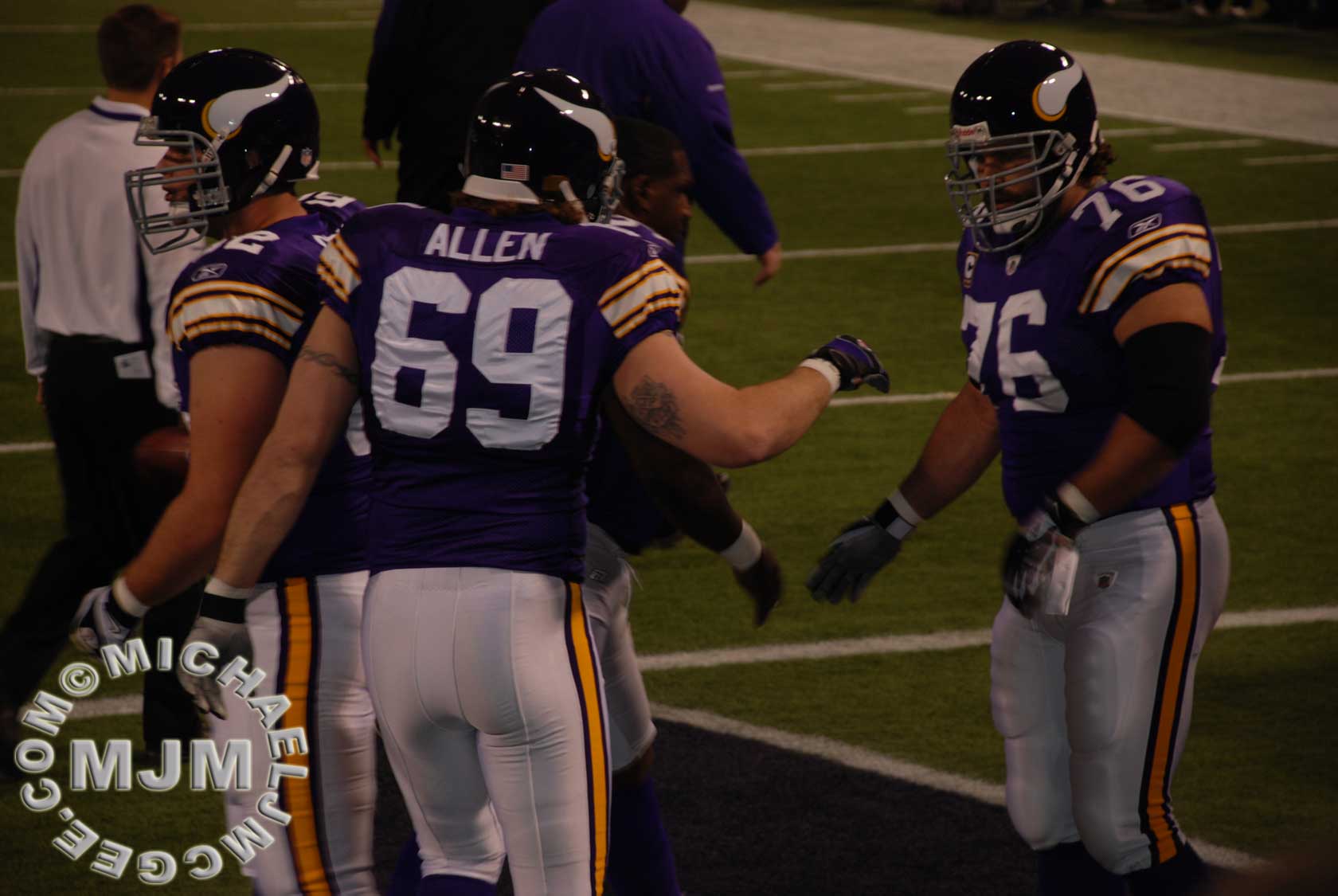 DE Jared Allen & G Steve Hutchinson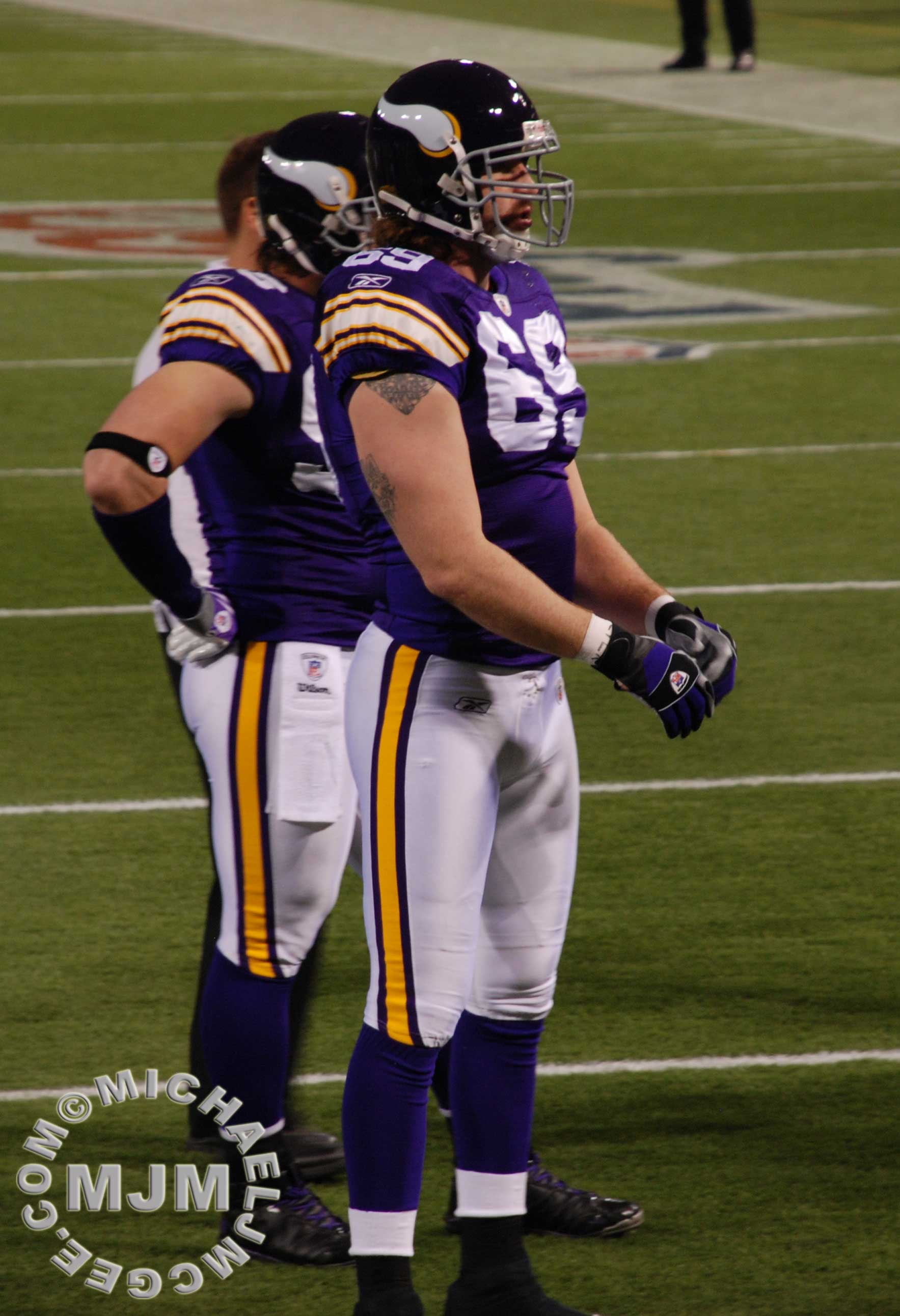 Stud DE Jared Allen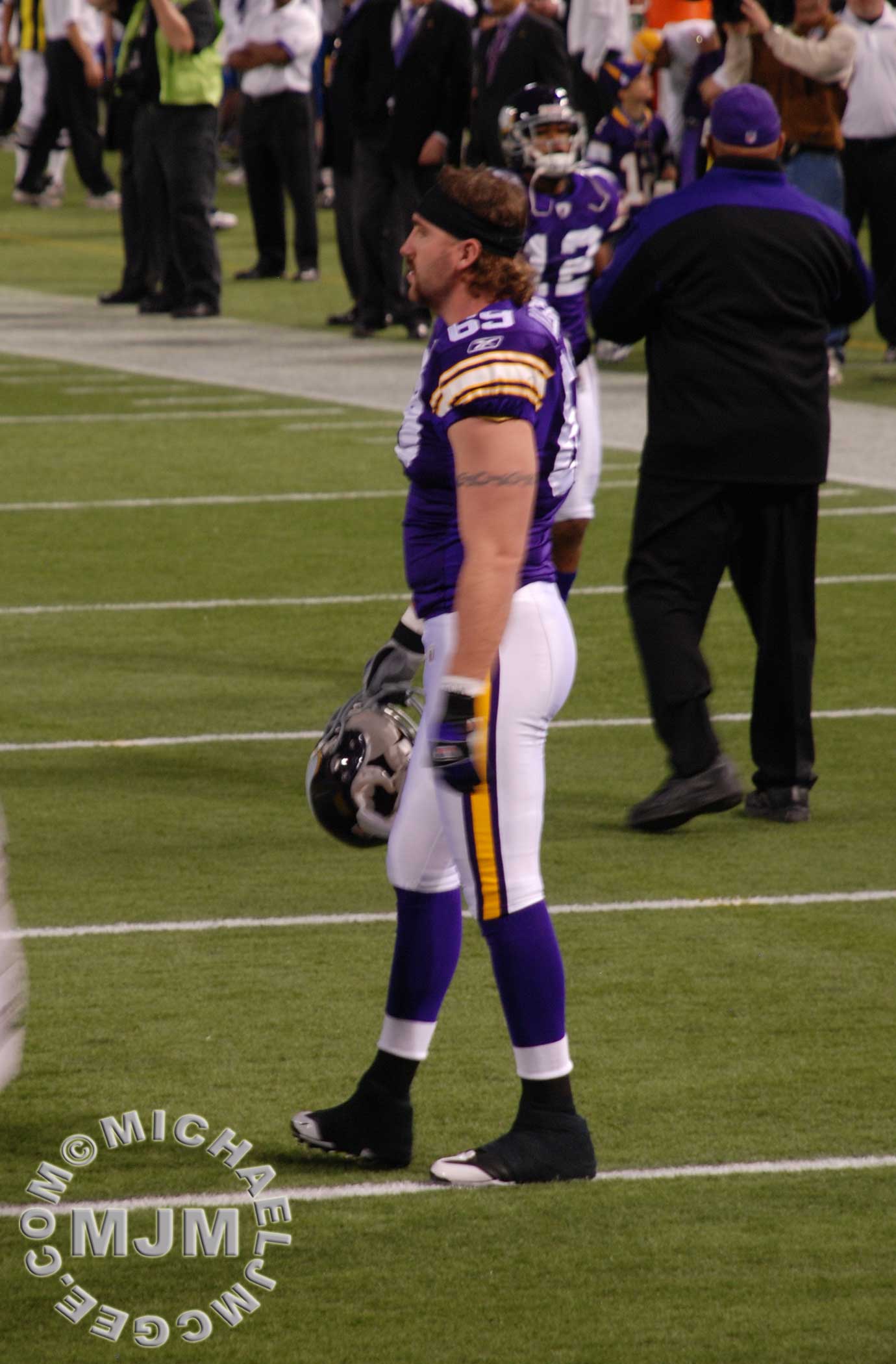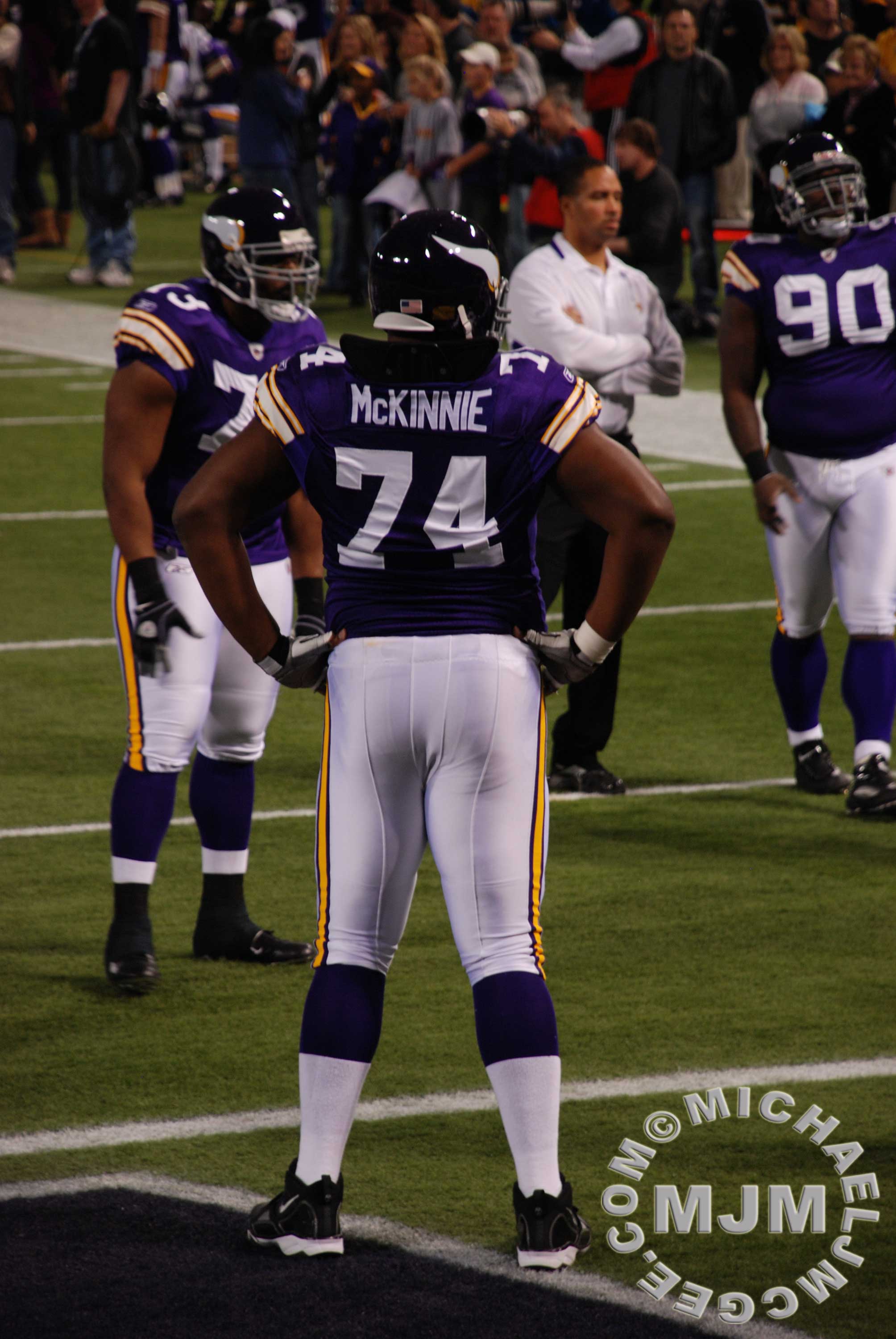 LT Bryant McKinnie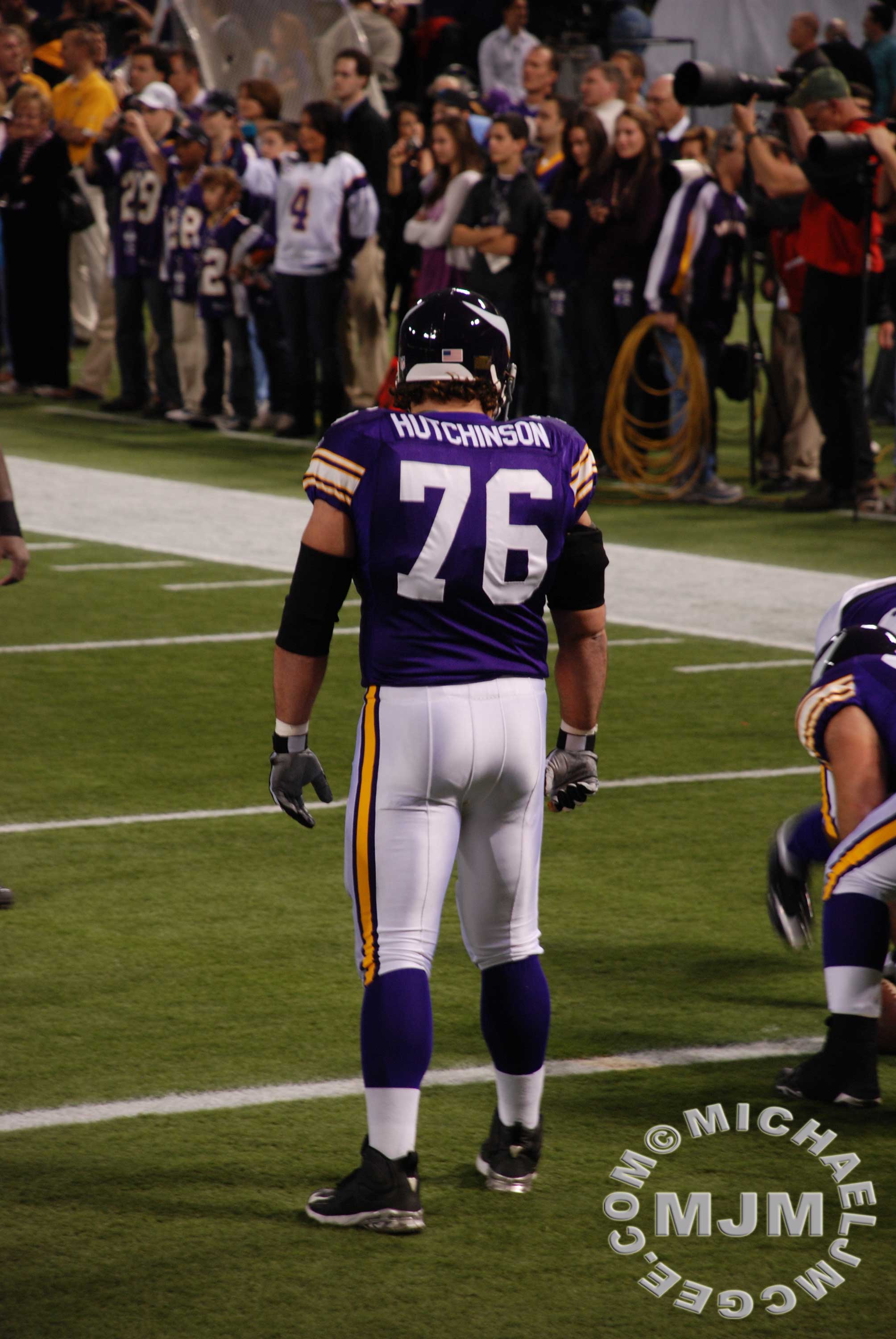 LG Steve Hutchinson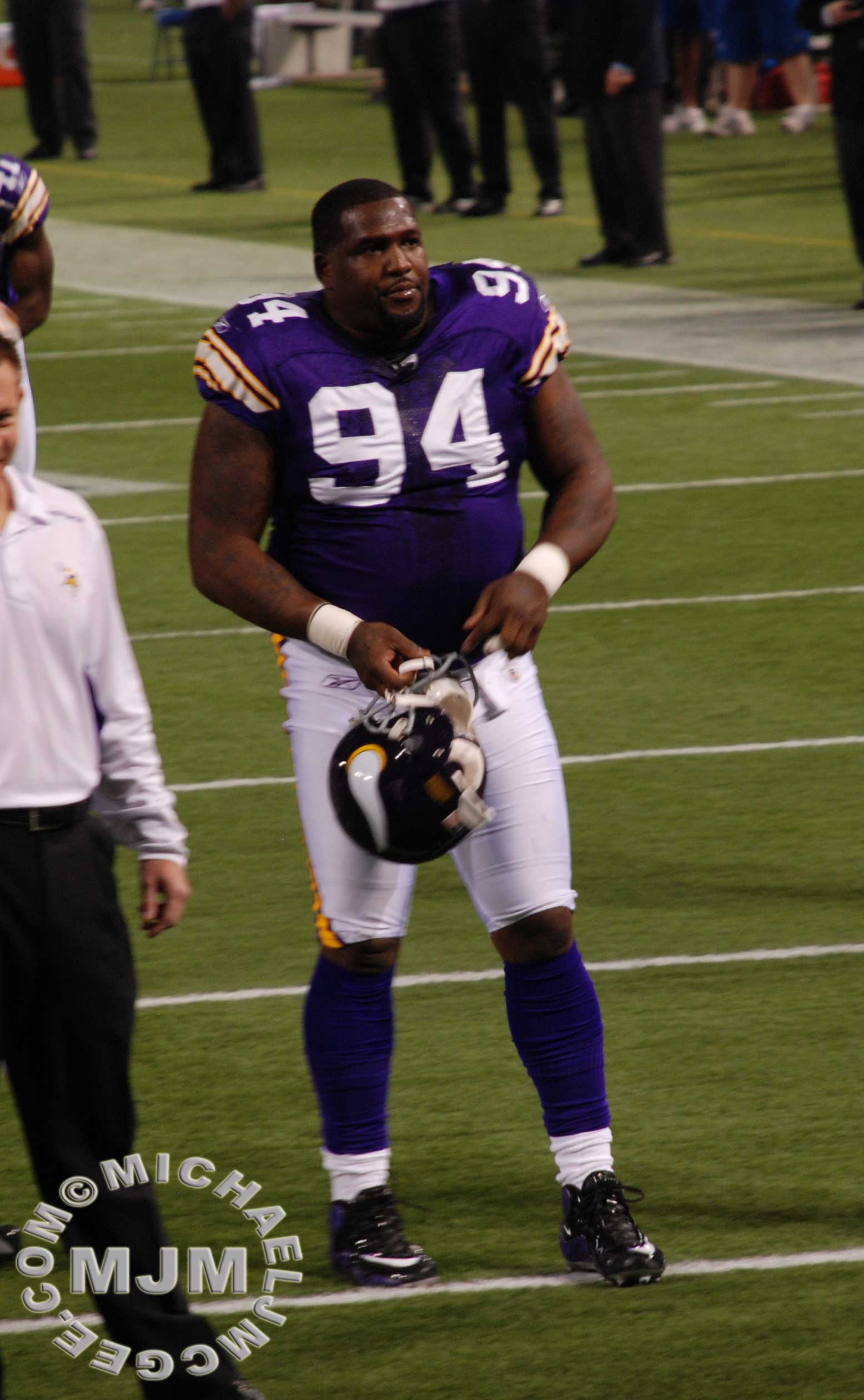 NT Pat Williams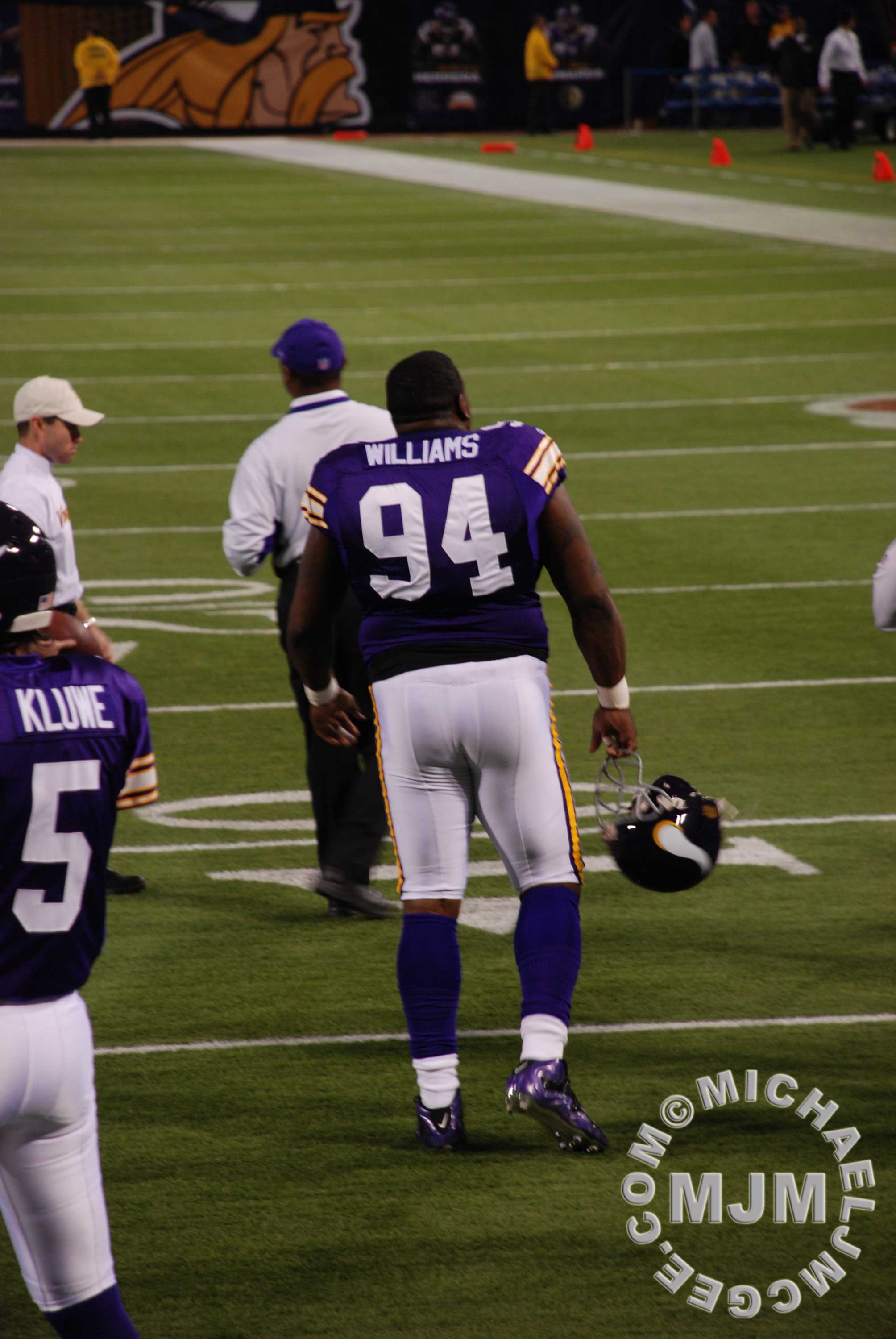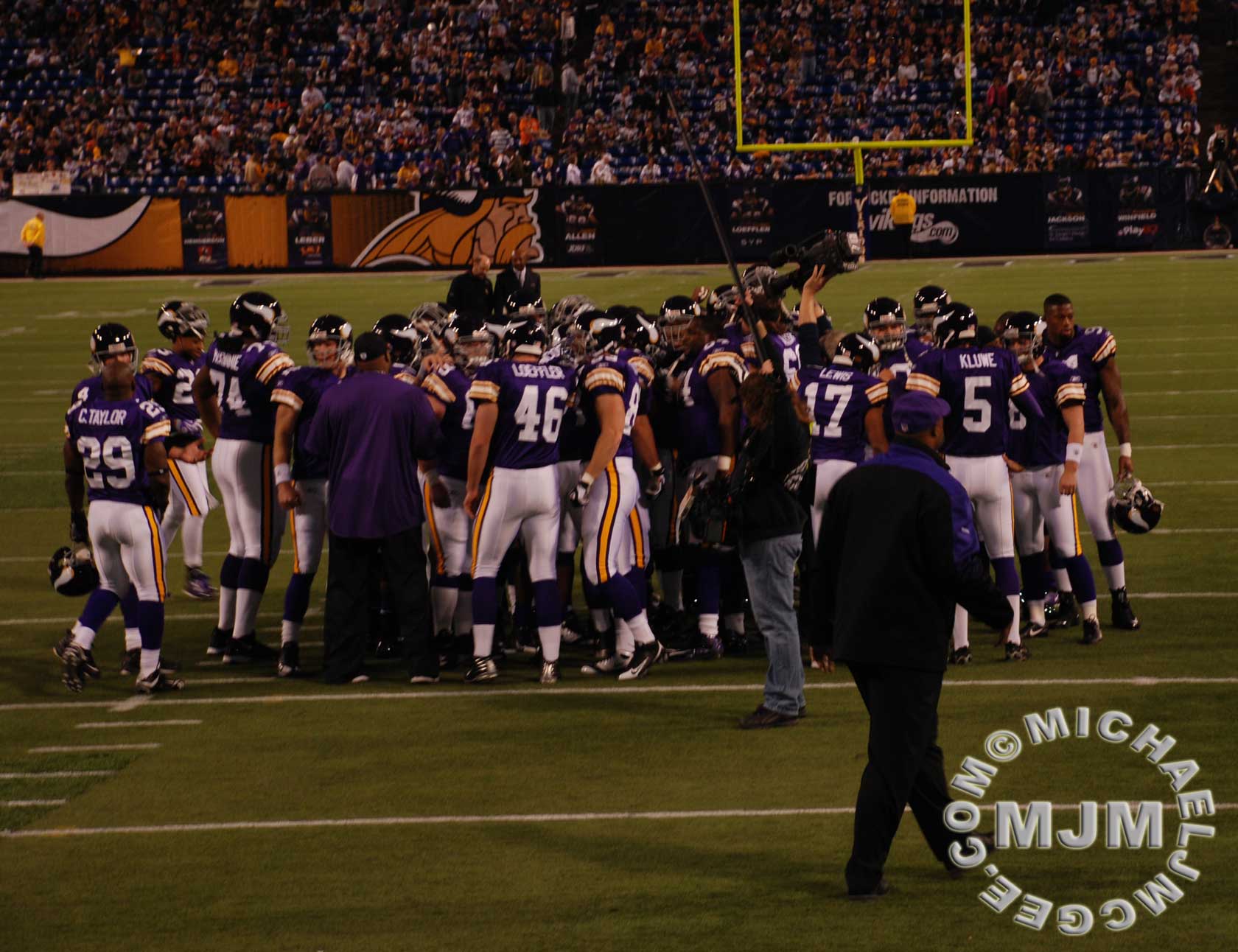 Wrapping up the warm ups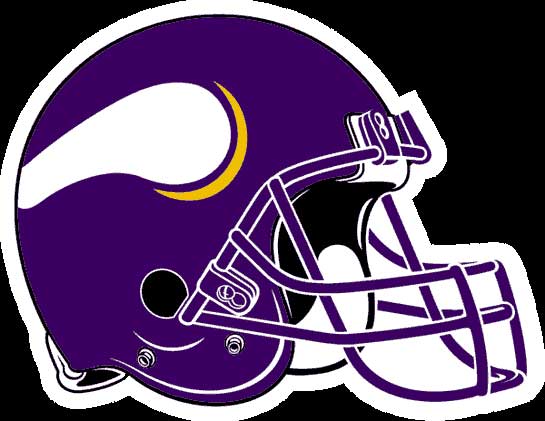 The Game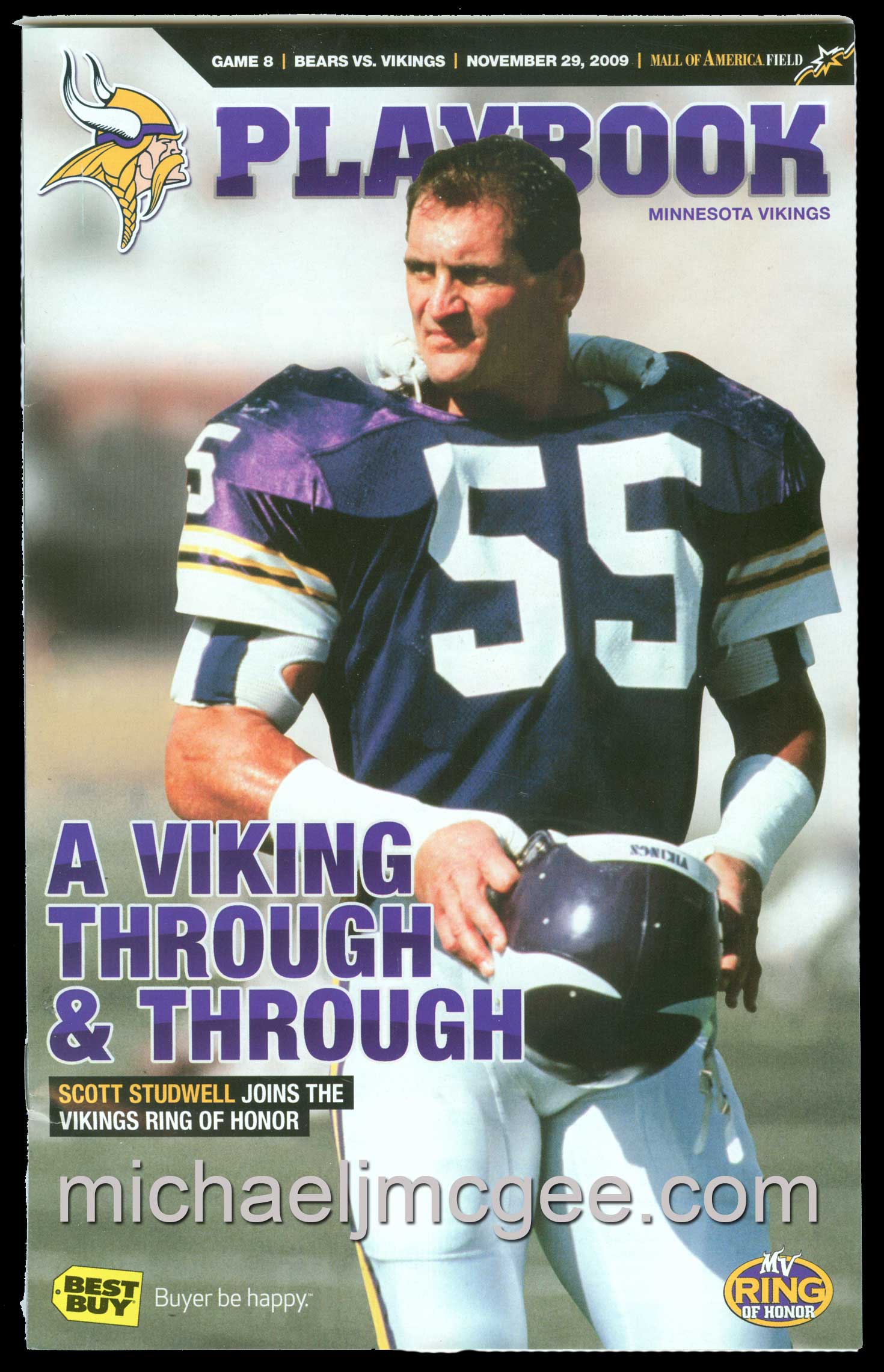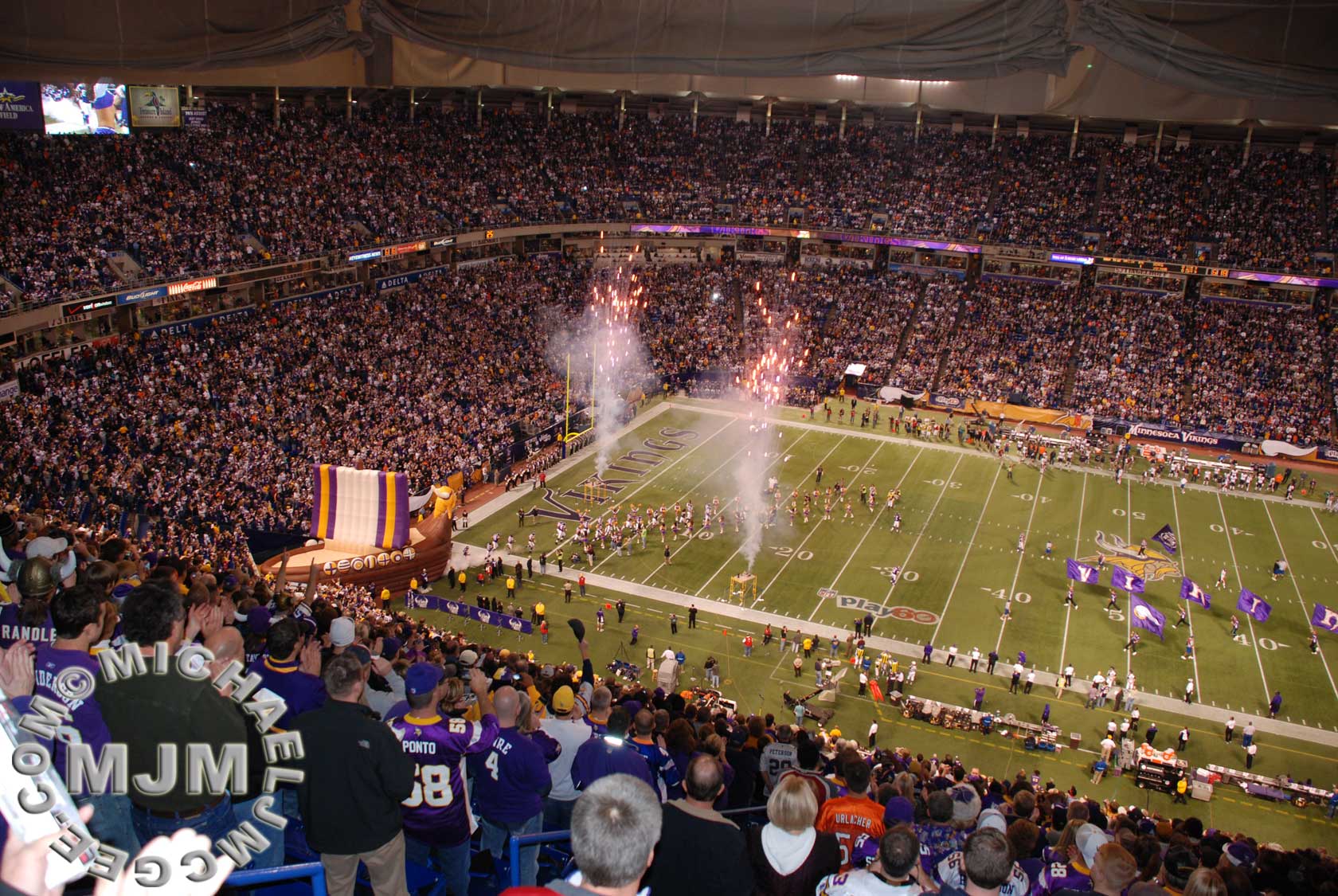 View from my Season nose bleeds seat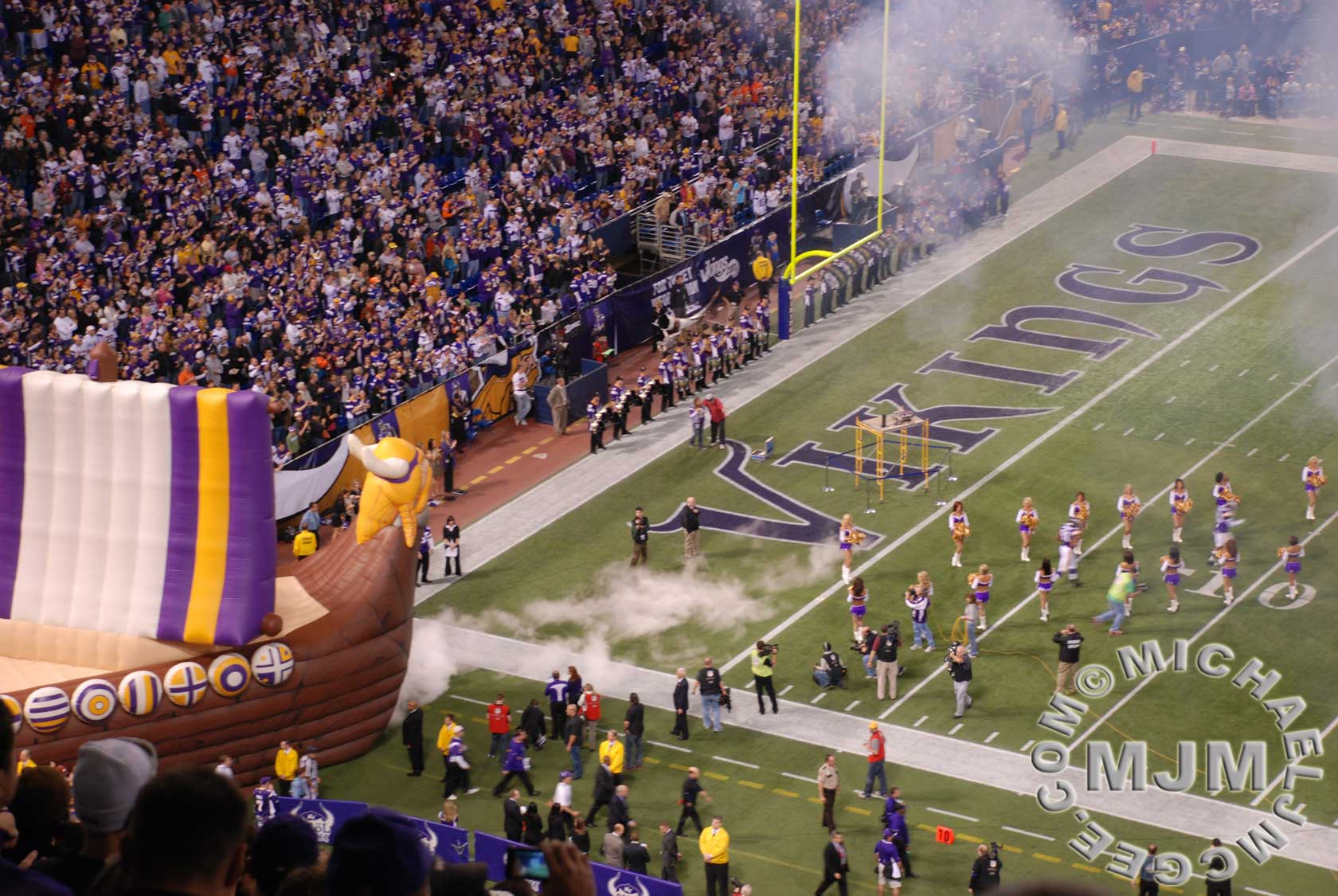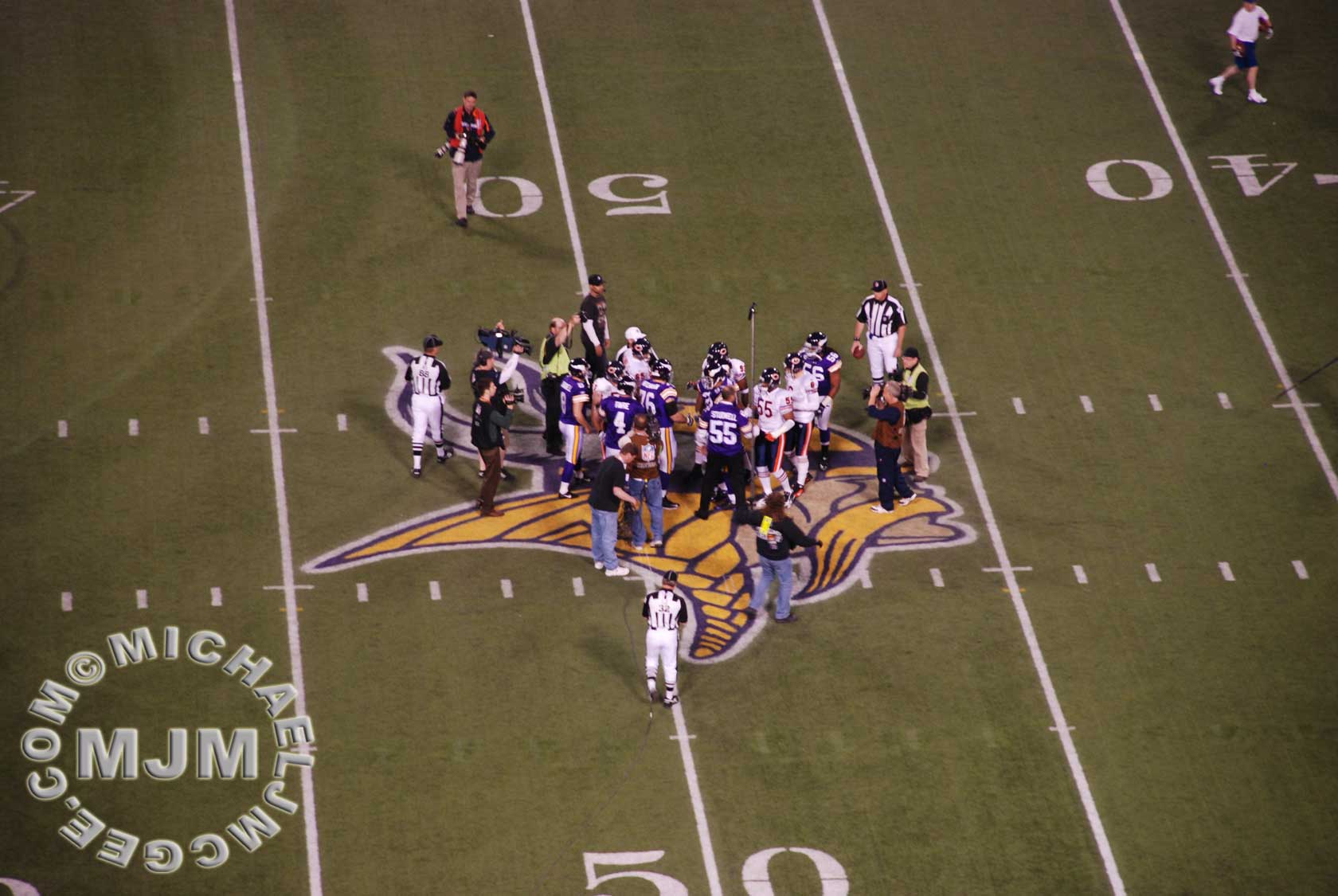 The coin toss
QB Jay Cutler leads the Bears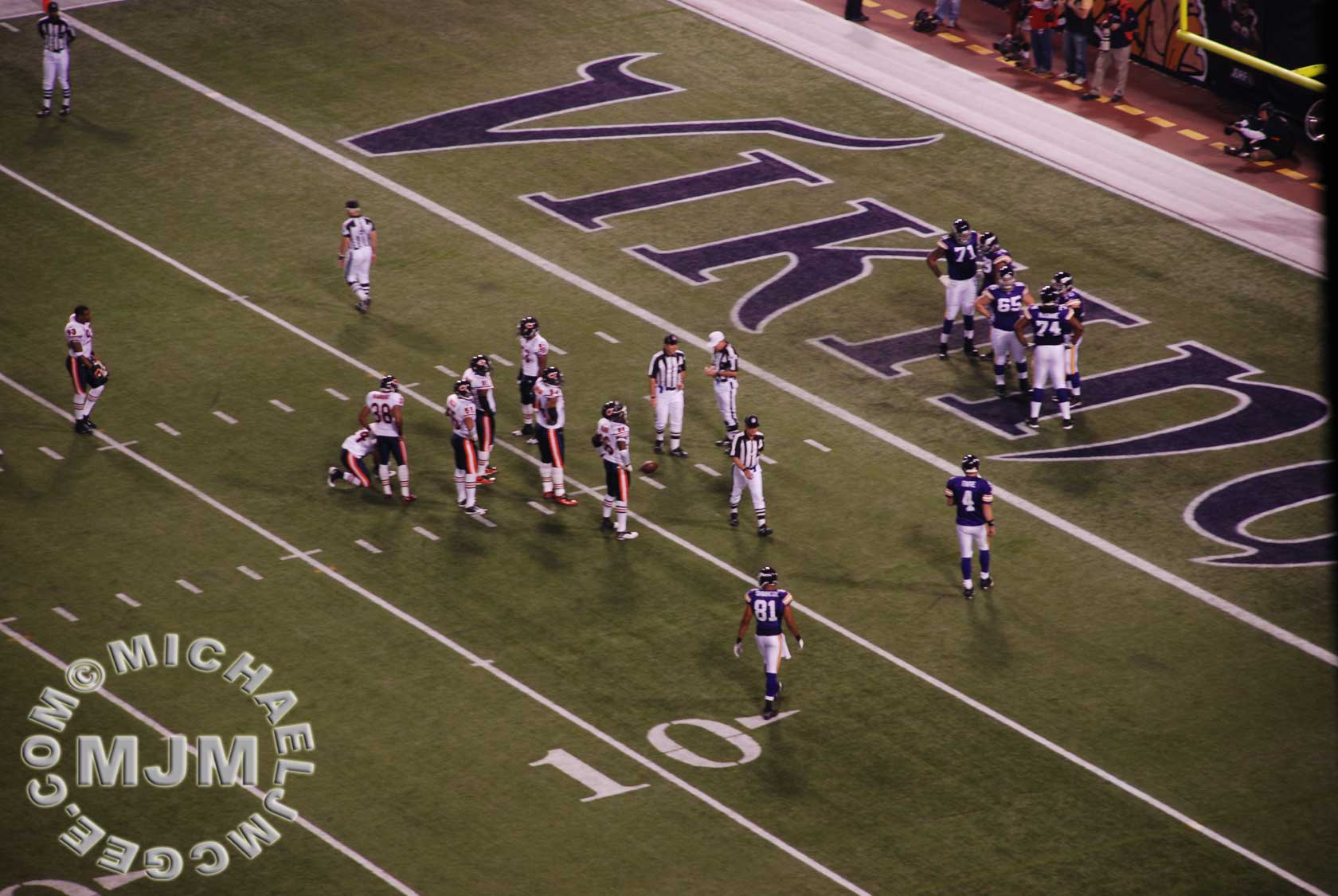 Quarterbacking immortality takes the field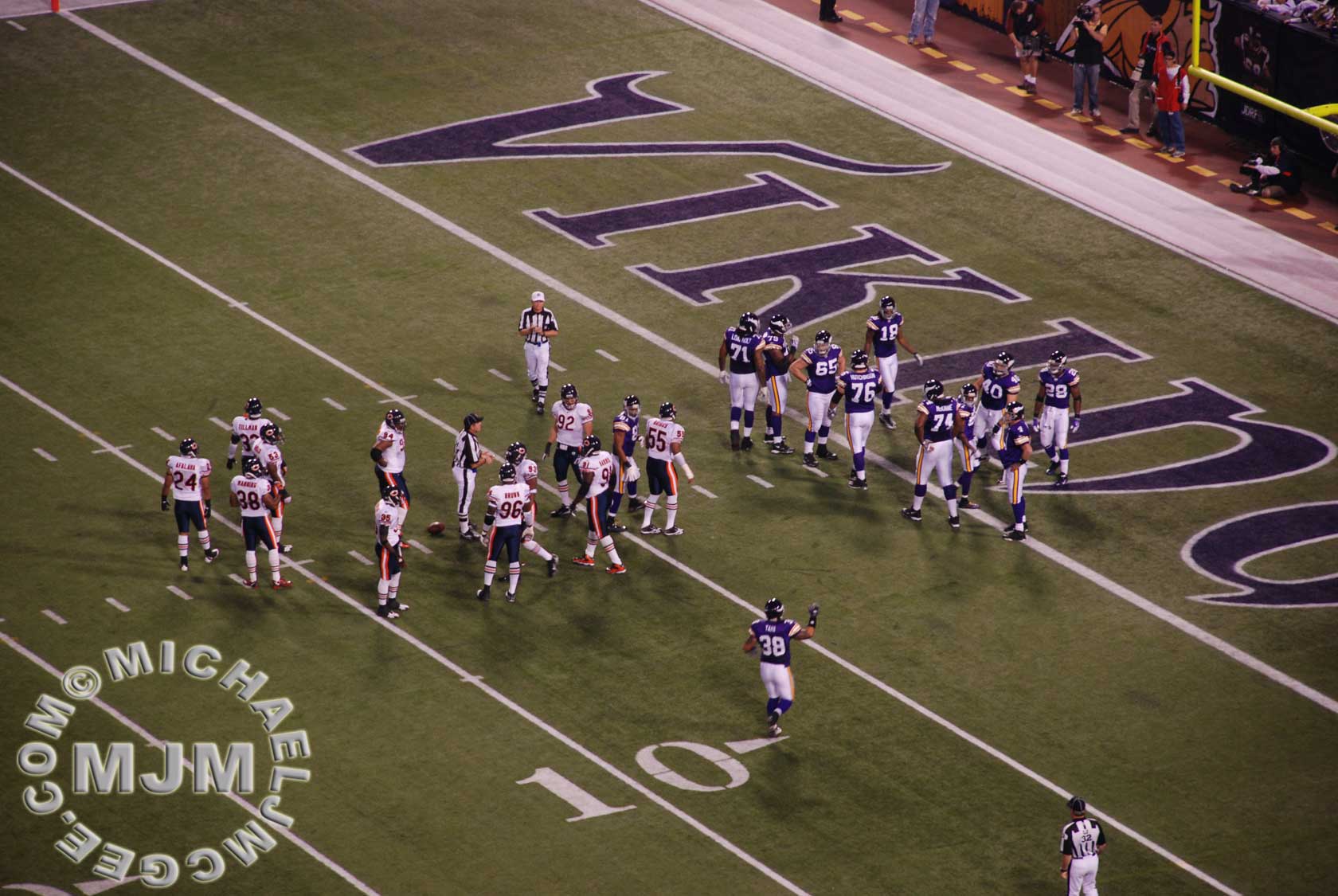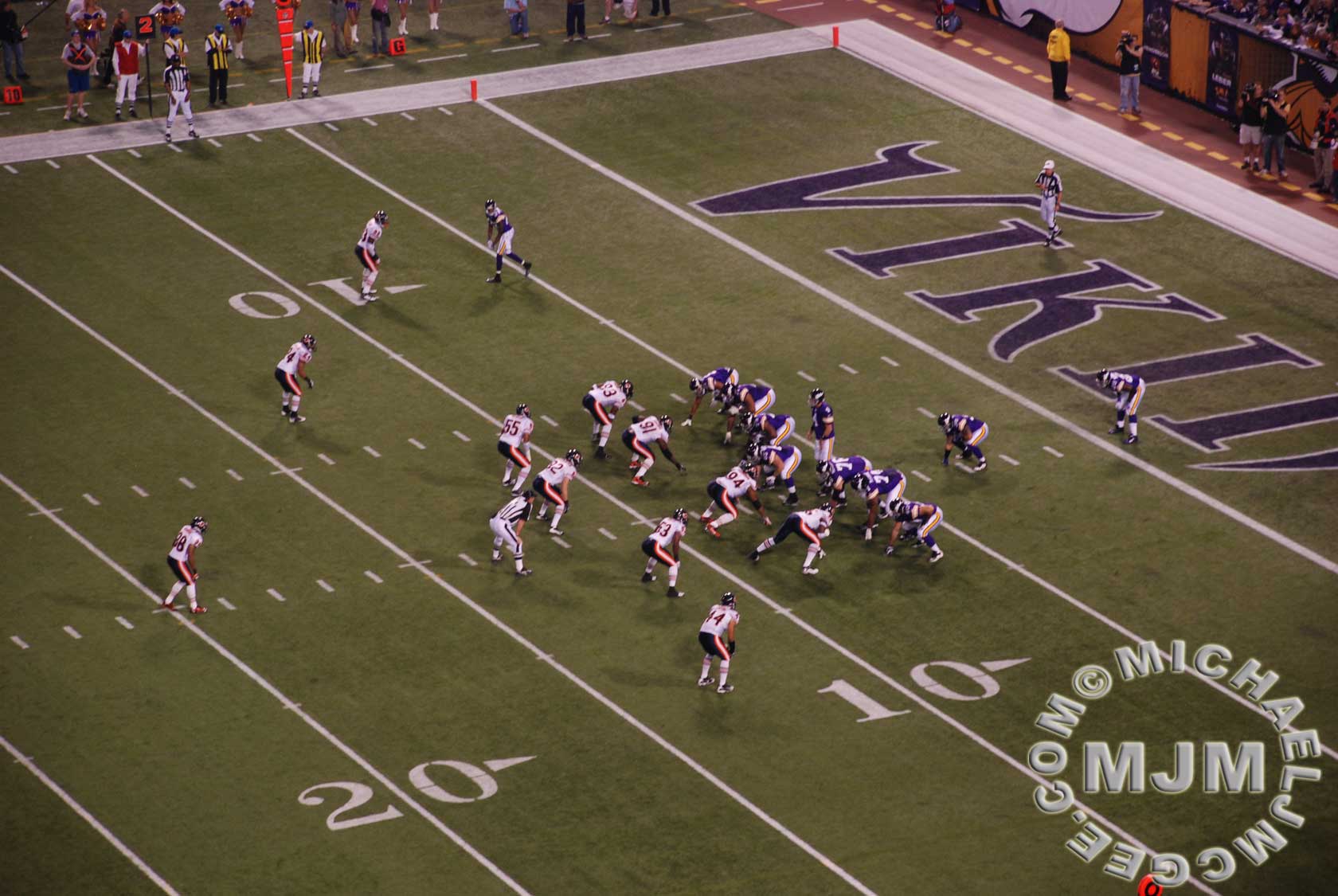 QB Brett Favre leads the Vikings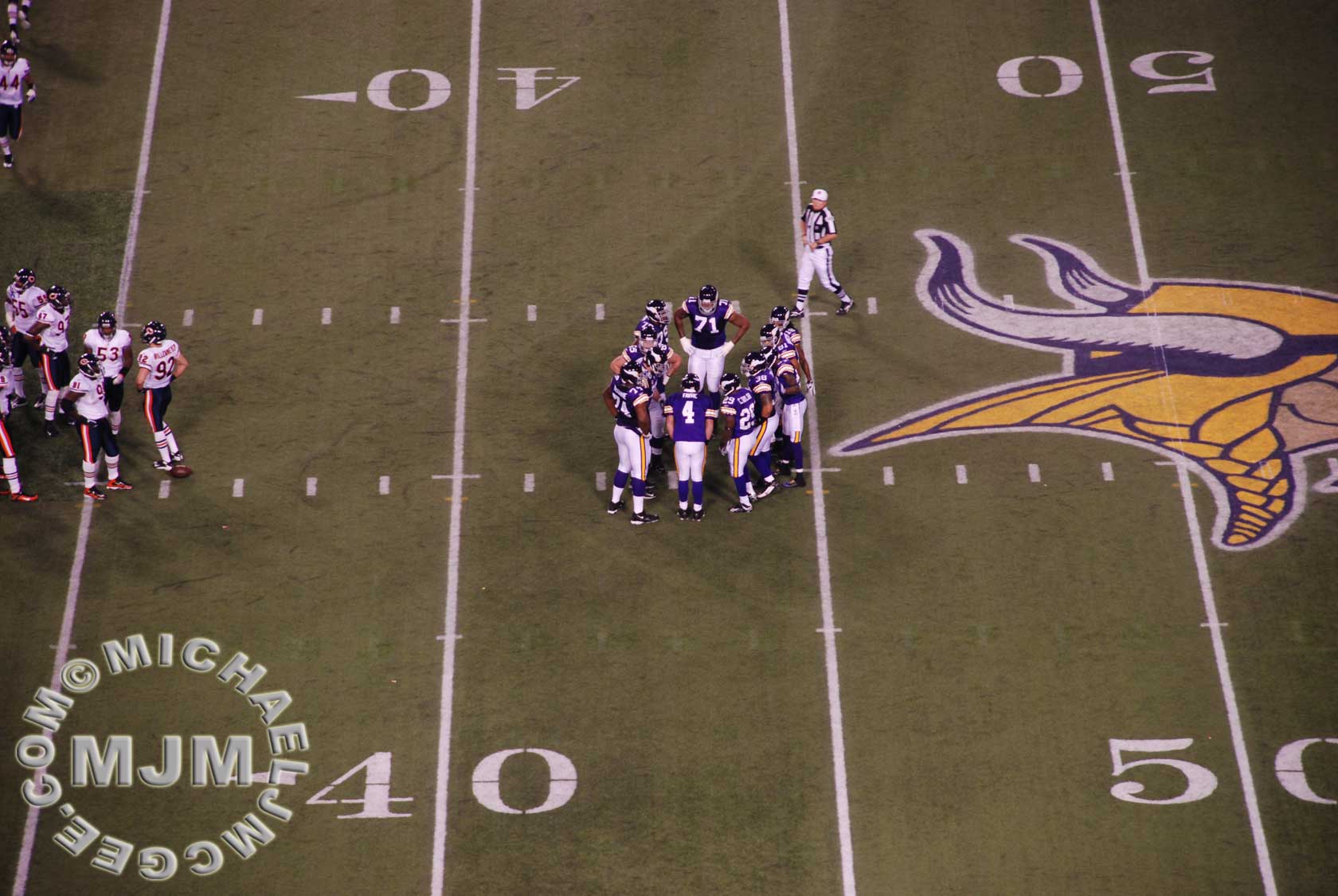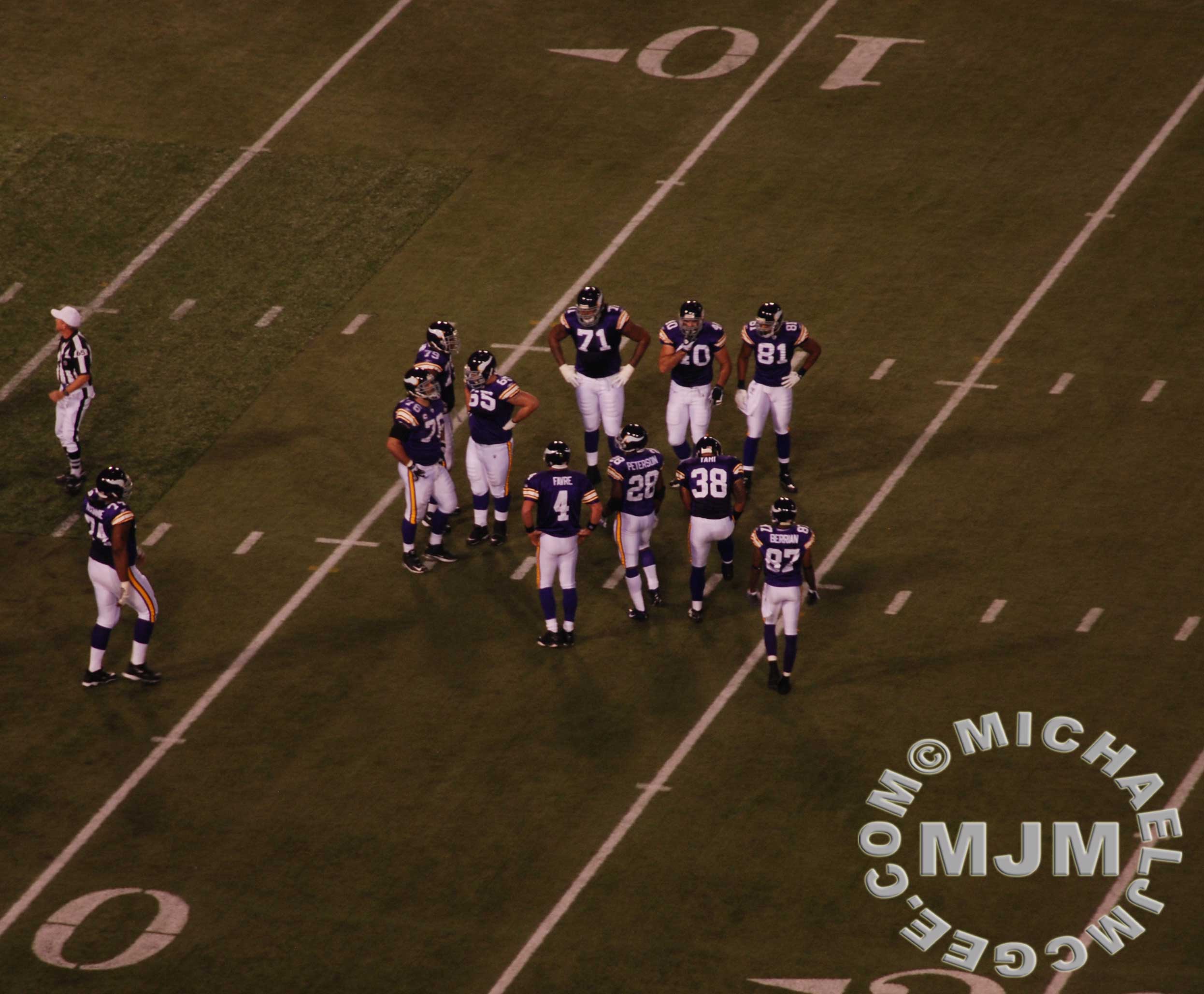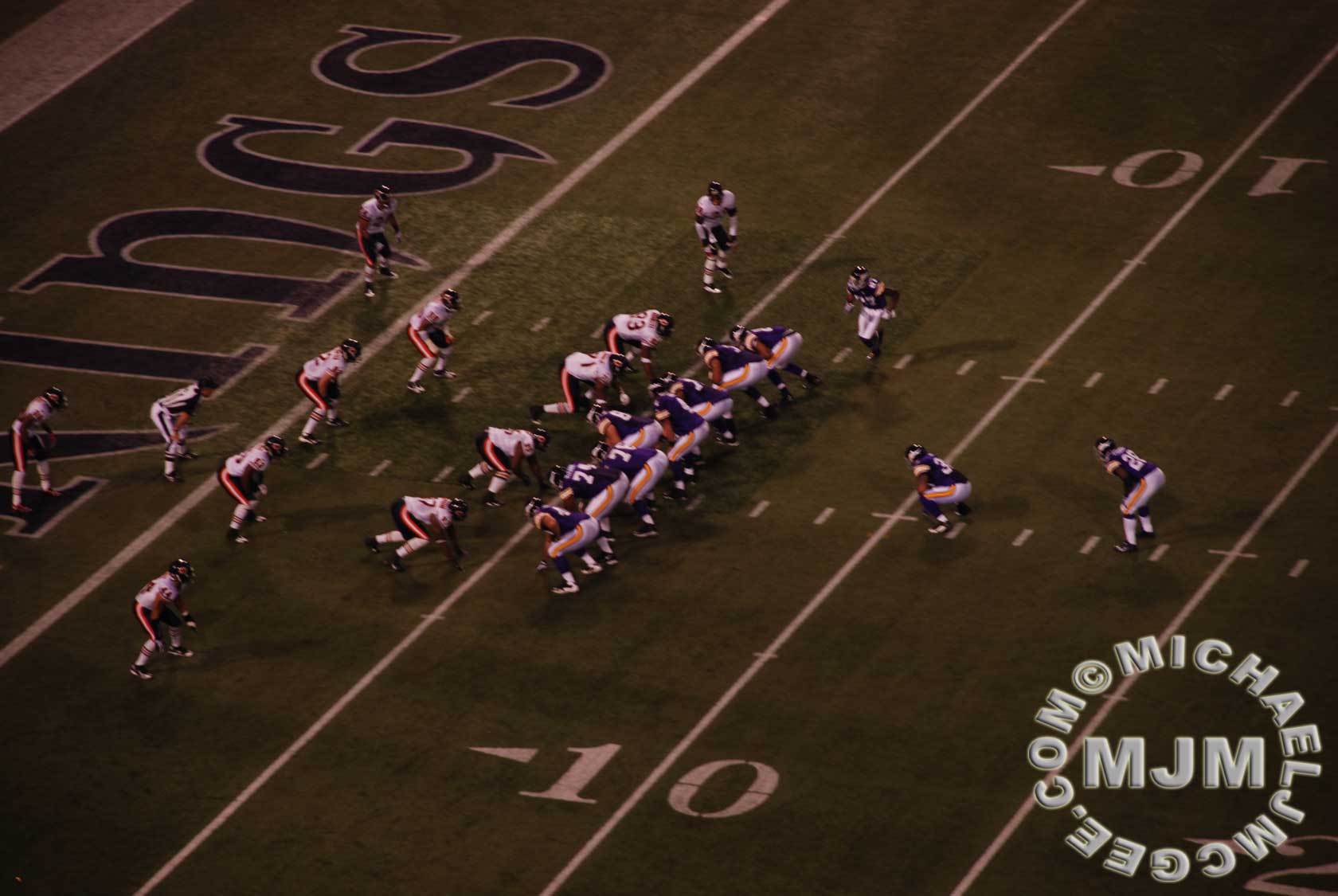 Vikes get ready to score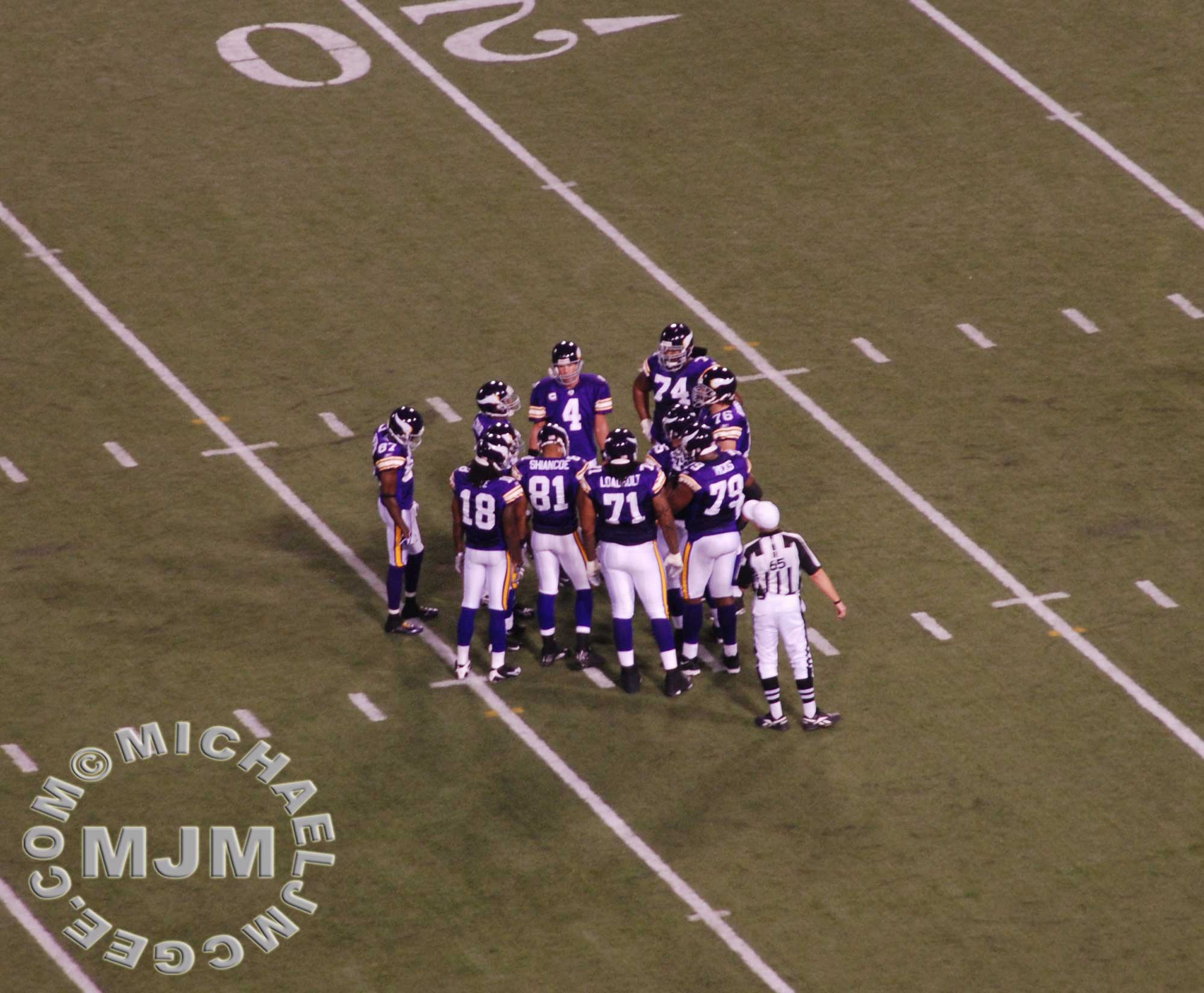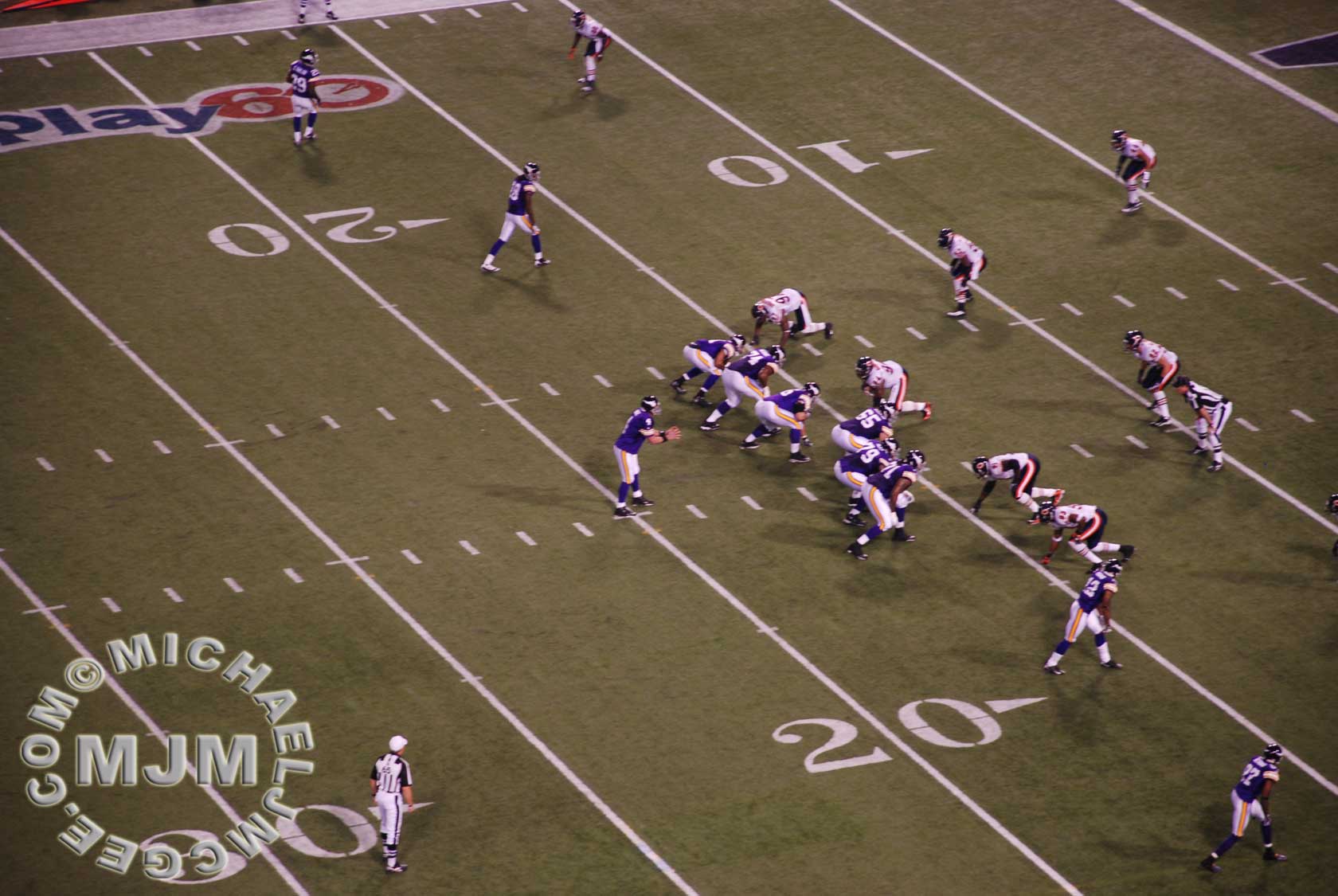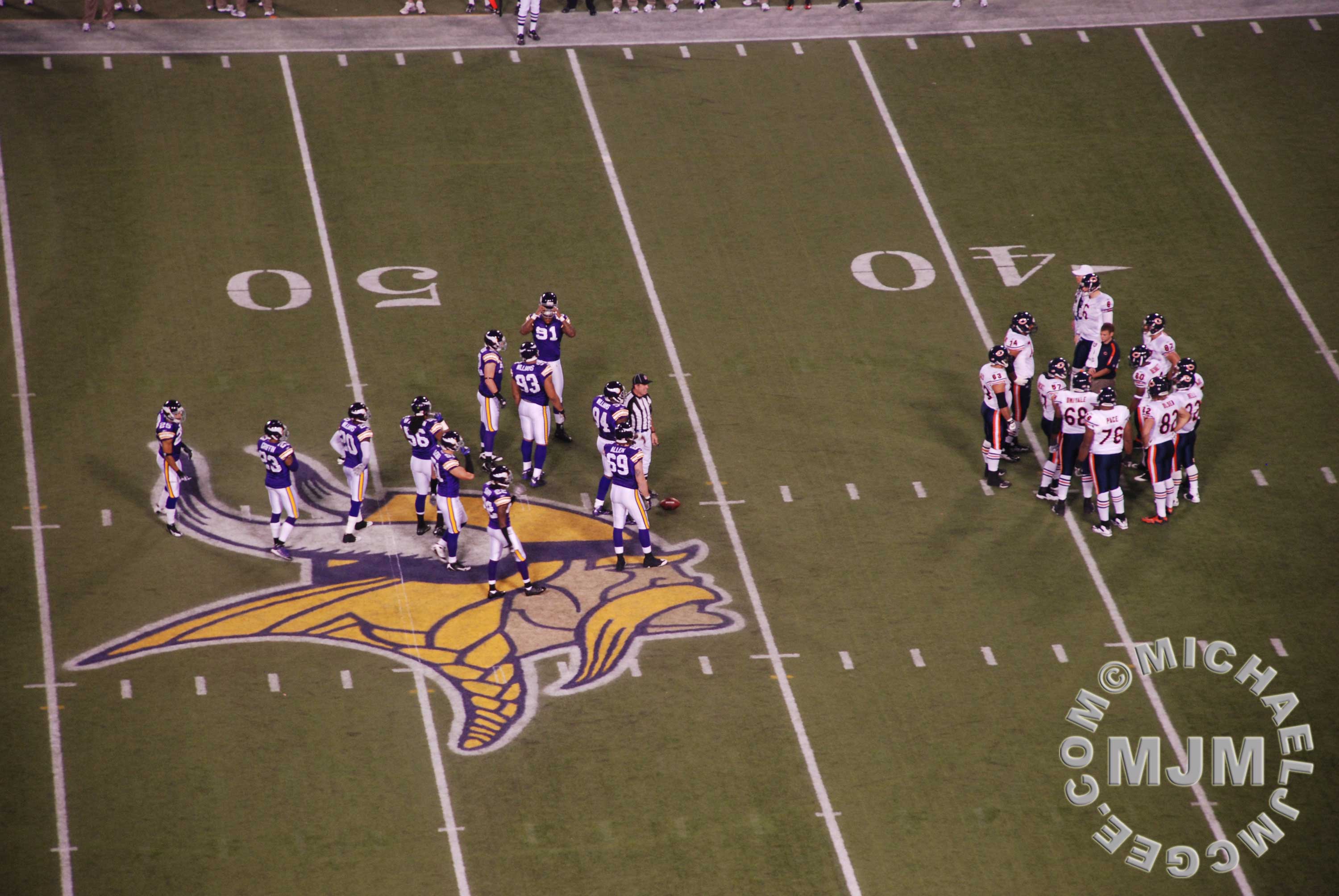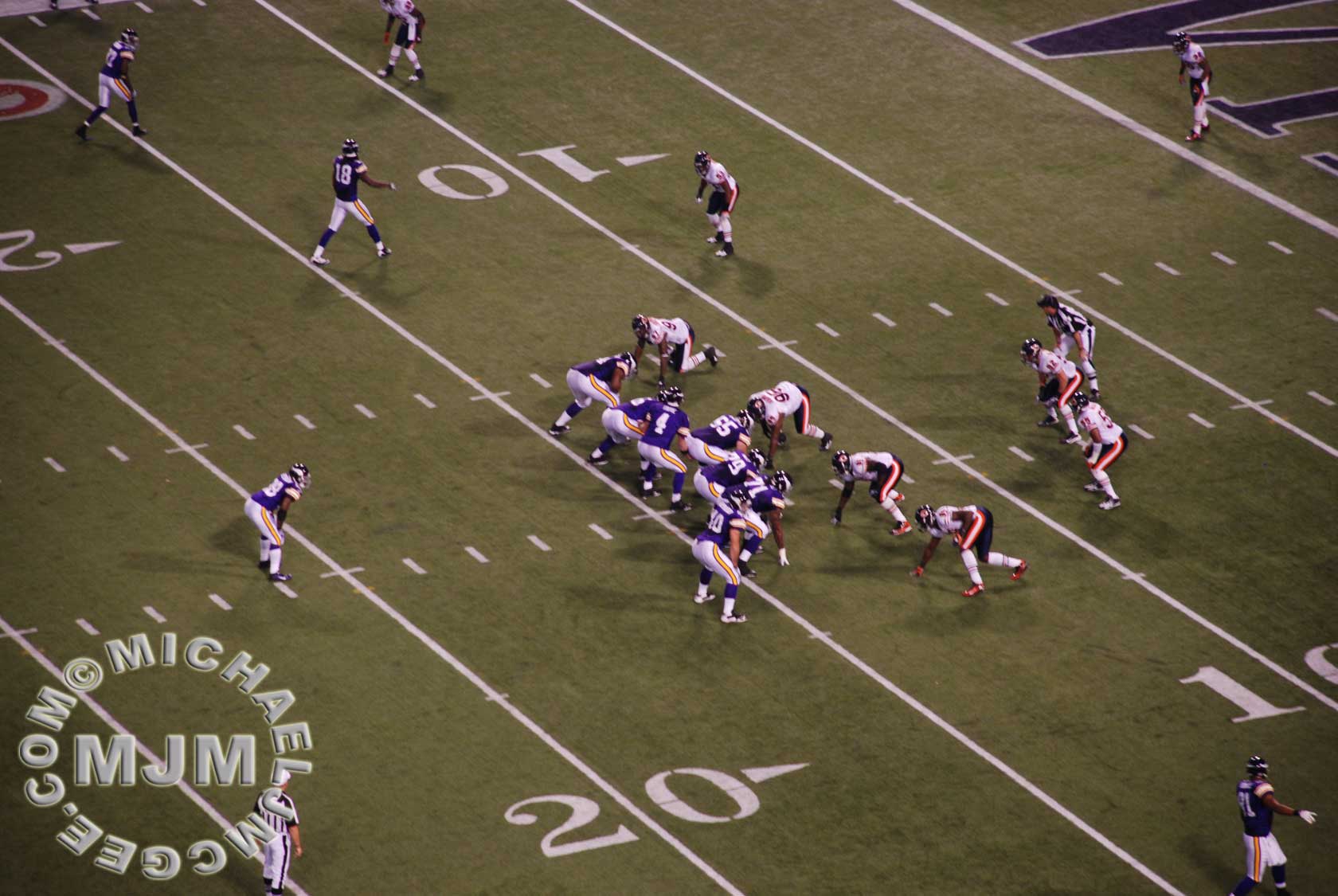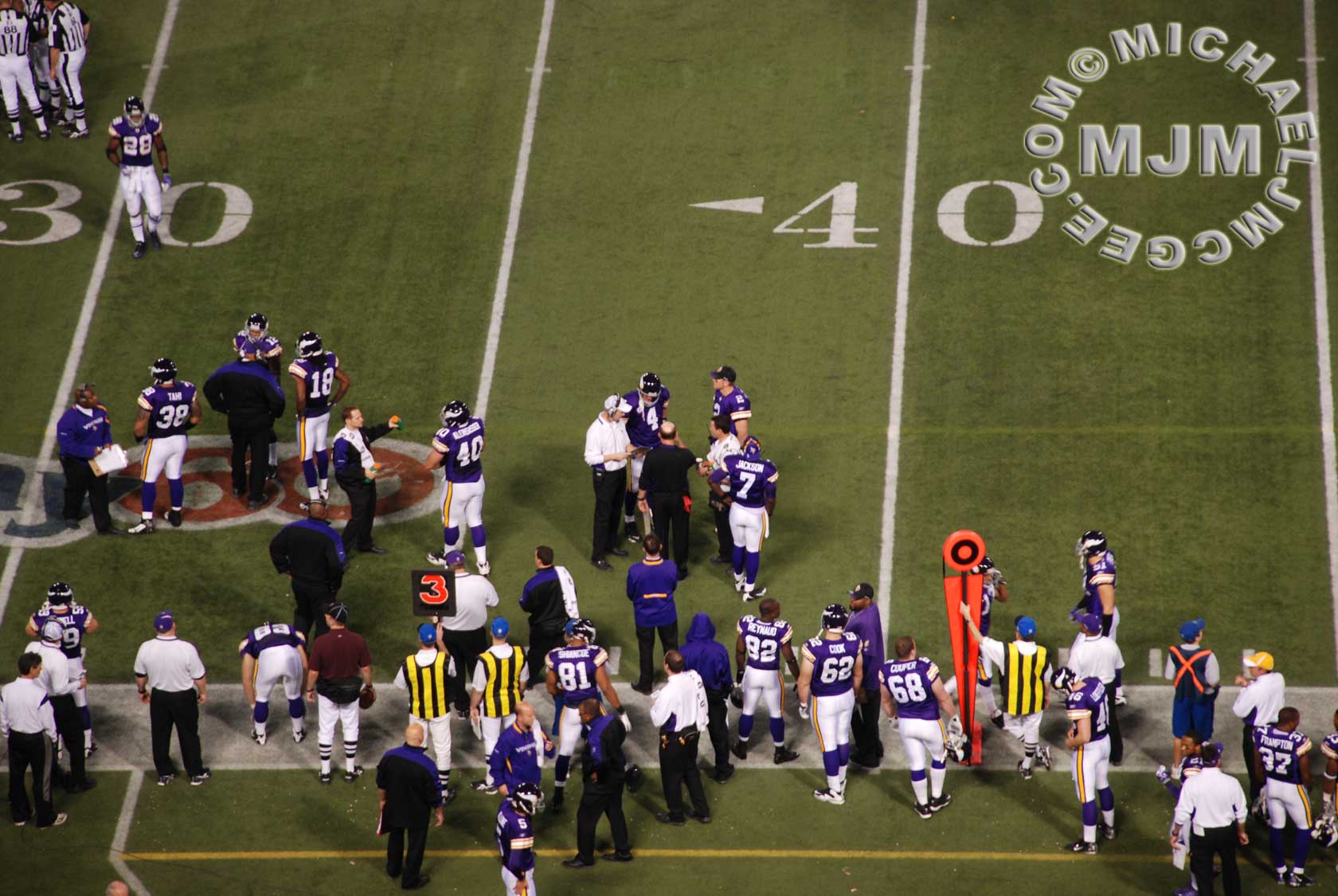 During a time out Favre talks with Offensive coordinator Darrell Bevell (L) & head coach Brad Childress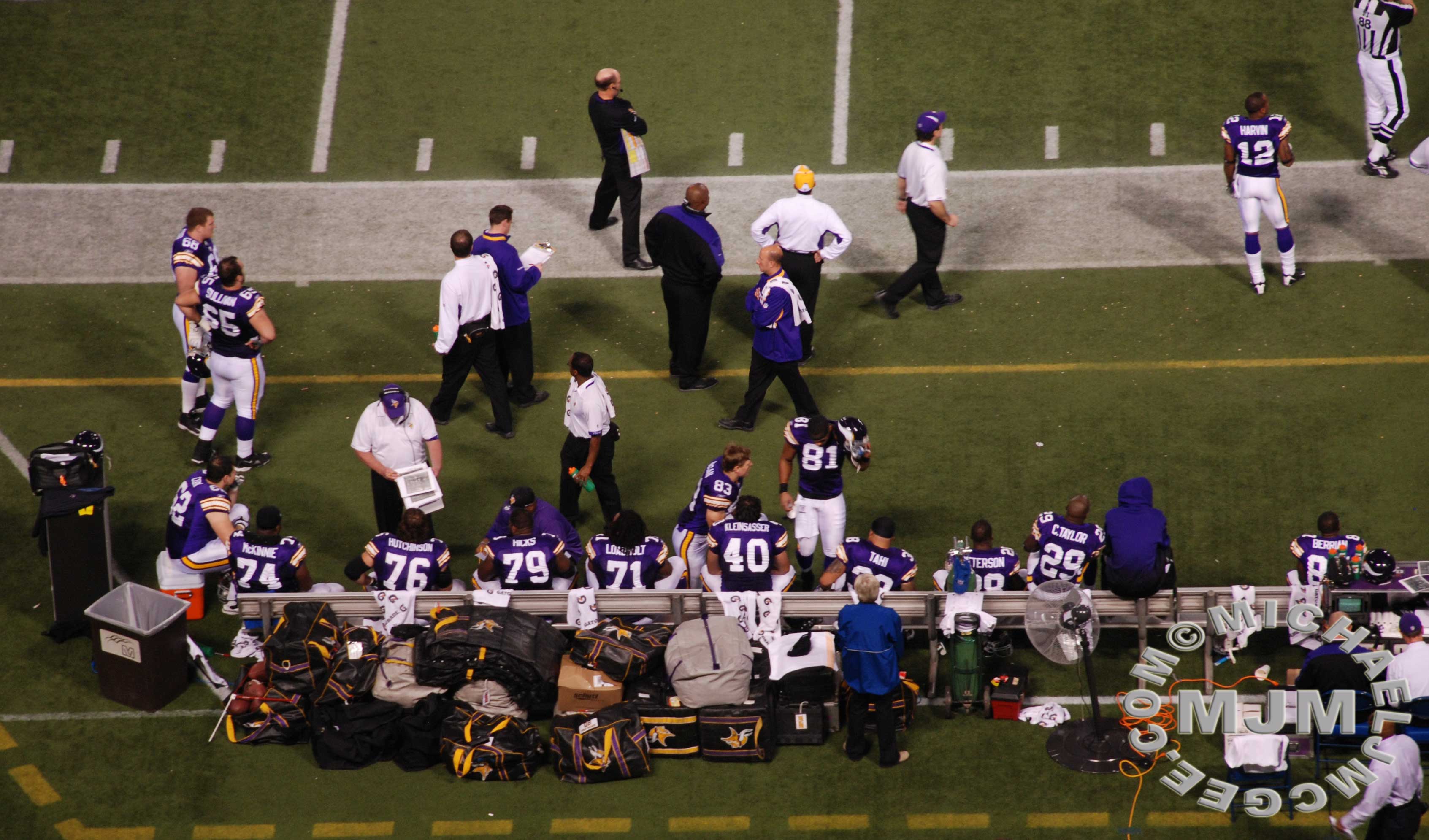 The offense gets a break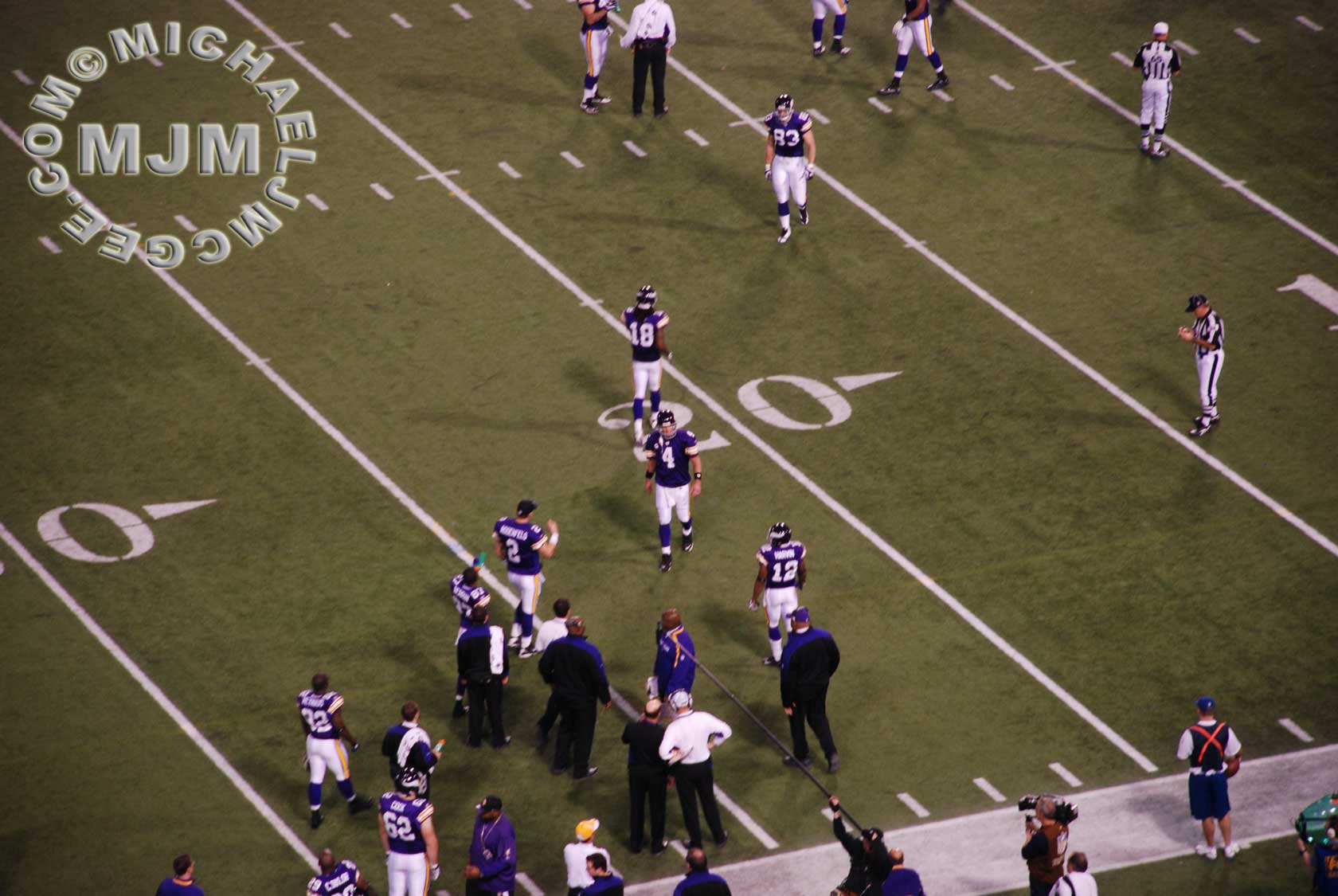 Time out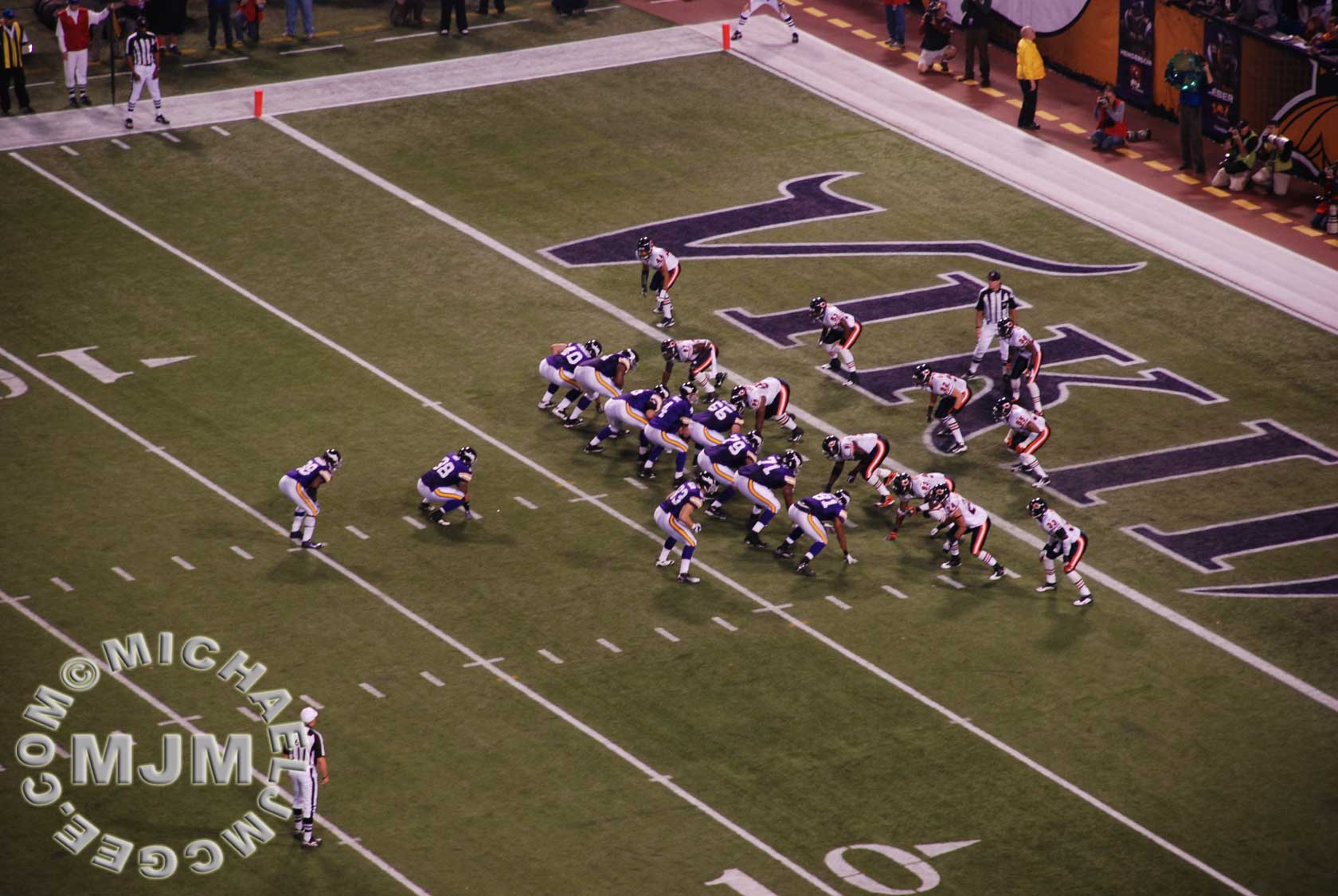 Favre gets ready to take the Vikings in!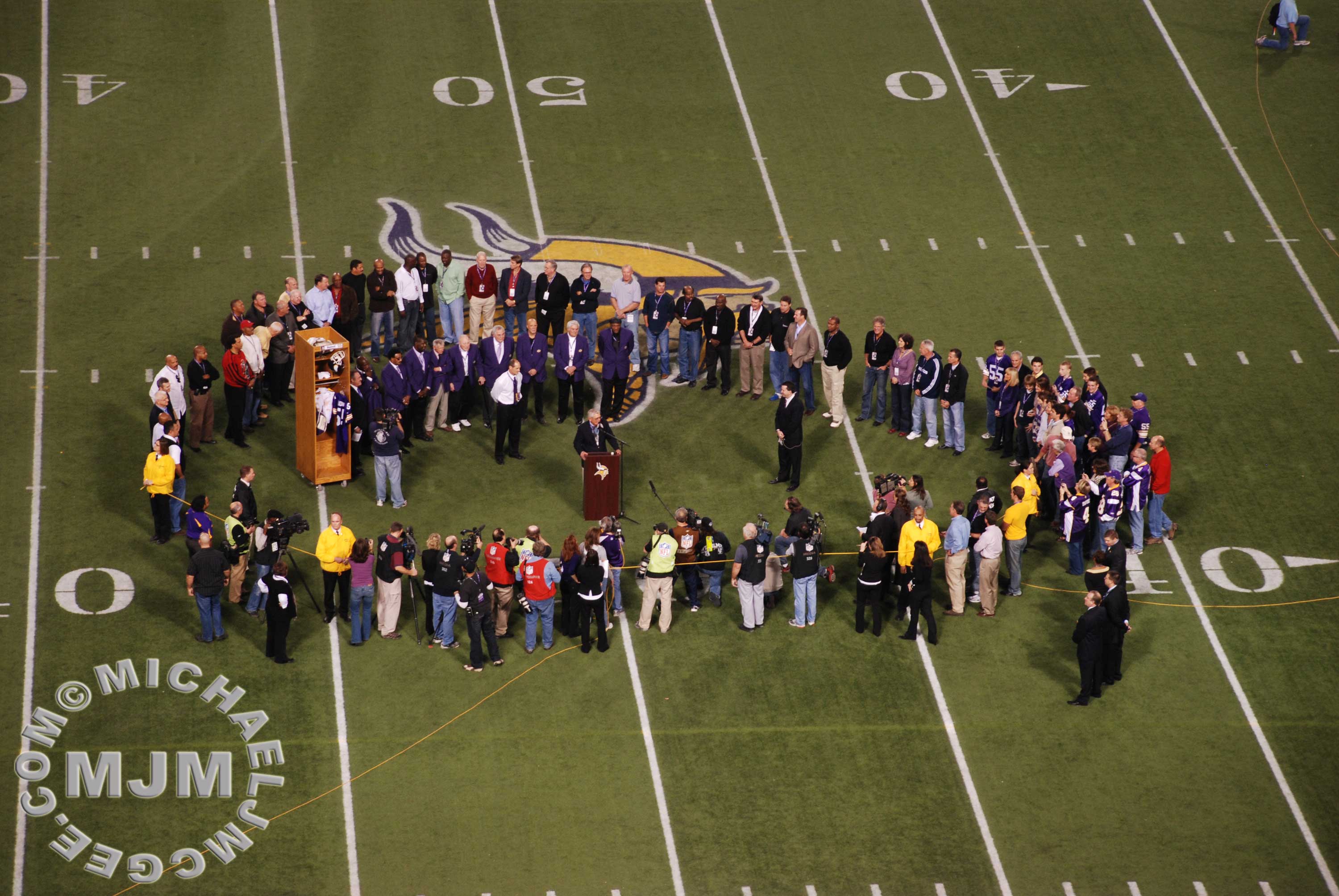 Halftime: Scott Studwell gets his introduction into the Ring of Honor.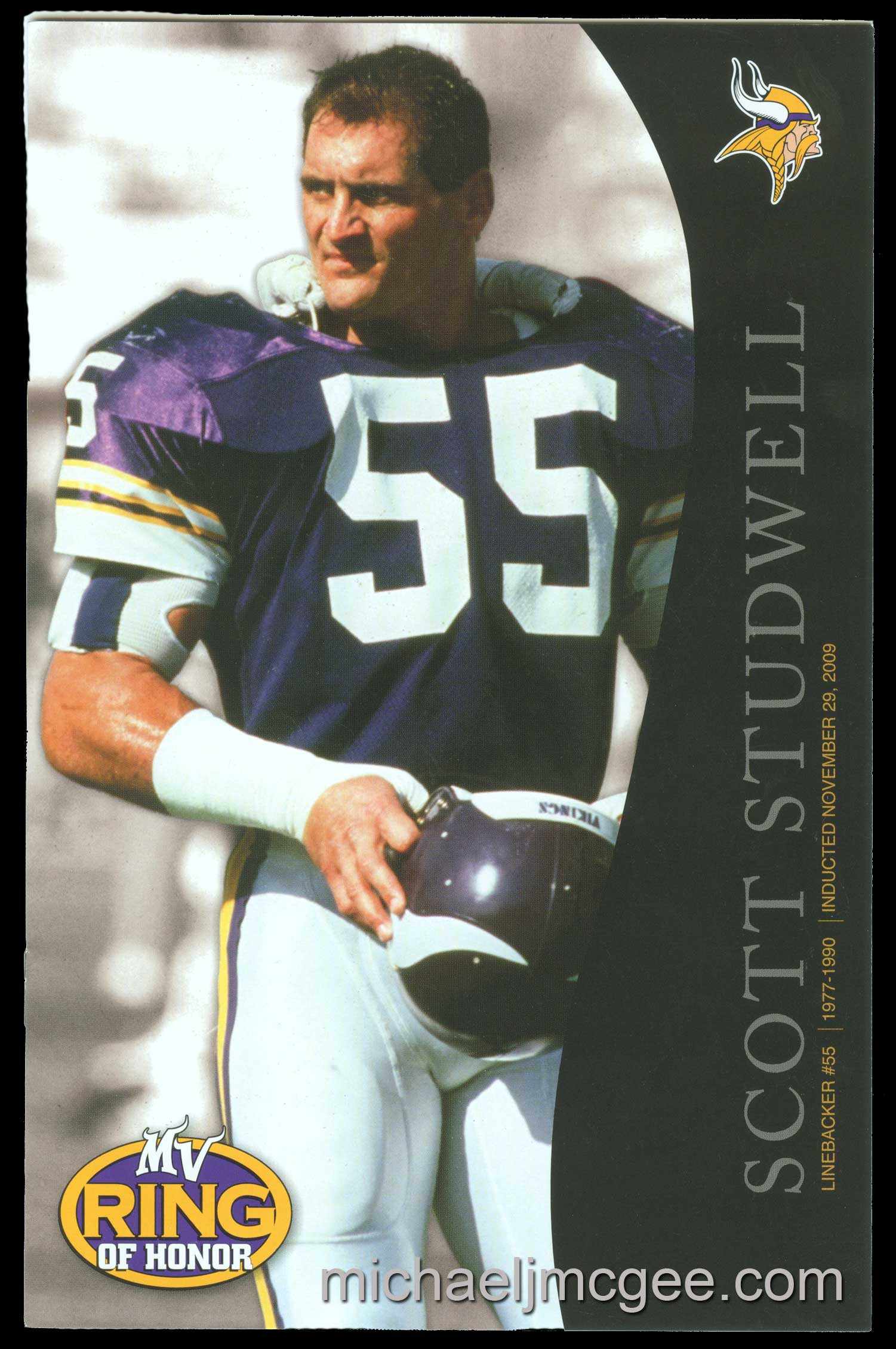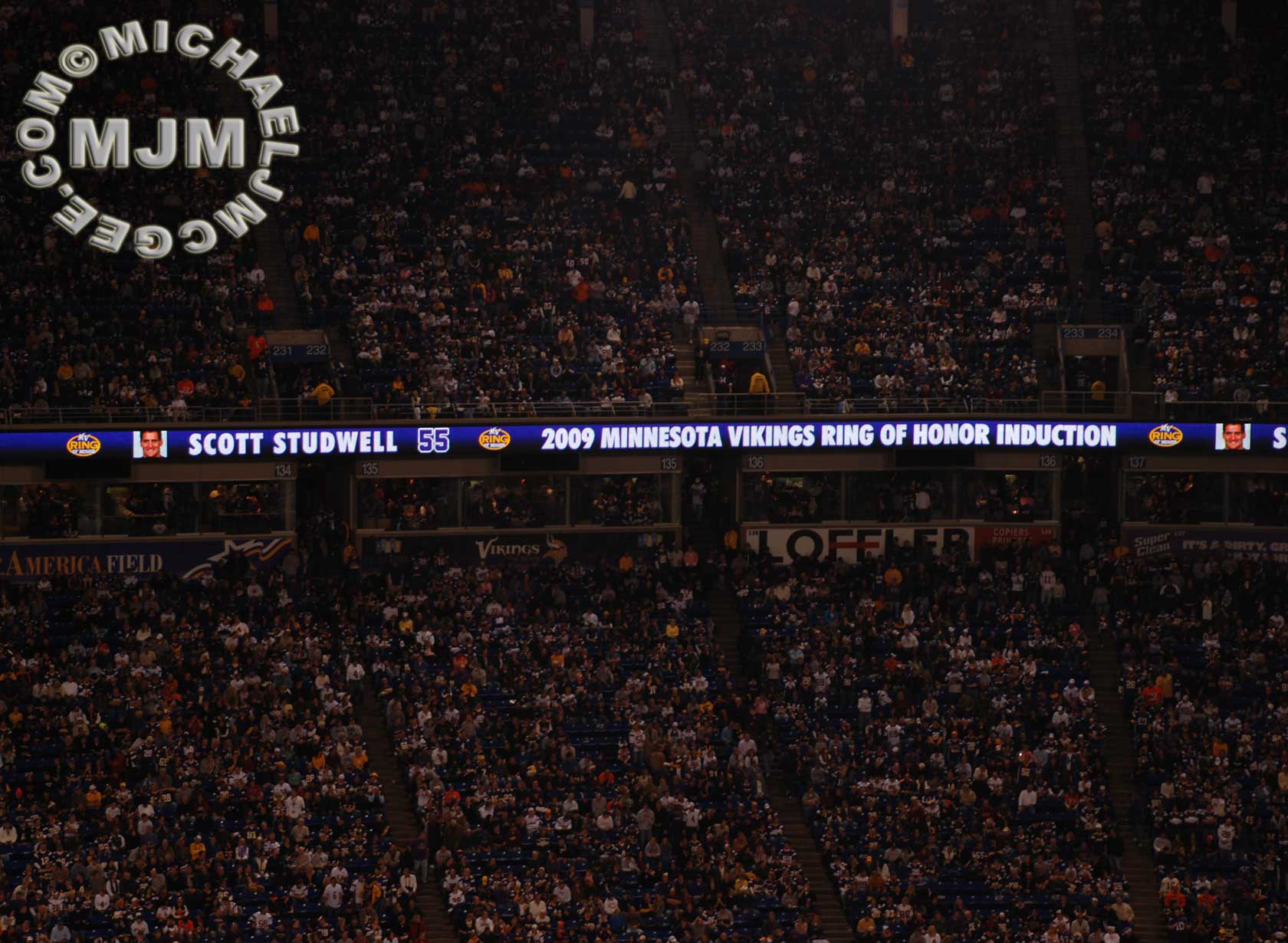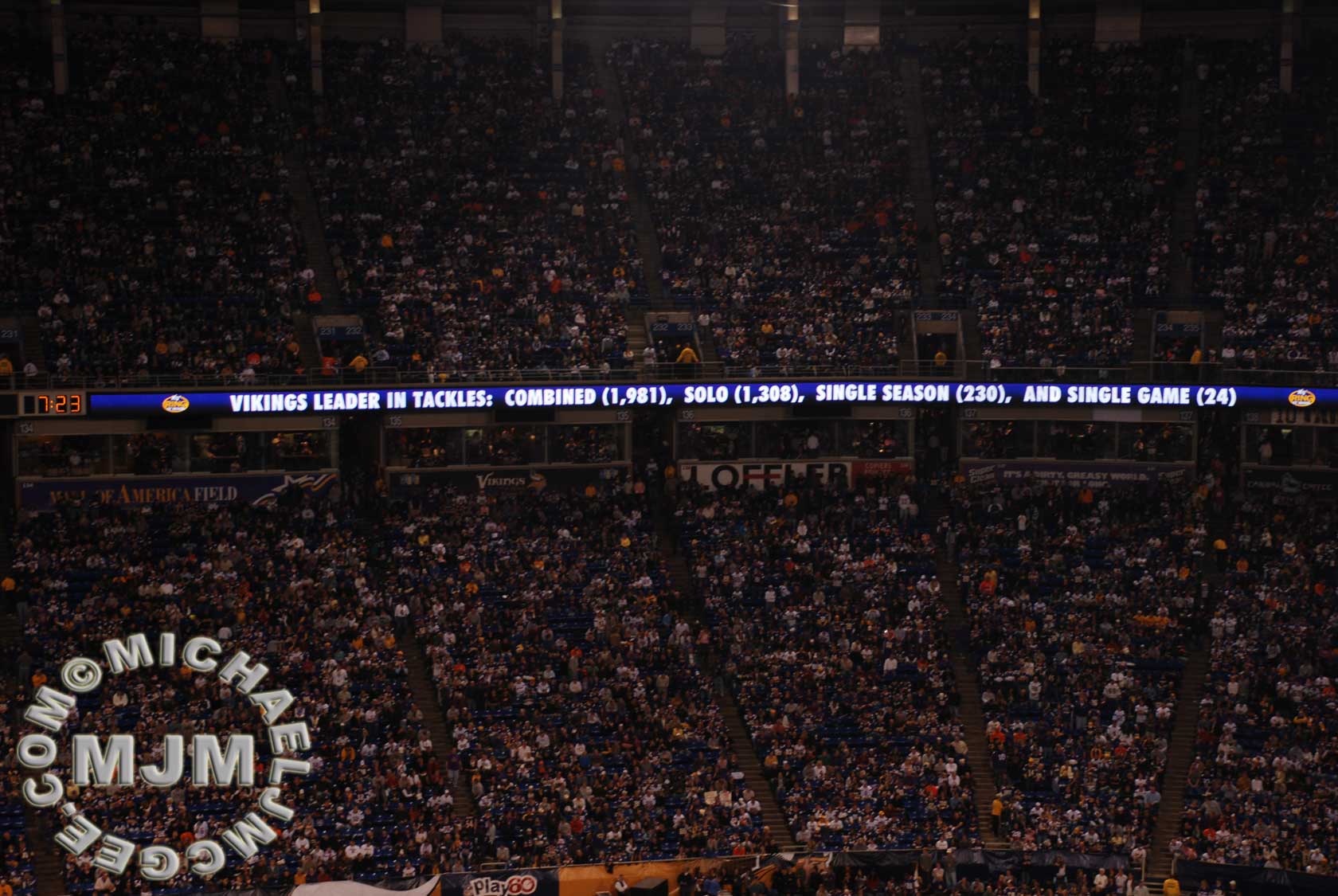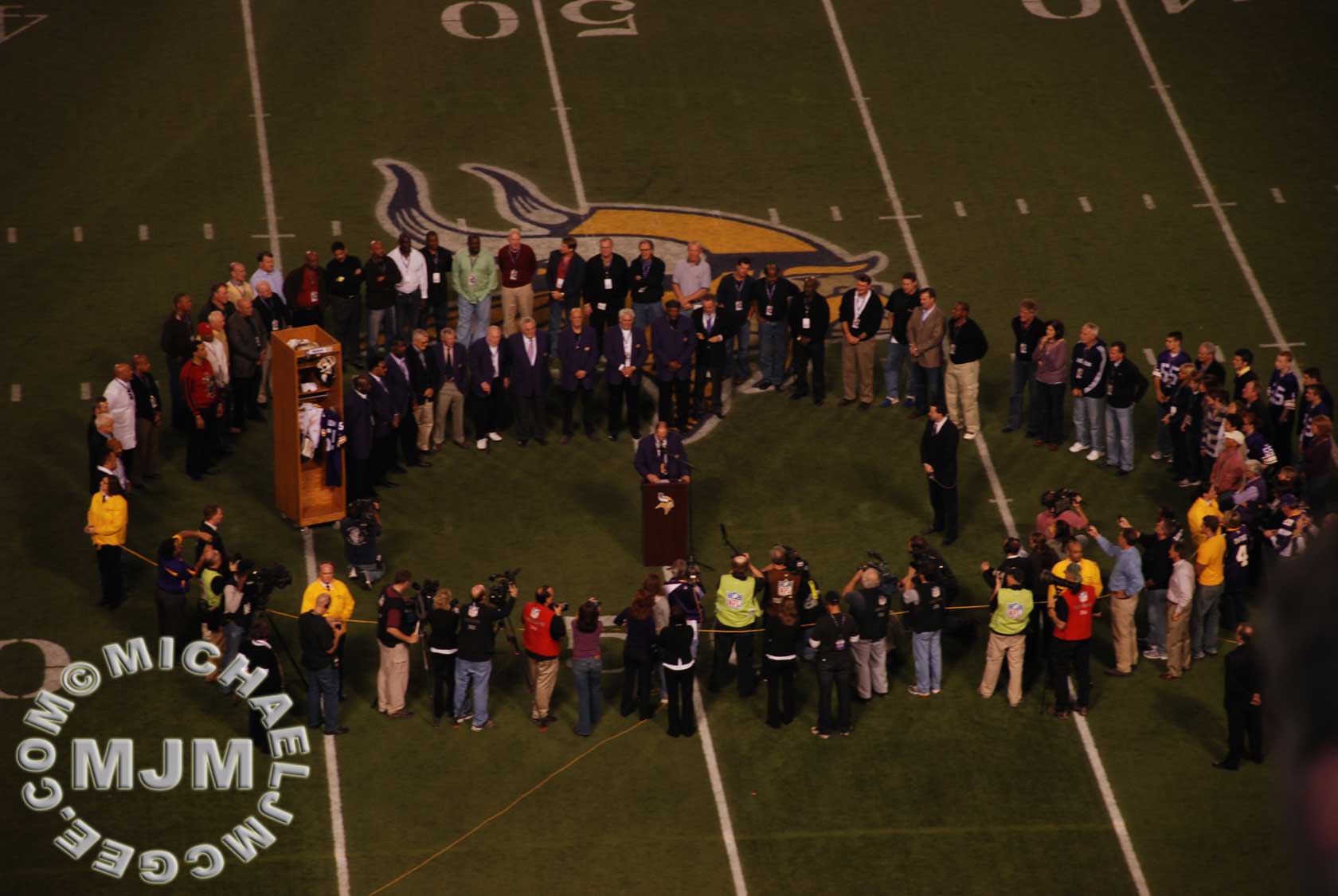 Scott speaks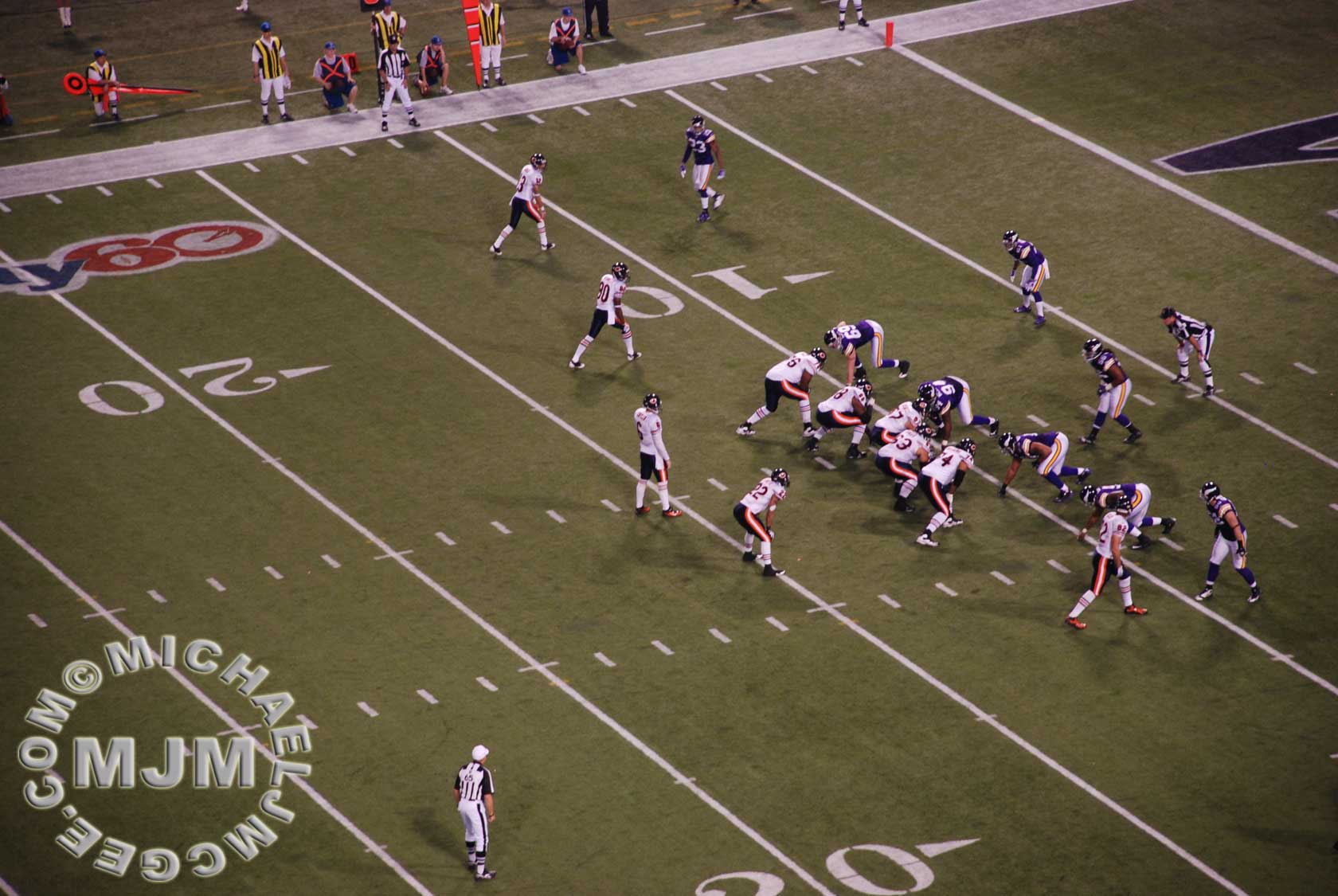 3rd quarter, Cutler gets the Bears in position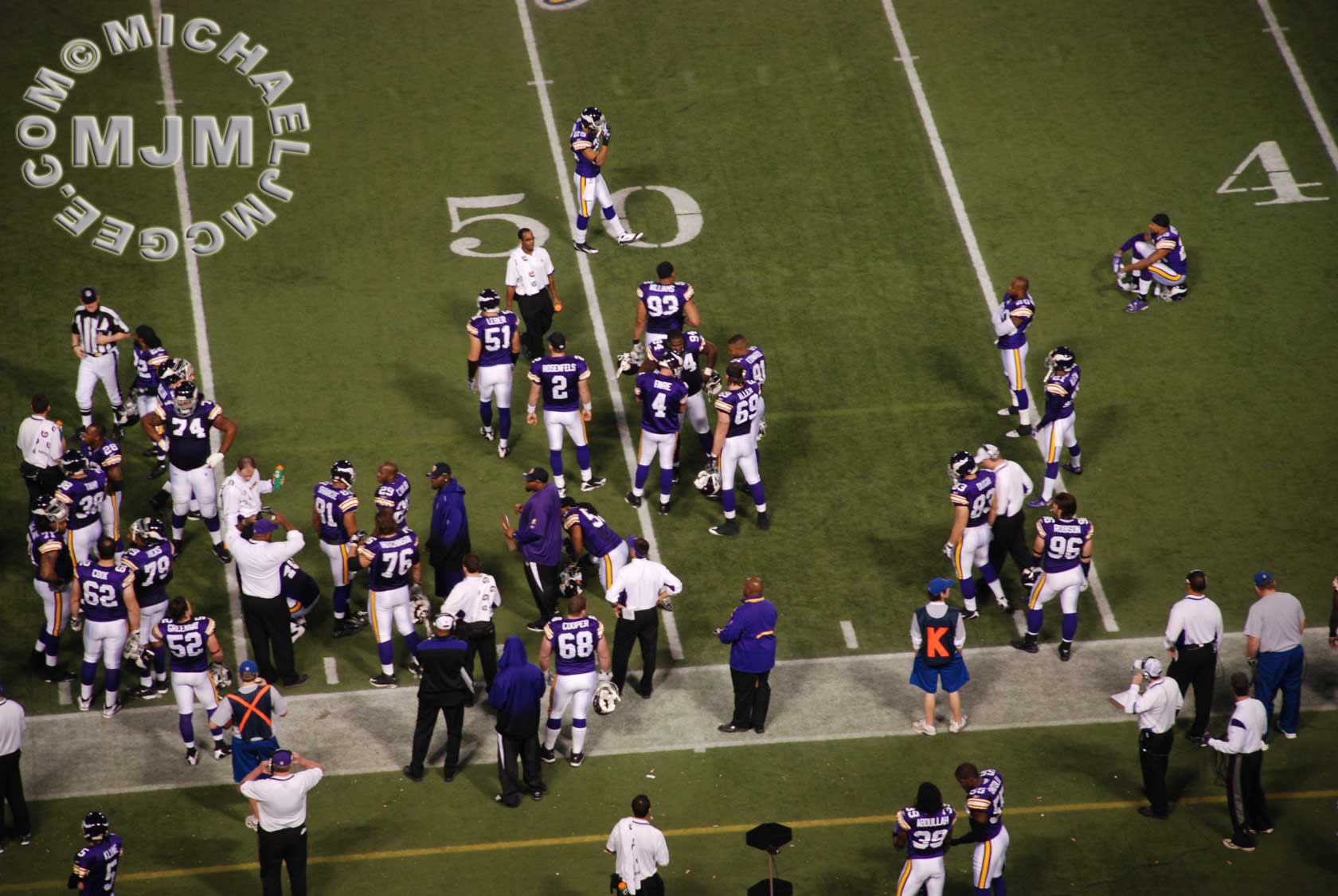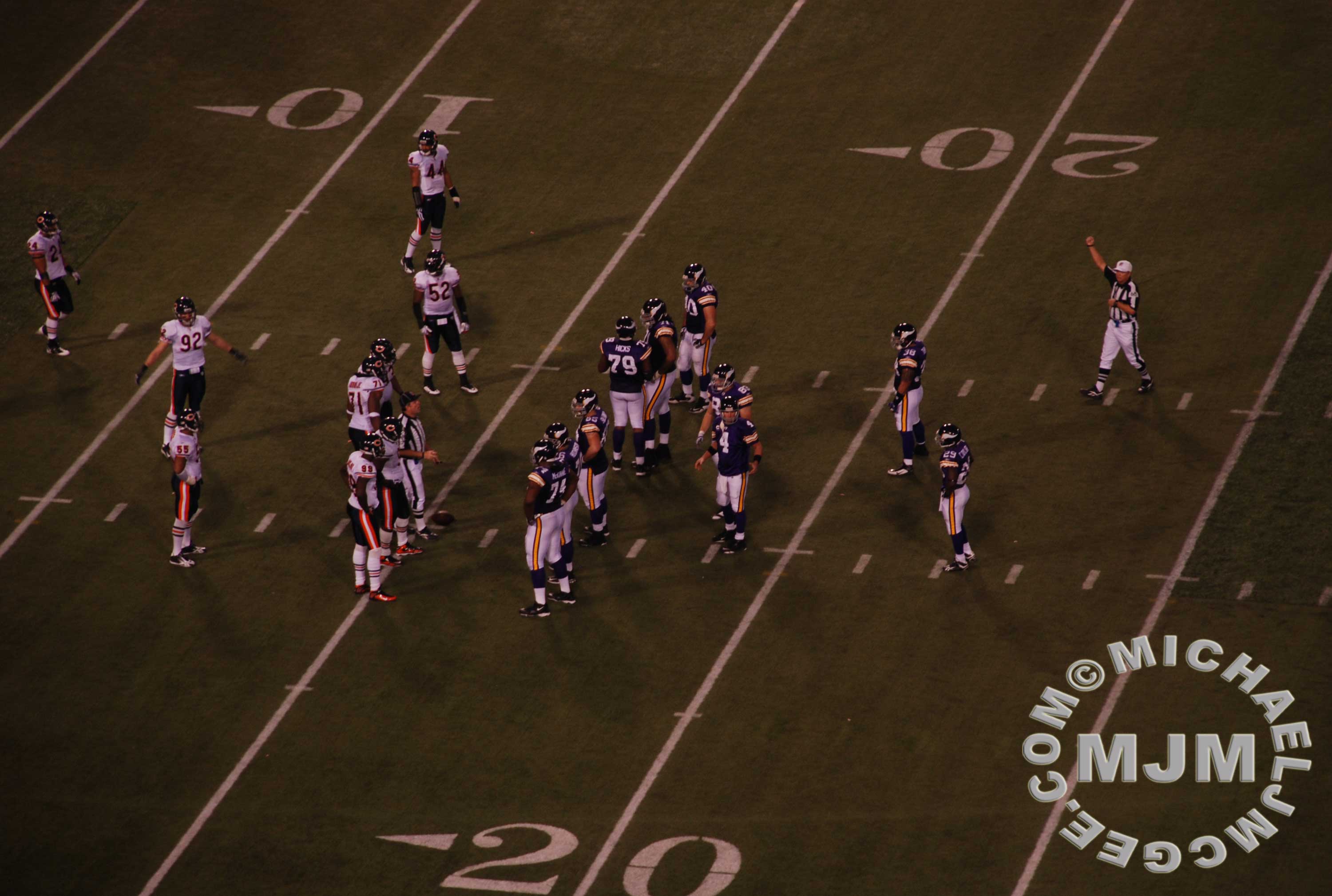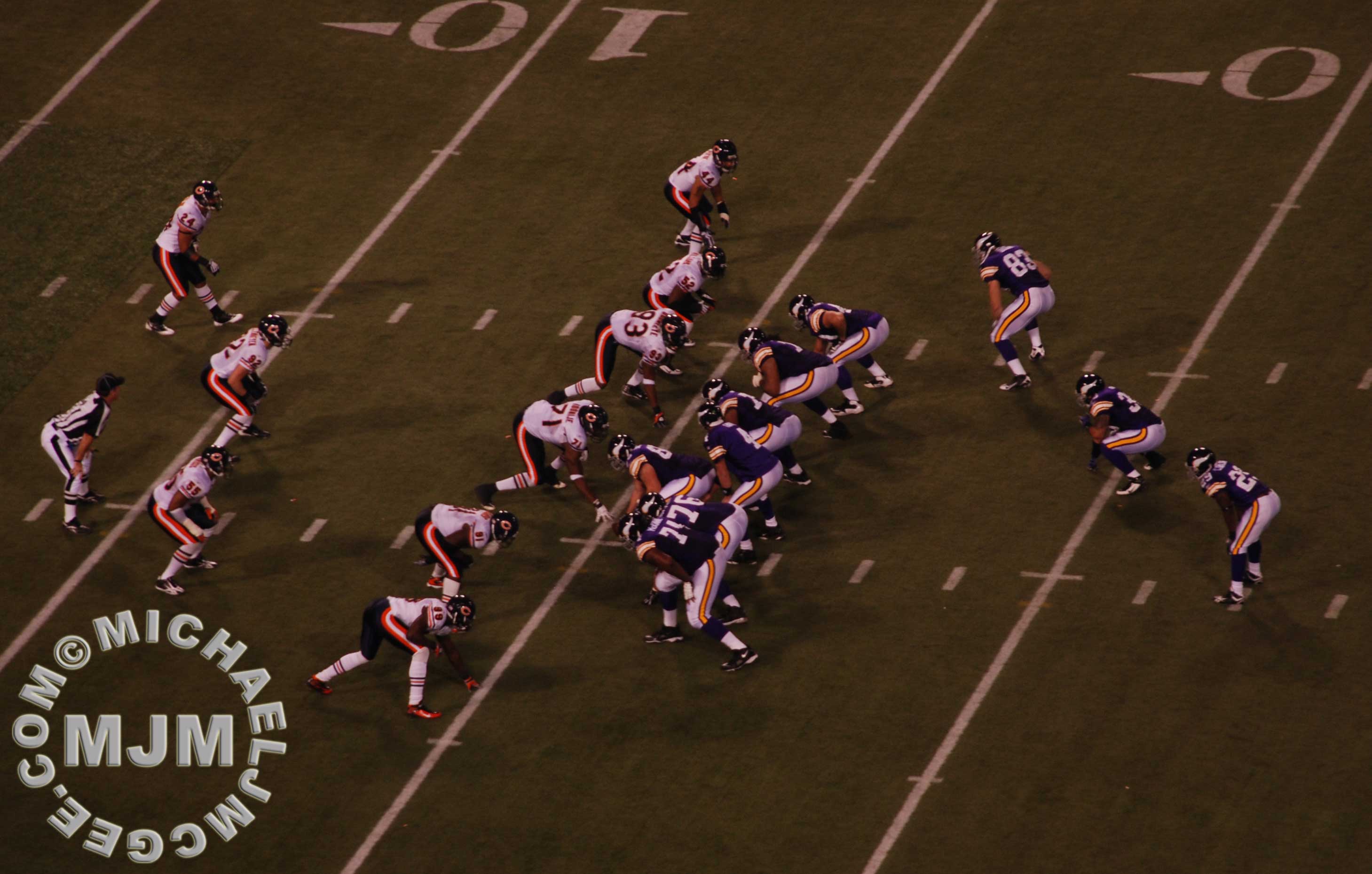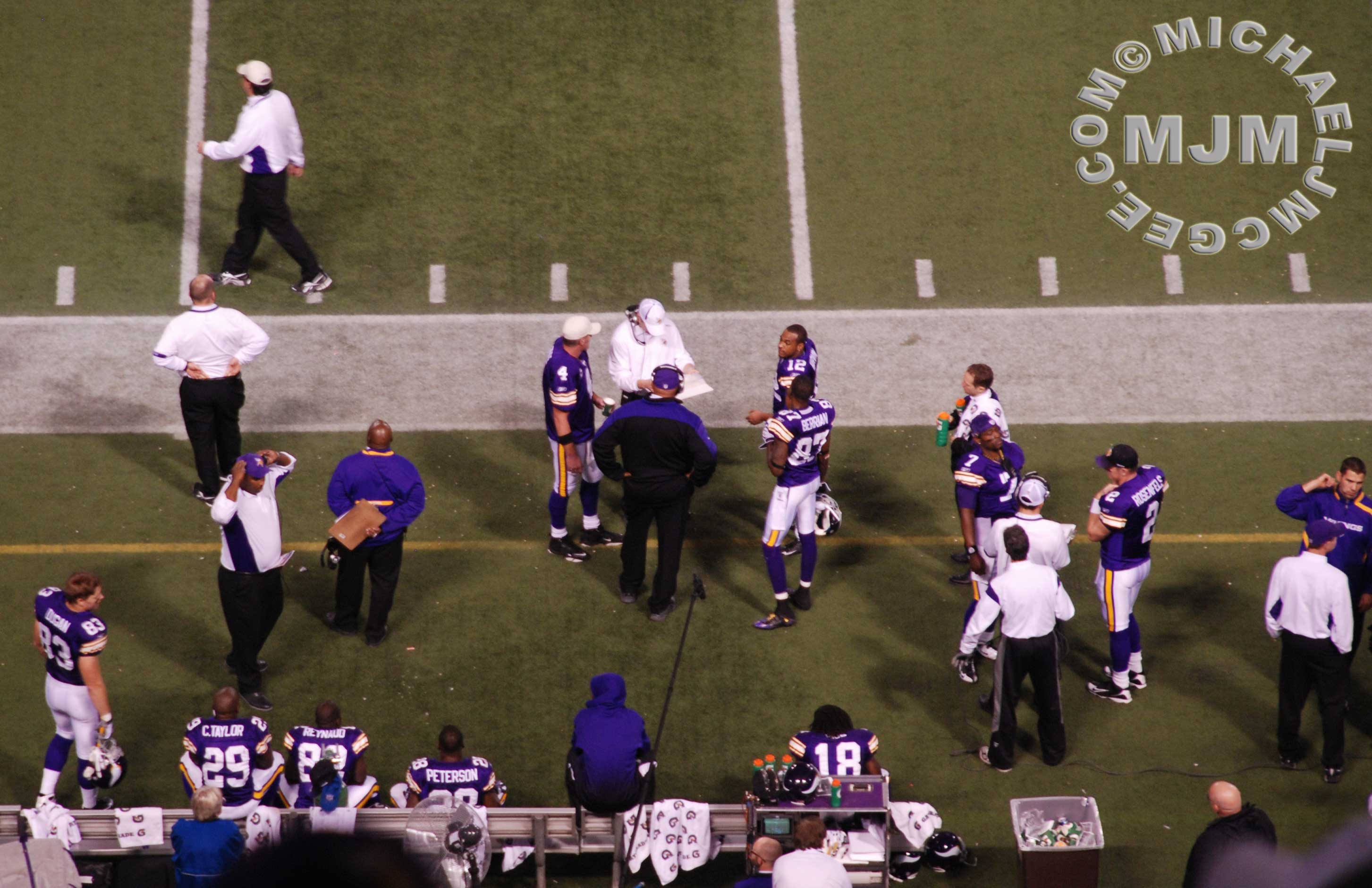 Brett talks with Darrell
Favre hangs on the bench with QB Rosenfels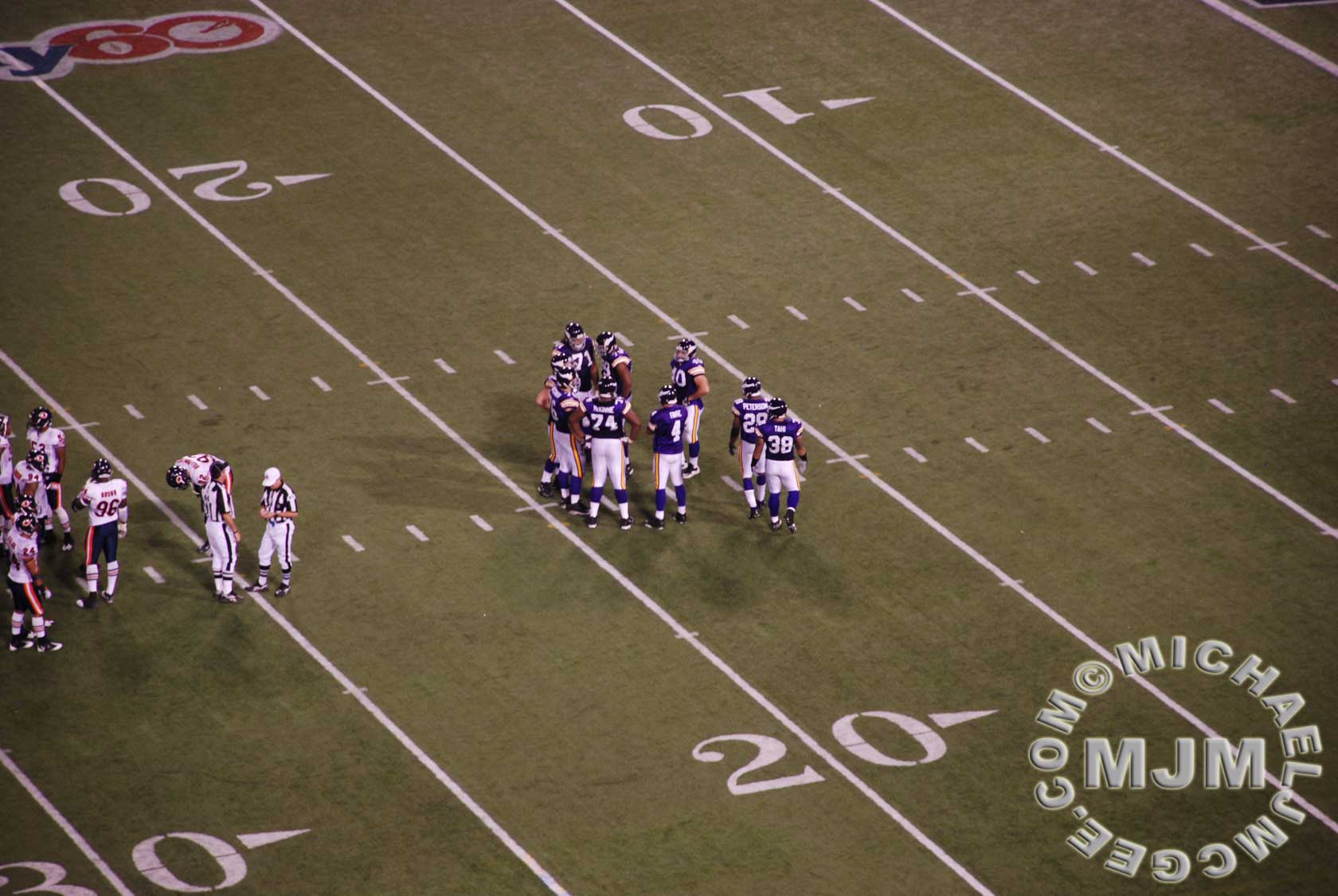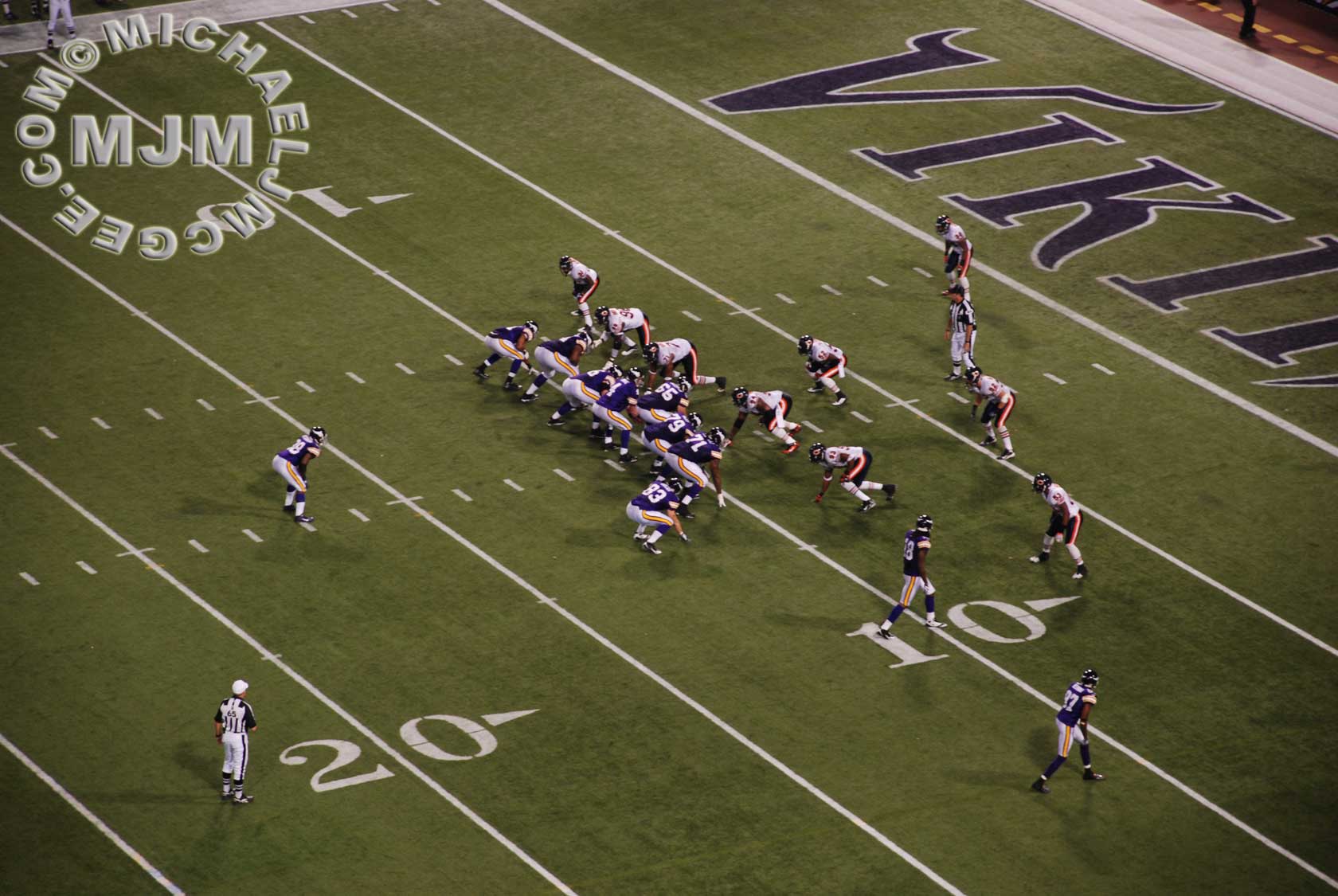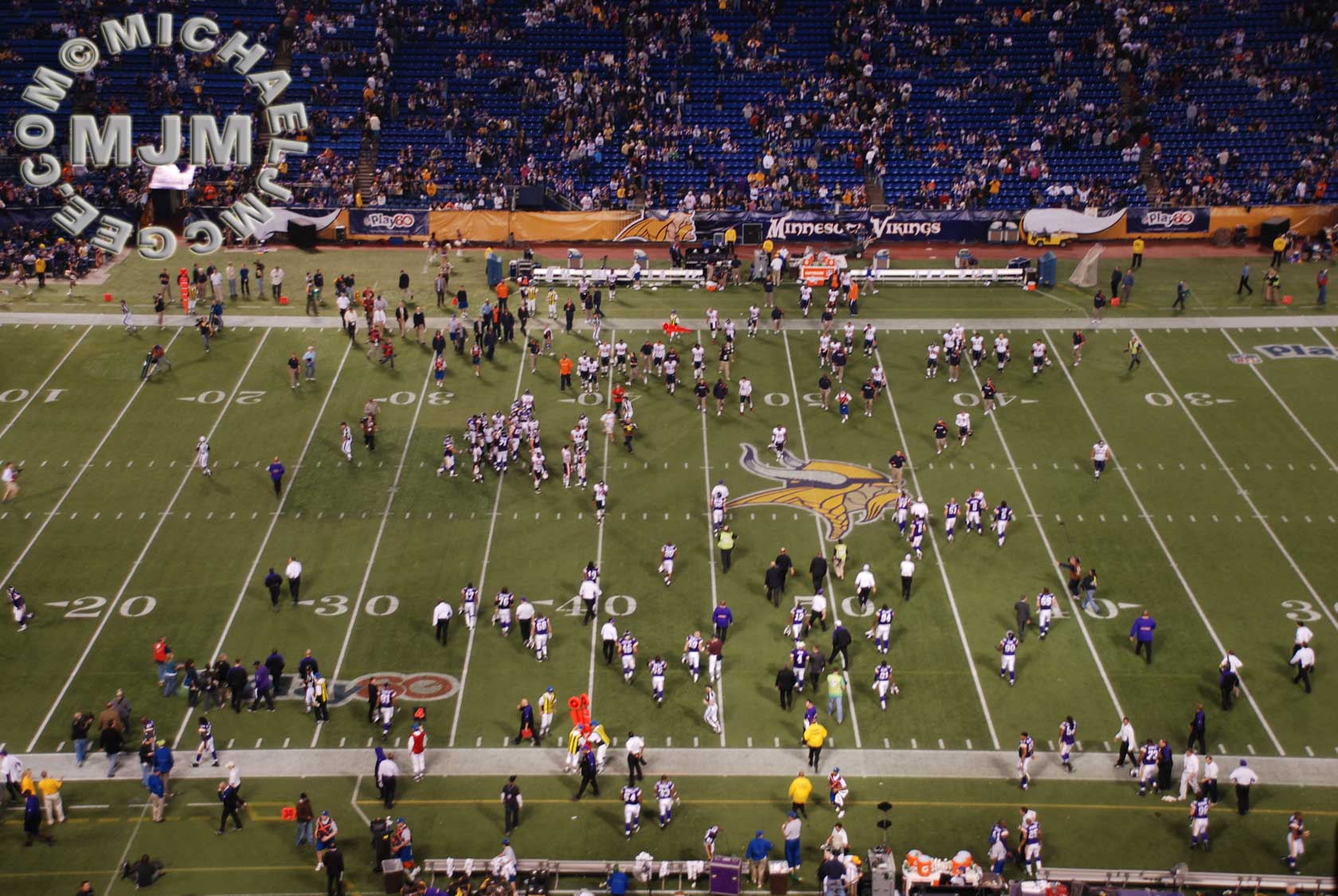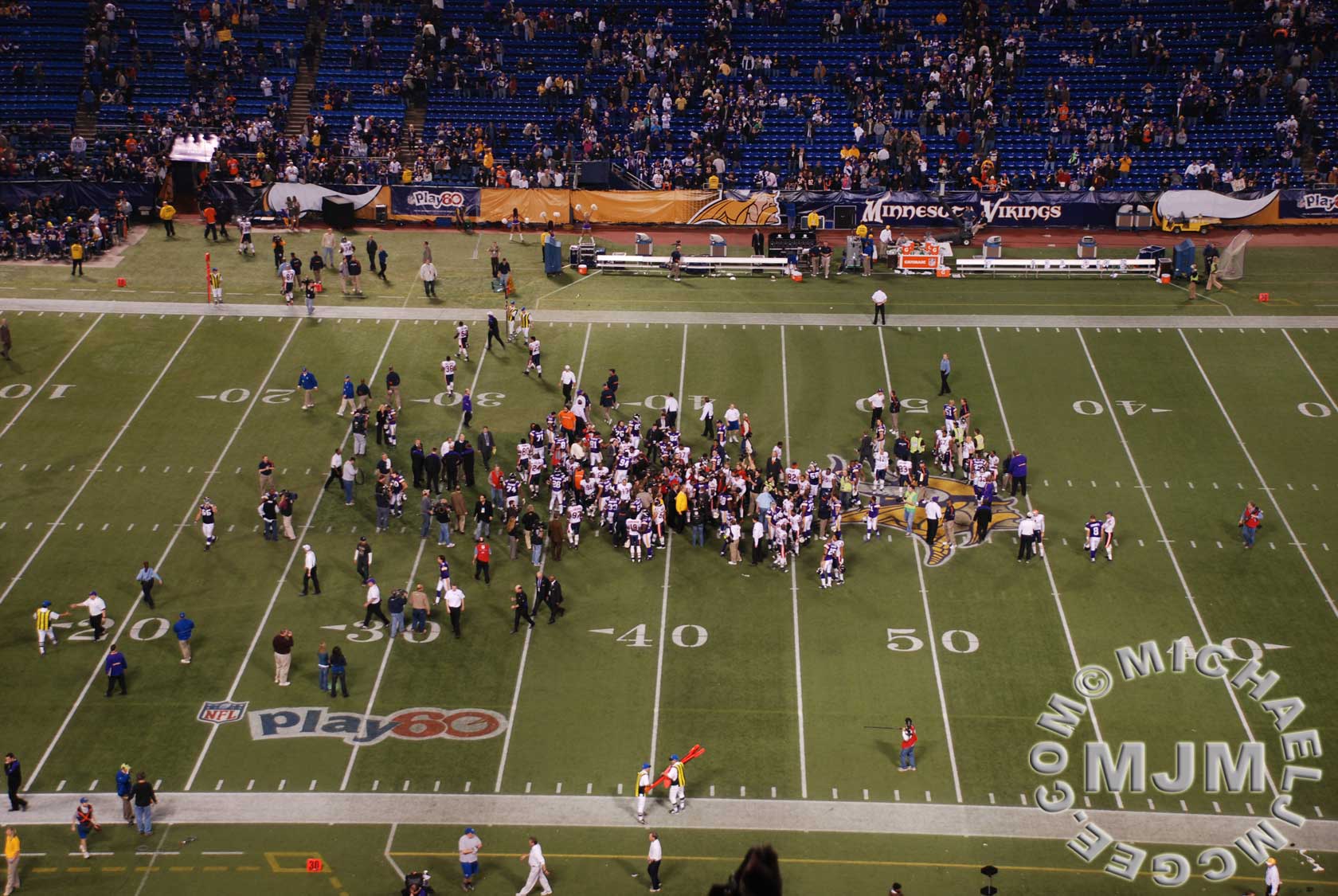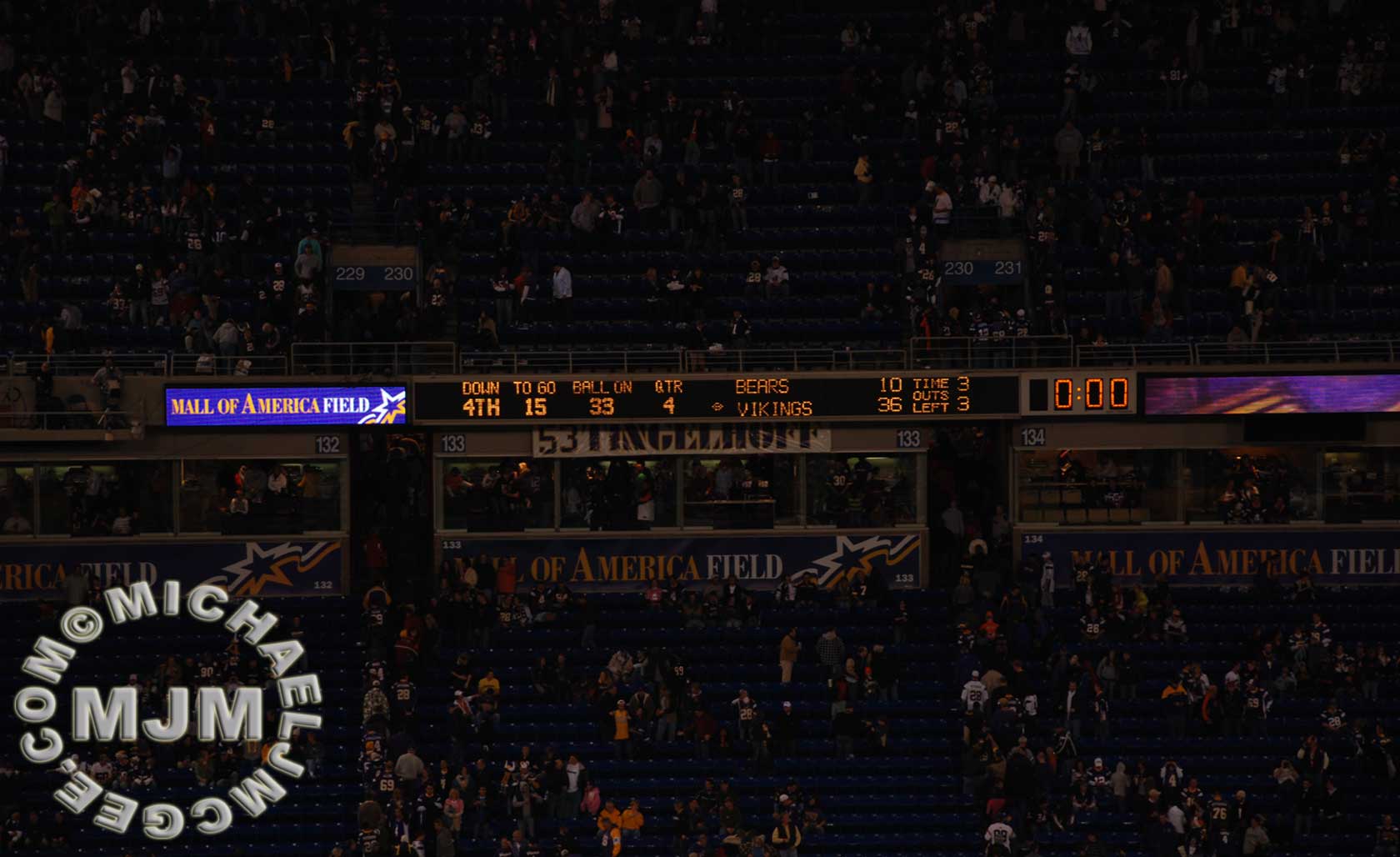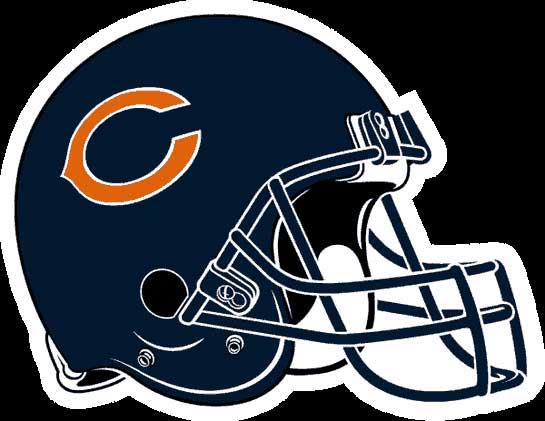 The Bears lose this one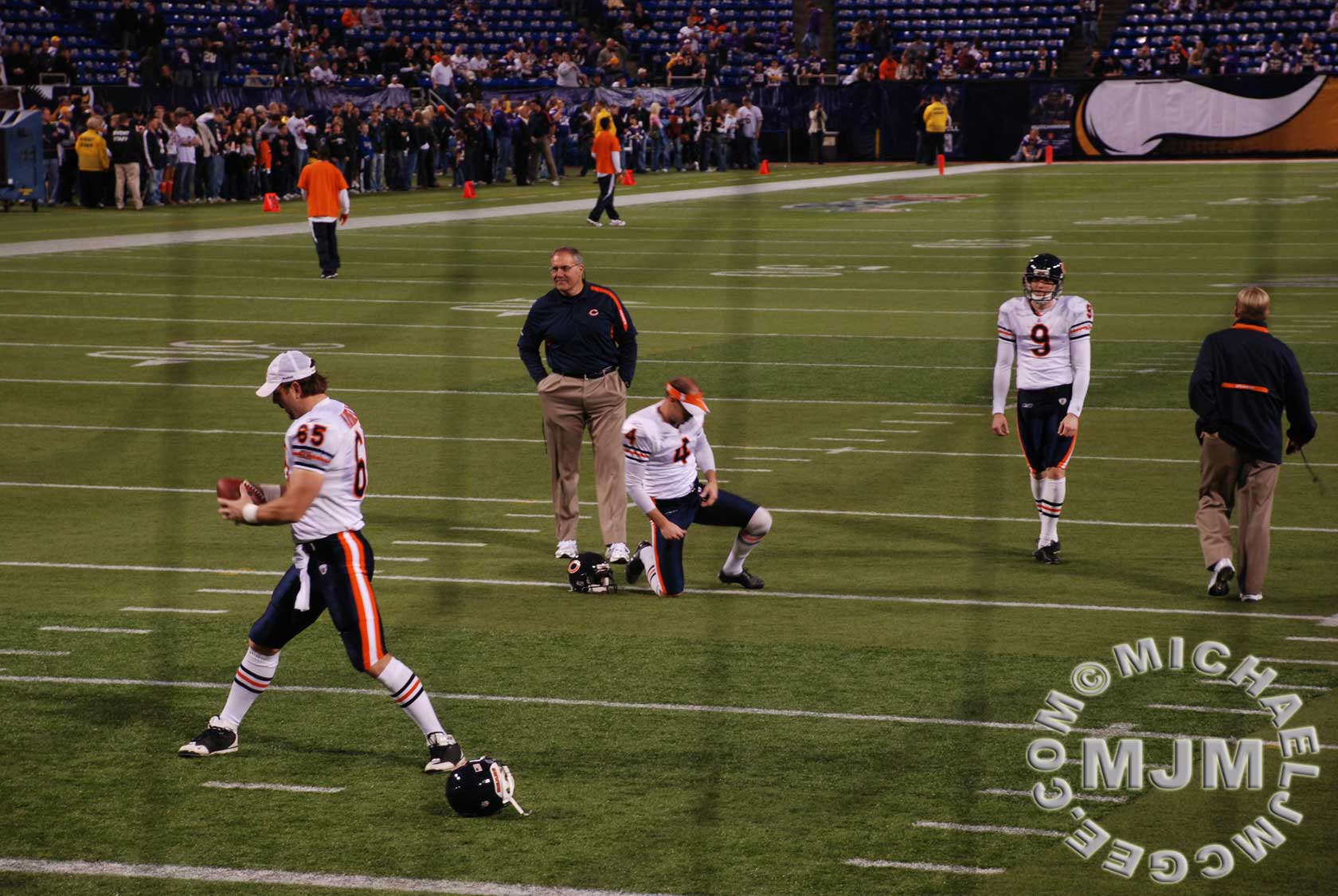 K Robbie Gould warms up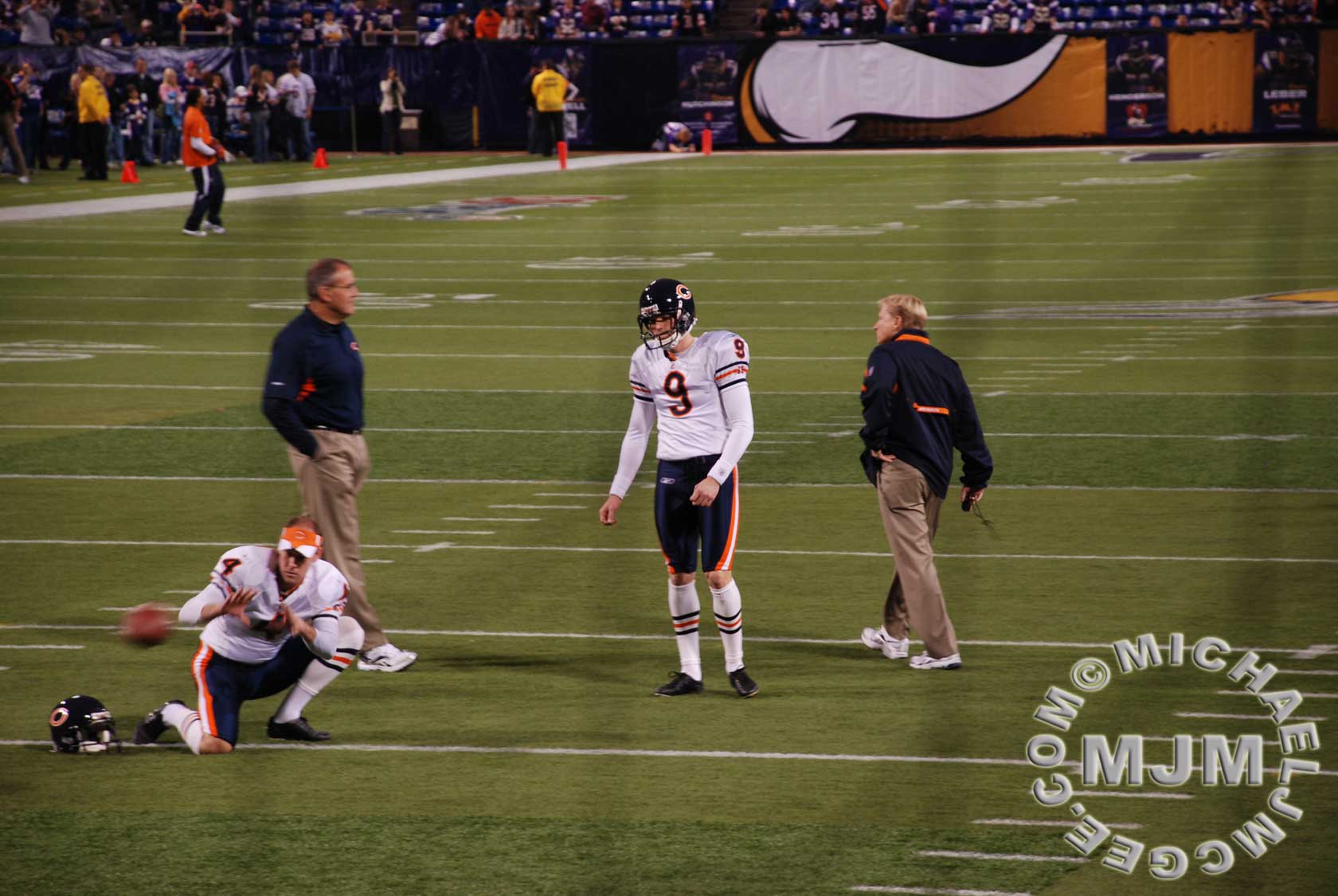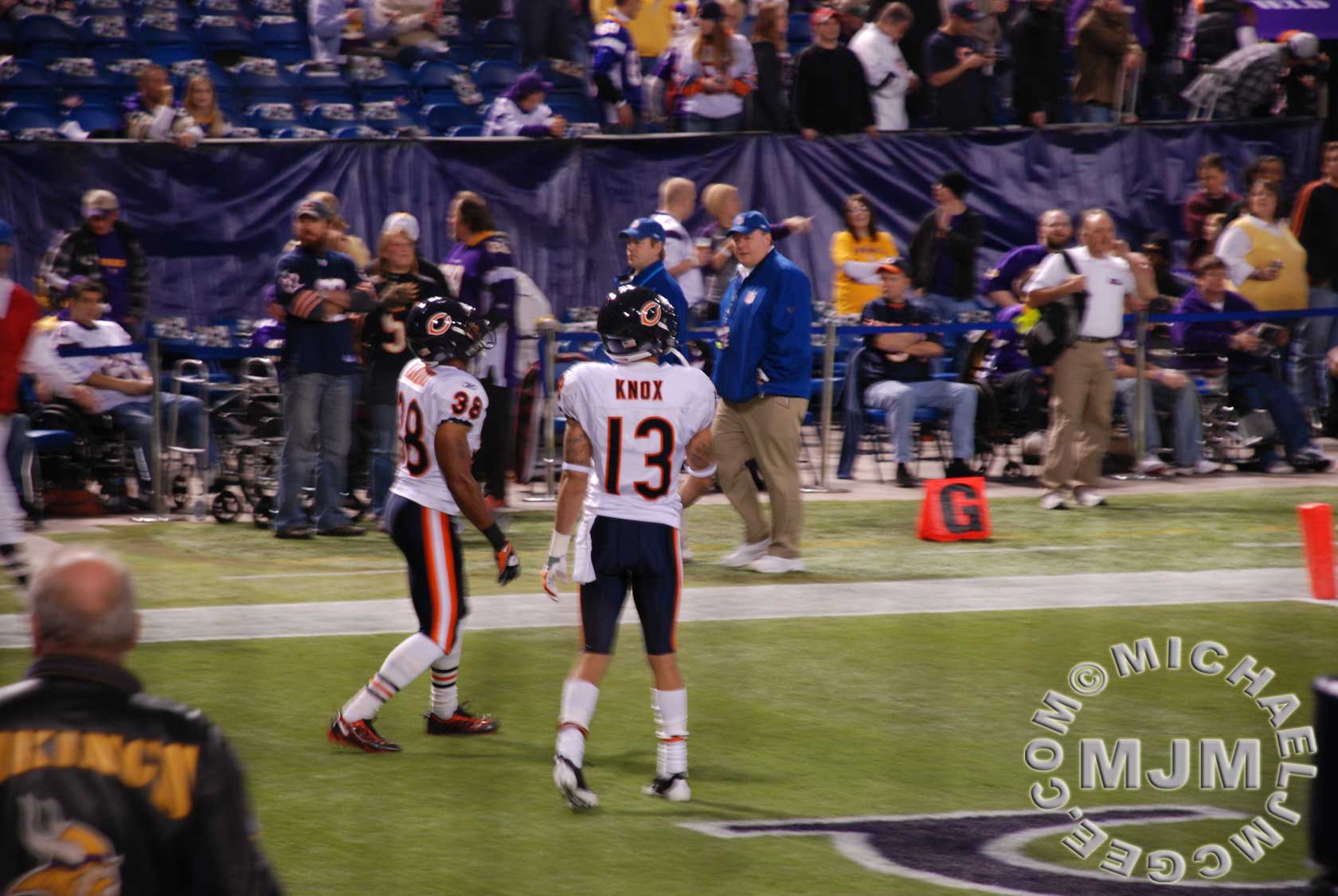 WR/KR Johnny Knox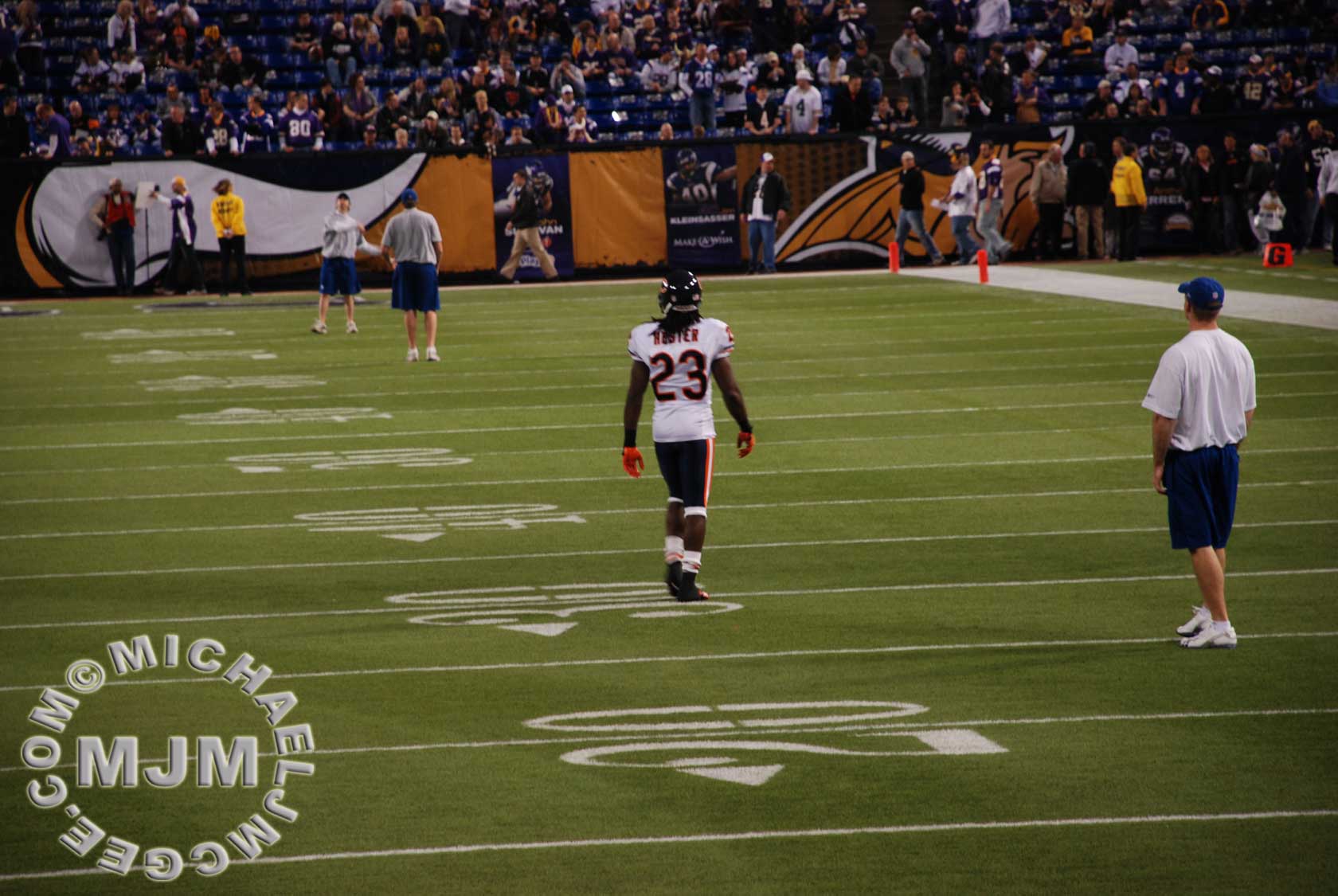 The very good WR Devin Hester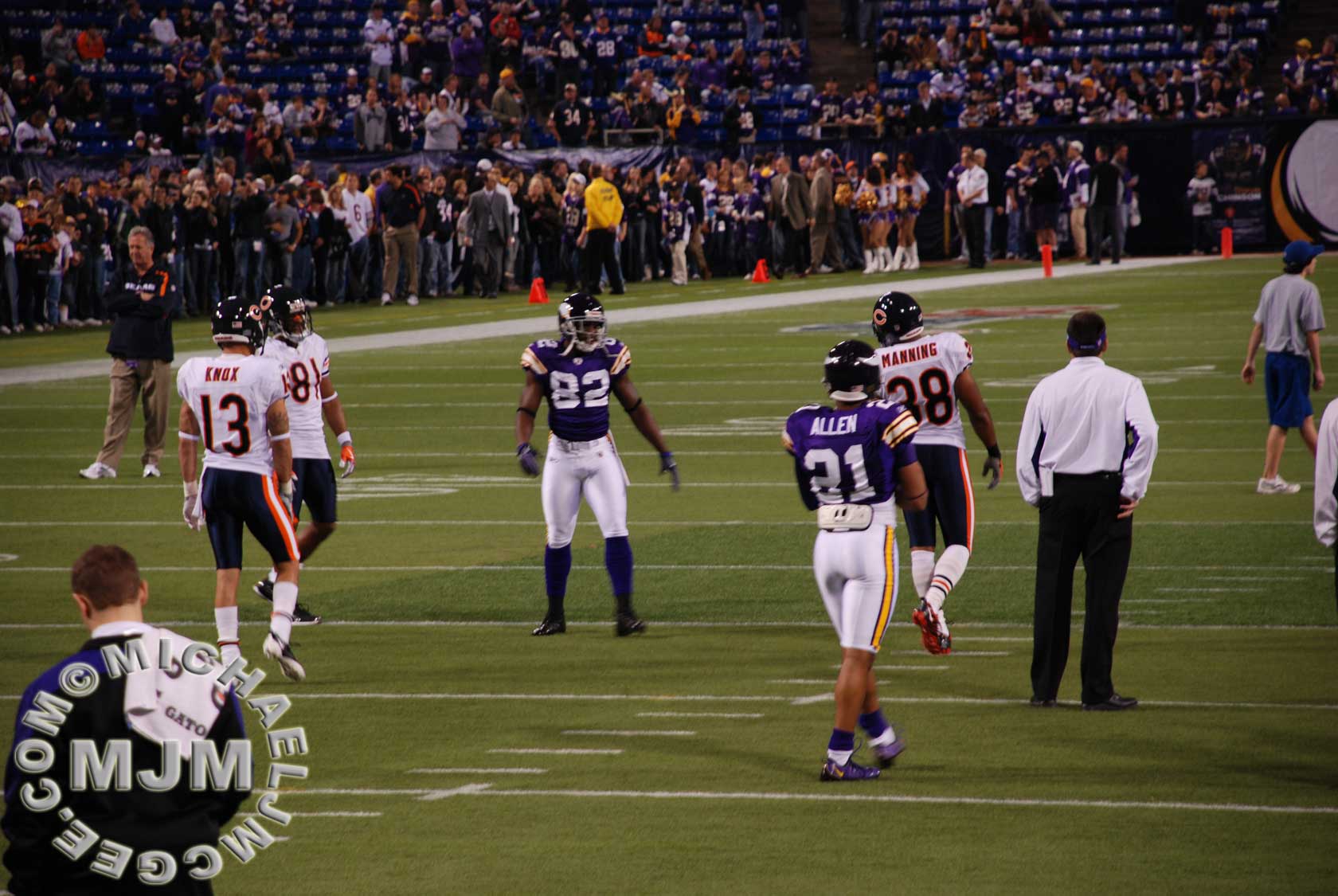 The Vikings chat with the Bears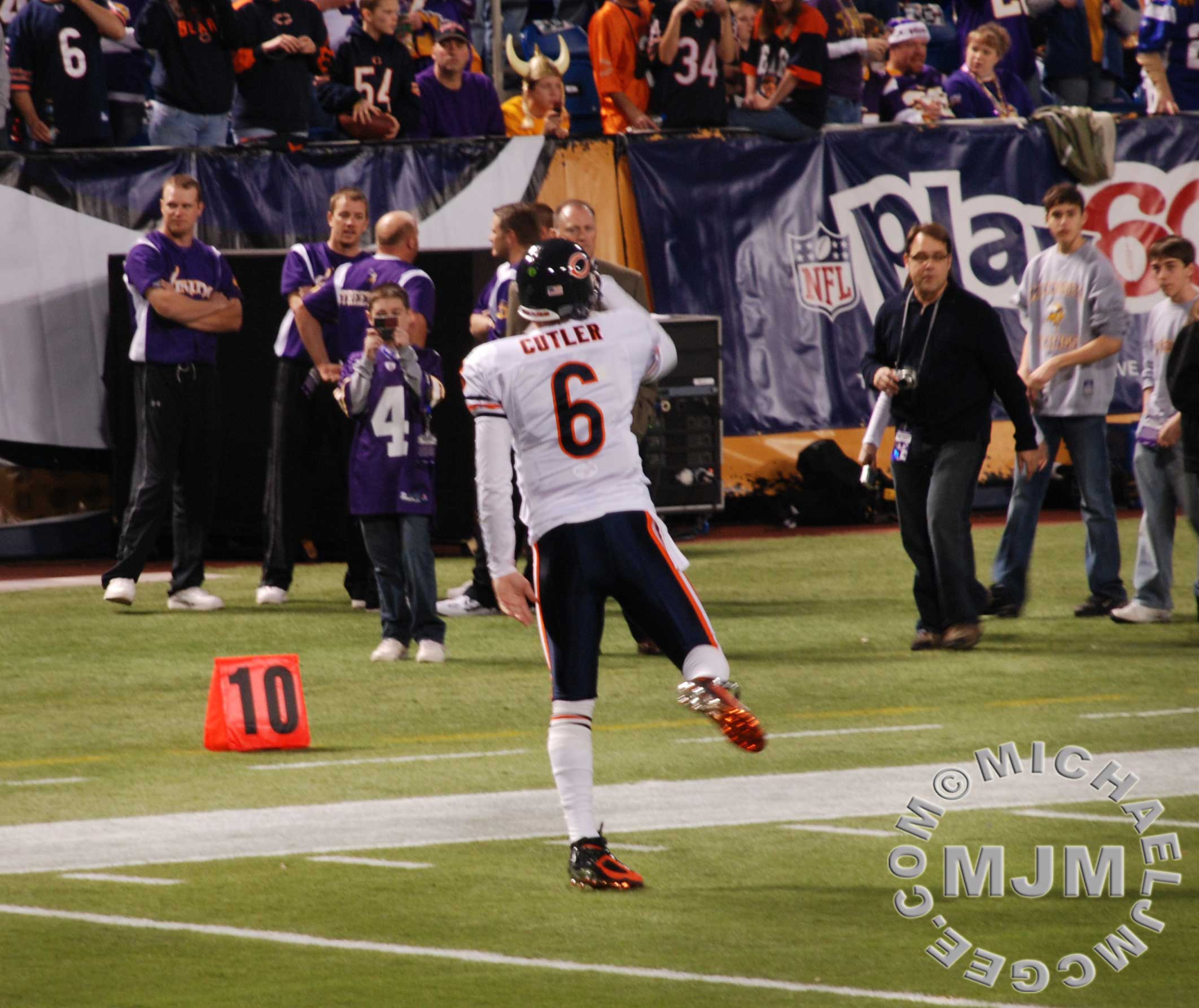 QB Jay Cutler