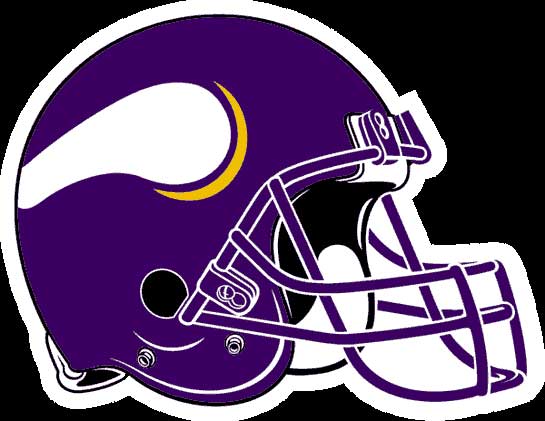 Cardinals @ Vikings 11/7/2010 Cardinals 24 Vikings 27 (OT)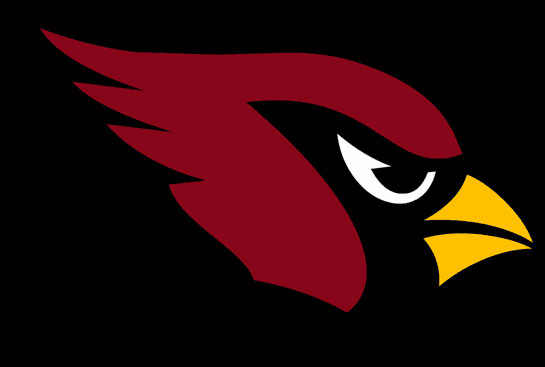 My Hall of Fame Weekend! Meeting John Randle, Alan Page and Randall McDaniel.
At the game the Vikings come storming back to win in OT!. Another great trip for me. Arrived on Friday to attend KFAN's Friday Football Feast at Buffalo Wild Wings in Champlin and then downtown Minneapolis Friday night at Legends for the John Randle appearance. Awesome!!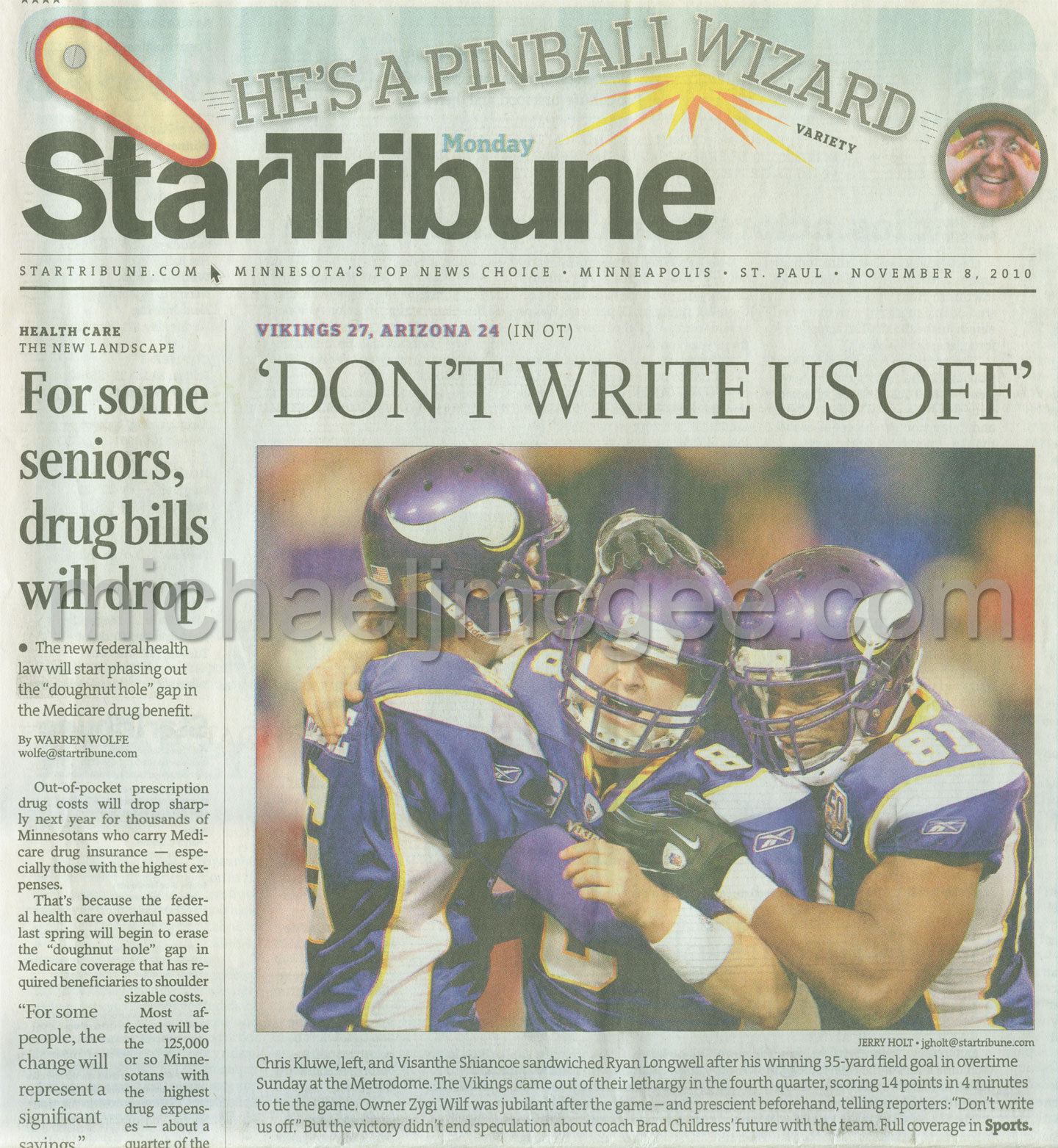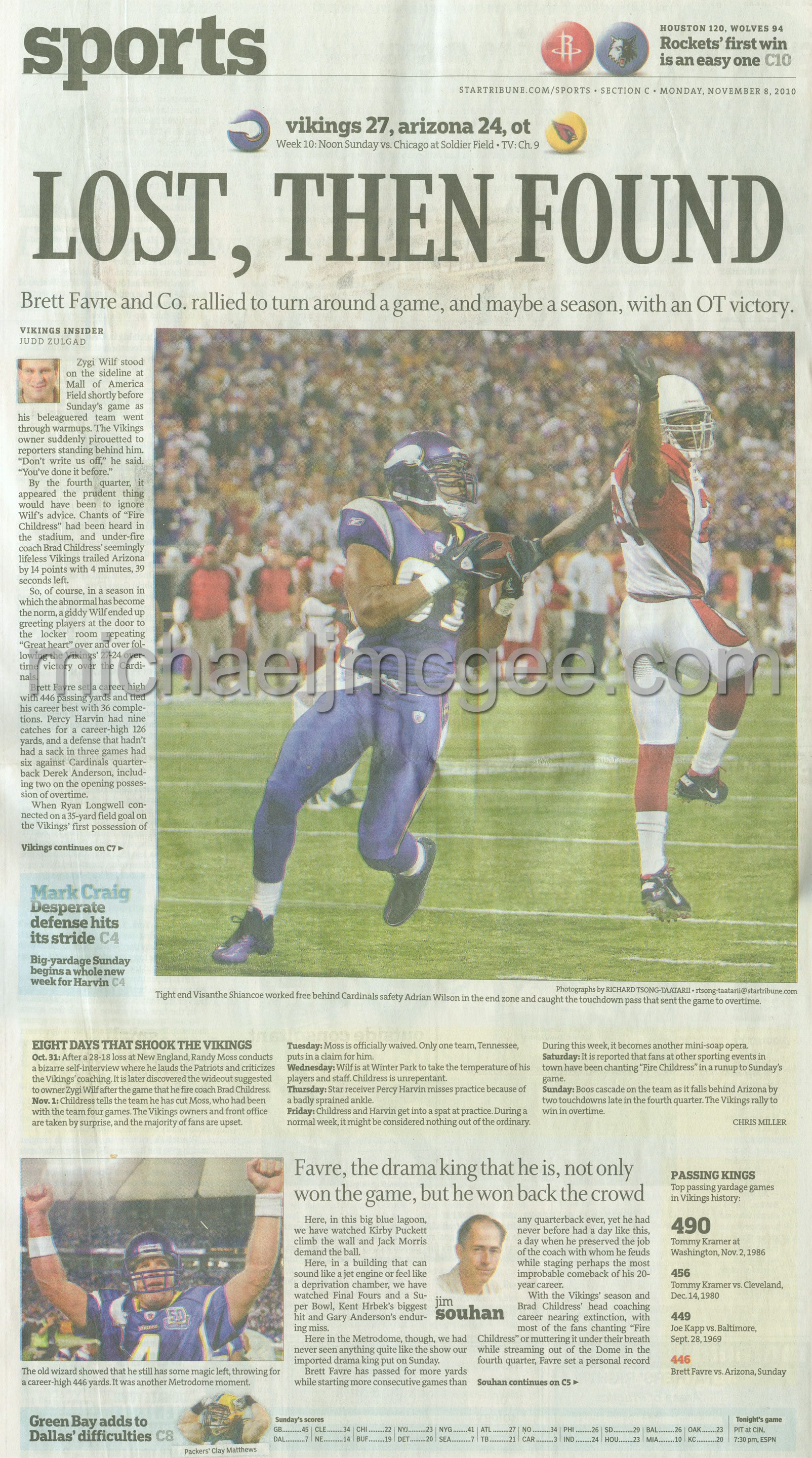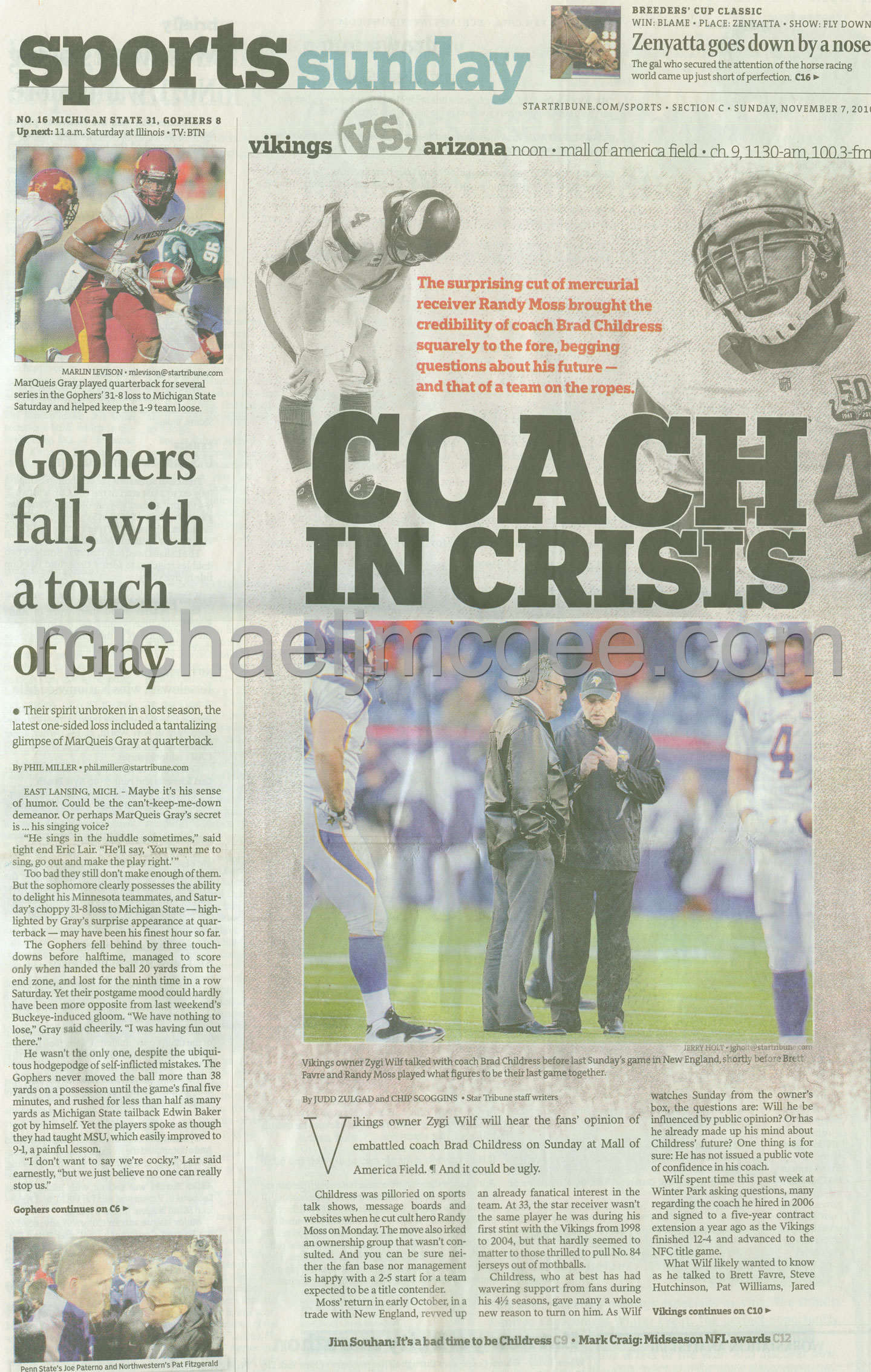 Buffalo Wild Wings Champlin
KFAN's remote with P.A. 9am -12pm. Paul Charchian from leaguesafe.com co-hosted the show. Great time!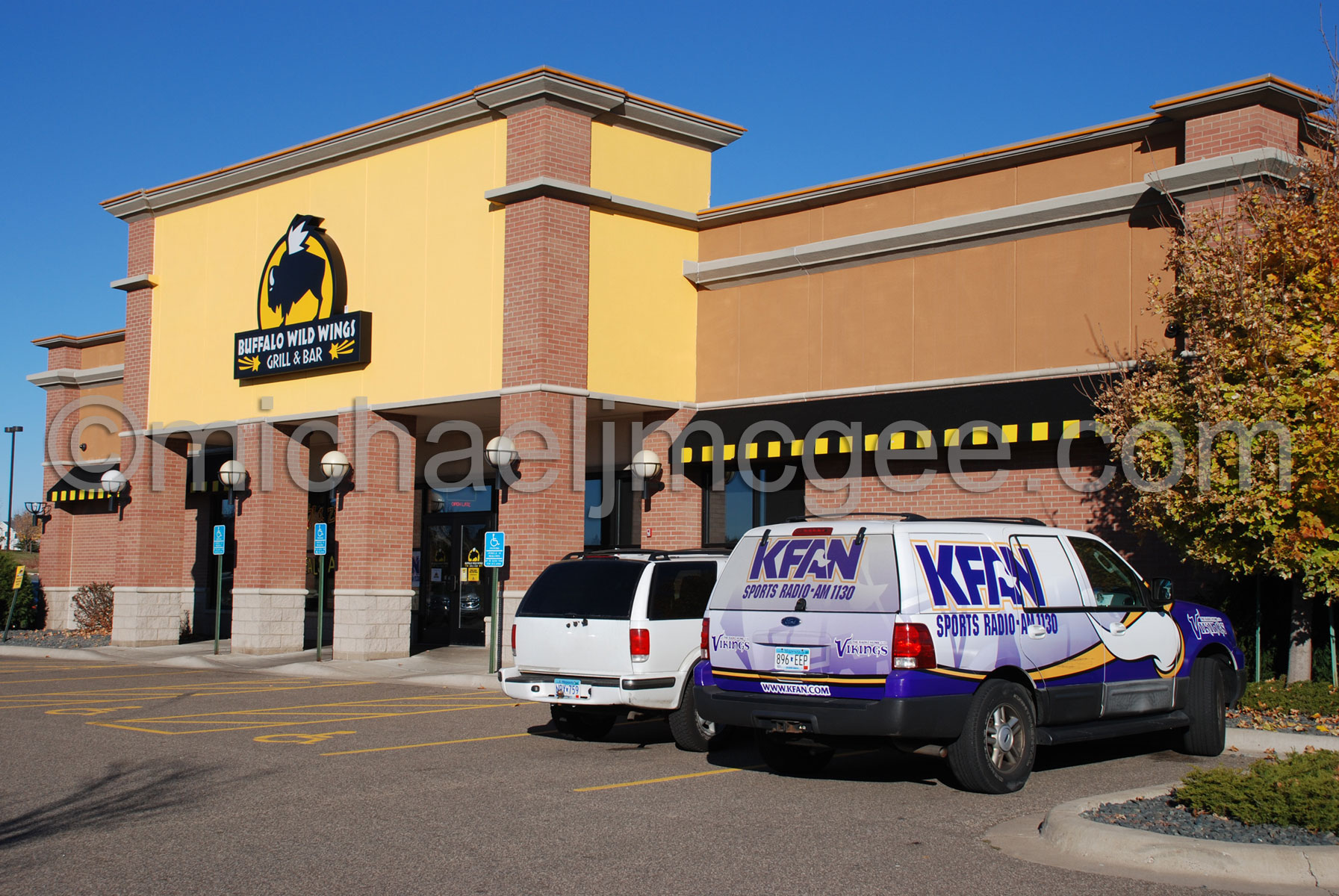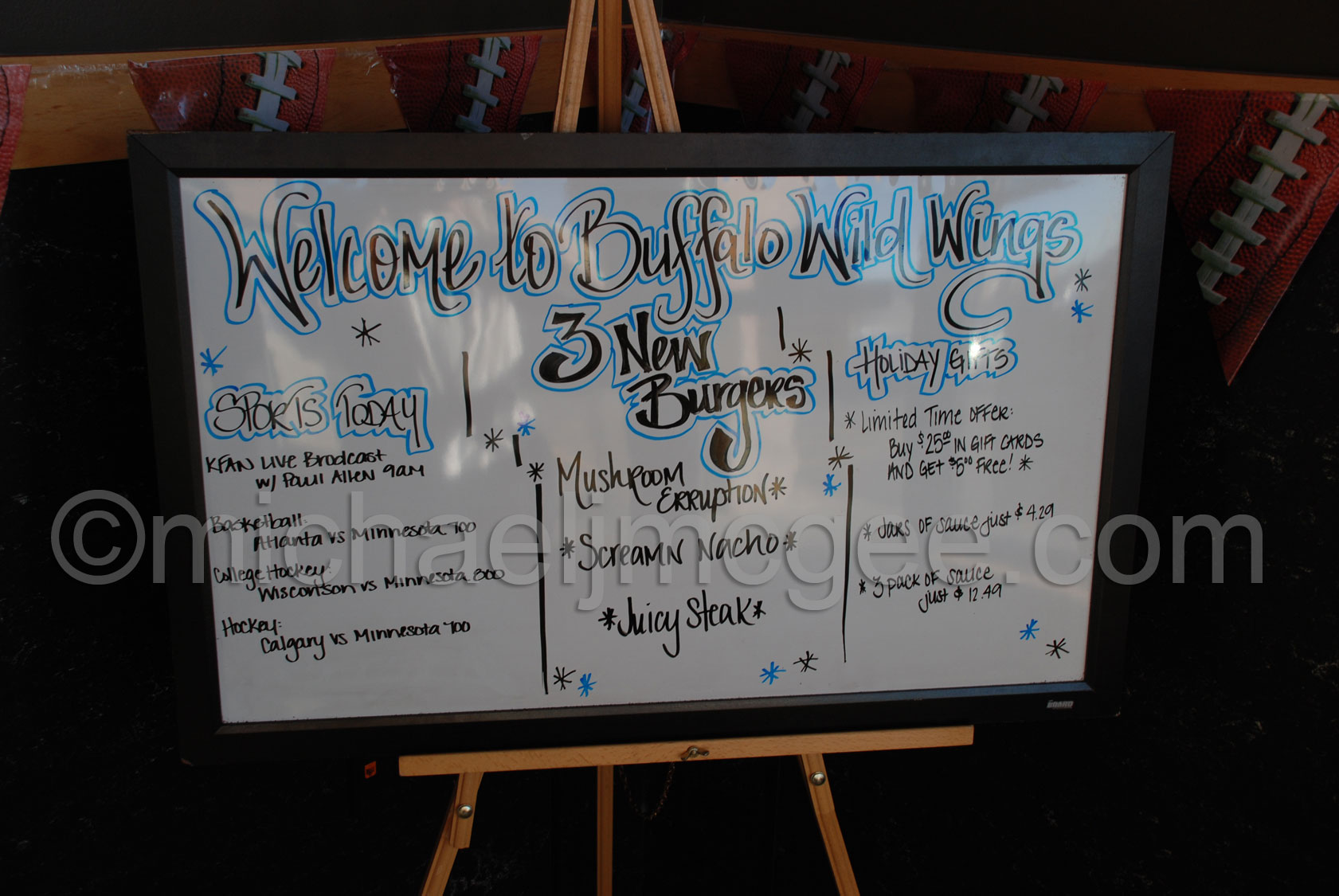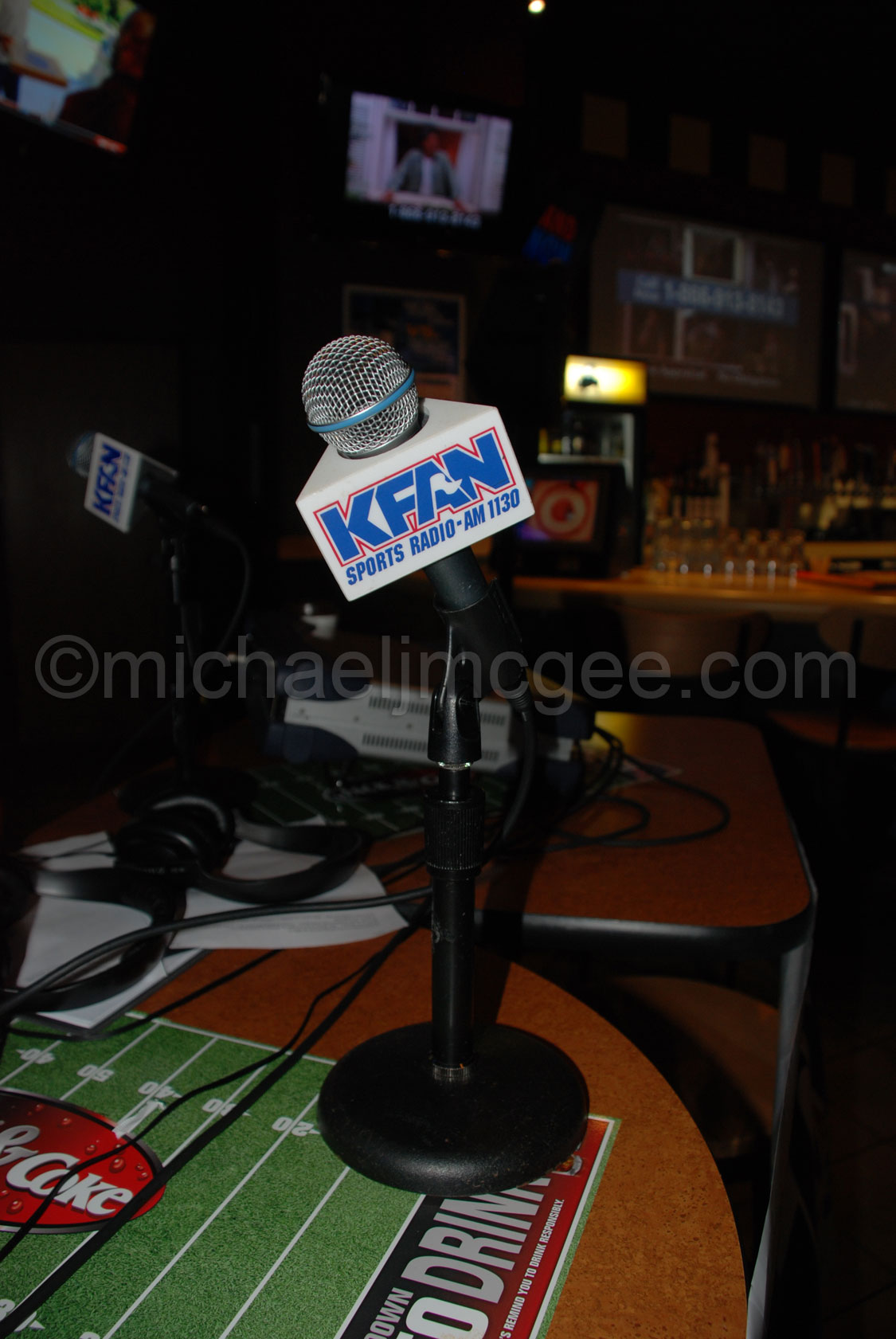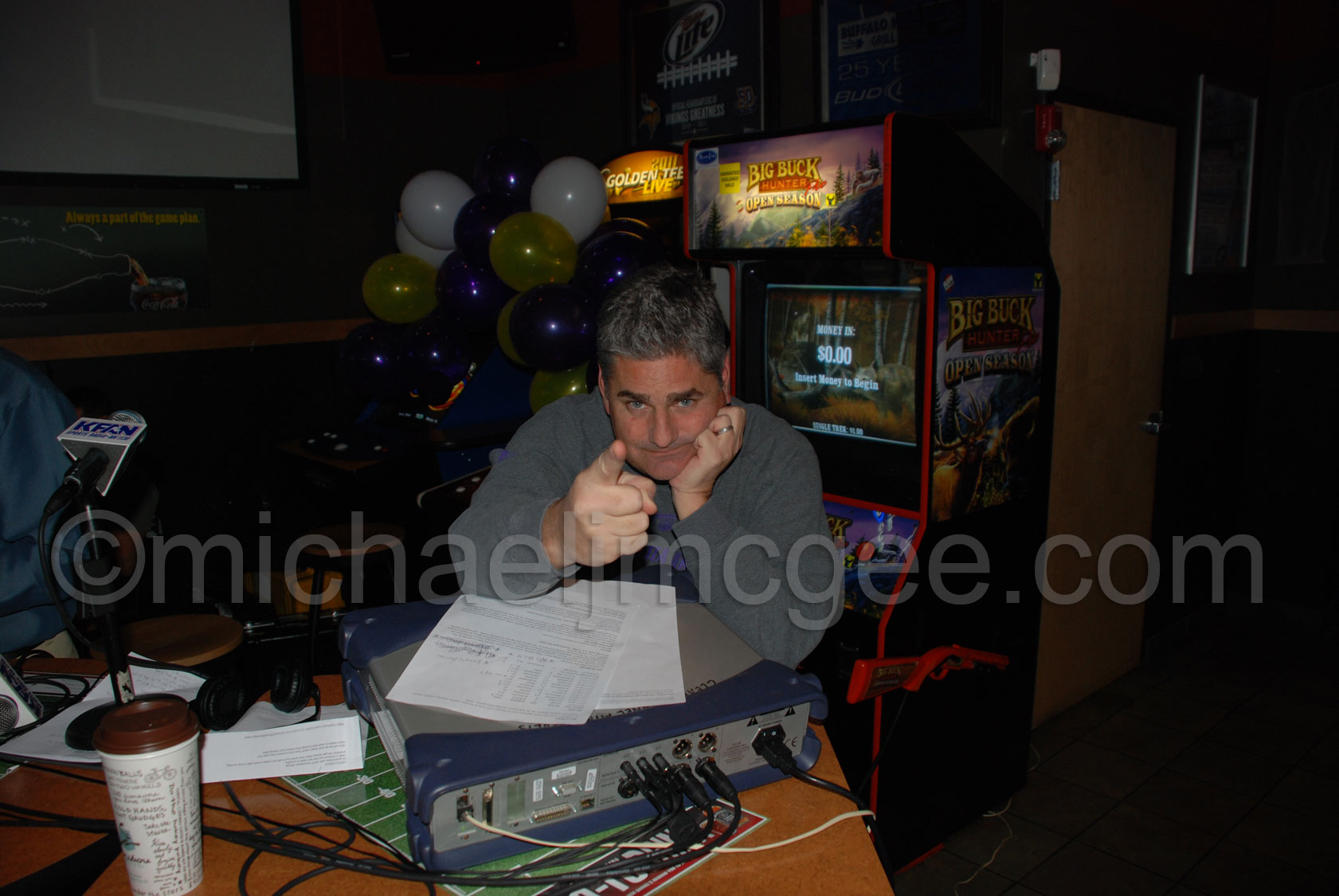 The "GREAT" PA!!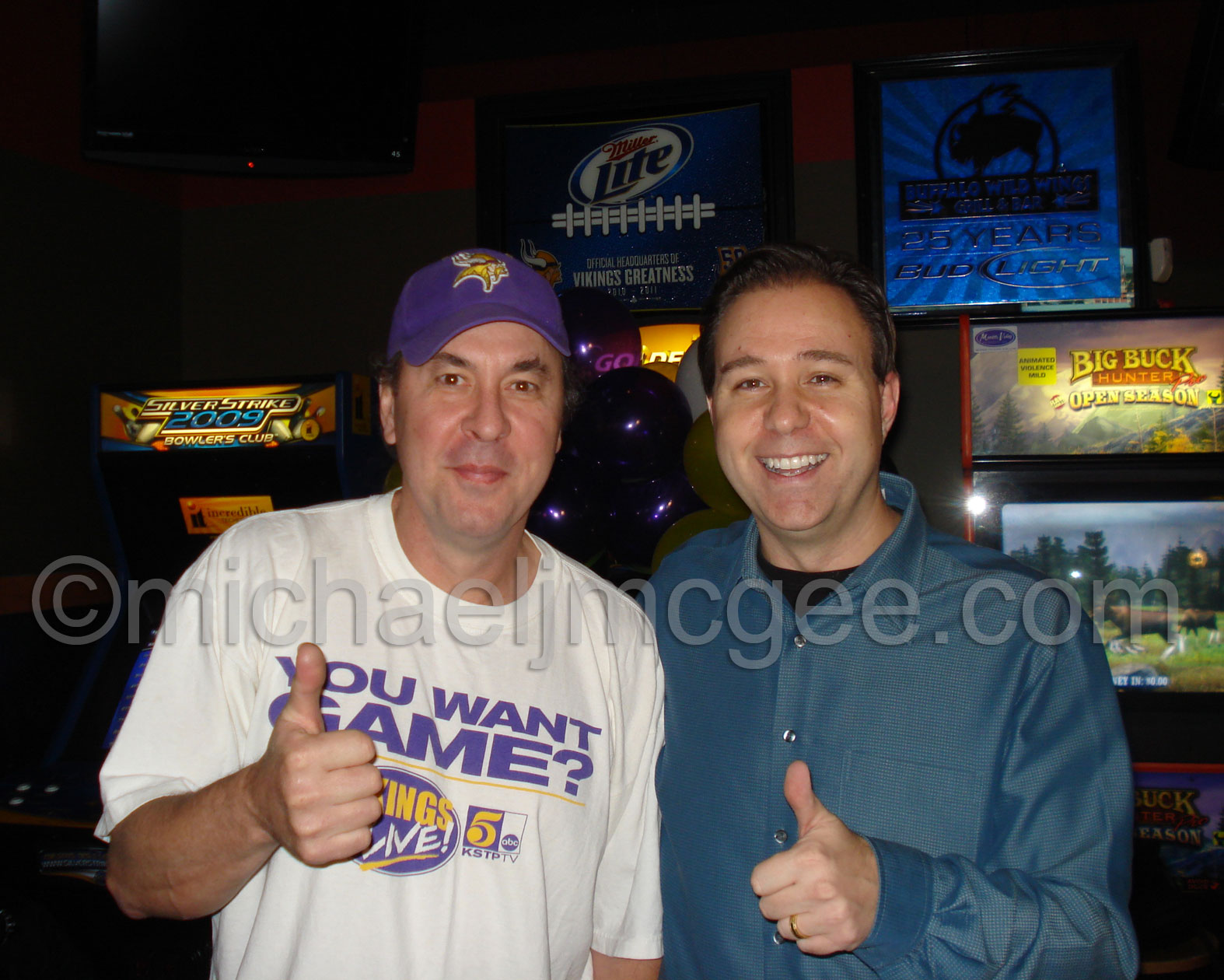 w/ Charch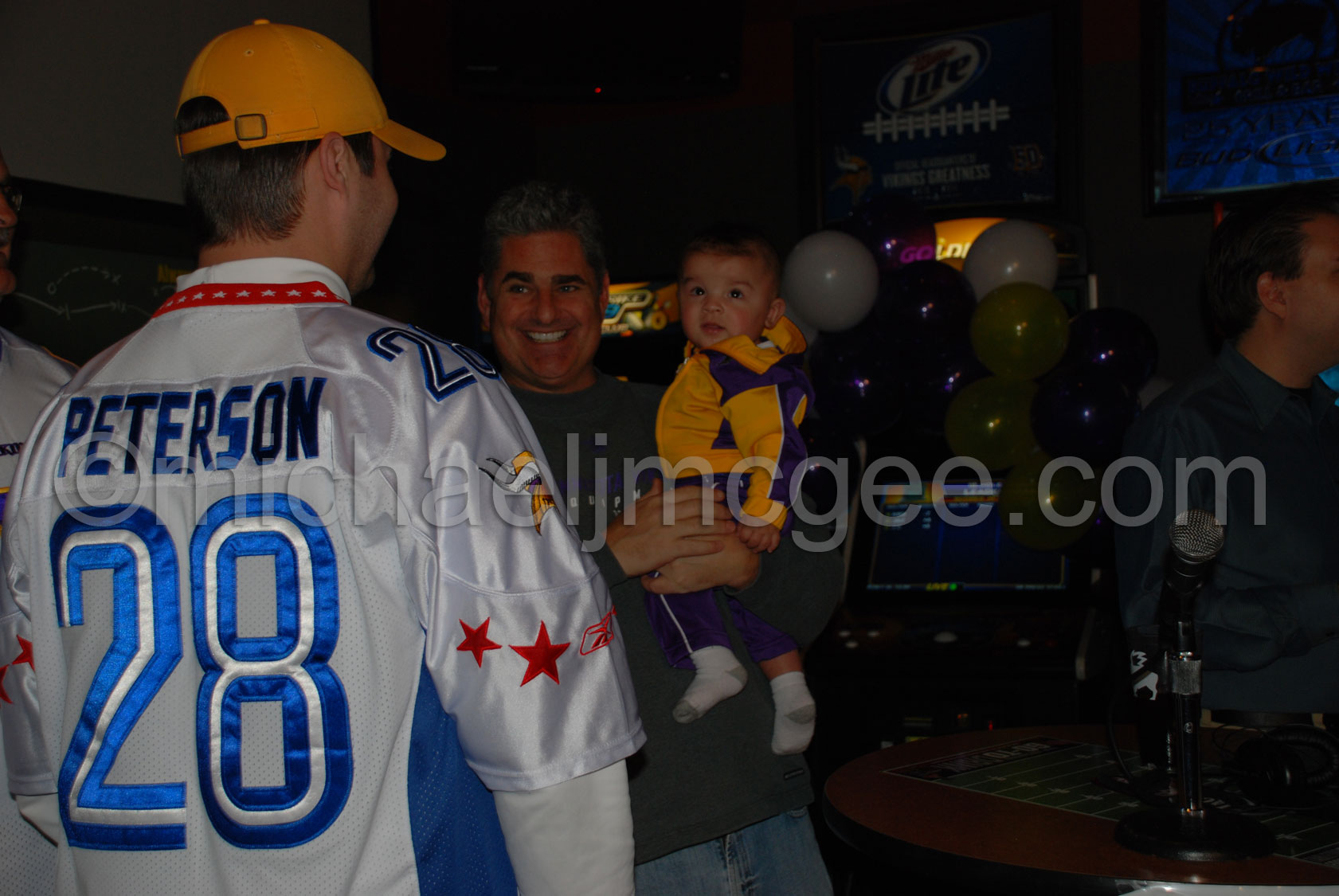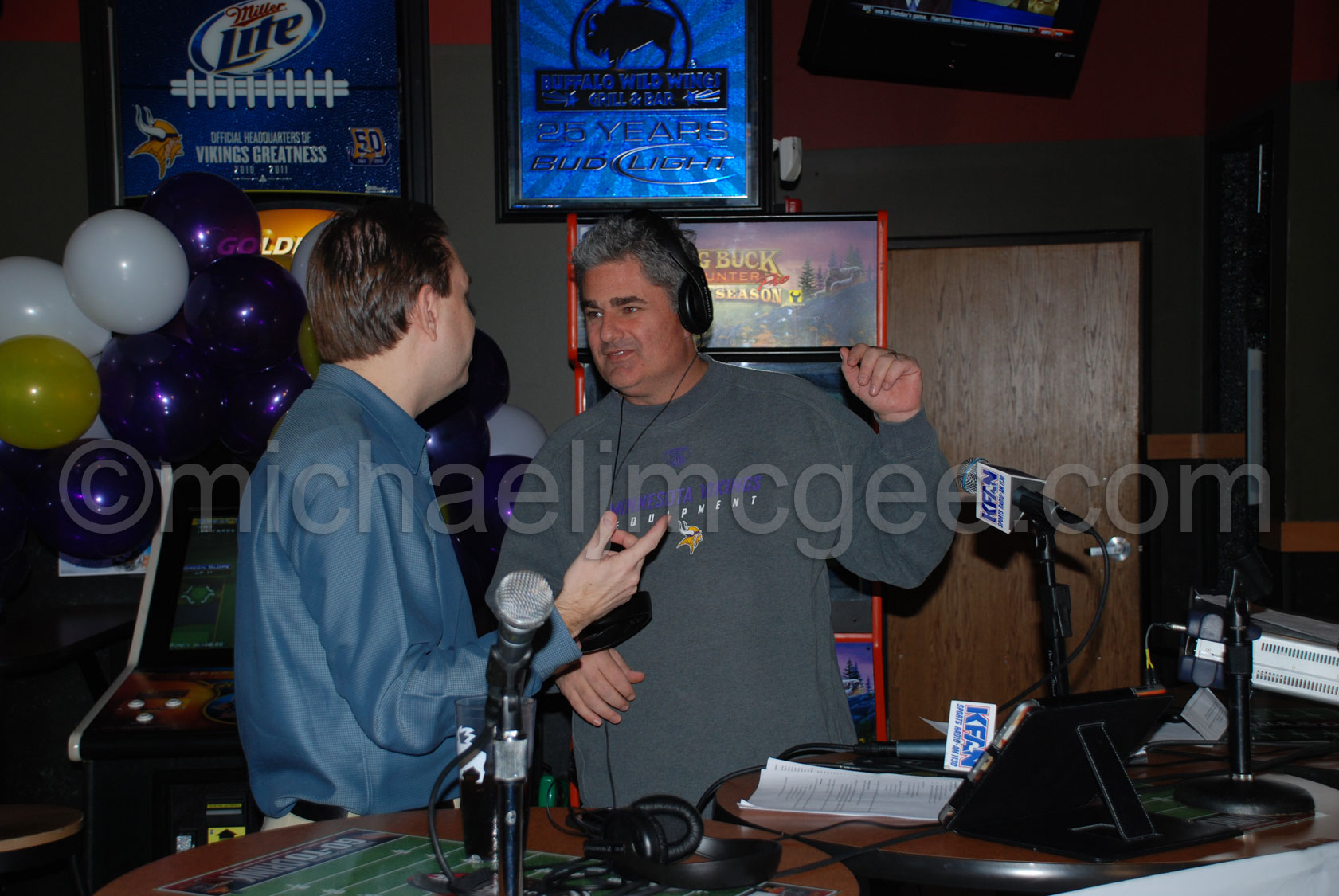 Charch & PA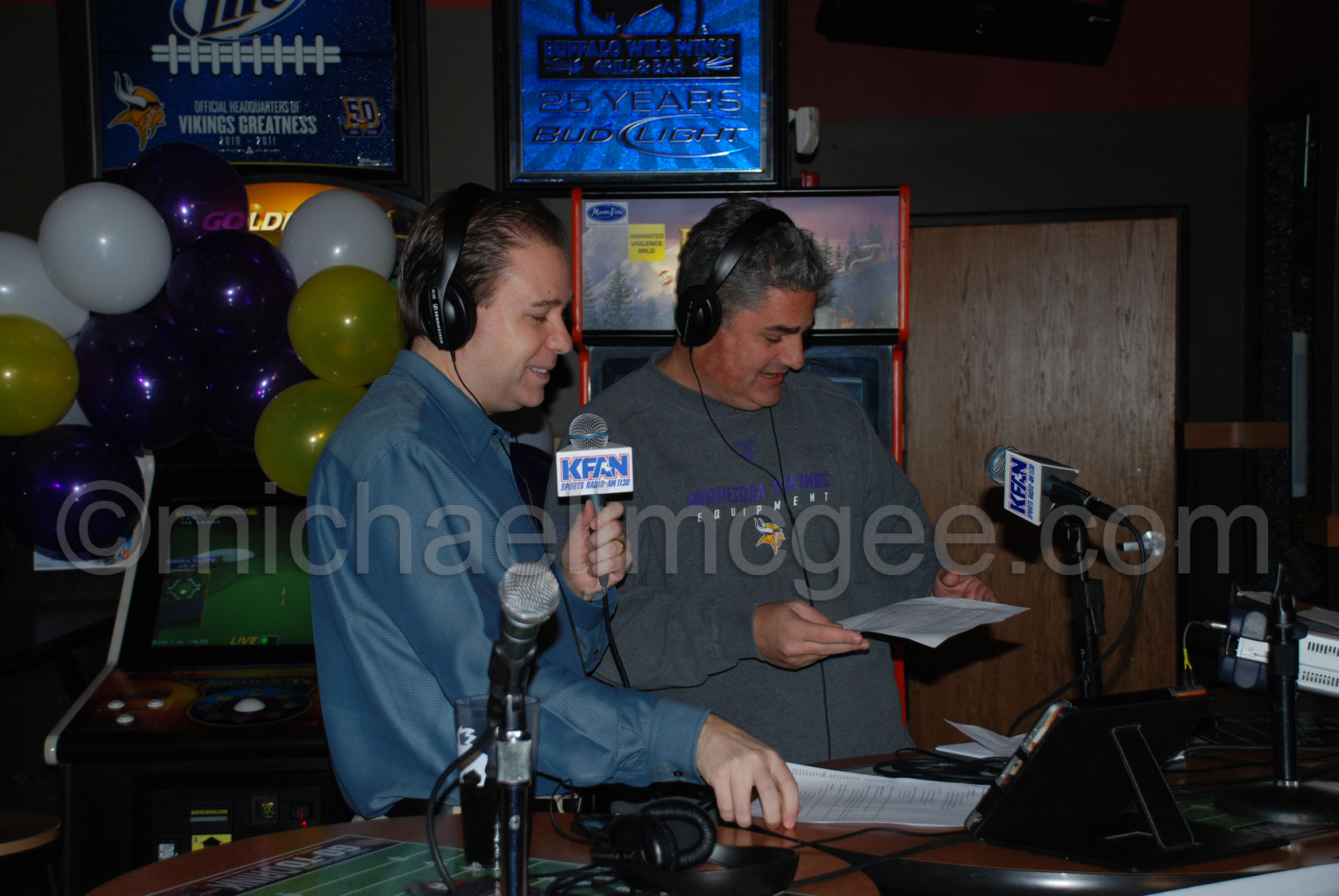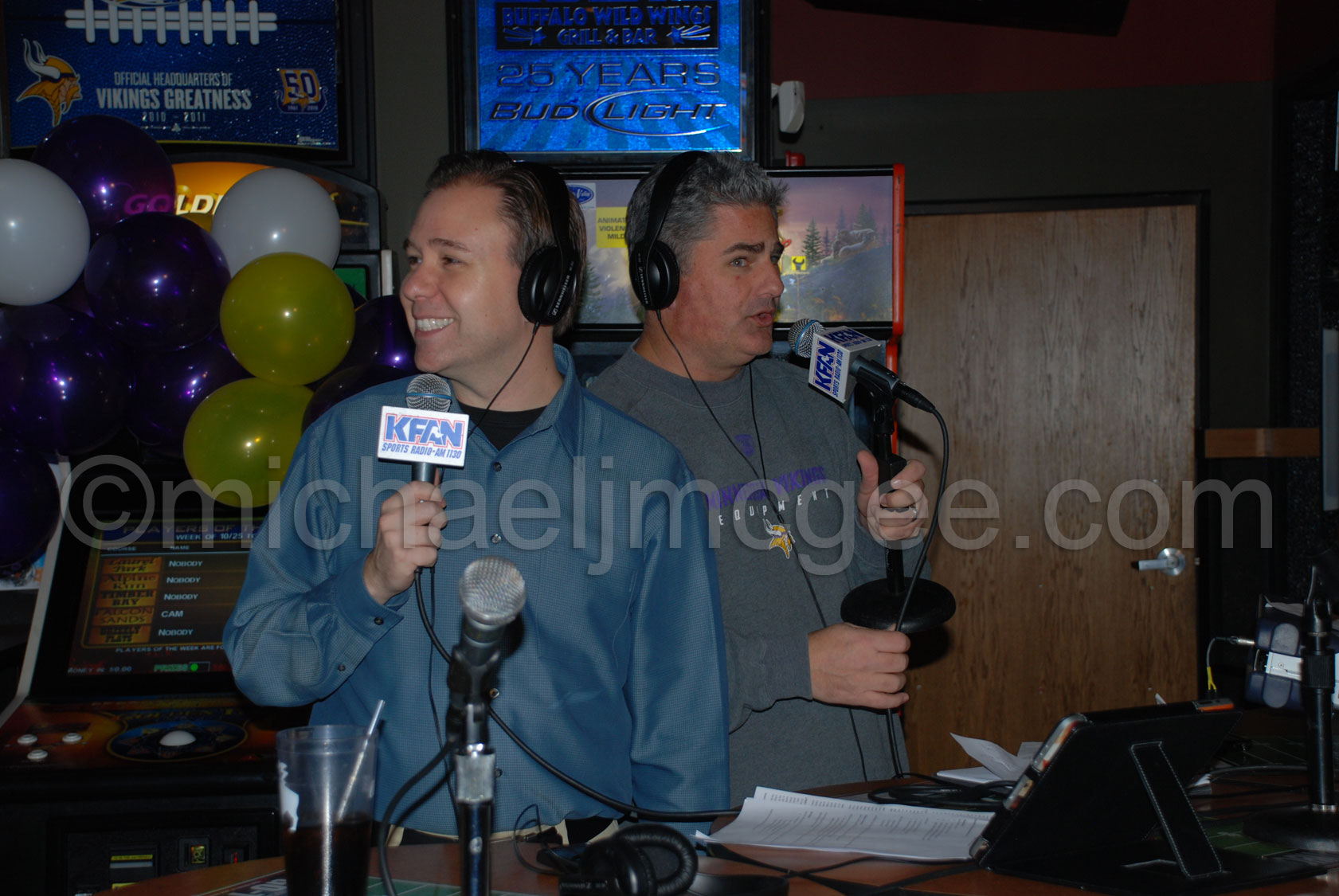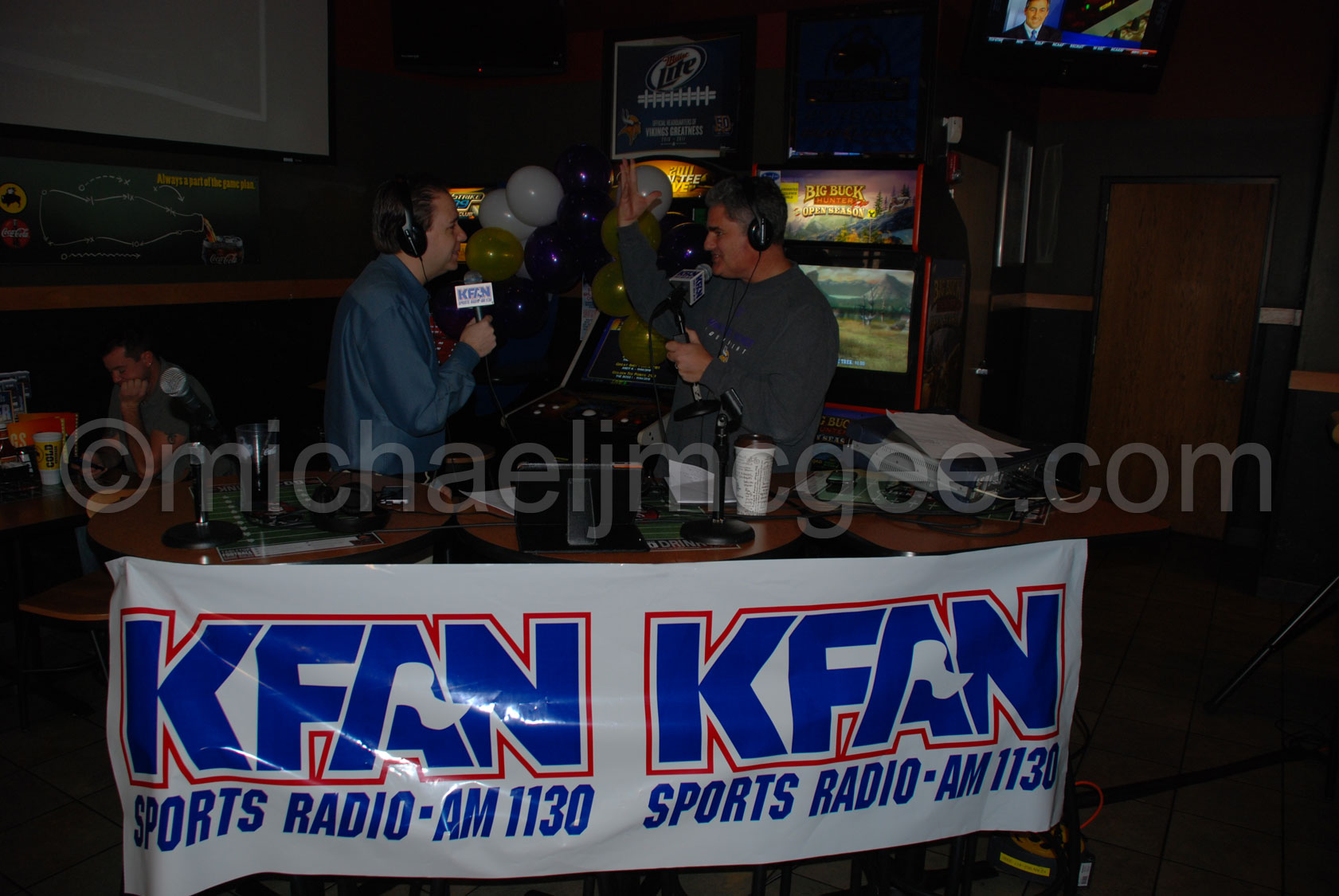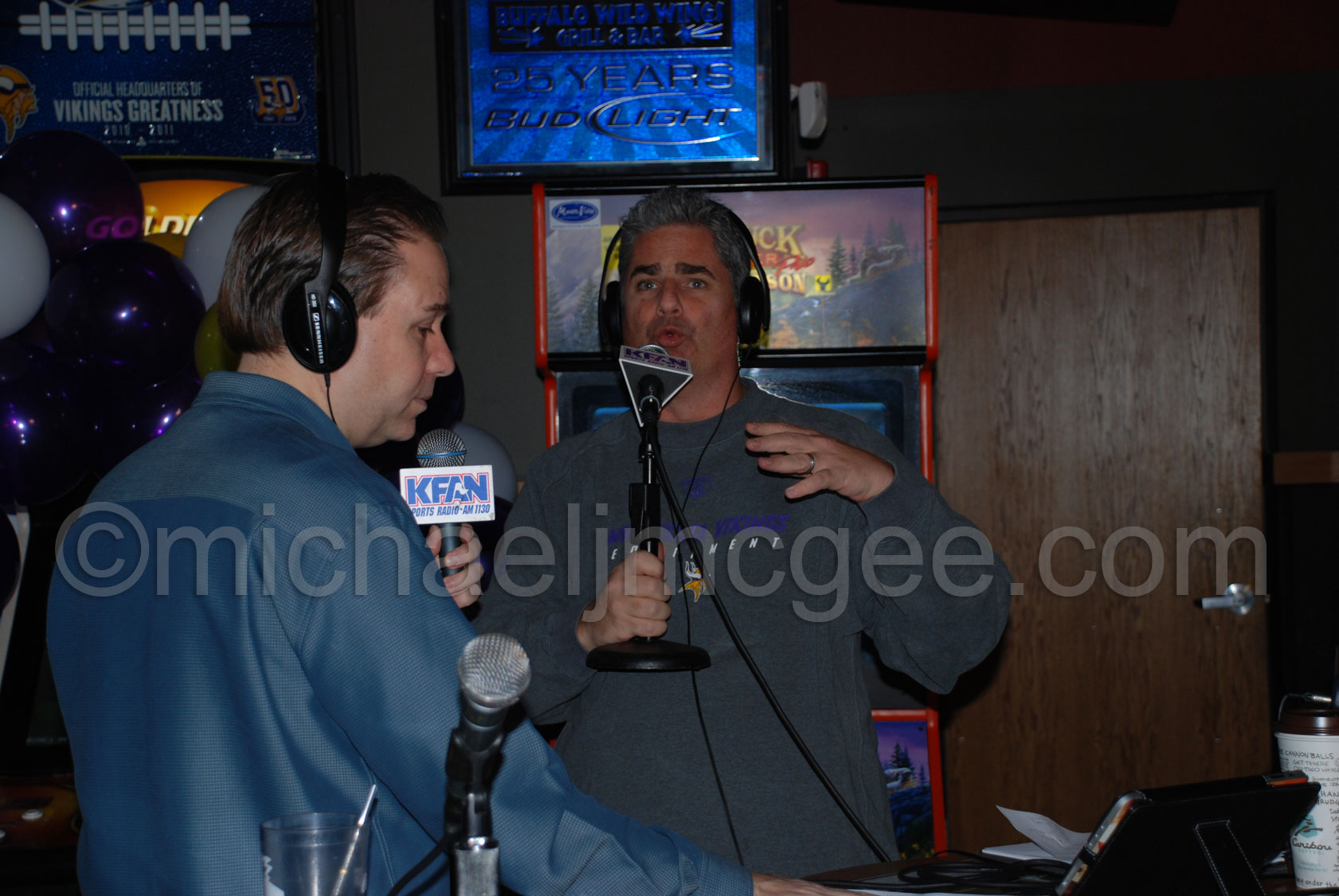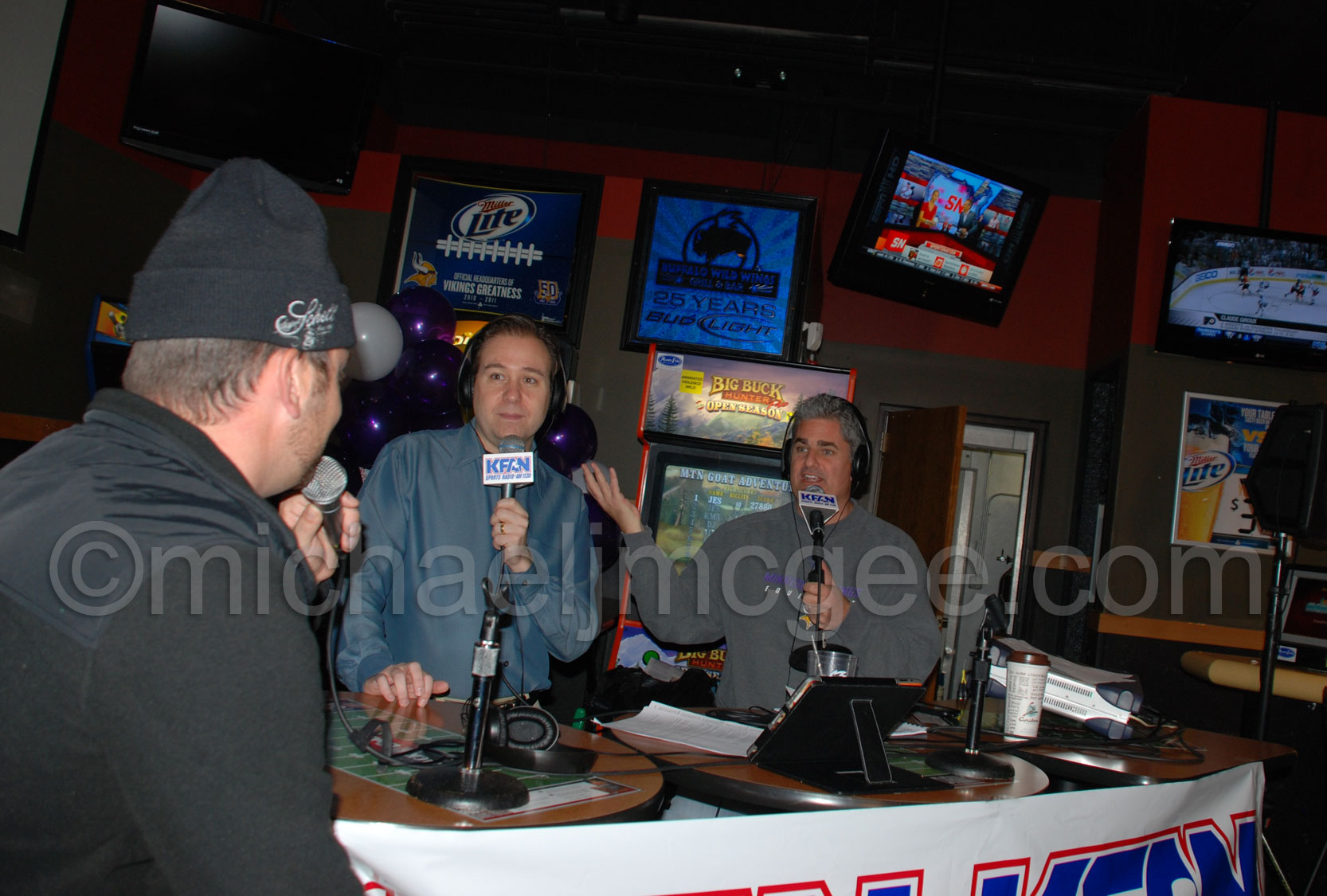 Rubes at the Mic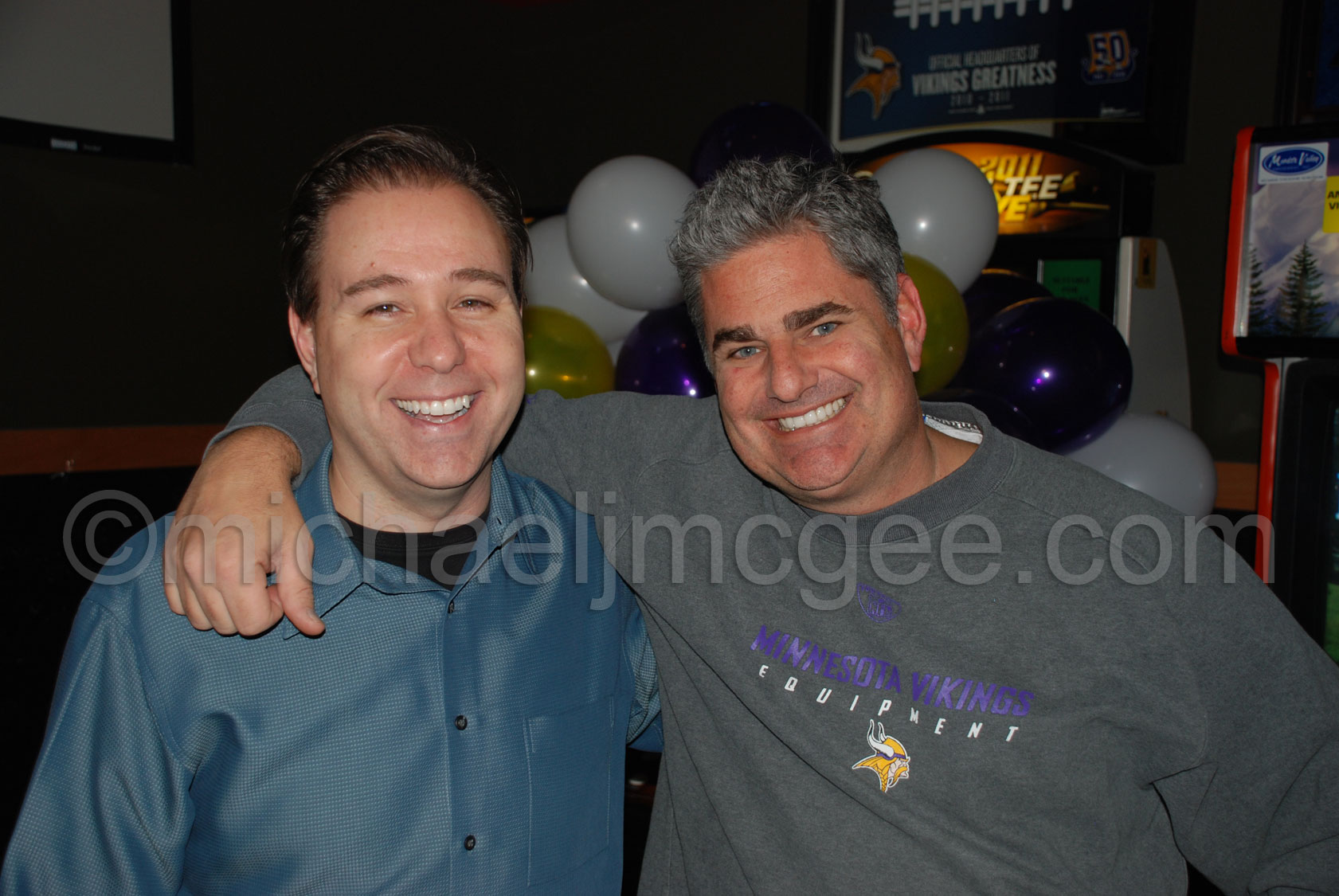 Our gracious hosts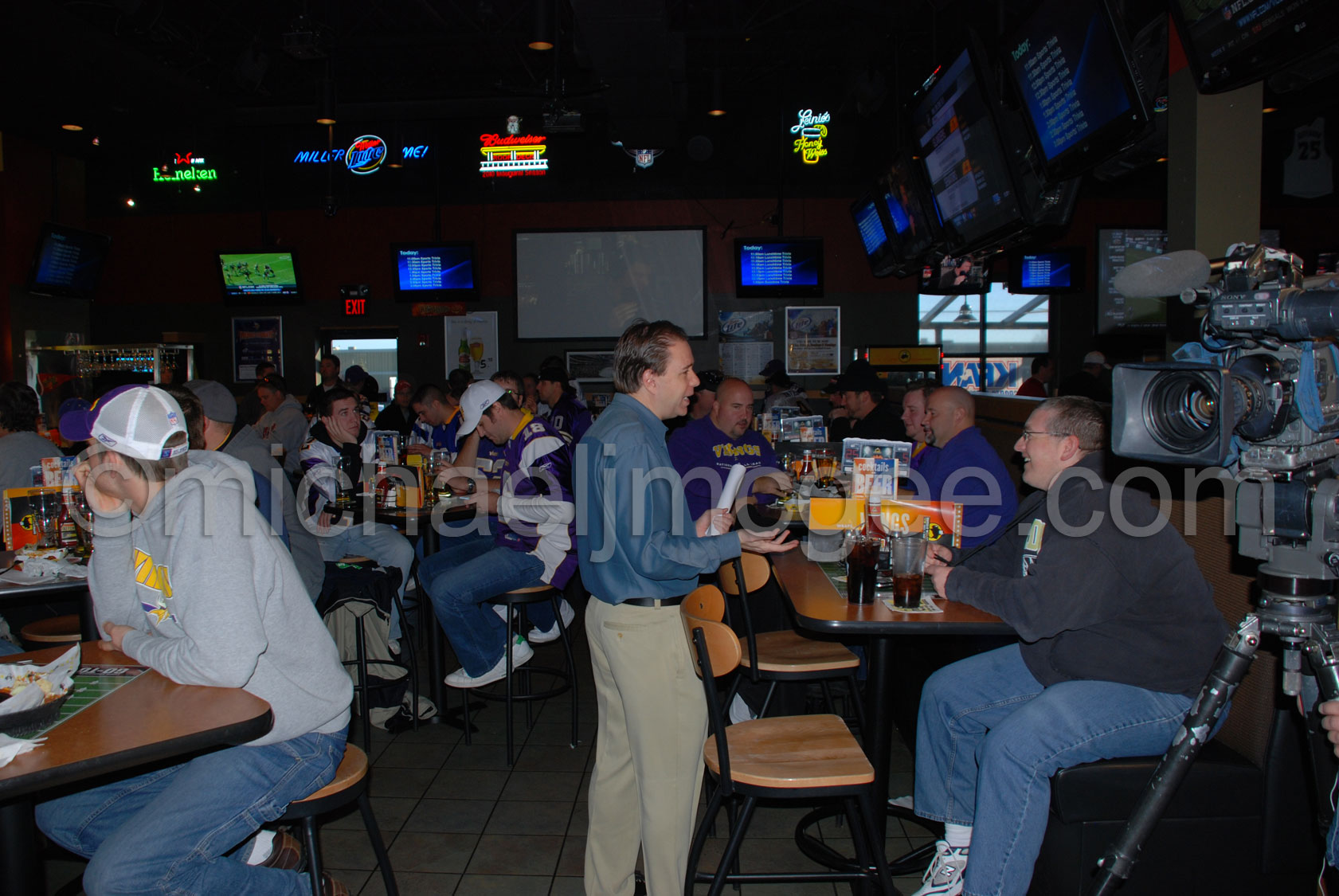 Paul talks with the Rubes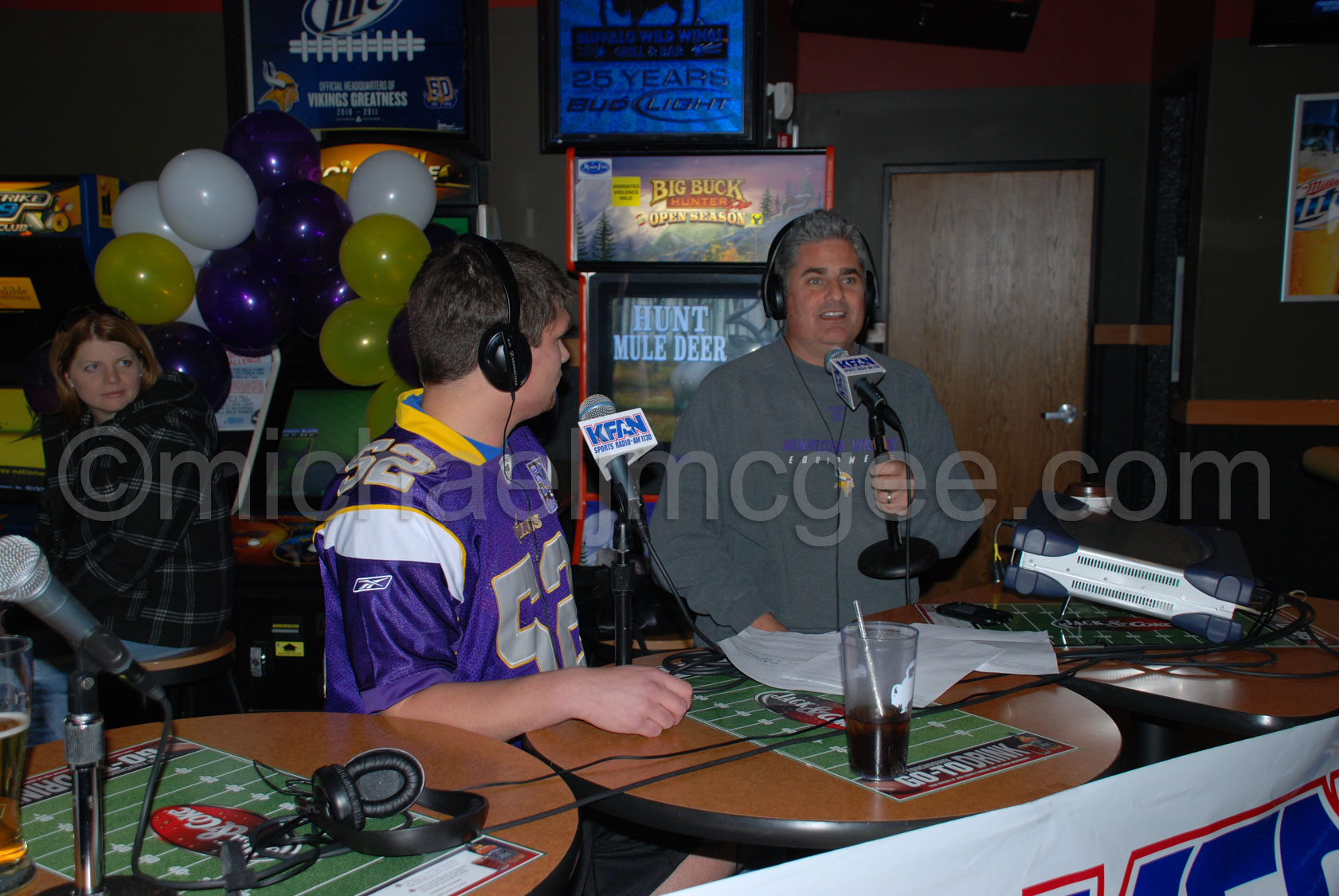 Charch had to leave a little early so PA had the Rubes fill in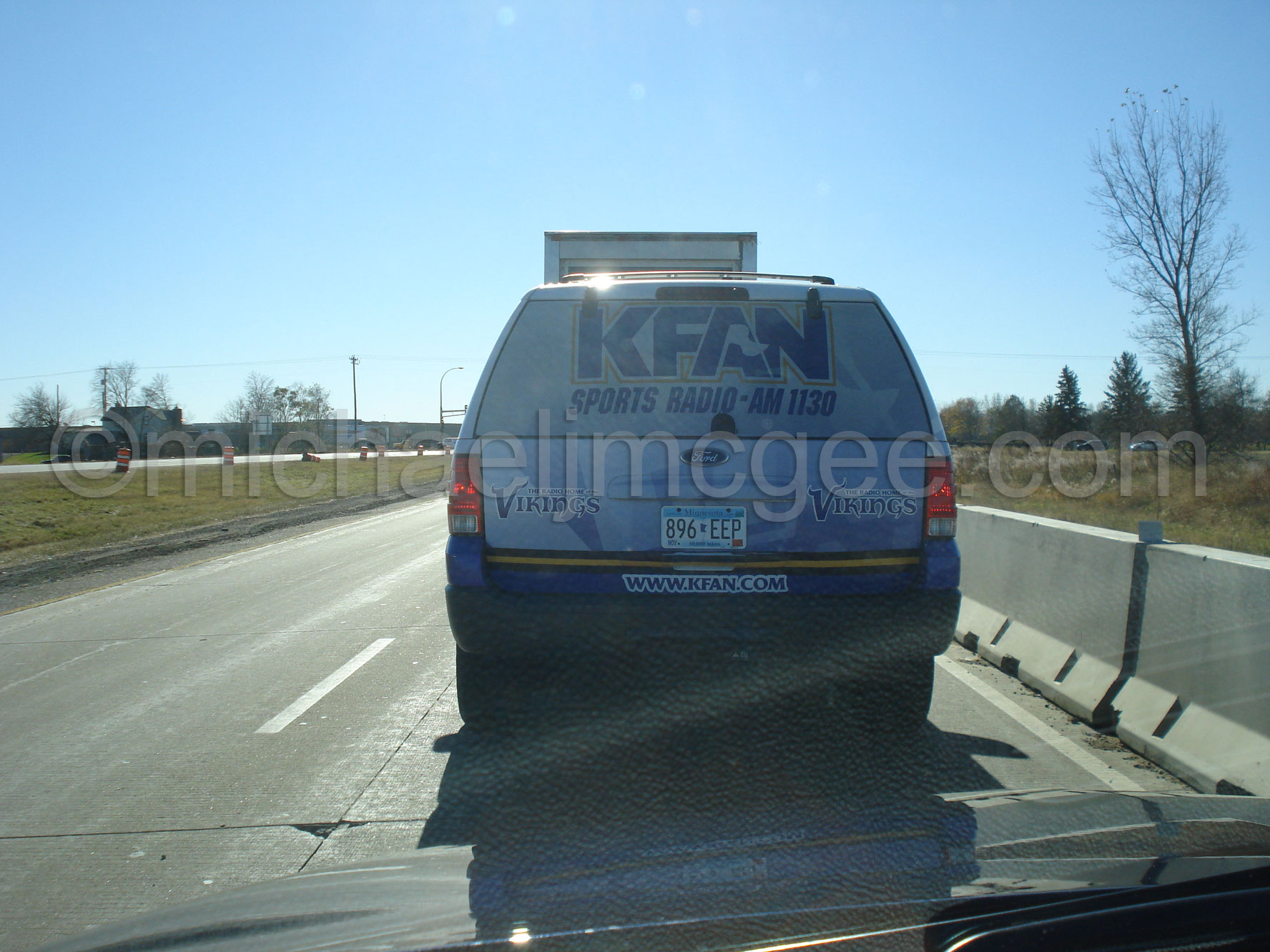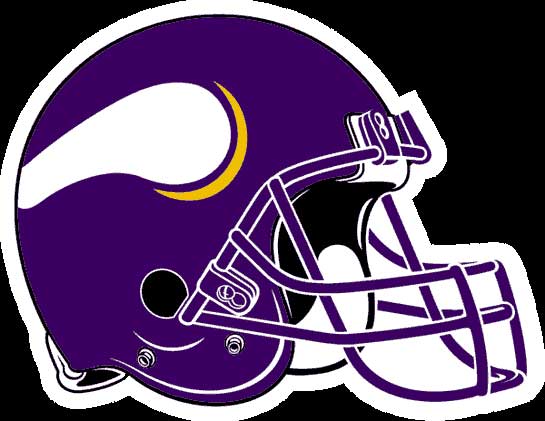 I went to Alan Page's Book signing at the Costco in Maplewood.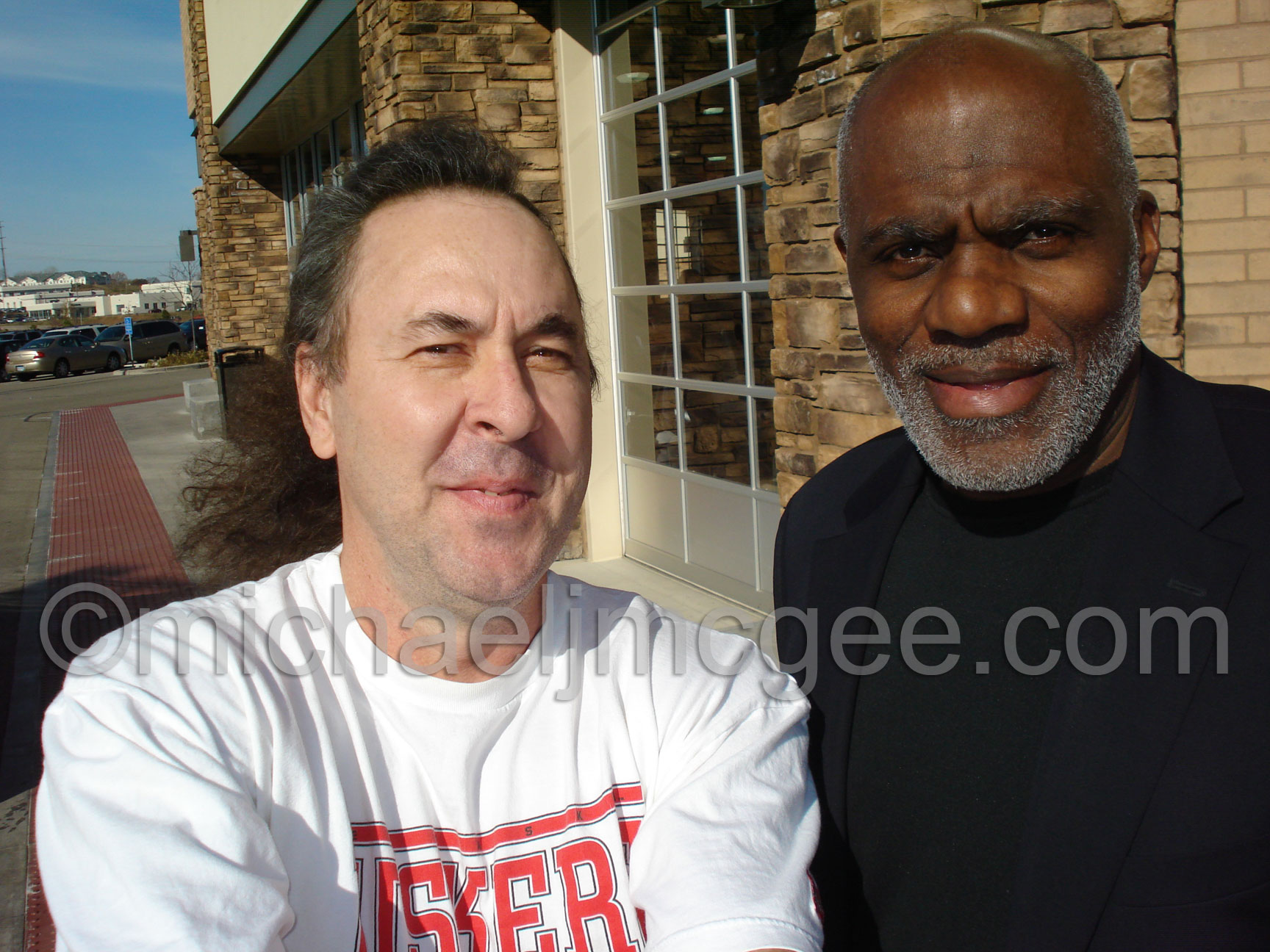 With the "GREAT" his Honor Alan Page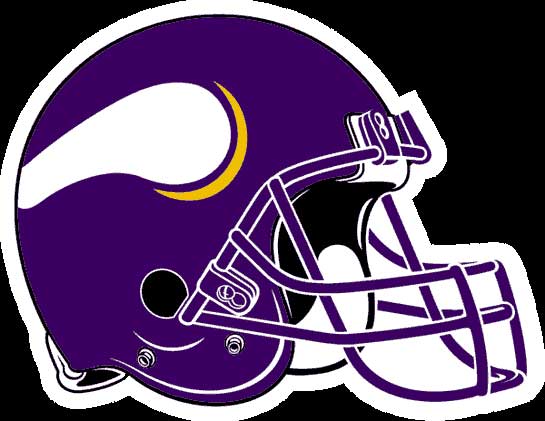 As mentioned above I attended Hall of Famer John Randle's Legends appearance. John was super cool and hung out, took photos, signed everything and even enjoyed some beer.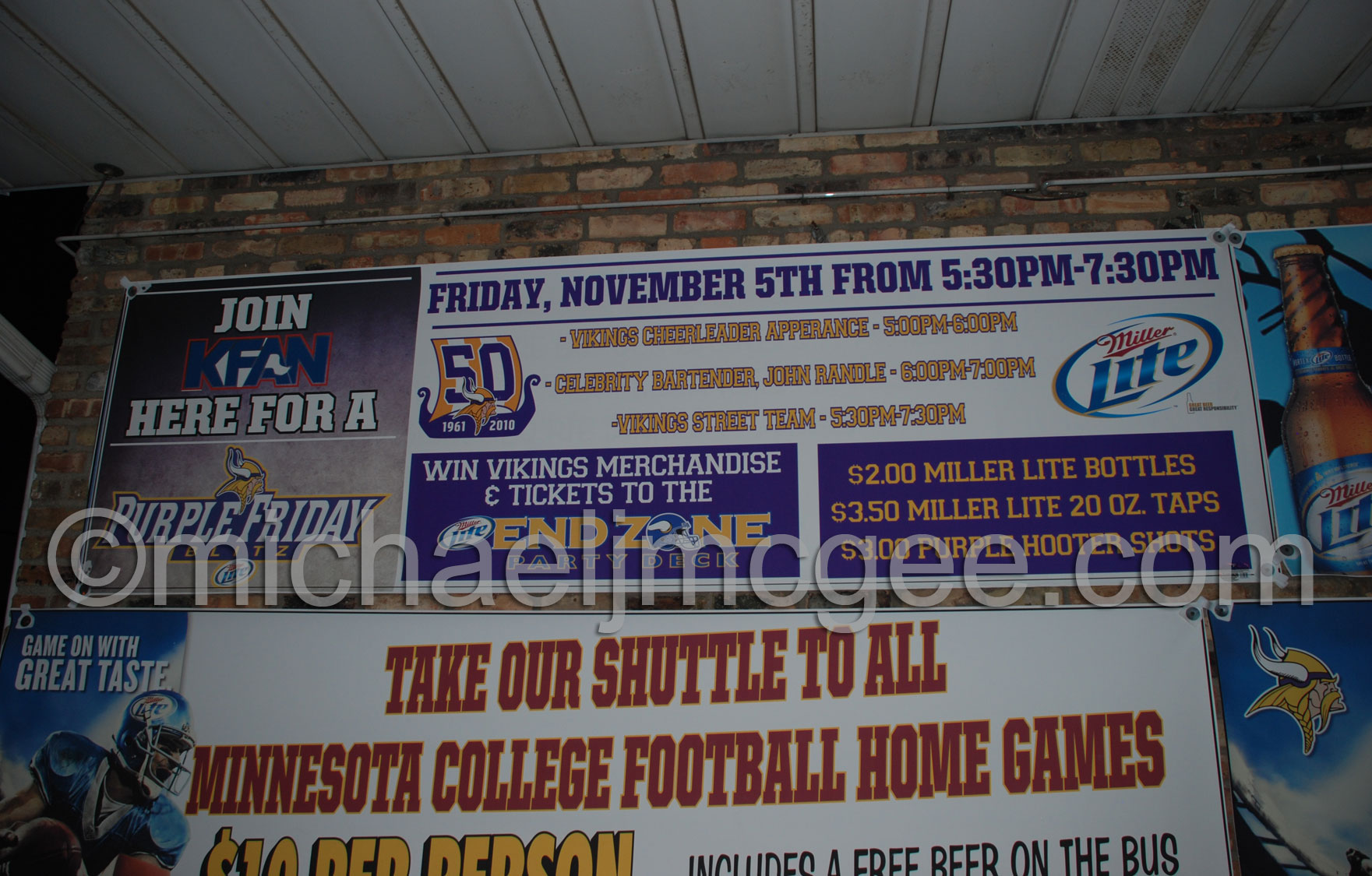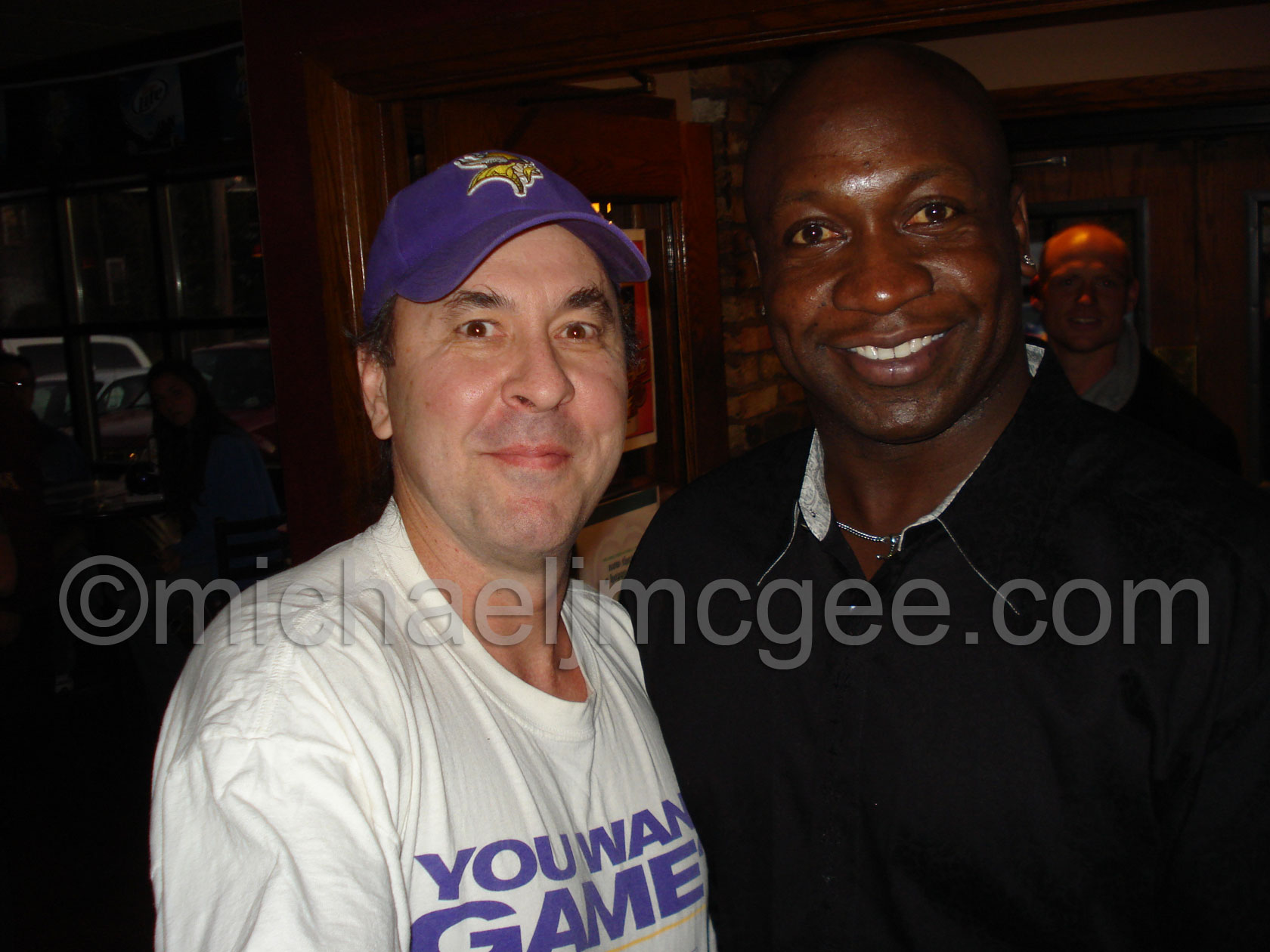 MJM with "The MAN"!!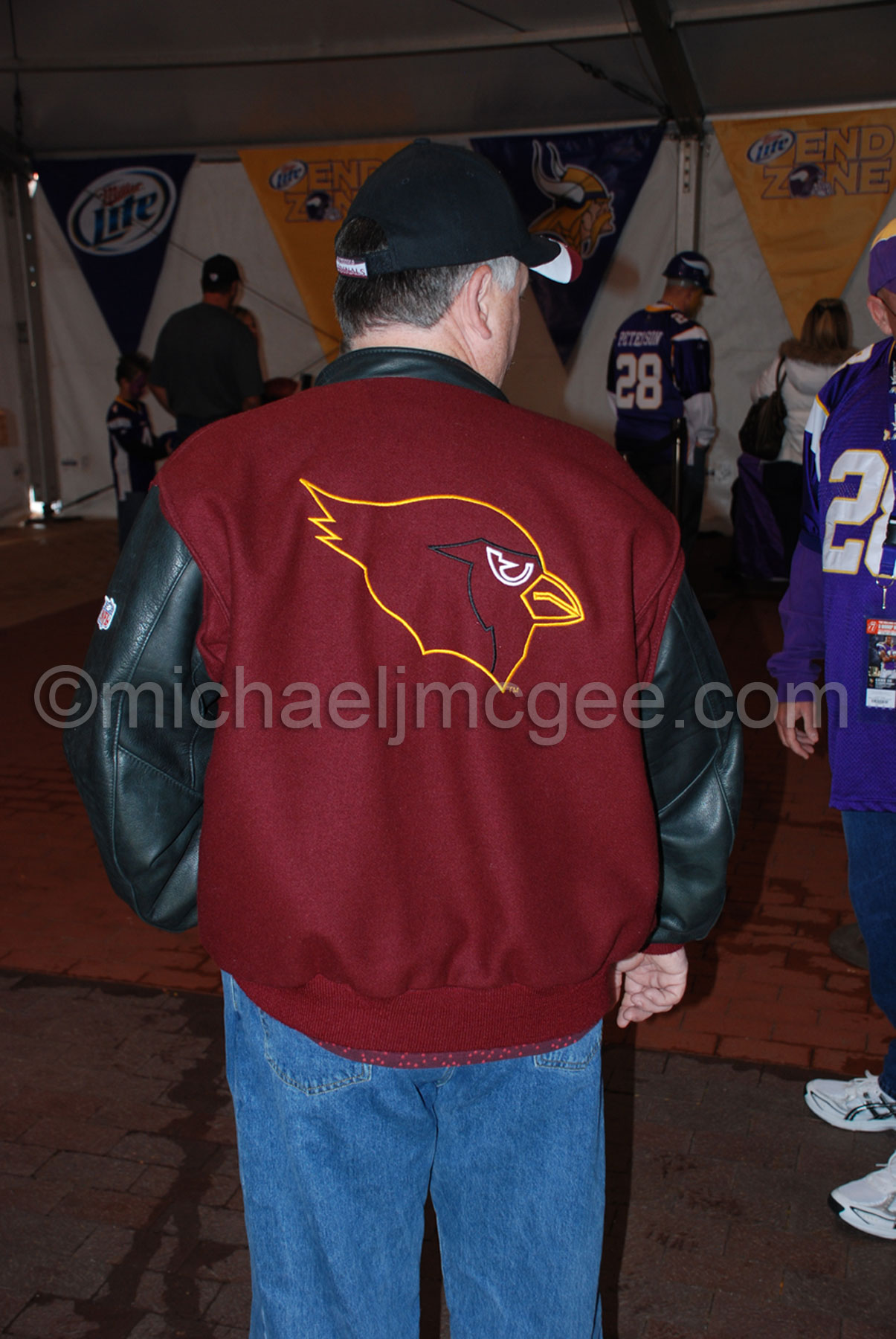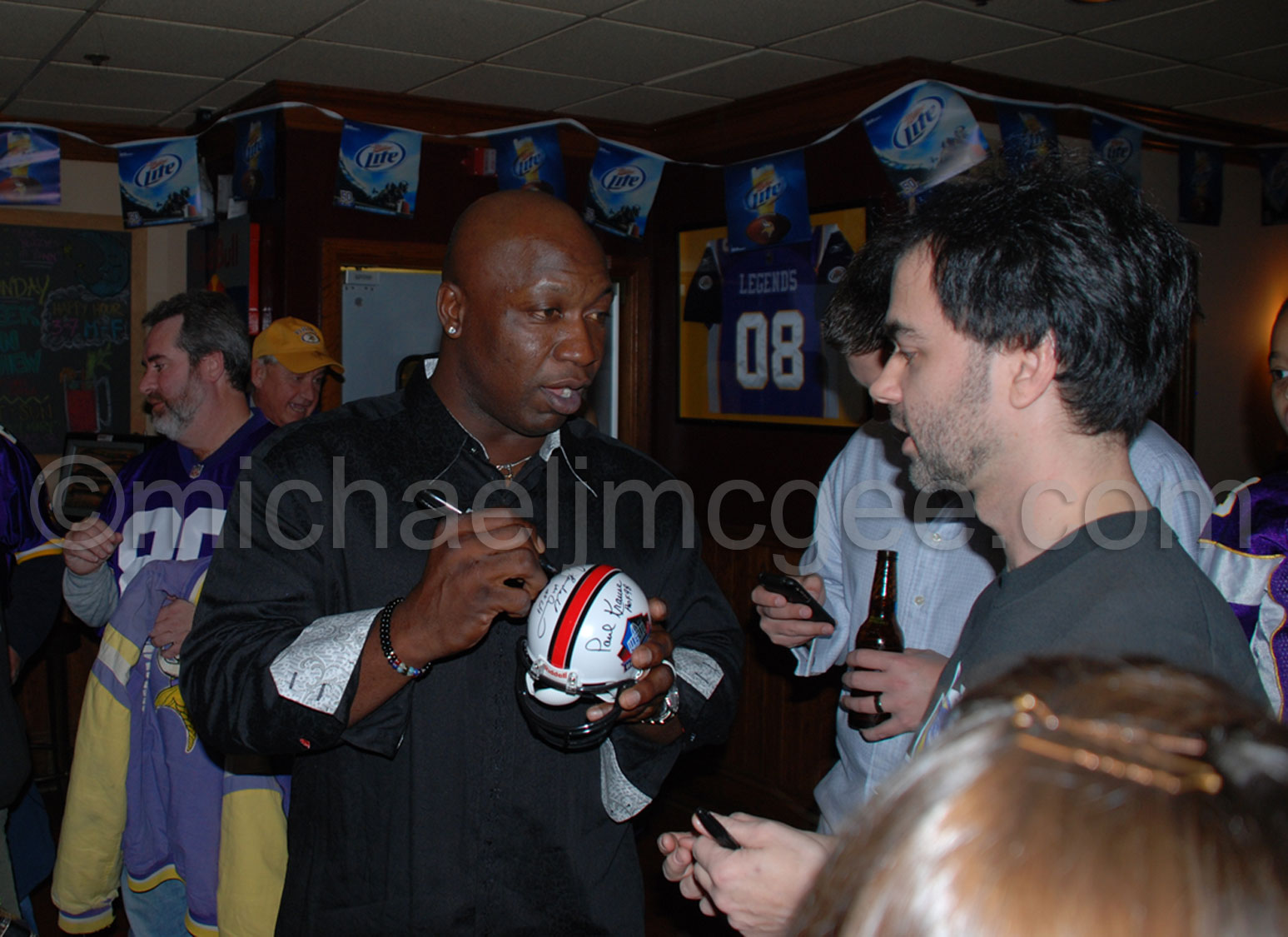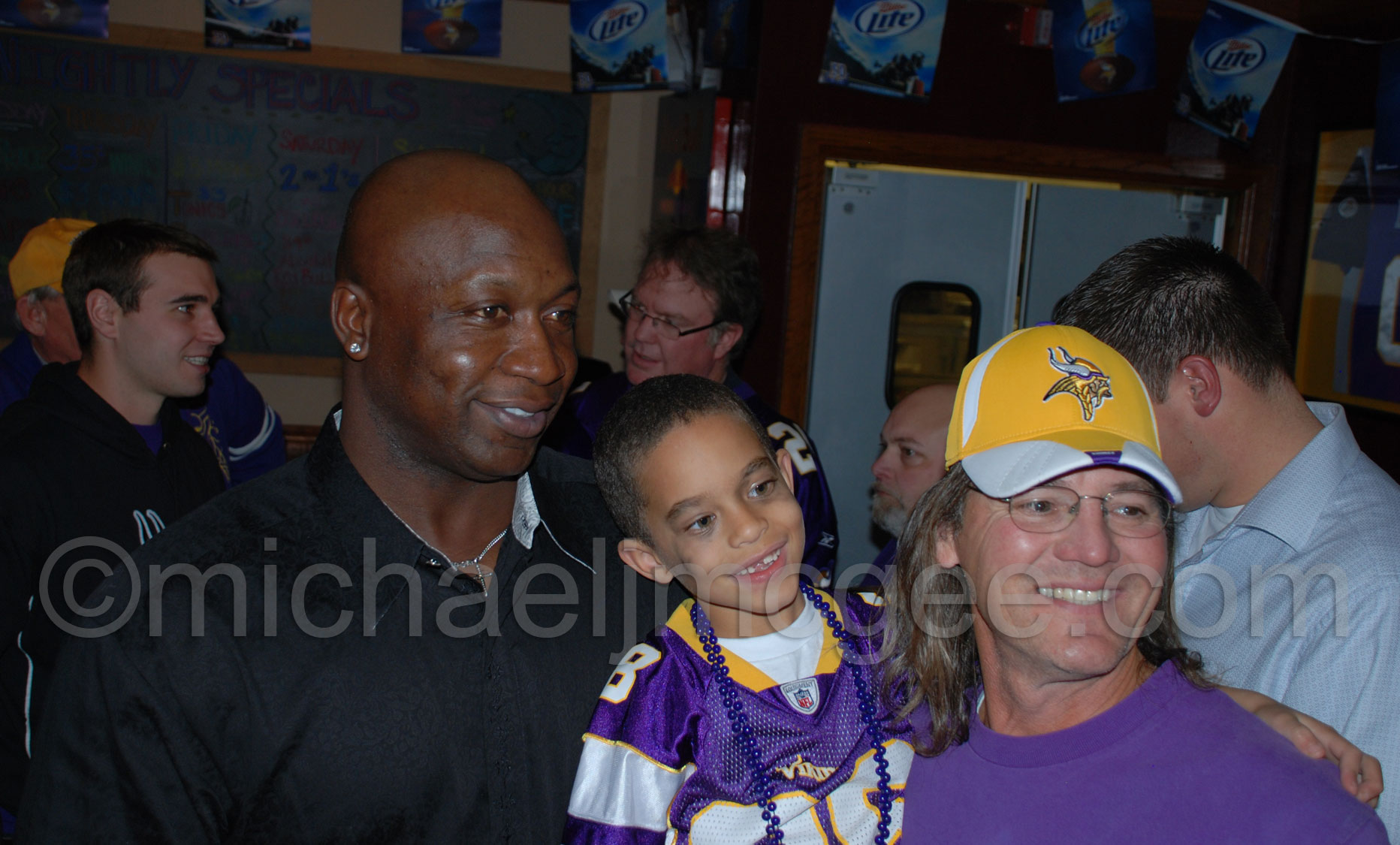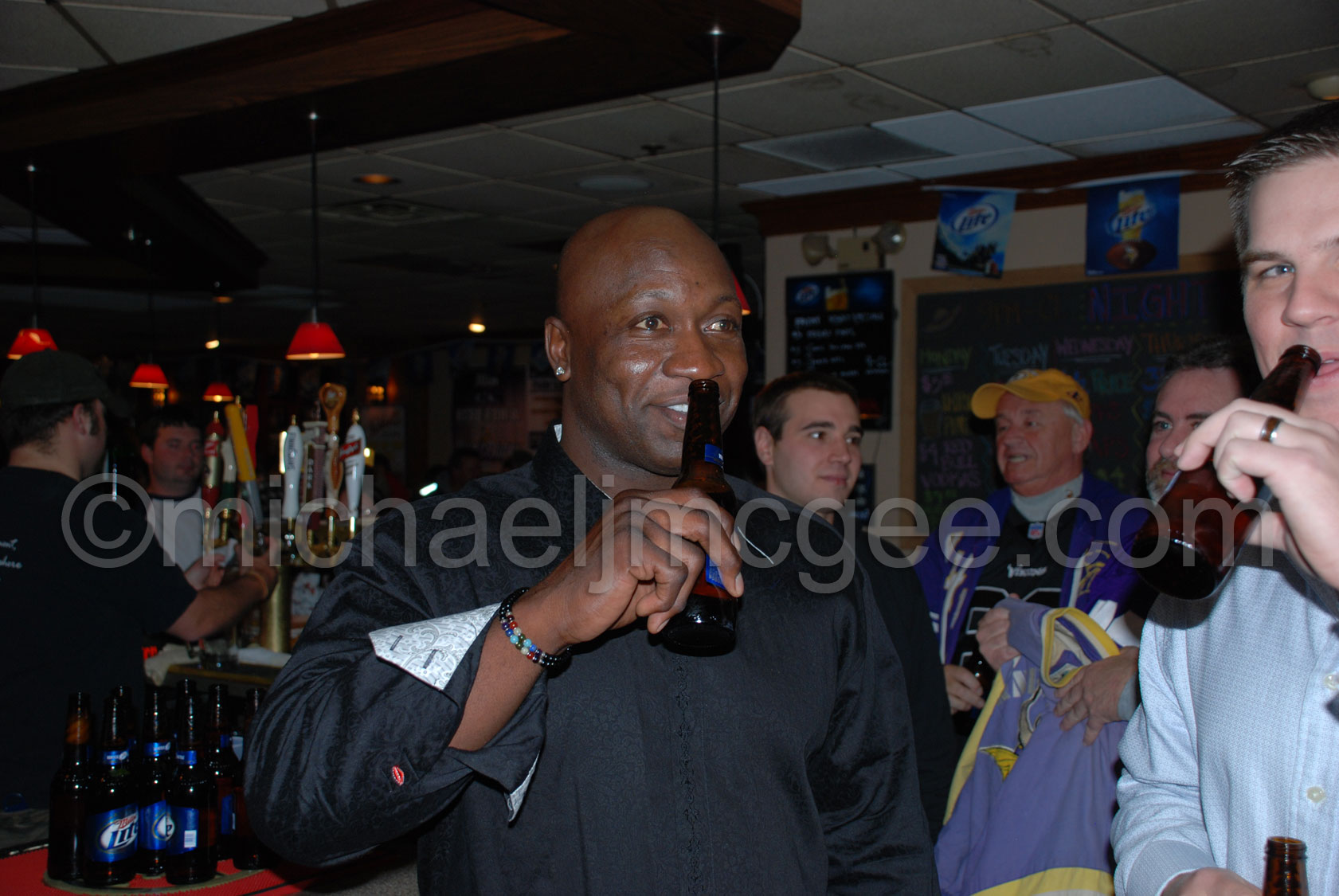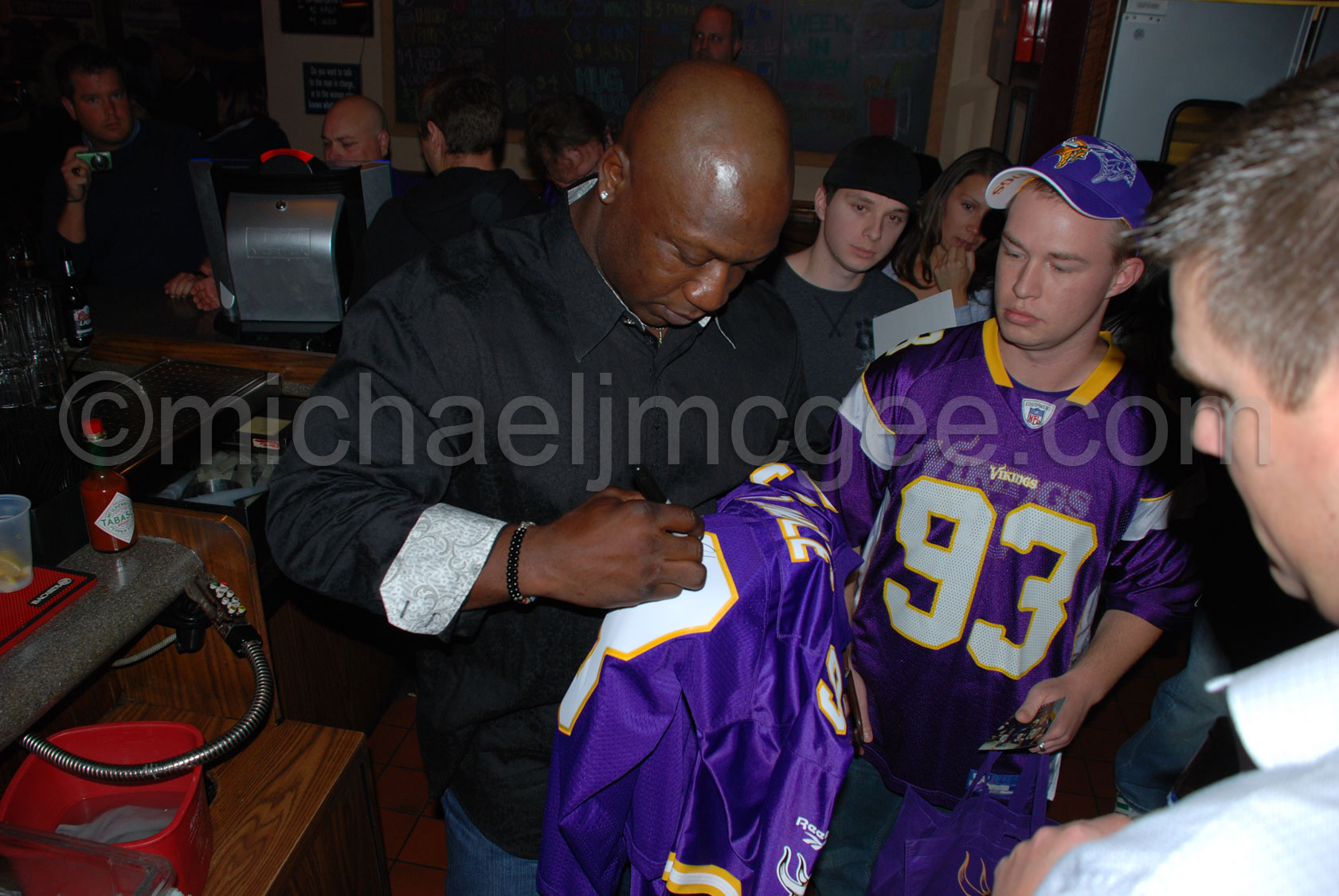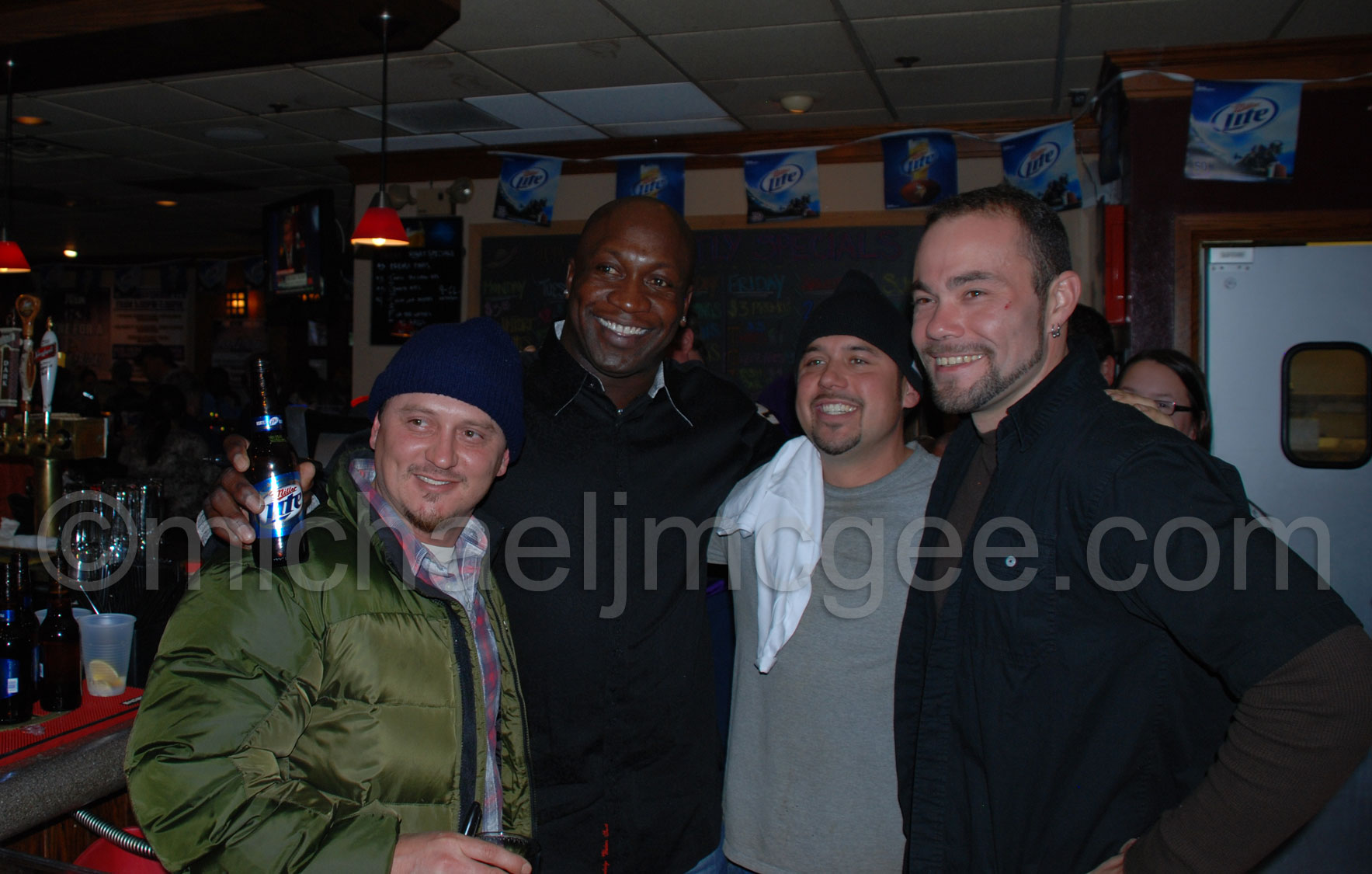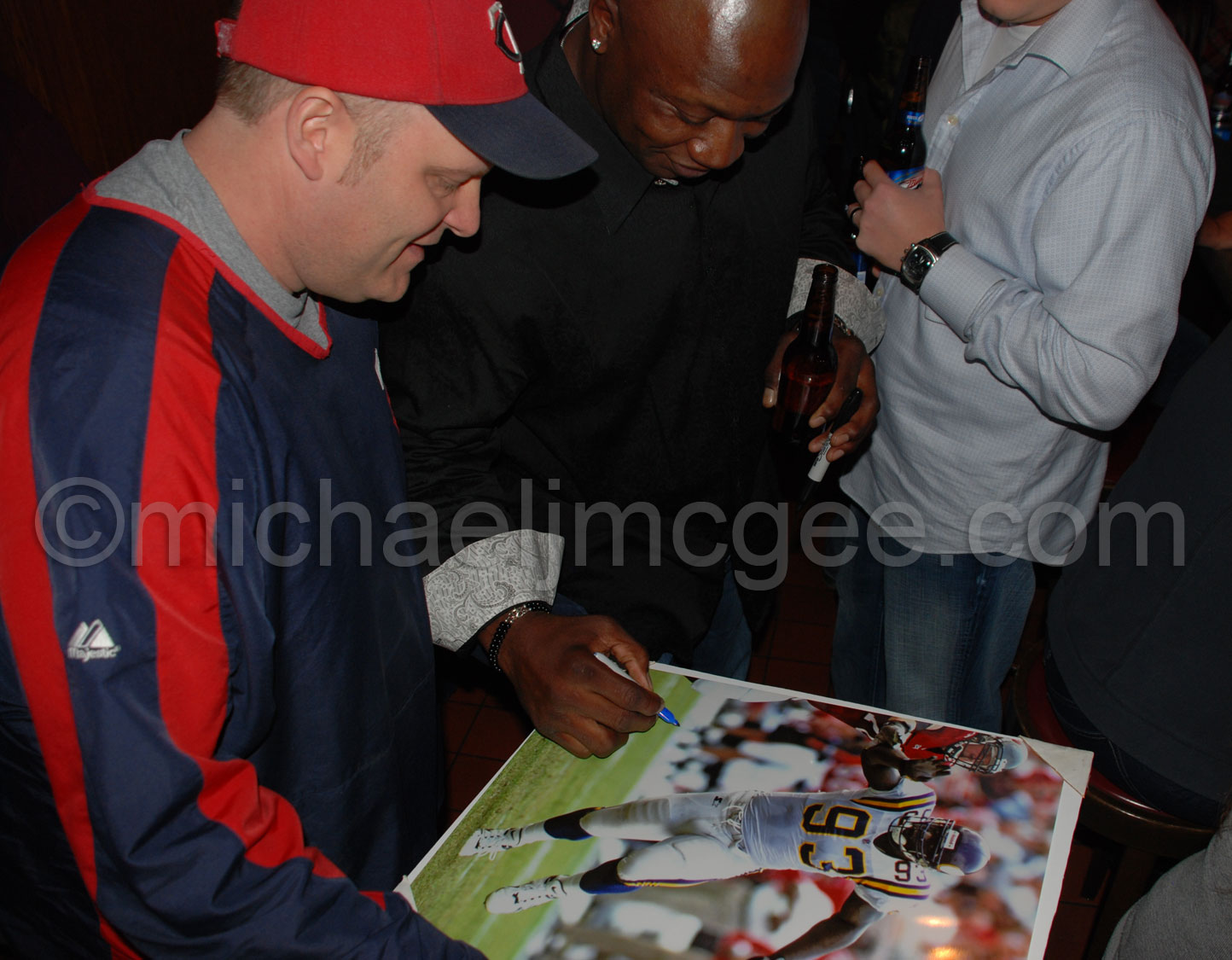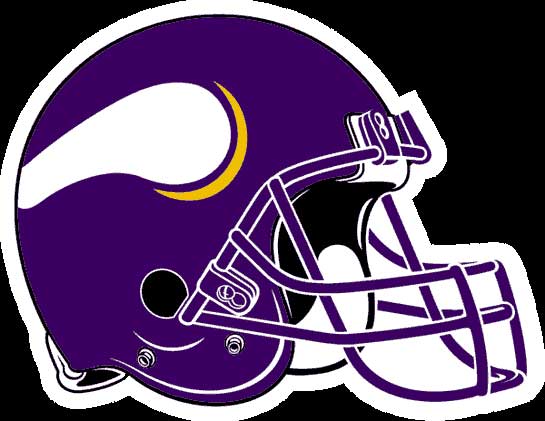 Heading downtown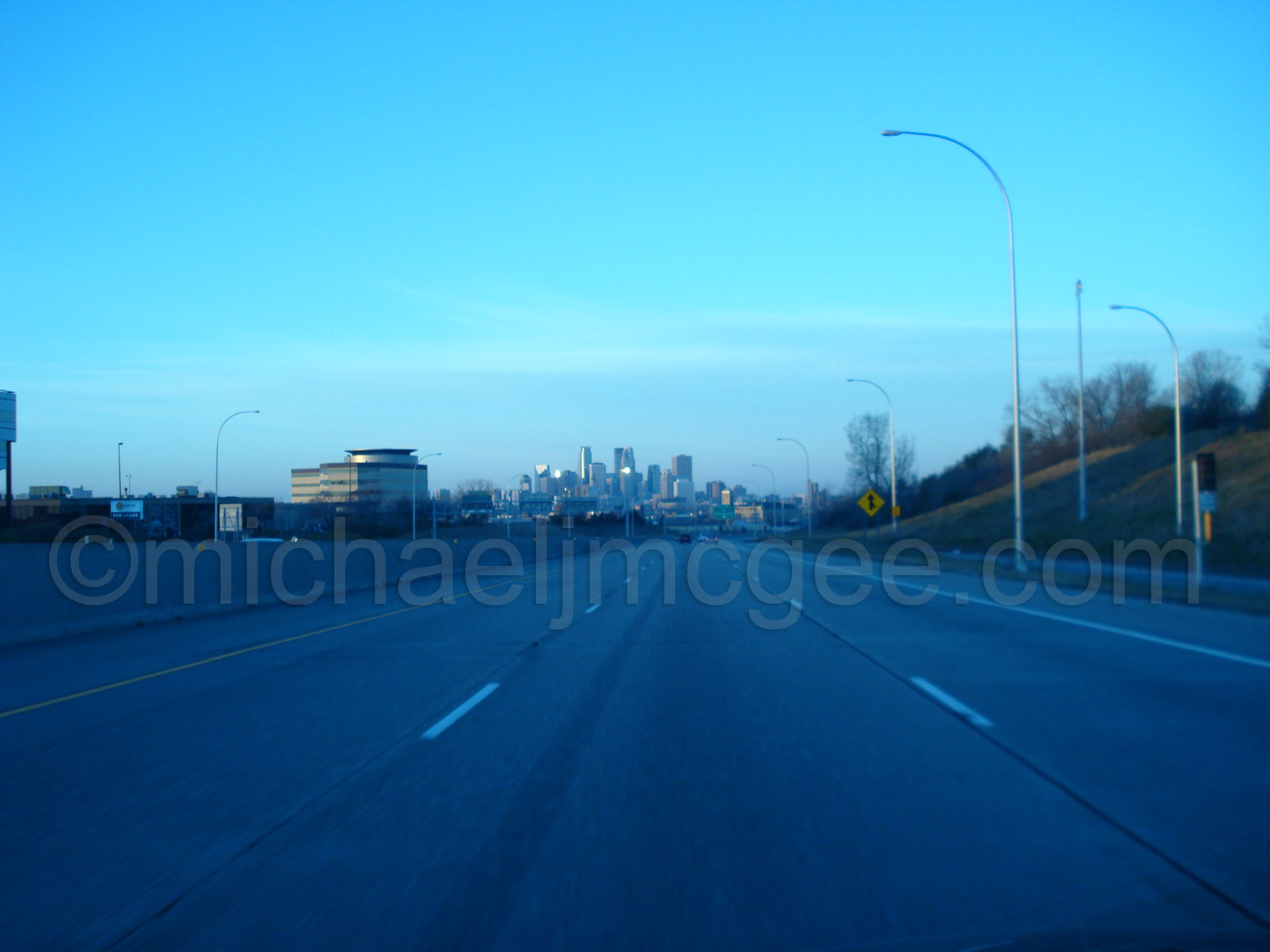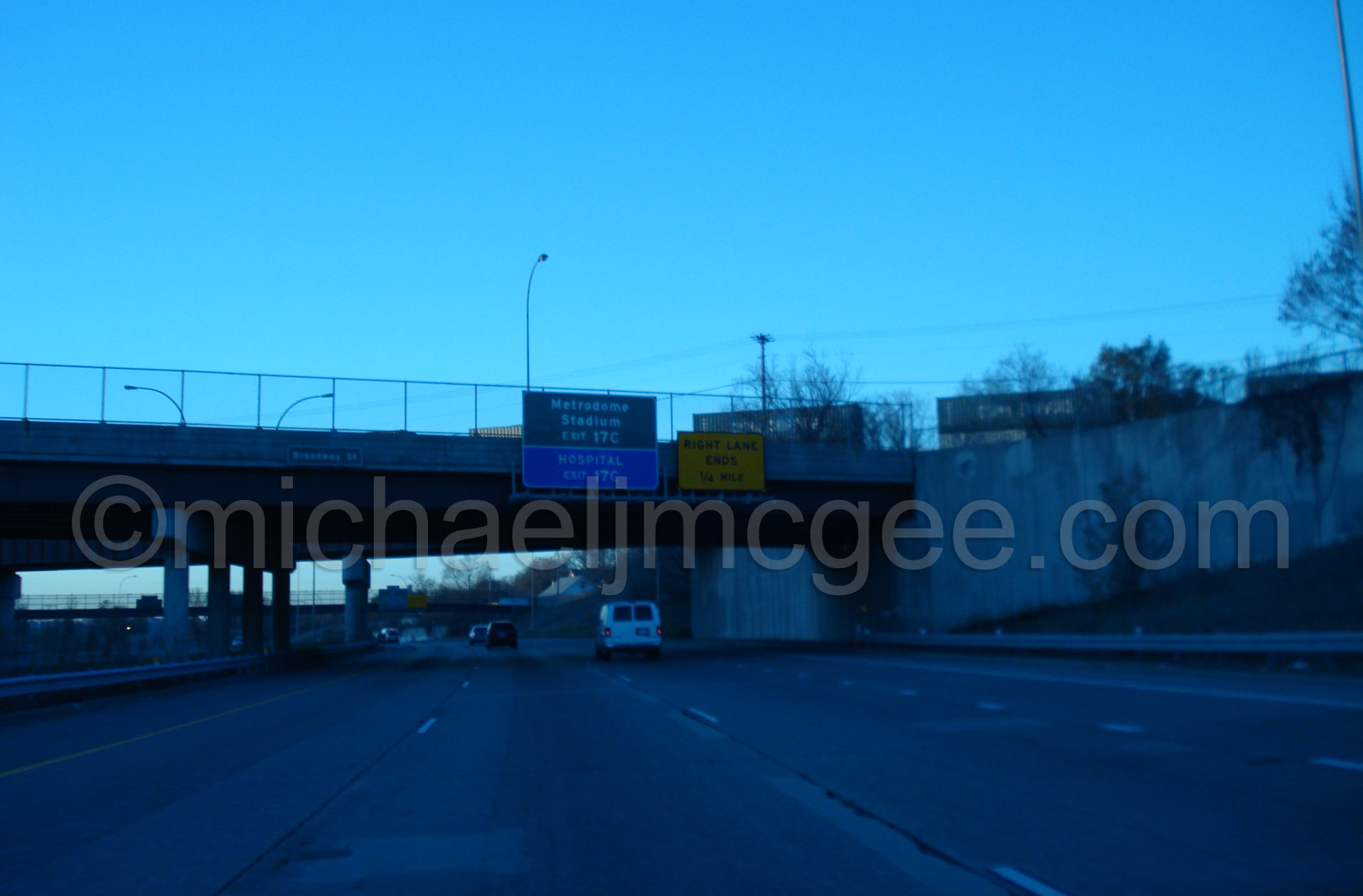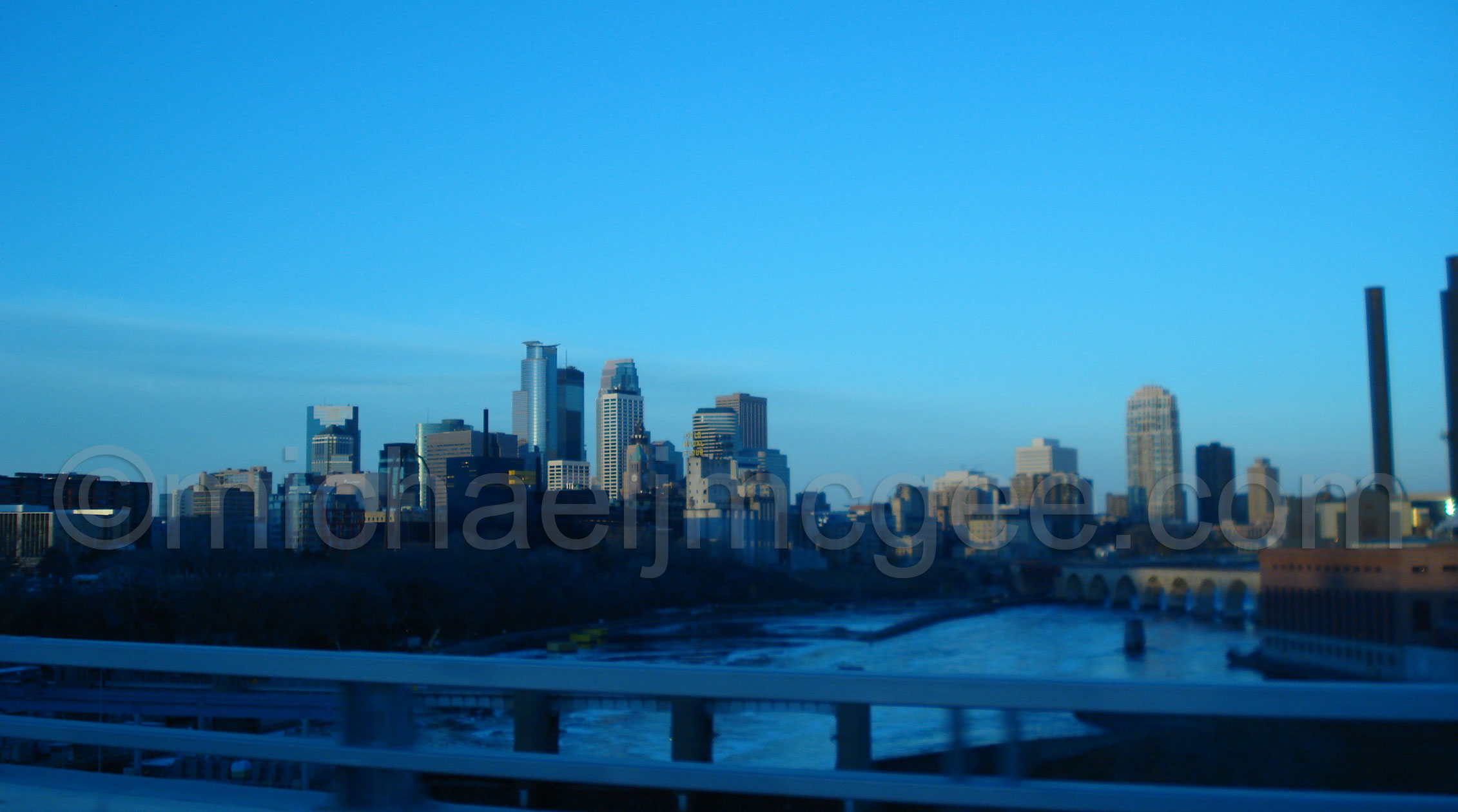 Downtown Minneapolis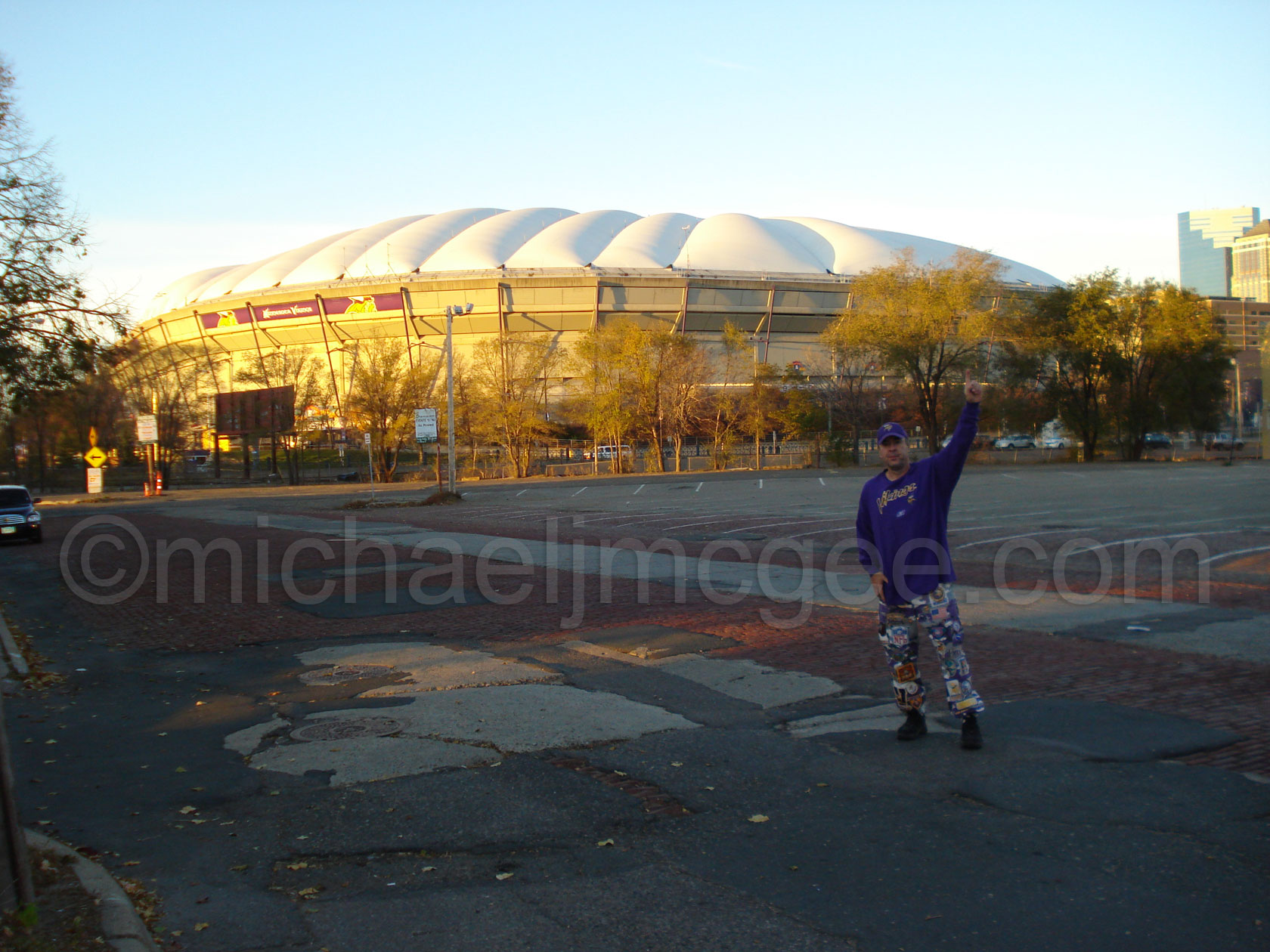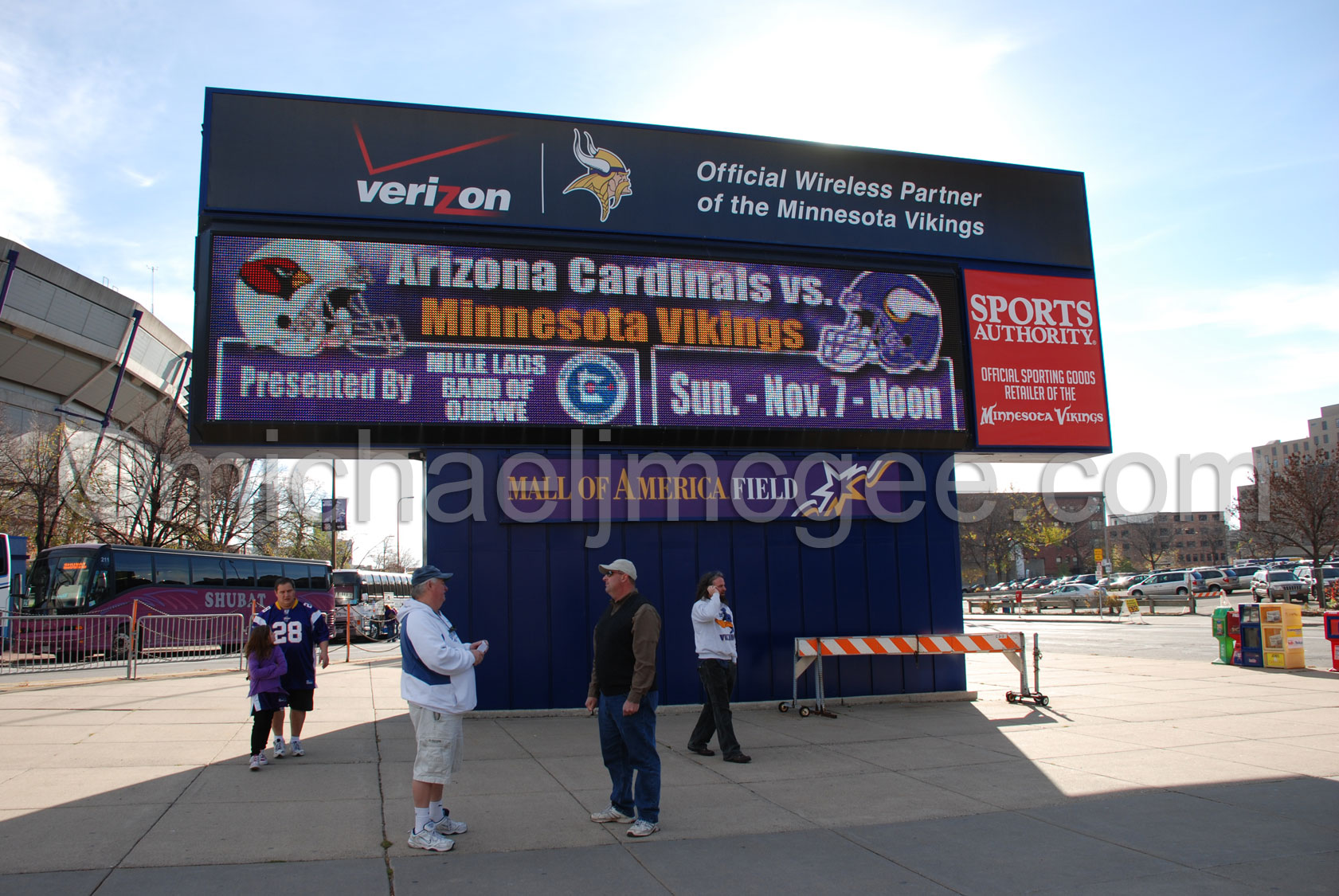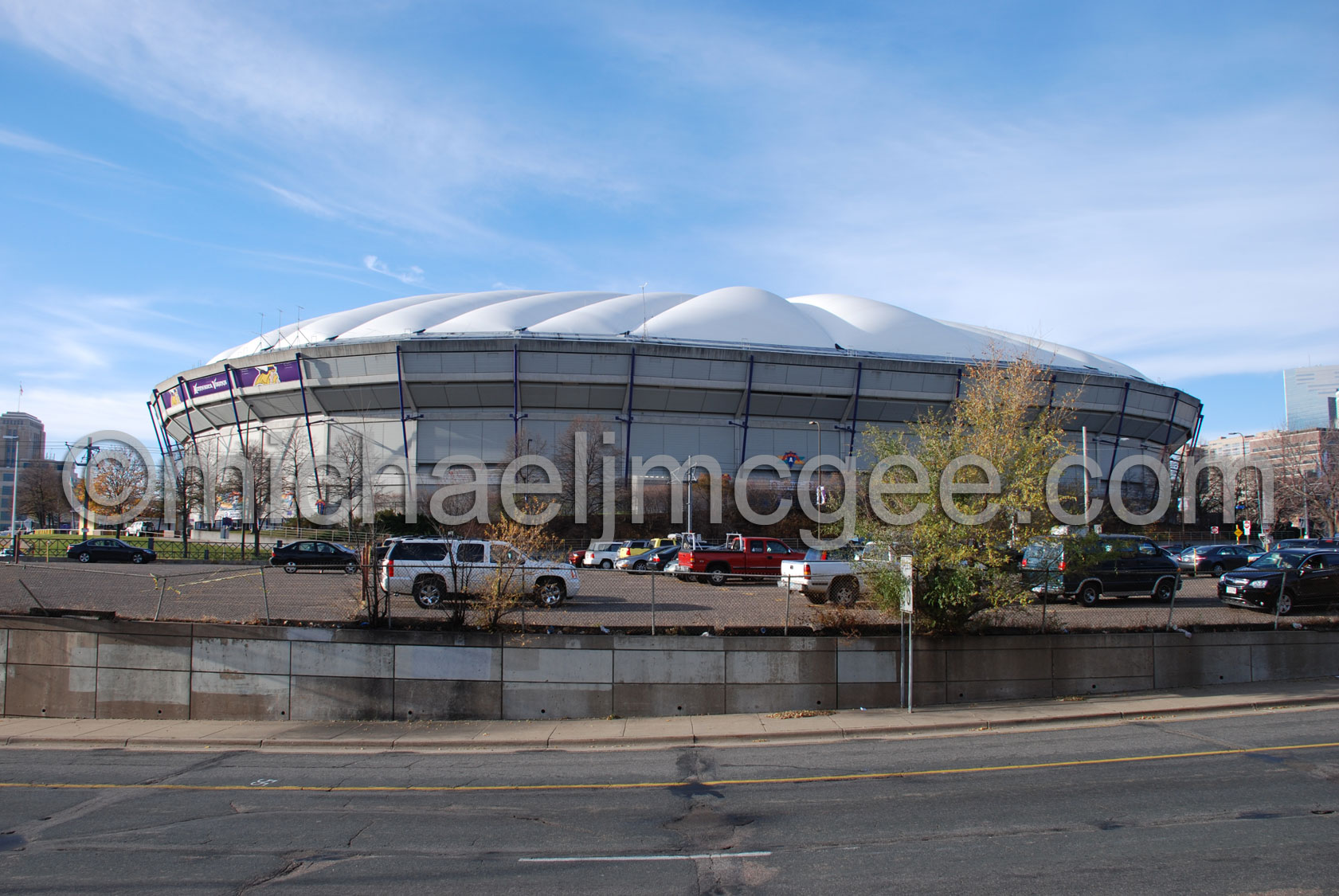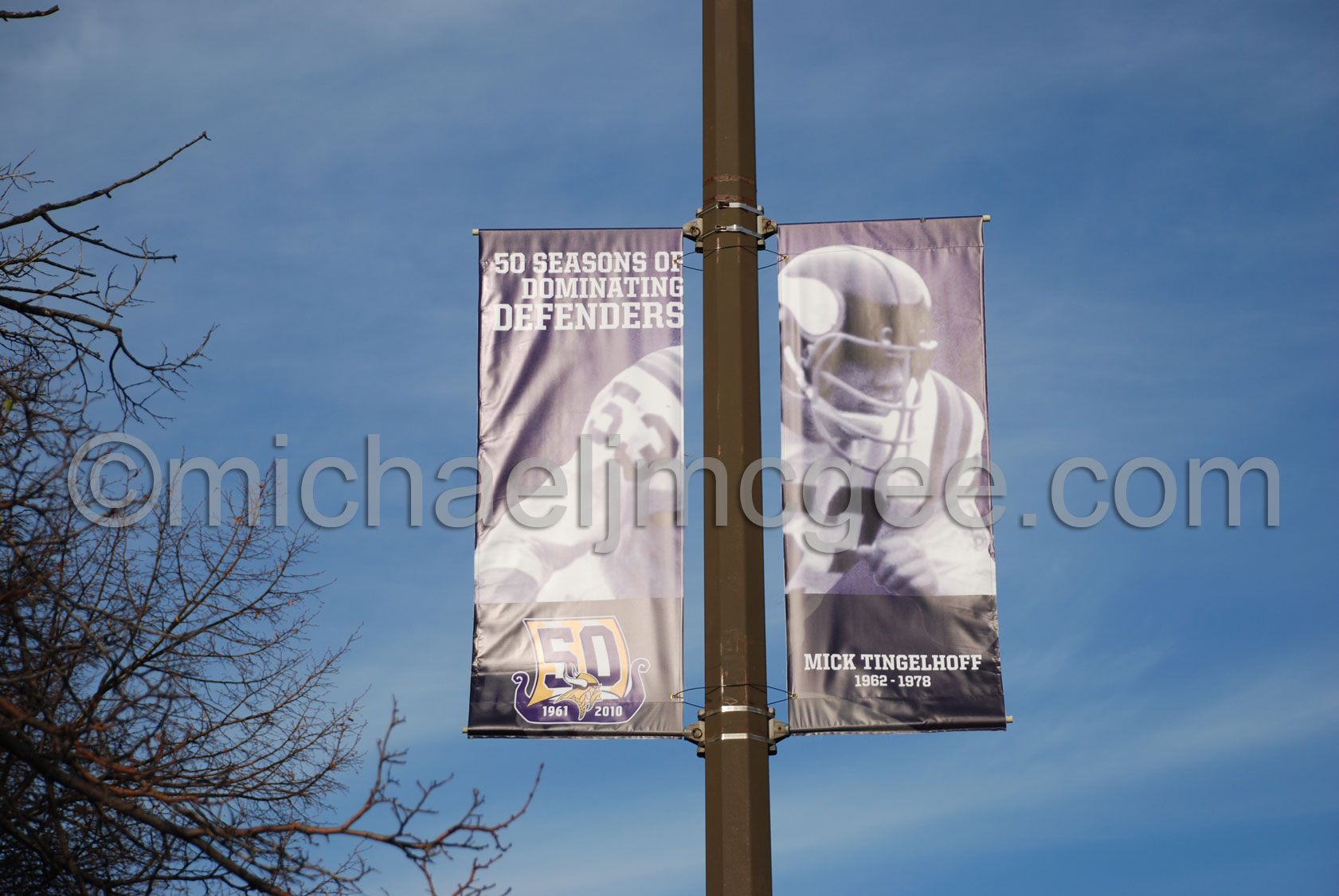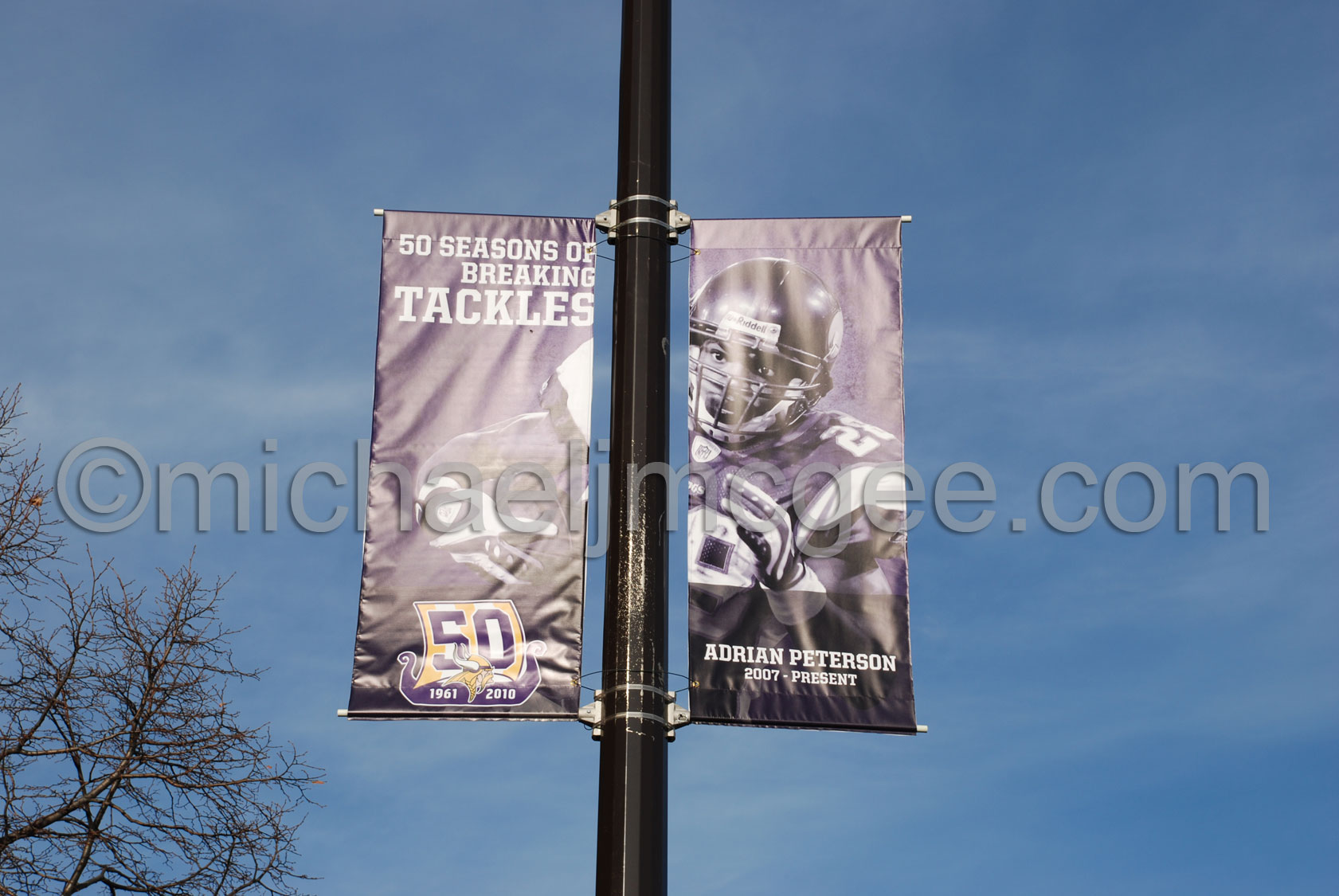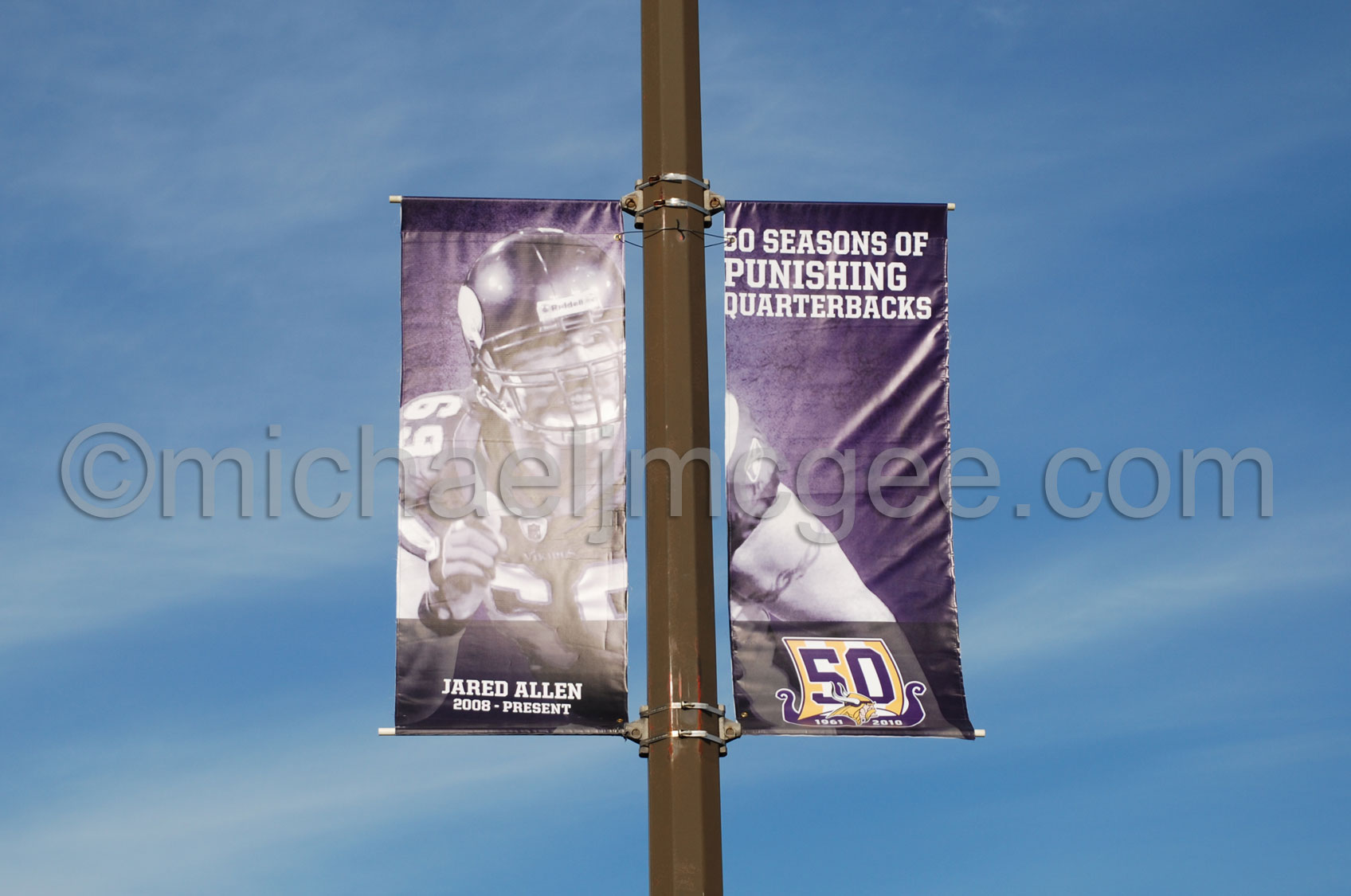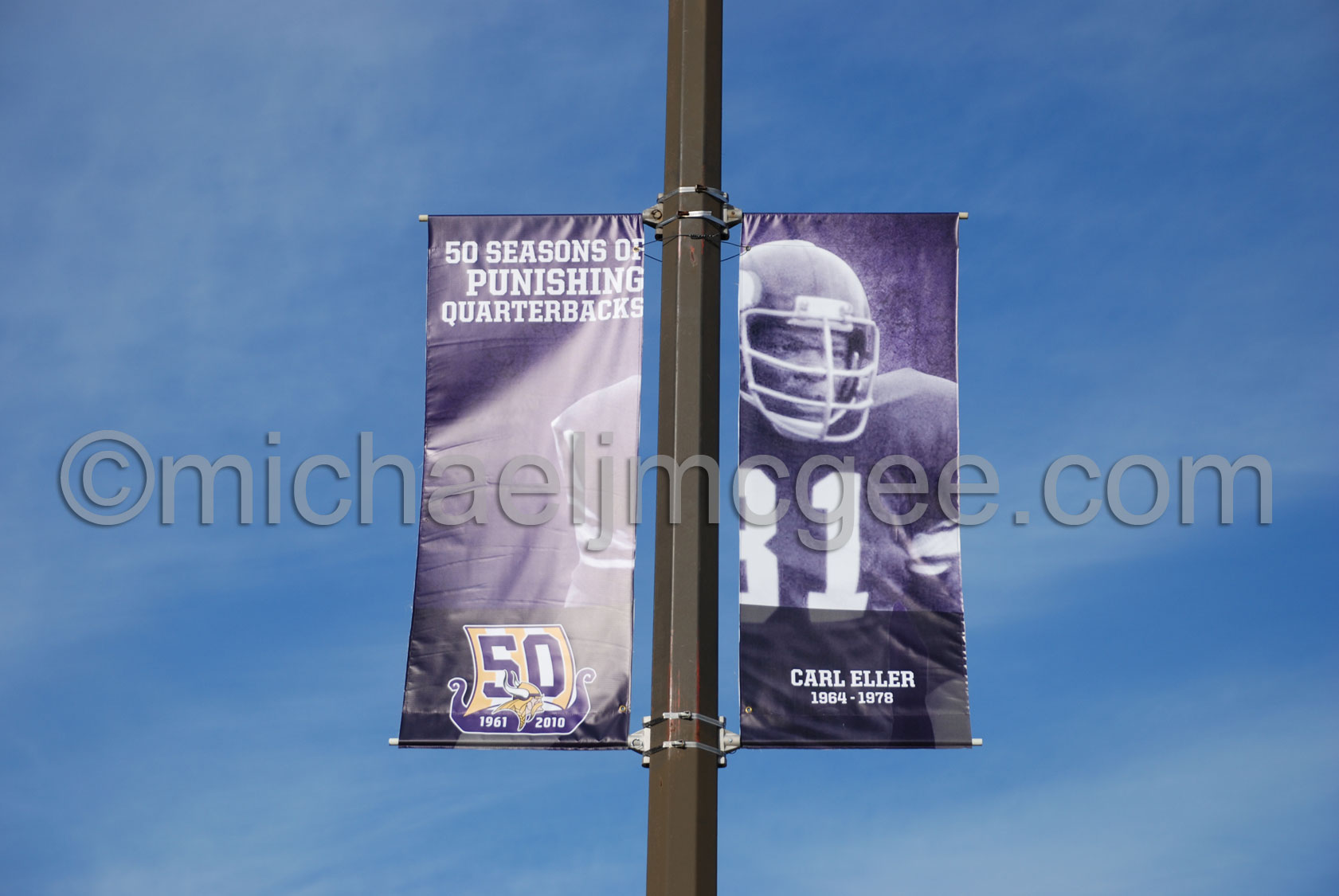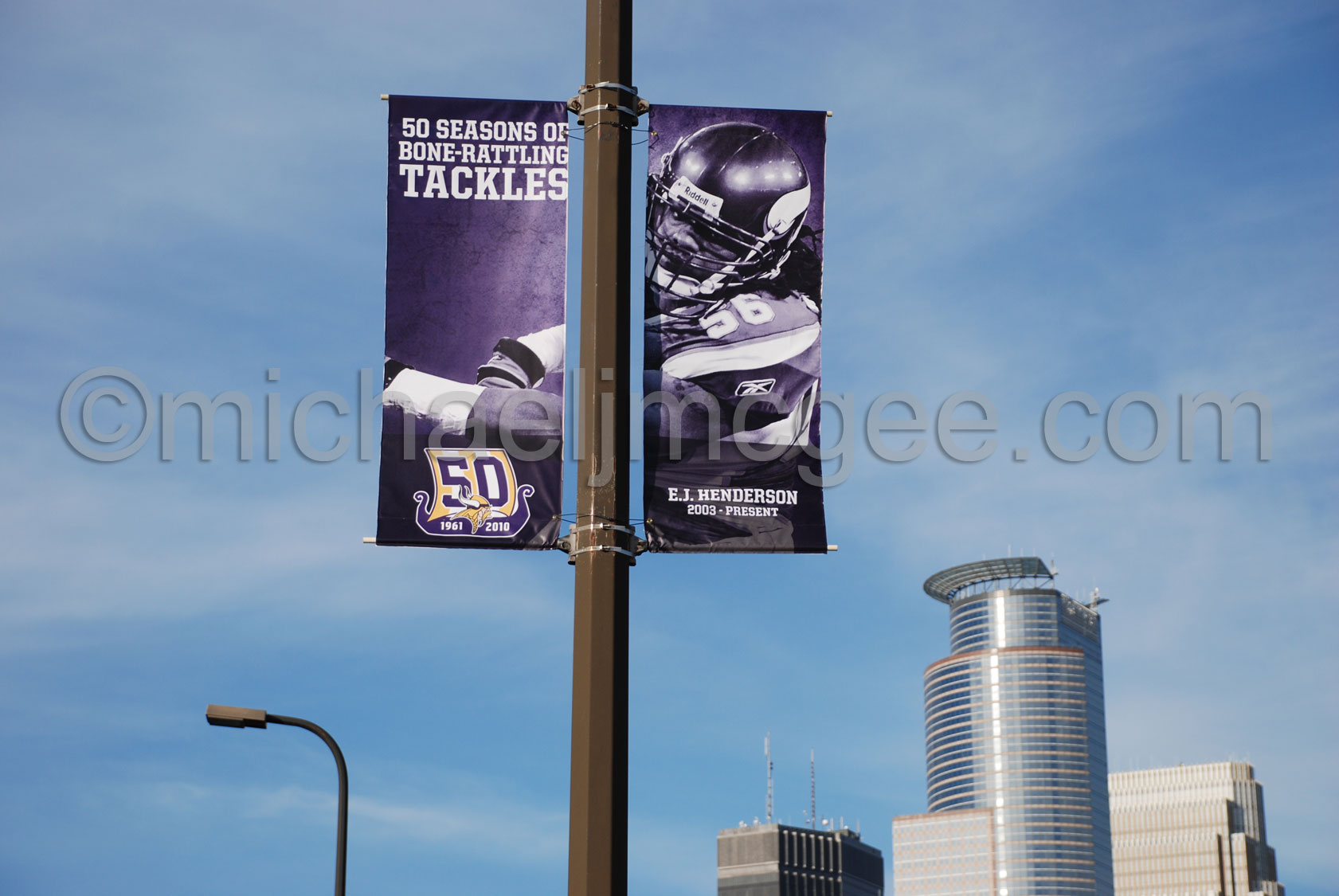 Miller Lite End Zone Alumni signing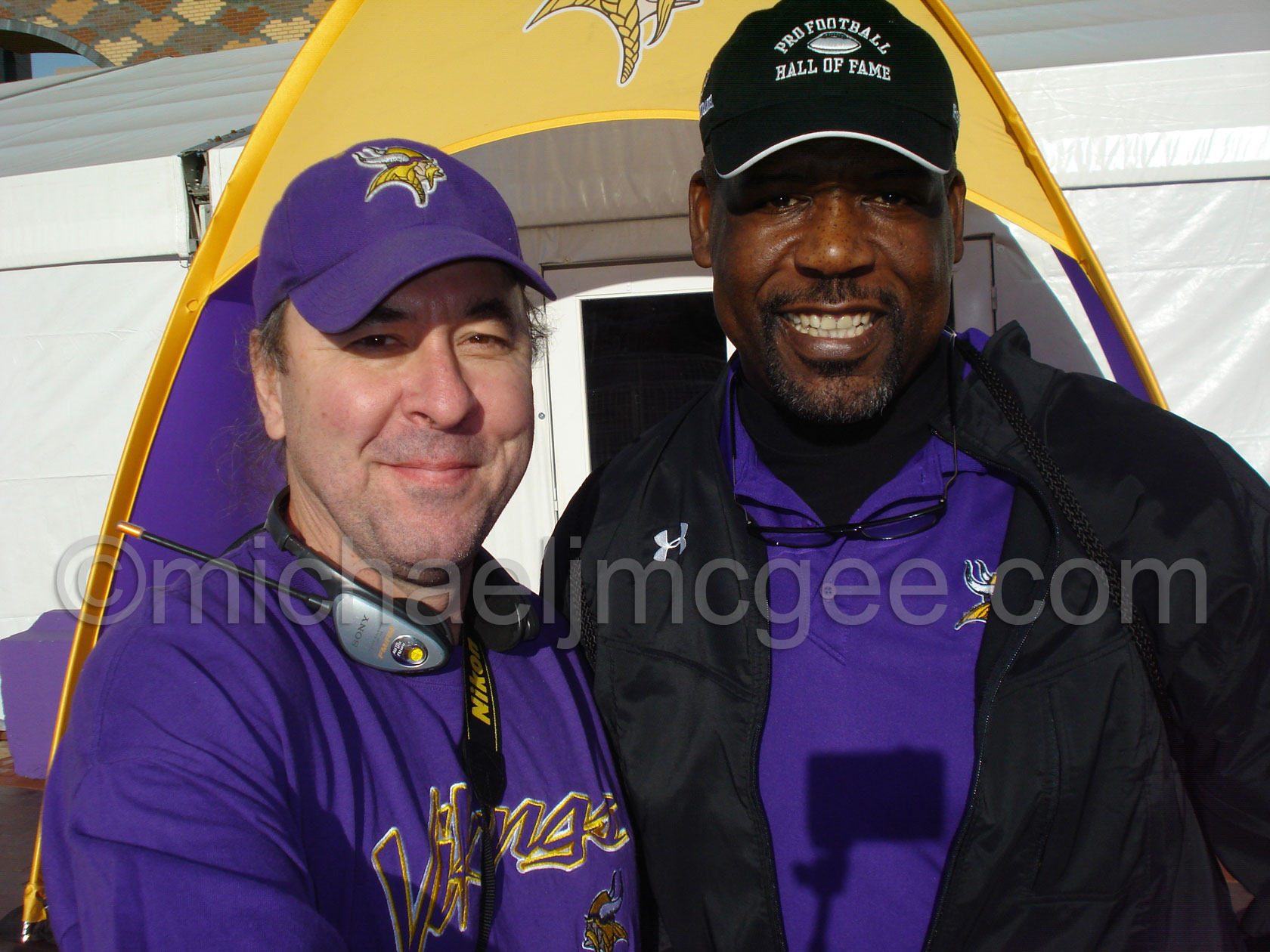 With the "Great" Randall McDaniel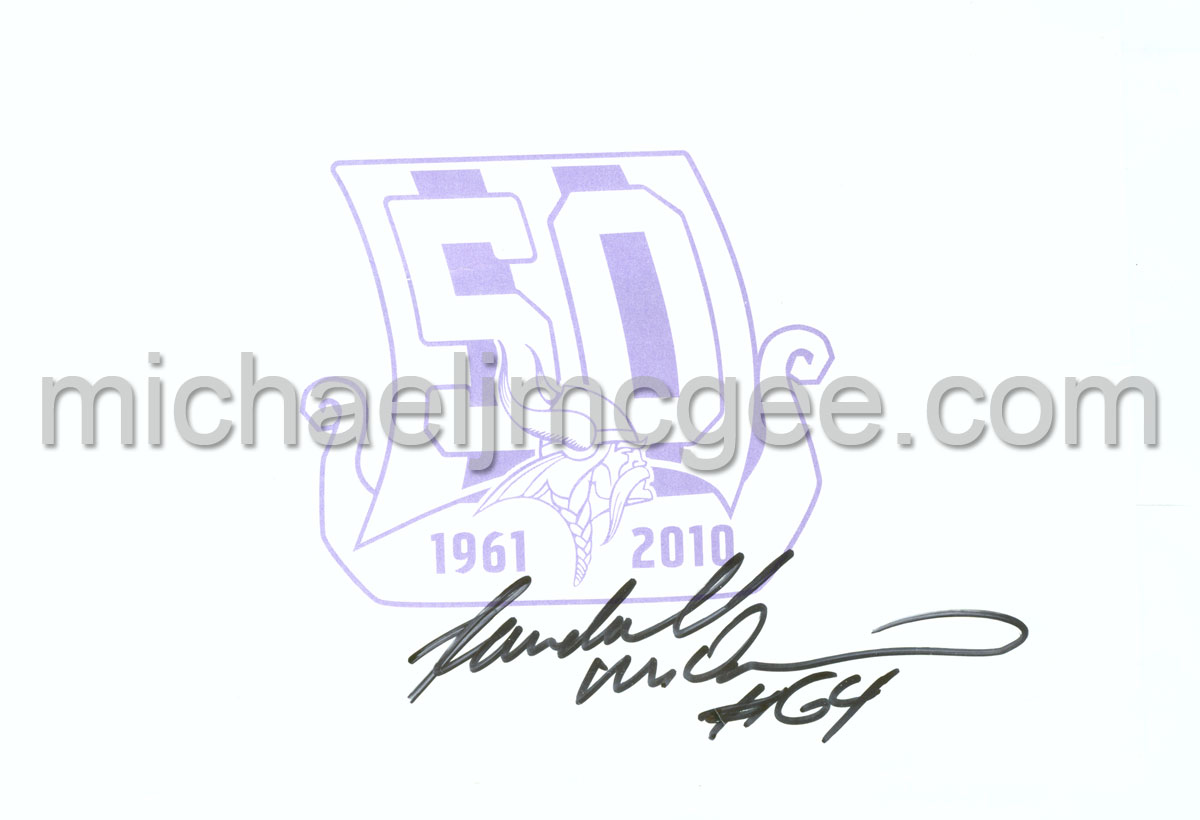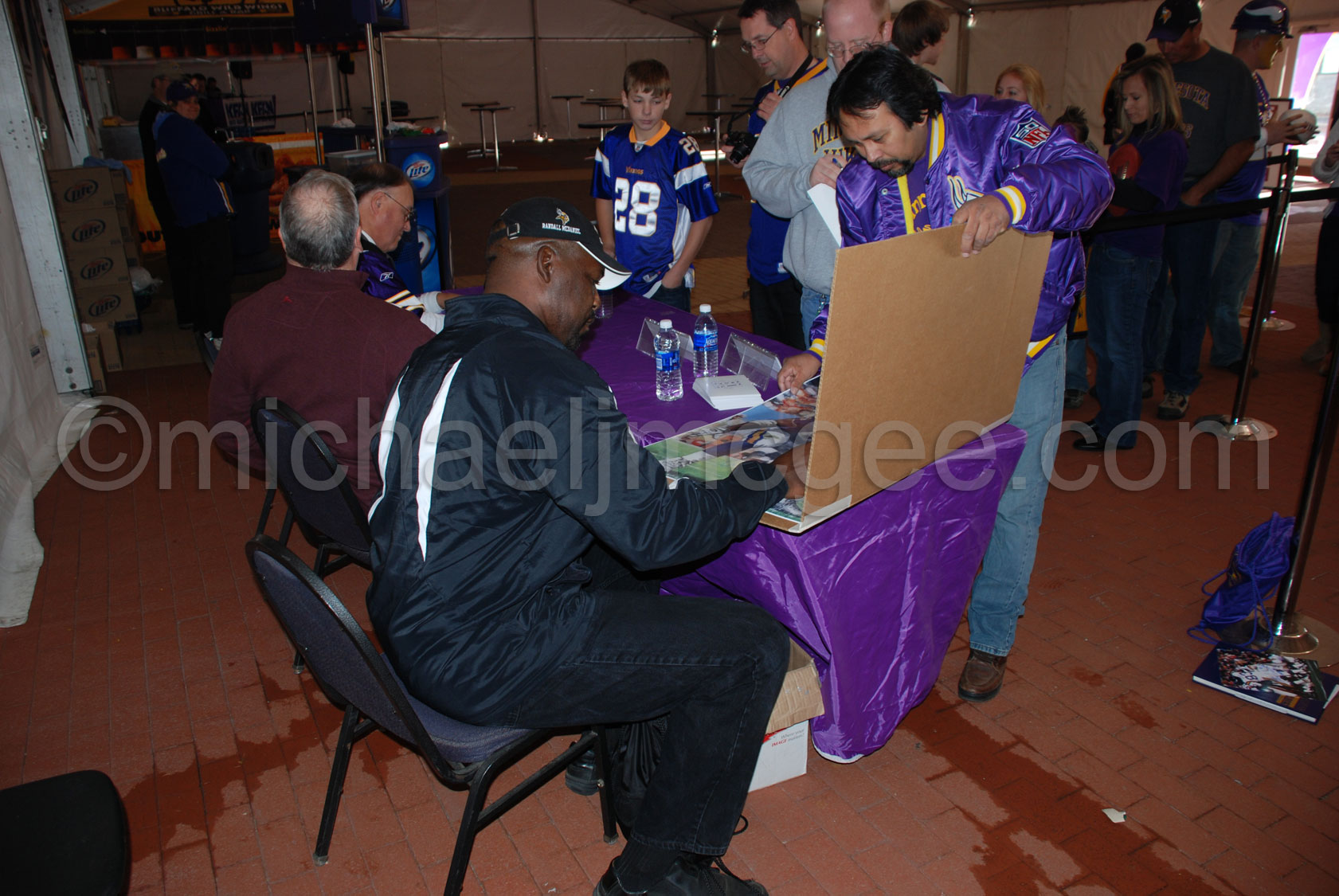 Randall signs for the many fans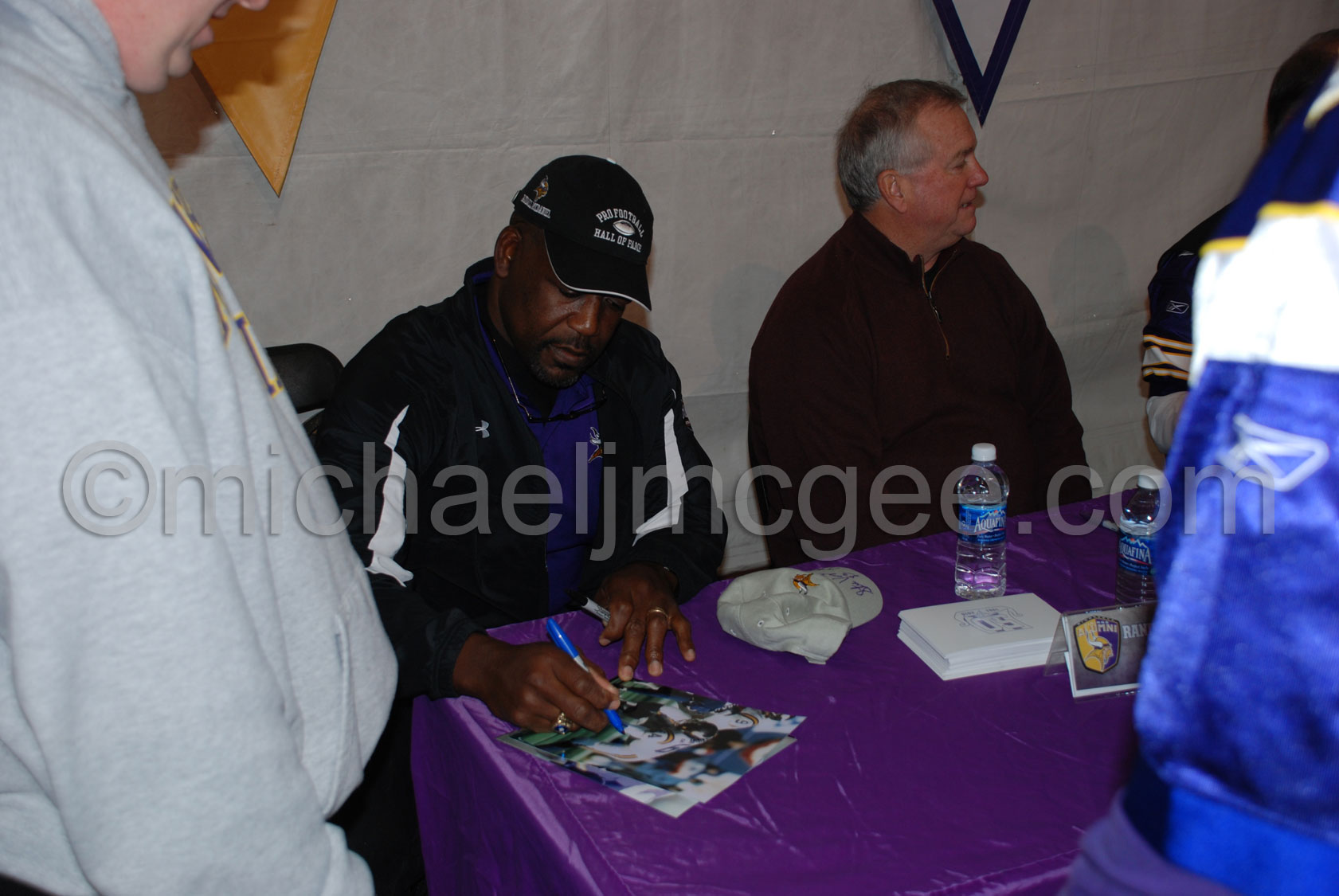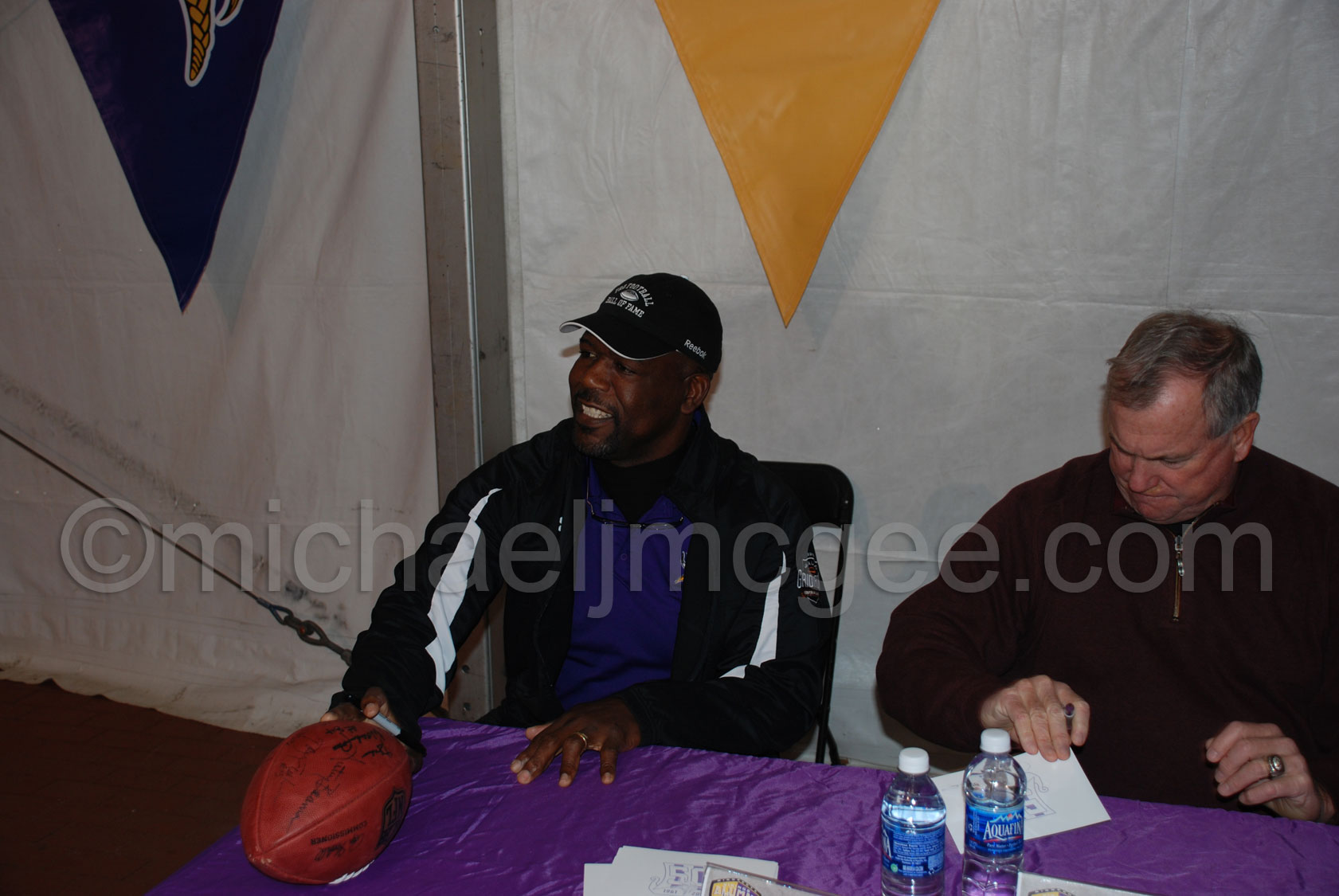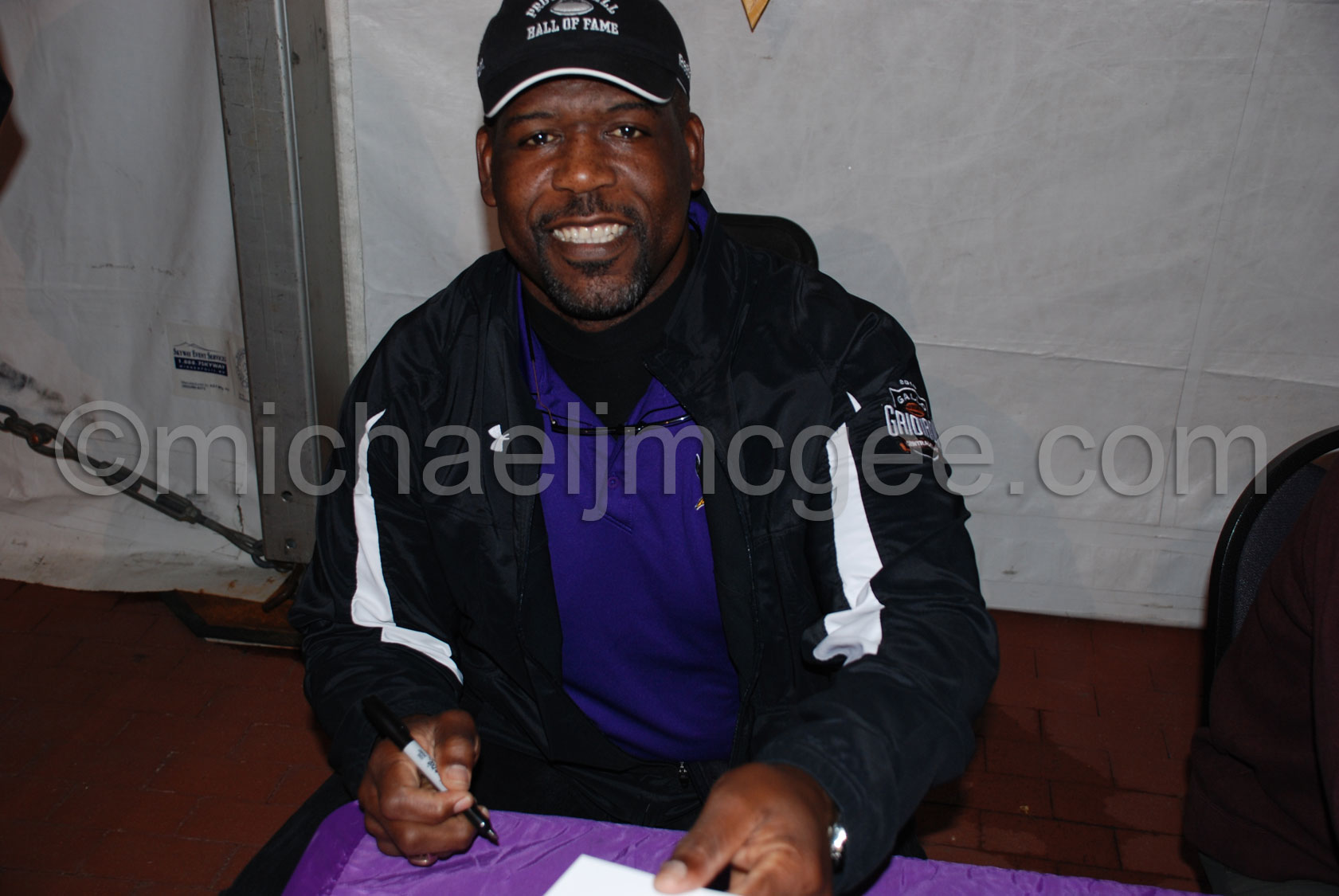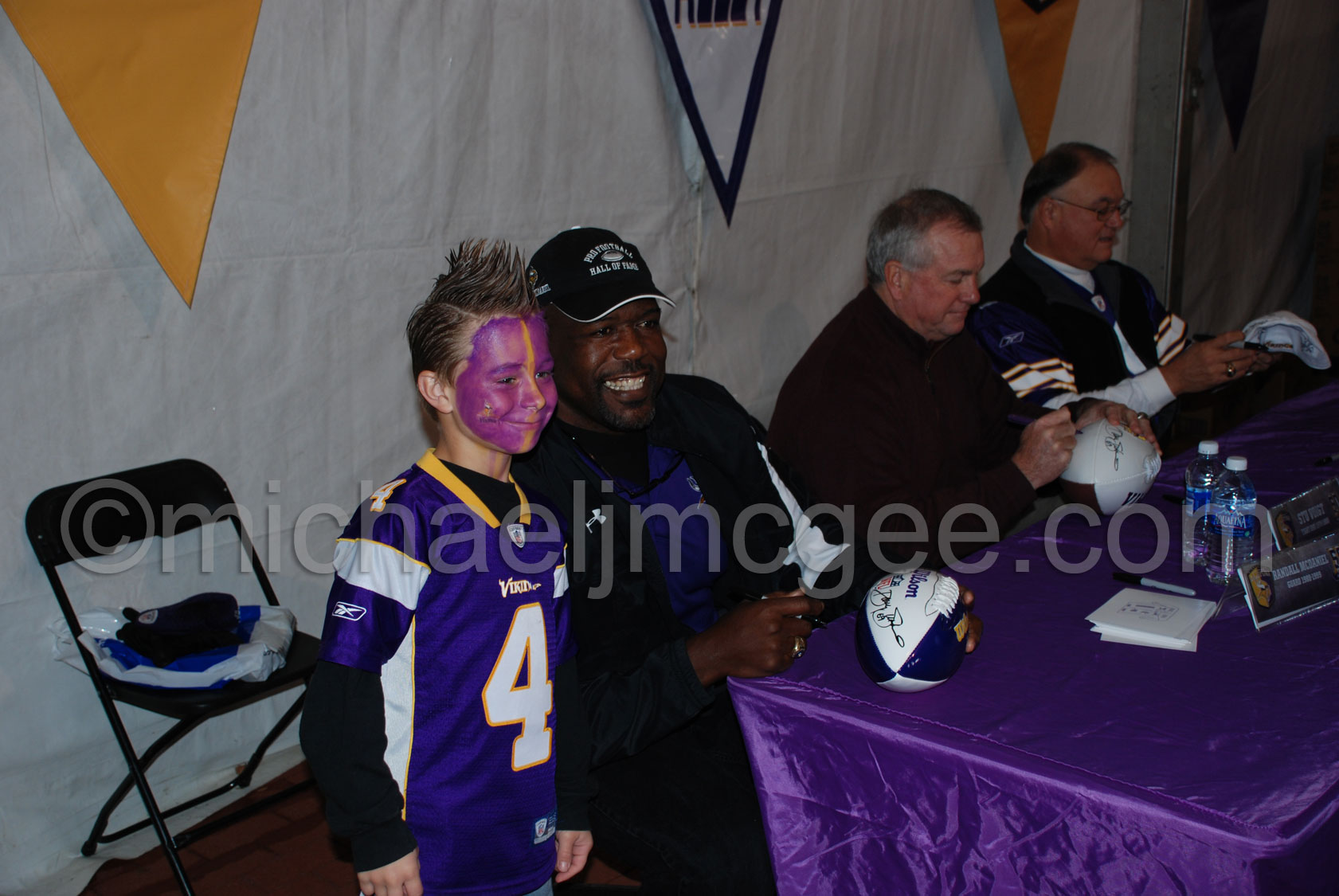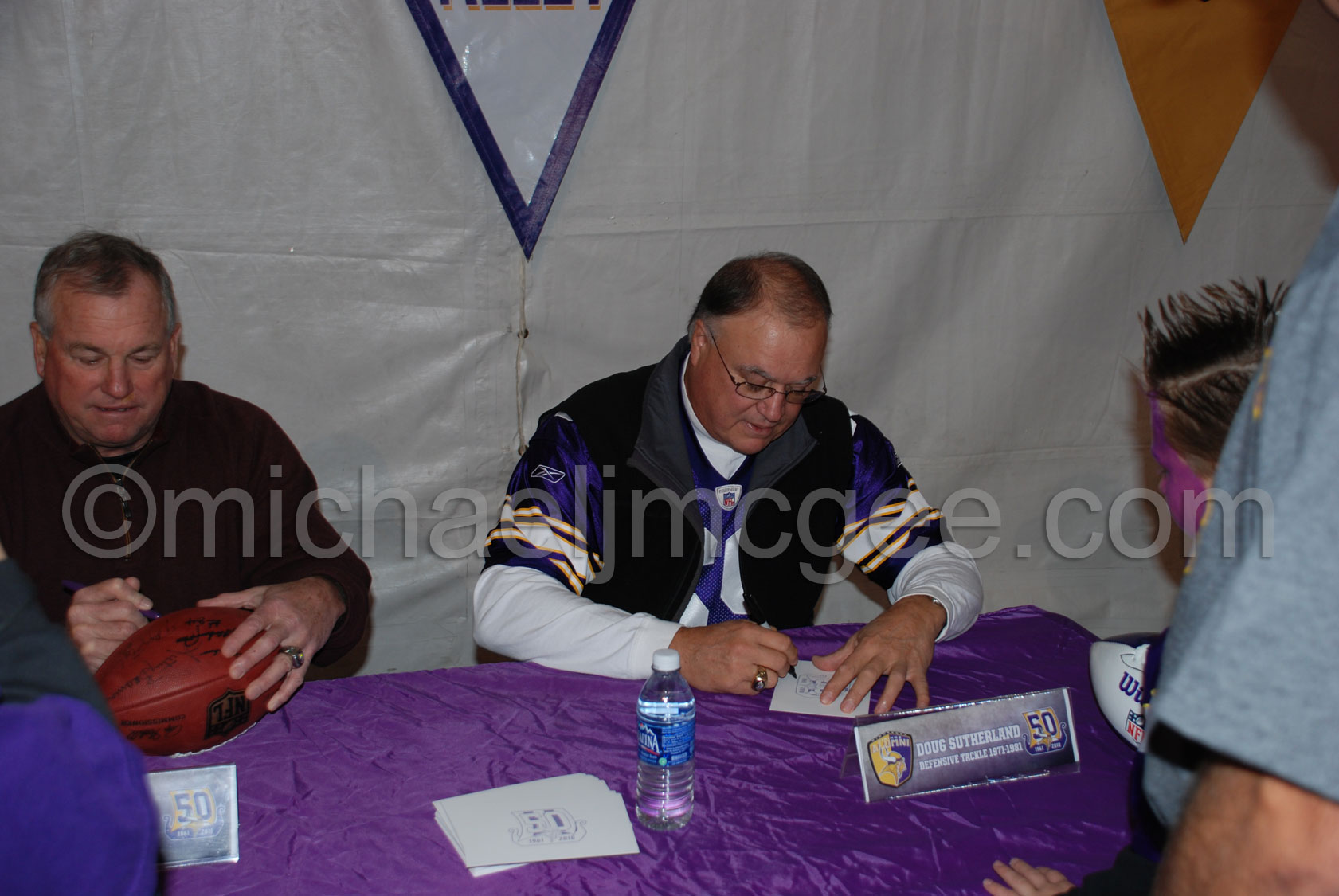 TE Stu Voight & DE Doug Sutherland sign
Viking's Rubes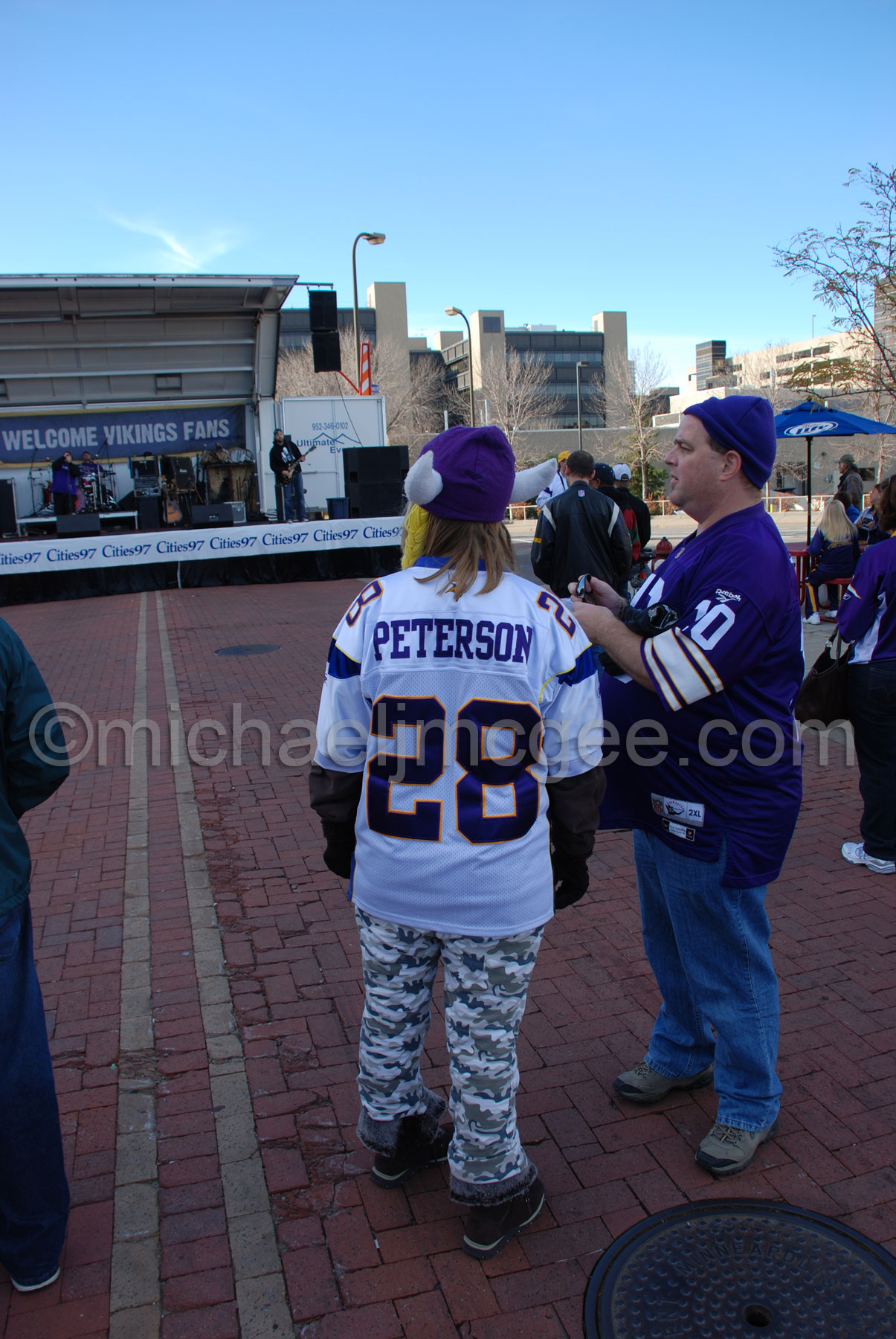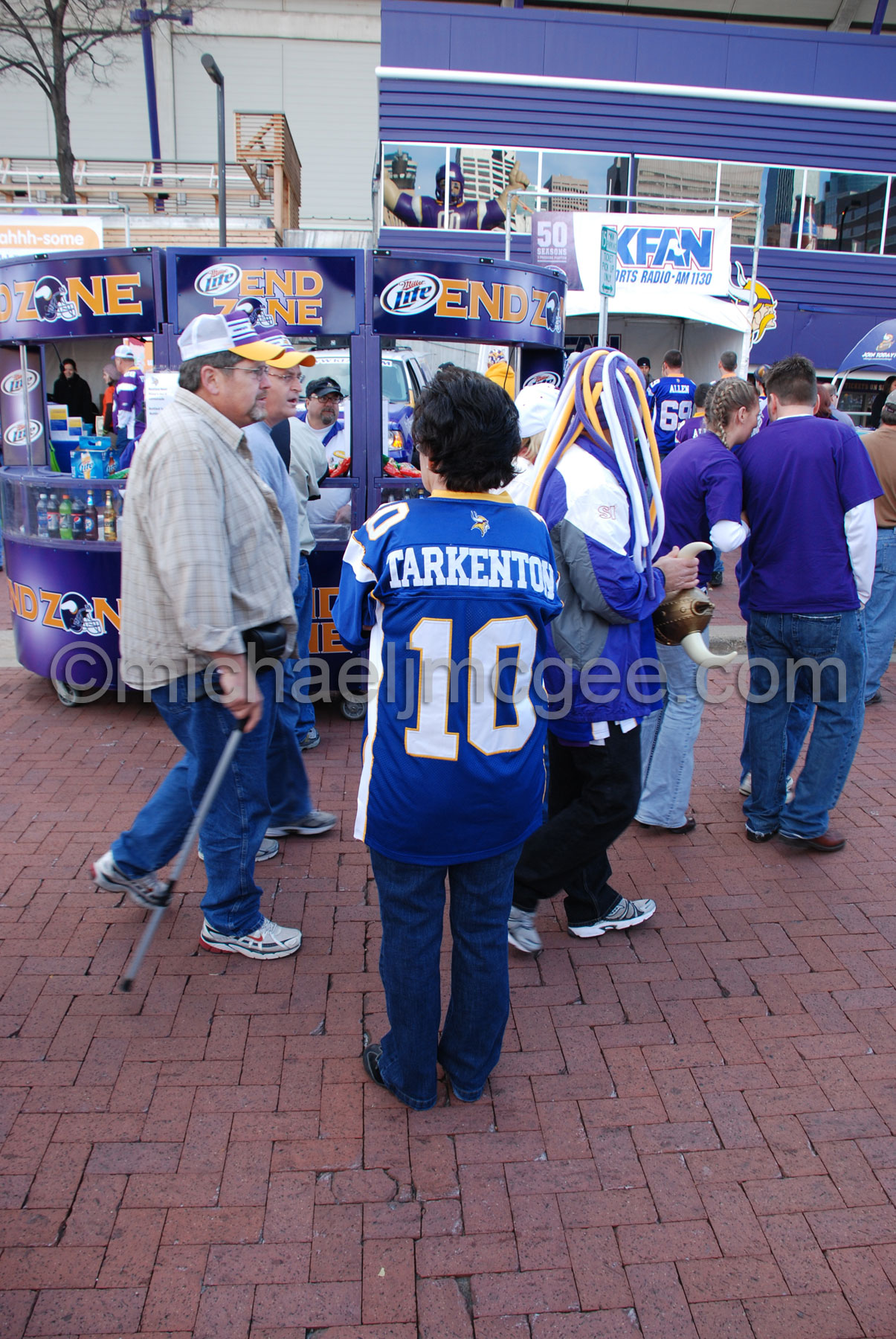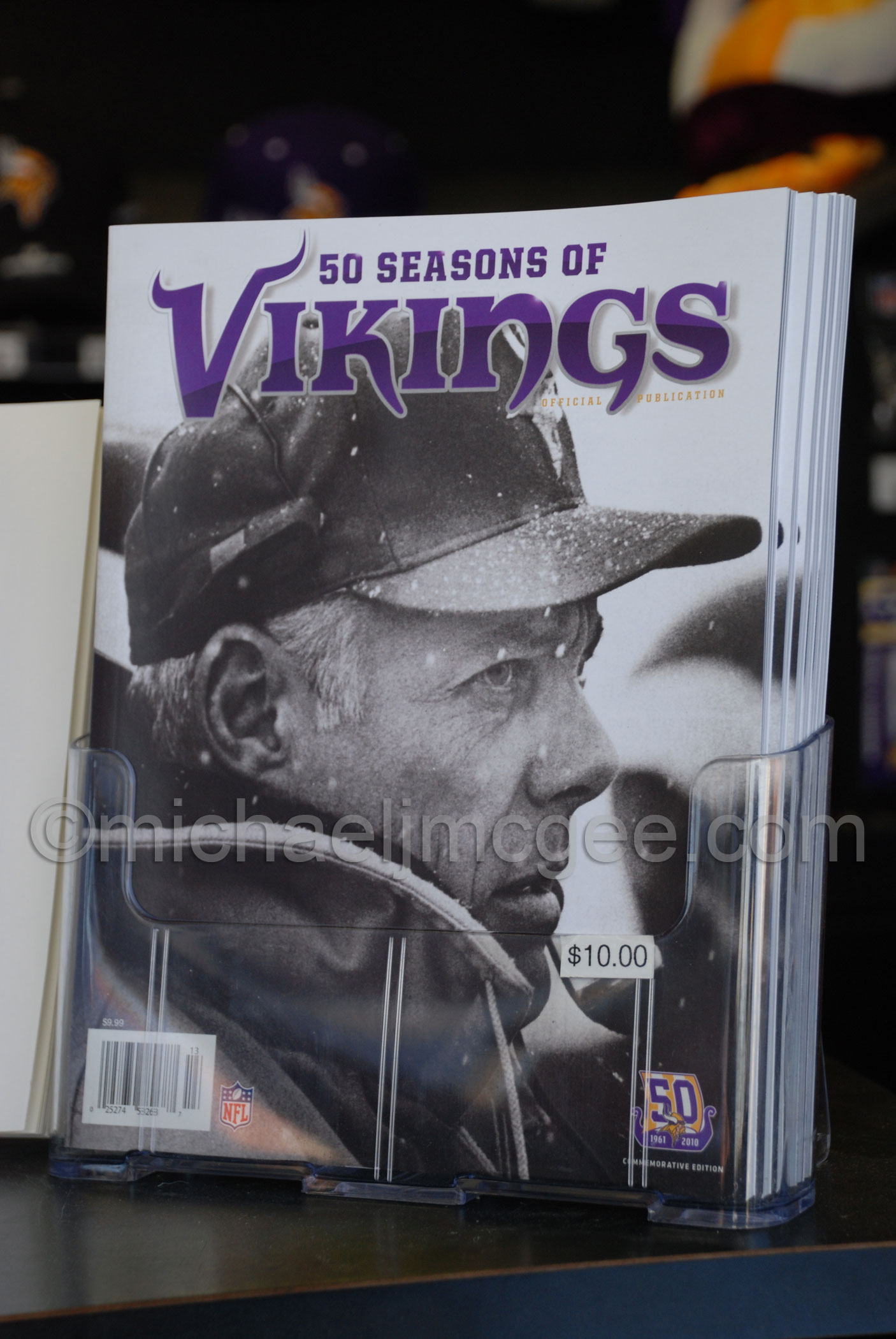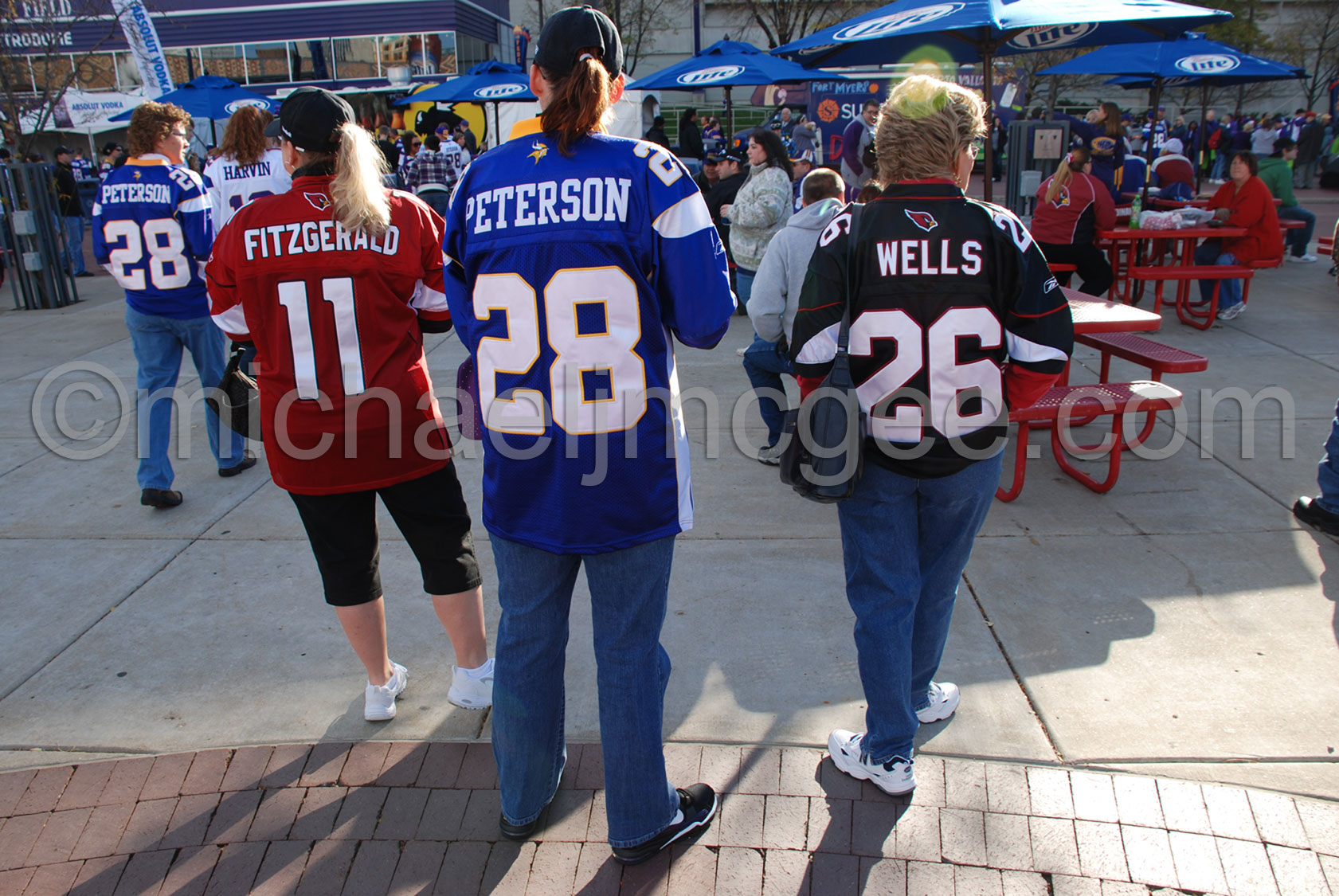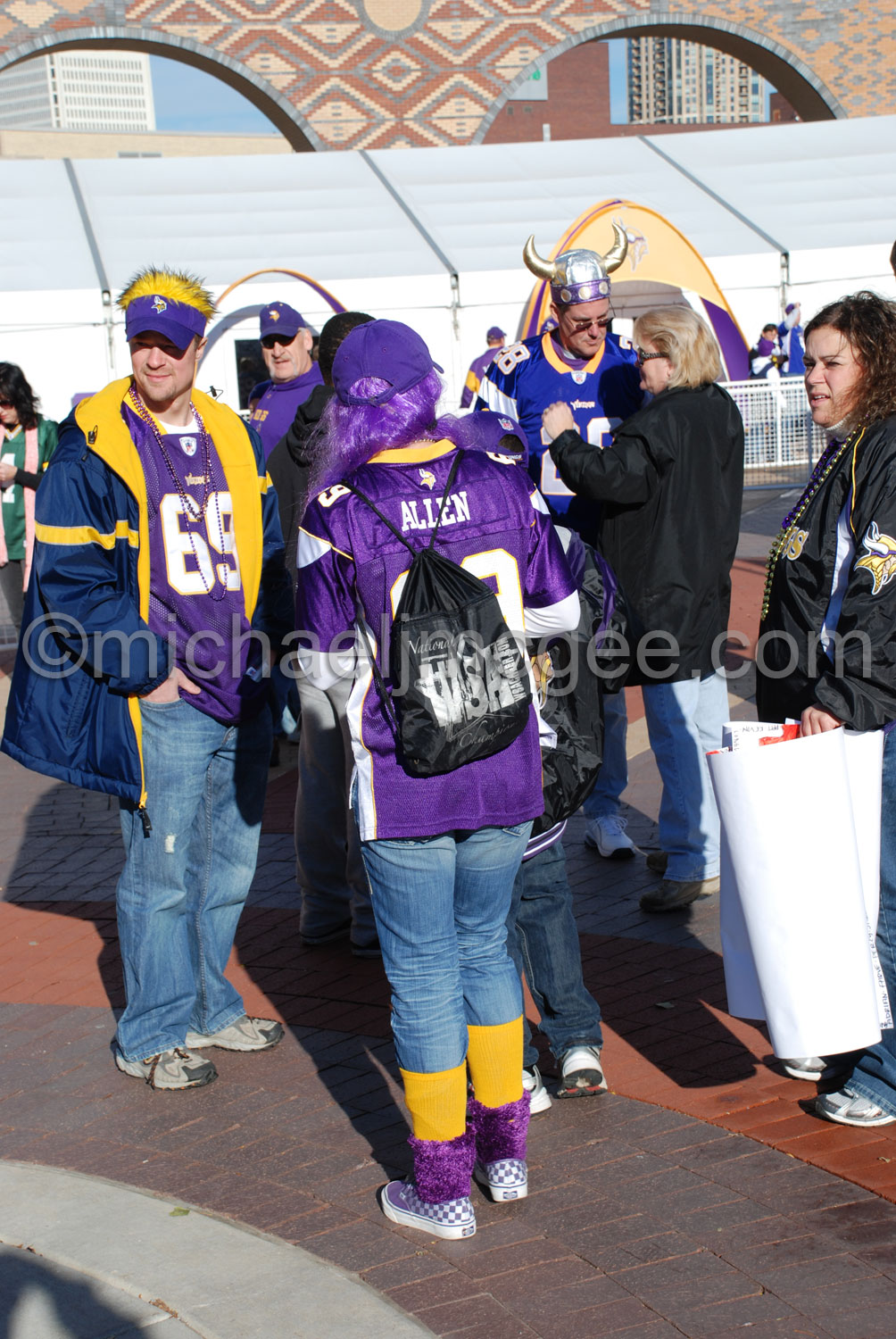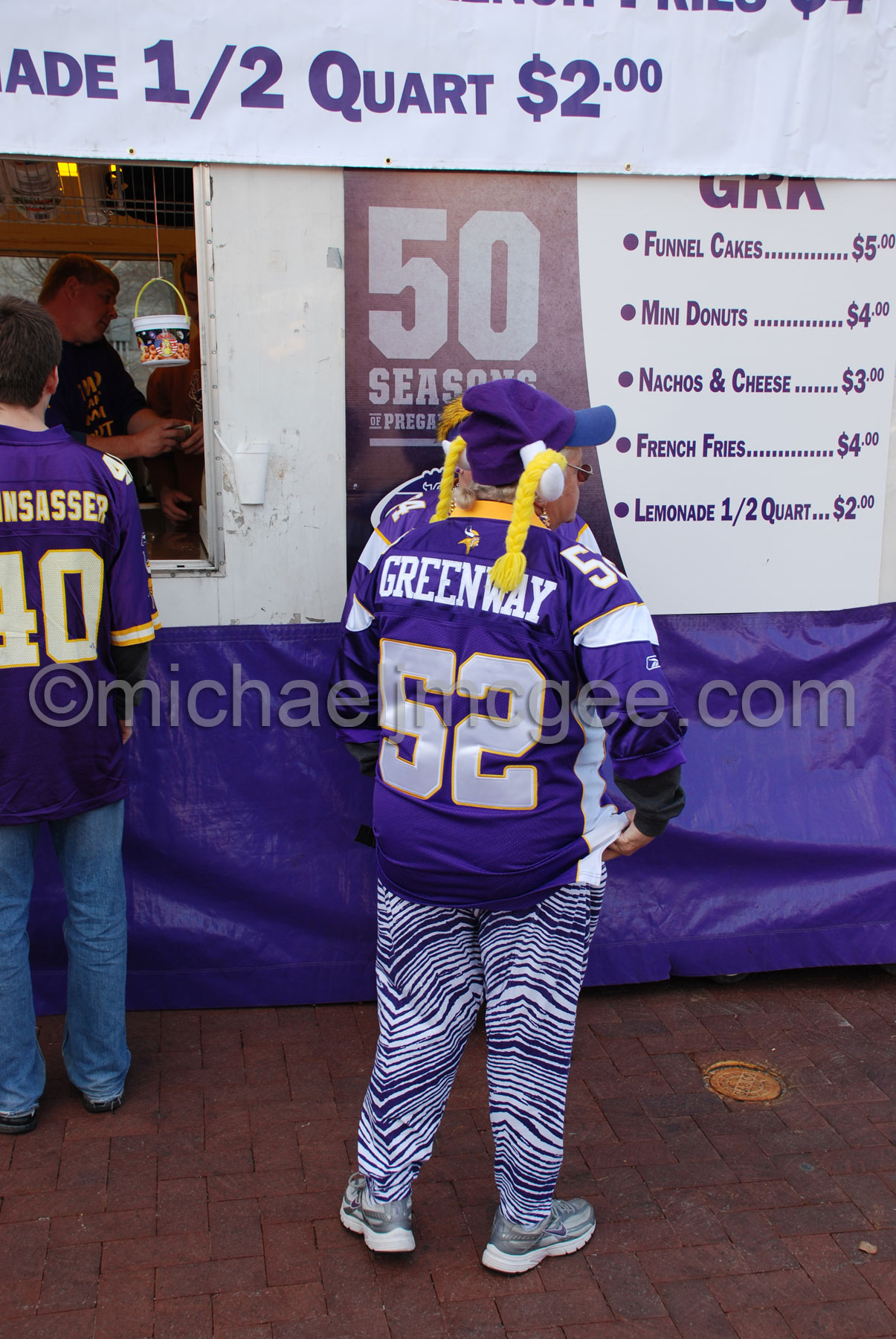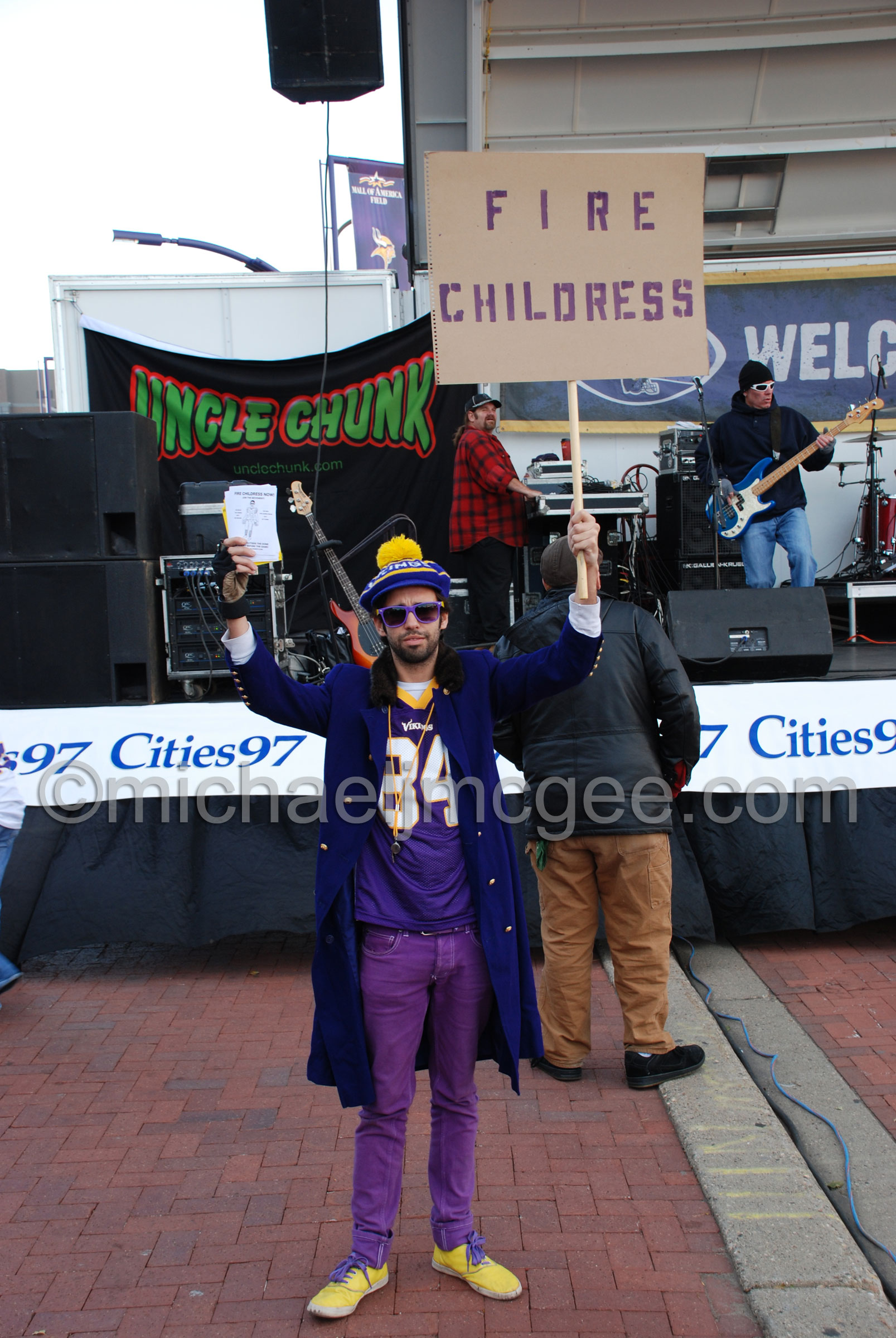 This seemed to be the message of the day!
The hand out that worked!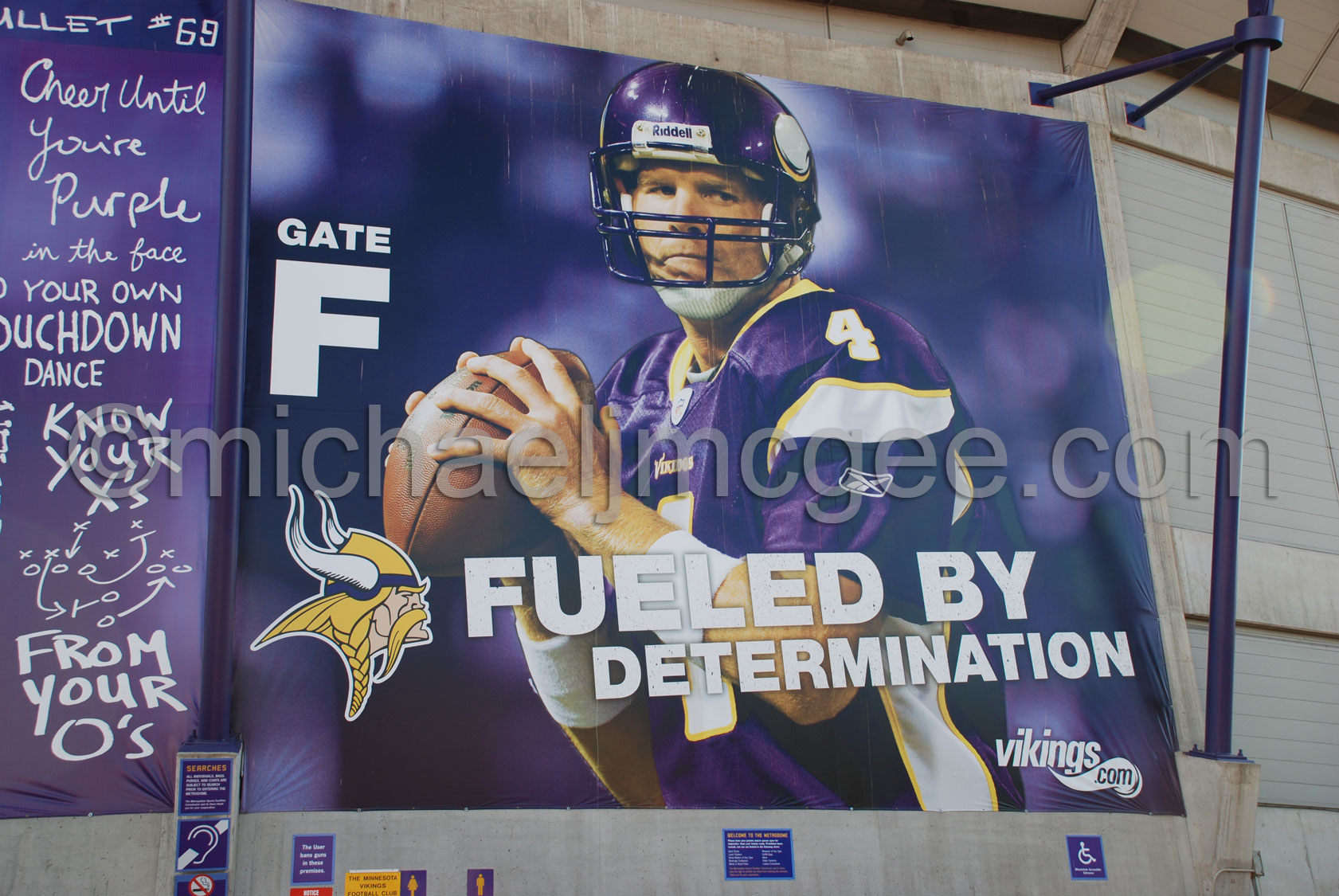 The Skol Drumline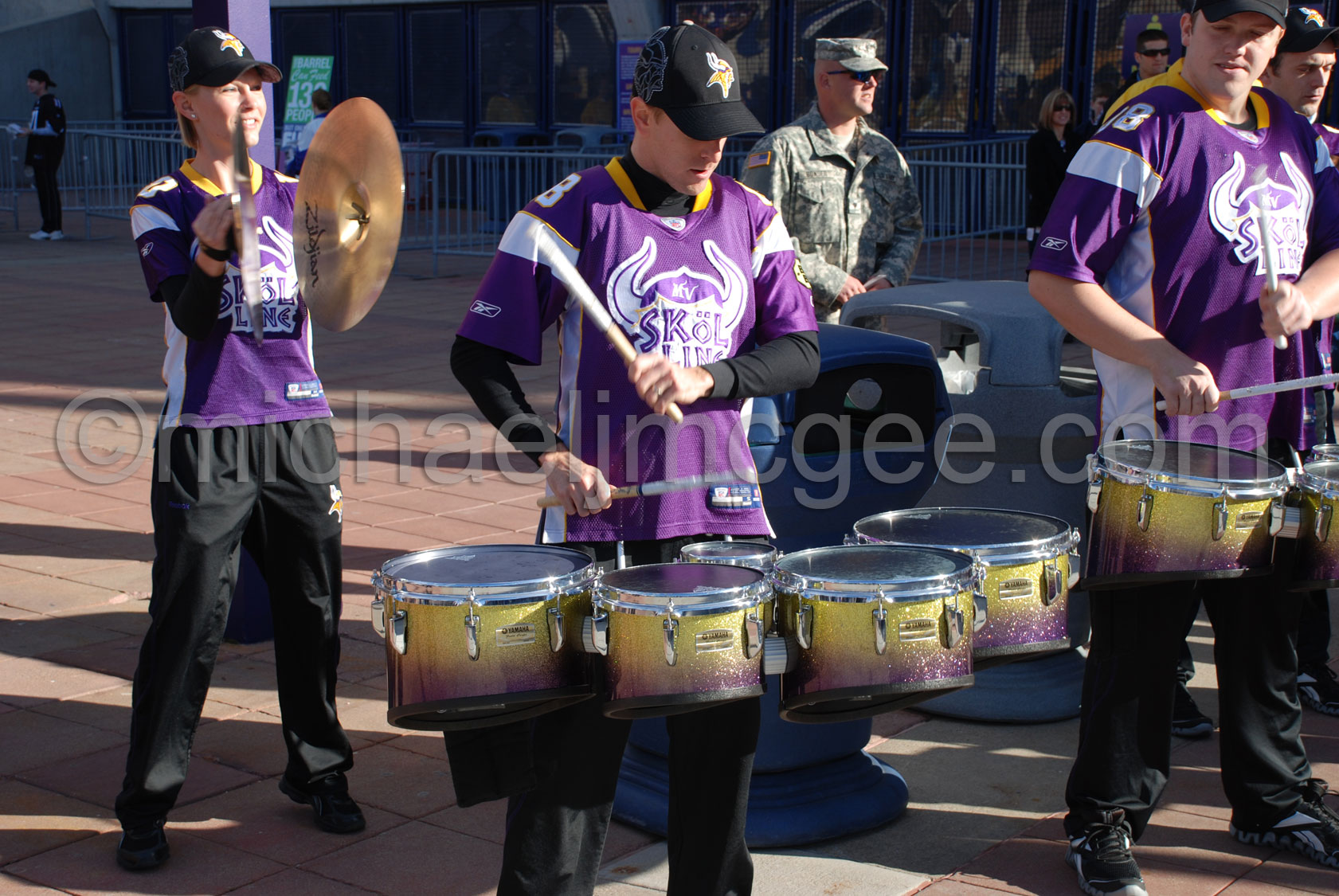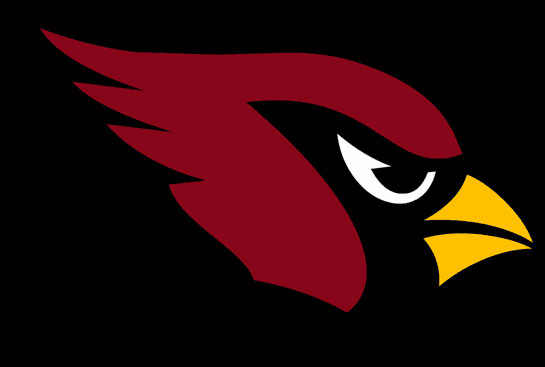 The Cardinal's Rubes arrive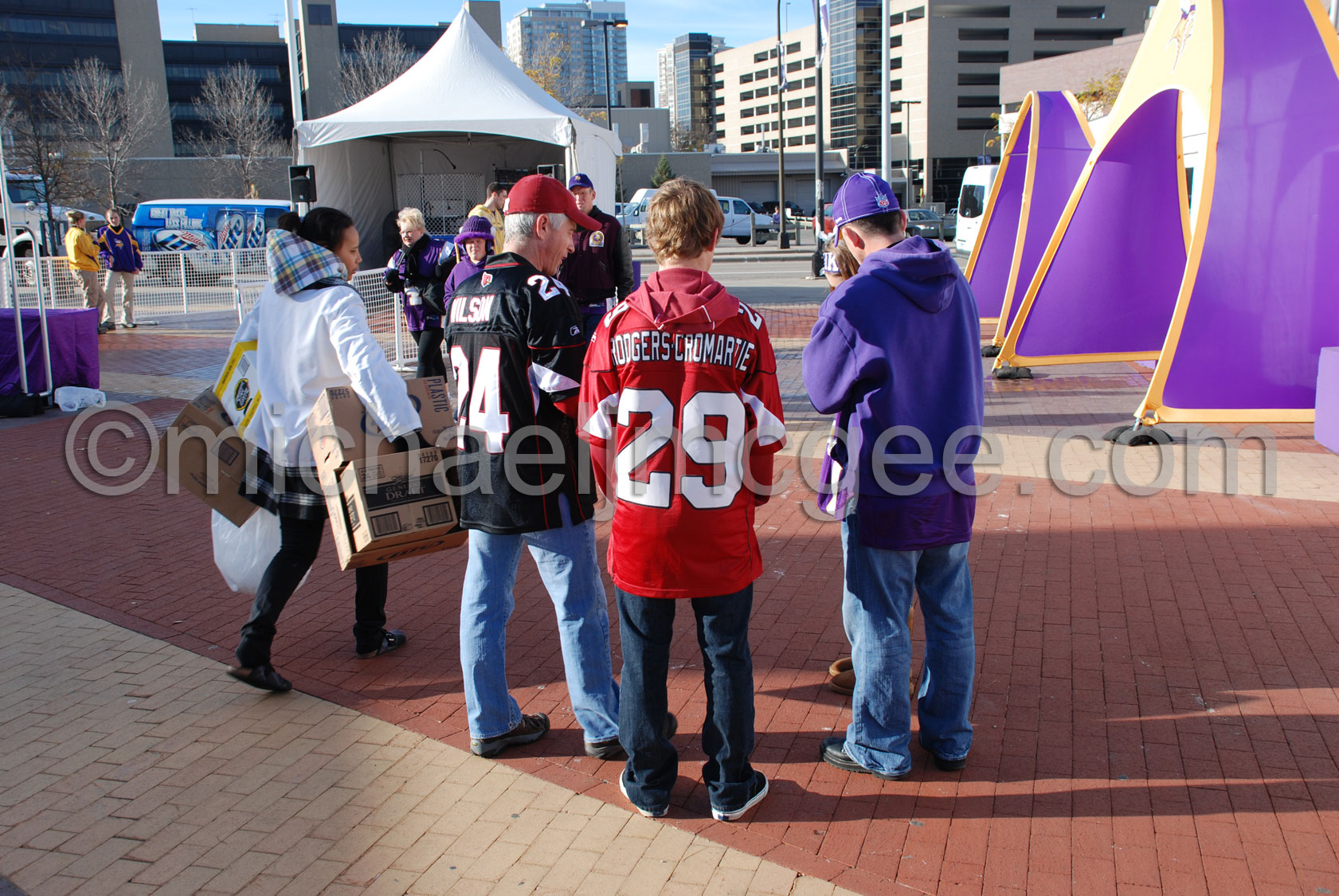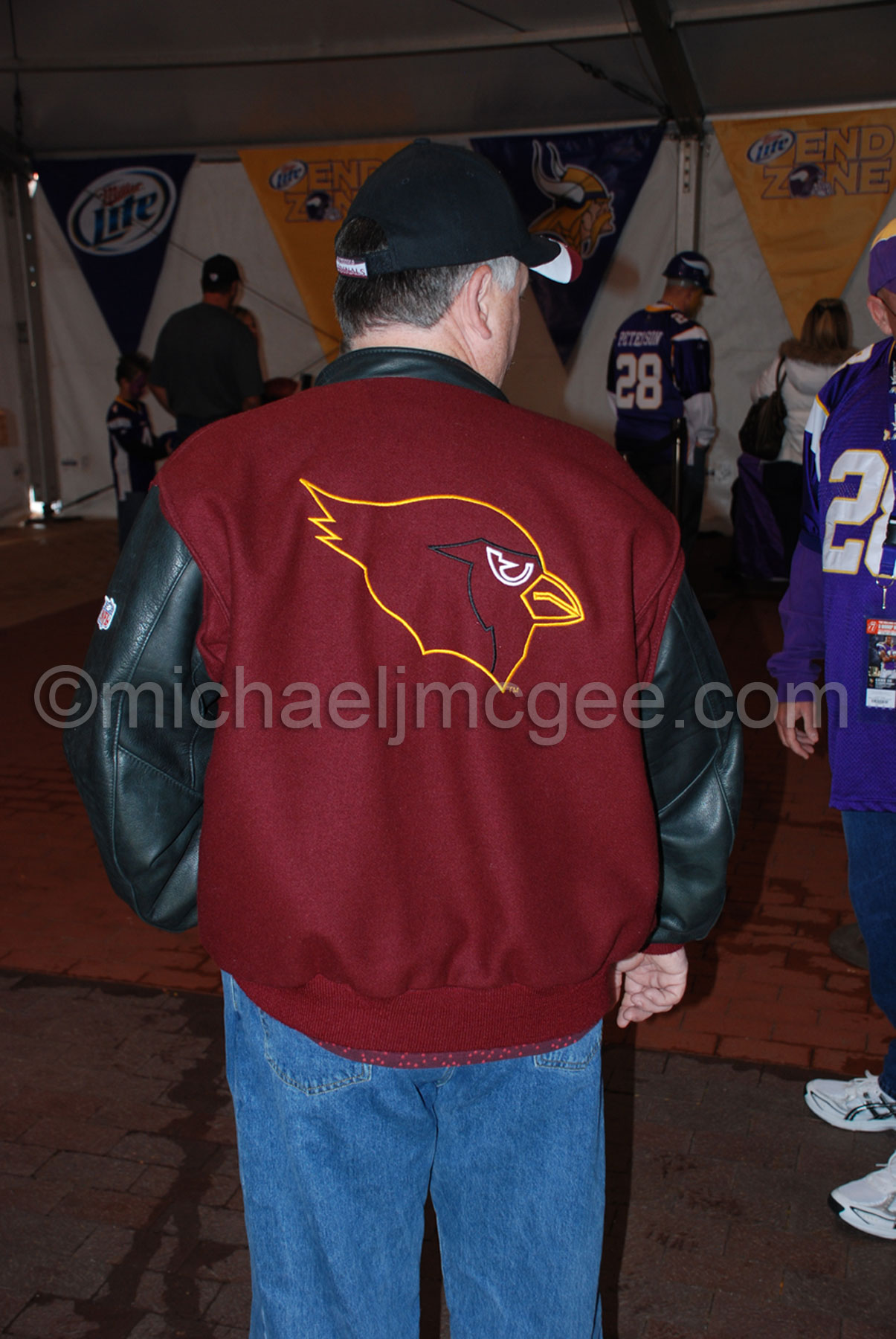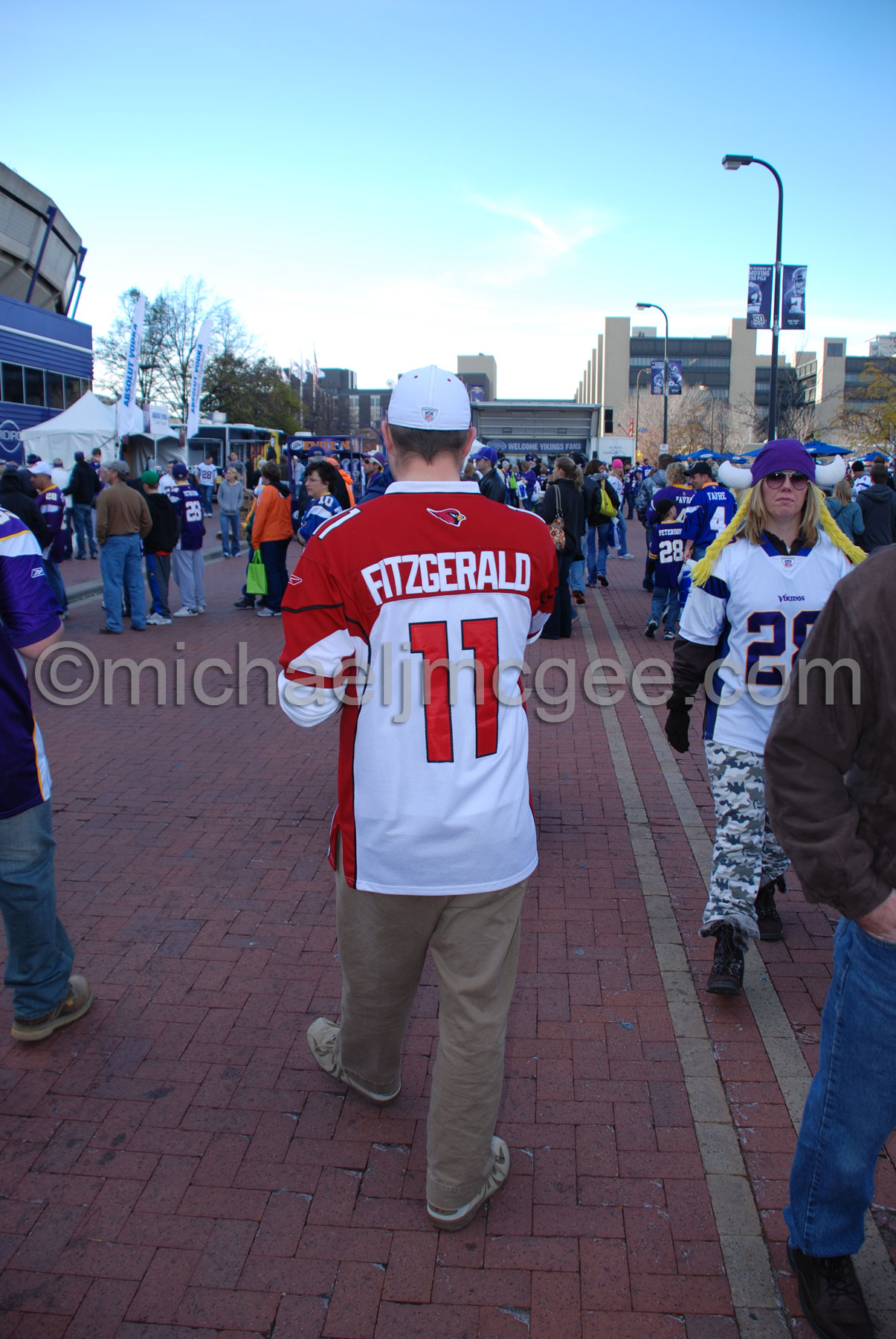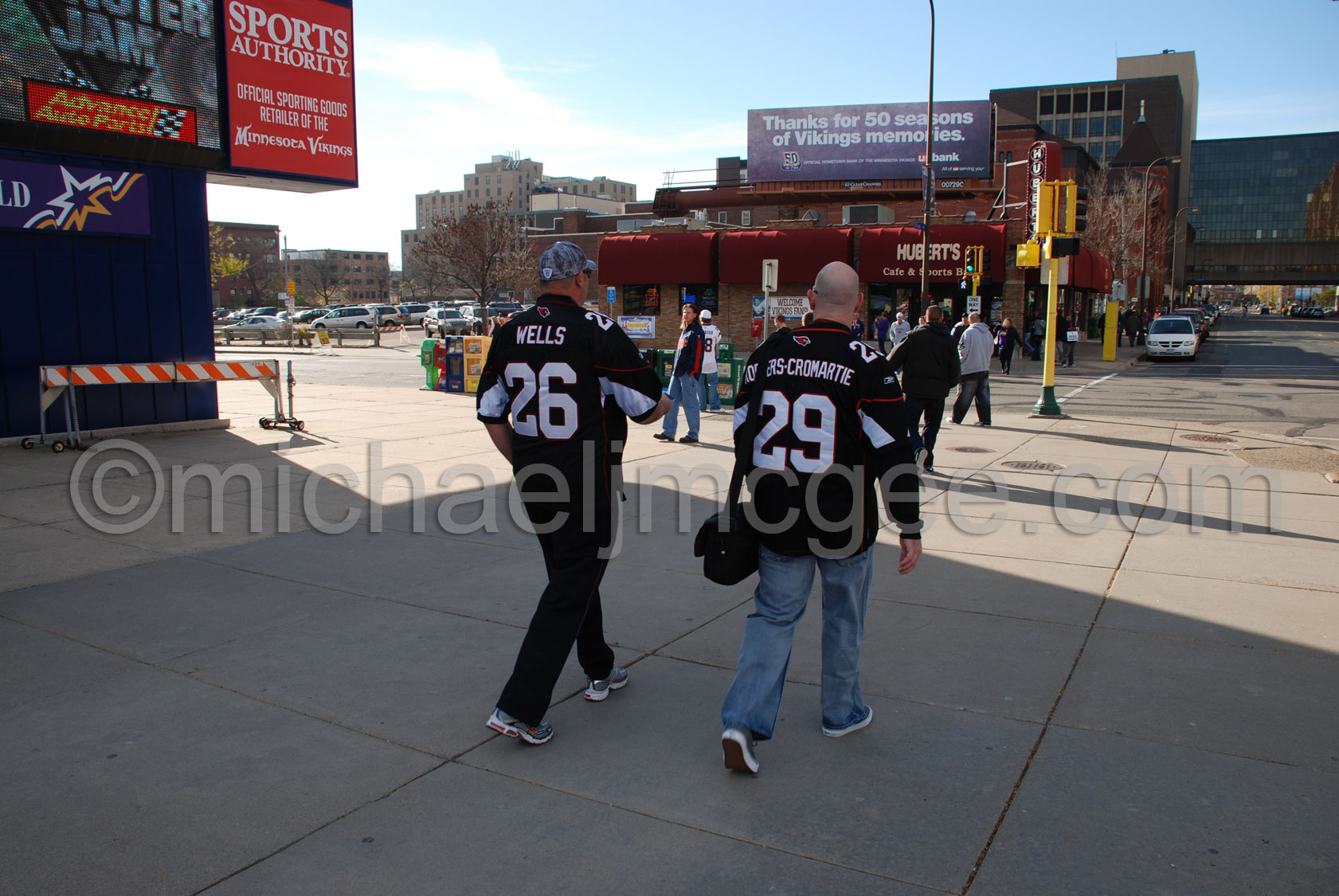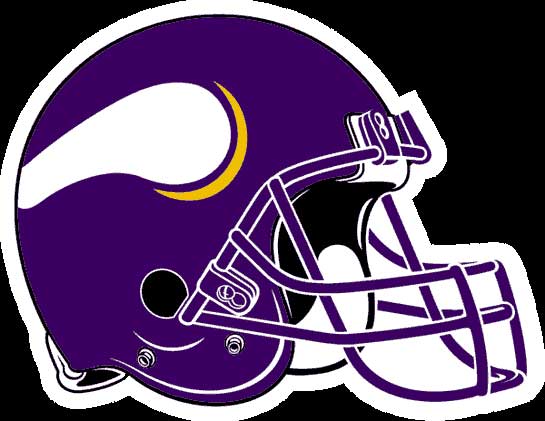 Inside the Dome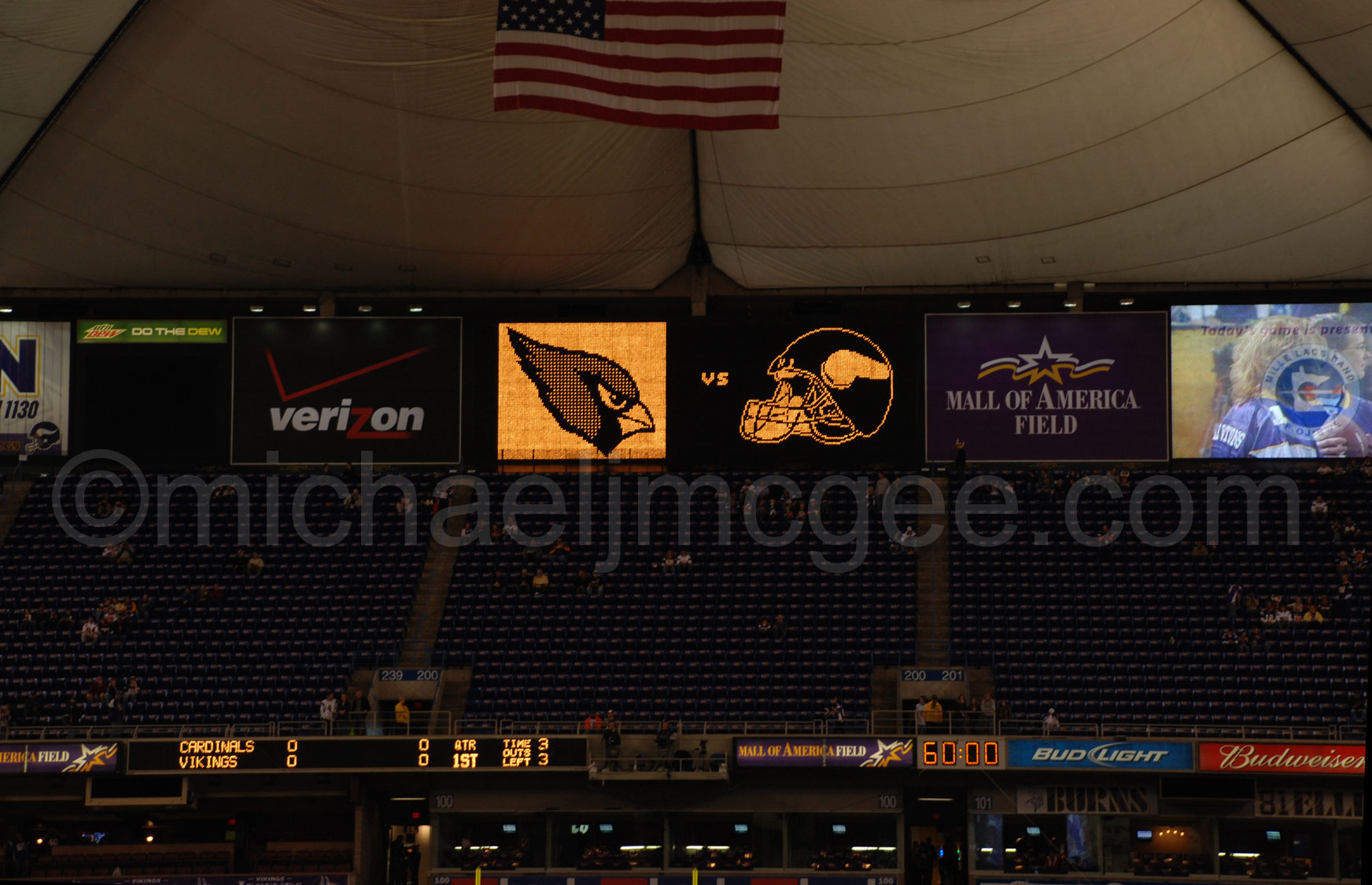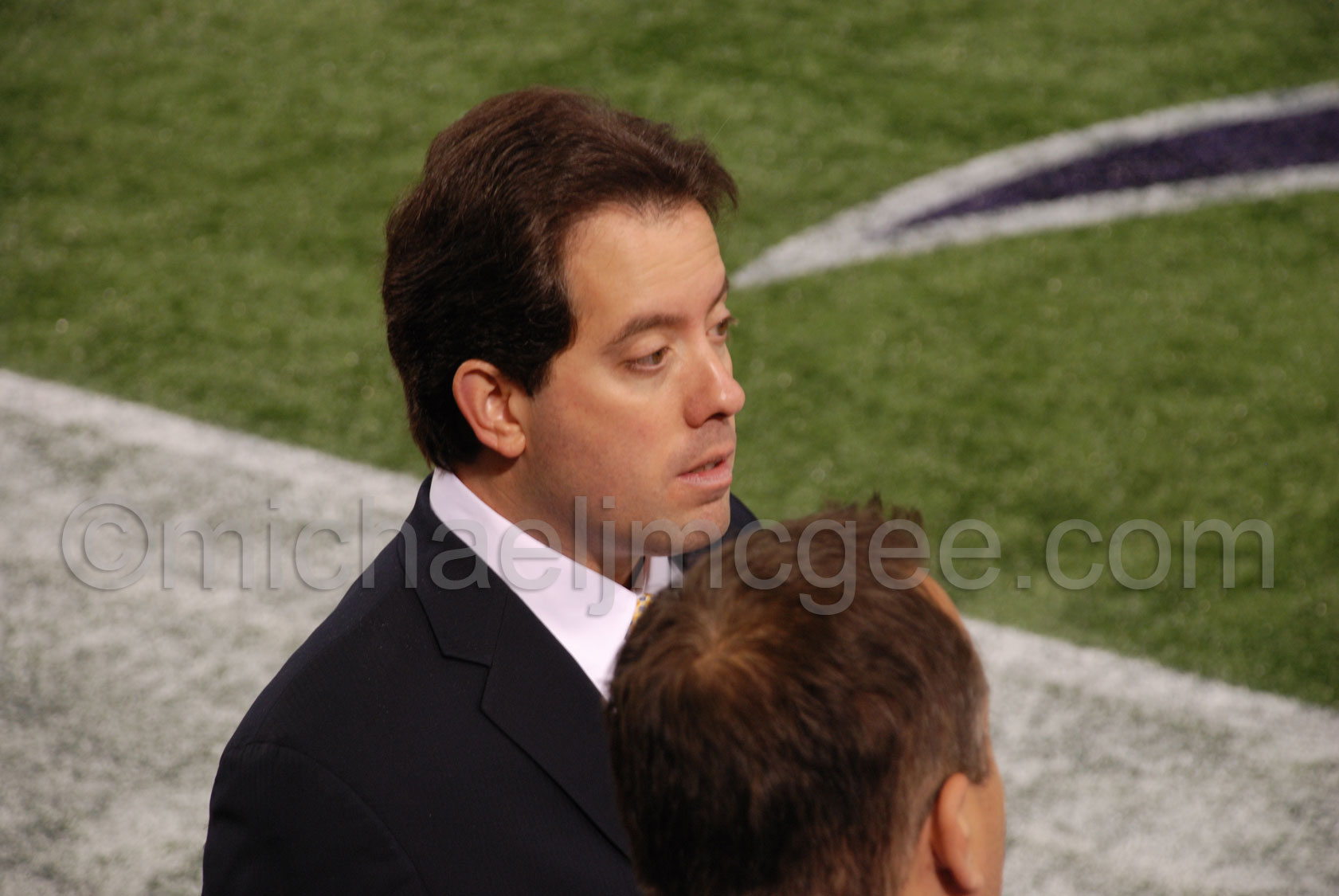 Fox's analyst Kenny Albert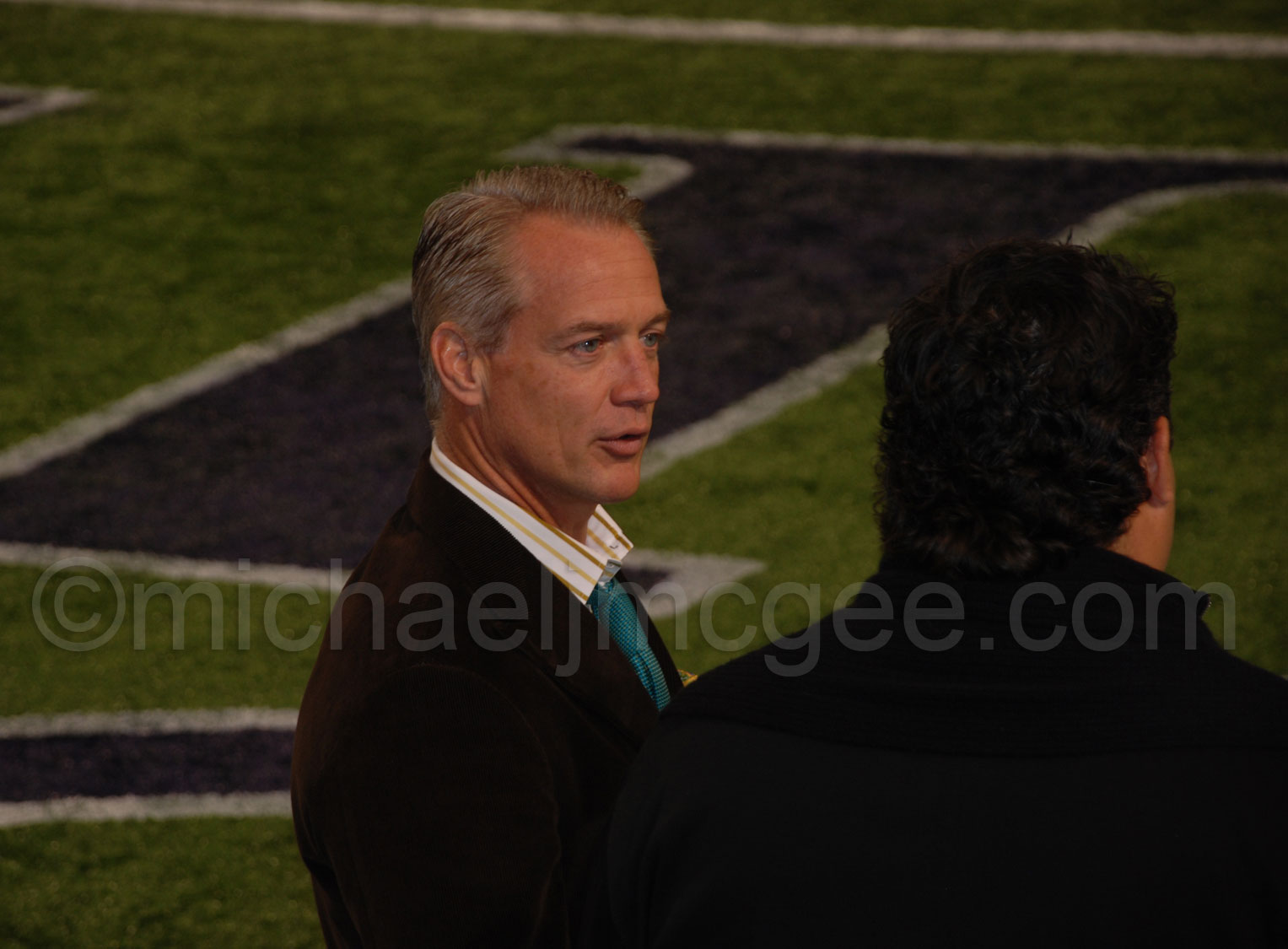 Fox's color man Daryl Johnston talks with Fox's sideline reporter Tony Siragusa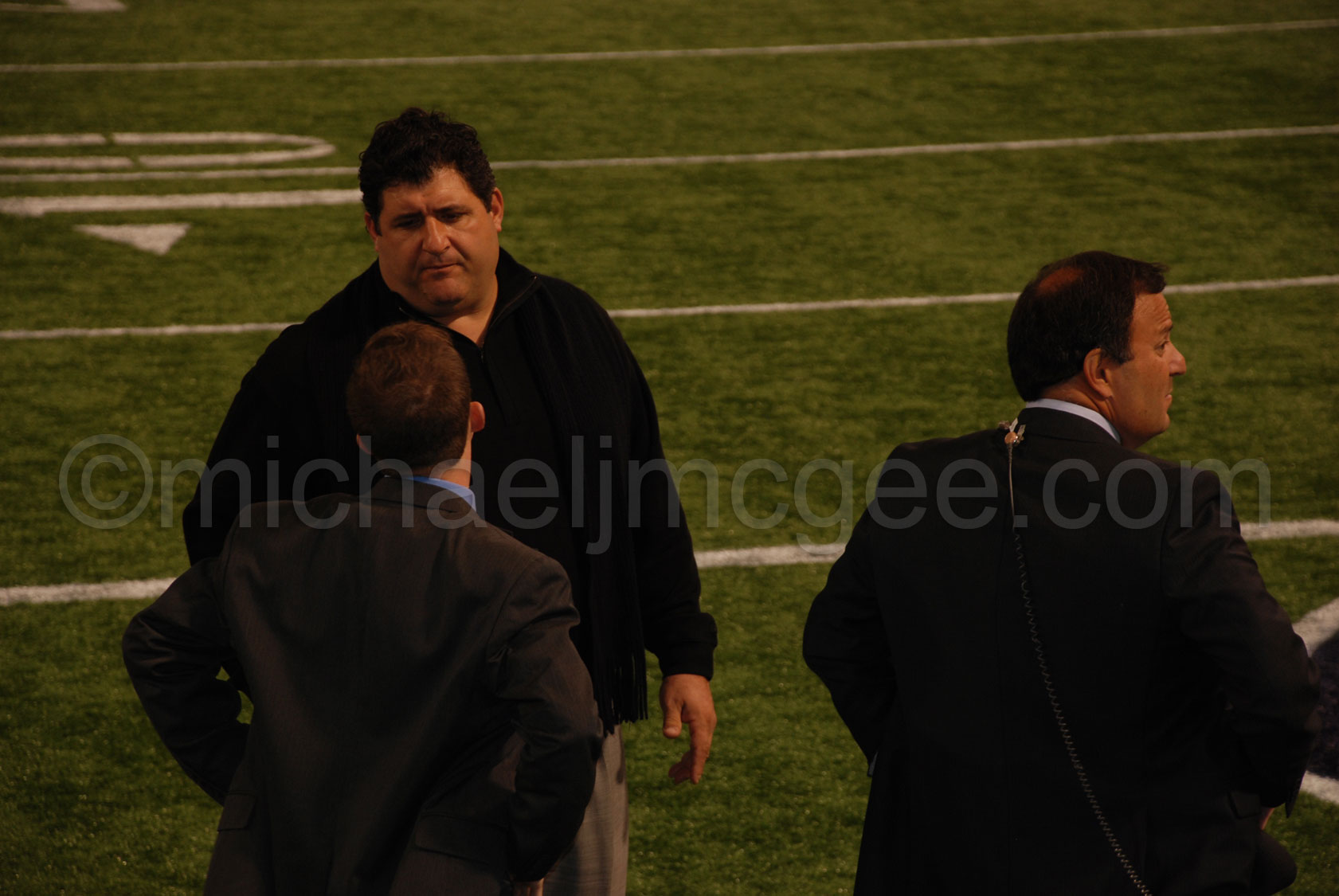 Tony Siragusa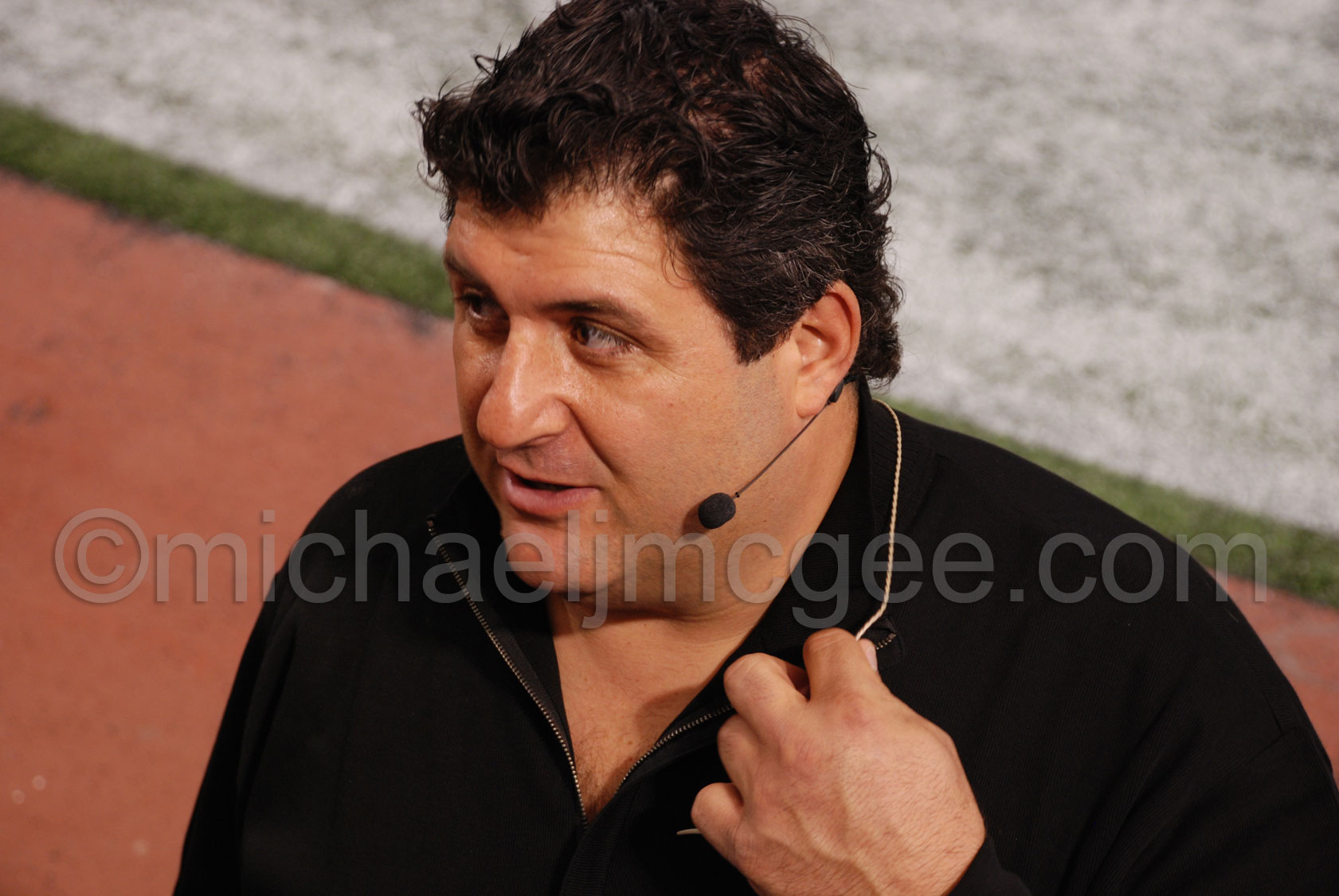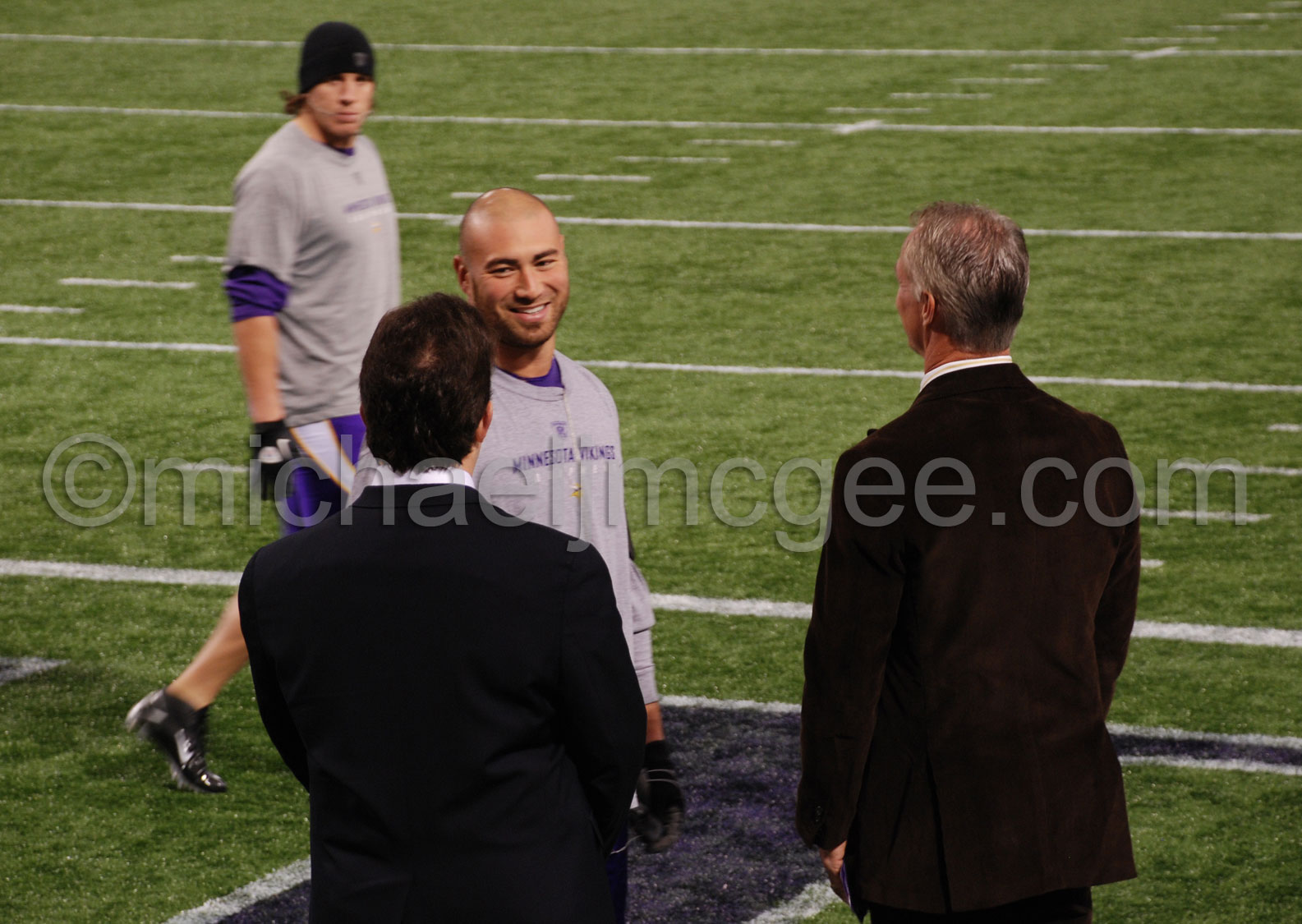 Vikings LB Ben Leber chats with Fox's Kenny Albert (L) and Johnston
ESPN's Ed Werder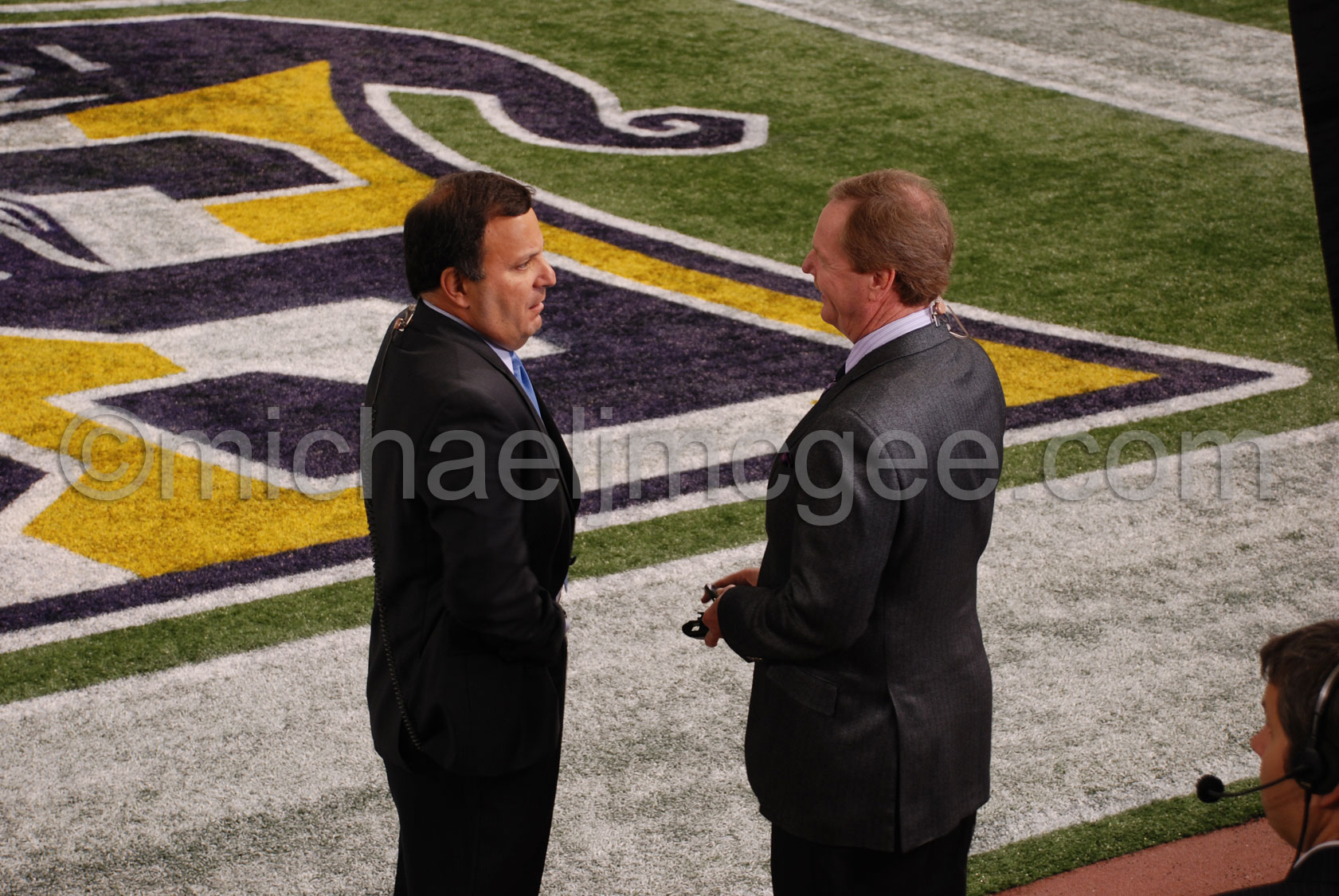 The NFL Network's Michael Lombardi chats with Ed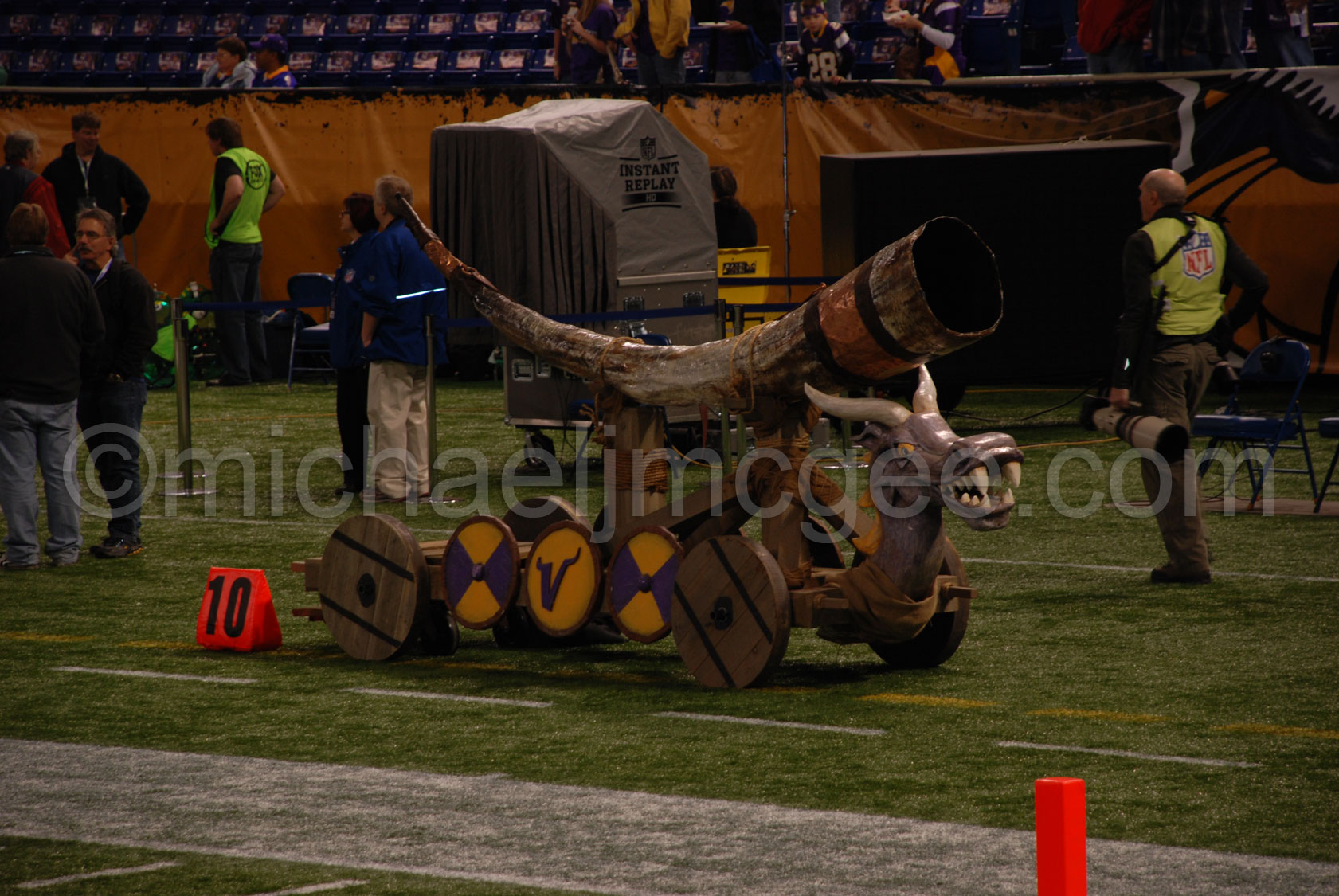 The Gjallarhorn
The Players come out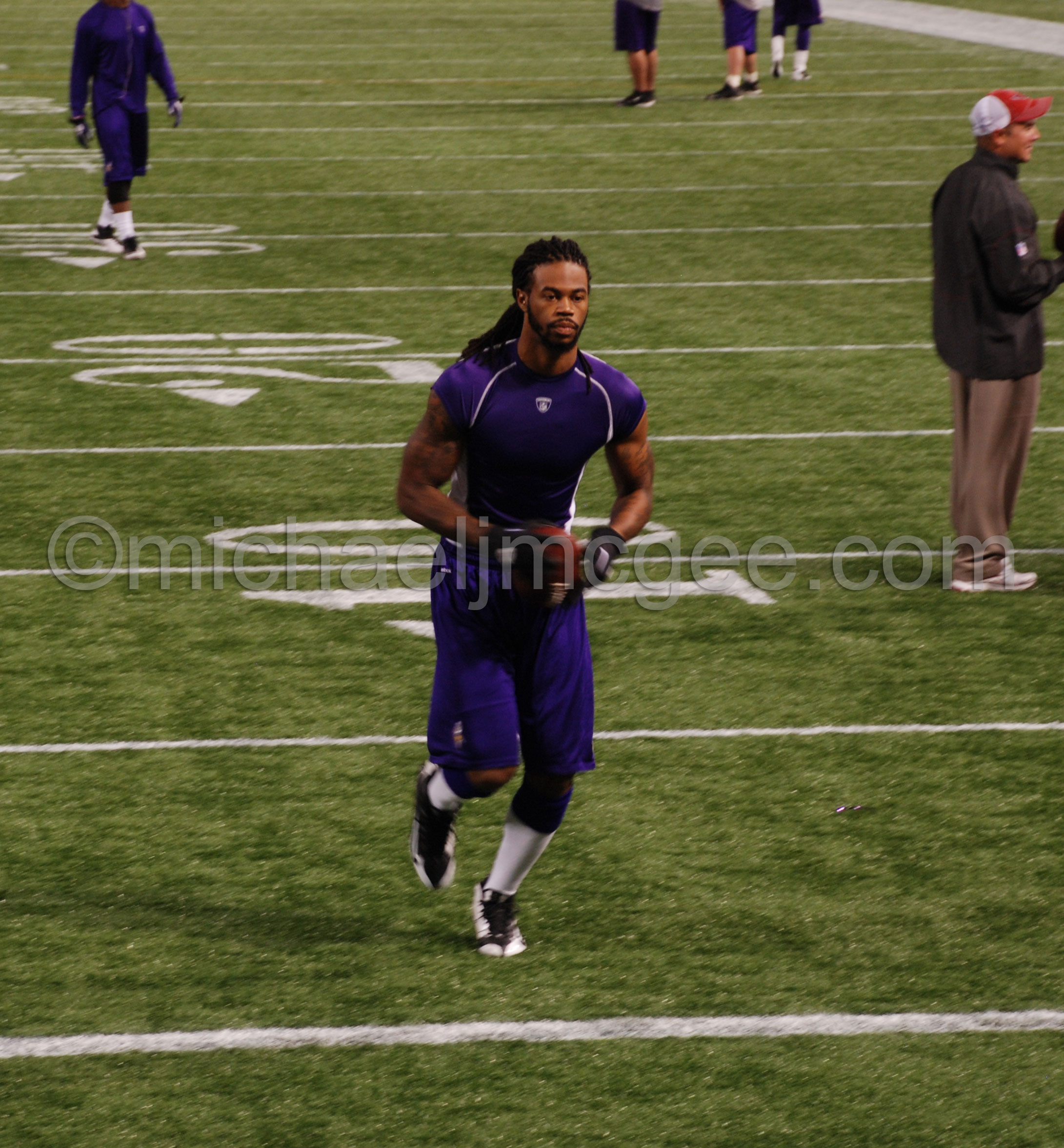 Sidney Rice close to coming back from hip surgery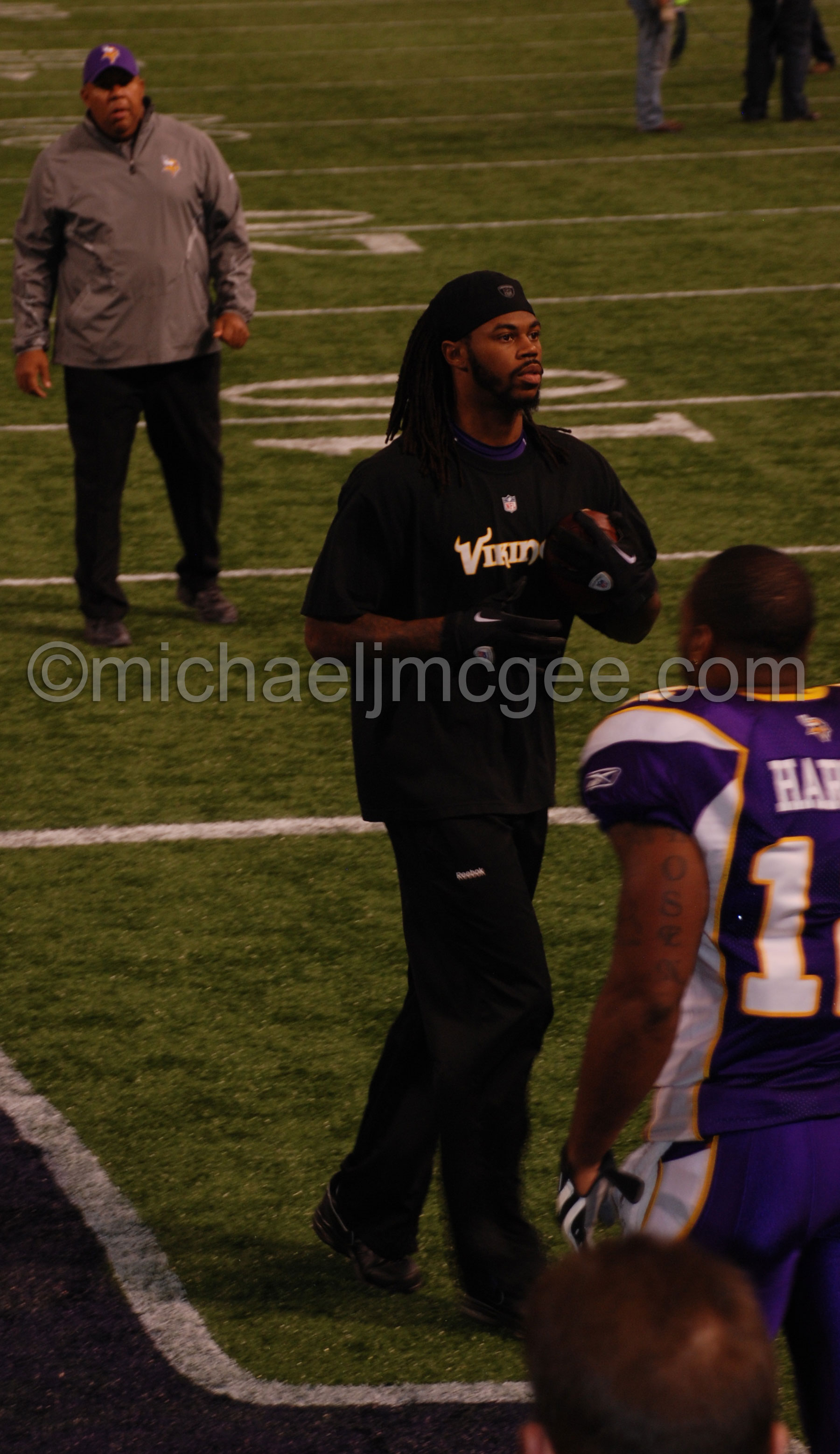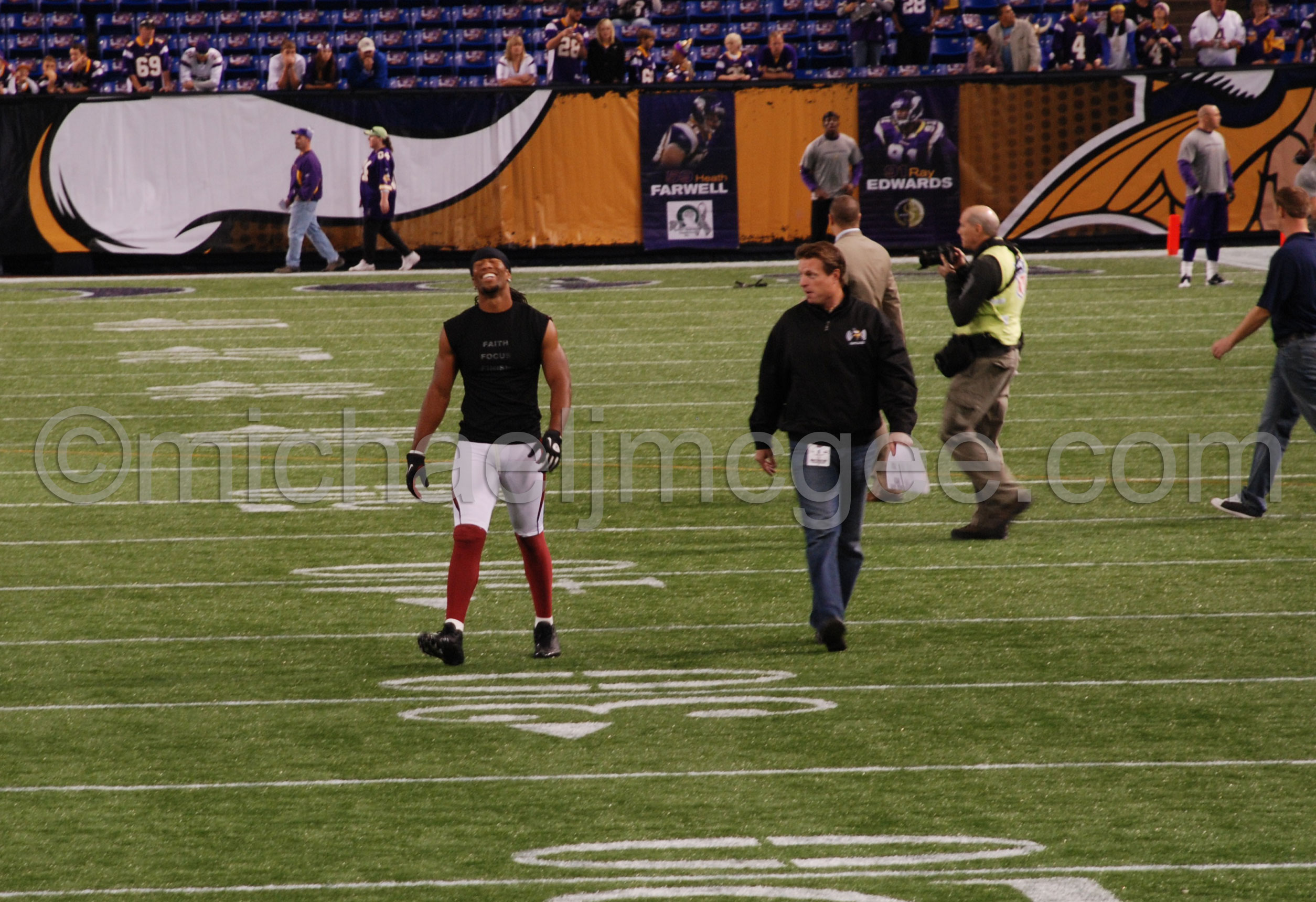 KFAN's Color man Pete Bercich talks with Cardinal's WR Larry Fitzgerald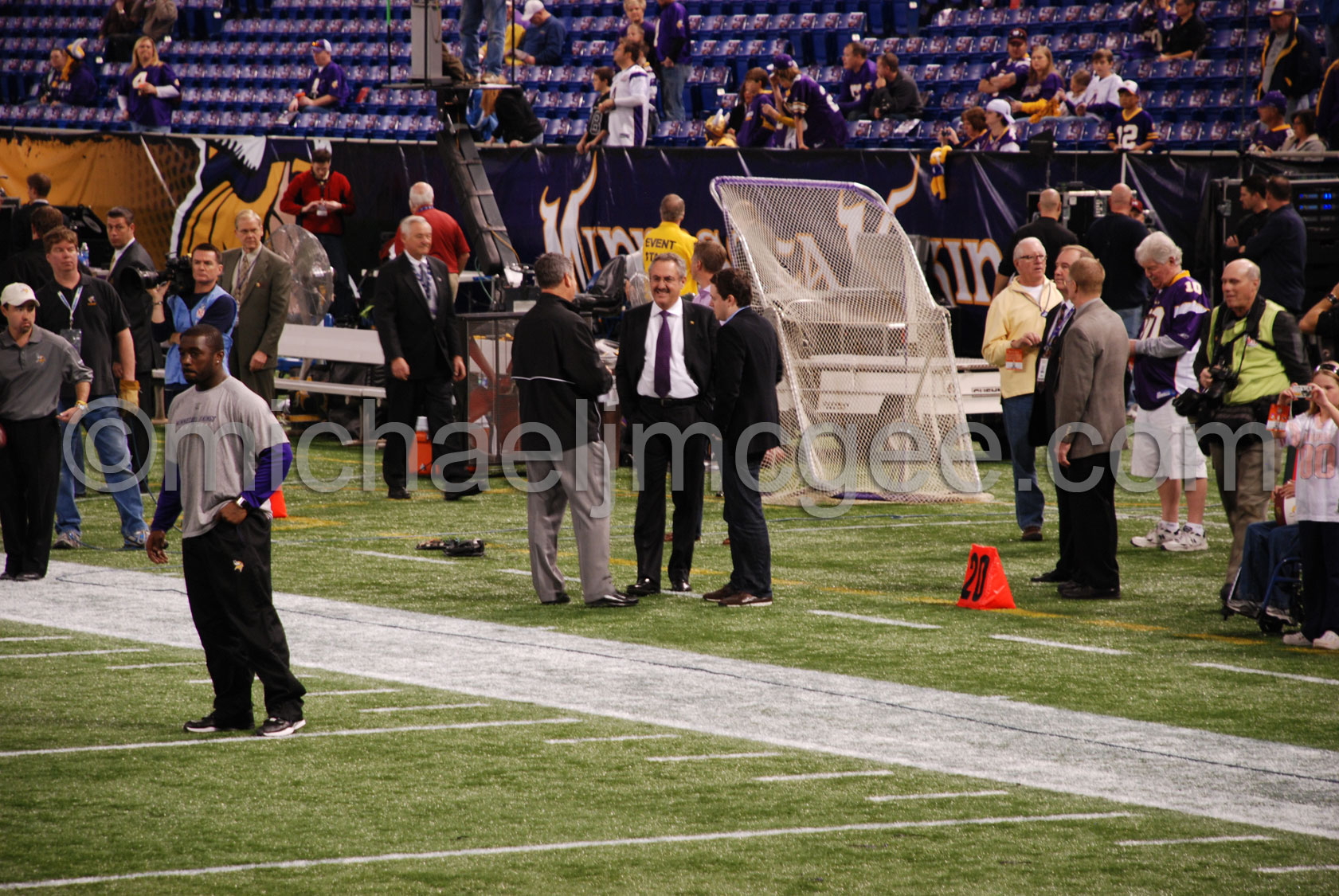 KFAN's Paul Allen chats with Vikings owner Zygi Wilf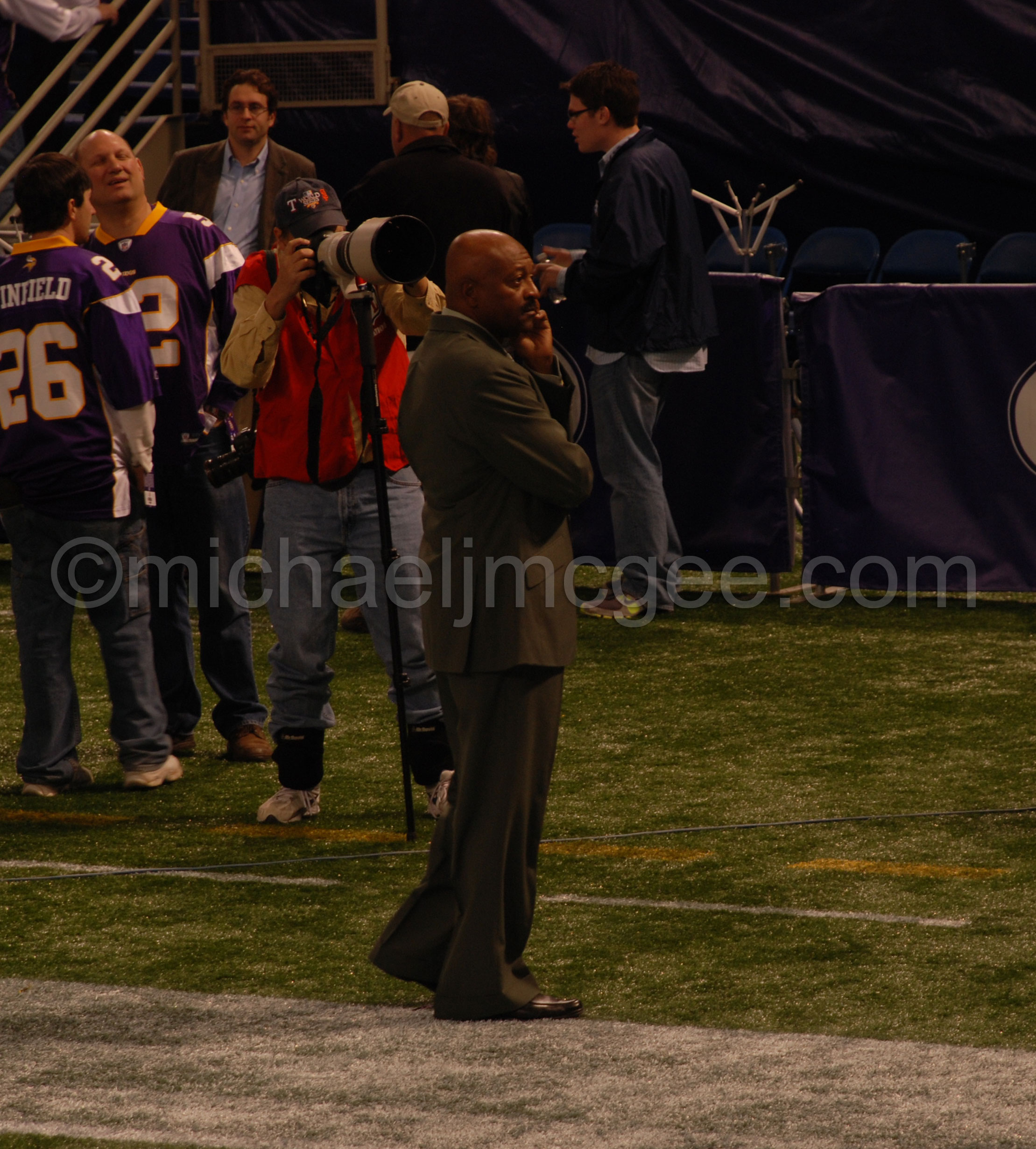 KFAN's ace sideline reporter Greg Coleman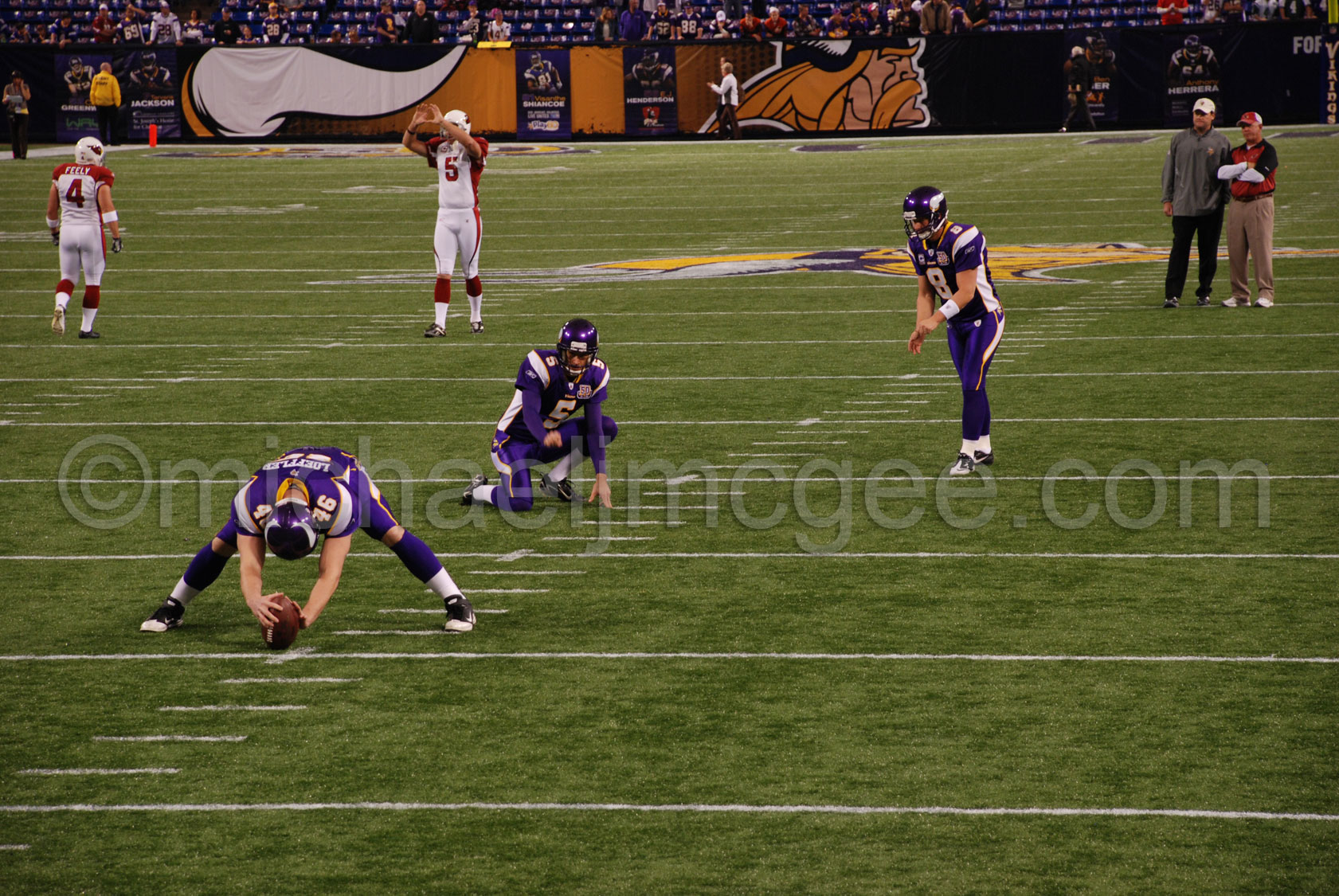 Vikings kicking team warms up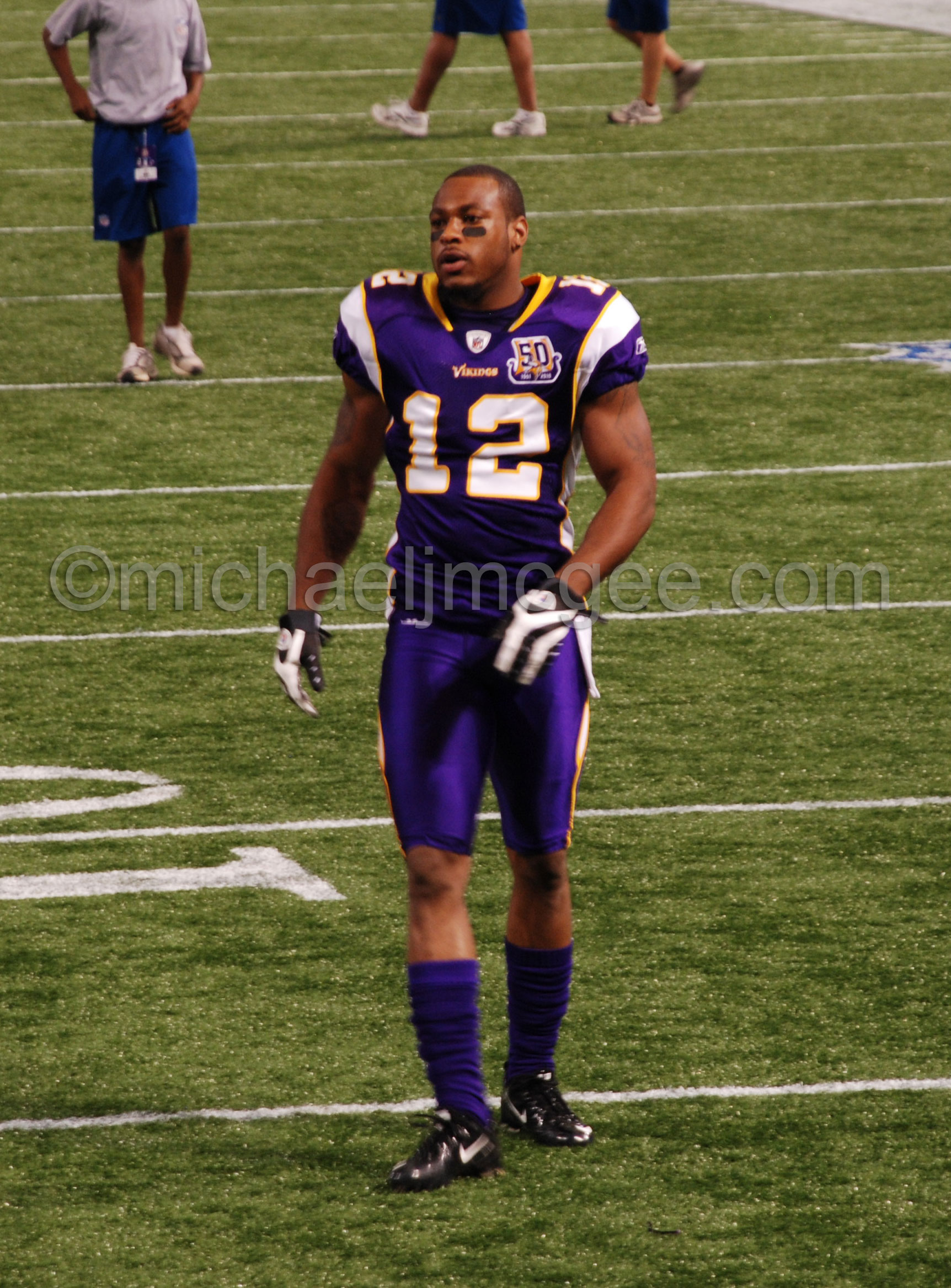 WR/KR Percy Harvin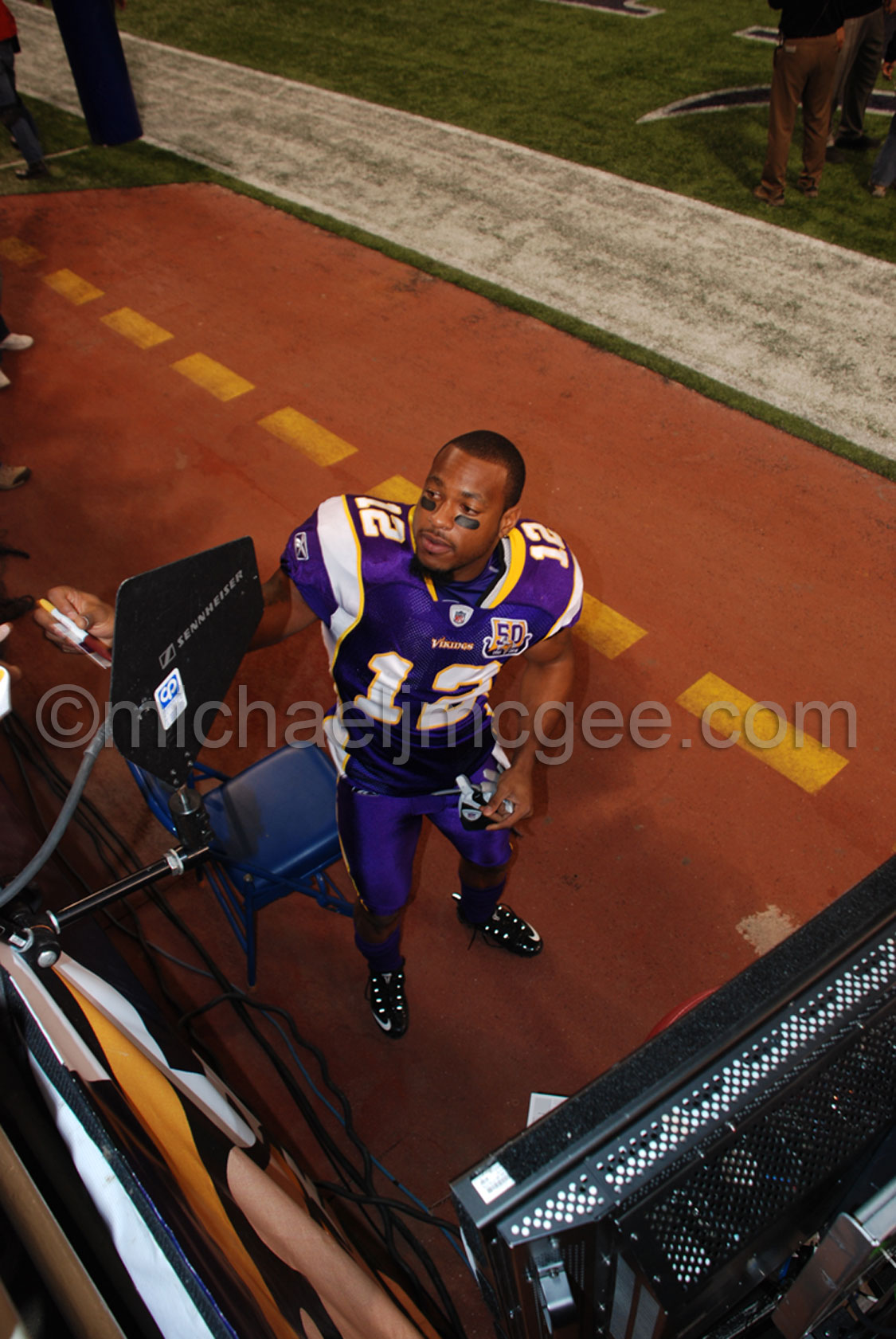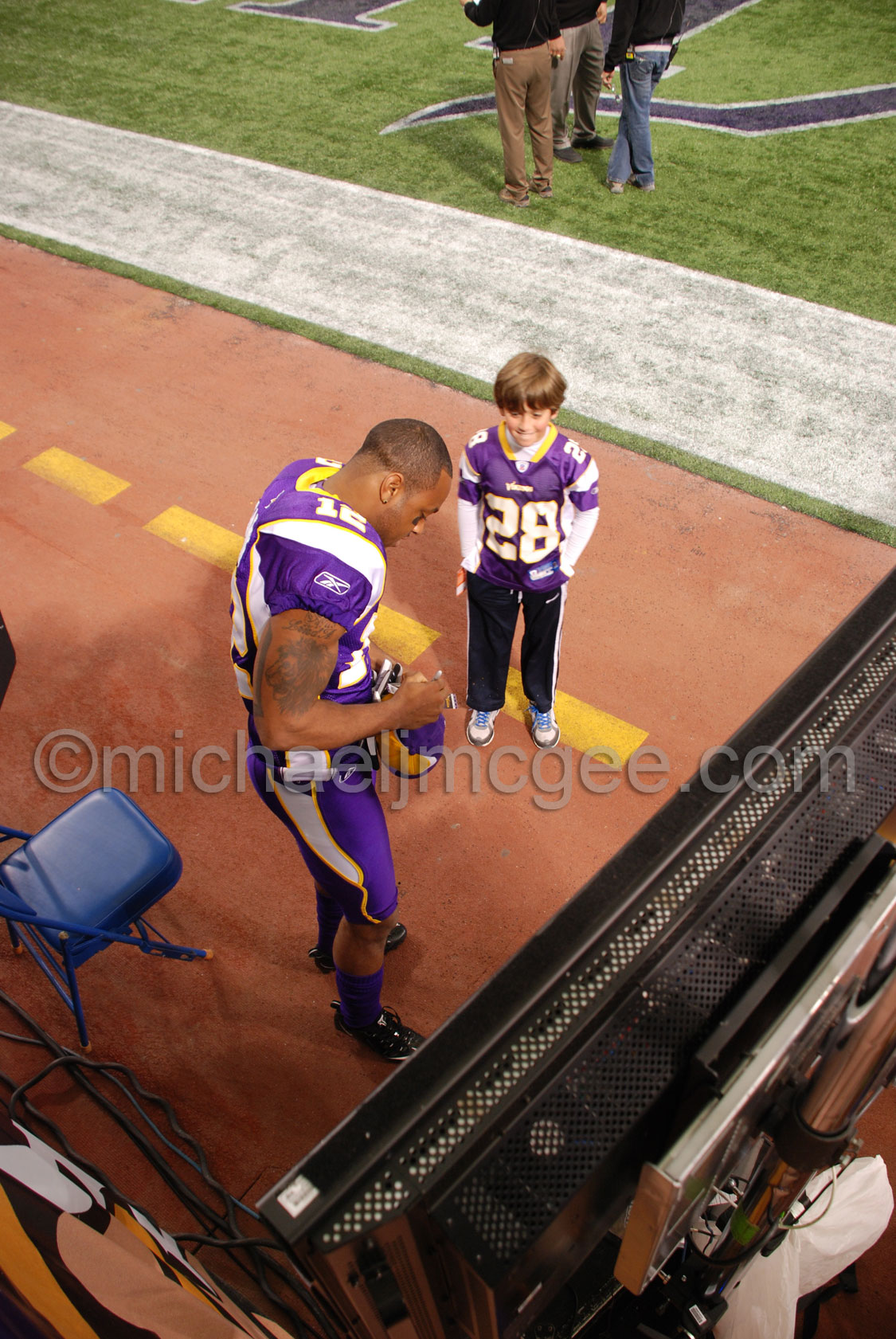 To everyone's surprise Percy came over a signed a few autographs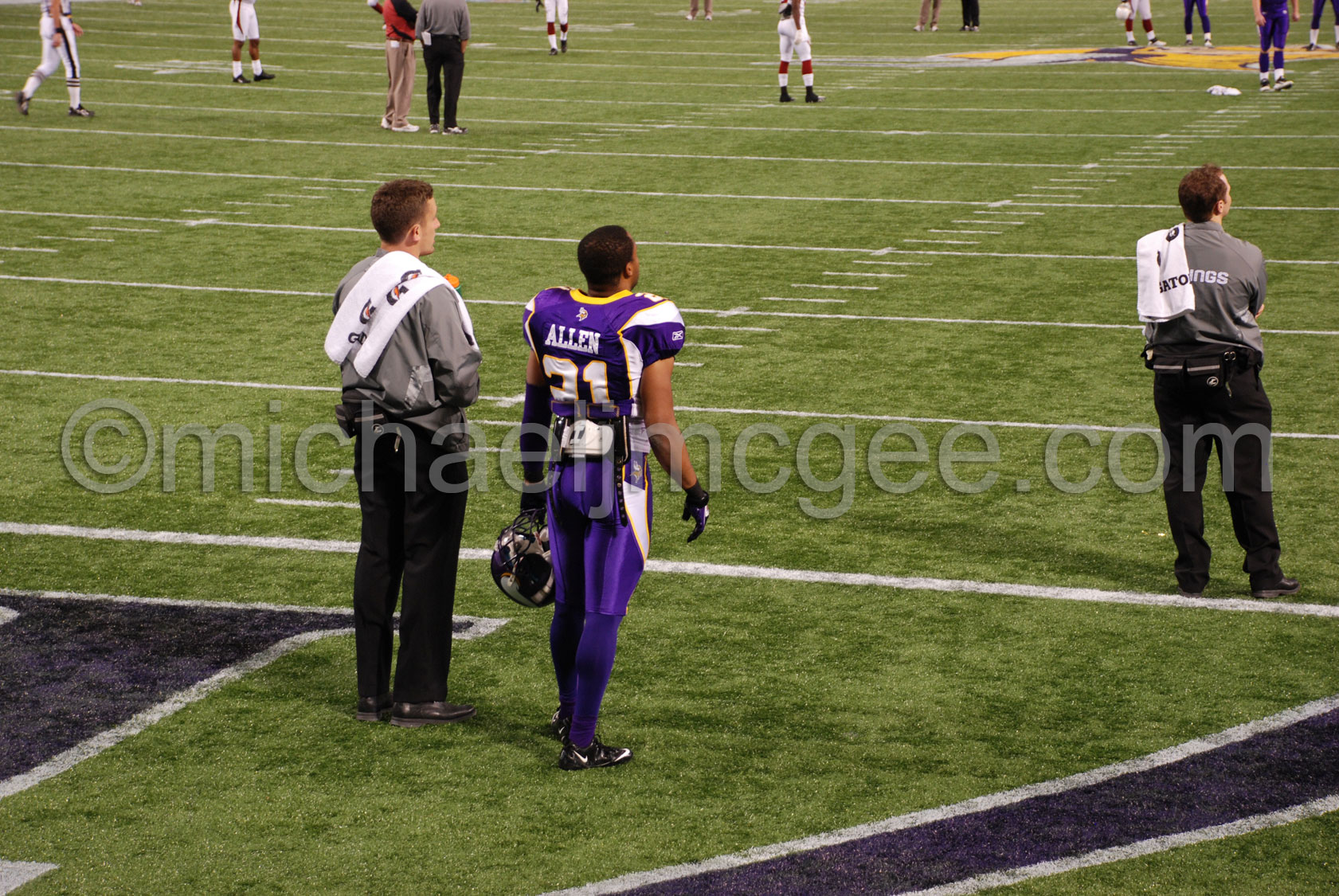 CB Asher Allen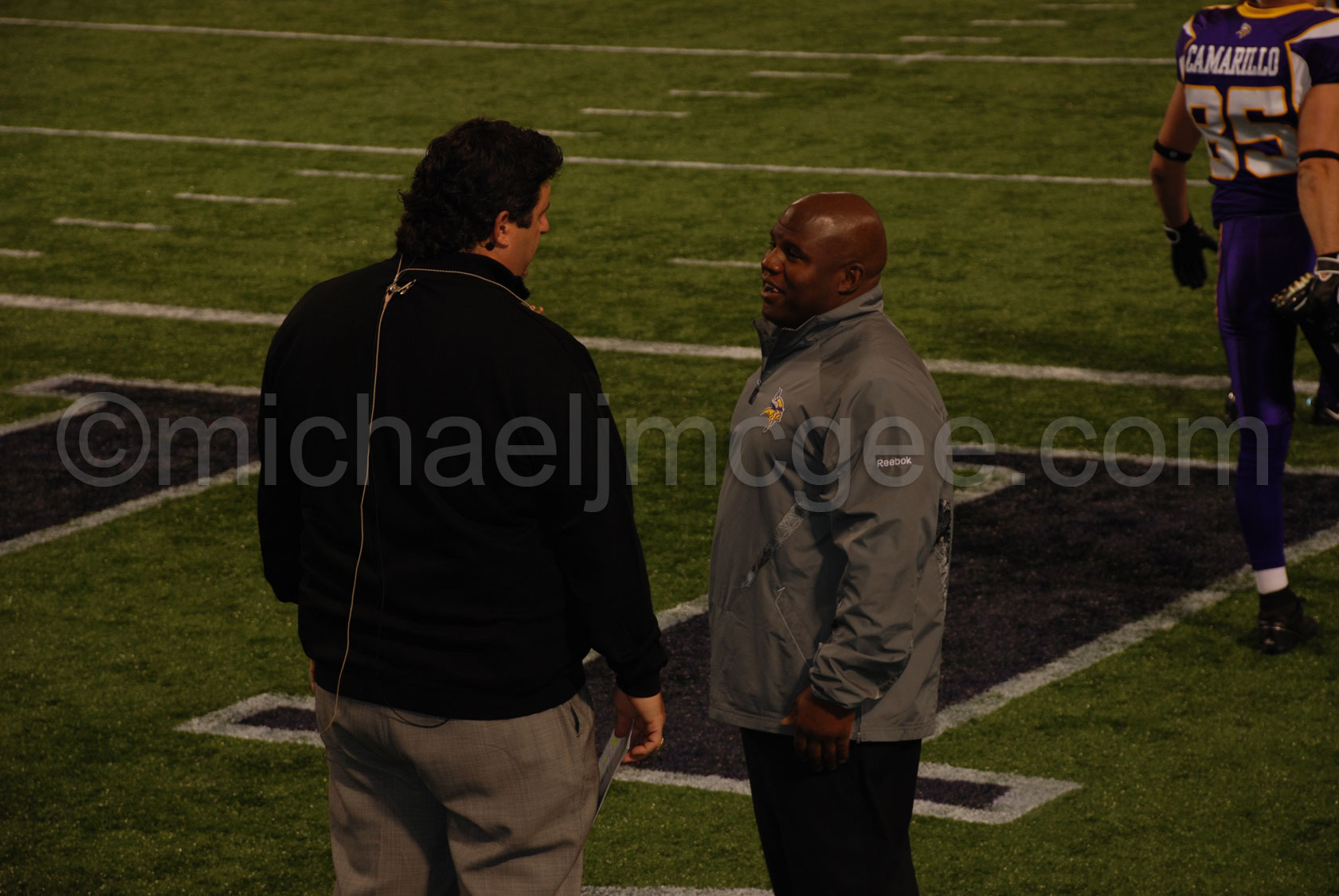 Viking's Running backs coach Eric Bieniemy (R) chats with Tony Siragusa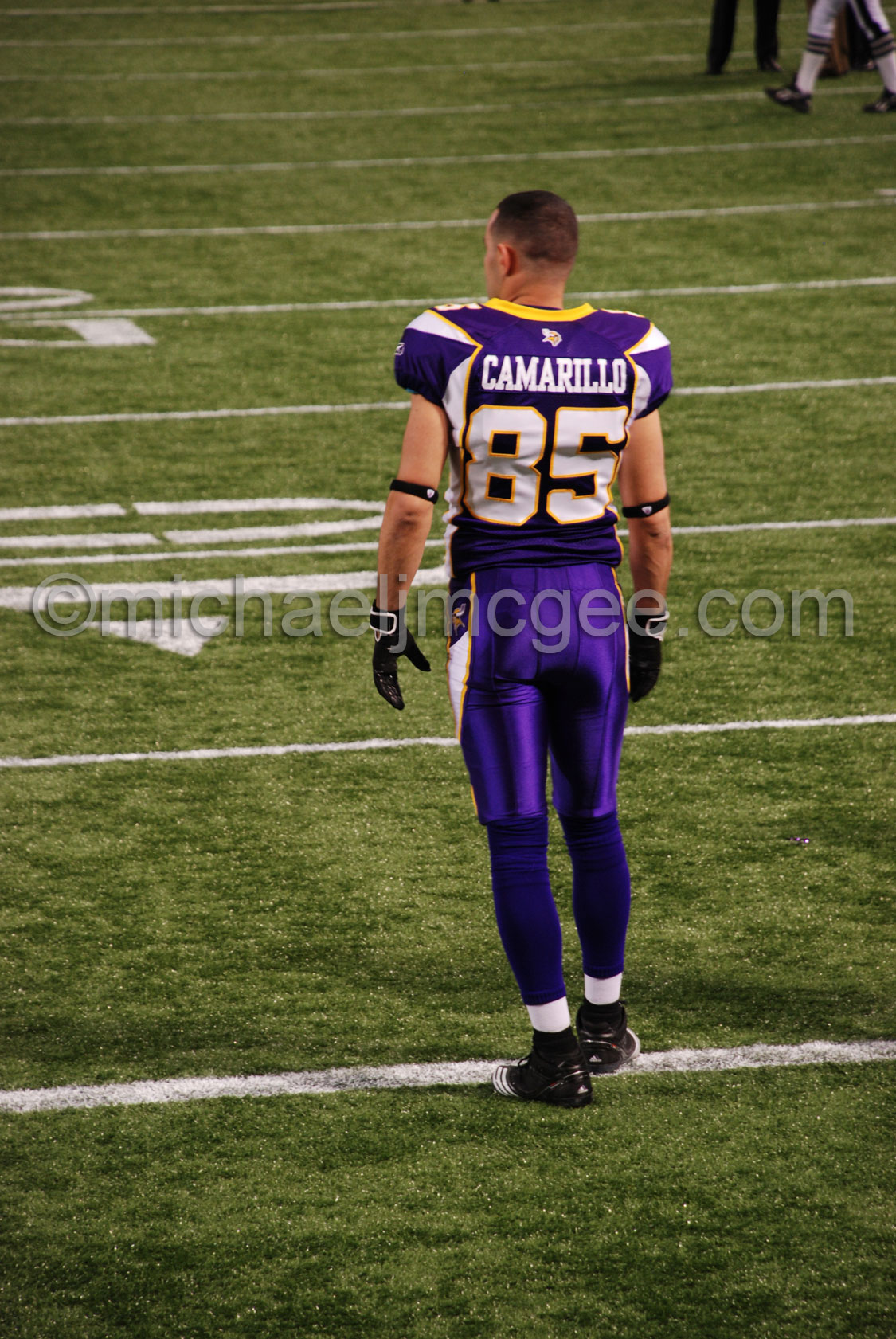 WR/PR Greg Camarillo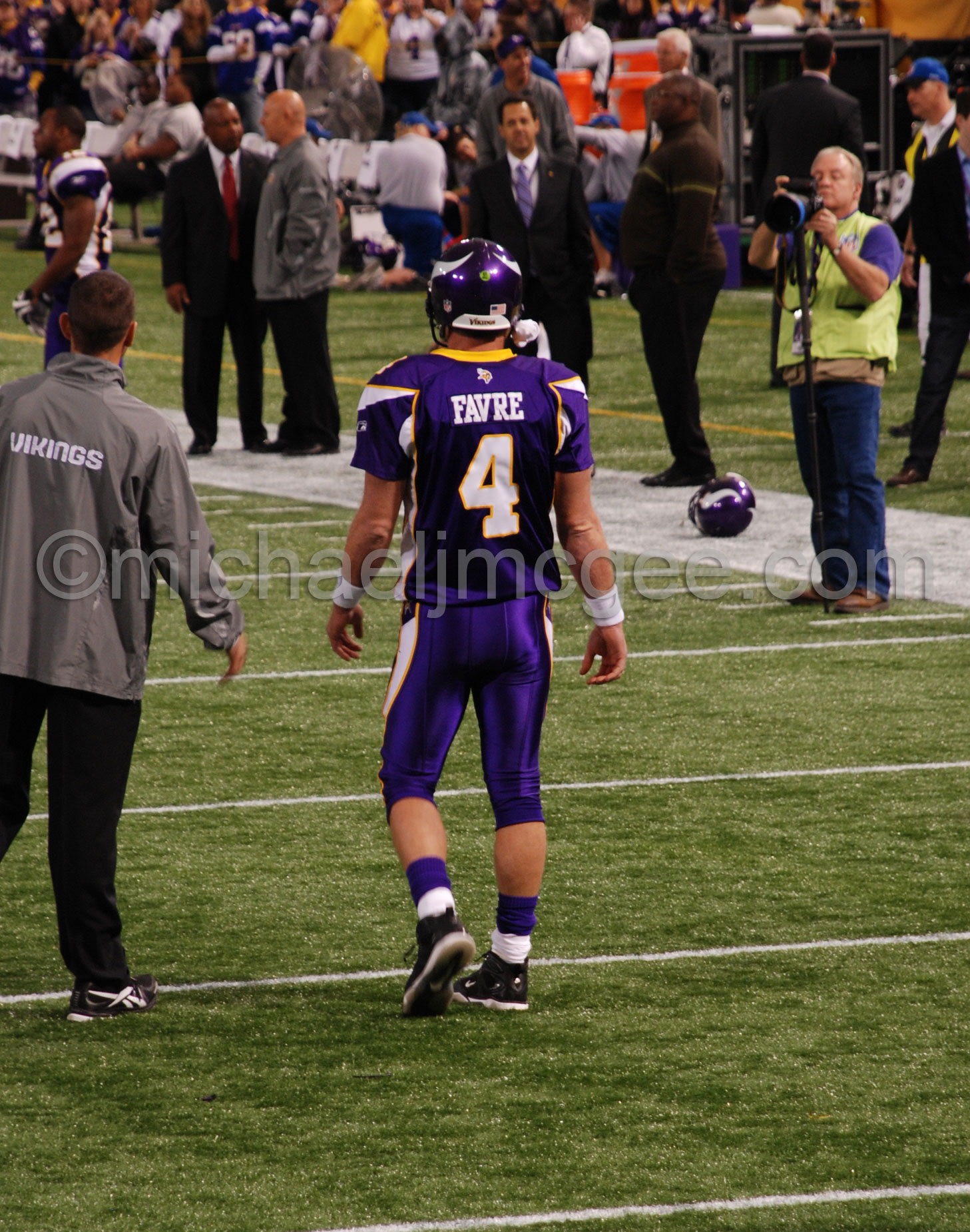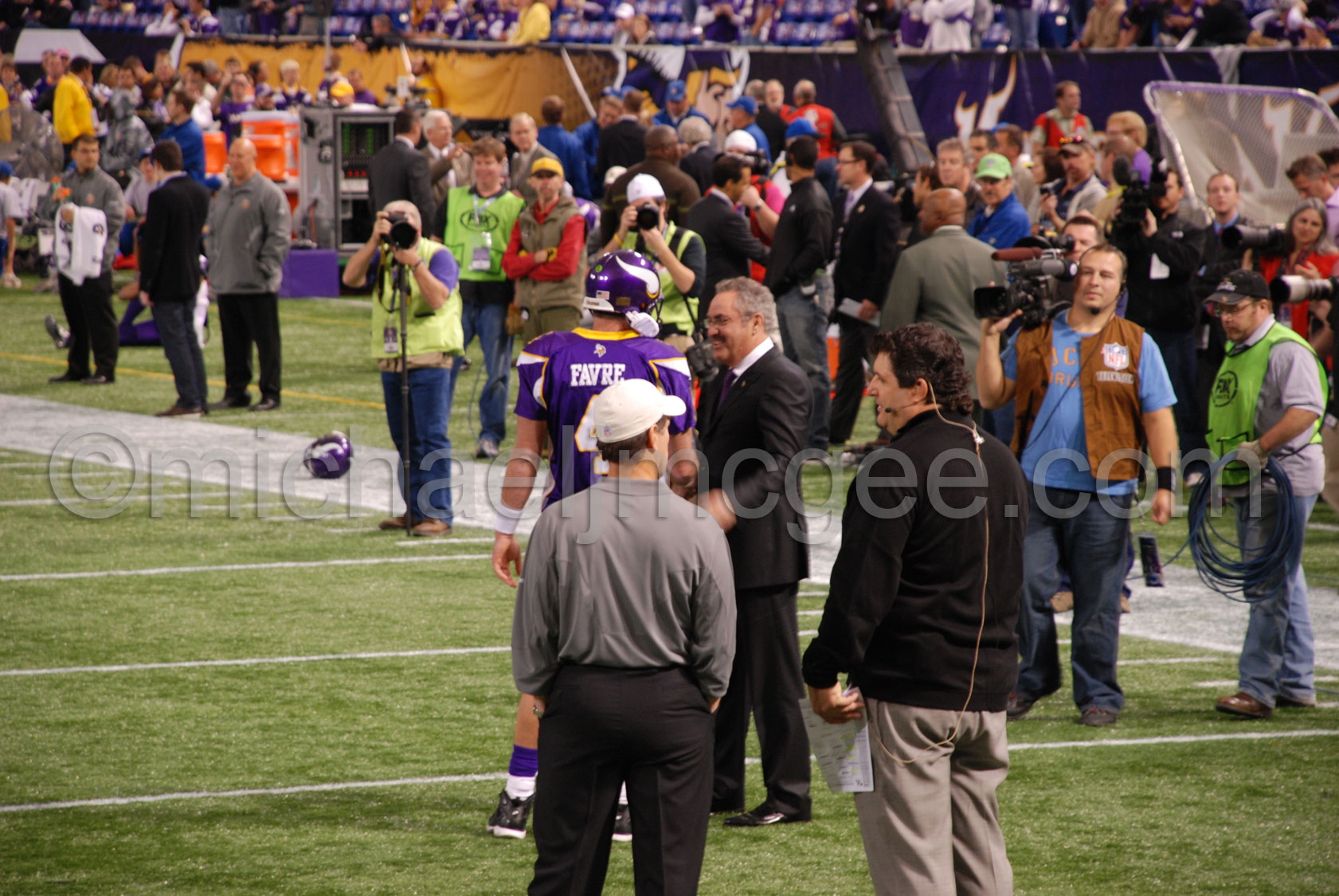 Favre talks with Vikings owner Zygi Wilf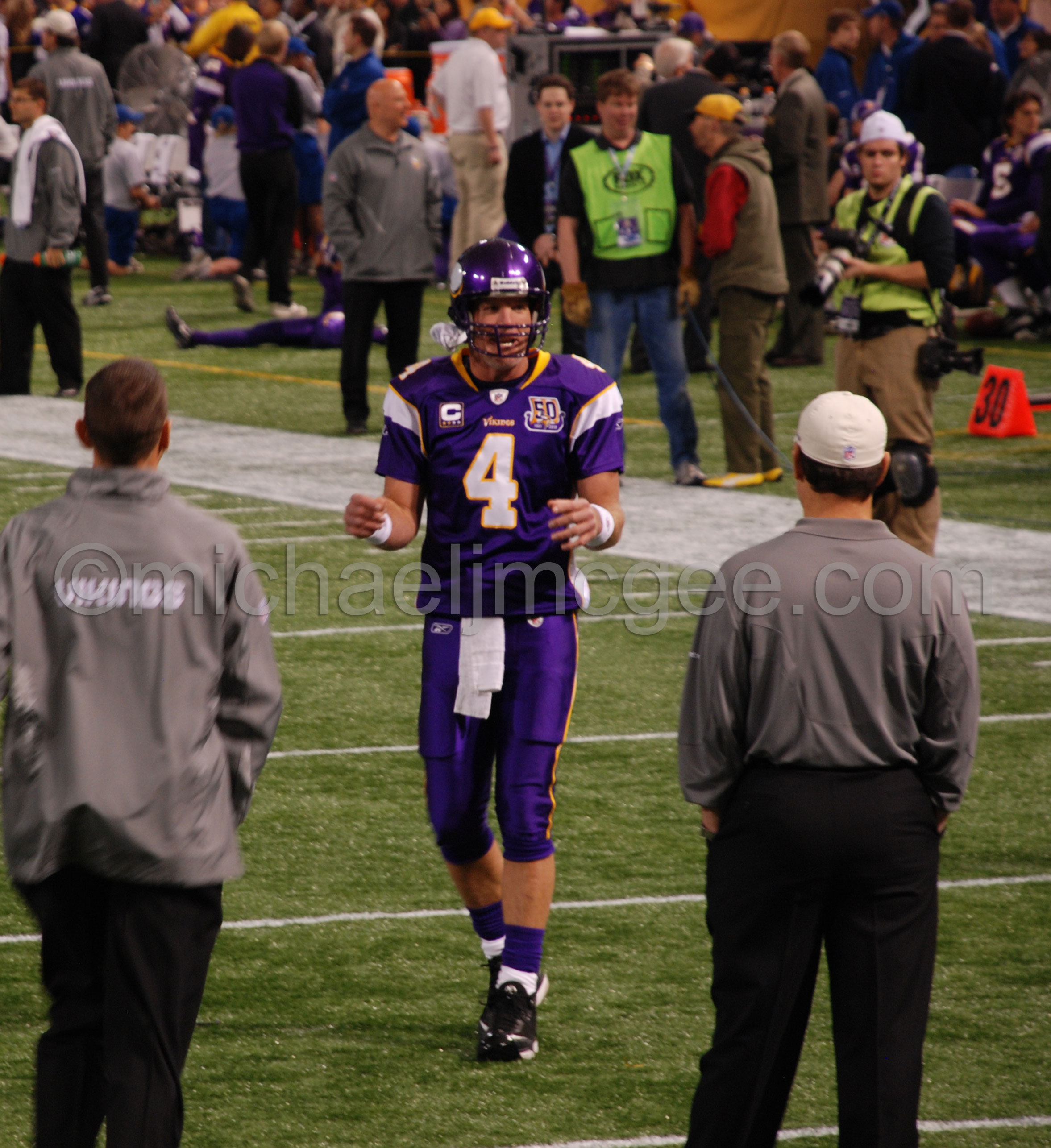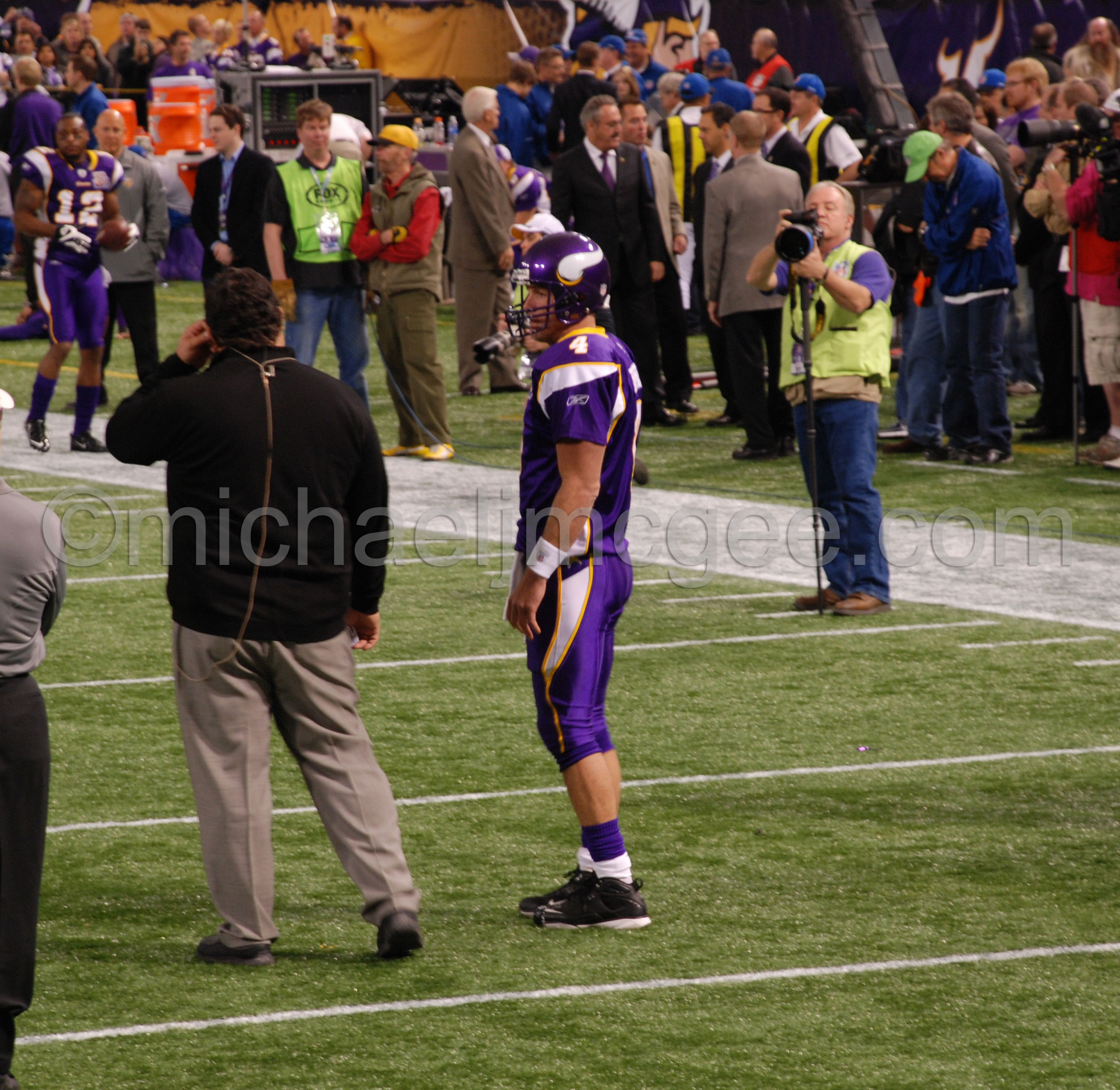 Favre chats with Siragusa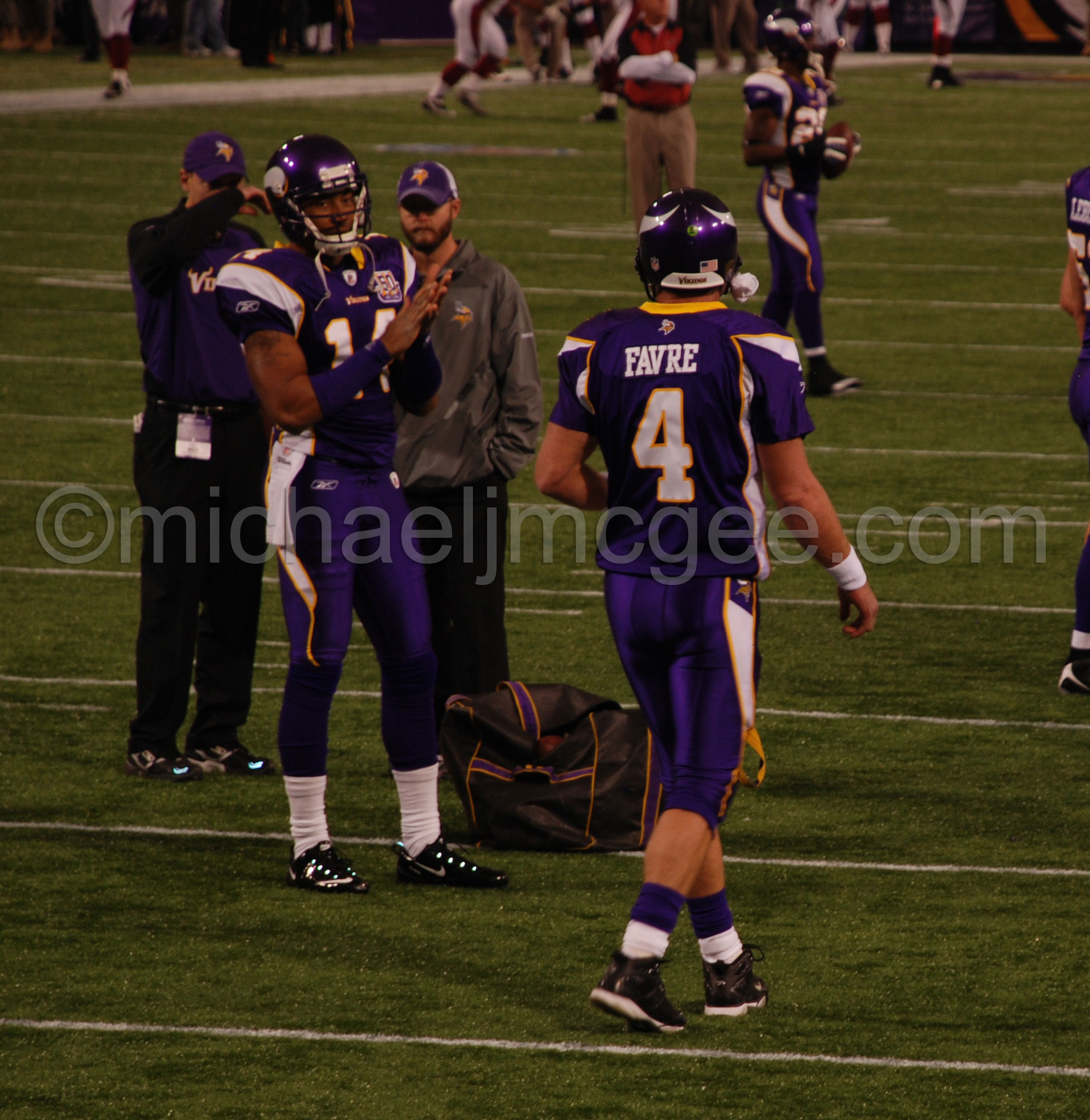 QB's Webb & Favre
Favre and Offensive Coordinator Darrell Bevell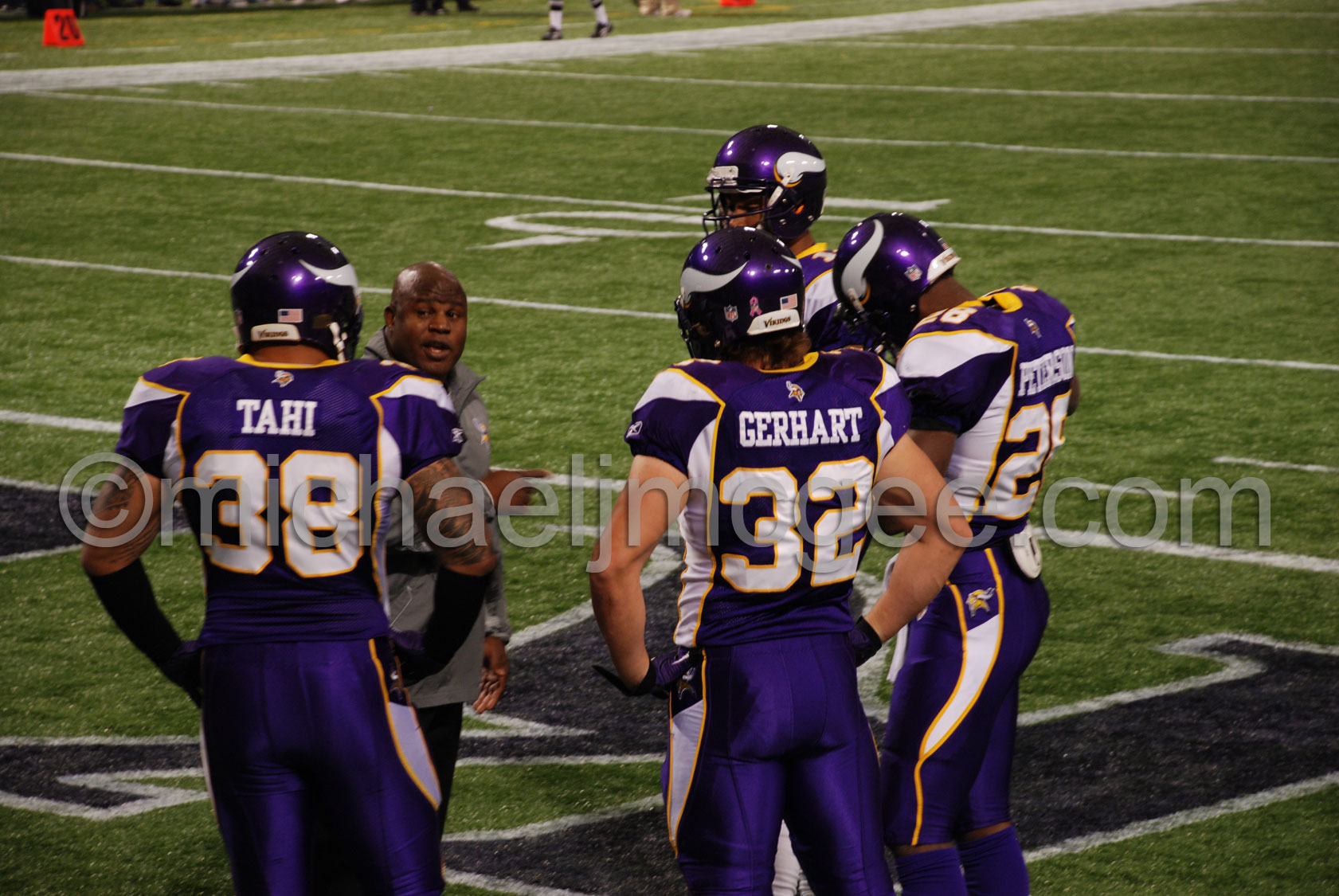 Running backs coach Eric Bieniemy gets his boys ready. (L-R) FB Nafahu Tahi,RB Toby Gerhart, QB Joe Webb & AP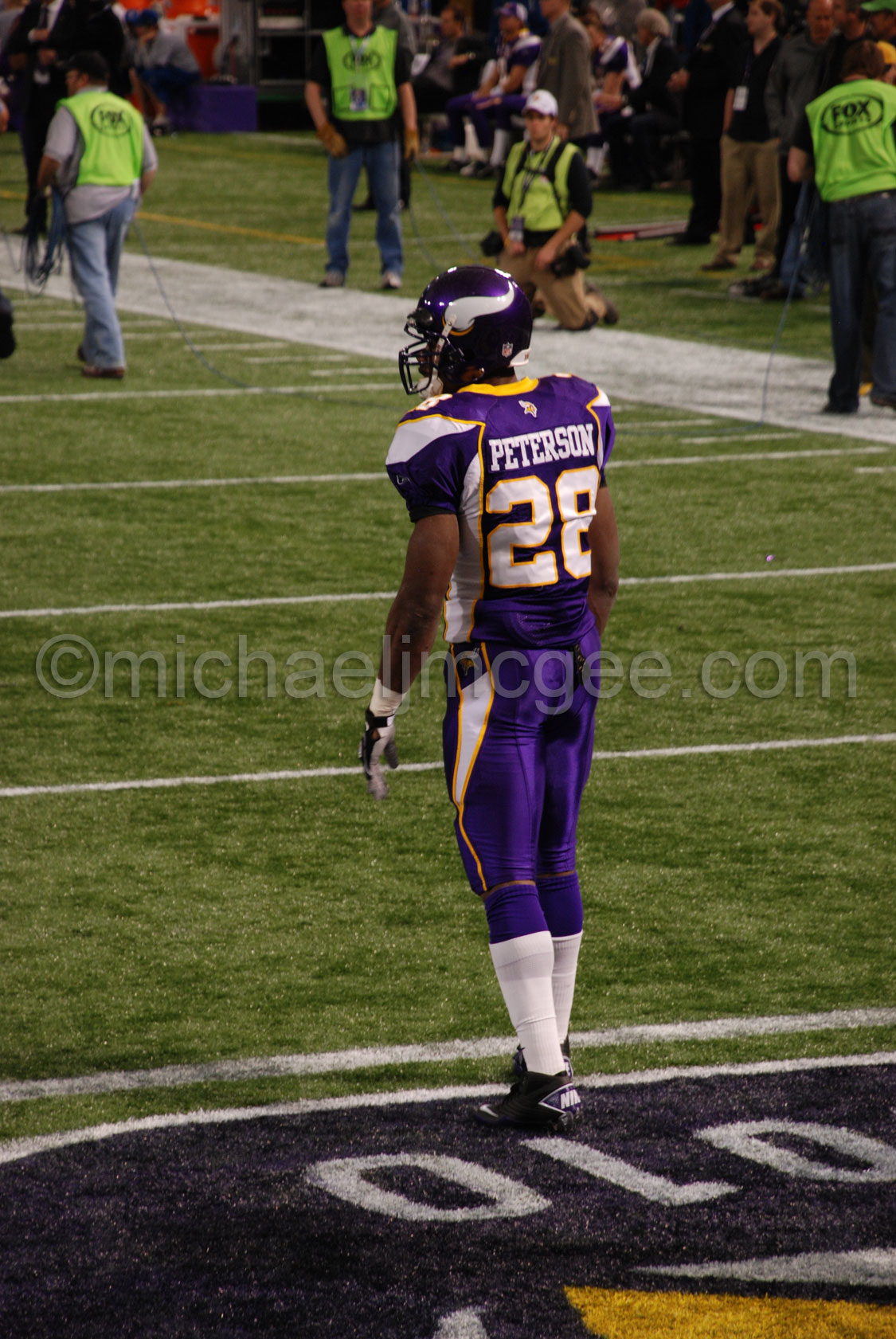 "The Man" RB Adrian Peterson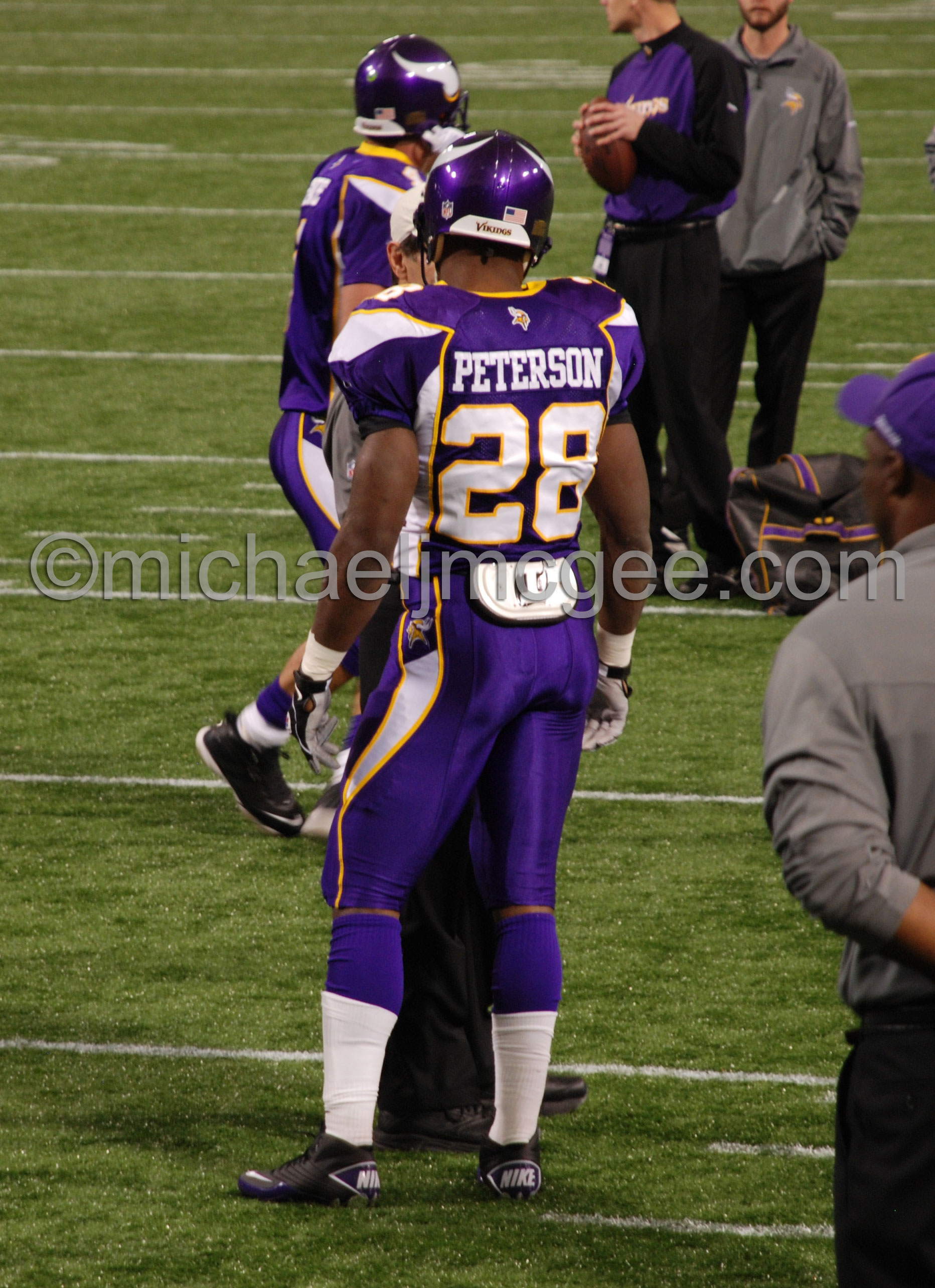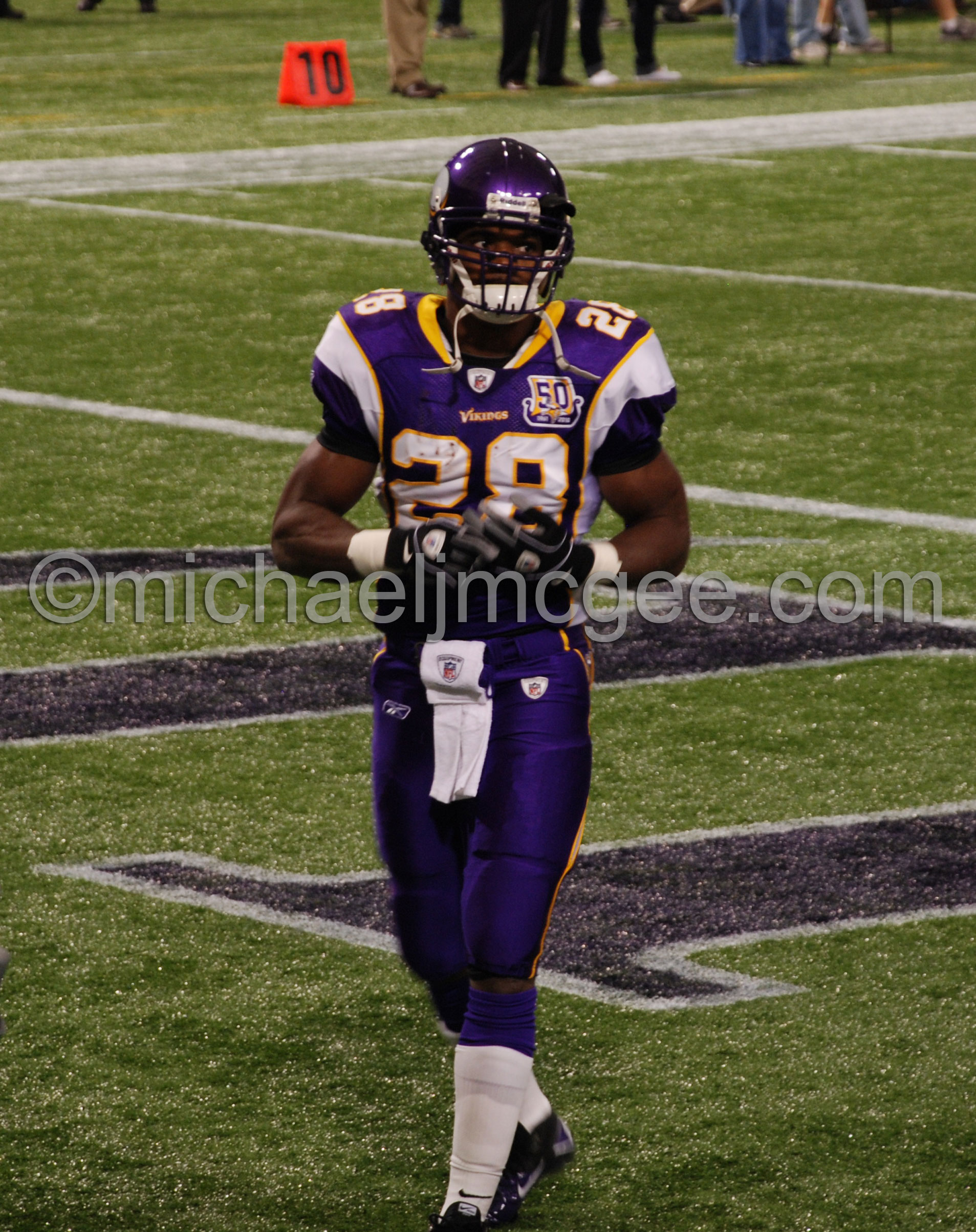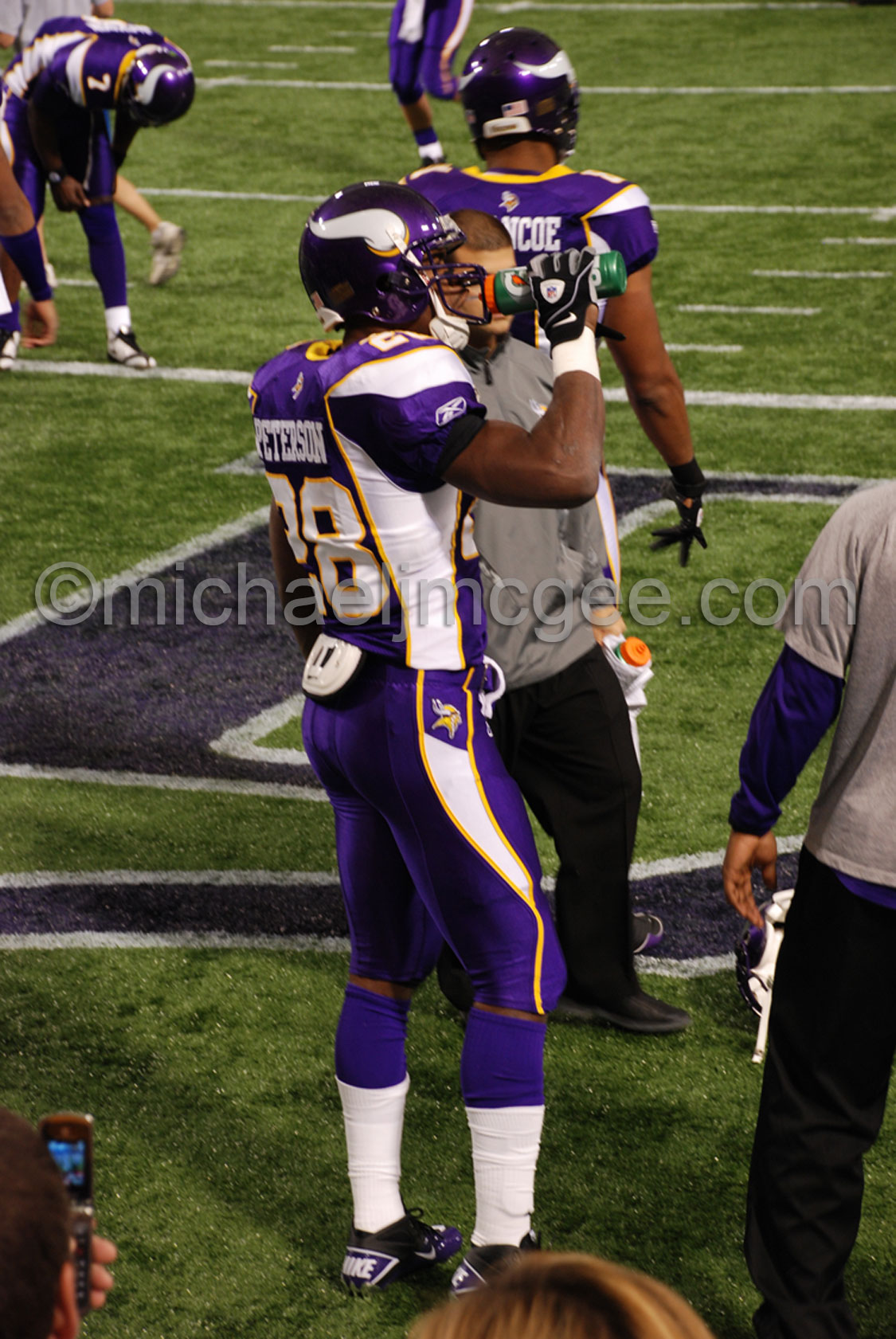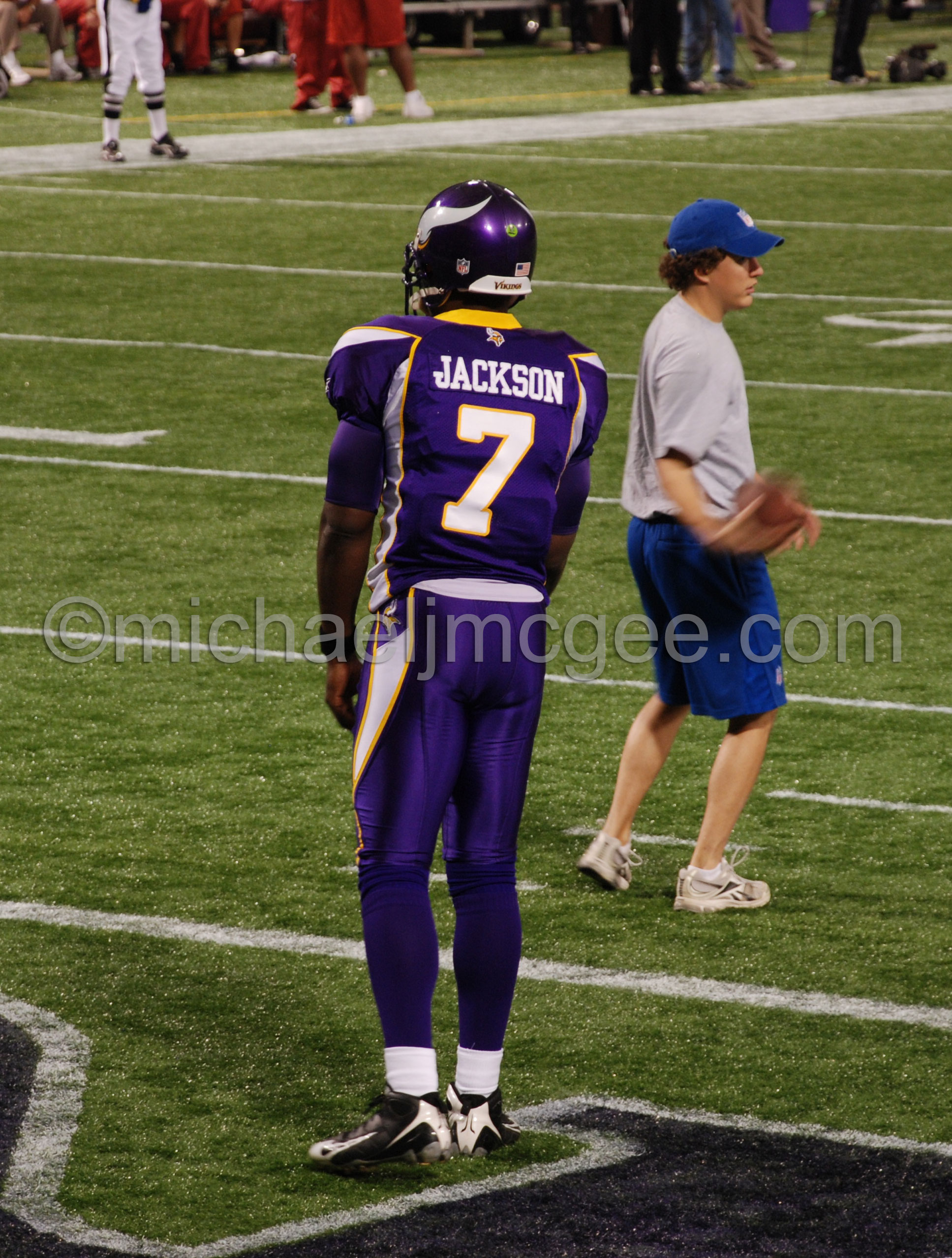 QB Travaris Jackson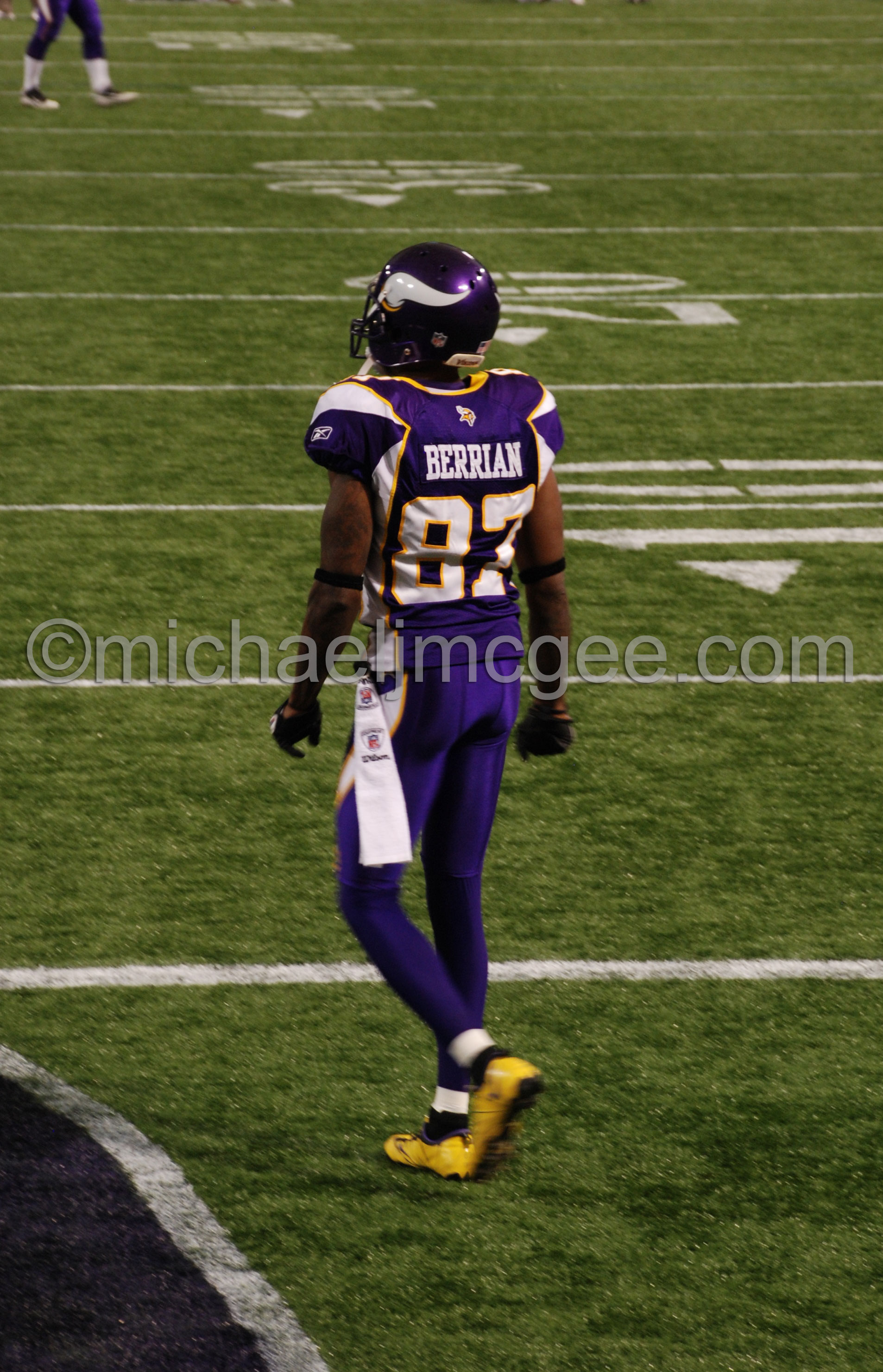 WR Bernard Berrian with his fancy cleats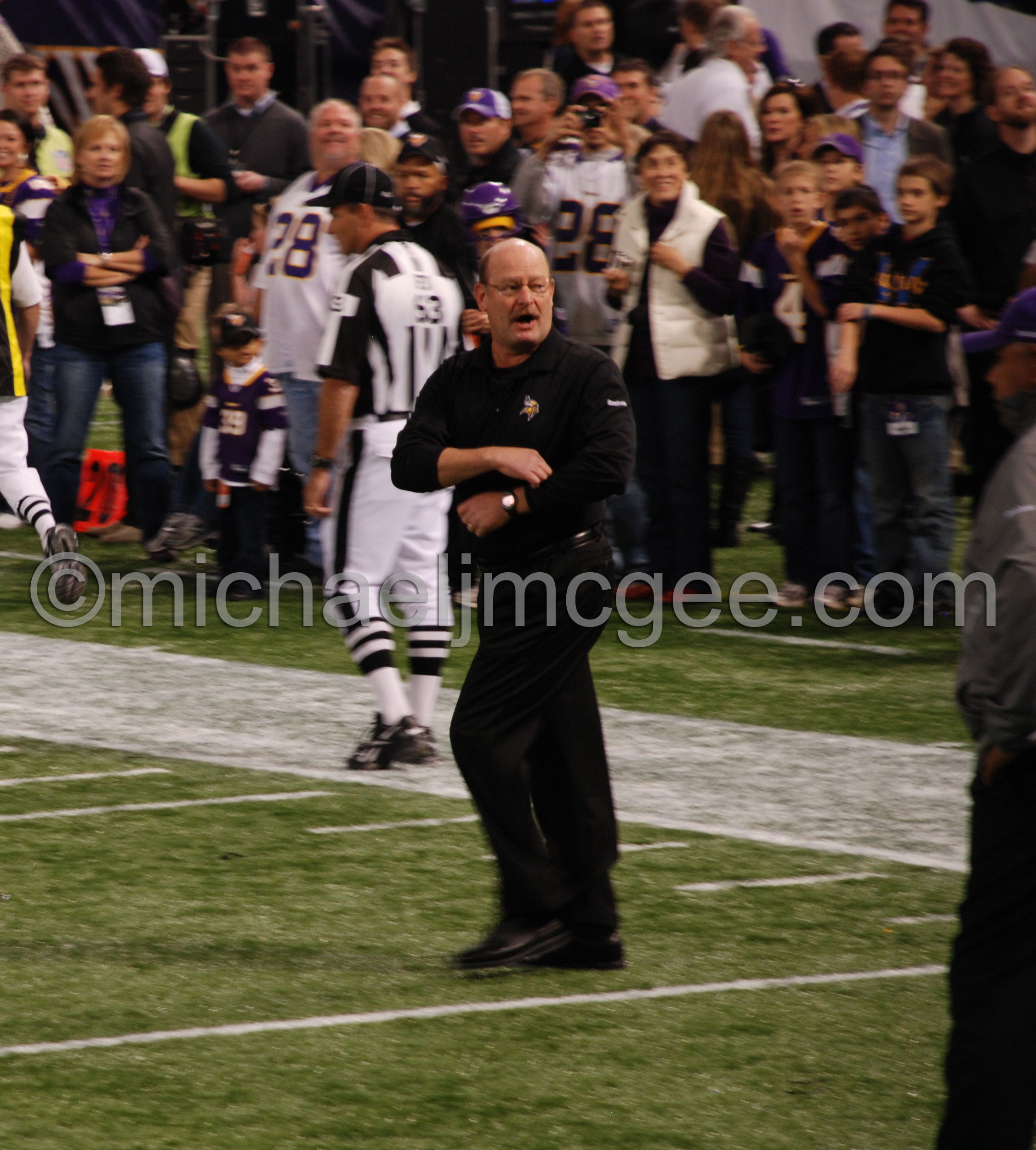 Vikings Head coach Brad Childress enters the field to a chorus of boos. He would be fired 2 weeks later.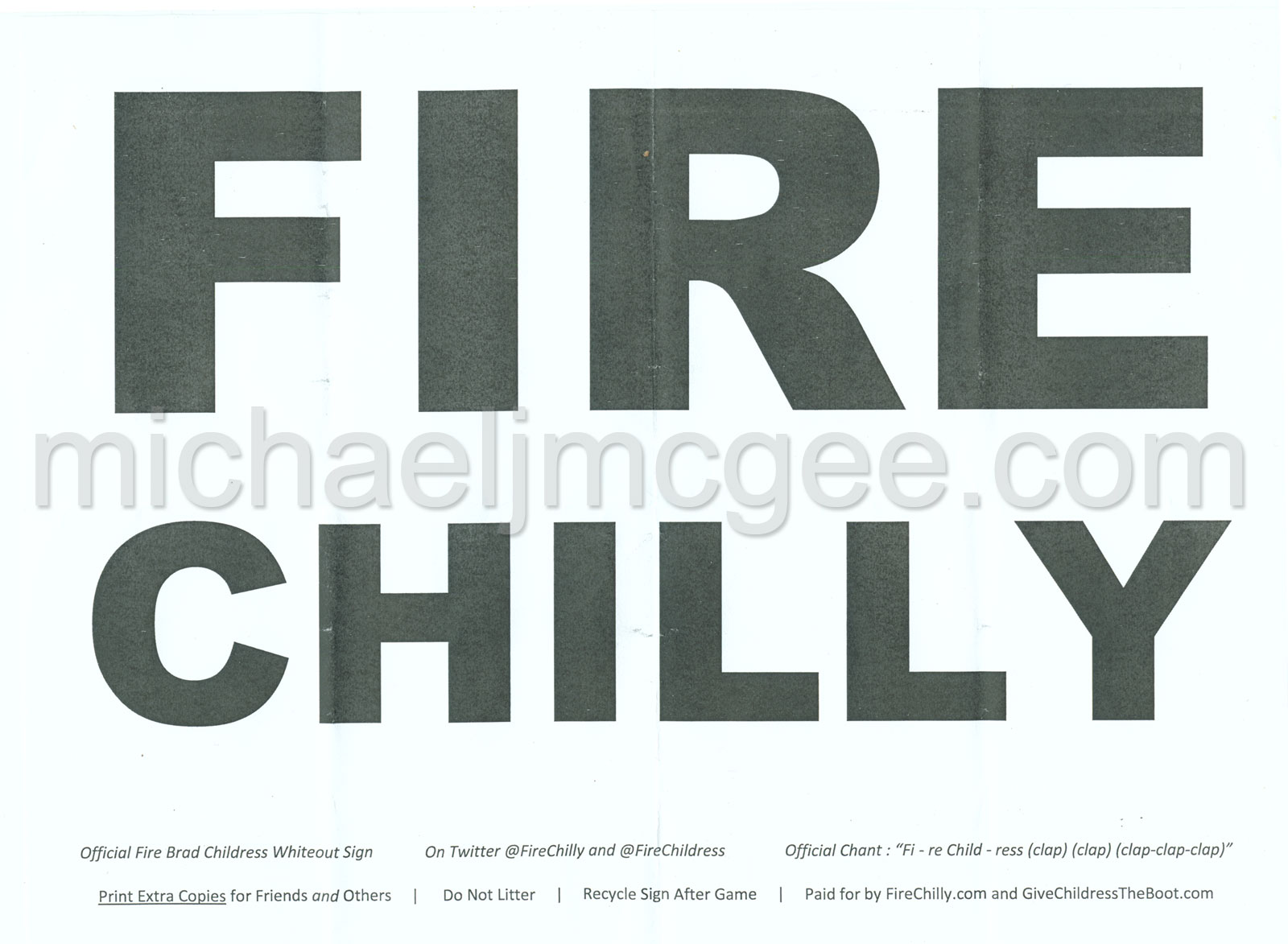 The Official flyer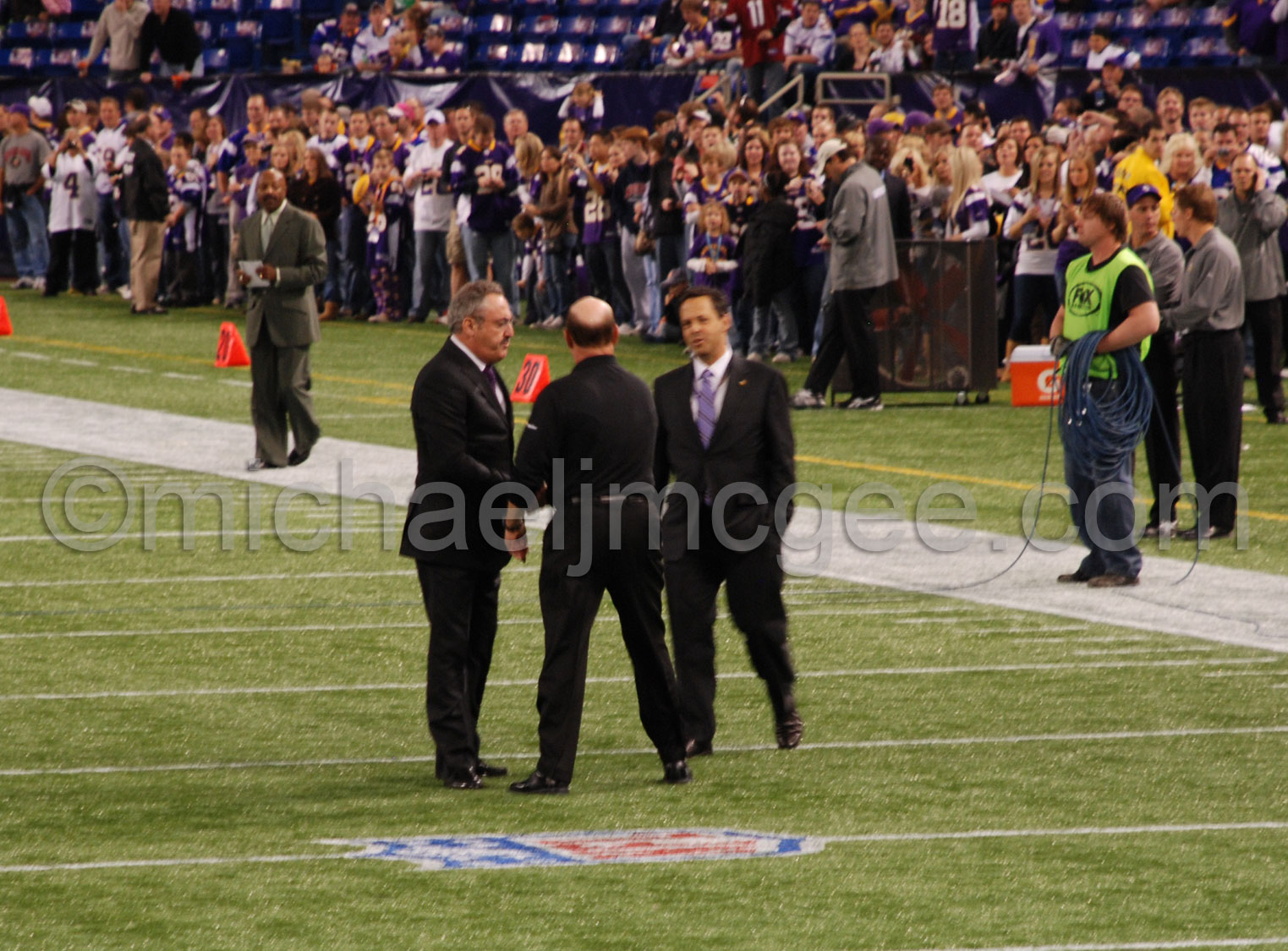 Childress (C) talks with Vikings Owner Zygi (L) and Mark Wilf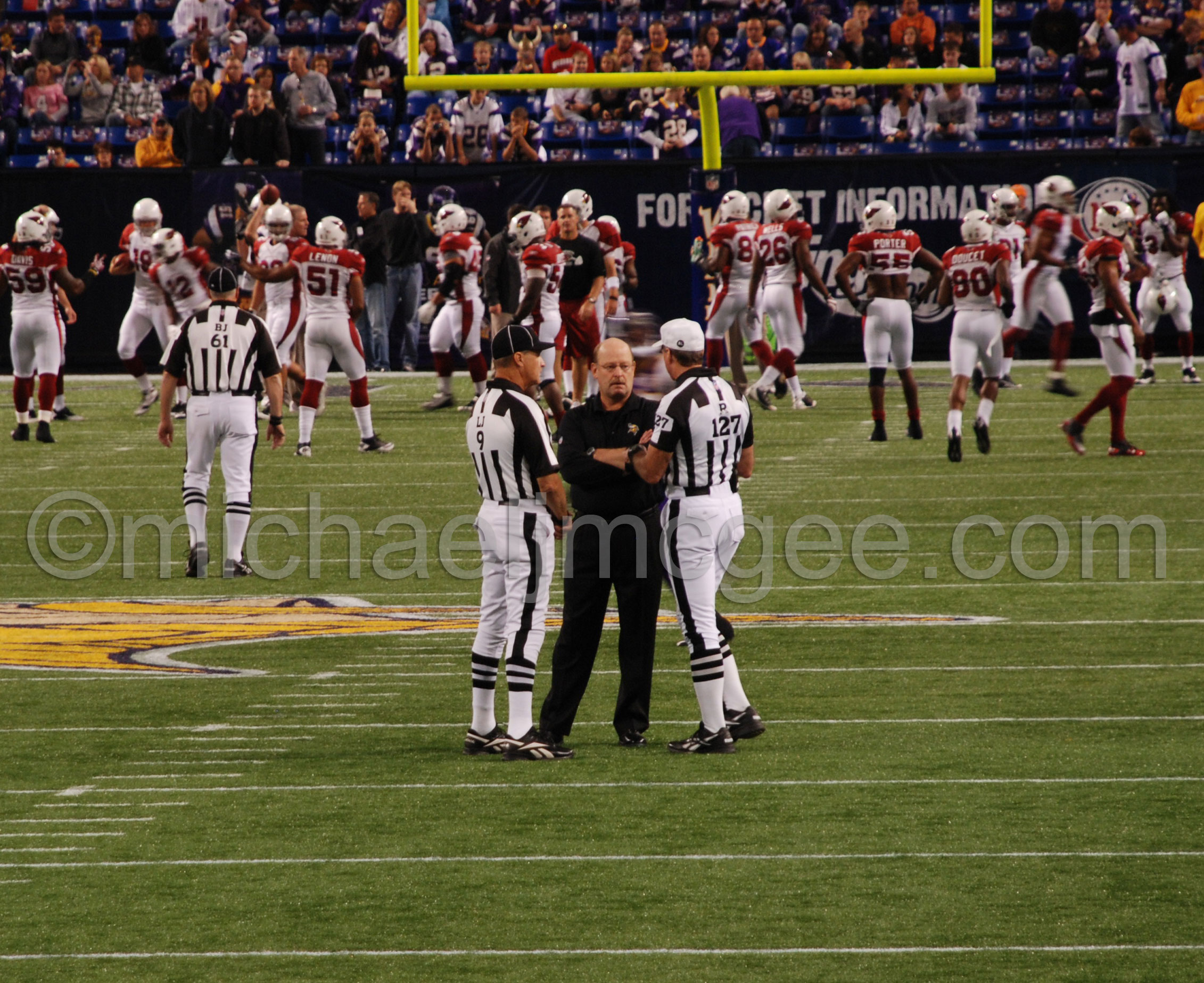 Chilly chats with the Refs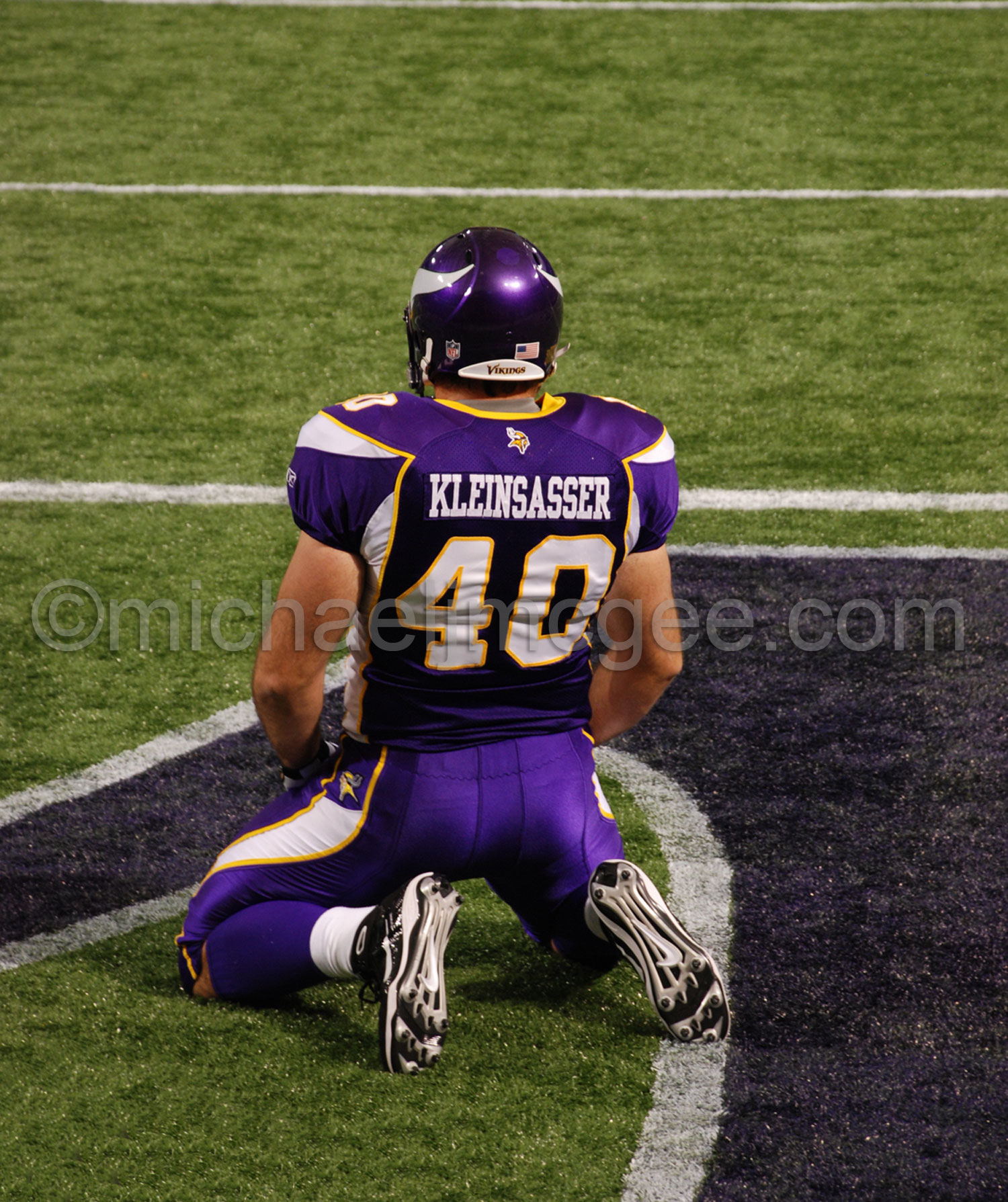 TE Jim Kleinsasser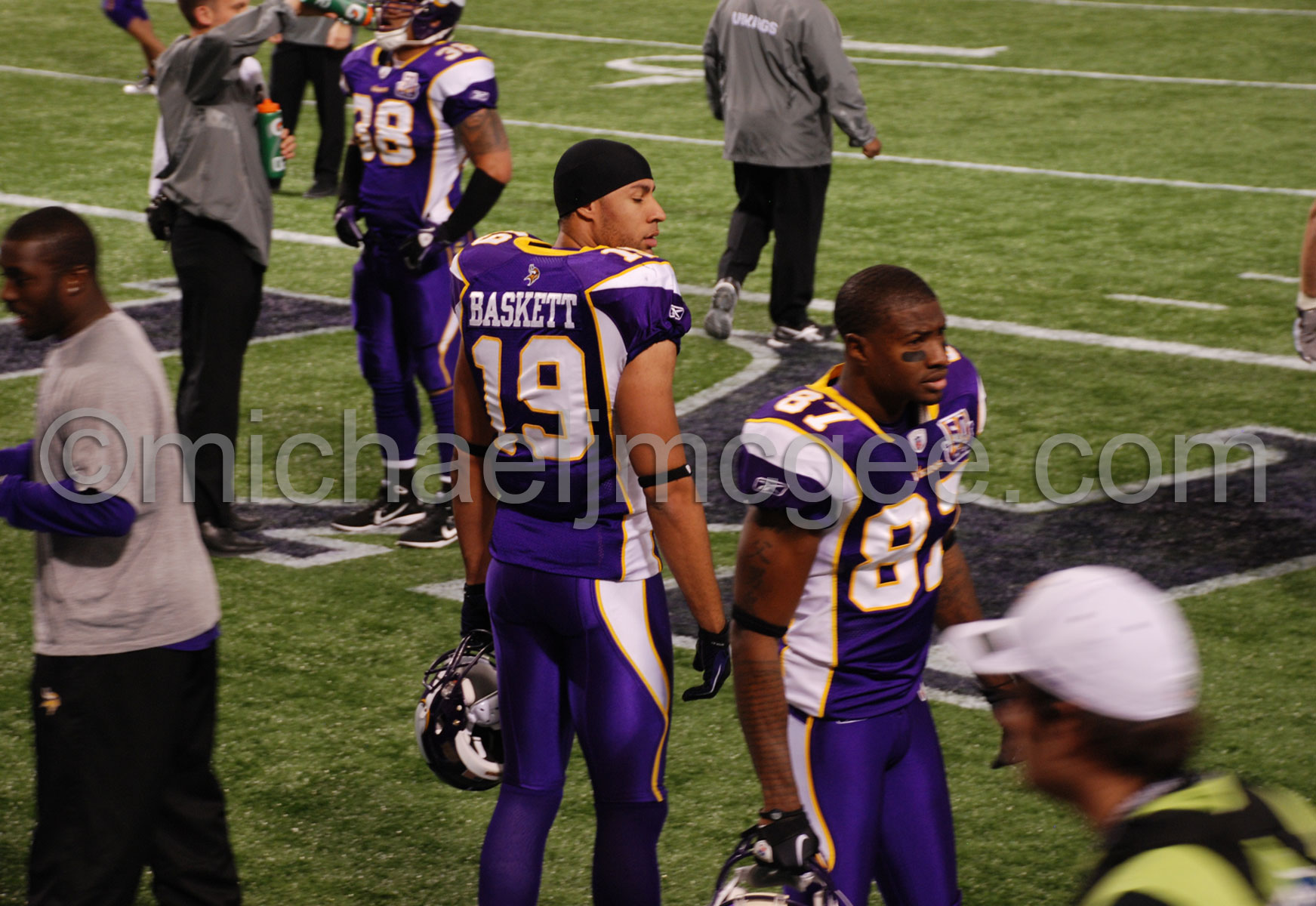 WR Hank Baskett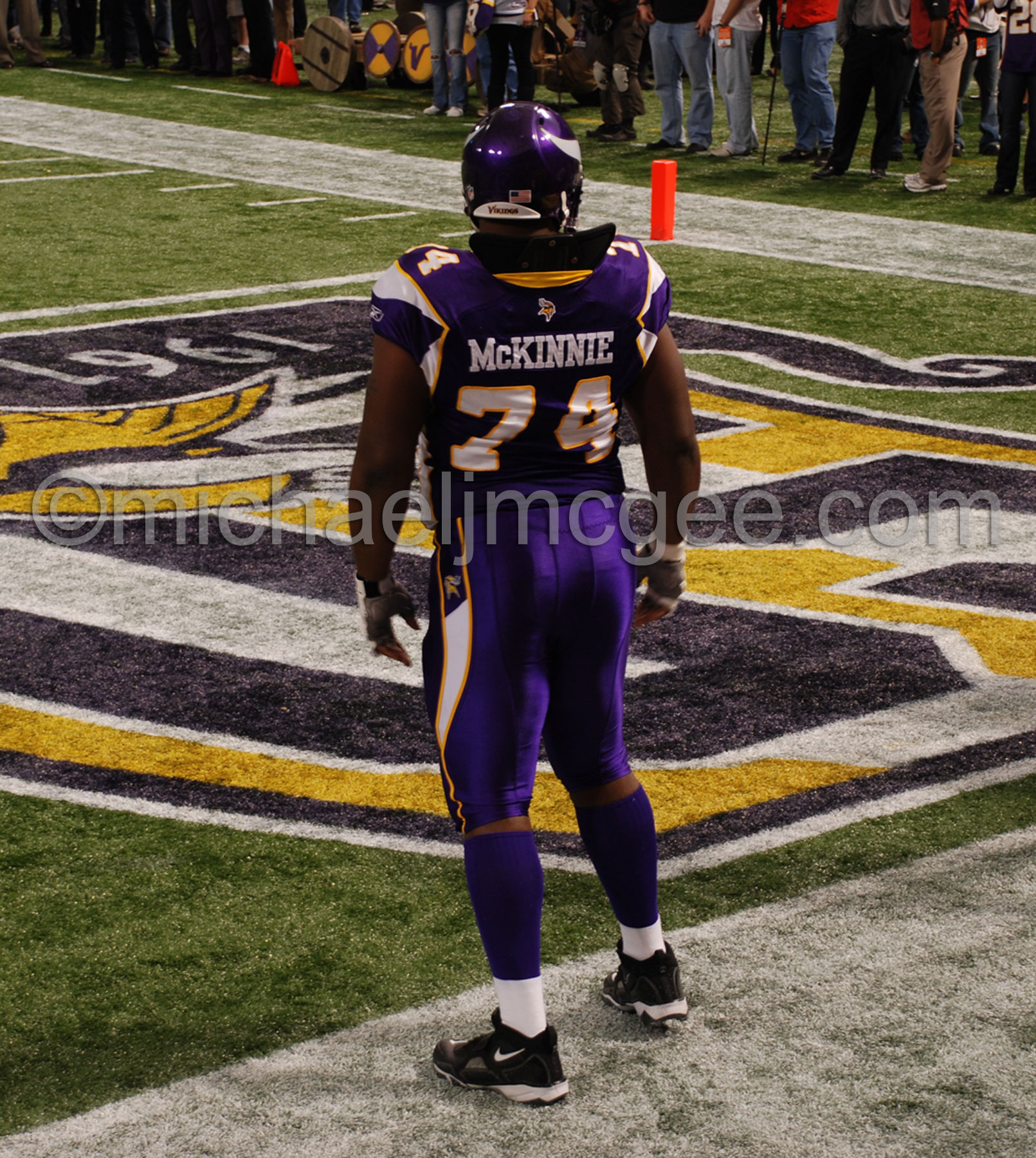 LT Bryant McKinnie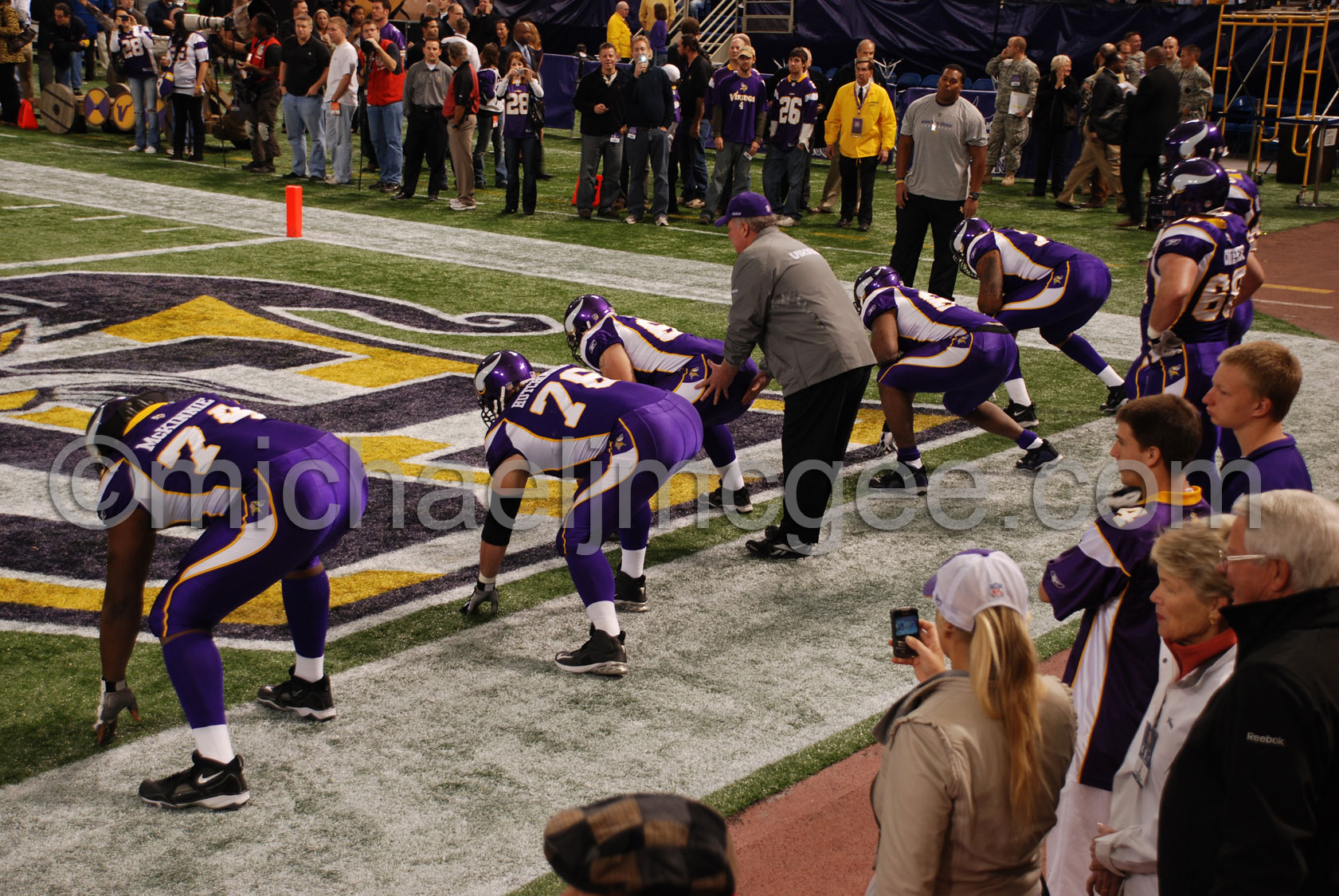 OL warms up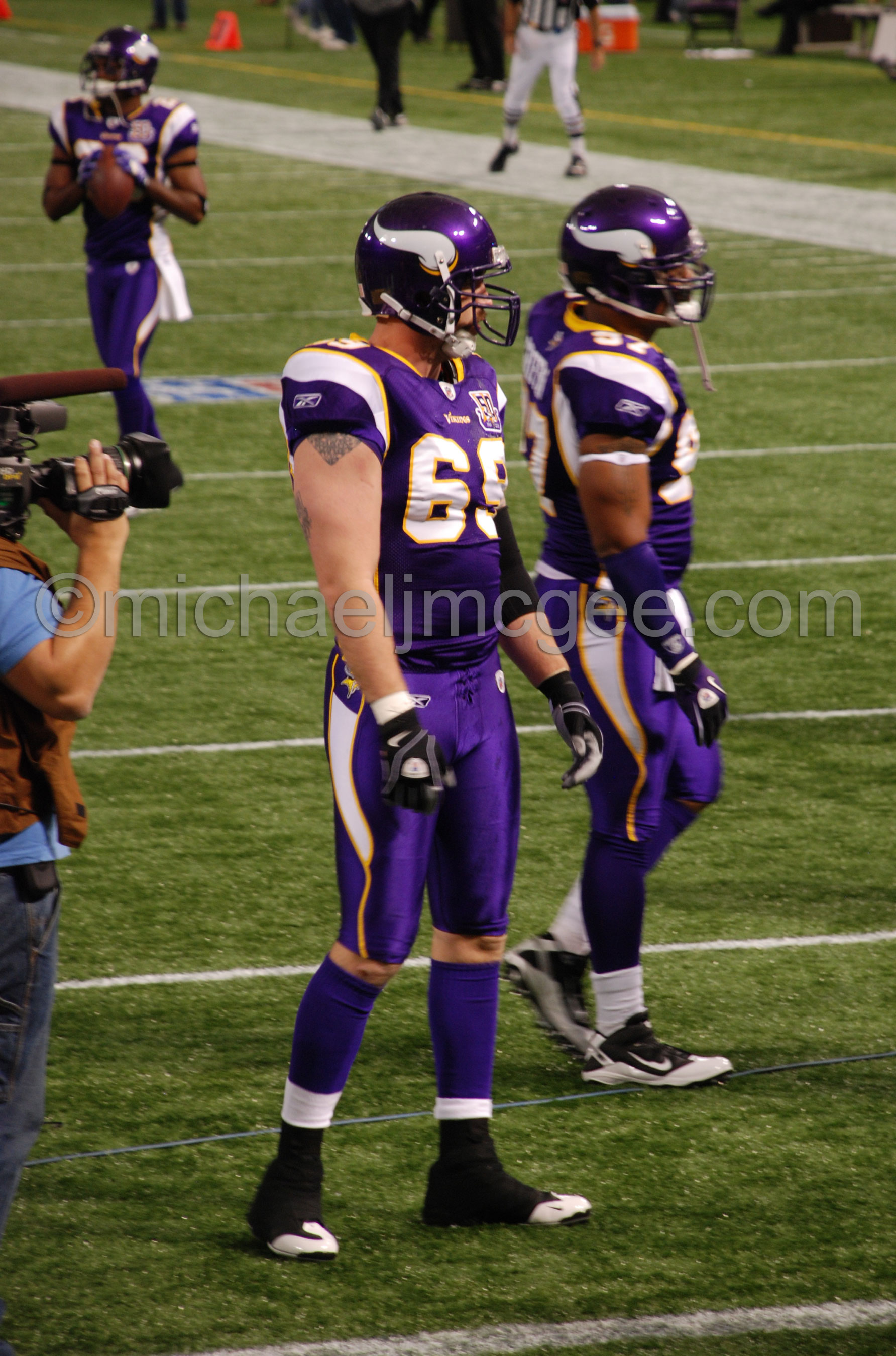 DE Jared Allen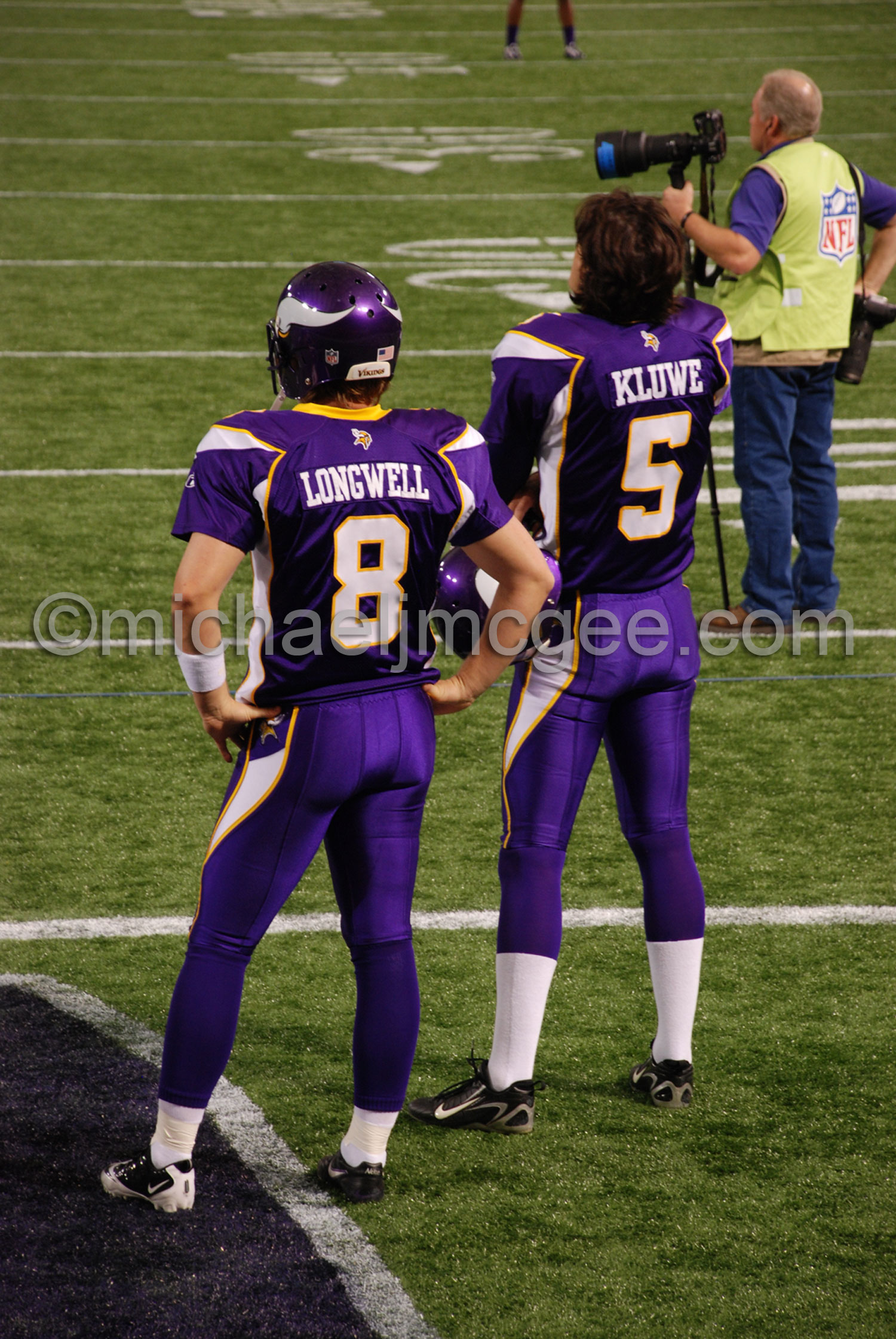 K Ryan Longwell & P Chris Kluwe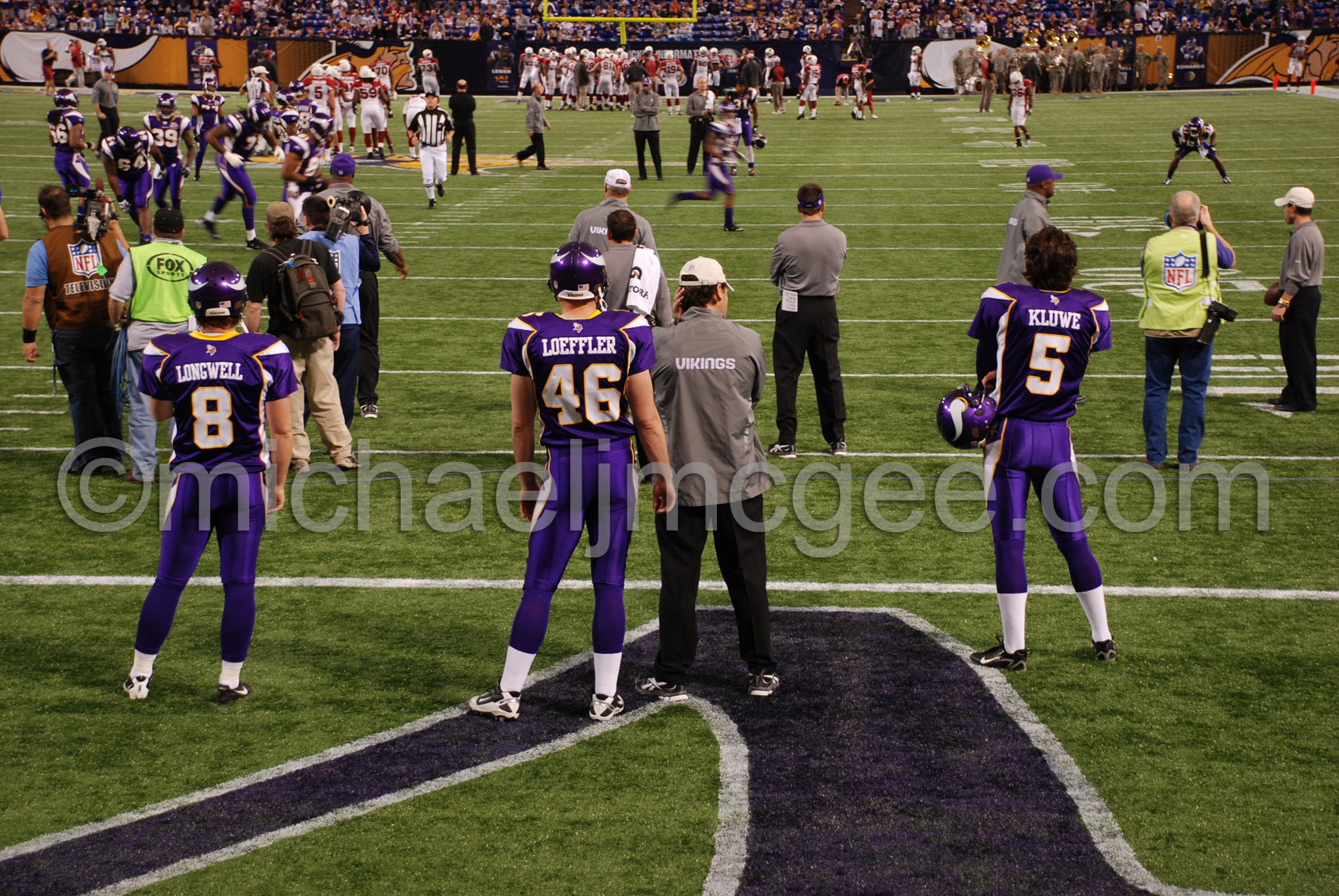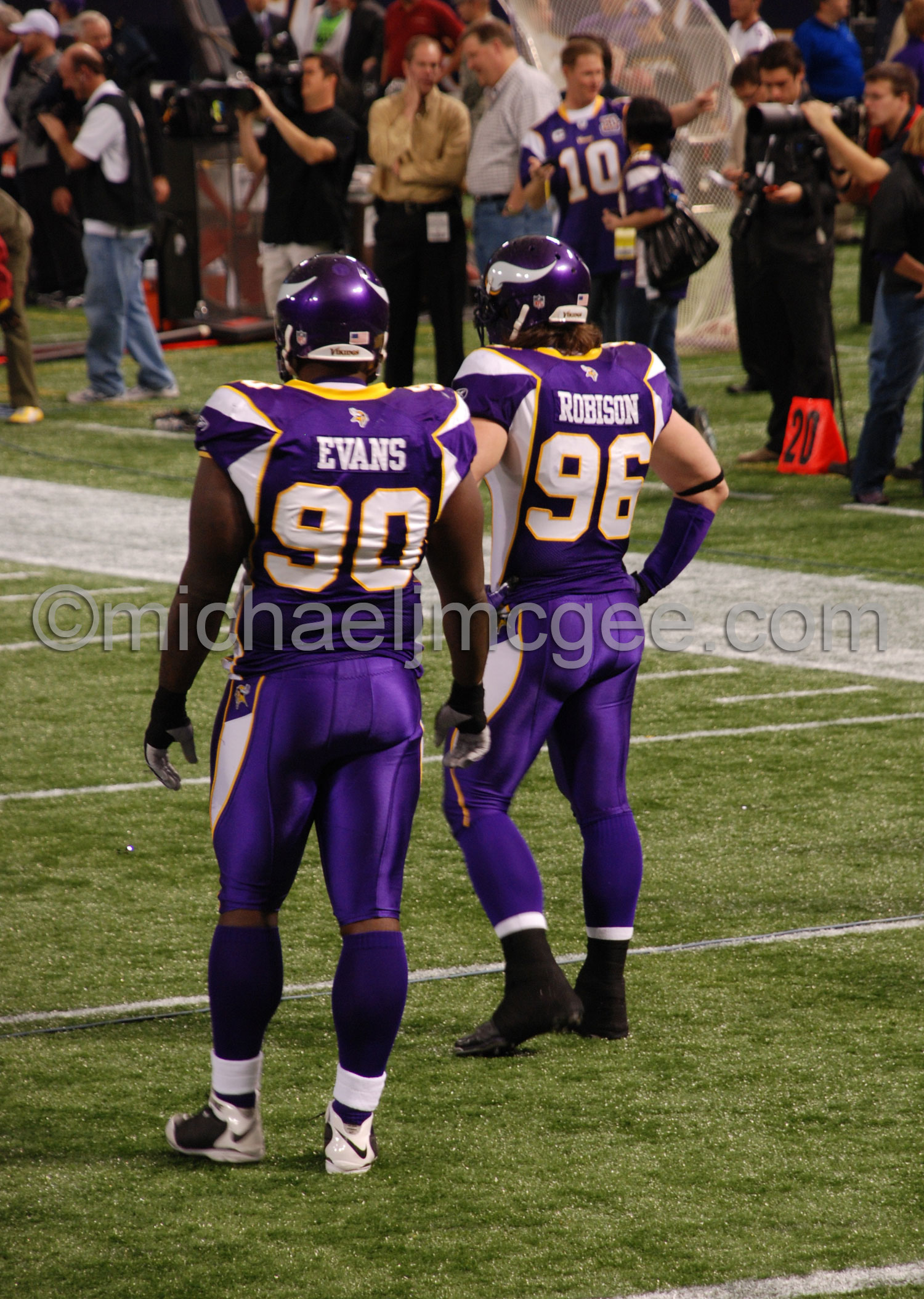 DL Fred Evans & Brian Robison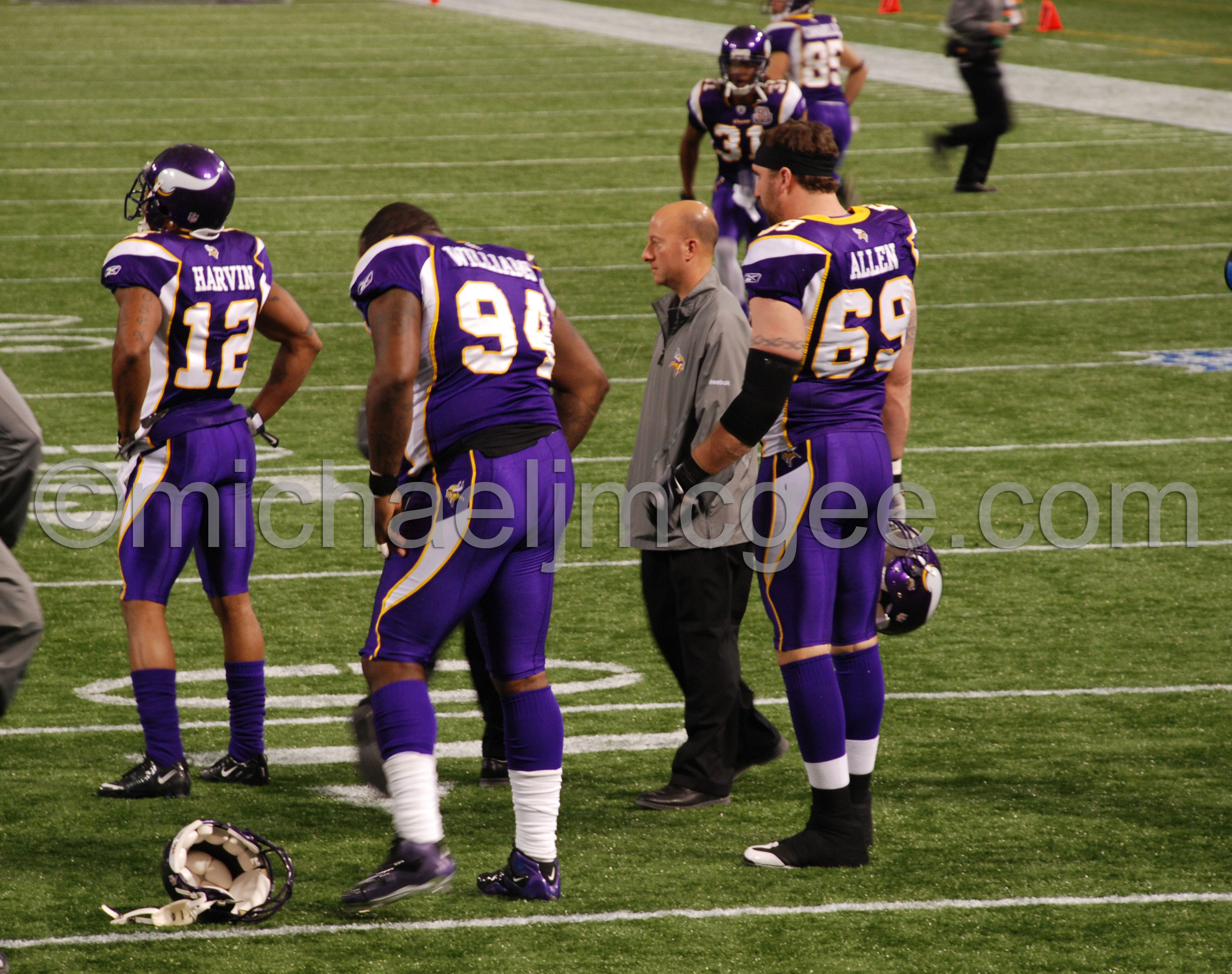 Certified Athletic Trainer Eric Sugarman (gray jacket)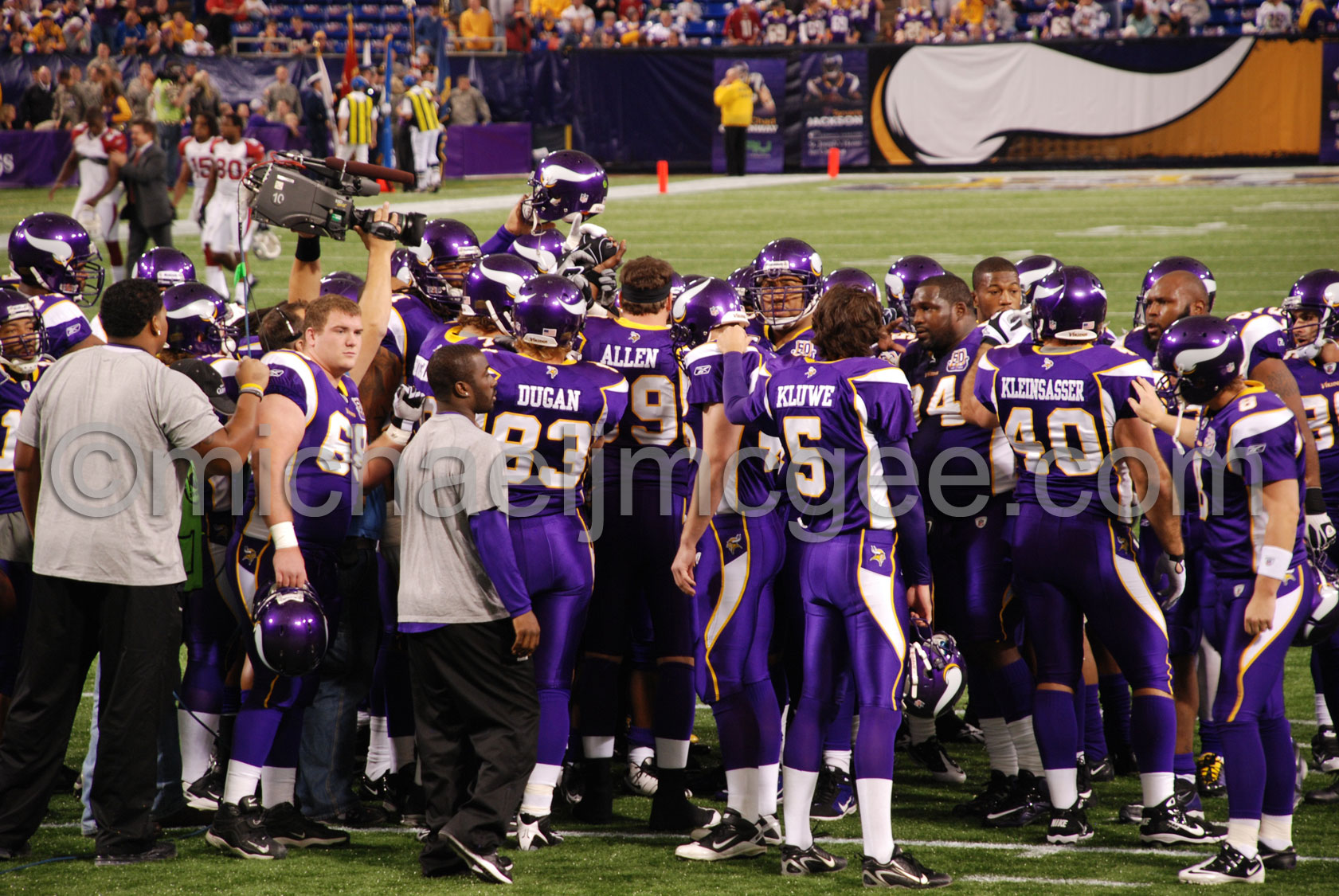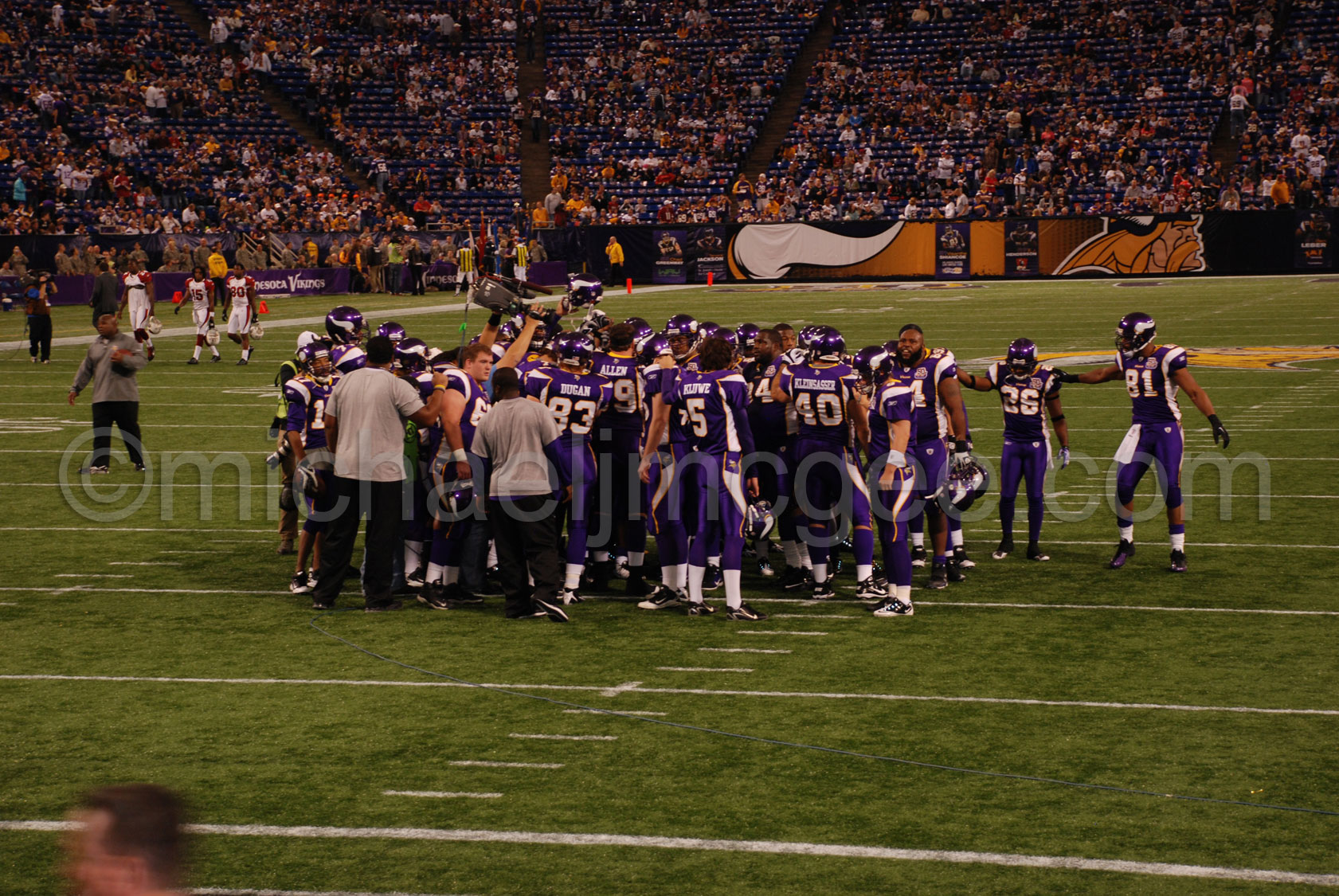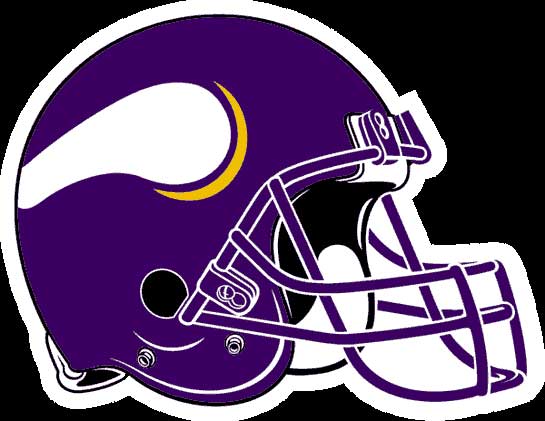 The Game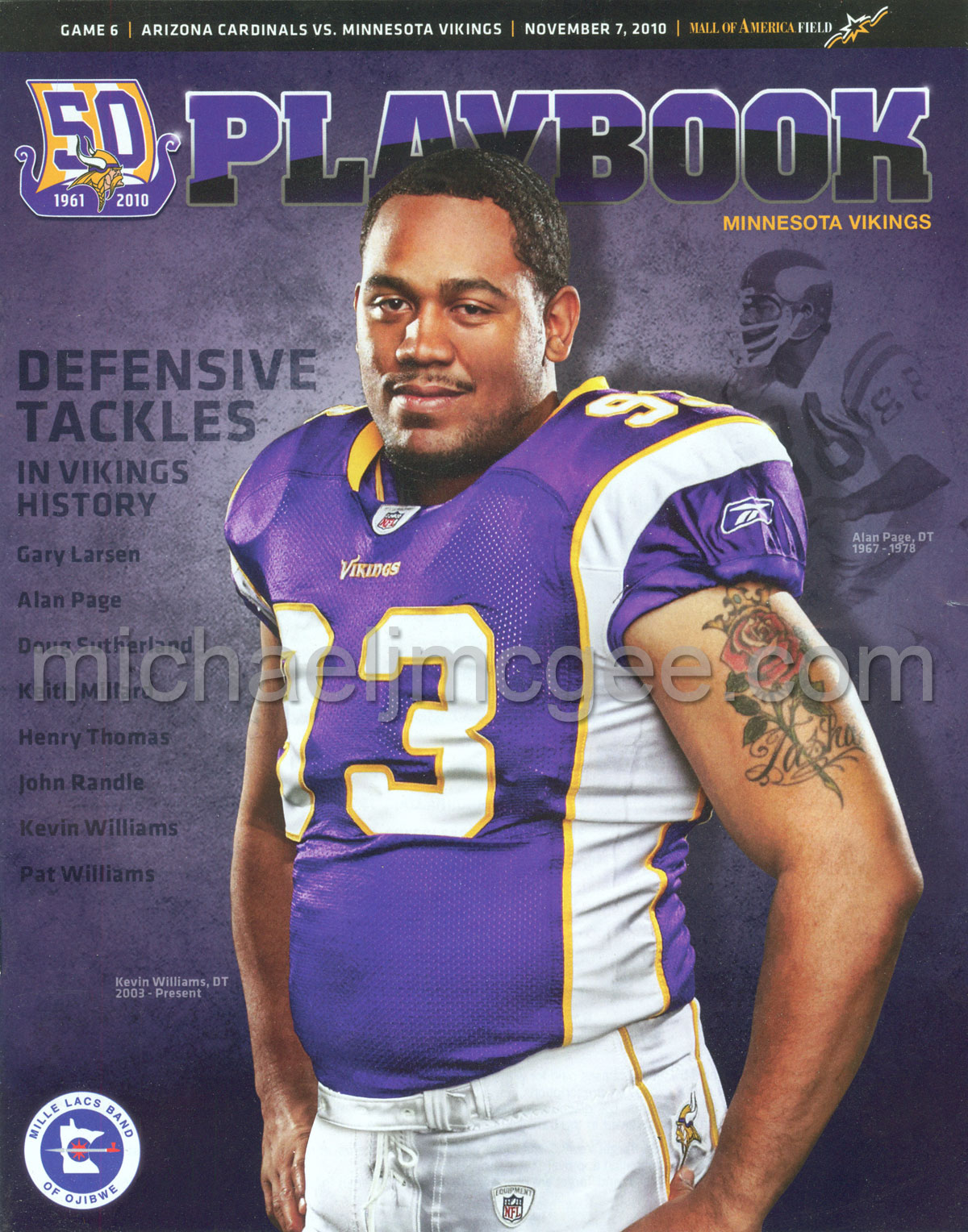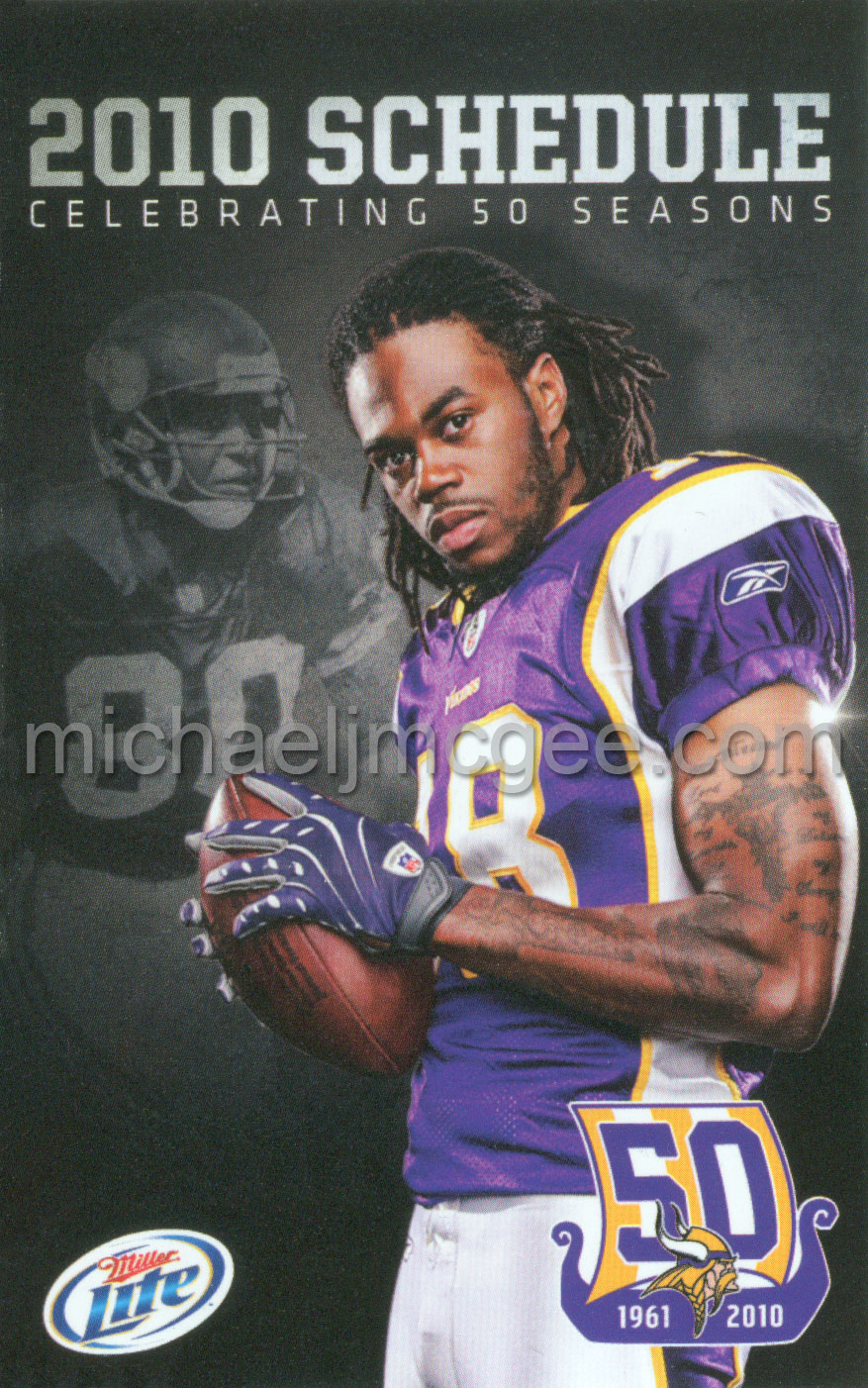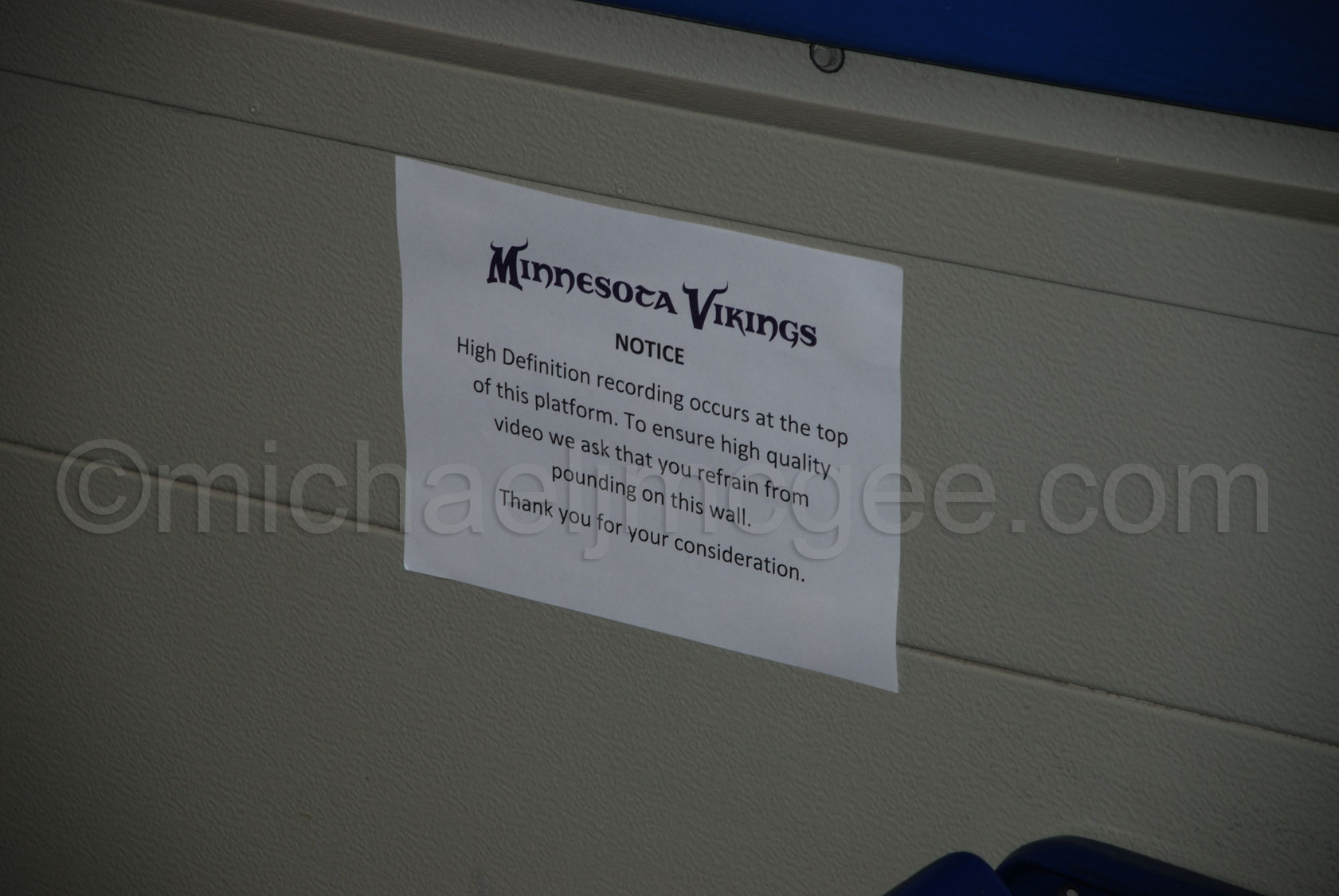 A notice posted to us fans by my season seat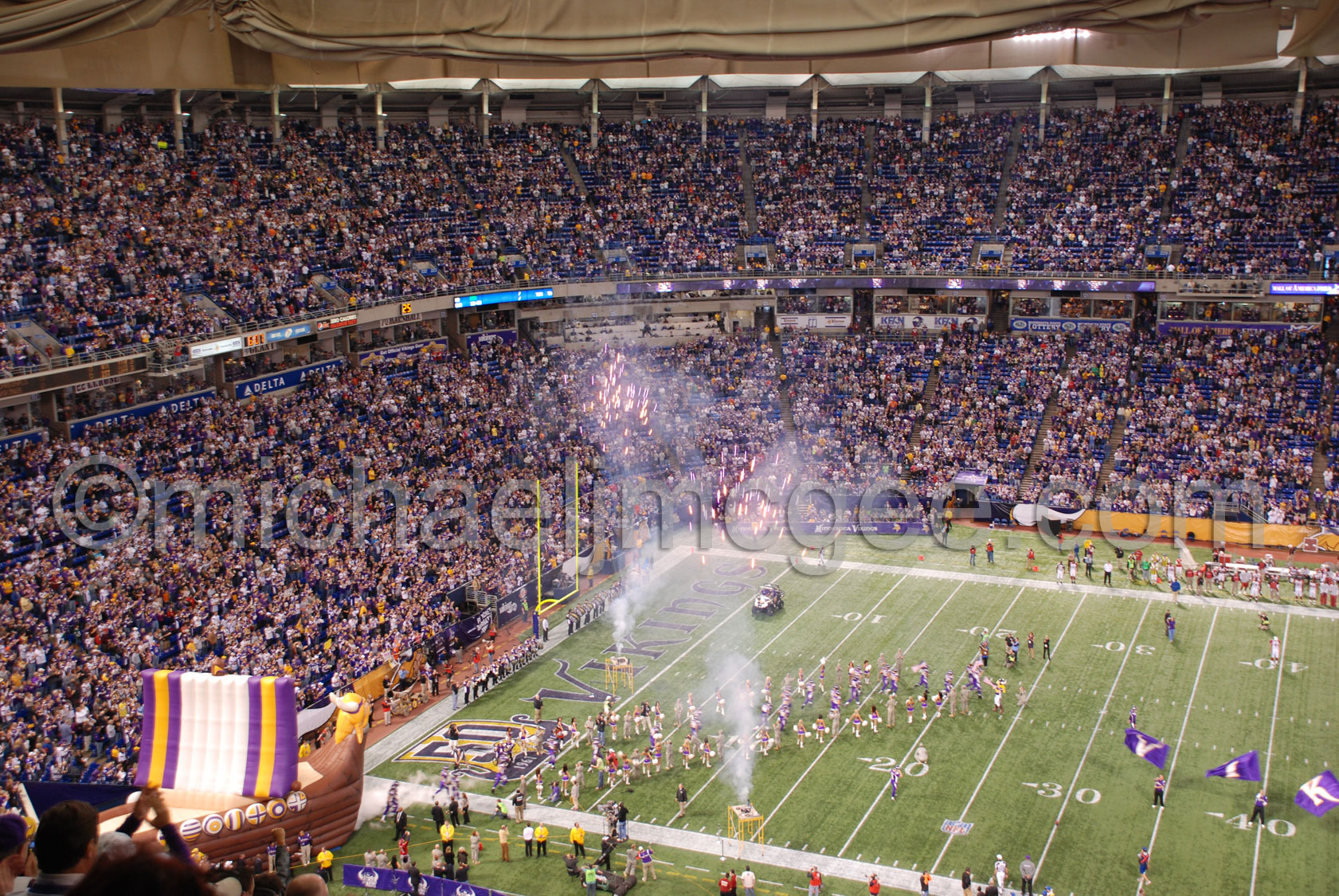 Vikings get introduced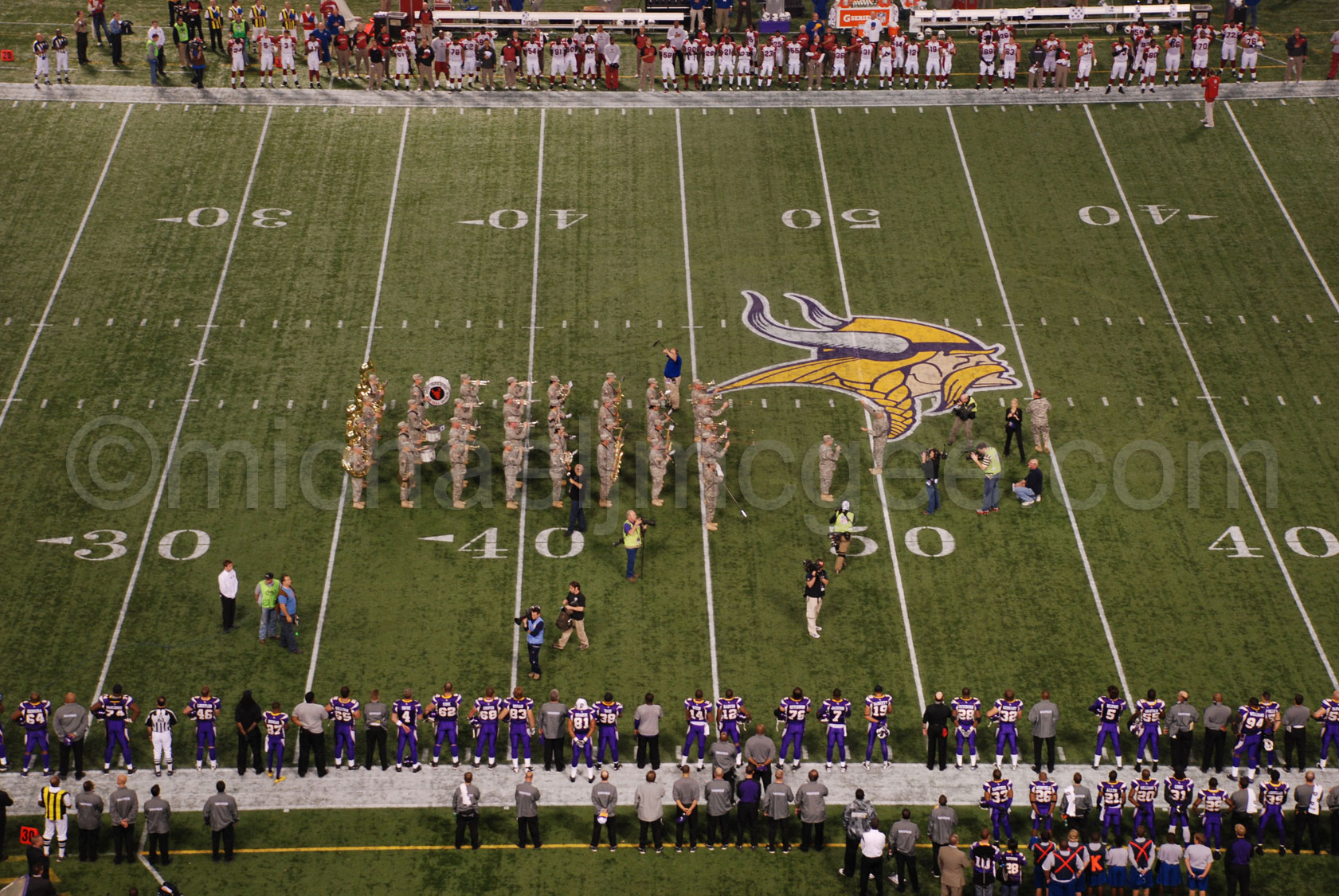 National Anthem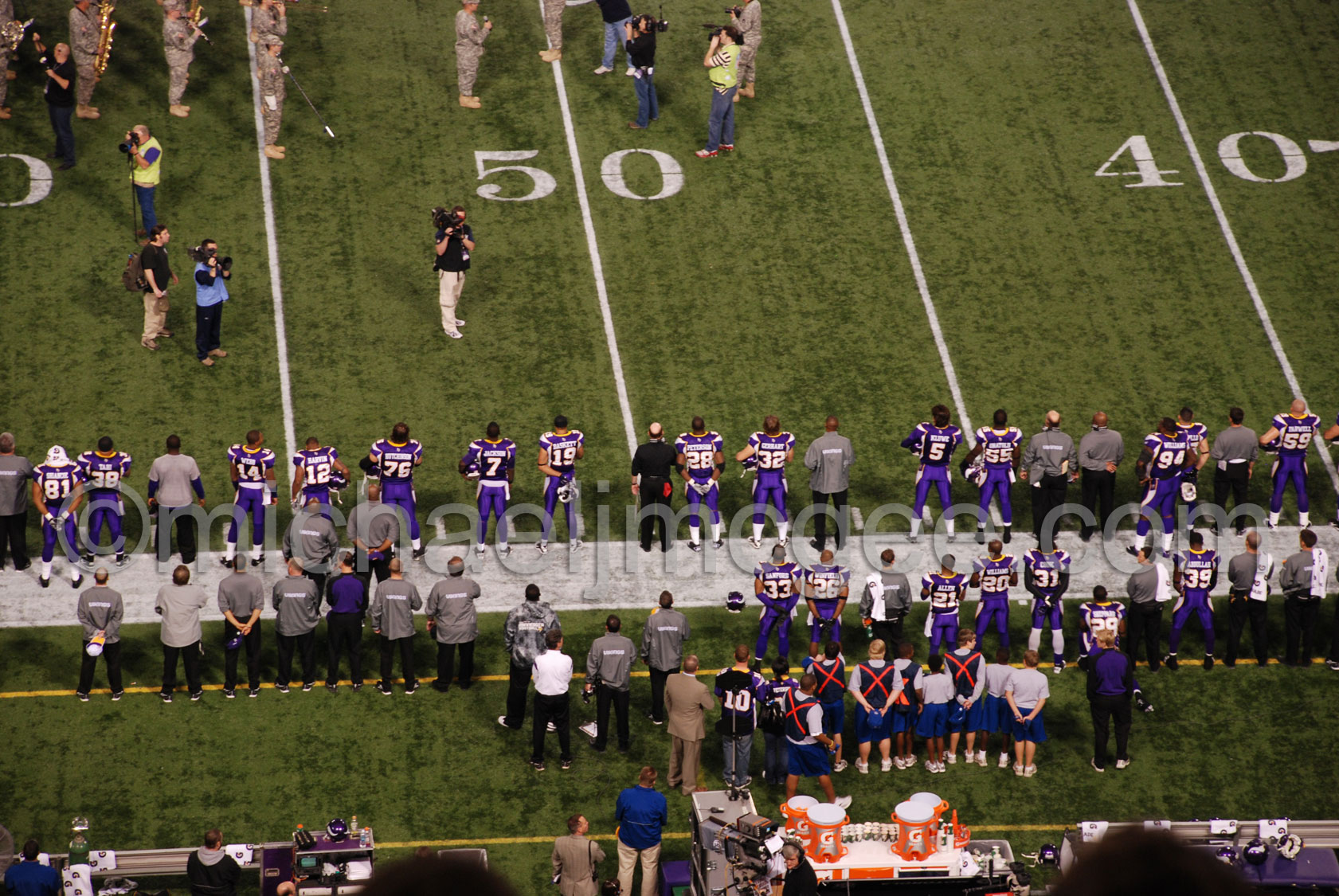 Chilly (C) with AP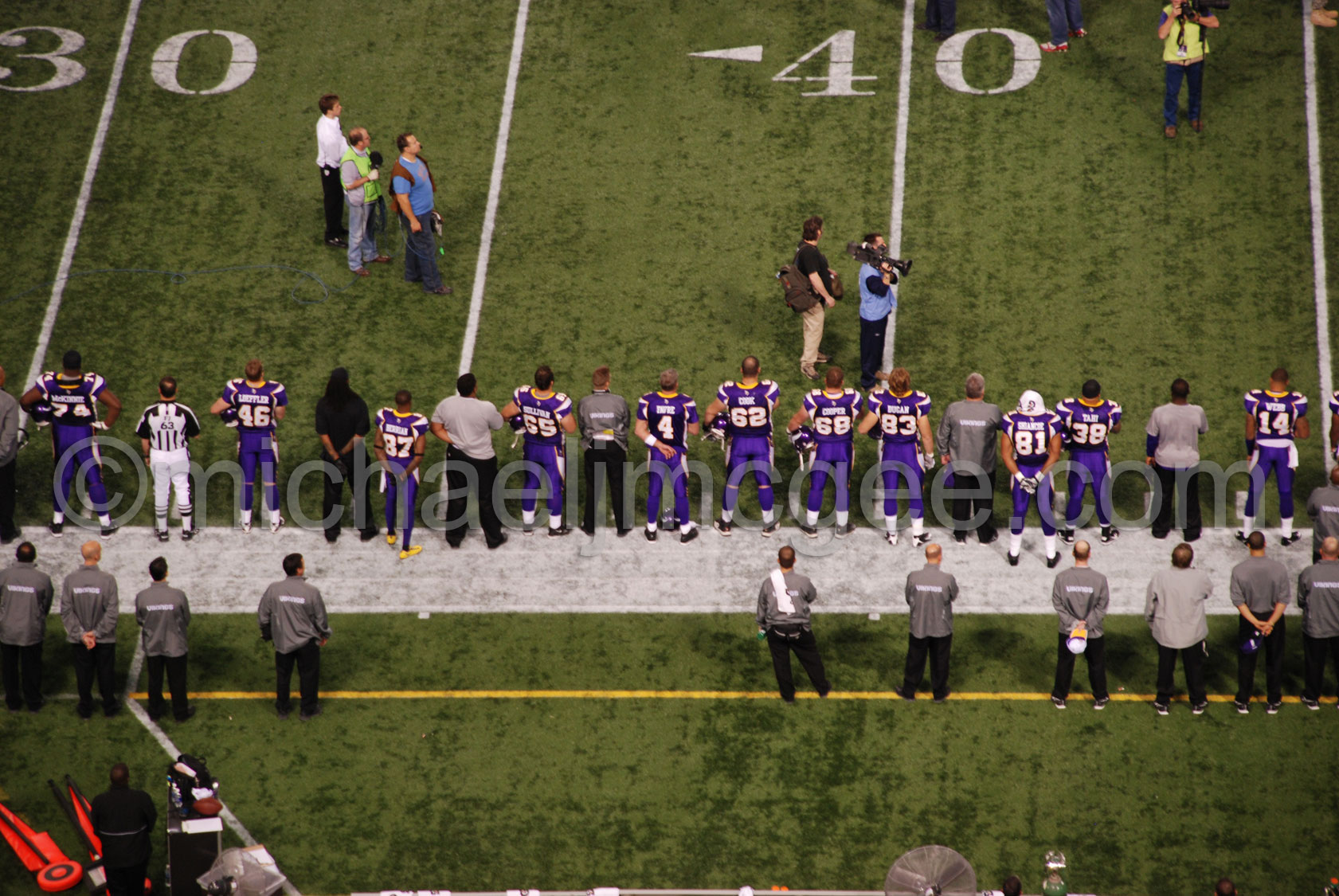 Favre & Co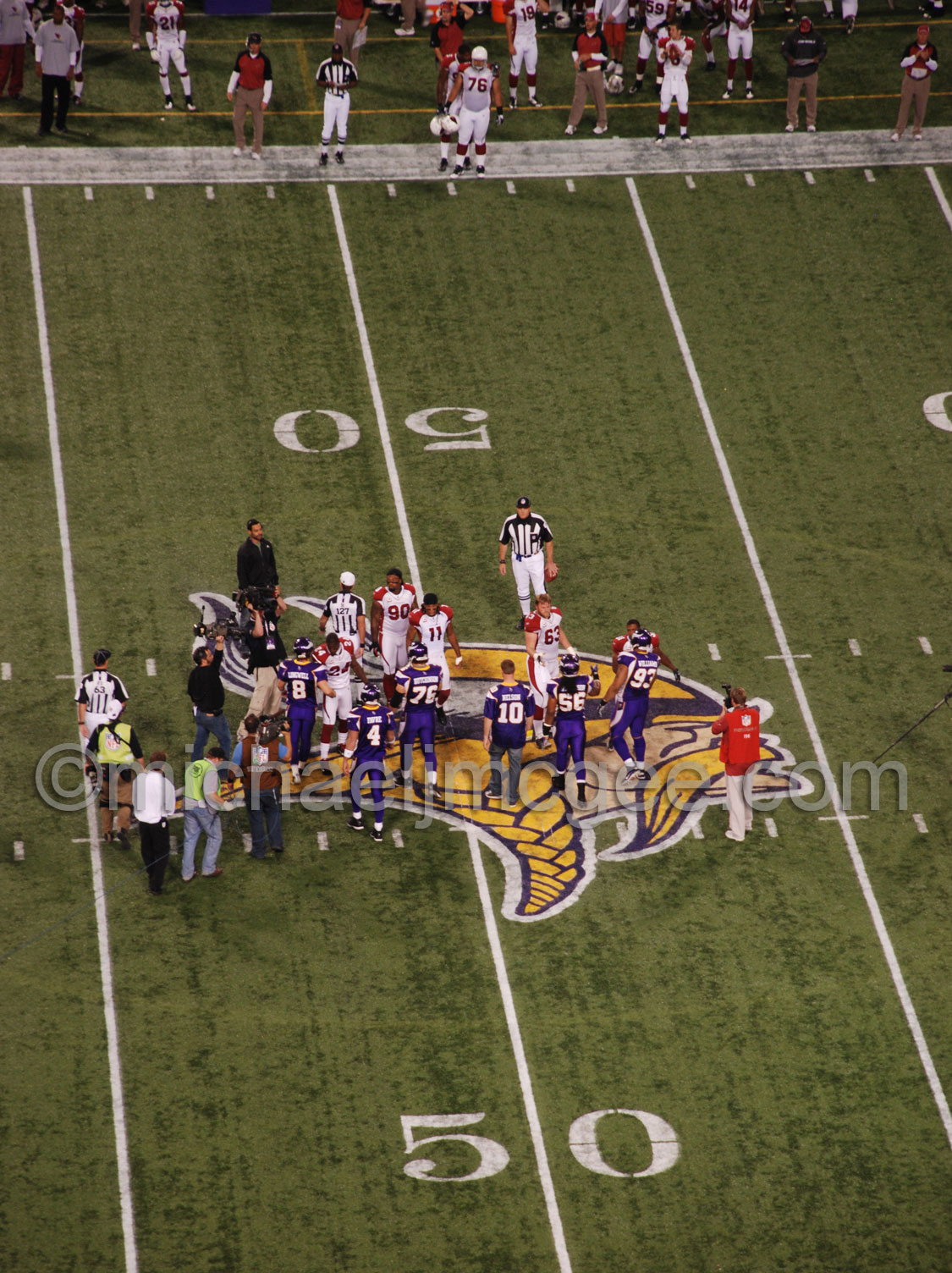 Coin toss
Here we go!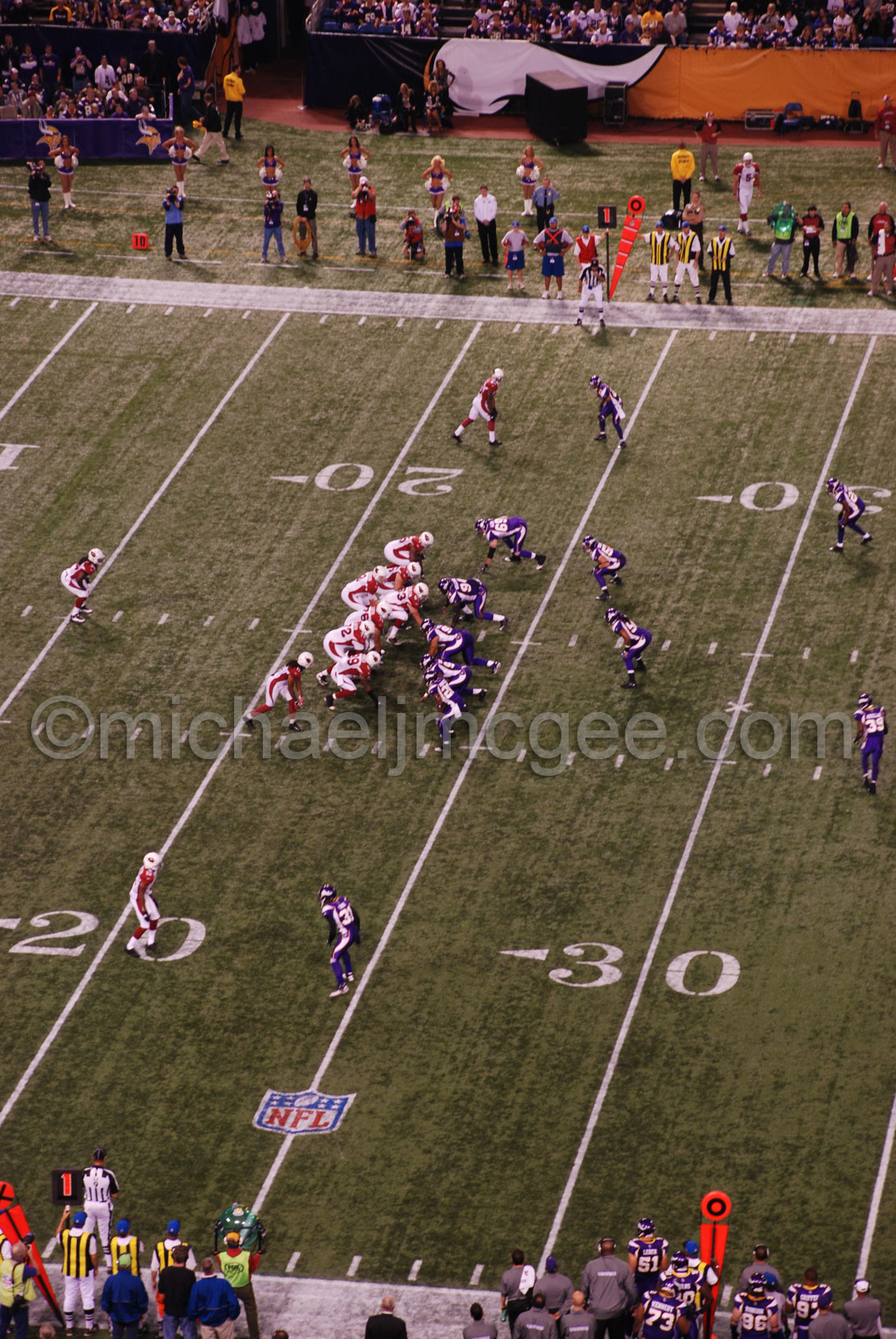 Cardinals get the ball & QB Derek Anderson leads them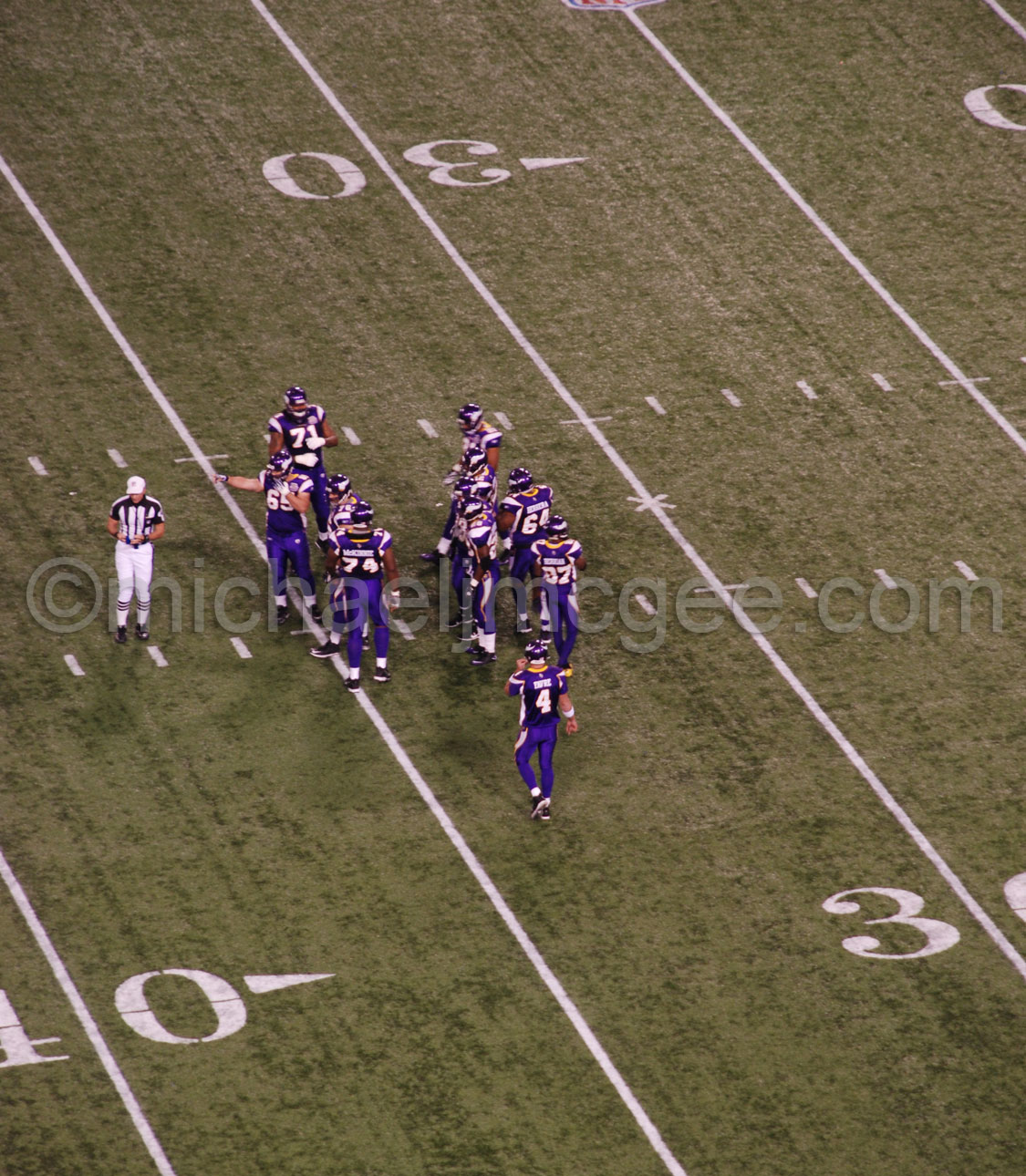 Here comes #4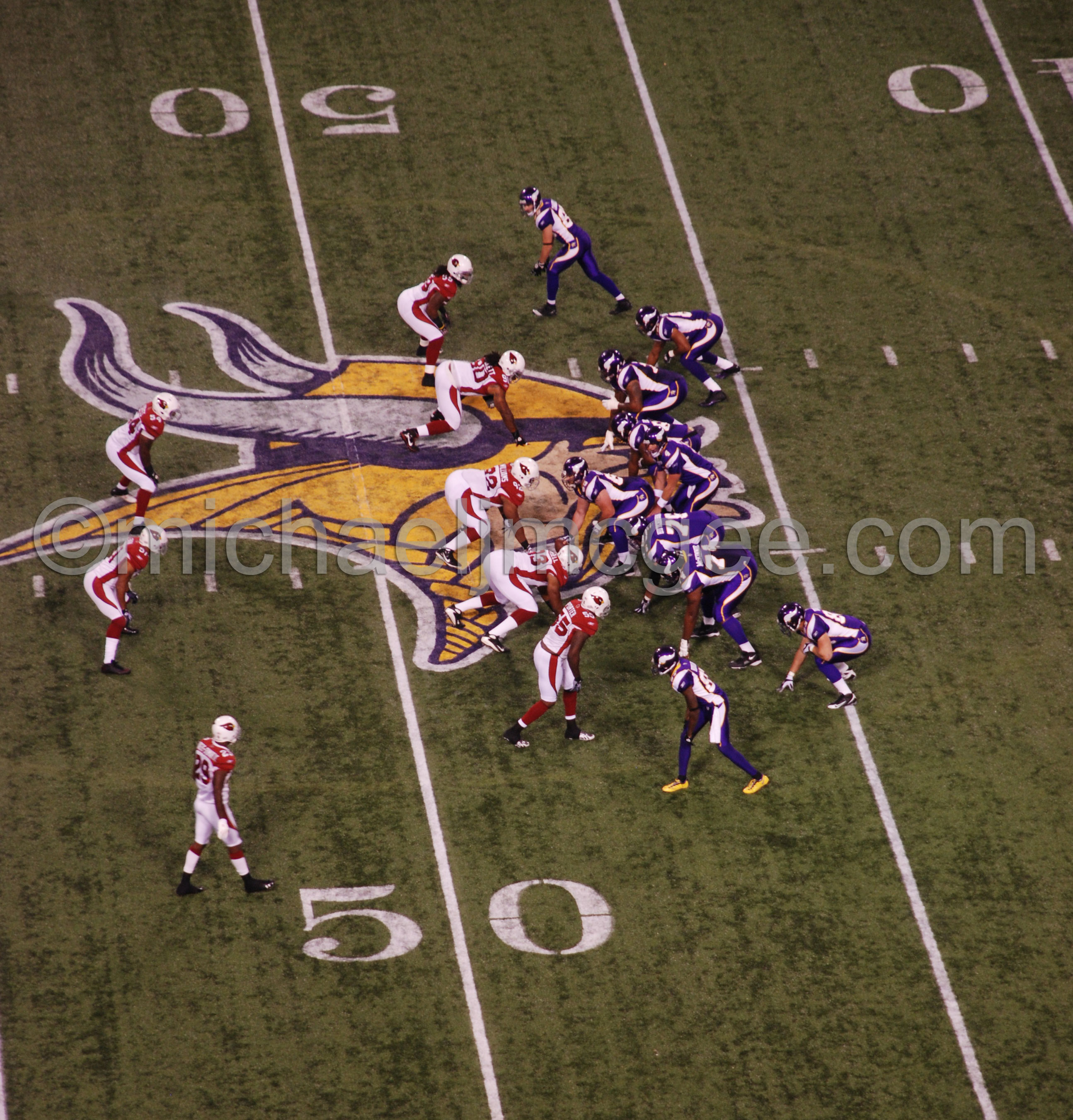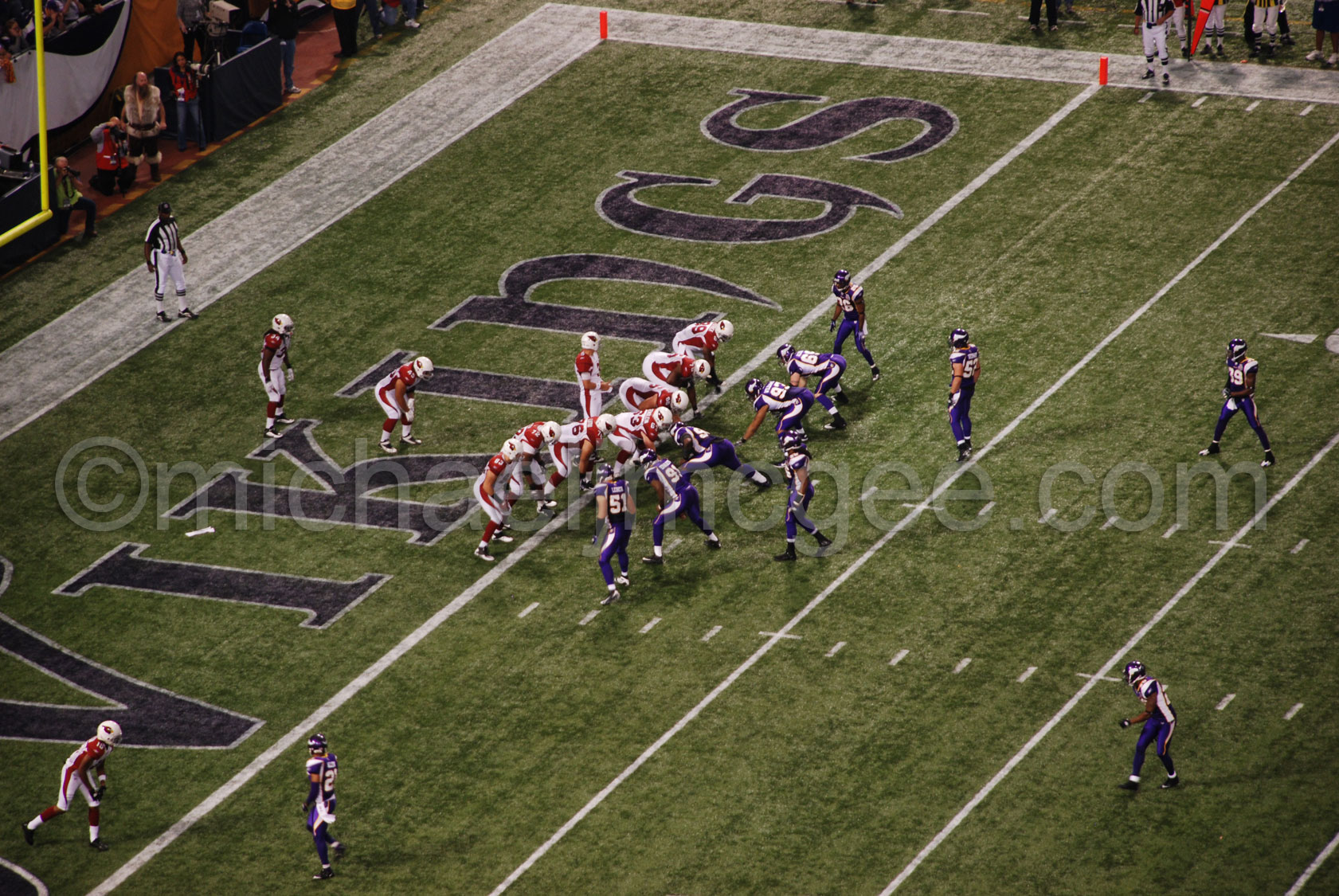 Backed up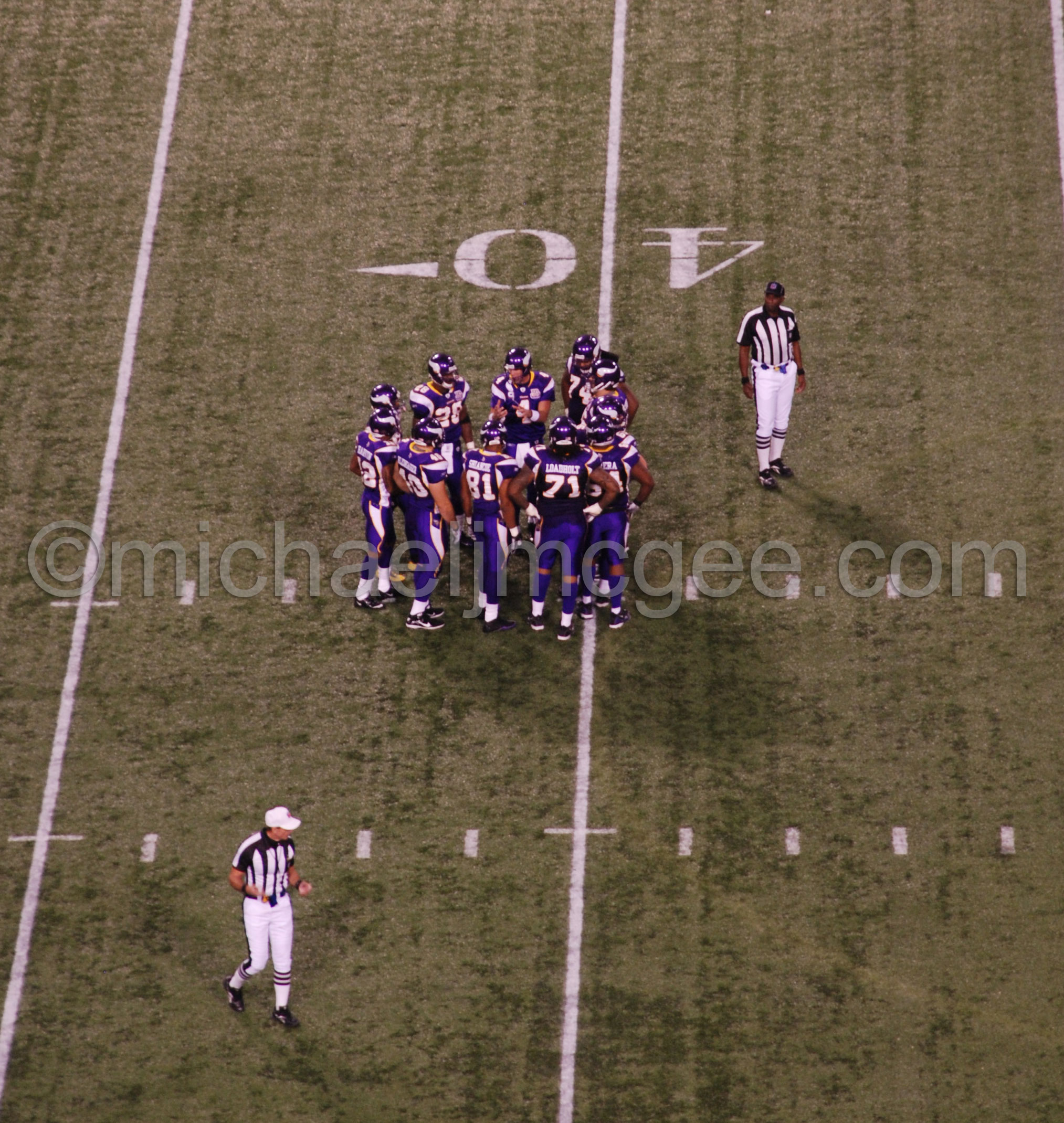 Favre directs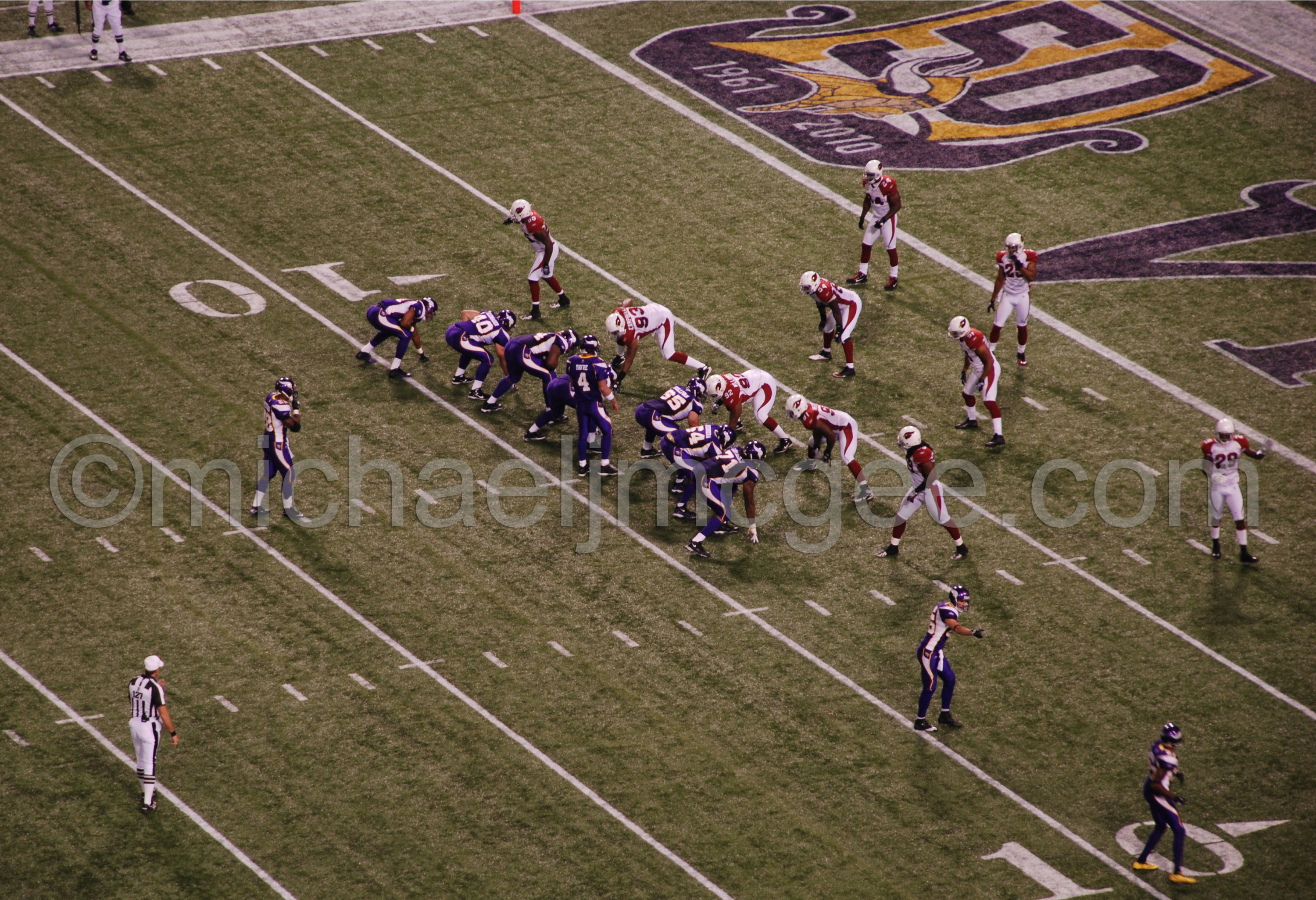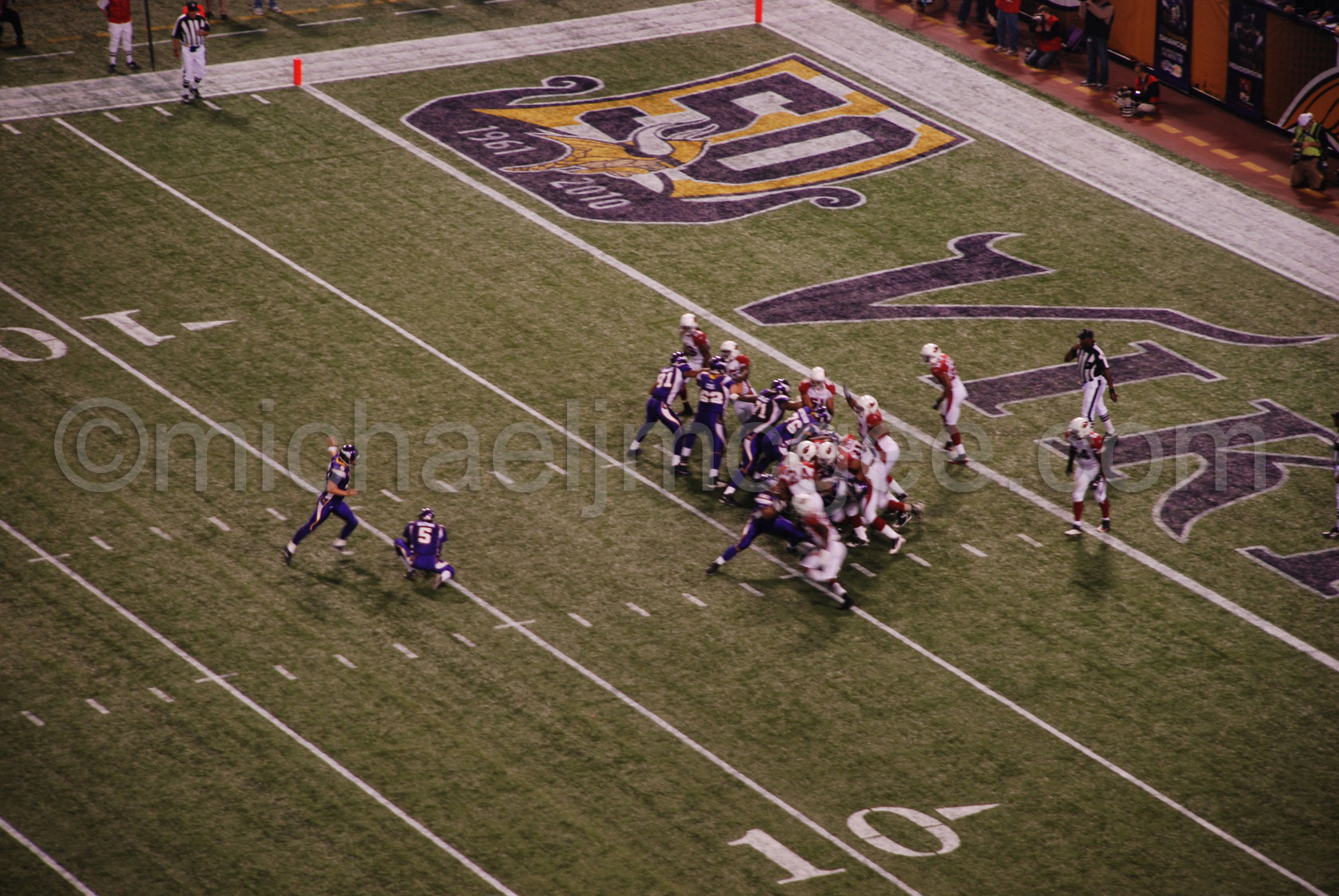 Longwell boots one in as the Vikings score first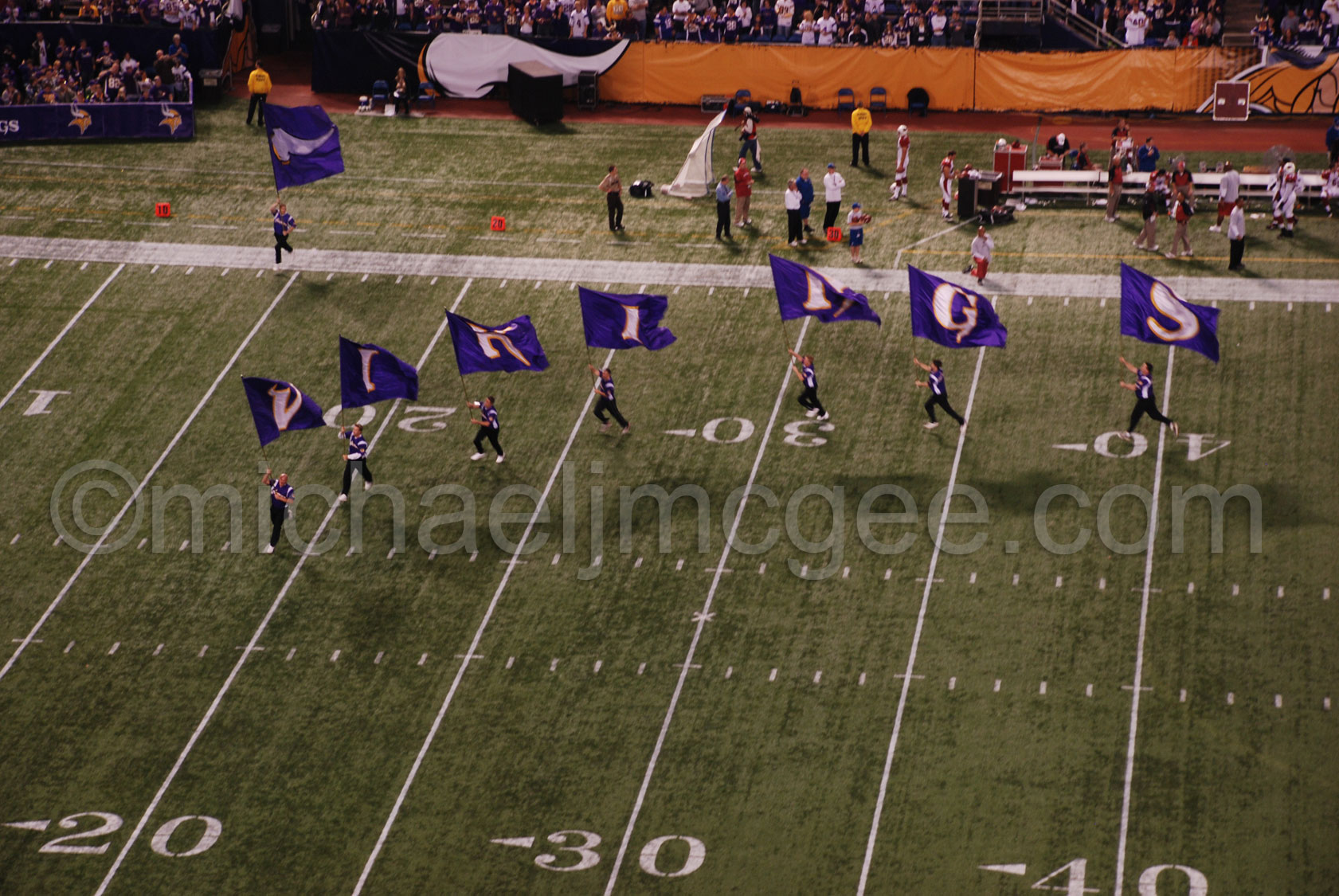 Let's celebrate shall we!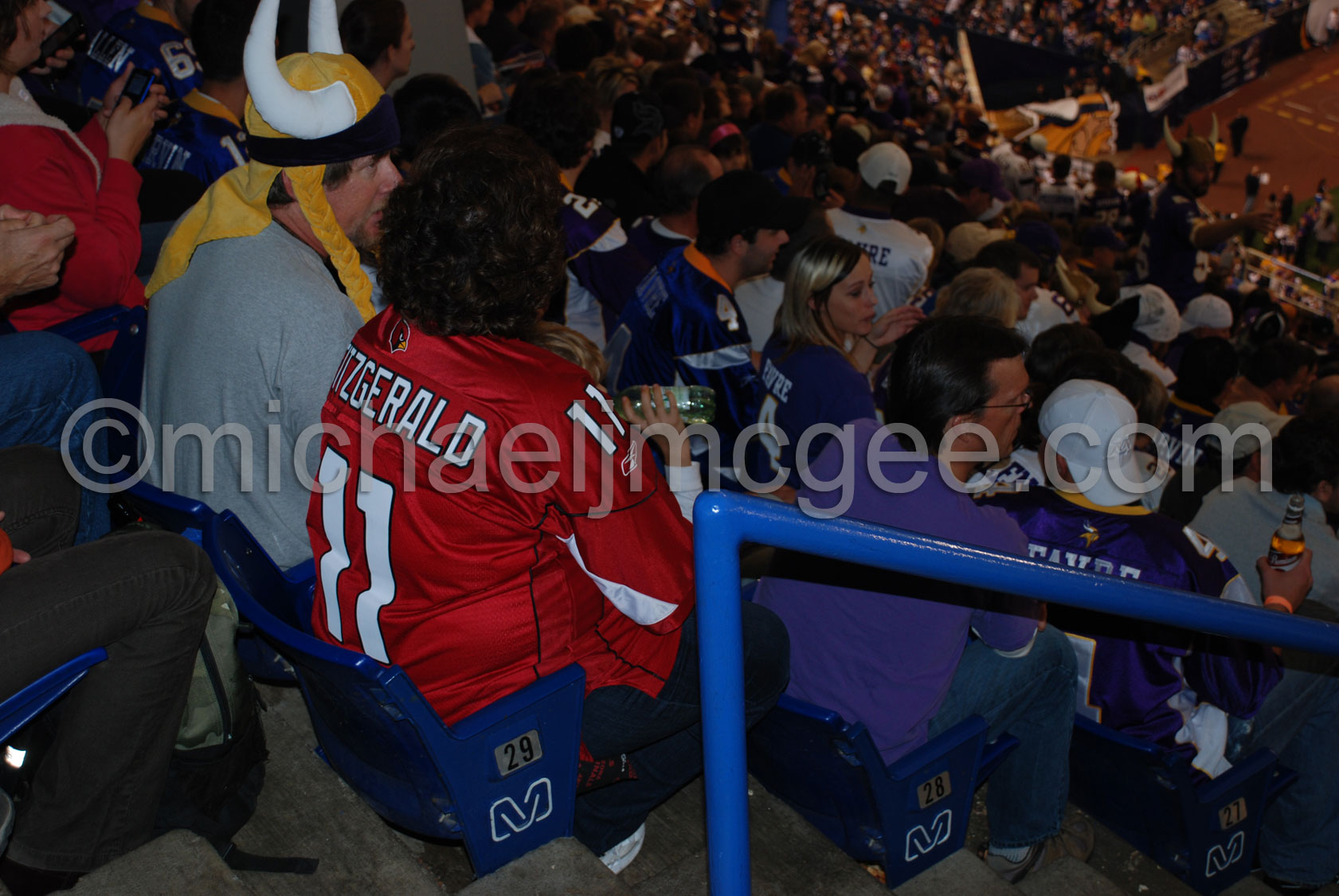 Boo Hiss!!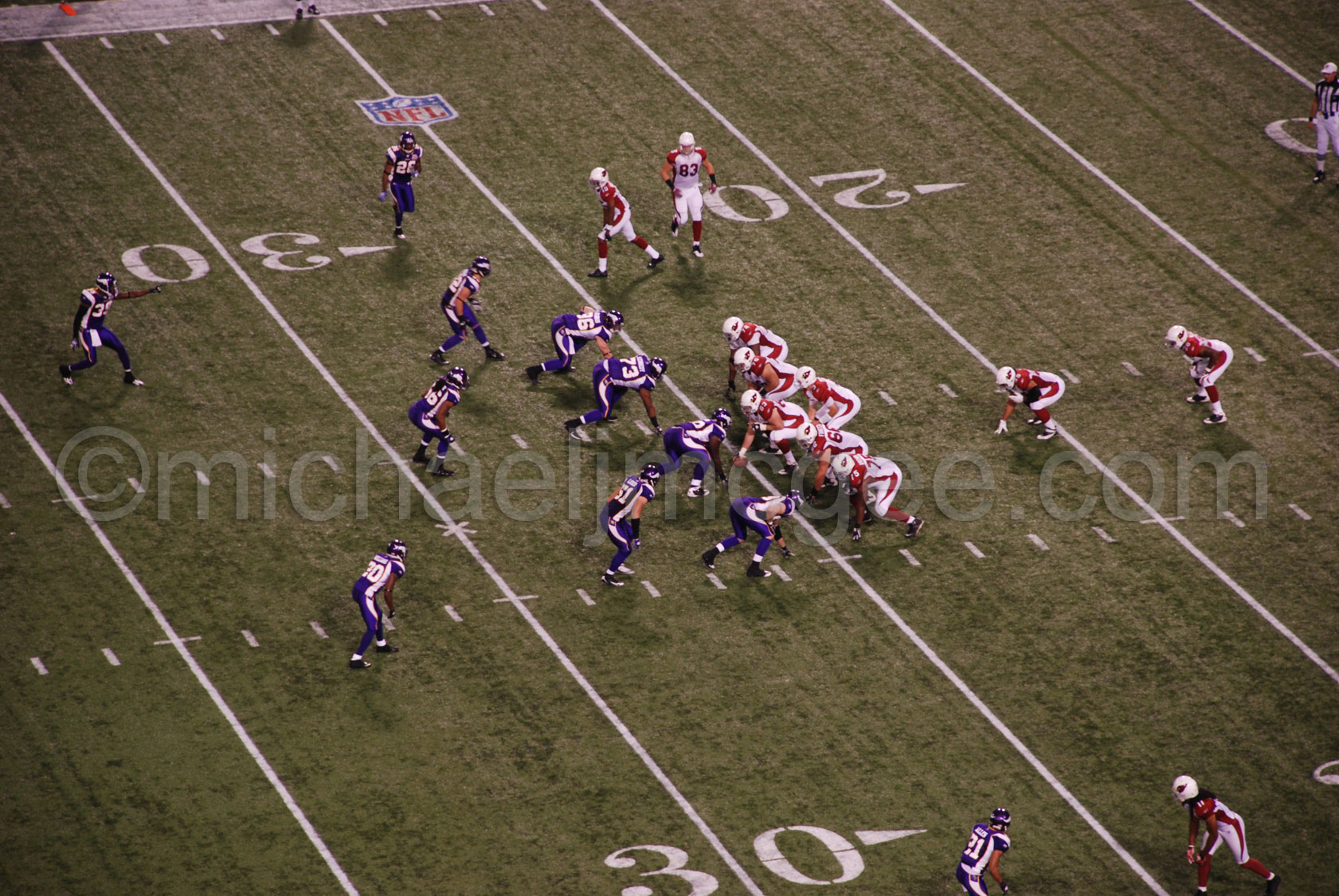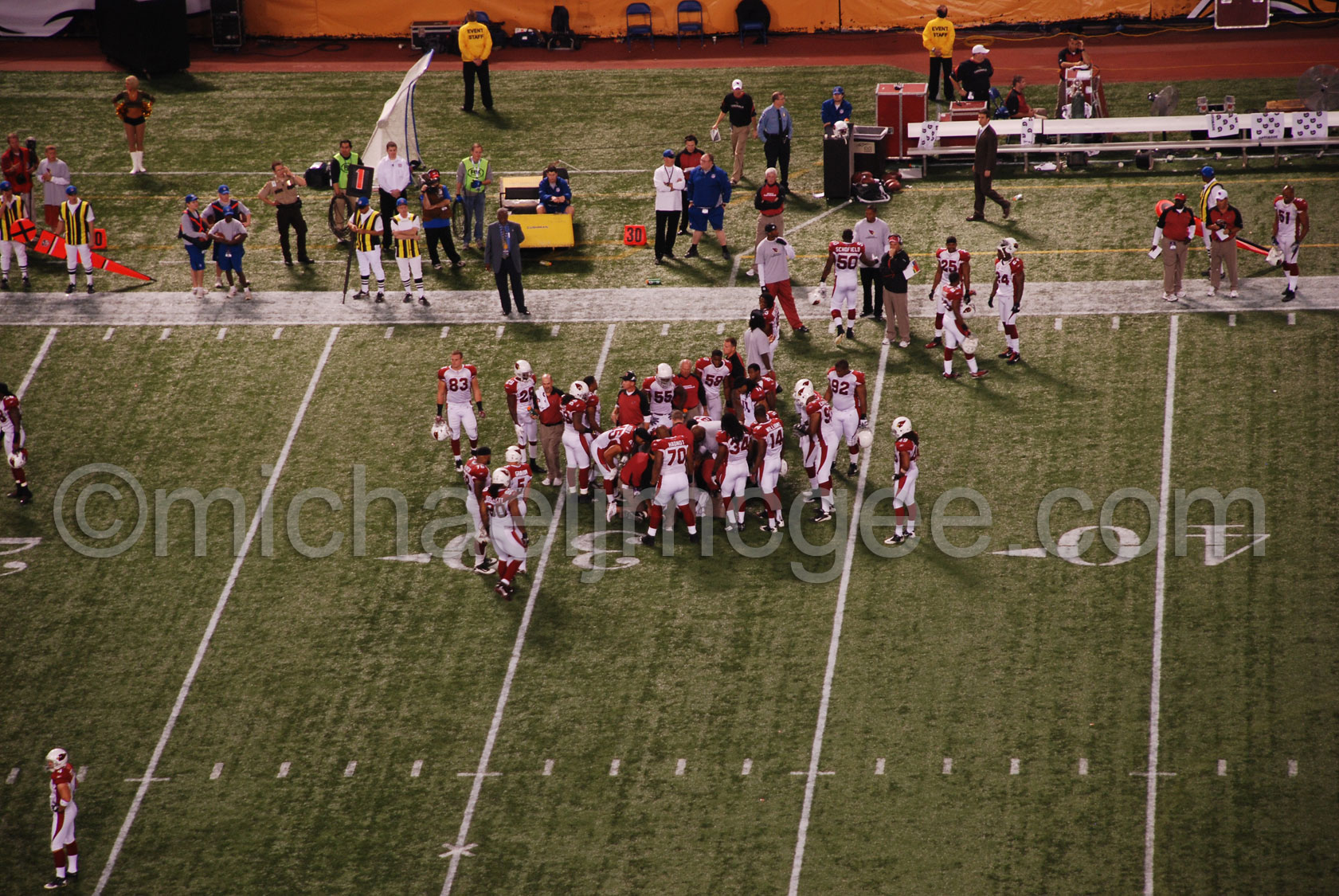 Cardinal down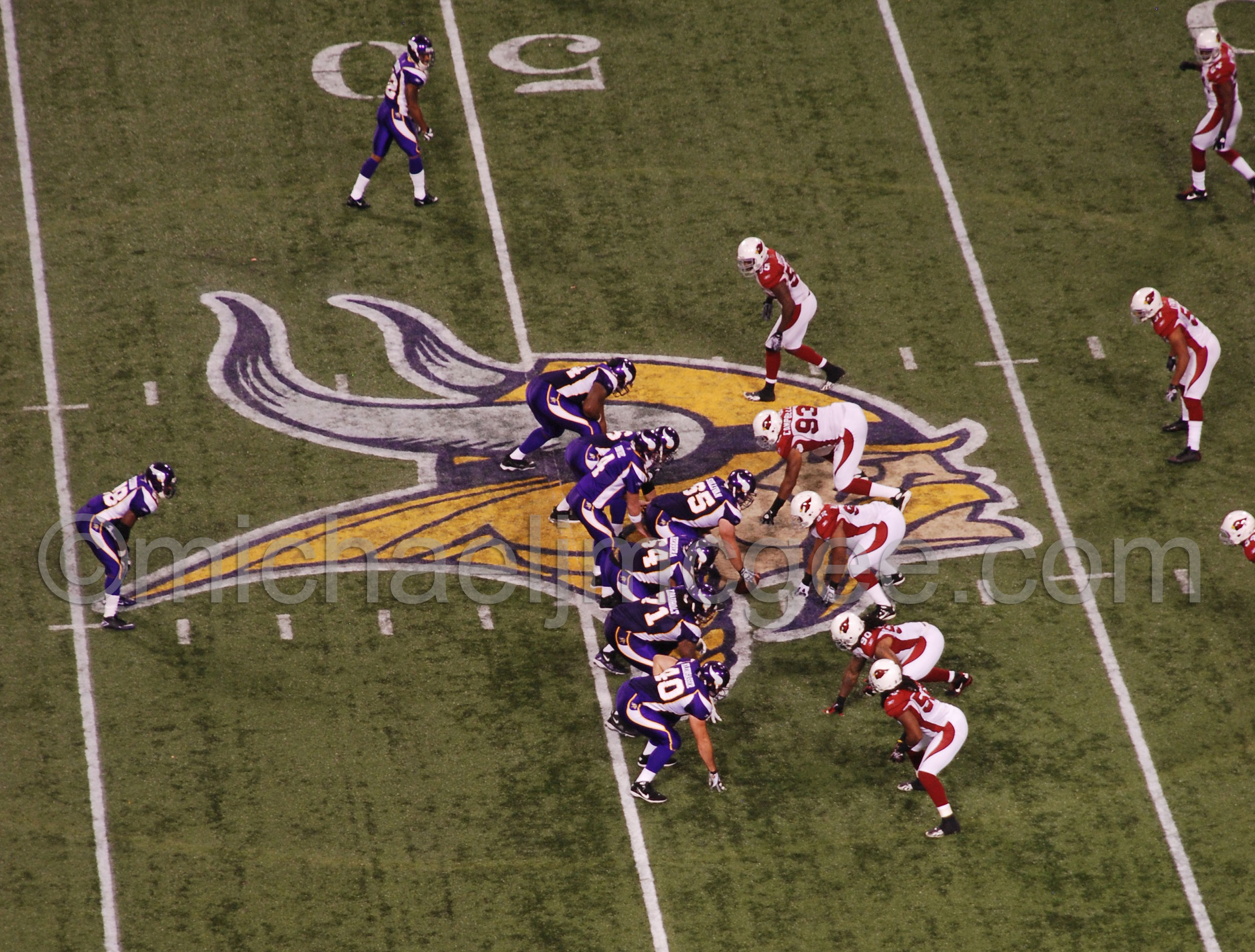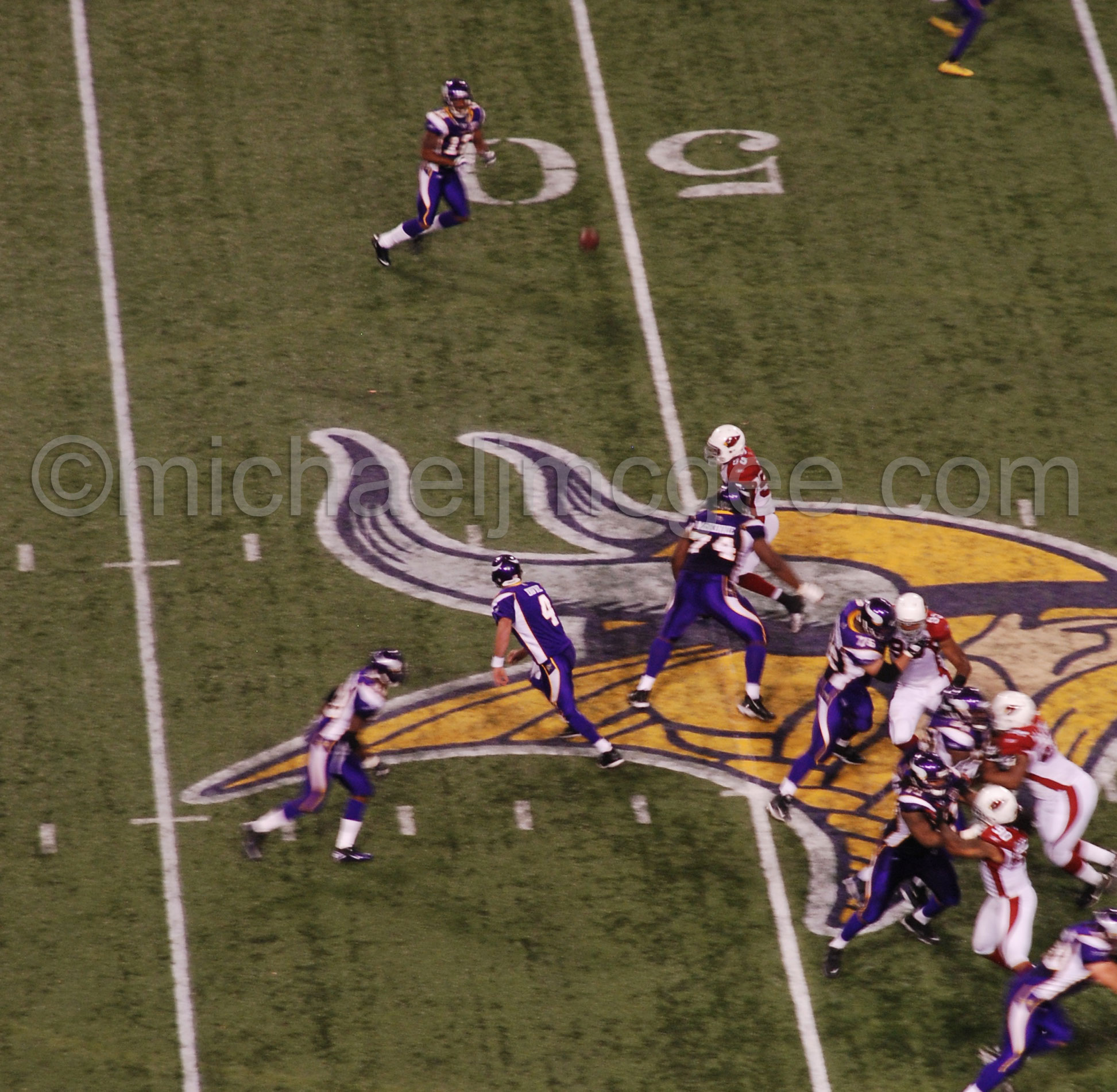 #4 in action, as Percy gets the call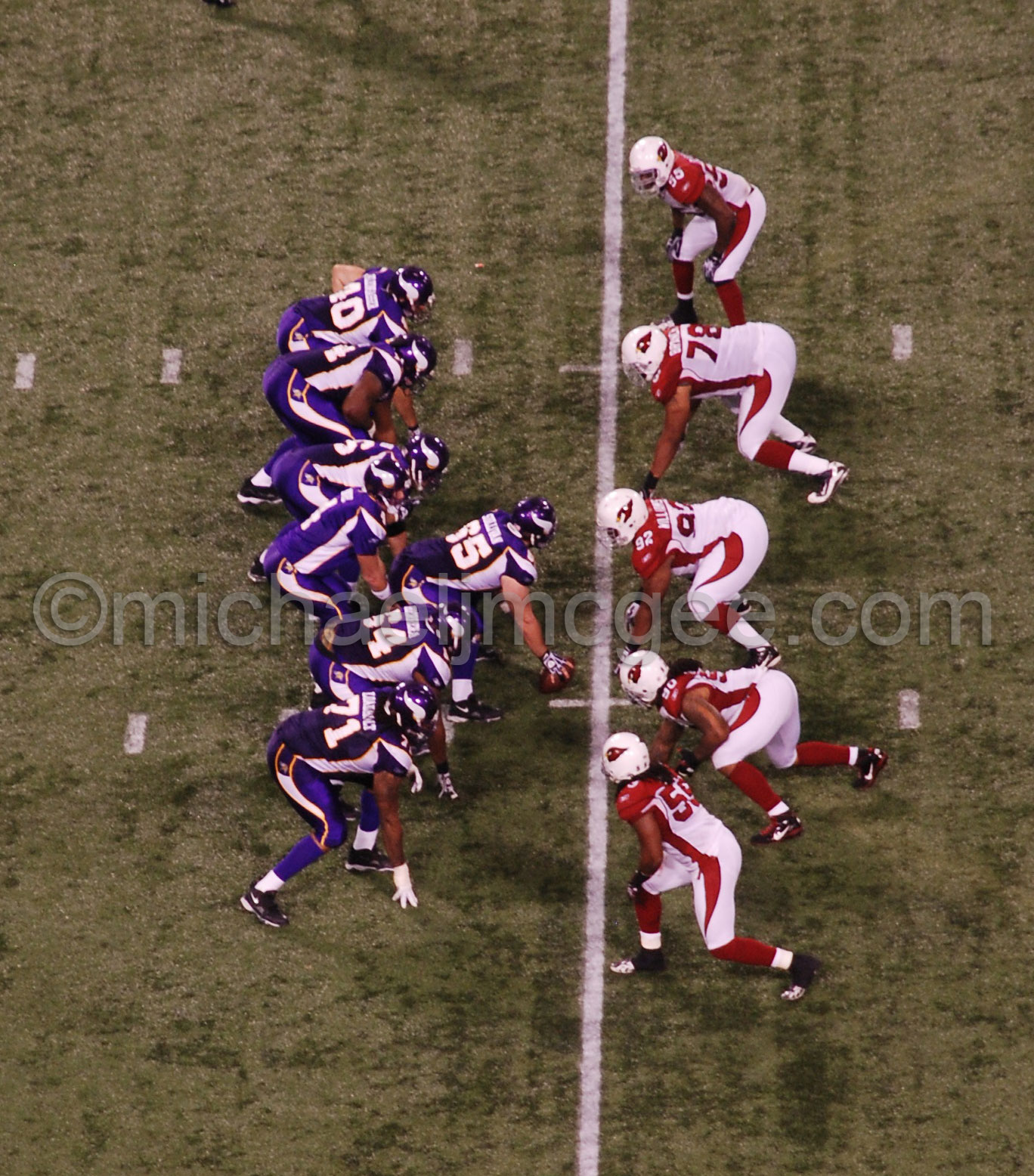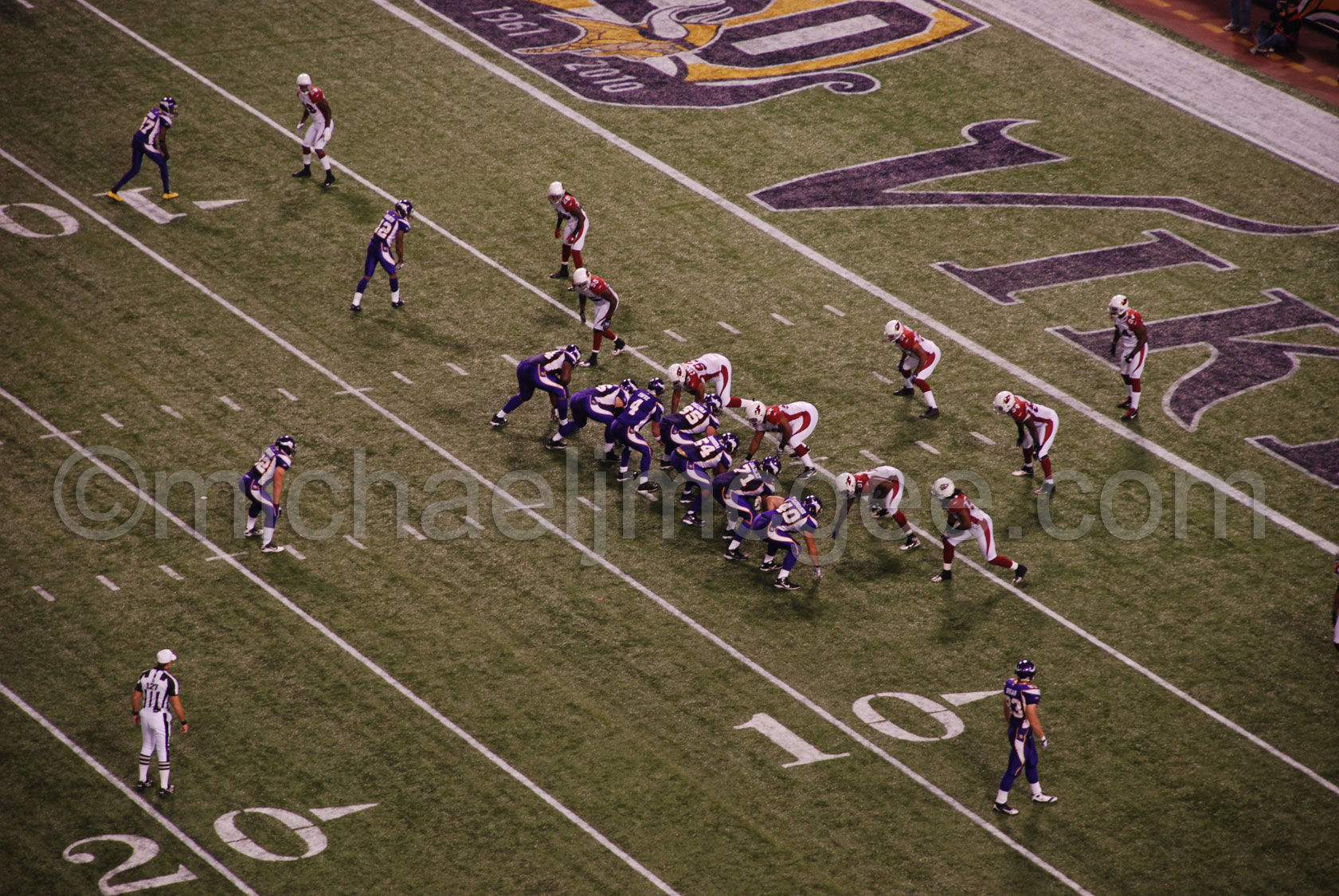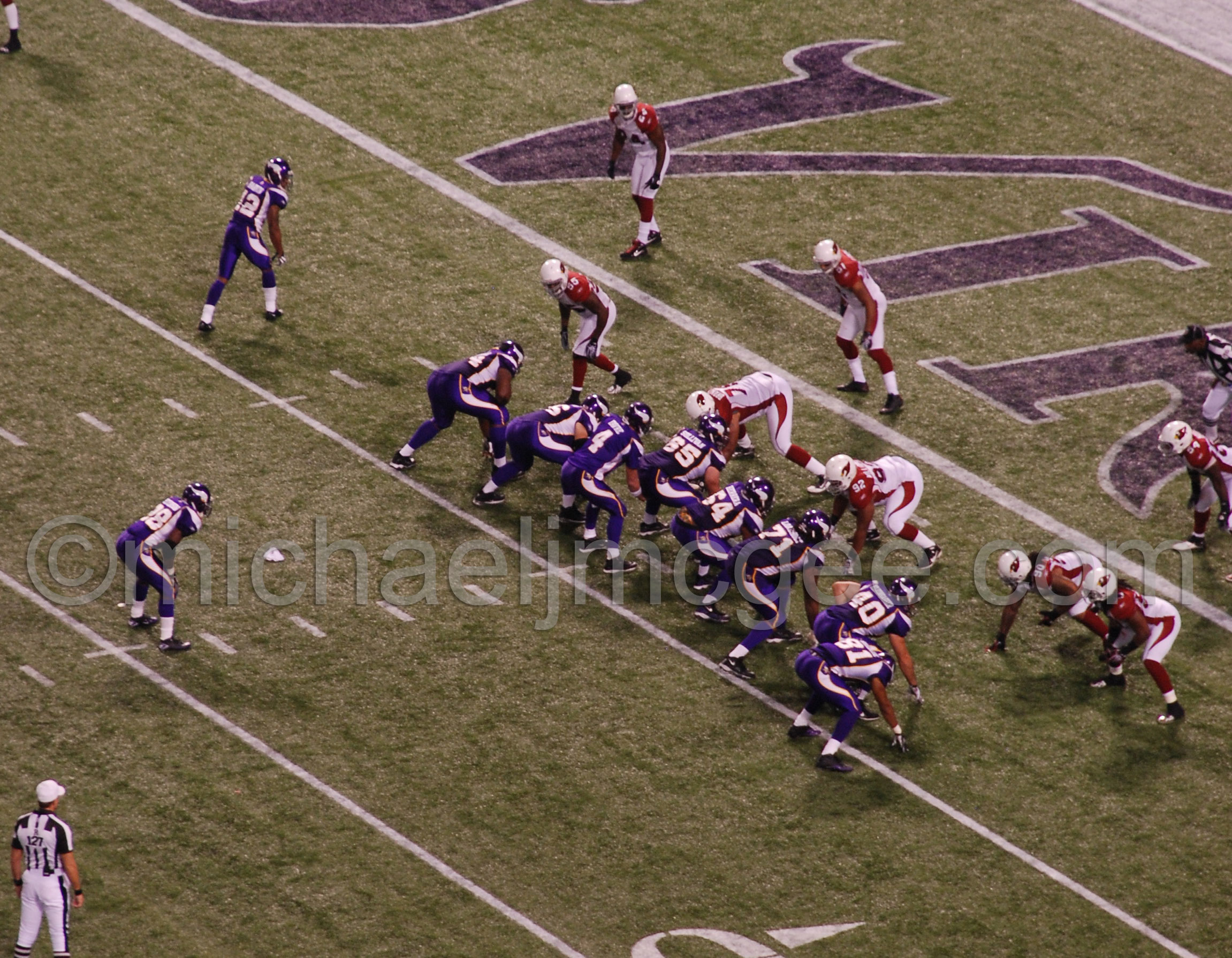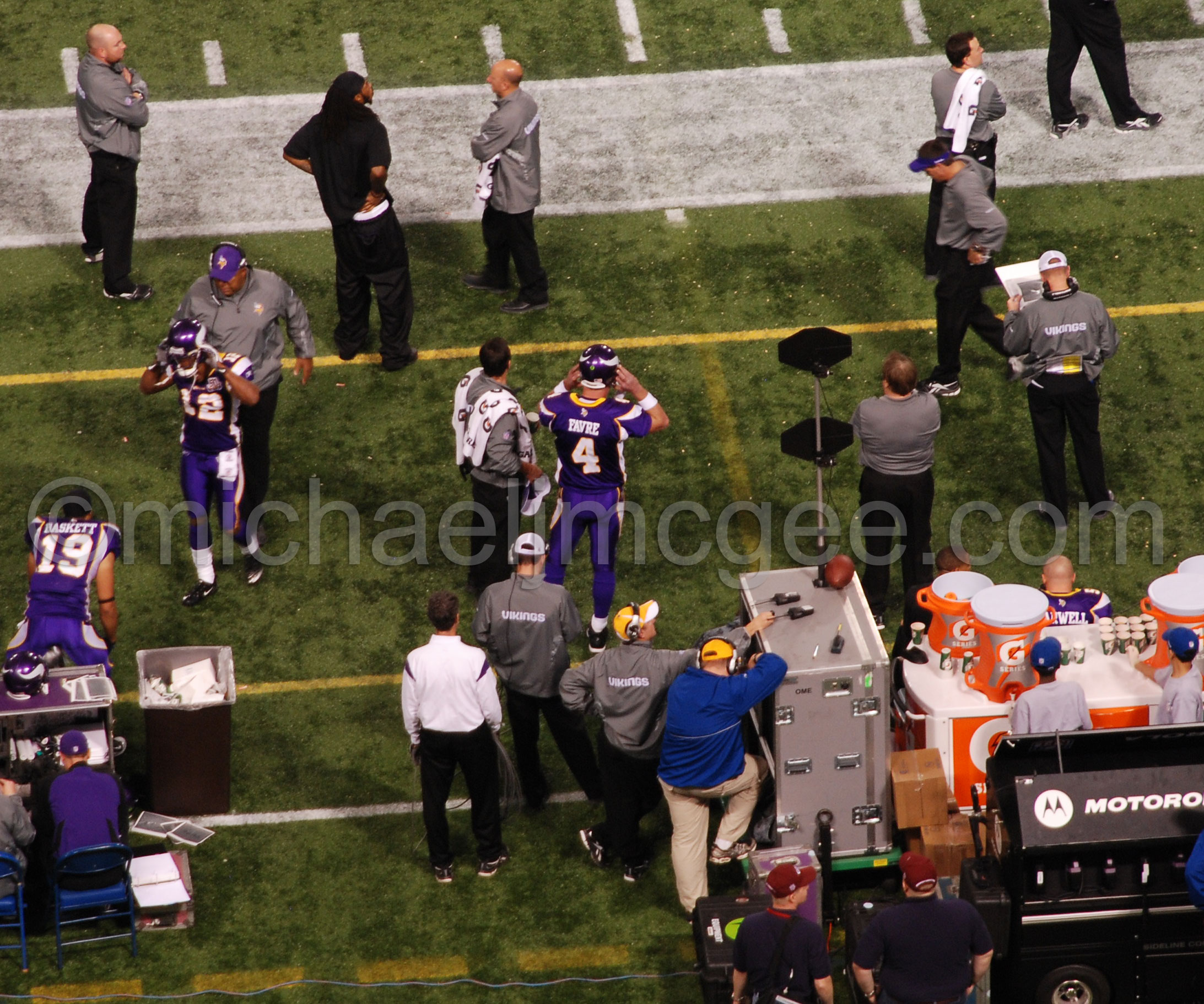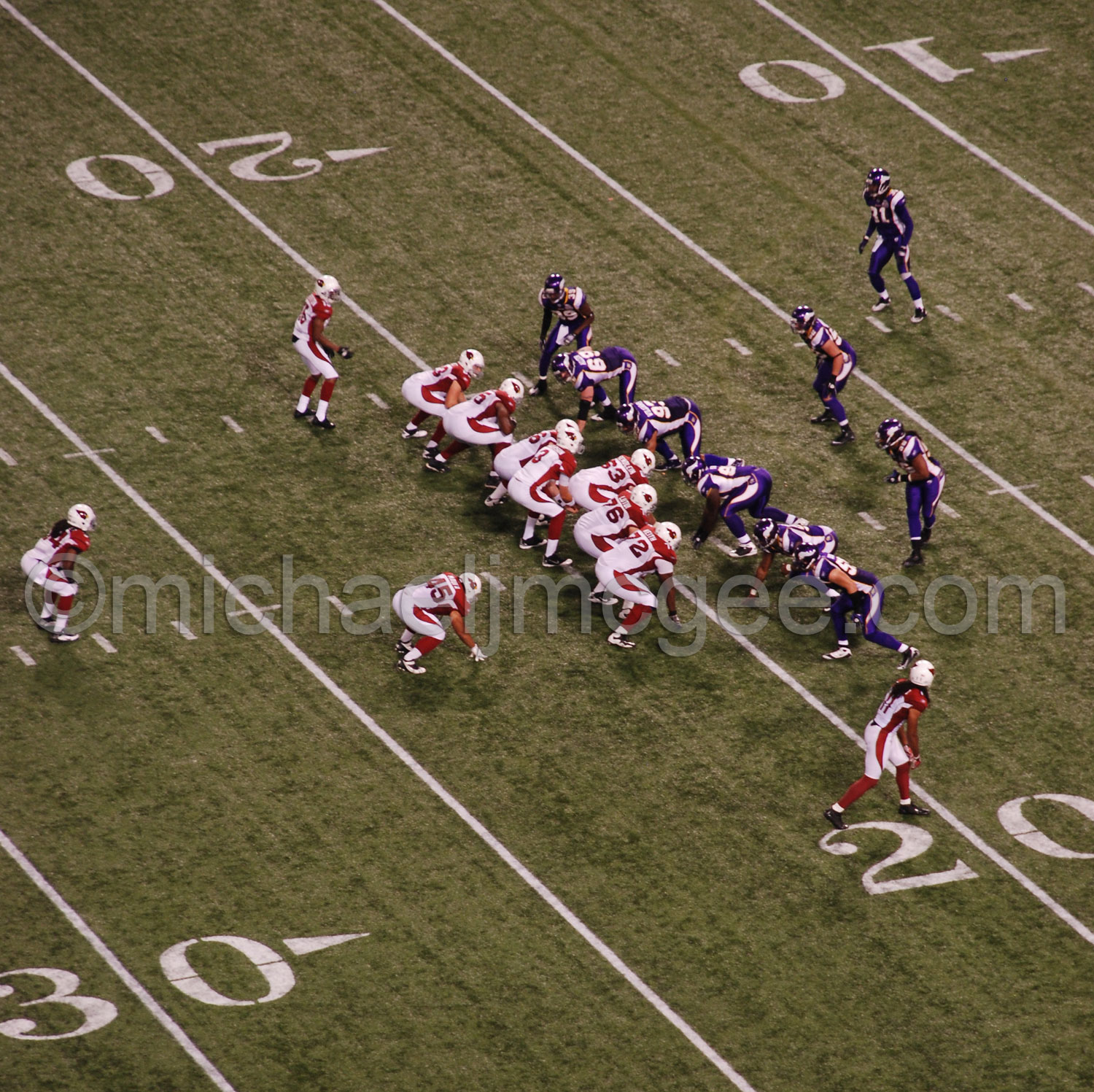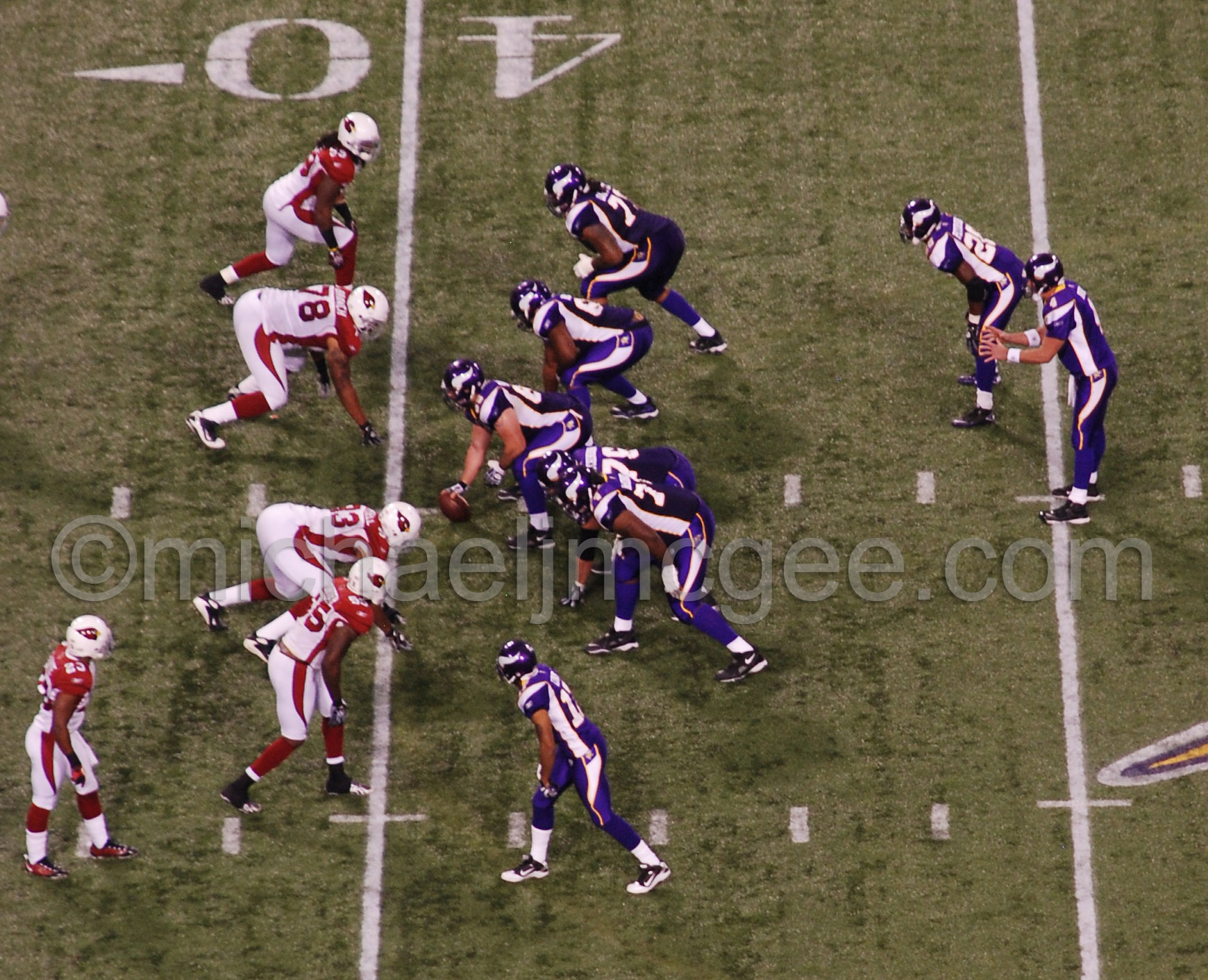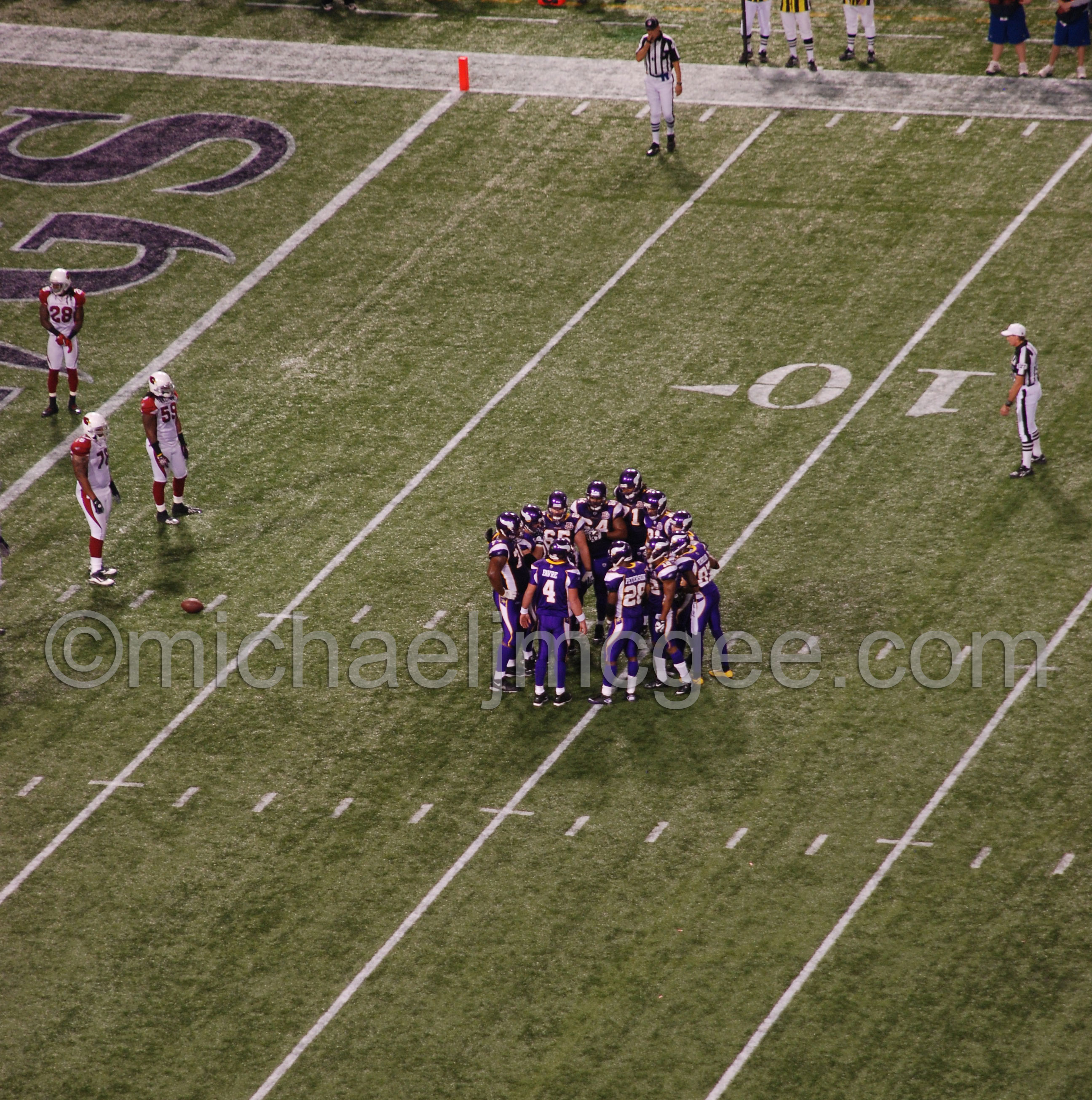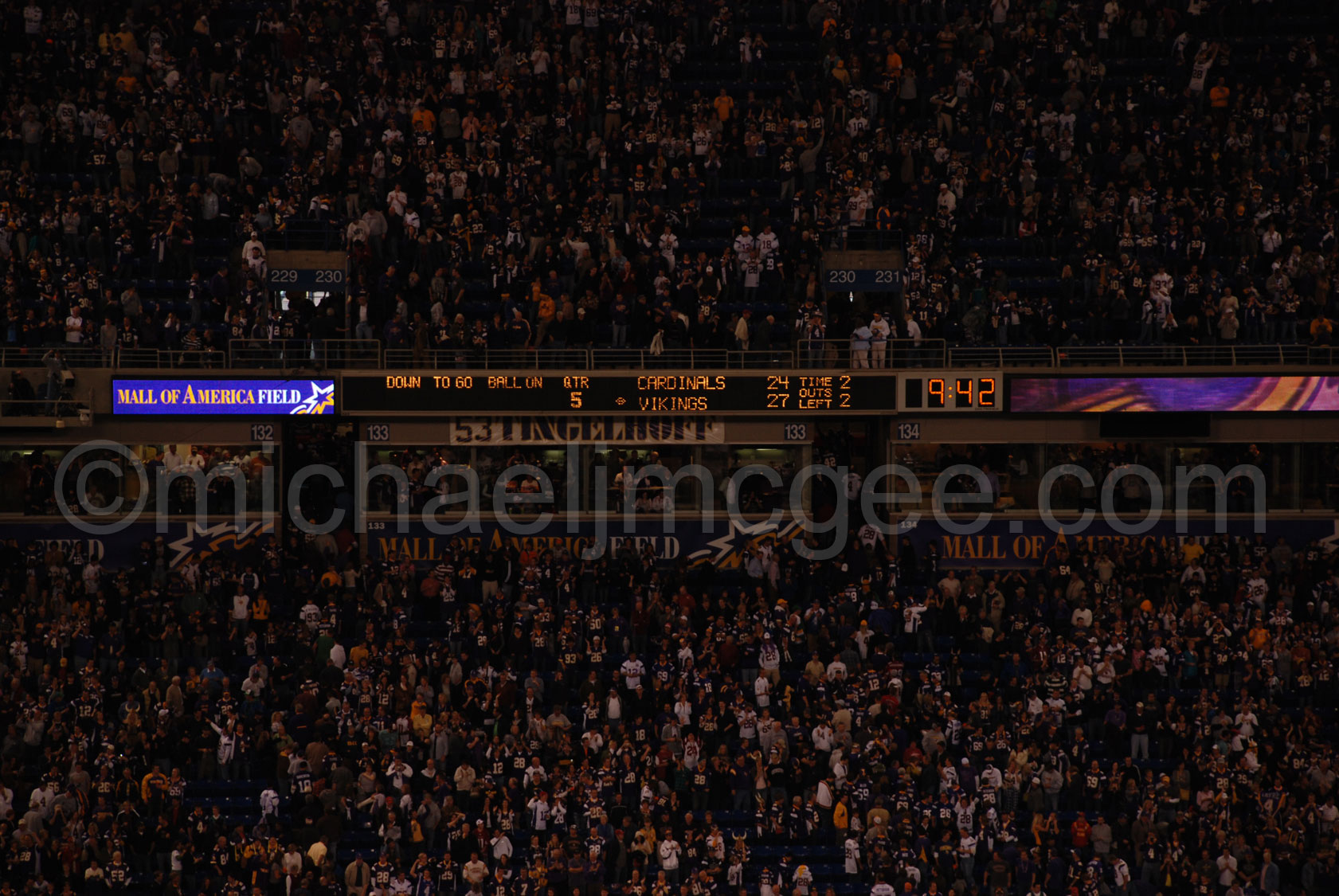 That's a Wrap!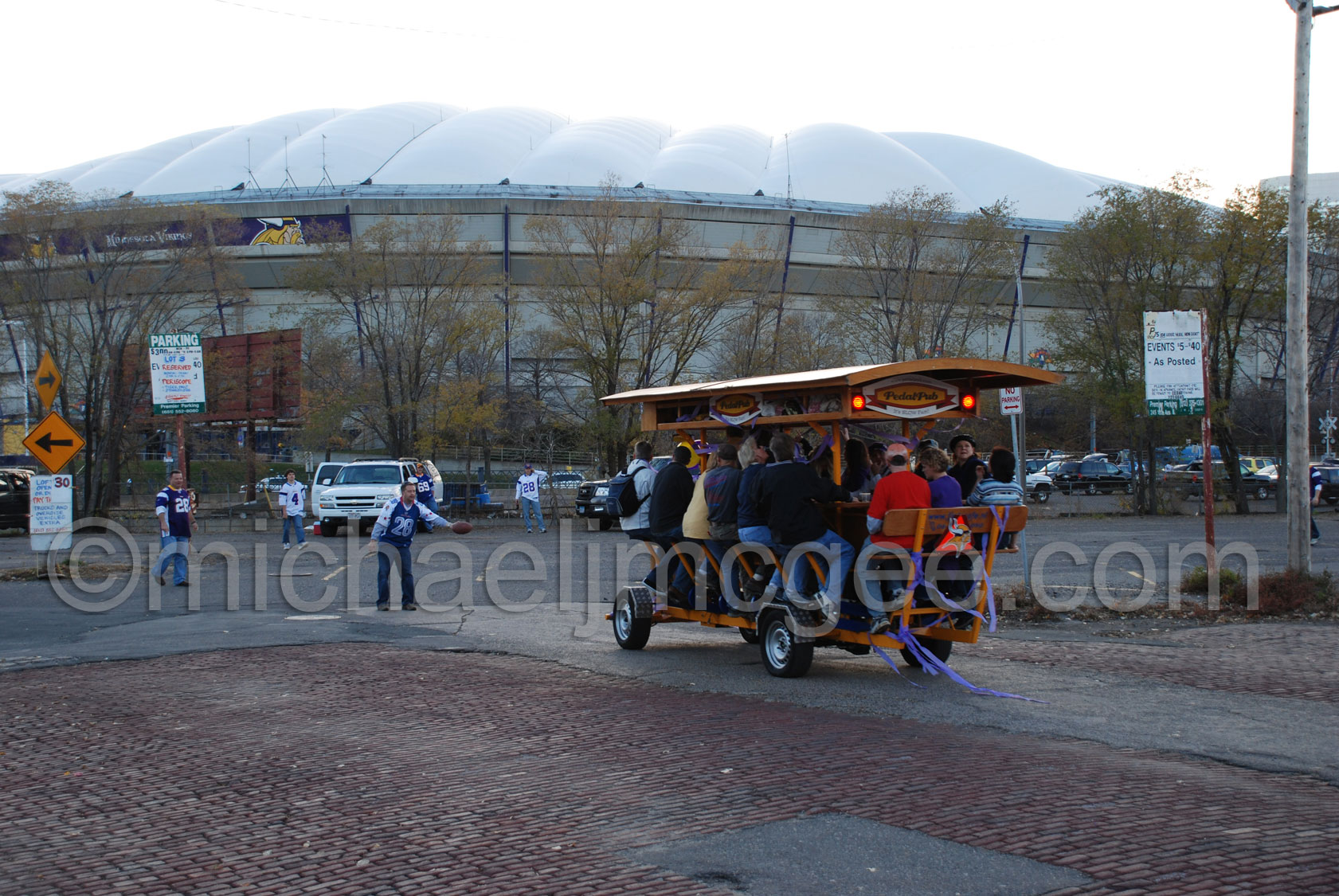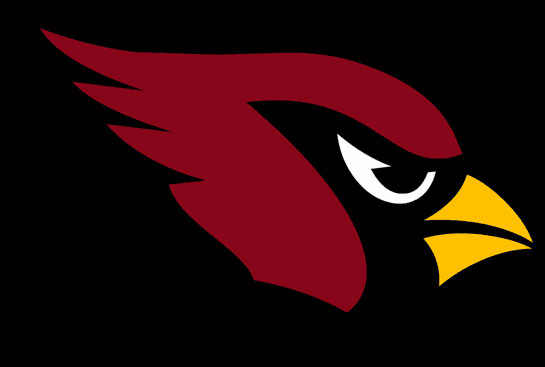 Cardinals lose this one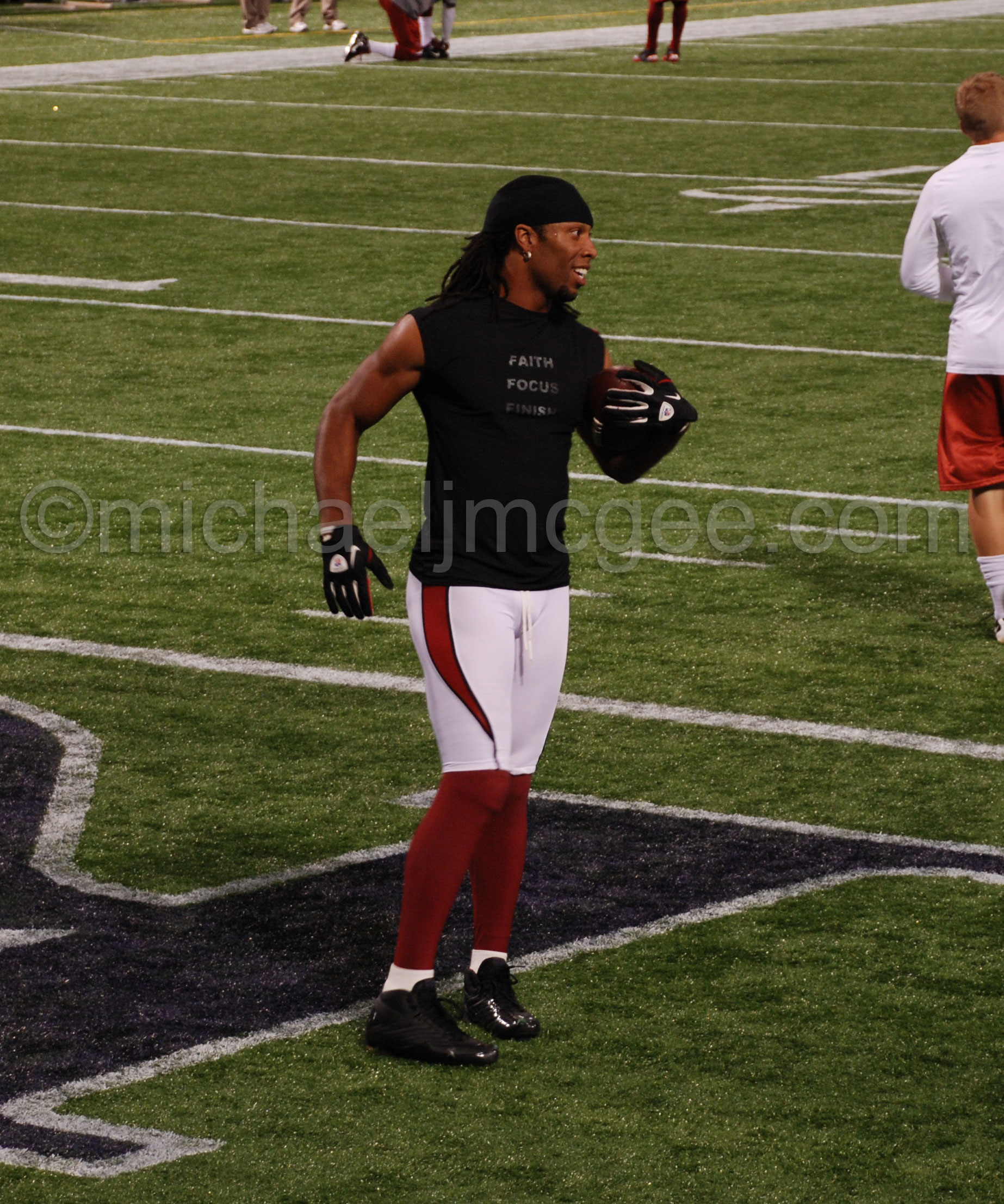 WR Larry Fitzgerald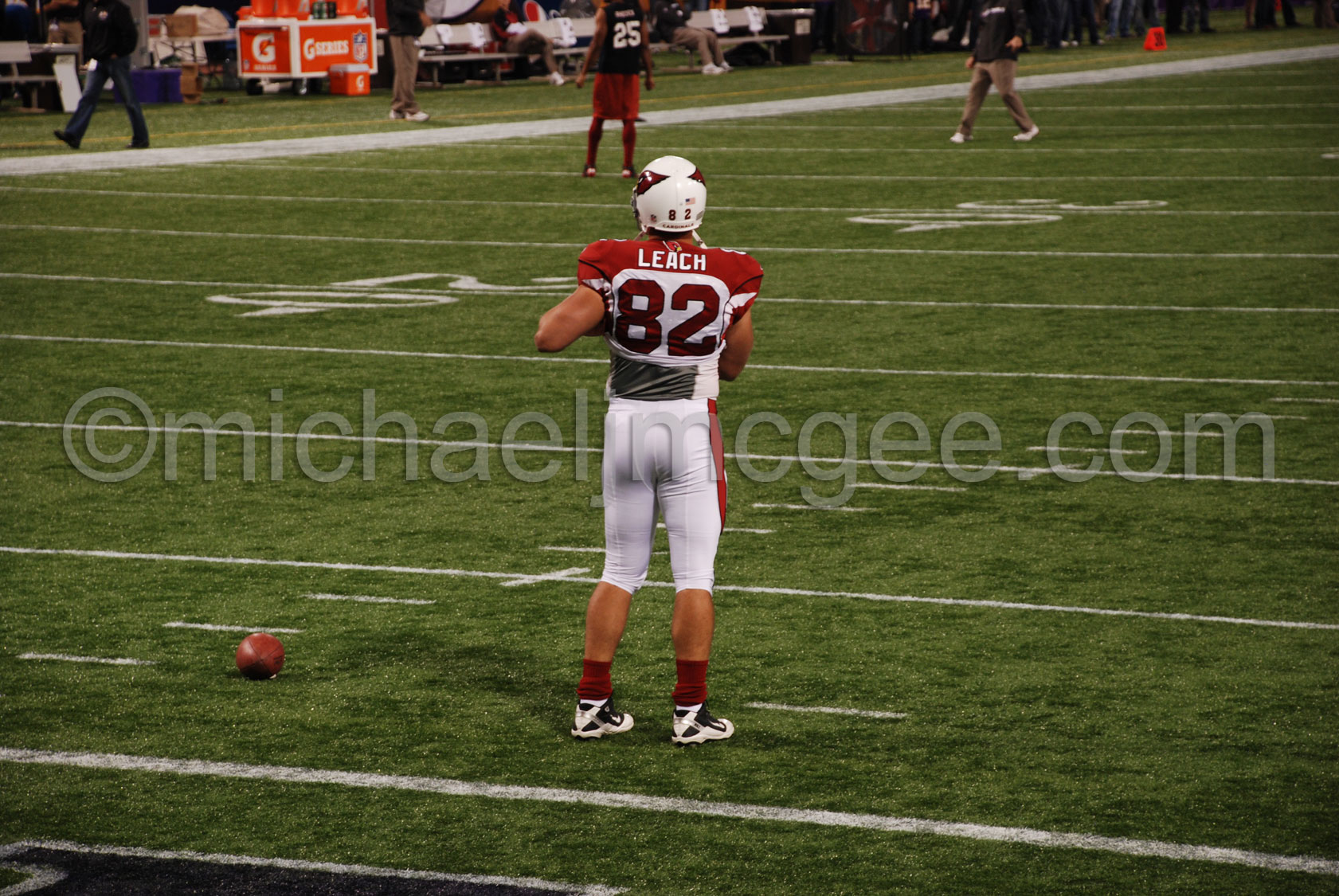 TE/FB Mike Leach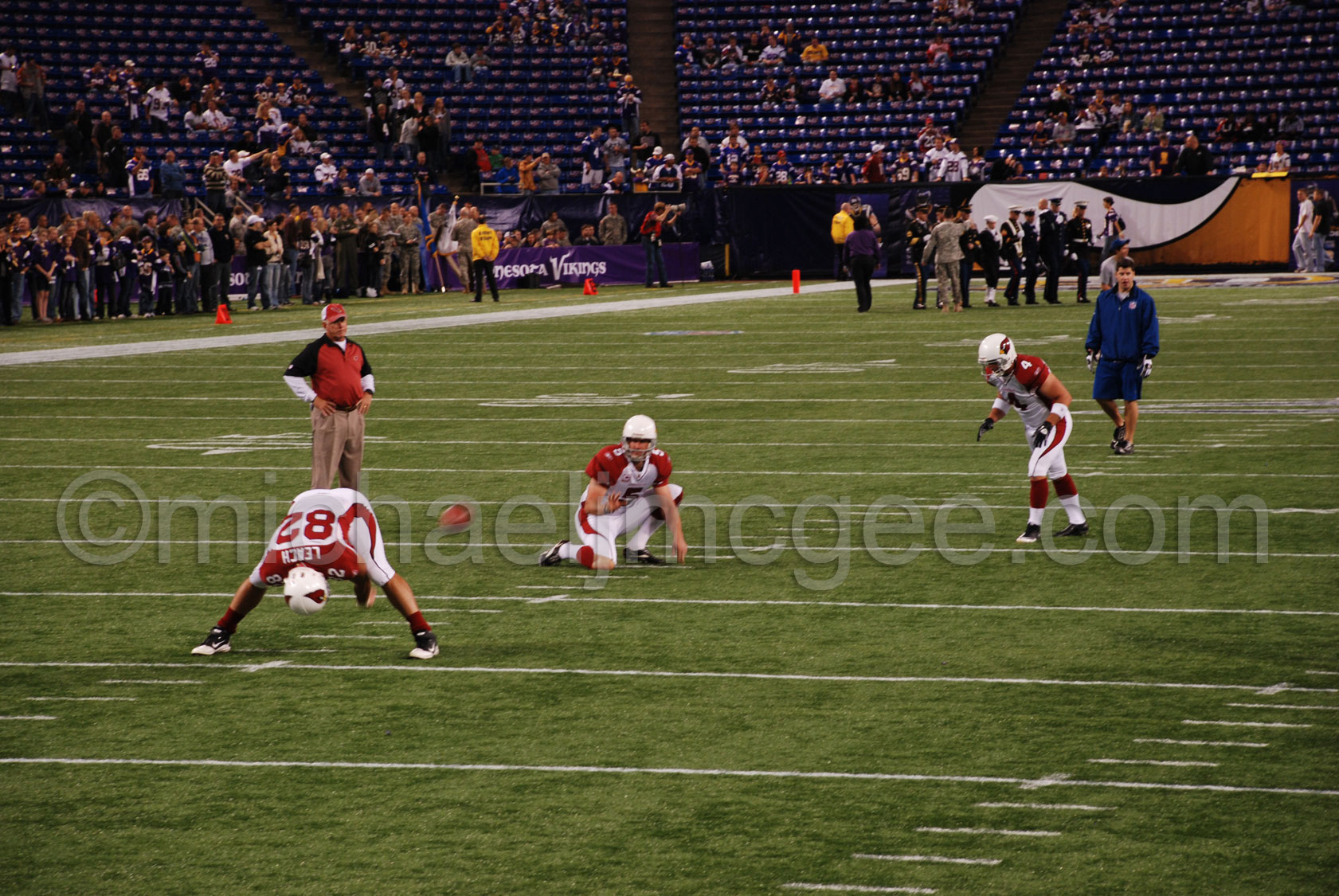 Kicker AJ Feely & Co warm up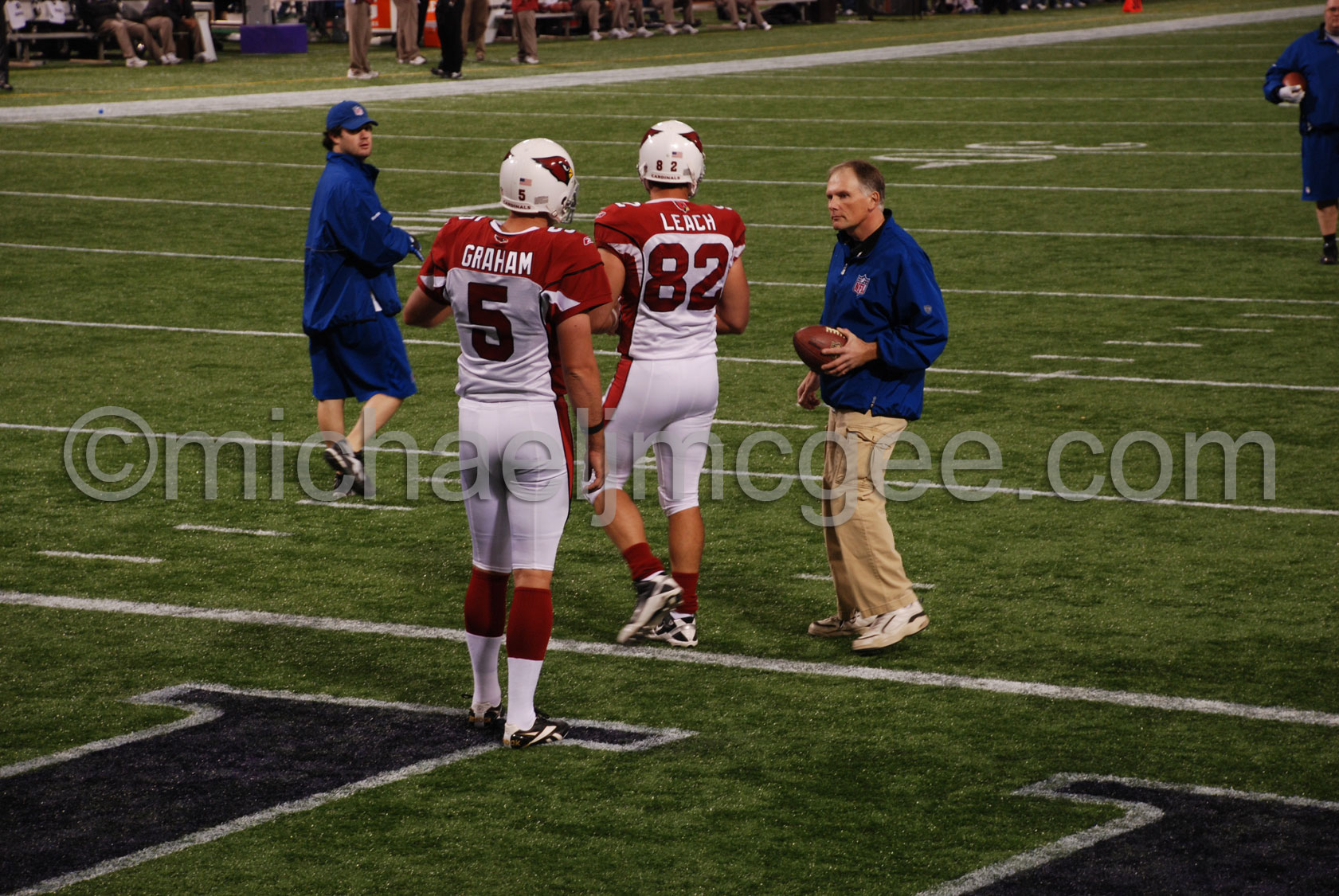 P Ben Graham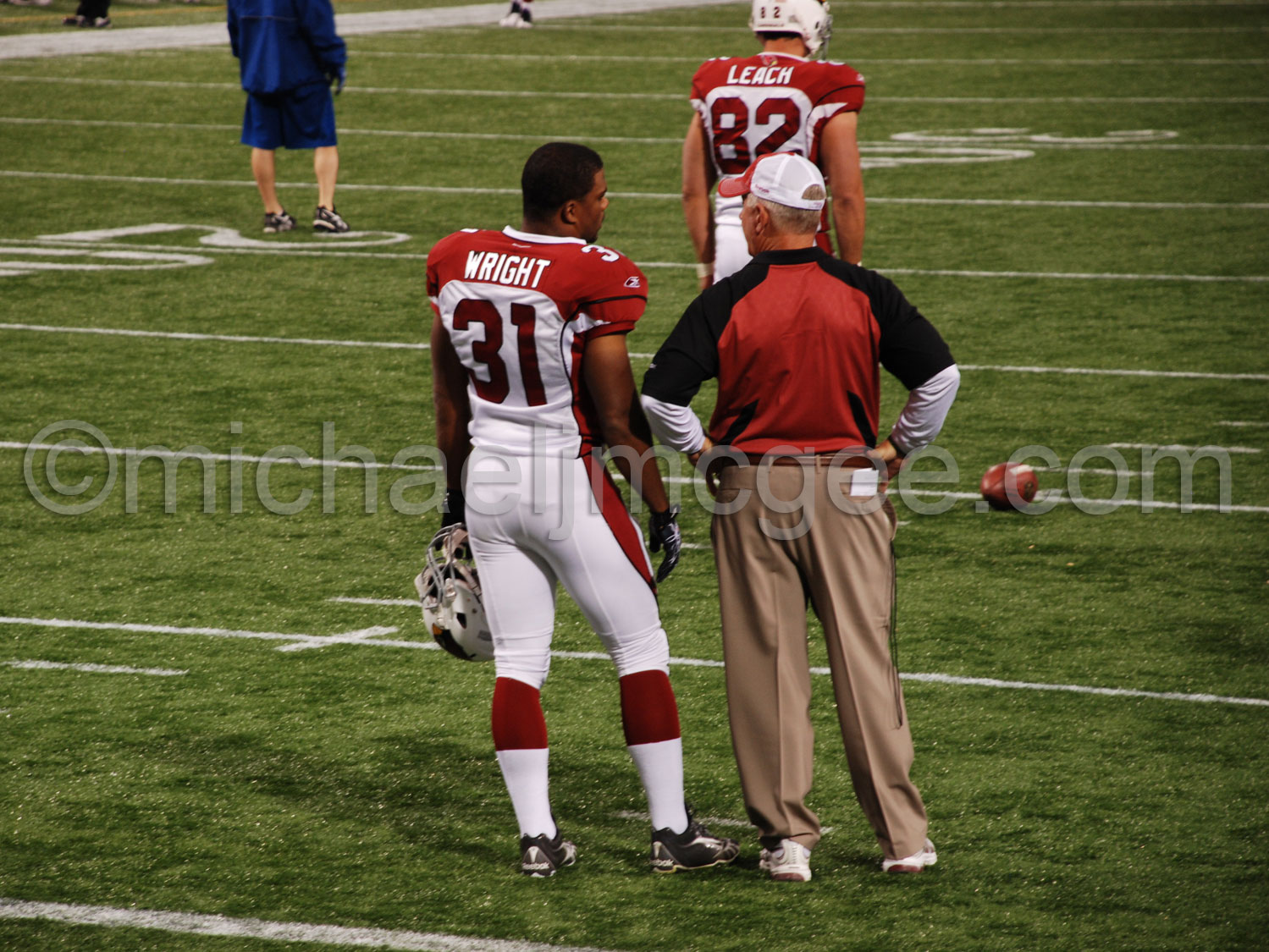 RB Jason Wright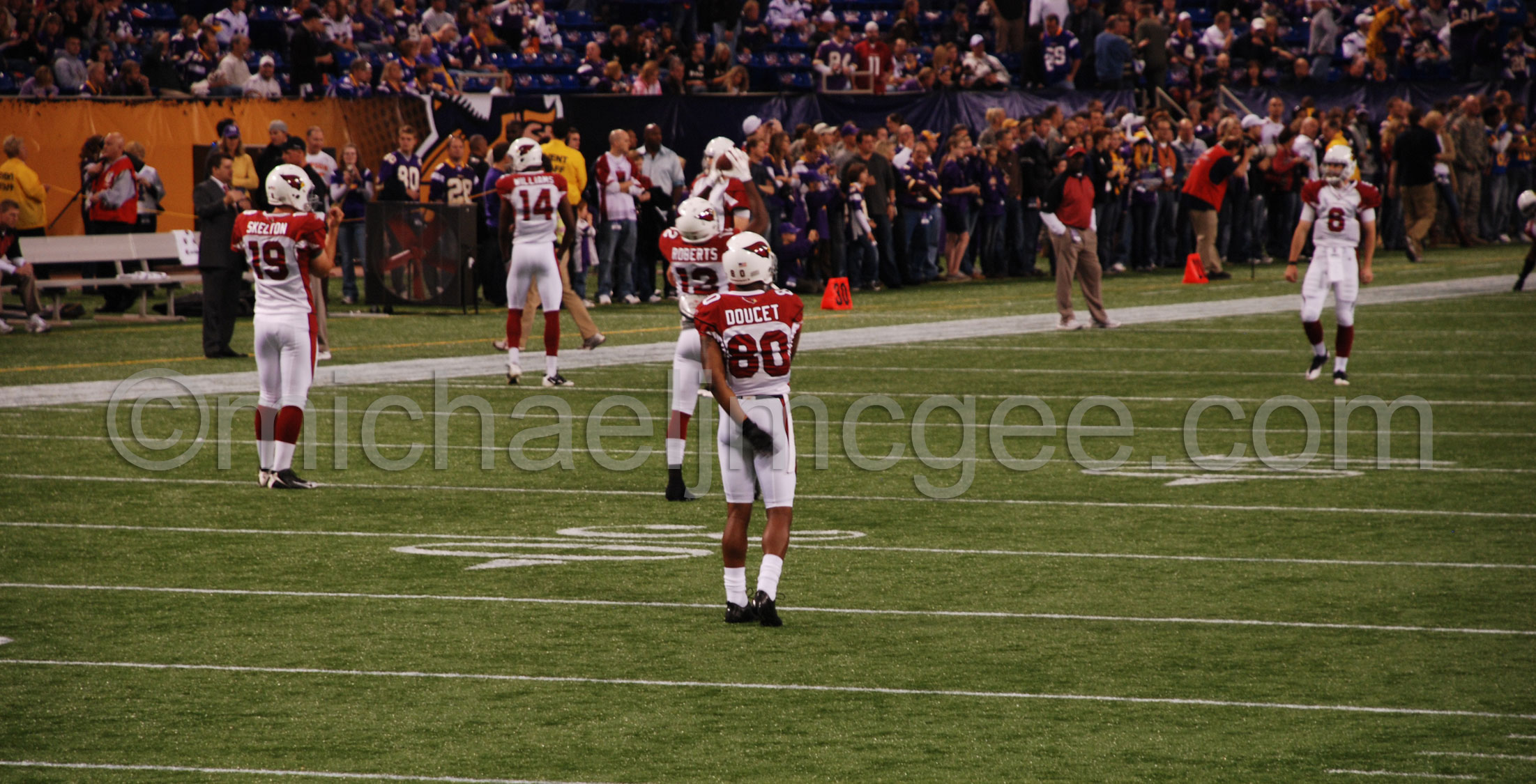 WR Early Doucet